Pentagon announces implementation of spousal benefits for gay troops
Hagel memo delivers benefits in wake of court decision against DOMA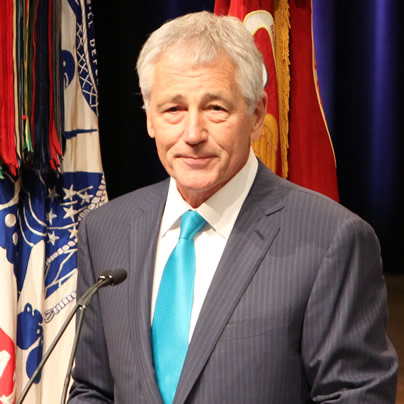 The Pentagon announced on Wednesday the implementation of spousal benefits for gay service members following the U.S. Supreme Court decision against the Defense of Marriage Act — and plans to make these benefits available as soon as Sept. 3.
In a memo dated August 13, Defense Secretary Chuck Hagel announced service members in same-sex marriages will receive the same benefits for their spouses delegated to U.S. troops in opposite-sex marriages, and designated Sept. 3 as the a target date for implementation. These benefits includes health and pension benefits that were previously unavailable under DOMA as well as housing benefits, which the Pentagon had previously withheld.
"It is now the department's policy to treat all married military personnel equally," Hagel writes. "The department will construe the words 'spouse' and 'marriage' to include same-sex spouses and marriages, and the Department will work to make the same benefits available to all military spouses, regardless of whether they're in a same-sex or opposite-sex marriage."
The memo follows up on Hagel's announcement at the end of June immediately following the Supreme Court decision against DOMA that the Pentagon would work to implement these benefits. Additionally, the memo culminates the effort announced in February to implement to provide benefits to gay troops that were available even under that law, such as military IDs and access to family services.
The document is along the lines of what the Associated Press reported last week that the Pentagon was preparing to make final for the implementation of benefits for gay troops.
As such, the memo retracts a previous pledge to allow troops in domestic partnerships to have certain benefits. Instead, it offers gay troops stationed in places without marriage equality leave to travel to another state to marry. The memo says the Pentagon will recognize same-sex marriages of service members even in states that don't recognize same-sex marriage.
"This will provide accelerated access to the full range of benefits offered to married military couples throughout the Department and help level the playing field between opposite-sex and same-sex couples seeking to be married," Hagel writes.
In a supplemental memo dated Aug. 13 also made public on Wednesday, Acting Under Secretary of Defense of Personnel & Readiness Jessica Wright lays out additional details for the rules governing gay troops seeking spousal benefits, citing the need for technical changes in current policy.
"Extension of benefits to same-sex spouses will require some policy revisions, and in the case of identification cards, technical upgrades as the Defense Enrollment Eligibility Reporting System currently does not authorize the issuance of an identification card to a spouse of the same gender," Wright writes.
The Washington Blade reported last week that gay service members were unable to enroll for benefits through DEERS because it's set up in a way that only facilitates opposite-sex marriages.
Wright also details the leave process for service members in same-sex relationships who are seeking to marry, saying non-chargeable leave will be granted for troops who are more than 100 miles away from a U.S. jurisdiction where same-sex marriage is legal.
According to the memo, if the service member is the stationed within the continental United States, the Pentagon will grant non-chargeable leave for a period of up to seven days. For a service members stationed outside the continental United States, the Pentagon will grant a leave period of up to 10 days.
"Extensions of this non-chargeable leave period for the convenience of the service member(s) will be charged to the member's leave account," Wright concludes. "Marriage leave may be granted only once during the career of a service member."
Wright says troops will be entitled to these benefits retroactively to the date of the Supreme Court decision against DOMA on June 26, but claims to entitlement before that time "will not be granted."
Praise for the implementation of these benefits came from Rep. Adam Schiff (D-Calif.,) a U.S. House member who has been vocal about providing them to gay service members.
"I am especially pleased that military personnel  based  in those states where same-sex marriage remains illegal will be offered leave to travel to a jurisdiction that permits same-sex marriage, and I look forward to the day when such travel is no longer necessary," Schiff said. "Our military men and women sacrifice every day to defend freedom and equality around the world. The least we can do is make sure they enjoy that equality here at home."
Expectations that the Pentagon would announce on Wednesday it the implementation of these benefits for troops with same-sex partners was first reported Tuesday evening by NBC News.
Stephen Peters, president of the LGBT military group known as the American Military Partners Association, responded to the NBC News report by praising the move as "a huge step forward."
"The extension of equal benefits for all legally married spouses, regardless of sexual orientation, is a huge step forward for our families who for far too long have been excluded and cut off from support," Peters said. "While this is a huge step forward in making sure our same-sex military spouses have equal access, we still have a long battle ahead of us in making sure all of our LGBT military families have equal protection in all 50 states."
Not explicitly addressed in the memo is whether gay veterans would also have the same access to spousal benefits as their straight counterparts. Title 38 under U.S. code, which governs veterans benefits, defines spouse in opposite-sex terms independently of DOMA and related statutes look to the state of residence as opposed to the state of celebration to determine whether a couple is married. To extent to which gay U.S. troops will be eligible for veteran spousal benefits in the aftermath of DOMA is still unclear.
Pannell resigns in protest from Ward 8 Council member's LGBT Commission
Says Trayon White has no out member of his staff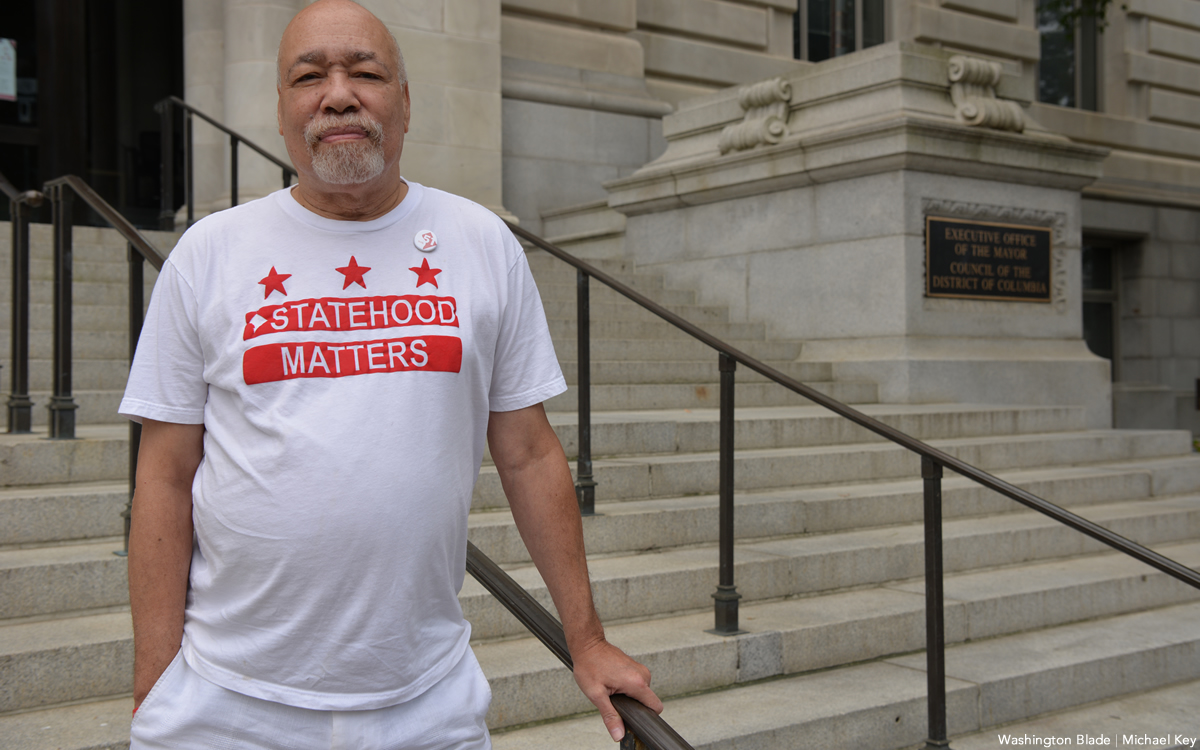 Longtime D.C. LGBTQ rights activist Phil Pannell announced on May 6 that he has resigned as a member of the Ward 8 LGBT Commission created by D.C. Council member Trayon White (D-Ward 8) on grounds that White does not have an LGBTQ person on his Council staff.
White's office has said the Council member created the commission to "focus on the specific needs of this community" in his role as a supporter of LGBTQ equality.
"For me, this is a major issue of inclusion, affirmative action and diversity," Pannell said in an email message announcing his resignation. "I as a Black Gay man cannot in good conscience continue to be a member of my Councilmember's LGBT Commission when he has no one from my community on his staff," Pannell's announcement message continues.
"This is hypocritical at best and structurally homophobic at worst," he said. "I deeply resent and refuse to be used as anyone's homosexual prop for any purposes. Therefore, I resign from the commission effective immediately."
In response to a request by the Washington Blade for comment on Pannell's resignation, Julia Jessie, White's director of communications, said White's Council office "follows all legal HR procedures and hires based on experience and skillset." Jessie added, "As an employer, we do not discriminate or consider a person's race, color, religion, or sex, including sexual orientation or gender identity, when making decisions about employment qualifications."
According to Jessie, "We do, however, harvest a safe and inclusionary work environment where employees who wish to voluntarily disclose their sexual orientation of gender identity feel comfortable doing so."
White's office released a statement from the Ward 8 LGBT Commission's chair, Marvin 'Rahim' Briggs, saying the commission "regretfully accepts" Pannell's resignation.
"The Commission will continue to focus on and address issues affecting Ward 8 LGBTQ," Briggs says in the statement. "We'll continue to organize to promote acceptance of LGBTQ community diversity and to foster respect and appreciation for each member of the community residing in Ward 8."
Two gay candidates disqualified from D.C. primary ballot
Republican, Libertarian activists withdraw from races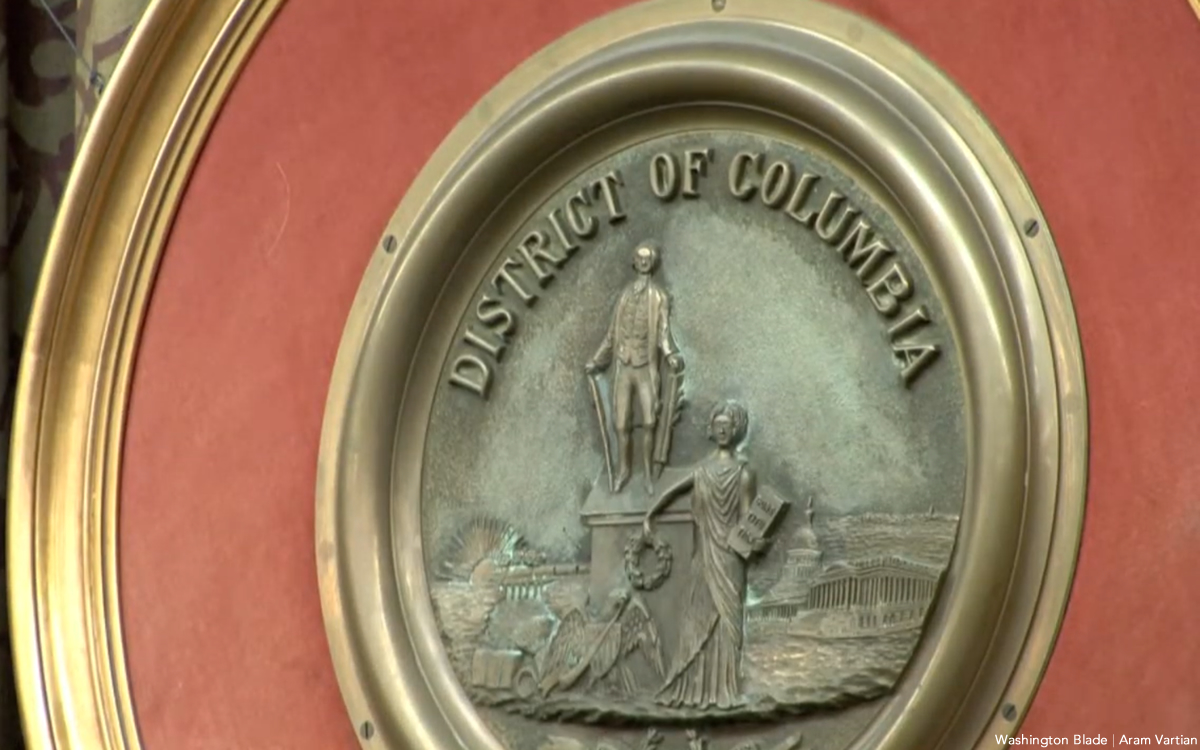 A member of the Capital Stonewall Democrats, D.C.'s largest LGBTQ local political group, mounted a successful challenge before the D.C. Board of Elections earlier this month that resulted in a gay Republican and a gay Libertarian Party activist withdrawing as candidates for public office in the city's June 21 primary.
James Harnett, 24, a member of the Ward 2 Democratic Committee and a member of the staff of U.S. Sen. Sherrod Brown (D-Ohio), filed challenges to the candidacy of gay Libertarian Party activist Bruce Majors, who was running unopposed in the June 21 primary for the office of both D.C. Delegate to the U.S. House and chair of the Libertarian Party of D.C.
The Board of Elections upheld Harnett's challenge claiming that Majors failed to obtain a sufficient number of valid petition signatures needed to be placed on the ballot for both offices, according to elections board spokesperson Nicholas Jacobs. Majors withdrew his candidacy for both offices rather than contest the challenge.
The Board of Elections also upheld a challenge filed by Harnett against the candidacy of gay Republican and D.C. Log Cabin Republicans organization member Andrew Desser, who was running unopposed in the primary for the position of Ward 1 Chairperson of the D.C. Republican Committee.
Desser told the Blade he acknowledged that he fell short in obtaining the needed number of valid petition signatures and would not contest the challenge.
Harnett, who appeared to be acting on his own behalf and not representing the Capital Stonewall Democrats in his challenges to Majors and Desser before the election board, did not respond to the Blade's request for comment.
Board of Elections records showed that he also successfully challenged six other candidates seeking ballot placement in the June 21 primary, one of whom, Lori Furstenberg, was running for mayor as a Republican and another, Corren Brown, was running for mayor as a Statehood-Green Party member.
The others Harnett mounted a successful challenge against were GOP candidates running for the Ward 2, Ward 4, and Ward 7 GOP Chairperson positions; and Leniqua 'Dominique' Jenkins, a Democrat running for the at-large D.C. Council seat, who was the only Democrat challenged by Harnett.
Harnett, a former ANC commissioner in the Foggy Bottom neighborhood, ran unsuccessfully in 2020 for the nonpartisan office of D.C. Board of Education for Ward 2. Among the candidates he ran against was gay education advocate Allister Chang, who won that race.
La homosexualidad no es una enfermedad
Activistas en Honduras conmemoran el Día Internacional contra la Homofobia, la Transfobia y la Bifobia
Reportar sin Miedo es el socio mediático del Washington Blade en Honduras. Esta nota salió en su sitio web el 16 de mayo.
SAN PEDRO SULA, Honduras — El comité LGBTIQ+ del Valle de Sula conmemora el trigésimo segundo aniversario de la eliminación de la homosexualidad como enfermedad mental en la Clasificación Internacional de Enfermedades (CIE) por parte de la Organización Mundial de la Salud (OMS).
La OMS consideró que la homosexualidad debía de salir del apartado de enfermedades mentales, una lucha de años para las personas diversas. Una vergonzosa historia de patologización, institucionalización, "conversión" y esterilización finalmente se cerró.
Durante 22 años, este comité conformado por 13 organizaciones de sociedad civil ha promovido el reconocimiento y respeto de los derechos humanos de las personas de la diversidad sexual del Valle de Sula y Honduras.
Según el observatorio de la Red Lésbica Cattrachas, desde el 2009 hasta la fecha se contabilizan 410 muertes violentas de personas LGTBIQ+, con un índice de impunidad del 87 por ciento. Es por esta razón y teniendo en cuenta el marco del 17 de mayo, Día Internacional de la Lucha en contra de la Homolesbobitransfobia, que se llevarán a cabo algunas actividades en lugares estratégicos de la ciudad de San Pedro Sula para hacer visible esta causa.
"Esto nos ha asesinado", dijo el presidente del comité LGTBIQ+, Osman Lara, haciendo referencia a todo el odio en contra de las personas de la diversidad sexual.
Como principal actividad, izarán las banderas LGTBIQ+ y trans en la Plaza José Cecilio del Valle, localizada en la Ciudad de los Zorzales. Seguidamente, habrá una caminata por la primera calle de la capital industrial de Honduras, finalizando en el parque central, enfrente de la alcaldía sampedrana.
Las actividades contarán con la participación de líderes de la región, organizaciones defensoras de los derechos humanos, organismos internacionales, representantes de gobierno y corporación municipal. Todo esto con la finalidad de conseguir respuesta por todas las muertes violentas y para seguir luchando en contra de la homolesbobitransfobia en Honduras.