Judge brings marriage equality to New Mexico's largest county
Three counties in Land of Enchantment now have gay nuptials
A state district judge in New Mexico issued a ruling on Monday instituting marriage equality in the Land of Enchantment's largest county, bringing the totaling number of counties with same-sex marriage in New Mexico to three.
Along with a 25-page decision, Judge Alan Malott issued a writ of mandamus requiring clerks in Bernalillo and Santa Fe counties to distribute marriage licenses to gay couples.
"Immediately upon receipt of the Writ, Defendants Oliver and Salazar, as the County Clerks of Bernalillo and Santa Fe County, New Mexico, respectively, shall comply with and shall perform their non-discretionary statutory duty to issue a Marriage License upon application from 'each couple' otherwise qualified without regard to the couple's sexual orientation or the gender of its members," Malott writes in the order.
In a statement on her website, Bernalillo County Clerk Maggie Toulouse Oliver announced her office will comply with an order and was set to begin issuing marriage licenses to gay couples starting Tuesday at 8 a.m.
"I'm very happy and proud to finally be issuing marriage licenses to same sex couples in Bernalillo County," Toulouse Oliver said. "Furthermore, I am beyond relieved to have some judicial guidance in this matter that immediately resolves the conflict that existed between state law and our state constitution. Marriage is a fundamental civil right that should be acknowledged and respected at all levels of government. Judge Malott's ruling today has made it clear that the fundamental assumption of that civil right outweighs other technicalities and concerns."
The decision means Bernalillo County will join Santa Fe, where County Clerk Geraldine Salazar had already begun issuing marriage licenses to gay couples on her accord, as well as Dona Ana County, where the clerk had done the same, in having marriage equality.
Notably, the judge comes to the same conclusion as a resolution passed by Santa Fe City Council that proposed by Mayor David Coss: marriage equality is available under current law in New Mexico because of the gender-neutral construction of the law.
Mallot writes in his order that the state law governing marriage doesn't "define or limit the definition of 'couple' to a heterosexual pair of contractually capable people nor those of same-sex orientation from that term."
Although he acknowledges others may construe the law to prohibit same-sex marriage, Mallot writes that equal prohibition under the state constitution makes such a prohibition unconstitutional.
Additionally, the judge cites the U.S. Supreme Court's decision against the Defense of Marriage Act as legal precedent among other cases in his reasoning to bring same-sex marriage to Bernalillo County.
"Gay and lesbian citizens of New Mexico have endured a long history of discrimination," the order states. "Denial of the right to marry continues this unfortunate, intolerable pattern and establishes irreparable injury on Plaintiff's part."
The lawsuit was brought to the judge by the American Civil Liberties Union, the National Center for Lesbian Rights, the ACLU of New Mexico and local attorneys on behalf of six gay couples.
Kate Kendell, executive director of the National Center for Lesbian Rights, called the decision a "powerful reminder" of the national momentum in favor of marriage equality.
"We are joyful for our client couples and for every same-sex couple in New Mexico," Kendell said. "The freedom to marry is about love, commitment, family and security. These are universal values and they are center stage today."
Among the plaintiffs in the lawsuit are Jen Roper and Angelique Neuman, who have been together for over 21 years. Late last year, Roper was diagnosed with an aggressive brain tumor and was told she had 18 months to live. Unwilling to wait for marriage equality to come to New Mexico at a later date, the couple filed an emergency appeal.
After the Santa Fe County clerk began issuing marriage licenses on her own accord, the couple obtained a marriage license on Friday and married at a cancer center during a break from a chemotherapy infusion.
Attorney General Gary King has already issued an opinion affirming that New Mexico law does prohibit same-sex marriage, but also that this prohibition is unconstitutional and he wouldn't defend the law in court. King has said he wouldn't stop counties from distributing marriage licenses to same-sex couples.
Republican state lawmakers, notably State Sen. William Sharer, have said they'll file their own lawsuit to appeal the decisions and prevent same-sex marriages from occurring.
"Homosexual couples, by their very existence, self-identify as not having the procreative value that is one of the vital components of marriage," Sharer writes on his website.
Southern Poverty Law Center condemns Ga.'s passage of anti-trans healthcare bill
Group urges Gov. Kemp to veto measure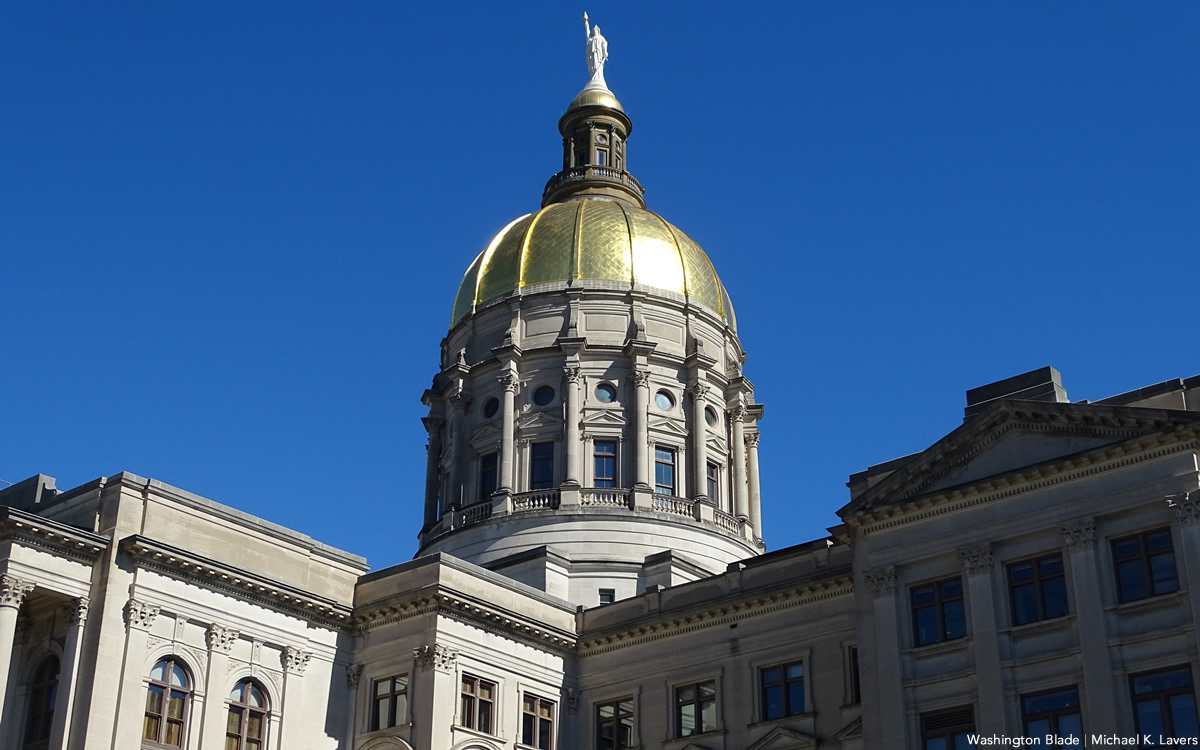 The Southern Poverty Law Center Action Fund published a statement Tuesday condemning the Republican-controlled Georgia Legislature's passage of S.B. 140, a bill that will criminalize gender-affirming health care for minors.
The statement, issued by Beth Littrell, senior supervising attorney of the lobbying and advocacy arm of the civil rights organization, urges Georgia Gov. Brian Kemp (R) to veto S.B. 140, calling on him to not "give into pressure from his party" when "the health and wellbeing of young people are at risk" through the denial of "safe, effective medical treatment to transgender youth — based only on prejudice and political pandering."
Kemp should "leave personal healthcare decisions in the capable hands of parents, children, and their doctors," Littrell's statement continues. "We hope the governor will elevate himself and the State of Georgia above this cynical partisan attack on transgender youth, medical autonomy, and parental rights."
S.B. 140 specifically prohibits "sex reassignment surgeries, or any other surgical procedures, that are performed for the purpose of altering primary or secondary sexual characteristics" when they are "performed on a minor for the treatment of gender dysphoria."
"Limited exceptions" are made for the treatment of conditions other than gender dysphoria, if deemed medically necessary by the physician or healthcare practitioner, and for the treatment of patients with "a medically verifiable disorder of sex development."
The mainstream medical societies with relevant clinical expertise have repeatedly spoken out against legislation that limits access to or criminalizes, as in the case of Georgia's bill, guideline directed interventions for the treatment of trans and gender nonconforming youth.
On March 16, far-right GOP Rep. Marjorie Taylor Greene, who represents Georgia's 14th Congressional District, called for the state legislature to make the bill more restrictive.
Specifically, in a tweet she urged the lawmakers to amend S.B. 140 such that treatment of gender dysphoria in minor patients with puberty blockers would be criminalized alongside the other interventions covered in the bill and also to remove the covered exceptions.
Chasten Buttigieg speaks out against Pence's homophobic remarks
Pence doubled down Thursday on homophobic remarks about the Transportation Secretary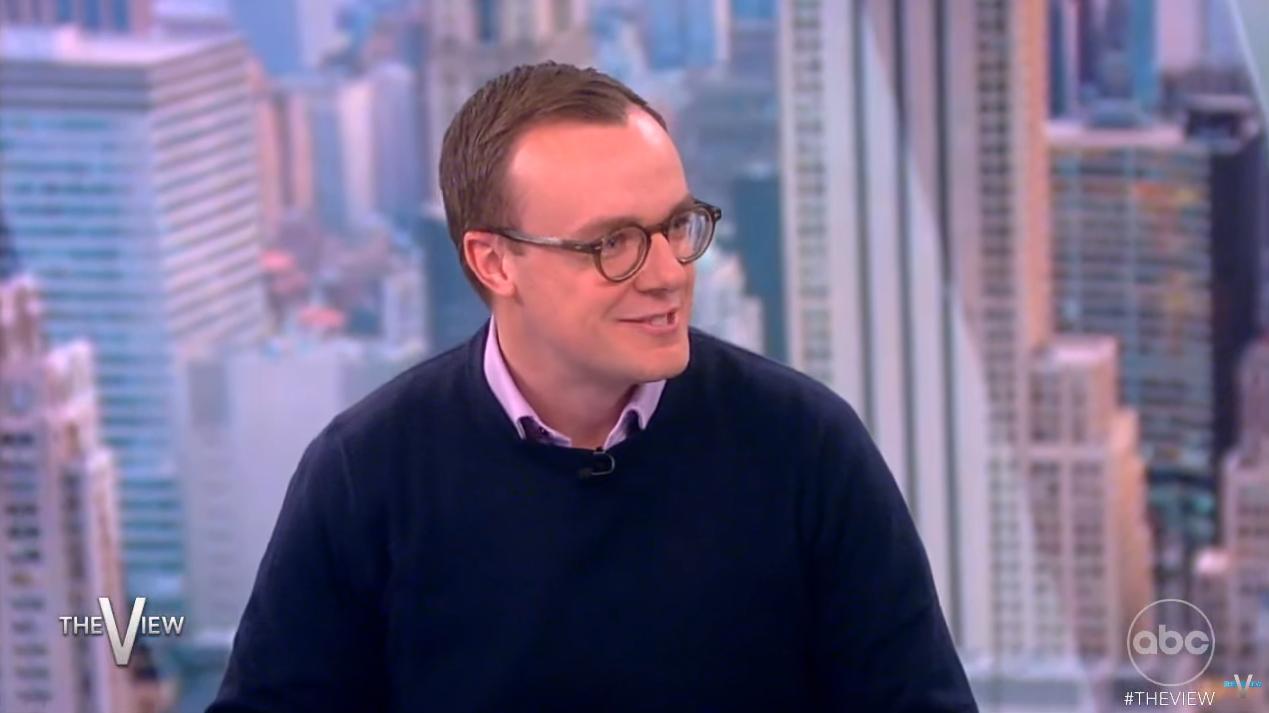 Chasten Buttigieg, husband of Transportation Secretary Pete Buttigieg, said former Vice President Mike Pence has not apologized for homophobic and misogynistic remarks about the couple that he made at a dinner in D.C. last weekend.
"I spoke up because we all have an obligation to hold people accountable for when they say something wrong, especially when it's misogynistic, especially when it's homophobic," Chasten Buttigieg said during an appearance Thursday on ABC's The View.
Last Saturday, Pence had joked that following the birth of the Buttigieg twins in 2021, the transportation secretary took "maternity leave" and then the country suffered "postpartum depression" over issues with airlines and air travel.
The former vice president delivered the remarks — which were first reported by the Washington Blade — during the annual Gridiron Club dinner, which he headlined along with Secretary of State Antony Blinken and New Jersey Gov. Phil Murphy (D).
Per tradition, speakers at the dinner are expected to poke fun at political figures, including guests in attendance, but Pence's comments quickly drew outrage for their homophobia and misogyny.
White House Press Secretary Karine Jean-Pierre addressed the matter in a comment shared with the Blade on Monday, "The former vice president's homophobic joke about Secretary Buttigieg was offensive and inappropriate, all the more so because he treated women suffering from postpartum depression as a punchline."
The Buttigiegs have been public about the "terrifying" ordeal they suffered following the premature births of their twins. The newborns developed serious Respiratory Syncytial Virus Infections (RSV) — which required one to be hospitalized, put on a ventilator, and transferred to a children's hospital in Grand Rapids, Mich., for treatment.
"An honest question for you, @Mike_Pence, after your attempted joke this weekend," Chasten Buttigieg tweeted on Monday, "If your grandchild was born prematurely and placed on a ventilator at two months old – their tiny fingers wrapped around yours as the monitors beep in the background – where would you be?"
The transportation secretary, asked on Monday whether they are owed an apology from Pence, said, "I'll let others speak to that."
During Thursday's interview, Chasten Buttigieg called out the hypocrisy of Pence's putative identity as a "family values Republican," telling the talk show's hosts, "I don't think he's practicing what he preaches here."
"But also," he added, "it's a bigger conversation about the work that women do in families — taking a swipe at all women and all families and expecting that women would stay home and raise children is a misogynistic view."
LGBTQ groups challenge Fla. healthcare ban for trans youth
Law 'stands in direct contrast to the overwhelming weight of the science'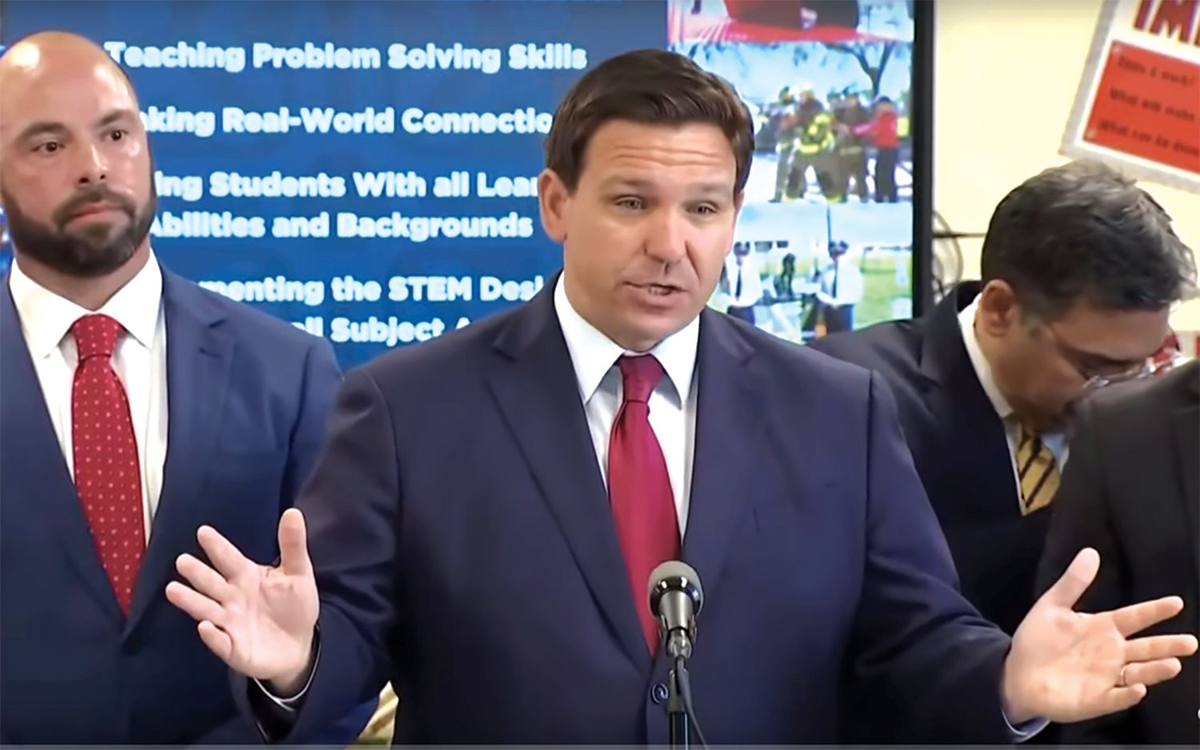 Attorneys from a coalition of three LGBTQ groups and a public interest law firm announced on Thursday their plans to file a lawsuit on behalf of Florida parents challenging the state's ban on healthcare interventions for the treatment of gender dysphoria in minors.
Plaintiffs are represented by Southern Legal Counsel, Inc., the Human Rights Campaign (HRC), GLBTQ Legal Advocates and Defenders (GLAD), and the National Center for Lesbian Rights (NCLR). A spokesperson for NCLR told the Washington Blade they plan to file the complaint "in the next week or so."
The ban on guideline-directed, medically necessary healthcare for trans youth went into effect Thursday. The rule has been opposed by major medical associations with relevant clinical expertise including the American Academy of Pediatrics, the Endocrine Society, the American Academy of Child and Adolescent Psychiatry and the World Professional Association for Transgender Health.
These organizations' clinical practice guidelines and recommendations for the treatment of gender dysphoria in minor patients are backed by hundreds of peer-reviewed studies on the safety, efficacy, and medical necessity of these interventions.
"This policy came about through a political process with a predetermined conclusion, and it stands in direct contrast to the overwhelming weight of the evidence and science," said Simone Chriss, director of Transgender Rights Initiative, Southern Legal Counsel, in a press release announcing the lawsuit.
"There is an unbelievable degree of hypocrisy when a state that holds itself out as being deeply concerned with protecting 'parents' rights' strips parents of their right to ensure their children receive appropriate medical care," Chriss said.
"Our daughter is a happy, confident child but denying her access to the medical care recommended by her doctors would completely disrupt her life," one parent-plaintiff said in the press release. "I'm devastated by what this will mean for her physical and mental health."
The healthcare ban is among a bevy of anti-LGBTQ laws passed by Florida Gov. Ron DeSantis and his conservative allies in the state legislature. Other examples include last year's "Don't Say Gay" law, which bars classroom discussion about sexual orientation and gender identity, and the 2021 law that prohibits transgender women and girls from participating in school sports.
The ACLU is tracking 10 anti-LGBTQ bills under consideration by Florida lawmakers during this legislative session. Among these is a proposal that would allow the state to take children from their parents for facilitating access to gender affirming healthcare and require courts to "vacate, stay, or modify the child custody determination to the extent necessary to protect the child from the provision of such prescriptions or procedures."