Court rules against law barring gay couples from veterans benefits
Judge finds U.S. gov't has no rational basis for withholding benefits from same-sex spouses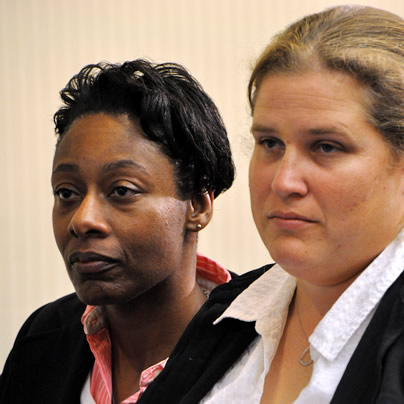 A federal district judge in California ruled on Thursday that enforcing Title 38 — the portion of U.S. code governing veterans benefits — to bar former troops in same-sex marriages from receiving spousal veterans benefits is unconstitutional.
U.S. District Judge Consuelo Marshall, a Carter appointee, grants summary judgment in favor of lesbian veteran plaintiff Tracey Cooper-Harris by determining the U.S. government lacks any rational basis in withholding these benefits. Marshall finds current law doesn't advance gender equity or military purposes.
"Title 38 is not rationally related to the military's commitment to caring for and providing for veterans benefits," Marshall writes. "[T]he court permanently enjoins Defendants from relying on [Title 38] or Section 3 of [DOMA] to deny recognition of Plantiffs' marriage recognized by the State of California."
It wasn't immediately clear Thursday night whether the ruling means the U.S. government is enjoined from blocking benefits for all gay married veterans or only the plaintiffs who filed suit in the case. However, the court declared the law unconstitutional, not just as applied to the plaintiffs.
Caren Short, staff attorney for the Southern Poverty Law Center, said Friday the decision applies "just to our clients Tracey and Maggie," but believes the administration can implement the ruling on a nationwide basis.
"We're hopeful that now that a federal court has declared these definition in Title 38 unconstitutional that the VA will be able take steps toward providing equal benefits now to everyone," Short said.
Jon Davidson, legal director Lambda Legal, said whether the administration will apply the ruling only to plaintiffs or other gay veterans is yet to be seen.
"In most instances, DOJ takes the position that a district court ruling against a federal agency is not binding on the agency beyond the jurisdiction of the court issuing the ruling, but I do not know what DOJ will say here, if they do not appeal, as they may simply accede to the ruling on a nationwide basis," Davidson said.
The Justice and Veterans Affairs departments didn't immediately respond to a request to comment Friday morning on what their next steps will be as a result of the ruling.
The lawsuit, known as Cooper-Harris v. United States, was filed in February 2012 by the Southern Poverty Law Center on behalf of Tracey Cooper-Harris, a lesbian veteran of the Iraq and Afghanistan wars who was seeking veterans spousal benefits for her spouse, Maggie Cooper-Harris. Tracey was diagnosed with multiple sclerosis and later found it was connected to her service, but was unable to receive spousal disability benefits.
The Southern Poverty Law Center asked the court to overturn both Section 3 of the Defense of Marriage Act, which has since been overturned by the Supreme Court, and Title 38 with respect to its hold on spousal benefits for gay veterans on the basis that the laws violate due process under the Fifth Amendment.
In a statement provided by SPLC, Tracey Cooper-Harris expressed gratitude the court ruled in favor of granting veterans benefits that will benefit her and her spouse.
"Maggie and I have waited so long to receive the same benefits other married veterans and their spouses receive," Tracey said. "We are overjoyed that the court has ended the federal government's discrimination against gay and lesbian veterans and their spouses. Judge Marshall's ruling confirms that the service of gay and lesbian veterans and the sacrifices of their spouses are valued equally in the eyes of the law."
Even though the U.S. Supreme Court has struck down the Section 3 of DOMA, the U.S. government has still withheld veterans spousal benefits — such as disability and joint burial benefits — from veterans in same-sex marriages on the basis of Title 38. That law, which governs veterans benefits, defines spouse in opposite-sex terms independent of DOMA.
Just this week, the Washington Blade made public a letter from Secretary of Veterans Affairs Eric Shinseki stating that U.S. government is still withholding spousal benefits for veterans marriages. The letter says the department is still reviewing with the Justice Department whether the Obama administration can afford these benefits following the DOMA decision.
Stephen Peters, president of the LGBT group American Military Partners Association, commended the court for reaching the decision that Title 38 is unconstitutional.
"Title 38 clearly violated the constitutional rights of our military veteran families," Peters said. "This decision sets our nation on a path to honoring and serving all of our veterans and their families, regardless of their sexual orientation."
Doug NeJaime, who's gay and law professor at University of California, Irvine, said the ruling is positive, but noted other statutes still exist barring veterans spousal benefits from flowing to same-sex couples.
"The ruling applies the reasoning of Windsor in a logical way and represents an important step forward on veterans benefits," NeJaime said. "However, veterans benefits have traditionally not used a place of celebration rule, meaning that unlike in the general military context, same-sex couples would not automatically be eligible for benefits based on their marriage."
It's unclear how the case could proceed any further to higher court. U.S. Attorney General Eric Holder announced the Justice Department wouldn't defend Title 38 against legal challenges that contest the law on the basis that it unfairly deprives same-sex couples of veterans benefits. The House Republican-led Bipartisan Legal Advisory Group, which had taken up defense of DOMA after the Obama administration stood down, withdrew as a party from the case in July.
SPLC's Short she doesn't believe anyone can appeal the case now that there are no opposing parties in the lawsuit.
"On the issue of Title 38's constitutionality, it's doesn't appear that there will be anyone to appeal," Short said. "The Department of Justice said that they also agreed that Title 38 is unconstitutional. They filed a brief in support of our motion for summary judgment, so it would be strange for them to appeal the ruling, which was essentially the outcome that they were advocating for. So on the issue of Title 38's constitutionality, there isn't likely to be an appeal."
But Lambda's Davidson said the Justice Department still may appeal the decision on the grounds that the federal district court in California doesn't have jurisdiction to hear the case.
"While DOJ is not defending on the merits, it has been contesting whether the Title 38 challenge belongs in federal district court as opposed to the specialized administrative court that deals with VA benefit issues," Davidson said. "The judge ruled against DOJ on that previously but and DOJ might appeal that issue at this point."
Takano: Asian Development Bank LGBTQ, intersex safeguards are an 'opportunity'
'It's not a radical thing'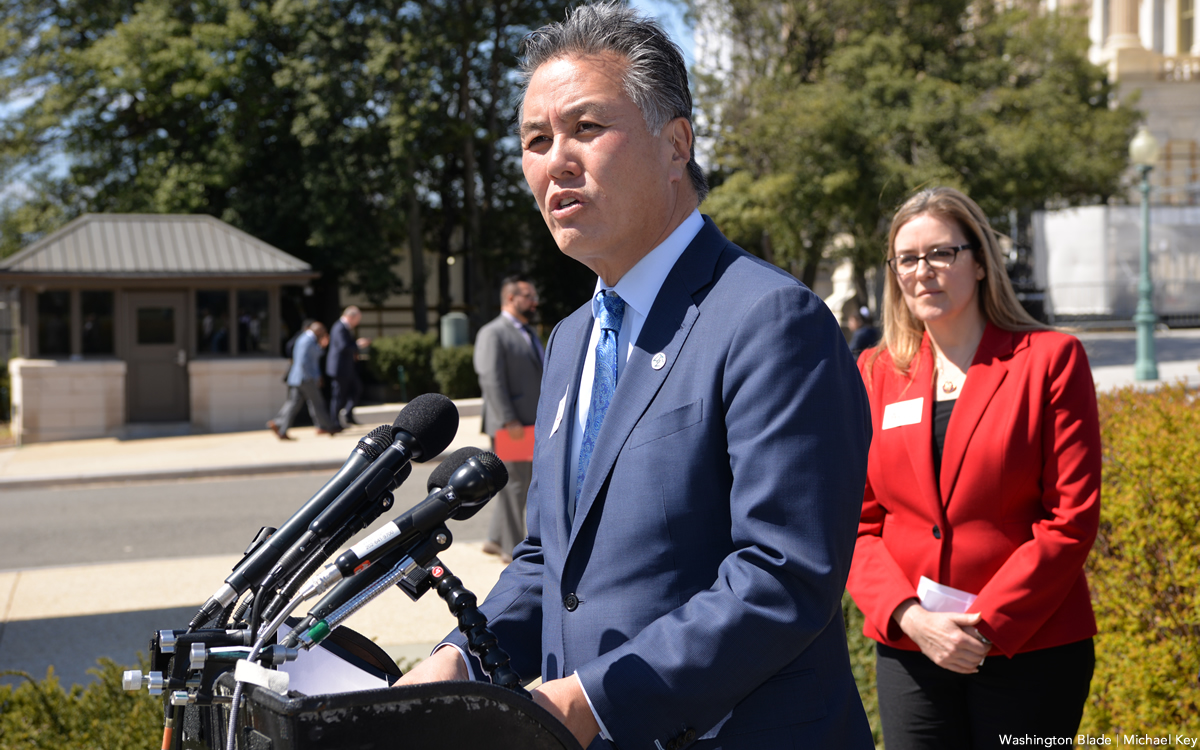 California Congressman Mark Takano on Dec. 2 told the Washington Blade he is hopeful the Asian Development Bank will add sexual orientation and gender identity to the institution's safeguards.
"I am optimistic that something like this can be done," said Takano during a Zoom interview. "It's not a radical thing. It's very modest."
The ADB, which is based in the Philippines, seeks to promote economic and social development through the Asia-Pacific Region.
Ambassador Chantale Wong, who is the ADB's U.S. director, is the first openly lesbian American ambassador. Takano, a Democrat who will represent California's 39th Congressional District in the next Congress, is openly gay.
The Treasury Department has endorsed the safeguard that Takano said he expects "to come to a head" in the spring of 2023. Takano and other members of the Congressional Asian Pacific American Caucus and the Congressional LGBT+ Equality Caucus — U.S. Reps. Judy Chu (D-Calif.), Ro Khanna (D-Calif.), Raja Krishnamoorthi (D-Ill.), Grace Meng (D-N.Y.), Pramila Jayapal (D-Wash.), Andy Kim (D-N.J.) and Ted Liu (D-Calif.) — in an Oct. 14 letter to ADB President Masatsugu Asakawa expressed their "strong support for the creation of a standalone gender and sexual orientation, gender identity and expression and sex characteristics (SOGIESC) safeguard in the Asian Development Bank (ADB)'s updated Safeguard Policy Statement."
"The inclusion of such a safeguard presents an opportunity for the ADB to lead by example among multilateral development banks (MDBs) in a region of the world where civil society has been at the fore of pushing positive change for sexual minorities," reads the letter.
"The explicit inclusion and protections for sexual and gender minorities in this proposed safeguard are not only beneficial for the economic and social development of the region, but would also open further opportunities for investment," it adds.
Takano noted the ADB would be the first multilateral development bank to add sexual orientation and gender identity to its safeguards.
"This is an opportunity for the ADB to be a leader among MDBs globally," reads the letter. "As Asian Americans and advocates for the LGBTQI+ population here in the United States, we are eager to see the ADB spearhead the establishment of necessary protections for the international LGBTQI+ community that will allow them to participate in civic life more fully."
President Joe Biden in 2021 issued a memo that committed the U.S. to promoting LGBTQ and intersex rights abroad as part of his administration's overall foreign policy.
Wong and Takano were both at the American Chamber of Commerce in Singapore on Aug. 1 when U.S. House Speaker Nancy Pelosi (D-Calif.) spoke in support of LGBTQ and intersex rights.
The speech coincided with a Congressional delegation to Singapore, Malaysia, Taiwan, South Korea and Japan that Pelosi led. Singapore Prime Minister Lee Hsien Loong on Aug. 21 announced his country will decriminalize consensual same-sex sexual relations. Lawmakers in the Southeast Asian city-state late last month repealed the colonial-era sodomy law, and approved a constitutional amendment that defines marriage as between a man and a woman.
Same-sex couples have been able to legally marry in Taiwan since 2019. Lawmakers in Indonesia on Tuesday approved a new Criminal Code that would, among other things, criminalize sex outside of marriage.
Qatar, which is hosting the 2022 World Cup, is among the countries in which consensual same-sex sexual relations remain punishable by death. 
Takano over the Thanksgiving holiday led a Congressional delegation to Jordan, Kuwait, Iraq and Lebanon. The Council for Global Equality notes homosexuality is still criminalized in Kuwait and Lebanon. Discrimination and persecution based on sexual orientation and gender identity remains commonplace in all four of the Middle Eastern countries that Takano visited.
"Different parts of Asia are showing signs of huge progress in terms of governance and recognizing LGBTQIA+ minorities and recognizing their humanity," Takano told the Blade, while noting 60 percent of the world's population lives in Asia. "Being able to embed safeguards into Asian Development Bank standards and how they approve projects and implement projects could be a huge leap forward in terms of achieving new standards in all these countries with regards to LGBTQ people in Asian nations."
"This is very exciting," he added.
Takano also specifically praised the Biden administration, American diplomats and Wong herself for their efforts to advance LGBTQ and intersex rights
"(U.S. foreign missions) find ways to create safe spaces for LGBTQ people in those countries to be able to come together, to talk," said Takano. "To have someone like Ambassador Wong lead that is very important and that the administration supports the efforts of Ambassador Wong is not surprising."
"What a difference it makes to have President Biden and Vice President Harris, but not only have they with their words said they support our community, they've also appointed people like Amb. Wong, who is actually taking actions," he added. "She's using the levers and dials of her office to take a step forward."
GOP support for Respect for Marriage Act 'an unexpected turn'
Takano spoke with the Blade two days after the Respect for Marriage Act passed in the U.S. Senate by a 61-36 vote margin, with 12 Republicans supporting it.
More than 40 Republicans in the U.S. House of Representatives voted for the Respect for Marriage Act in July. A final vote could take place in the chamber as early as Thursday.
"We were reeling from that Supreme Court decision on Roe and the comments in Justice Thomas' concurring opinion," said Takano. "Boy oh boy did we in Congress say that we need to protect what we can. The Respect for Marriage Act is making sure we protect same-sex marriages, but also protect interracial marriages."
Takano conceded Republican support for the bill "is kind of an unexpected turn in this Congress," even though a majority of GOP lawmakers opposed it. Takano also acknowledged public opinion has shifted significantly in support of marriage equality over the last decade.
"This court has shown it's pretty radical," he said. "I'm happy that we have a way to make sure that existing marriages are protected."
Author of Fla. 'Don't Say Gay' law indicted for wire fraud
Joseph Harding allegedly obtained pandemic loans fraudulently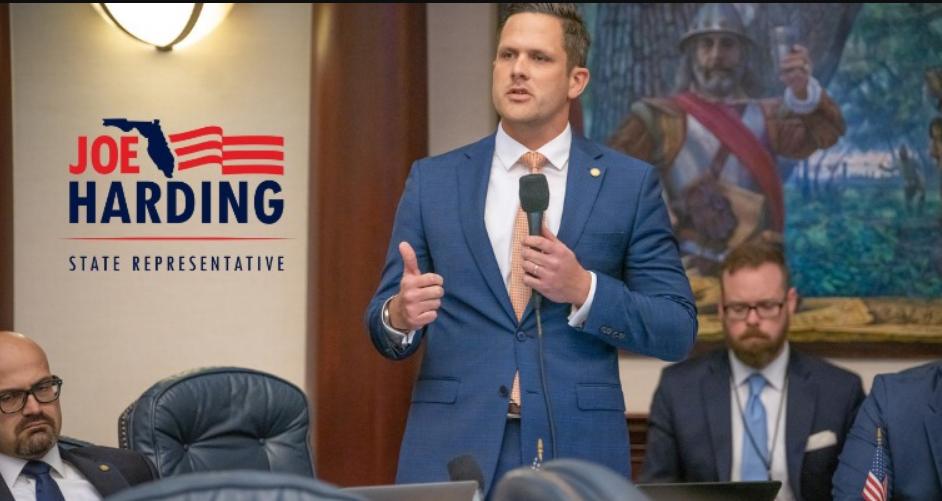 A federal grand jury has returned a 6-count indictment against Florida state Rep. Joseph Harding (R-Williston).
The indictment was announced by Jason R. Coody, the U.S. Attorney for the Northern District of Florida.
Harding, 35, represents Florida's House District 24. He wrote the state's infamous "Don't Say Gay" law, titled the "Parental Rights in Education," passed in March of this year by the Republican-controlled Legislature and signed into law by Gov. Ron DeSantis.
The U.S. Attorney's Office for the Northern District of Florida stated:
The indictment alleges that between Dec. 1, 2020, and March 1, 2021, Harding committed two acts of wire fraud by participating in a scheme to defraud the Small Business Administration (SBA) and for obtaining coronavirus-related small business loans by means of materially false and fraudulent pretenses, representations, and promises, and for the purpose of executing such scheme, caused wire communications to be transmitted in interstate commerce.
The indictment alleges that Harding made and caused to be made false and fraudulent SBA Economic Injury Disaster Loan (EIDL) applications, and made false representations in supporting loan documentation, in the names of dormant business entities, submitted to the SBA. 
The indictment further alleges that Harding obtained fraudulently created bank statements for one of the dormant business entities which were used as supporting documentation for one of his fraudulent EIDL loan applications. By this conduct, the indictment alleges that Harding fraudulently obtained and attempted to obtain more than $150,000 in funds from the SBA to which he was not entitled. 
Harding is also charged with two counts of engaging in monetary transactions with funds derived from unlawful activity related to his transfer of the fraudulently obtained EIDL proceeds into two bank accounts, and two counts of making false statements to the SBA.
The investigation was jointly conducted by the Federal Bureau of Investigation, the Internal Revenue Service-Criminal Investigation, the Federal Deposit Insurance Corporation (FDIC) Office of Inspector General and the SBA's Office of Inspector General. 
Harding's trial is scheduled for Jan. 11 at 8:30 a.m., at the U.S. Courthouse in Gainesville before U.S. District Judge Allen Winsor.
The maximum terms of imprisonment for the offenses are as follows:
20 years: Wire Fraud
10 years: Money Laundering
5 years: Making False Statements
Florida Politics reported that according to Politico's Gary Fineout, Harding has already been released on bond, and the government did not look to detain Harding.
Court files show the federal government did not request that Harding be detained – and he was released on bond earlier today

— Gary Fineout (@fineout) December 7, 2022
Harding has already lost his committee assignments for the upcoming legislative term.
"After consultation with Representative Harding regarding his indictment, I am temporarily removing him from his committee assignments to allow him time to focus on this matter," House Speaker Paul Renner said Wednesday in a written statement.
"In America we adhere to the rule of law, and as such, Representative Harding is presumed innocent and will have the opportunity to plead his case before a court. Since the indictment does not relate to any aspect of his legislative duties, any further questions should be directed to his legal counsel."
"In America we adhere to the rule of law, and as such, Representative Harding is presumed innocent and will have the opportunity to plead his case before a court." Says further questions should be directed to Harding's lawyer

— Gary Fineout (@fineout) December 7, 2022
The governor cannot remove a lawmaker from office, even if arrested. The Florida Constitution states that "each house shall be the sole judge of the qualifications" of members. To expel a lawmaker, each chamber needs a two-thirds majority vote.
LGBTQ contingent to join National Vigil for gun violence victims in D.C.
Gays Against Guns plans Capitol Hill procession to honor those lost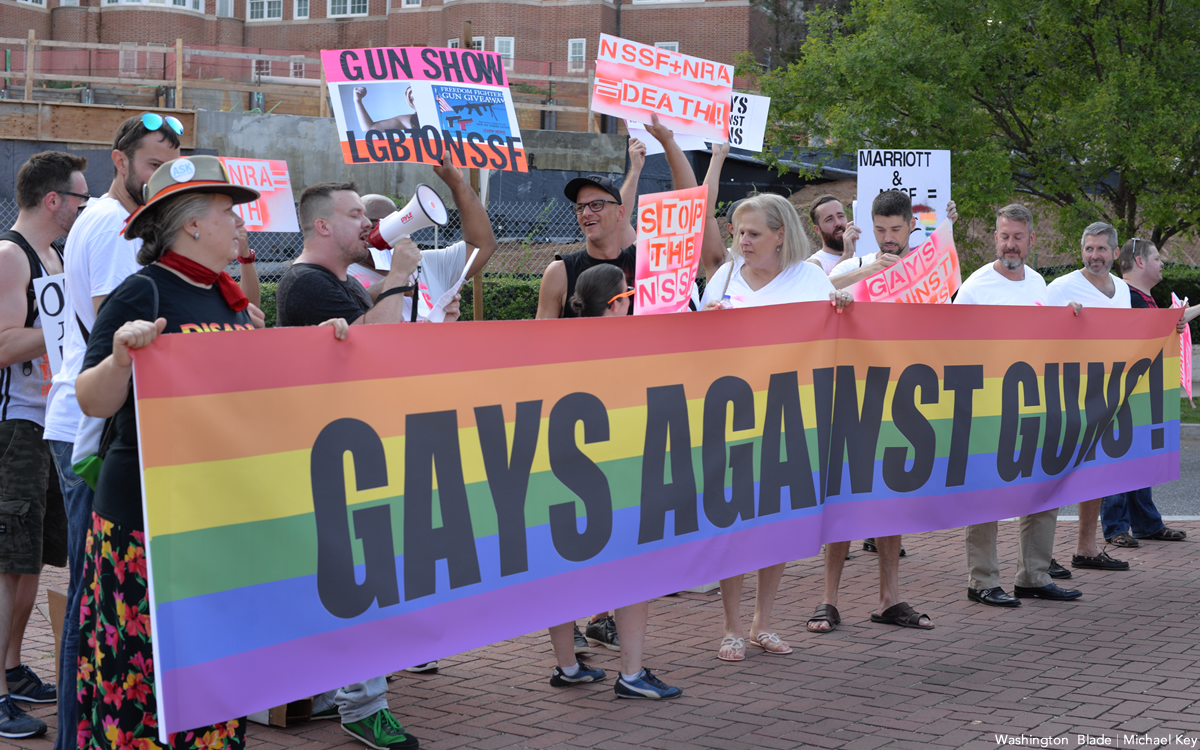 As many as several dozen LGBTQ activists wearing white robes and carrying photos of victims of gun violence were planning a procession along city streets from the As You Are LGBTQ bar on Capitol Hill on Wednesday afternoon, Dec. 7, to the nearby St. Mark's Episcopal Church.
The church, located at 301 A St., S.E., was scheduled to host the 10th annual National Vigil for All Victims of Gun Violence beginning at 7 p.m. on Wednesday.
The New York City-based group Gays Against Guns, which is organizing the LGBTQ contingent, released a statement saying its members would be meeting at As You Are at 500 8th St., S.E. with LGBTQ "political, community based, nightlife, and gun violence prevention allies" to finalize plans for the procession a few hours before the start of the vigil.
Jay Walker, one of the Gays Against Guns leaders, told the Washington Blade the group and its supporters have scheduled a press conference at As You Are on Wednesday at 3 p.m. to draw attention, among other things, to threats and anti-LGBTQ protests against drag shows over the past two weeks in cities across the country.
Walker pointed to news reports of hostile protesters, some armed with guns, assembling outside bars or clubs holding drag shows in Columbus, Ohio; Lakeland and Ft. Lauderdale, Fla.; Aurora, Ill.; and Manhattan, Staten Island, and Oceanside, N.Y. within the past two weeks.
Most of these reported attempts to intimidate people patronizing or participating in drag performances took place after the Nov. 19 shooting at the Club Q gay bar in Colorado Springs, Colo., in which a gunman shot and killed five people and injured at least 17 more.
That shooting took place shortly before a drag show was scheduled to take place at the Club Q.
The National Vigil for All Victims of Gun Violence, set for 7 p.m. Wednesday at St. Mark's Episcopal Church, was to take place shortly after speculation has surfaced that opposition to a drag show was the motive that prompted one or more as yet unidentified suspects to fire multiple gunshots at electrical power substations in Moore County, N.C., causing a blackout affecting 45,000 residents.  
Law enforcement officials investigating what they have said was a targeted attack aimed at knocking out the electric power substations also said they have no evidence yet as to what the motive was for the crime.
But in its statement released this week, Gays Against Guns said the attack on the power substations took place shortly after a drag event was held in the town of Southern Pines in Moore County that drew opposition and protests from far-right activists and anti-LGBTQ community members.
"Enough is enough!" the Gays Against Guns statement says. "Our communities must take a stand and issue demands of our elected leaders, law enforcement, and the greater polity to take action on this threat to all Americans."
The latest incidents targeting drag shows have taken place after D.C. police announced shortly after the Club Q shooting in Colorado Springs that they were stepping up police patrols around D.C. LGBTQ establishments, including gay bars.
"At this time, there are no known threats to any events or locations in the District," a Nov. 23 police statement says. "MPD will continue to monitor the developments in Colorado Springs and share information with our local, regional and federal law enforcement partners," the statement says.
But a short time later, on Nov. 30, the U.S. Department of Homeland Security issued a terrorism threat bulletin warning that domestic extremists have posted online praise for the Club Q shooting suspect and have called for copycat attacks.
"Targets of potential violence include public gatherings, faith-based institutions, the LGBTQI+ community, schools, racial and religious minorities, government facilities and personnel, U.S. critical infrastructure, the media, and perceived ideological opponents," the bulletin states.
"Some domestic violent extremists who have conducted attacks have cited previous attacks and attackers as inspiration," the DHS bulletin continues. "Following the late November shooting at an LGBTQI+ bar in Colorado Springs, Colorado — which remains under investigation — we have observed actors on forums known to post racially or ethnically motivated violent extremist content praising the alleged attacker," the bulletin says.
Mark Lee, coordinator of the D.C. Nightlife Council, a group representing bars, restaurants, nightclubs, and entertainment establishments, said the community nightlife businesses welcome the increased police patrols of these establishments.
"The local nightlife association has offered periodic security and active shooter training sessions for venue operators, managers, and staff for a number of years, most recently on Nov. 1 in conjunction with the restaurant association," Lee said. "These specialized trainings feature presentations by both a nationally recognized training firm and DCNC affiliate member nightlife security consultants and the D.C. Metropolitan Police Department," Lee told the Blade.
"Nightlife hospitality establishments understand the importance of being constantly vigilant about, and prepared for, any and all incidents that could occur whenever people are gathered," he said.
Walker of Gays Against Guns said participants in the planned LGBTQ procession from As You Are bar to St. Mark's Church would be carrying photos or signs commemorating the LGBTQ victims of gun violence, including victims of the Pulse LGBTQ nightclub shooting in Orlando, Fla. in June 2016 in which 49 mostly LGBTQ patrons of the club were shot to death by lone gunman.
The Wednesday night vigil at St. Mark's Episcopal Church, among other things, will commemorate the 10th anniversary of the Sandy Hook, Conn., school shooting incident in which 26 people were shot to death, 20 of whom were children, according to a statement released by organizers.
"By this December, over one million Americans will be killed or injured by guns since the Sandy Hook shooting tragedy," the statement says. "We urge you to join the gun violence prevention community in our collective effort to continue to shine a light on the devastating epidemic of gun violence in our nation until these gun deaths and injuries are reduced."