Court rules against law barring gay couples from veterans benefits
Judge finds U.S. gov't has no rational basis for withholding benefits from same-sex spouses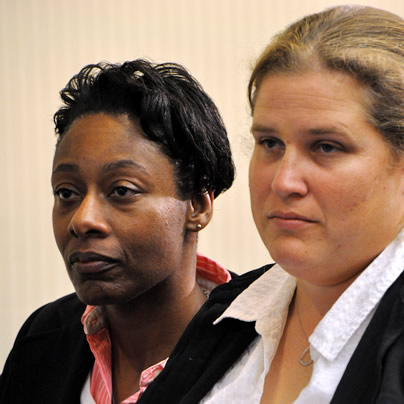 A federal district judge in California ruled on Thursday that enforcing Title 38 — the portion of U.S. code governing veterans benefits — to bar former troops in same-sex marriages from receiving spousal veterans benefits is unconstitutional.
U.S. District Judge Consuelo Marshall, a Carter appointee, grants summary judgment in favor of lesbian veteran plaintiff Tracey Cooper-Harris by determining the U.S. government lacks any rational basis in withholding these benefits. Marshall finds current law doesn't advance gender equity or military purposes.
"Title 38 is not rationally related to the military's commitment to caring for and providing for veterans benefits," Marshall writes. "[T]he court permanently enjoins Defendants from relying on [Title 38] or Section 3 of [DOMA] to deny recognition of Plantiffs' marriage recognized by the State of California."
It wasn't immediately clear Thursday night whether the ruling means the U.S. government is enjoined from blocking benefits for all gay married veterans or only the plaintiffs who filed suit in the case. However, the court declared the law unconstitutional, not just as applied to the plaintiffs.
Caren Short, staff attorney for the Southern Poverty Law Center, said Friday the decision applies "just to our clients Tracey and Maggie," but believes the administration can implement the ruling on a nationwide basis.
"We're hopeful that now that a federal court has declared these definition in Title 38 unconstitutional that the VA will be able take steps toward providing equal benefits now to everyone," Short said.
Jon Davidson, legal director Lambda Legal, said whether the administration will apply the ruling only to plaintiffs or other gay veterans is yet to be seen.
"In most instances, DOJ takes the position that a district court ruling against a federal agency is not binding on the agency beyond the jurisdiction of the court issuing the ruling, but I do not know what DOJ will say here, if they do not appeal, as they may simply accede to the ruling on a nationwide basis," Davidson said.
The Justice and Veterans Affairs departments didn't immediately respond to a request to comment Friday morning on what their next steps will be as a result of the ruling.
The lawsuit, known as Cooper-Harris v. United States, was filed in February 2012 by the Southern Poverty Law Center on behalf of Tracey Cooper-Harris, a lesbian veteran of the Iraq and Afghanistan wars who was seeking veterans spousal benefits for her spouse, Maggie Cooper-Harris. Tracey was diagnosed with multiple sclerosis and later found it was connected to her service, but was unable to receive spousal disability benefits.
The Southern Poverty Law Center asked the court to overturn both Section 3 of the Defense of Marriage Act, which has since been overturned by the Supreme Court, and Title 38 with respect to its hold on spousal benefits for gay veterans on the basis that the laws violate due process under the Fifth Amendment.
In a statement provided by SPLC, Tracey Cooper-Harris expressed gratitude the court ruled in favor of granting veterans benefits that will benefit her and her spouse.
"Maggie and I have waited so long to receive the same benefits other married veterans and their spouses receive," Tracey said. "We are overjoyed that the court has ended the federal government's discrimination against gay and lesbian veterans and their spouses. Judge Marshall's ruling confirms that the service of gay and lesbian veterans and the sacrifices of their spouses are valued equally in the eyes of the law."
Even though the U.S. Supreme Court has struck down the Section 3 of DOMA, the U.S. government has still withheld veterans spousal benefits — such as disability and joint burial benefits — from veterans in same-sex marriages on the basis of Title 38. That law, which governs veterans benefits, defines spouse in opposite-sex terms independent of DOMA.
Just this week, the Washington Blade made public a letter from Secretary of Veterans Affairs Eric Shinseki stating that U.S. government is still withholding spousal benefits for veterans marriages. The letter says the department is still reviewing with the Justice Department whether the Obama administration can afford these benefits following the DOMA decision.
Stephen Peters, president of the LGBT group American Military Partners Association, commended the court for reaching the decision that Title 38 is unconstitutional.
"Title 38 clearly violated the constitutional rights of our military veteran families," Peters said. "This decision sets our nation on a path to honoring and serving all of our veterans and their families, regardless of their sexual orientation."
Doug NeJaime, who's gay and law professor at University of California, Irvine, said the ruling is positive, but noted other statutes still exist barring veterans spousal benefits from flowing to same-sex couples.
"The ruling applies the reasoning of Windsor in a logical way and represents an important step forward on veterans benefits," NeJaime said. "However, veterans benefits have traditionally not used a place of celebration rule, meaning that unlike in the general military context, same-sex couples would not automatically be eligible for benefits based on their marriage."
It's unclear how the case could proceed any further to higher court. U.S. Attorney General Eric Holder announced the Justice Department wouldn't defend Title 38 against legal challenges that contest the law on the basis that it unfairly deprives same-sex couples of veterans benefits. The House Republican-led Bipartisan Legal Advisory Group, which had taken up defense of DOMA after the Obama administration stood down, withdrew as a party from the case in July.
SPLC's Short she doesn't believe anyone can appeal the case now that there are no opposing parties in the lawsuit.
"On the issue of Title 38's constitutionality, it's doesn't appear that there will be anyone to appeal," Short said. "The Department of Justice said that they also agreed that Title 38 is unconstitutional. They filed a brief in support of our motion for summary judgment, so it would be strange for them to appeal the ruling, which was essentially the outcome that they were advocating for. So on the issue of Title 38's constitutionality, there isn't likely to be an appeal."
But Lambda's Davidson said the Justice Department still may appeal the decision on the grounds that the federal district court in California doesn't have jurisdiction to hear the case.
"While DOJ is not defending on the merits, it has been contesting whether the Title 38 challenge belongs in federal district court as opposed to the specialized administrative court that deals with VA benefit issues," Davidson said. "The judge ruled against DOJ on that previously but and DOJ might appeal that issue at this point."
Federal judge blocks White House from ending Title 42
Advocacy groups say policy further endangered LGBTQ asylum seekers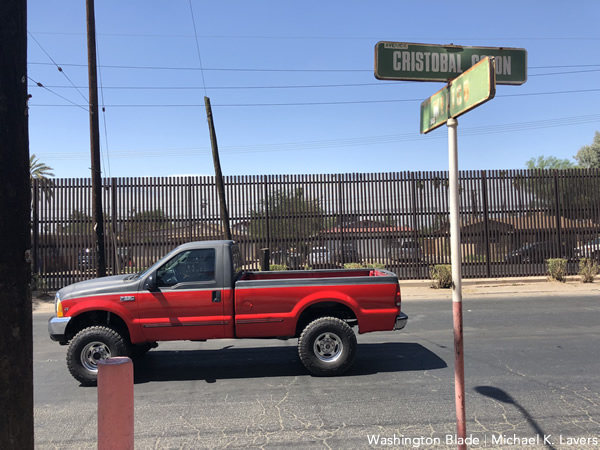 A Centers for Disease Control and Prevention rule that closed the Southern border to most asylum seekers and migrants because of the pandemic was to have ended Monday, but it remains in place after a federal judge blocked the Biden administration's plans to end it.
The White House last month announced it would terminate Title 42, a policy the previous administration implemented in March 2020.
U.S. District Judge Robert Summerhays in Louisiana on May 20 issued a ruling that prevented the Biden administration from terminating the Trump-era policy. White House Press Secretary Karine Jean-Pierre in a statement announced the Justice Department will appeal the decision, while adding the administration "will continue to enforce the CDC's 2020 Title 42 public health authority pending the appeal."
"This means that migrants who attempt to enter the United States unlawfully will be subject to expulsion under Title 42, as well as immigration consequences such as removal under Title 8 (of the U.S. Code)," said Jean-Pierre.
Advocacy groups and members of Congress with whom the Washington Blade has spoken since Title 42 took effect say it continues to place LGBTQ asylum seekers and other vulnerable groups who seek refuge in the U.S. at even more risk.
Oluchi Omeoga, co-director of the Black LGBTQIA+ Migrant Project, last month described Title 42 as a "racist and harmful policy." ORAM (Organization of Refuge, Asylum and Migration) Executive Director Steve Roth said Title 42 "put asylum seekers in harm's way in border towns and prevented them from seeking safety in the United States."
Title 42 was to have ended less than a month after five members of Congress from California visited two LGBTQ shelters for asylum seekers in the Mexican border city of Tijuana.
The Council for Global Equality, which organized the trip, in a tweet after Summerhays issued his ruling described Title 42 as a "catastrophe."
"The Biden administration cannot breathe a sign of relief until it's a matter of the past," said the Council for Global Equality on Saturday. "We remain committed to end Title 42."
#Title42 is a catastrophe — and the Biden administration cannot breathe a sigh of relief until it's a matter of the past. We remain committed to #EndTitle42. https://t.co/9EKJTiJzoV

— The Council for Global Equality (@Global_Equality) May 20, 2022
U.S. official meets with Brittney Griner
Consular visit took place on May 19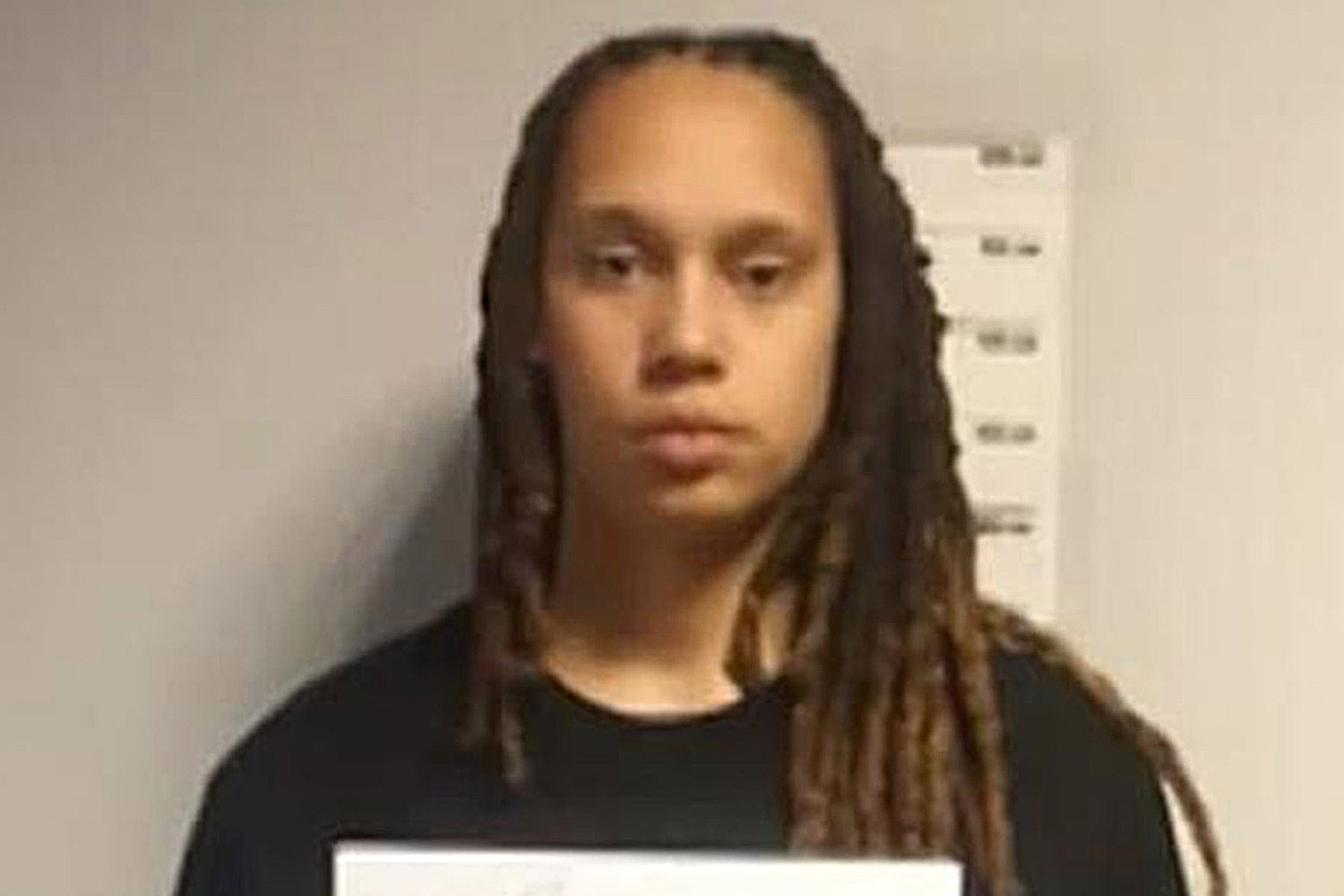 A U.S. consular official on May 19 visited detained WNBA star Brittney Griner in Russia.
State Department spokesperson Ned Price on Friday told reporters during a virtual briefing the officer "found her continuing to do as well as could be expected under these exceedingly challenging circumstances." The officer met with Griner two days after U.S. Ambassador to Russia John Sullivan said Russian officials had denied consular visits with her three times this month.
"Our message is a clear and simple one," said Price. "We continue to insist that Russia allow consistent and timely consular access to all U.S. citizen detainees. One-off visits are not sufficient, and we will continue to call on Moscow to uphold its commitments under the Vienna Convention for consistent and timely access as well."
Griner — a center for the Phoenix Mercury and a two-time Olympic gold medalist who is a lesbian and married to her wife — was taken into custody at Moscow's Sheremetyevo Airport in February. Russian officials said customs inspectors found hashish oil in her luggage.
The State Department has determined Russia "wrongfully detained" Griner.
A Russian court on May 13 extended her detention for another month. The Women's National Basketball Players Association, a union that represents WNBA players, has endorsed a petition that urges the Biden administration to "prioritize" Griner's release.
Secretary of State Antony Blinken spoke with Griner's wife, Cherelle Griner, on May 14.
U.S. announces more funding to fight HIV/AIDS in Latin America
Jill Biden made announcement on Saturday in Panama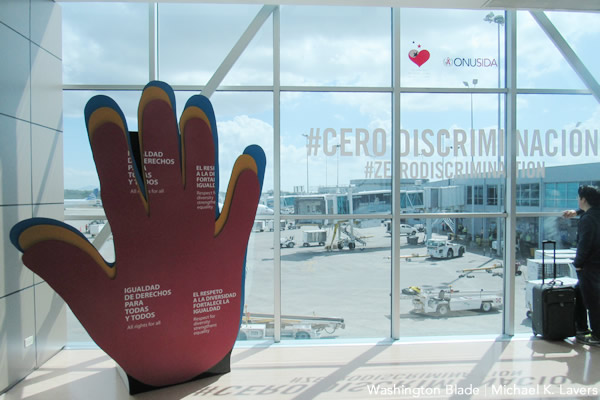 First lady Jill Biden on Saturday announced the U.S. will provide an additional $80.9 million to the fight against HIV/AIDS in Latin America.
Biden during a visit to Casa Hogar el Buen Samaritano, a shelter for people with HIV/AIDS in Panama City, said the State Department will earmark an additional $80.9 million for President's Emergency Plan for AIDS Relief-funded work in Latin America. A Panamanian activist with whom the Washington Blade spoke said LGBTQ people were among those who met with the first lady during her visit.
Pope Francis visited the shelter in 2019.
"I'm glad we have the opportunity to talk about how the United States and Panama can work together to combat HIV," said the first lady.
Michael LaRosa, the first lady's spokesperson, noted Panama will receive $12.2 million of the $80.9 million in PEPFAR funding.
"This funding, pending Congressional notification, will support expanded HIV/AIDS services and treatment," said LaRosa.
UNAIDS statistics indicate an estimated 31,000 Panamanians were living with HIV/AIDS in 2020. The first lady's office notes the country in 2020 had the highest number of "newly notificated cases of HIV/AIDS" in Central America.
The first lady visited Panama as part of a trip that included stops in Ecuador and Costa Rica.
The Summit of the Americas will take place next month in Los Angeles. The U.S. Agency for International Development and PEPFAR in April announced they delivered more than 18 million doses of antiretroviral drugs for Ukrainians with HIV/AIDS.