Quinn losing ground in NYC mayor's race: polls
De Blasio leads by 15 percent in new Quinnipiac University survey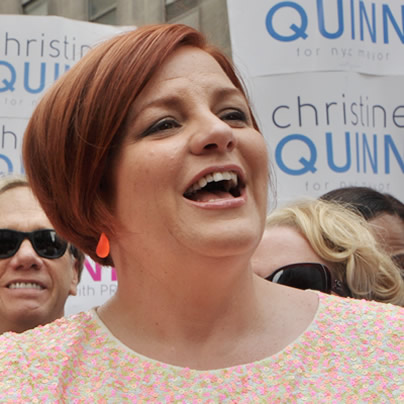 Two new polls suggest New York City Council Speaker Christine Quinn's lead over her Democratic challengers in the mayoral campaign has evaporated less than two weeks before the Sept. 10 primary.
A Quinnipiac University poll conducted between Aug 22-27 found New York City Public Advocate Bill de Blasio leads Quinn by a 36-21 percent margin. Twenty percent of likely Democratic primary voters backed former New York City Comptroller William Thompson, Jr., while former Congressman Anthony Weiner received 8 percent.
Another Quinnipiac University poll released on July 29 showed Quinn ahead of de Blasio by a 27-21 percent margin. Thompson came in third with 20 percent, while 16 percent of respondents backed Weiner.
An amNewYork-News 12 poll that Pen Schoen Berland conducted between Aug. 22-27 found 29 percent of likely Democratic voters support de Blasio, compared to 24 percent who back Thompson. Quinn came in a distant third with 17 percent.
Quinn needs at least 40 percent of the vote in the Sept. 10 primary to avoid a run-off.
"The polling in this race has been topsy-turvy for months," Quinn campaign spokesperson Mike Morey told the Washington Blade. "We expect a tight race and we expect that on primary night Christine Quinn will be in a runoff, because New Yorkers want an effective progressive who can actually get things done."
Quinnipiac University and amNewYork-News 12 released their polls four days after the New York Times endorsed Quinn, who would become the city's first female and first openly LGBT mayor if voters elect her to succeed Mayor Michael Bloomberg in November. The Gay and Lesbian Victory Fund; the Stonewall Democratic Club of New York City; the New York Daily News; Empire State Pride Agenda and Edith Windsor, the Manhattan widow who successfully challenged the Defense of Marriage Act before the U.S. Supreme Court, have also endorsed Quinn.
De Blasio and Quinn have clashed over the New York Police Department's controversial stop-and-frisk policy a federal judge last month found unconstitutional and other issues on the campaign trail and during a number of recent debates. Quinn continues to face criticism over her decision to support the extension of term-limits in 2008 that allowed Bloomberg, herself and other city officials to seek a third term in office.
Quinn in 2008 also acknowledged a City Council slush fund had since 2001 appropriated more than $17 million to community organizations that did not exist.
Brooklyn, N.Y., attorney Garfield Heslop in June asked the New York City Campaign Finance Board to investigate Quinn over the more than $20,000 in campaign contributions she received from donors in Houston, San Diego and Chicago after she attended Victory Fund events in the three cities in 2011 and 2012.
Pauline Park, a transgender activist in Queens who frequently criticized Quinn, told the Blade she feels the latest Quinnipiac University poll shows "the more the voters see of her the less they like."
"Voters just aren't buying Quinn's phony baloney about being the one who's delivered for New Yorkers," Park said. "This survey also shows that 65 percent of Democratic primary voters want real change and a clean break with the plutocratic policies of the billionaire Bloomberg. And that is damaging Quinn, who as Council speaker has acted as a de facto deputy mayor in the Bloomberg administration."
The Victory Fund did not respond to the Blade's request for comment.
Paul Schindler, editor of Gay City News, which endorsed Quinn last month, noted to the Blade the polls have "bounced around a lot this year." He said de Blasio's numbers have only been good for the last few weeks, and he has come under more scrutiny as the current frontrunner ahead of the Sept. 10 primary.
"Clearly, de Blasio has made big strides," Schindler told the Blade, referring to contributing factors that include Weiner's growing unpopularity among voters and de Blasio's position against the closure of St. Vincent's Catholic Medical Center in lower Manhattan and other city hospitals. "He, Quinn and Thompson all remain in the mix. I'd be surprised if there is not a runoff."
Delaware governor vetoes legalization of marijuana possession
Carney cites impact on youth, public health, law enforcement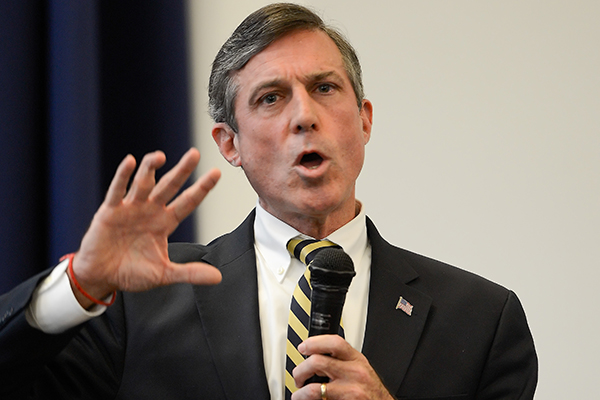 Delaware Gov. John Carney on Tuesday vetoed a bill that would have legalized the possession of marijuana in the First State. House Bill 371, which passed the House on May 5 and the Senate May 12, would legalize the possession of up to one ounce of marijuana and remove criminal and civil penalties associated with the non-remunerative transfer of marijuana for individuals ages 21 or older.
"I do not believe that promoting or expanding the use of recreational marijuana is in the best interests of the state of Delaware, especially our young people," Carney said in his veto statement Tuesday. "Questions about the long-term health and economic impacts of recreational marijuana use, as well as serious law enforcement concerns, remain unresolved."
Current state laws deem the possession of one ounce of marijuana or less a civil offense resulting in a financial penalty. Still, the possession of more than one ounce of marijuana remains a misdemeanor — a designation that would remain unchanged with the passage of the bill.
In the statement, Carney acknowledged that marijuana can help individuals with certain health conditions, and said that possession and private consumption of the substance should not lead to imprisonment. But he also noted that these beliefs are already reflected in state legislation, following his passage of marijuana decriminalization in 2019.
"I have been clear about my position since before I took office, and I have articulated my concerns many times," he added.
The Delaware Center for Justice called upon the General Assembly to override the veto in a Tuesday press release, emphasizing that legalizing marijuana is of particular importance to low-income communities and communities of color across the state.
These communities "experience police harassment and arrest for marijuana at disproportionate rates than those of white affluent communities, despite usage rates being almost the same," DCJ Director of Policy Kailyn Richards noted in the press release. She added that DCJ believes state legislators should further "pass a companion bill that sets up a safe and legal marketplace."
The American Civil Liberties Union of Delaware also emphasized that the General Assembly should override the veto.
Carney's veto of the bill "is an affront to the lawmakers, advocates, and residents of Delaware who have shown consistent and overwhelming support for this measure," Mike Bichner, ACLU of Delaware executive director, said in a statement Tuesday. "The criminalization of cannabis has been a tool of the failed, racist War on Drugs, which has caused irrevocable harm to our Black communities."
Gay man shot to death on NYC subway train
Police say shooting was random and unprovoked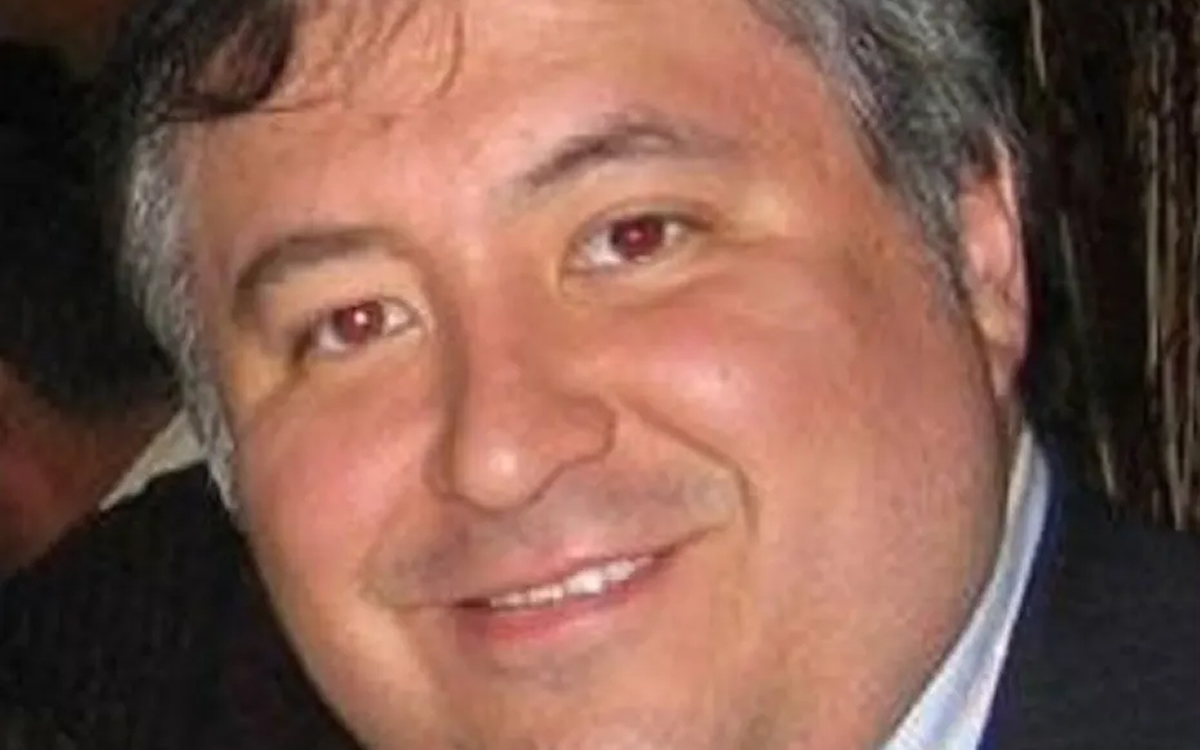 A gay man became the latest victim of a New York City subway shooting on Sunday when police say a male suspect shot Daniel Enriquez, 48, in the chest in an unprovoked random act inside a subway car traveling from Brooklyn to Manhattan.
Police on Tuesday arrested Andrew Abdullah, 25, who they identified as the sole suspect in the shooting, after attorneys representing him from the Legal Aid Society attempted to arrange for his surrender, according to a report by NBC 4 News in New York.
Police said the shooting occurred around 11:42 a.m. while the train was traveling over the Manhattan Bridge. The then unidentified suspect walked off the train and disappeared into a crowd of people when the train stopped at the Canal Street station minutes after Enriquez lay dying on the floor on the train car, police said.
Possibly based on the viewing of images from video surveillance cameras, police sources told the New York Times that investigators identified the suspect as Abdullah whose last known residence was in Manhattan, as a suspect in the fatal shooting. NYPD officials released two photos of Abdullah and appealed to the public for help in finding him.
Adam Pollack, Enriquez's partner of 18 years, told both the Times and the New York Post that Enriquez took the subway to meet his brother for brunch. According to Pollack, Enriquez previously had taken Ubers into Manhattan, where he worked and socialized, from the couple's home in the Park Slope section of Brooklyn. But in recent weeks the cost of taking an Uber rose dramatically to more than $80 for the round-trip fare, prompting Enriquez to begin taking the subway, Pollack told the Times and Post.
"I don't love the subway," the Post quoted Pollack as saying. "I know how dangerous New York is. It took me two years to get back on the subway. I don't feel safe on the subway," he said.
The fatal shooting of Enriquez took place six weeks after another gunman identified as Frank R. James began shooting inside a crowded rush-hour subway car in Brooklyn, injuring at least 23 people.
Pollack told the Times his partner was a native New Yorker who worked as a researcher for the Goldman Sachs investment bank in Manhattan. Enriquez was the eldest of five children and a beloved uncle known for taking his nieces and nephews for ice cream in local parks and out to amusement parks when he visited them, Pollack told the Times.
When asked by the Washington Blade if any evidence has surfaced to indicate suspect Abdullah targeted Enriquez because he thought Enriquez was gay, a police public information officer said the investigation into the incident was continuing.
"There's nothing on that now," the officer said. "Everything, the motive, and all of that stuff, is part of the investigation and that is still ongoing. So, there's no comment on that yet."
The Times reports that court records show Abdullah, who is now in police custody, was charged along with others in 2017 in an 83-count indictment for alleged gang related activity. The following year he pleaded guilty to criminal possession of weapons and other charges in 2018 and was sentenced the following year to a prison term and released on parole several months later.
According to the Times, he faced new gun charges in 2020, was charged in 2021 with assault and endangering a child, and in April of this year was charged with possession of stolen property and unauthorized use of a vehicle.
"We are devastated by this senseless tragedy and our deepest sympathies are with Dan's family at this difficult time," Goldman Sachs CEO David Solomon said in a statement.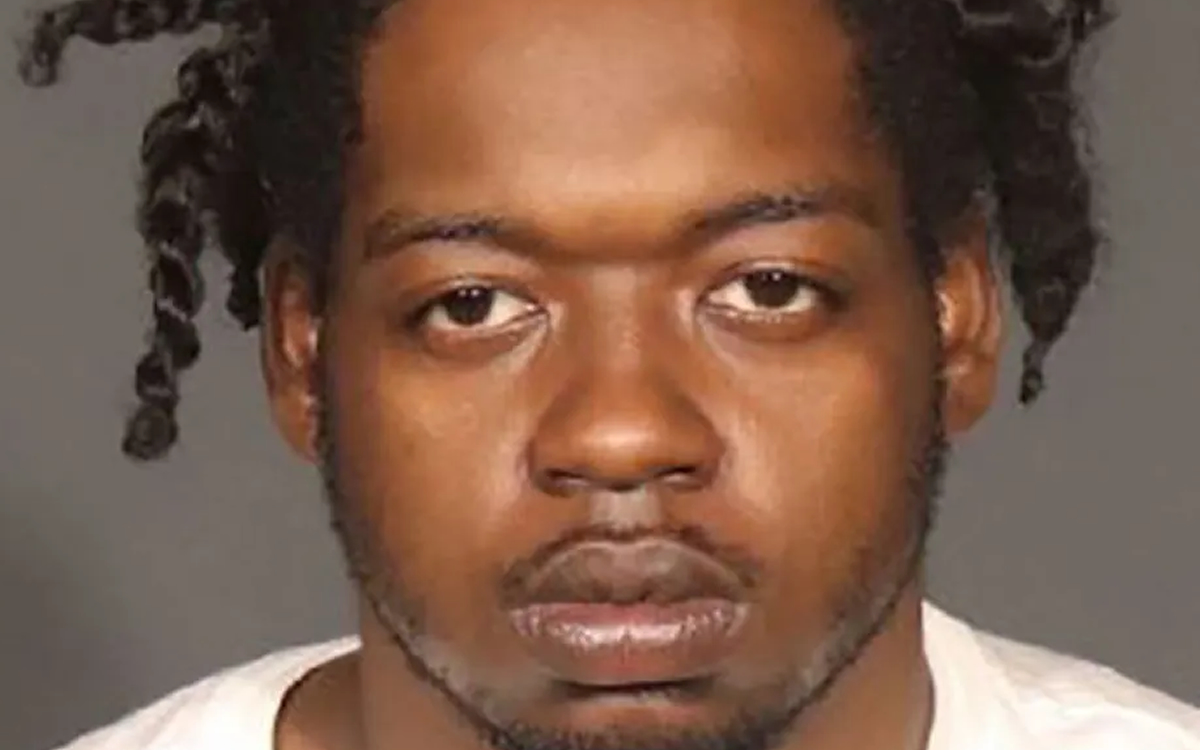 Vandals target 2 Rehoboth Beach LGBTQ-owned businesses
Staff discovers graffiti on walls, doors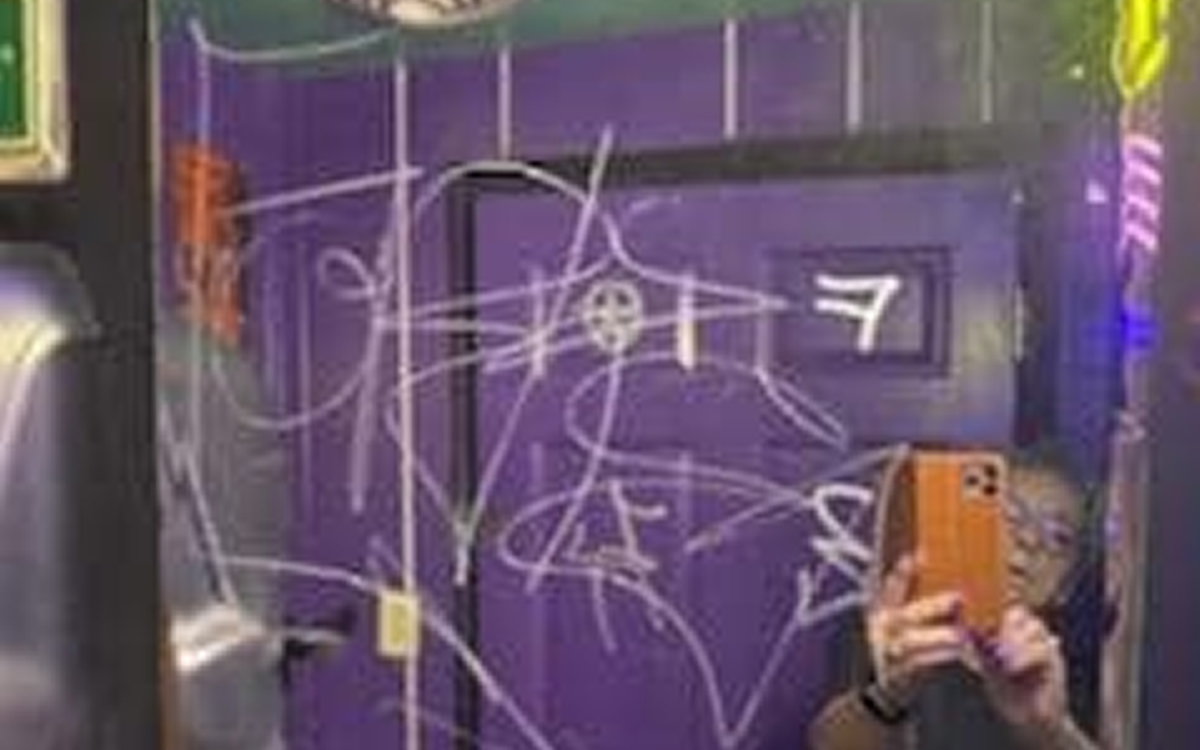 Freddie's Beach Bar and the Purple Parrot — two LGBTQ+ bars and restaurants in Rehoboth Beach — discovered that their establishments had been vandalized on Monday, according to a series of posts to the Purple Parrot's Facebook page made by Hugh Fuller, the restaurant's owner.
The vandal, whose identity remains unknown, painted on the walls and carved graffiti into the mirrors of the Purple Parrot's bathroom, and painted graffiti on the front door of Freddie's Beach Bar, the posts recounted. The establishments have since filed police reports with the Rehoboth Police Department.
Tony Rivenbark, a manager at Freddie's, said that a staff member first noticed the vandalism around 10:30 a.m. on Monday, and that it was dry to the touch, leading restaurant management to believe it was painted early in the day. Upon discovering the graffiti, restaurant staff reported it to local police and were told that other nearby locations had similarly been vandalized, he said.
Between its Rehoboth and Arlington, Va. locations, Rivenbark has worked at the establishment for almost two decades, and added that this was the first instance of vandalism at the Rehoboth venue, which has been open for less than one year. He noted that Freddie's management is currently reviewing security footage for further information, and is likely to soon install additional security cameras.
At the establishment's Arlington, Va., location, "we've had some minor spray painting done, we've had some rocks thrown at windows," he recounted. "Mostly I have attributed it to drunken antics, not so much hate. Hopefully that's the case here as well."
Rivenbark added that Freddie's staff remains positive despite the circumstances. "It doesn't seem like a huge issue. It's something we'll probably just paint over tomorrow," Rivenbark said. "I'd much rather it be some kid that's got a new little airbrush … than it being somebody that's targeting LGBT businesses."
The Rehoboth Beach Police Department declined to comment or to confirm details of the reports filed.