Anti-gay groups donate thousands to Va. GOP candidates
Cuccinelli received $20,000 from Family Research Council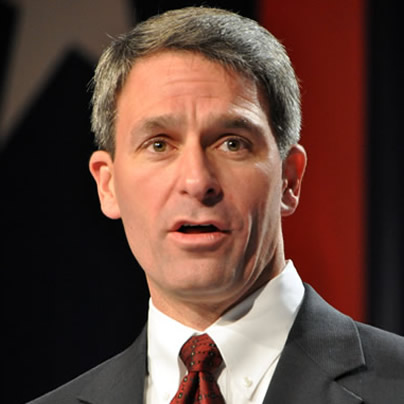 The latest campaign finance reports that Virginia's Republican candidates for statewide office filed last week indicate they continue to receive significant financial support from social conservatives and anti-LGBT groups.
The campaign finance report that Attorney General Ken Cuccinelli filed with the Virginia Board of Elections on Oct. 15 notes Leadership Institute President Morton Blackwell gave the gubernatorial hopeful $19,665 on Sept. 12.
Morton, who opposed the gay group GOProud's participation in the 2011 Conservative Political Action Conference and received an award during last year's Values Voter Summit, has given the Cuccinelli campaign a total of $25,878. Morton also gave $1,000 to state Sen. Mark Obenshain(R-Harrisonburg)'s attorney general bid on Sept. 30, according to campaign finance records.
Campaign finance reports indicate the Family Research Council Action PAC on Sept. 30 made a $5,000 contribution to E.W. Jackson's campaign; he's running for lieutenant governor. The group also donated $20,000 to Cuccinelli's campaign on Aug. 31.
Obenshain's campaign on Sept. 10 received a $10,000 contribution from Pat Robertson, according to a campaign finance report it filed with the Virginia Board of Elections on Oct. 15. The anti-gay televangelist also gave $2,500 to Jackson's campaign on Aug. 31.
Foster Friess, who backed former Pennsylvania Sen. Rick Santorum's 2012 presidential bid, on Sept. 19 gave Cuccinelli's campaign $20,000. Campaign finance reports further indicate the billionaire businessman has thus far contributed $50,000 to the attorney general's gubernatorial campaign.
John Rocovich, Jr., a member of the Virginia Tech Board of Visitors who led efforts to remove sexual orientation from the university's anti-discrimination policy in 2003 when he was rector, has given $38,986 in cash and in-kind contributions to Cuccinelli's campaign. He has also contributed $7,500 to Jackson's bid and another $18,750 in cash and in-kind contributions to Obenshain's campaign.
The Family Foundation, a Richmond-based group that supports the commonwealth's constitutional amendment that bans same-sex marriage and opposes LGBT-specific measures in the General Assembly, has also contributed to the three men's campaigns.
Roger Pogge of the Family Foundation has given $400 to Cuccinelli, according to campaign finance records. Pogge has given $250 to Jackson and another $200 to Obenshain.
The re-election campaign for state Del. Brenda Pogge (R-James City), whose husband is Roger Pogge, has given $1,150 to Cuccinelli's gubernatorial bid. Campaign finance reports indicate the Republican lawmaker has also given $500 to Obenshain.
Jackson in his latest campaign finance report noted a $1,500 donation to the Family Foundation on Sept. 24. This contribution came less than two weeks before the organization held its annual dinner in Richmond at which Cuccinelli and U.S. Sen. Ted Cruz (R-Texas) spoke.
LGBT advocates criticize Va. Republican ticket
Cuccinelli's, Jackson's and Obenshain's Democratic opponents and LGBT rights advocates note these contributions come as no surprise considering the three men's opposition to marriage for same-sex couples and other gay-specific measures in the commonwealth.
The U.S. Supreme Court earlier this month denied Cuccinelli's request to appeal a lower court ruling that found Virginia's sodomy law unconstitutional.
Cuccinelli, who has previously described same-sex sexual acts as "intrinsically wrong", in July reaffirmed his opposition to homosexuality during a gubernatorial debate against former Democratic National Committee Chair Terry McAuliffe.
The current attorney general in 2010 recommended Virginia colleges and universities remove LGBT-specific provisions from their non-discrimination policies. Cuccinelli was also among those who spoke at an anti-gay marriage gathering at a Manassas church last October to which the Washington Blade was denied access — a California pastor who attended the event described gay men as "predators" during a separate event at a Baltimore church the week before that Family Research Council President Tony Perkins, Bishop Harry Jackson, Jr., of Hope Christian Church in Beltsville, Md., and others attended.
LGBT rights advocates have repeatedly blasted Jackson over his comparison of gay men to pedophiles and describing them as "very sick people."
Obenshain sponsored a bill that Gov. Bob McDonnell signed into law in March that bans public universities from denying recognition and funding to student organizations that discriminate in their membership based on sexual orientation and other categories that federal law does not protect. He also opposed a measure a Virginia House of Delegates subcommittee in February tabled that would have banned discrimination against LGBT state employees.
Former Arkansas Gov. Mike Huckabee and Jim Bob and Michelle Duggar, stars of the TLC reality show "19 Kids and Counting" whose eldest son now works as a lobbyist for the Family Research Council in D.C., joined Cuccinelli on the campaign trail last week.
Cuccinelli reiterated his opposition to marriage rights for same-sex couples in response to the Blade's question after he and McAuliffe squared off in a debate sponsored by the Fairfax County Chamber of Commerce and NBC 4 in McLean last month. He declined to say whether he feels his position on the issue and his previous anti-LGBT statements have received too much attention on the campaign trail.
"That's a very sensitive issue, and I respect that," Cuccinelli told the Blade as he discussed his position on same-sex marriage. "There are people who feel very strongly about it, and I respect that. For those folks they want to hear about it, it is one of a range of issues."
Poll: Nearly half find Cuccinelli too conservative
A poll that Rasmussen Reports conducted on Oct. 20 shows McAuliffe leads Cuccinelli by a 50-33 percent margin. Eight percent of respondents said they support Libertarian gubernatorial candidate Robert Sarvis.
Forty-six percent of likely Virginia voters who responded to a Quinnipiac University poll conducted between Oct. 2-8 said they feel Cuccinelli is too conservative.
"Ken Cuccinelli has spent his career demonizing and insulting gay Virginians," McAuliffe campaign spokesperson Josh Schwerin told the Blade. "It's no surprise that some of his biggest donors would have equally offensive records."
Equality Virginia Executive Director James Parrish noted Cuccinelli, Jackson and Obenshain all have a record of "being openly hostile" to LGBT Virginians through their own statements or their legislative actions.
"It's not surprising that Pat Robertson, Family Research Council and other opponents of fairness and equality are funding the most right-wing, anti-gay, anti-choice ticket to ever run for statewide office in Virginia," gay state Sen. Adam Ebbin (D-Alexandria) added. "They're not just conservatives; they are zealots on a mission and it's a common mission that some of their most prominent donors share."
Democratic statewide candidates tap gay money
McAuliffe and Jackson and Obenshain's Democratic opponents – state Sens. Ralph Northam (D-Norfolk) and Mark Herring (D-Loudoun) respectively – have all publicly backed marriage rights for same-sex couples. The former DNC chair has repeatedly said as governor he would issue an executive order that would ban discrimination against LGBT state employees.
Campaign finance records indicate that McAuliffe, Northam and Herring continue to receive significant financial backing from LGBT contributors.
McAuliffe's latest campaign finance report he filed with the Virginia Board of Elections on Oct. 15 indicates Tim Gill donated $10,000 to his gubernatorial bid on Sept. 25. The gay philanthropist on the same day made $2,500 contributions to Northam and Herring's campaigns.
DNC Treasurer Andrew Tobias has donated $11,000 to McAuliffe's campaign. Gay Democratic strategist Steve Elmendorf on March 20 made a $5,000 contribution to the former DNC chair's gubernatorial bid – and campaign finance reports indicate he made an in-kind donation of $4,060 on May 16 for event expenses.
California Lieutenant Gov. Gavin Newsom on Sept. 21 gave $1,000 to McAuliffe's campaign, while lesbian Democratic strategist Hilary Rosen on Sept. 27 donated $1,000.
Campaign finance reports indicate the Human Rights Campaign made a $23,308 in-kind donation to the Democratic Party of Virginia for staff time and telephone calls on Sept. 11, and another $31,013 in-kind donation for the same items and e-mail advocacy on Oct. 26. The organization's PAC on Sept. 11 made $117 in-kind contributions for online advocacy to McAuliffe, Northam and Herring's campaigns.
Comings & Goings
Jimmy Alexander joins WTOP News as a feature reporter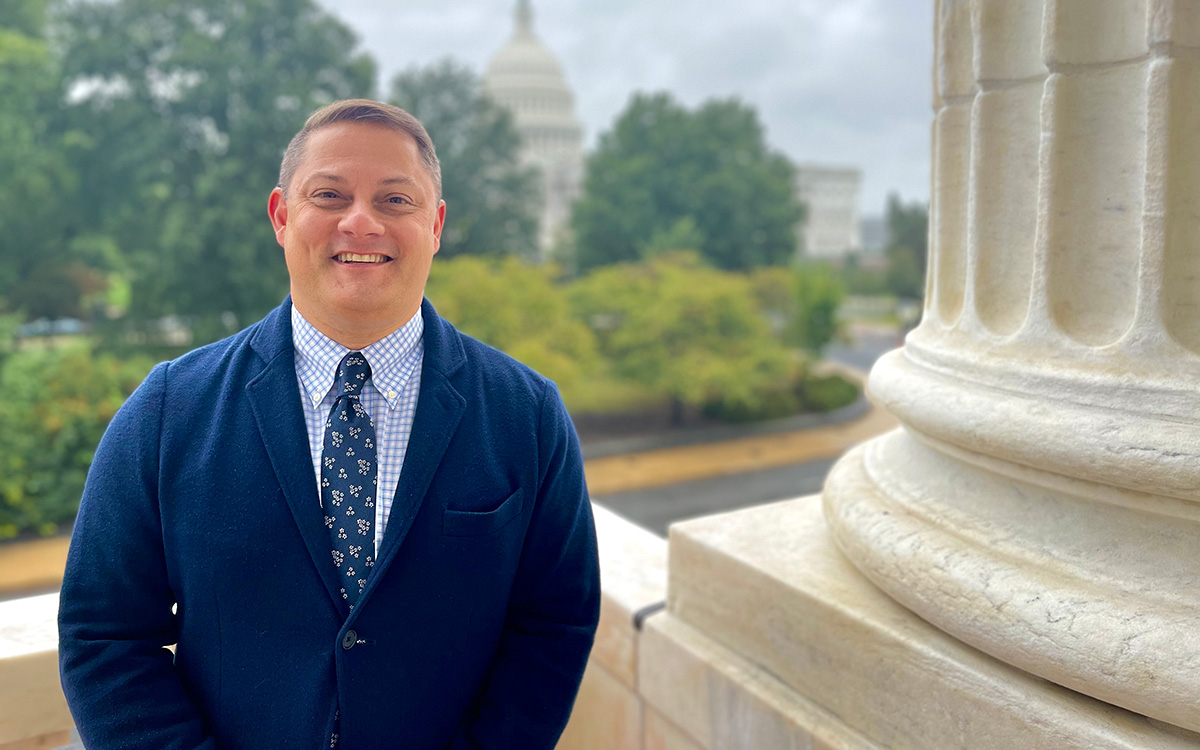 The Comings & Goings column is about sharing the professional successes of our community. We want to recognize those landing new jobs, new clients for their business, joining boards of organizations, and other achievements. Please share your successes with us at: [email protected]. 
Congratulations to Jimmy Alexander who has been hired at WTOP News as a feature reporter. Over the last four years Alexander has been covering stories as varied as the Jan. 6 insurrection to the 17th Street High Heel Race. He has been working as a co-host on the Jack Diamond Morning show on Cumulus Media, Manning Media. On his acceptance of the new position Alexander said, "I'm thrilled that at WTOP News, I will be able to focus on events and people that bring hope to your heart and a smile to your face."
Alexander is a versatile multimedia broadcaster with more than two decades of experience covering both major news events in Washington D.C., and important human-interest stories outside the Beltway. He is an engaging interviewer with a track record of having compelling conversations with the biggest names in government and show business, from presidents to Paul McCartney. Prior to this he worked as a freelance feature reporter with WDCW50-DC News Now. He is also with Writer-20, Twenty Country Countdown, United Stations Radio Networks. There he developed a concept for a countdown show featuring country music's weekly top songs on-air and online and prepared weekly scripts for a three-hour show.
Alexander conducted the only Jan. 6, 2021 interview with "The QAnon Shaman" Jacob Chansley. Since 2016, he has served by request of the D.C. mayor as official host of the 17th Street High Heel Race, the city's second largest LGBTQ event of the year. He is featured in the documentary "Joan Rivers: A Piece of Work," and is a frequent guest on CNN's Morning Show "New Day." He covered White House visits by Queen Elizabeth, the Pope, and the yearly Easter Egg Roll. He also won $10,000 on the game show "Pyramid."
LGBTQ University of Maryland students prepare to celebrate Hanukkah
Eight-day festival to begin Thursday night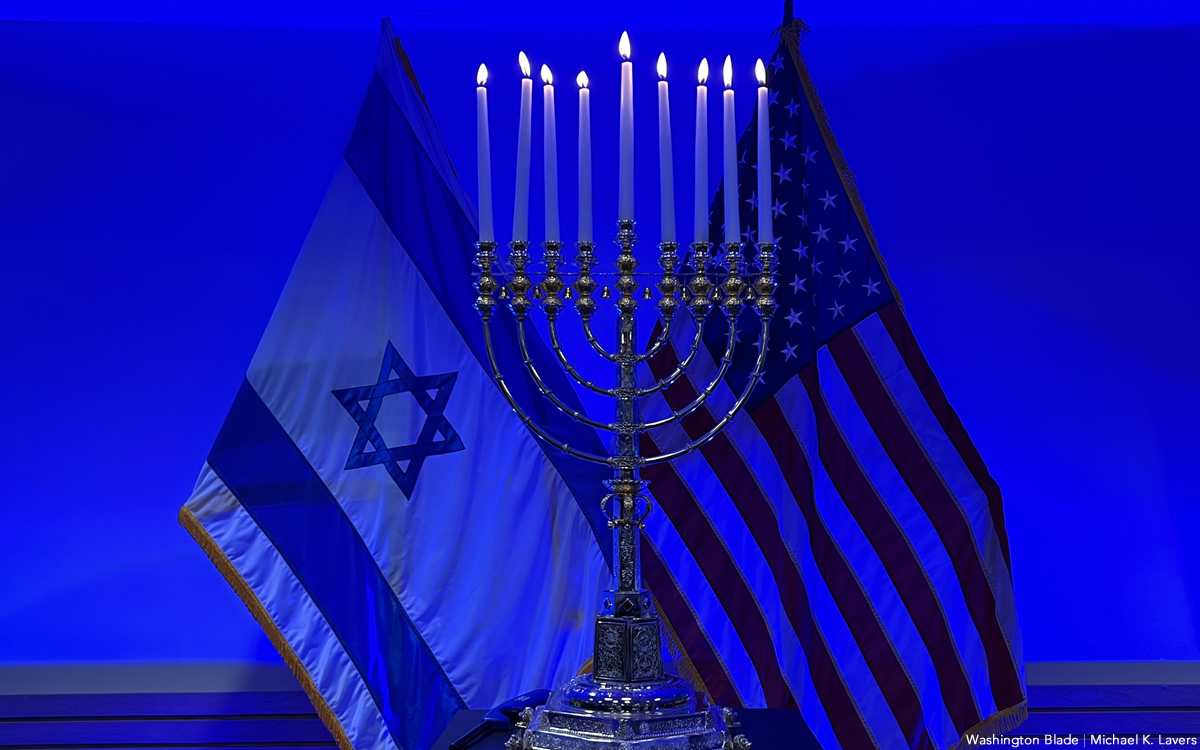 A number of Hanukkah events for LGBTQ students will take place at the University of Maryland this week.
Queer Jewish students and allies are welcome to attend Crazy Cozy Chill Chanukah Celebration on Sunday at the University of Maryland Hillel. Hamsa, home to queer Jewish life on campus, hosted a study break with hot drinks, snacks and games and a chance to welcome Hanukkah early. 
The first night of Hanukkah is Thursday.
Chabad UMD is hosting a menorah lighting on Thursday in front of McKeldin Library and plans to mention the war between Israel and Hamas, according to Rabbi Eli Backman of Chabad UMD. The event is going to be a focus on the positivity and the message of the Hanukkah story.  
"We've been around for thousands of years and all those who've tried to make sure that we didn't live to see the next generation (is) no longer here," Backman said. "That message will really resonate at home for the holiday."
The story of the Maccabees is one of the few stories where Jewish people fought, Backman said. In Jewish history, people don't see a military response in many of the other holiday moments.
"It should give us a boost of energy," Backman said. "A boost of strength (and) a boost of hope."
Part of the Hanukkah story's message is that Jewish people were in a position that they needed to form a military to secure their borders, Backman said. And they succeeded. 
For some, celebrating Hanukkah depends on the people they're around, Florence Miller, a sophomore English and Women, Gender and Sexuality Studies who is Hamsa's president, said.
Miller is agnostic and does not find themself to be a religious person, but the thing that has kept their Jewish faith is the people about whom they care are Jewish and the sense of community that comes from being Jewish.
"I just wanted to do a Hanukkah event," Miller said. "It's been a good refresher with how the semester has been."
Miller last year attended a Hanukkah party and played a game of dreidel, a spinning top with four sides marked with a Hebrew letter. The people who were in attendance wanted to bet something, but the only thing they could find were pinto beans.
"When I took them out of my pocket one got stuck in there," Miller said. "I still have that bean."
For some Jewish students it's important to go to Hanukkah events like Hamsa's celebration to be around like-minded Jewish people, Yarden Shestopal, a sophomore American Studies major, said.
"Which is why I like Hamsa," Shestopal said. "Since we're all queer people or allies we kind of share that mentality of acceptance."
Being part of the Jewish community at the University of Maryland has opened Shestopal up to how diverse the LGBTQ and Jewish communities are. Shestopal this year, however, debated whether or not to put his menorah up on the windowsill of his apartment because of the rise in anti-Semitism due to the war in Israel.  
"I'm pretty sure I am going to put the menorah in my window," Shestopal said. "The only way to combat anti-Semitism is to stay visible." 
Several University of Maryland students lived in Israel before or during their time at the university.
Elisheva Greene, a junior animal science major, went to seminary, a school for women to learn about Torah, during the pandemic. Greene said celebrating Hanukkah while a war is happening is going to be a similar feeling. 
"I'm able to do what I can from over here by supporting my family and friends," Greene said. "The biggest thing I can be doing is living my life as a Jewish person and showing that I express my Judaism and I'm not afraid."
Greene recalled they could not go more than 1,000 feet from home for two months and Hanukkah took place during that time. While it was difficult, Greene said people still put their menorahs on their windowsill.
"Knowing the resilience the Israelis have and the fact people like to show their Jewishness (is not) gonna stop me," Greene said. "Like there's a war going on but you're gonna be a Jew and you're gonna flaunt that."
Hearing postponed for gay D.C. gym owner charged with distributing child porn
Prosecutors call for Everts to be held in jail until trial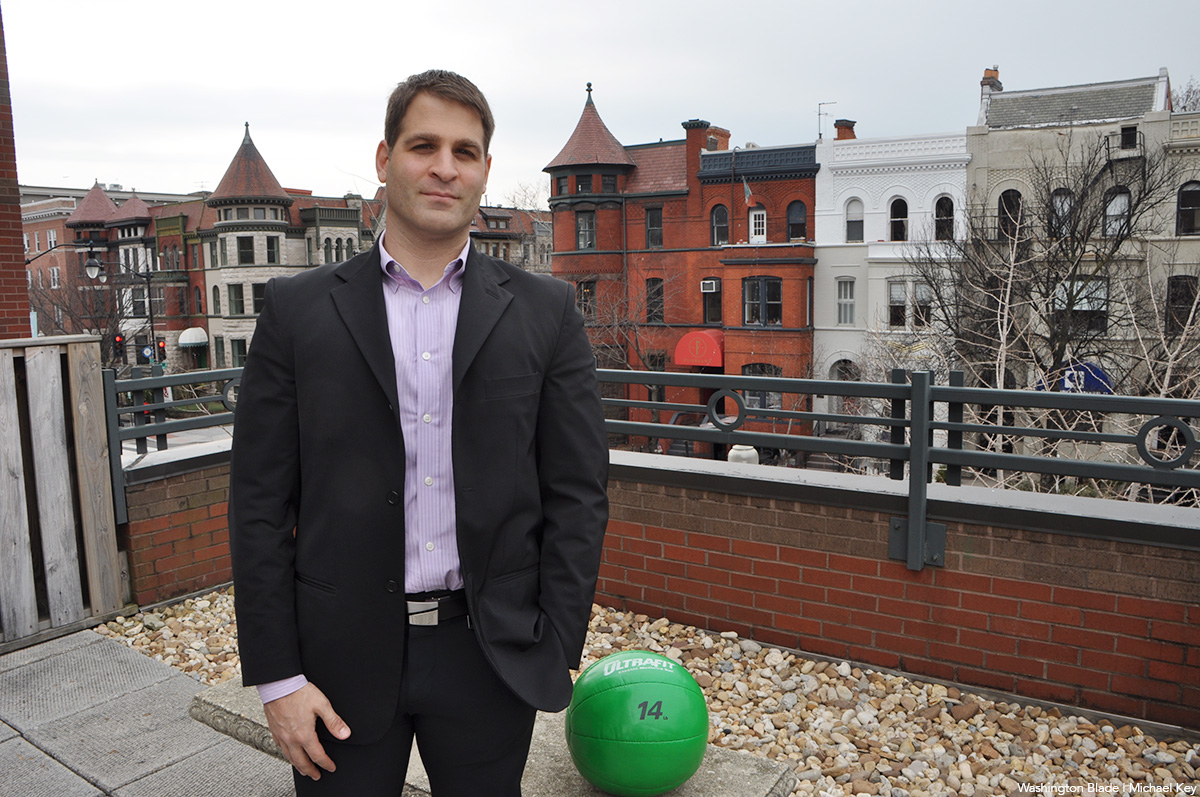 A detention hearing scheduled for Monday, Dec. 4, in which a judge would decide whether gay D.C. gym owner Michael Everts should remain in jail or be released while he awaits a trial on a charge of distribution of child pornography was postponed with no immediate date set to reschedule it.
However, records with the U.S. District Court for the District of Columbia, before which the case is being held, show that Everts's defense attorney later in the day on Dec. 4 filed a motion in which Everts waived his right to a detention hearing and requested that a preliminary hearing be scheduled on Jan. 10, 2024.
In his motion, defense attorney David Benowitz says the lead prosecutor with the Office of the U.S. Attorney for D.C. does not oppose this request. As of Tuesday morning, the magistrate judge presiding over the case had not ruled on Benowitz's motion.
But an entry in the court record on Wednesday, Dec. 5, states that Magistrate Judge G. Michael Harvey approved the motion and agreed to set the date for the preliminary hearing on Jan. 10 at 4 p.m. The court record shows that Magistrate Judge Robin M. Meriweather will preside over the preliminary hearing, in which prosecutors must present evidence, sometimes through testimony by witnesses, that probable cause or sufficient evidence exists to proceed to a trial. Meriweather will issue a ruling on whether probable cause exists.
Everts has been held without bond since the time of his arrest on Nov. 29 on a single charge of distribution of child pornography following a joint D.C. police-FBI investigation that led to his arrest.
He has owned and operated the FIT Personal Training gym located at 1633 Q St., N.W., near Dupont Circle since its opening in 2002.
Court records show that Benowitz filed a motion on Dec. 3 seeking a one-day postponement of the detention hearing to give him time to review the evidence presented by prosecutors with the U.S. Attorney's office. But Benowitz's second motion waiving Everts's right to a detention hearing and calling for a preliminary hearing on Jan. 10 appears to have voided his first motion and will result in Everts being held in jail until at least the time of the preliminary hearing in January.
"Mr. Everts has been advised of his rights under the Speedy Trial Act ("STA") and agrees to toll the time under the STA until the next hearing in this matter," Benowitz's second motion states. 
On Dec. 1, Assistant U.S. Attorney Jocelyn Bond, the lead prosecutor in the case, filed a 20-page Memorandum In Support of Pretrial Detention that describes the government's evidence against Everts and argues strongly in favor of having Everts held in custody at least until the time of his trial.
"Distribution of Child Pornography is a crime of violence and there is no condition or combination of conditions that will reasonably assure the safety of children in the community – both in the physical world and online – if Mr. Everts is released," the memorandum states.
The memorandum notes that Everts's arrest came about after an employee at the gay and bi hookup site Sniffies alerted the FBI that a Sniffies user was exchanging messages with other users expressing an interest in images of underage boys for sexual gratification. A joint FBI and D.C. police investigation traced the messages to Everts, according to an arrest affidavit and the U.S. Attorney's memo.
The affidavit and memo point out that an undercover D.C. police detective working with the FBI and posing as someone interested in underage boys contacted Everts through the Sniffies site and a social media messaging address of @ethaneffex. The undercover detective, who is identified in charging documents as the "online covert employee" or "OCE," engaged in messaging with Everts that prompted Everts to send the OCE video and photo images of child pornography, the arrest affidavit and memo state.
The memo seeking pretrial detention for Everts says Everts went beyond just expressing interest in viewing or sending the OCE child porn videos or photos but also described his interest in interacting with and possibly having sex with underage boys he knew.
"On multiple occasions he discussed his sexual interest in actual children that he encountered in his life, particularly emphasizing his desire to sexually abuse Minor 1 and noting that he had surreptitiously recorded Minor 1 at the playground in the past," the memorandum says.
"Not only did he send photos of these children to someone whom he had reason to believe also had a sexual interest in children," the memo states, "but he sent multiple voice messages to the OCE reiterating his sexual interest in Minor 1 – as well as in Minor 2 and other unknown minors — and describing the specific sexual acts he wanted to engage in with these minors."
The memo adds, "Only amplifying his danger to children, Everts then bragged about having previously engaged in sex with a minor and his willingness to sexually abuse a child as young as 10 years old."
Benowitz, Everts's attorney, didn't immediately respond to a request by the Washington Blade for comment on the case and whether he or his client dispute any of the allegations against Everts brought by prosecutors.