HISTORIC: SENATE PASSES ENDA
10 Republicans join 54 Dems to approve pro-LGBT bill for first time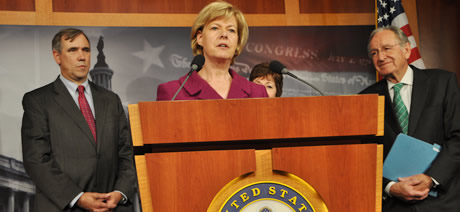 For the first time in history, the U.S. Senate approved with bipartisan support a long sought piece of legislation that would bar employers from discriminating against or firing workers based on their sexual orientation or gender identity.
By a vote of 64-32, the Employment Non-Discrimination Act passed the Senate, marking the first time that either chamber of Congress has passed a version of the bill with protections for transgender workers.
A total of 10 Republicans voted in favor of the bill: Sens. Orrin Hatch (R-Utah), Susan Collins (R-Maine), Mark Kirk (R-Ill.), Rob Portman (R-Ohio), Pat Toomey (R-Pa.), Dean Heller (R-Nev.), Kelly Ayotte (R-N.H.), John McCain (R-Ariz.), Jeff Flake (R-Ariz.) and Lisa Murkowski (R-Alaska). All 54 Democrats present voted in favor of the legislation.
The vote also marks a turnaround for the Senate. In 1996, a version of ENDA came to the floor as part of a deal to bring up the Defense of Marriage Act for a vote, but the pro-gay bill failed at that time.
Prior to the vote, Sen. Jeff Merkley (D-Ore.), ENDA's chief sponsor, delivered a speech on the Senate floor recognizing the historic nature of the moment.
"I look forward to this vote, this vote for liberty, this vote for freedom, this vote for opportunity, this vote for a fair and just America," Merkley said.
Merkley also recognized the "champions of liberty" he said helped move ENDA forward like lesbian Sen. Tammy Baldwin (D-Wis.), Sen. Tom Harkin (D-Iowa) and Republican senators who joined in support of the bill.
Senators approved ENDA after three days of debate on the legislation, which began on Monday morning. Many senators spoke out in favor of the legislation ranging from Democrats like Sens. Barbara Boxer (D-Calif.) and Sherrod Brown (D-Ohio) to Republicans like Sens. Susan Collins (R-Maine) and Kelly Ayotte (R-N.H.).
Sen. Al Franken (D-Minn.) invoked the LGBT non-discrimination law in Minnesota as evidence the country can enact a similar statute on a nationwide basis.
"We have had this law in place for over 20 years in Minnesota, and what has been the effect?" Franken said. "For LGBT Minnesotans, it has meant that they don't have to live in fear of being fired, or discriminated against in hiring, just because of who they are or whom they love. That is a big deal."
The only senator to speak out in opposition to the legislation was Sen. Dan Coats (R-Ind.). On Thursday morning, Coats said he couldn't bring himself to support ENDA out of concern for religious liberties of employers — despite the exemption in the bill for religious institutions.
"I oppose discrimination of any kind, and that includes discrimination of individuals or institutions for their faith and values, which often gets lost and has been lost in this discussion," Coats said. "So there's two types of discrimination here we're dealing with and one of those goes to the very fundamental right granted to every American through our Constitution, a cherished value of freedom of expression and religion. And I believe this bill diminishes that freedom."
Flake, who initially expressed opposition to the bill over its transgender protections, said he ultimately voted "yes" on the bill "to protect the rights of individuals." In 2007, Flake voted as a U.S. House member for a version of ENDA with sexual orientation-only protections.
"While I had concerns about expanding protections beyond those House provisions, after consideration, I believe supporting this bill is the right thing to do," Flake said. "I am hopeful that the bill moves forward in a way that works for employers as well as employees."
McCain issued a similar statement saying he voted in favor of ENDA because of his opposition to employment discrimination.
"I have always believed that workplace discrimination – whether based on religion, gender, race, national origin or sexual orientation – is inconsistent with the basic values that America holds dear," McCain said. "With the addition of an amendment I co-sponsored with Senators Rob Portman and Kelly Ayotte strengthening protections for religious institutions, I am pleased to support this legislation."
Advocates praise vote, look to House of Representatives, White House
LGBT advocates heaped praise on the Senate for passing ENDA as they turned their attention to the House of Representatives, where Republican control makes passage significantly more challenging, and the White House.
Chad Griffin, president of the Human Rights Campaign, said the Senate made history "by standing up for a fundamental American truth."
"Each and every American worker should be judged based on the work they do, and never based on who they are," Griffin said. "This broad Senate coalition has sent a vital message that civil rights legislation should never be tied up by partisan political games."
Tico Almeida, president of Freedom to Work, commended the Senate for approving ENDA on a bi-partisan basis and said the House should take the same action.
"The Senate has taken a bi-partisan and historic step toward ensuring that gay and transgender Americans have the same workplace protections that give all Americans a fair shot to succeed on the job," Almeida said. "Our fight now moves to the House of Representatives where Speaker Boehner and the Republican Conference will have to decide which side of history they want to stand on."
Both Griffin and Almeida said President Obama should follow up on the Senate vote by issuing an executive order barring federal contractors from engaging in LGBT discrimination.
Griffin said the directive would send a clear signal against "in support of workplace fairness" in addition to a House vote.
"This order is not a silver bullet, and ENDA is vitally necessary after the order is signed," Griffin said. "But the Human Rights Campaign has long argued that, by signing the order, President Obama can extend workplace protections to over 16 million American workers."
Tony Perkins, president of the anti-gay Family Research Council, responded to Senate passage of ENDA with dismay.
"Americans should be free to disagree, but ENDA would lead to a form of reverse discrimination," Perkins said. "Anyone who expresses or promotes a view of family or morality that can be interpreted to be a disapproval of homosexual or transgender conduct will be subject to retaliation and discrimination."
Despite claims like these from social conservatives, LGBT advocates have insisted that the bill would do nothing more than prohibit employers from discriminating against LGBT employees.
Speaking with the Washington Blade prior to the vote, Merkley said the task now for ENDA supporters is taking the momentum from the Senate to "create an irresistible pressure" for consideration in the House.
"With no shred of an argument to sustaining this type of discrimination, and a strong bi-partisan vote in the Senate, I hope we can create the pressure in the House to act," Merkley said.
Similar to prior claims made by Senate Majority Leader Harry Reid (D-Nev.), Merkley predicted that ENDA would pass the House if Republican leadership held a vote on the legislation.
"I do believe that if an up-or-down vote was held on what we would pass through the Senate that it would pass the House," Merkley said. "If a majority of the House is ready to say 'no' to discrimination, it is wrong for the leadership to block that vote, and I hope that they'll come to see that view and allow such a vote to happen."
White House Press Secretary Jay Carney addressed the vote on Thursday during his routine news briefing taking place at the same time, saying passage of ENDA in the House would be the "right thing to do because we're all equal."
"To oppose this kind of legislation is to announce that you want to be left behind by history," Carney said. "The necessity of making sure that every American has equal rights is fundamental to our history and to who we are. And that's what this legislation represents. Some of the objections that I've heard from members in the House are reminiscent of objections that opponents of other civil rights legislation put forward. And they were wrong then and they're wrong now."
The vote on final passage took place about 45 minutes after the Senate invoked cloture by a vote of 64-34 to end debate on the legislation.
The Senate earlier held a cloture vote Monday on ENDA, but that vote was to begin debate on the legislation. A second cloture vote was necessary to end debate and proceed to final vote.
ENDA amendments debated
Two amendments were also discussed with respect to the legislation. One was adopted, the other was not.
On Thursday, the Senate defeated an amendment proposed by Sen. Pat Toomney (R-Pa.) that would have expanded the groups eligible under ENDA's religious exemption. That amendment, which required 60 votes to pass, failed on a 43-55 vote.
Prior to the vote, Toomey said his measure was an attempt to "strike an appropriate balance," saying he opposes discrimination against LGBT people, but "another important American value is freedom, and particularly religious freedom."
But Harkin spoke out on the Senate floor against the Toomey amendment for going too far. Noting ENDA already has a religious exemption, Harkin said if the Toomey amendment were approved, "thousands of for-profit businesses" would be allowed to discriminate.
Baldwin also said the expansion of the religious exemption that Toomey proposed wasn't the appropriate balance.
"A capable employee in a non-religious [institution] should not be fired, or not be hired, because of his or her employer's individual religious beliefs," Baldwin said.
Sen. Lindsey Graham (R-S.C.) initially cast a vote "no" vote in opposition to the amendment. But just before the vote was called, he rushed into the Senate chamber to inform the clerk he wanted to vote "yes" on the measure.
Notably, even though his amendment failed, Toomey voted "yes" in favor of ENDA during final passage.
On Wednesday, the Senate adopted with no controversy by voice vote an amendment to ENDA, introduced by Sens. Rob Portman (R-Ohio) and Kelly Ayotte (R-N.H.), to ensure that institutions that invoke the religious exemption under ENDA won't face retaliation from state, local or federal governments. LGBT advocates didn't oppose the measure because they said it would simply reinforce the status quo.
Speaking on the floor, Ayotte commended the Senate for adopting the amendment to ENDA, which she said enables her to come on board in support.
"I have long been a strong supporter of the rights of conscience, of the rights under the First Amendment of the Constitution to religious freedom, and these protections are very important within this bill," Ayotte said.
Two other amendments that were filed — one proposed by Sens. Mitch McConnell (R-Ky.) and Rand Paul (R-Ky.) to attach a national right-to-work law to ENDA, another proposed by Sen. David Vitter (R-La.) that reportedly would have banned sex-selective abortions — didn't come up for a vote.
Merkley said only the Portman and Toomey amendments were allowed to come up as a part of a unanimous consent agreement reached on Wednesday.
Federal judge blocks White House from ending Title 42
Advocacy groups say policy further endangered LGBTQ asylum seekers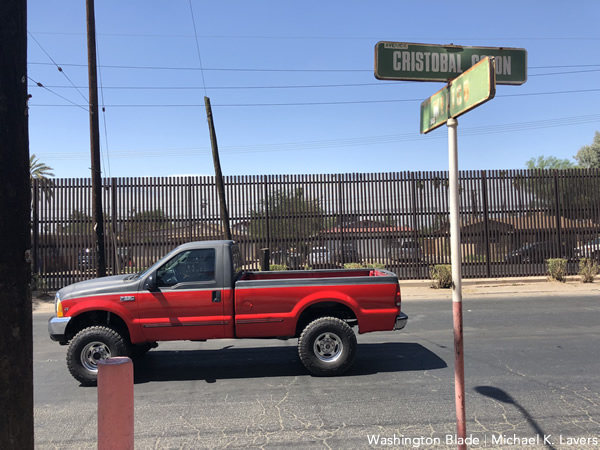 A Centers for Disease Control and Prevention rule that closed the Southern border to most asylum seekers and migrants because of the pandemic was to have ended Monday, but it remains in place after a federal judge blocked the Biden administration's plans to end it.
The White House last month announced it would terminate Title 42, a policy the previous administration implemented in March 2020.
U.S. District Judge Robert Summerhays in Louisiana on May 20 issued a ruling that prevented the Biden administration from terminating the Trump-era policy. White House Press Secretary Karine Jean-Pierre in a statement announced the Justice Department will appeal the decision, while adding the administration "will continue to enforce the CDC's 2020 Title 42 public health authority pending the appeal."
"This means that migrants who attempt to enter the United States unlawfully will be subject to expulsion under Title 42, as well as immigration consequences such as removal under Title 8 (of the U.S. Code)," said Jean-Pierre.
Advocacy groups and members of Congress with whom the Washington Blade has spoken since Title 42 took effect say it continues to place LGBTQ asylum seekers and other vulnerable groups who seek refuge in the U.S. at even more risk.
Oluchi Omeoga, co-director of the Black LGBTQIA+ Migrant Project, last month described Title 42 as a "racist and harmful policy." ORAM (Organization of Refuge, Asylum and Migration) Executive Director Steve Roth said Title 42 "put asylum seekers in harm's way in border towns and prevented them from seeking safety in the United States."
Title 42 was to have ended less than a month after five members of Congress from California visited two LGBTQ shelters for asylum seekers in the Mexican border city of Tijuana.
The Council for Global Equality, which organized the trip, in a tweet after Summerhays issued his ruling described Title 42 as a "catastrophe."
"The Biden administration cannot breathe a sign of relief until it's a matter of the past," said the Council for Global Equality on Saturday. "We remain committed to end Title 42."
#Title42 is a catastrophe — and the Biden administration cannot breathe a sigh of relief until it's a matter of the past. We remain committed to #EndTitle42. https://t.co/9EKJTiJzoV

— The Council for Global Equality (@Global_Equality) May 20, 2022
U.S. official meets with Brittney Griner
Consular visit took place on May 19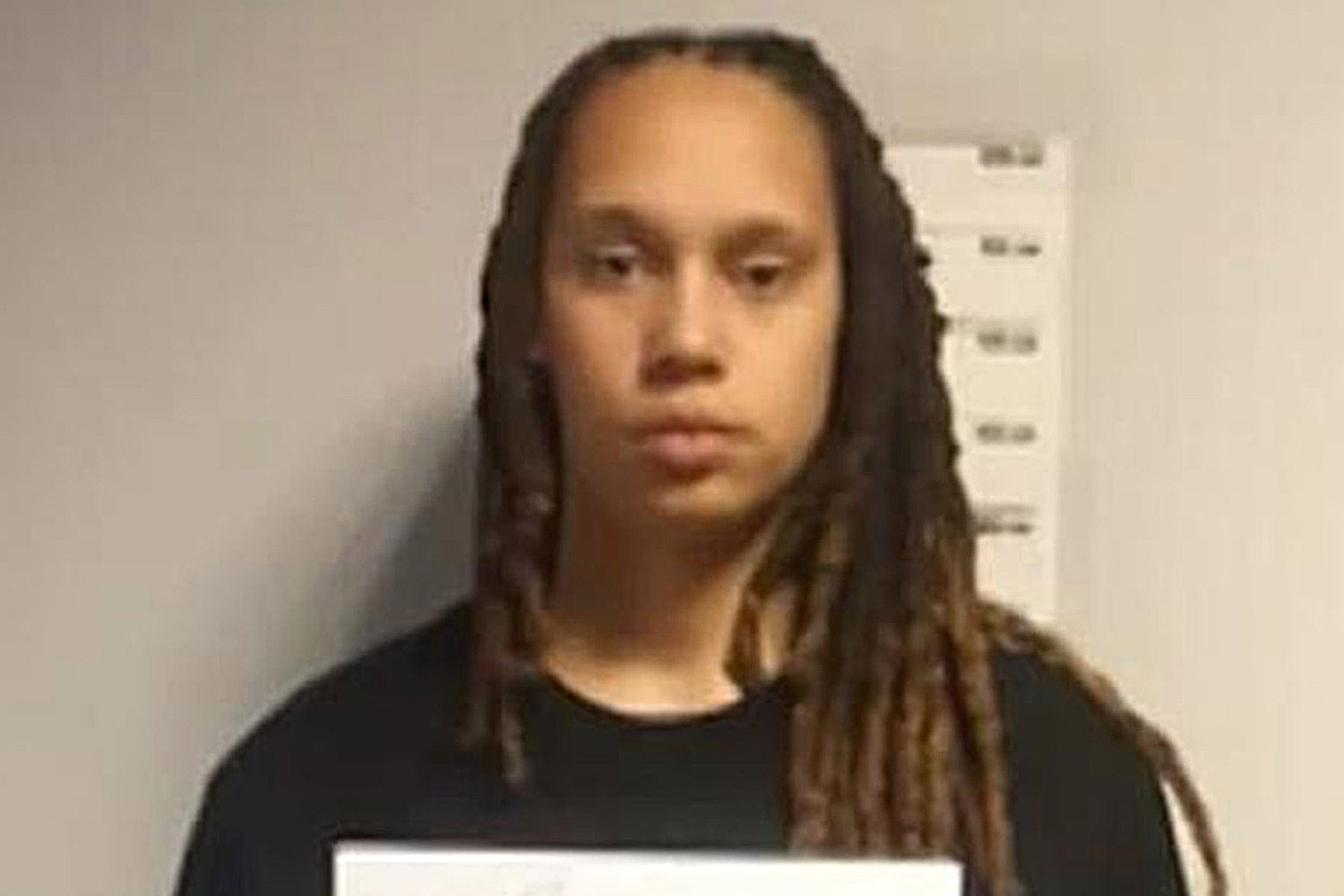 A U.S. consular official on May 19 visited detained WNBA star Brittney Griner in Russia.
State Department spokesperson Ned Price on Friday told reporters during a virtual briefing the officer "found her continuing to do as well as could be expected under these exceedingly challenging circumstances." The officer met with Griner two days after U.S. Ambassador to Russia John Sullivan said Russian officials had denied consular visits with her three times this month.
"Our message is a clear and simple one," said Price. "We continue to insist that Russia allow consistent and timely consular access to all U.S. citizen detainees. One-off visits are not sufficient, and we will continue to call on Moscow to uphold its commitments under the Vienna Convention for consistent and timely access as well."
Griner — a center for the Phoenix Mercury and a two-time Olympic gold medalist who is a lesbian and married to her wife — was taken into custody at Moscow's Sheremetyevo Airport in February. Russian officials said customs inspectors found hashish oil in her luggage.
The State Department has determined Russia "wrongfully detained" Griner.
A Russian court on May 13 extended her detention for another month. The Women's National Basketball Players Association, a union that represents WNBA players, has endorsed a petition that urges the Biden administration to "prioritize" Griner's release.
Secretary of State Antony Blinken spoke with Griner's wife, Cherelle Griner, on May 14.
U.S. announces more funding to fight HIV/AIDS in Latin America
Jill Biden made announcement on Saturday in Panama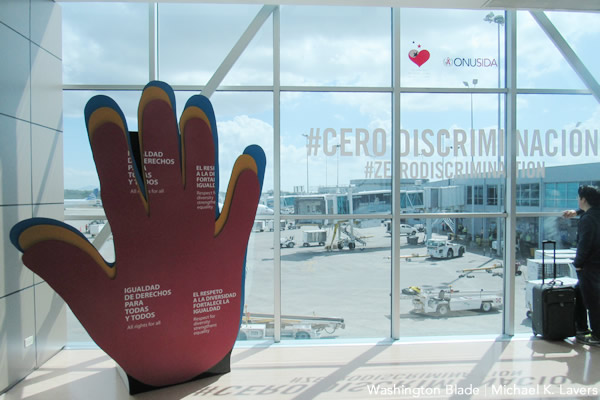 First lady Jill Biden on Saturday announced the U.S. will provide an additional $80.9 million to the fight against HIV/AIDS in Latin America.
Biden during a visit to Casa Hogar el Buen Samaritano, a shelter for people with HIV/AIDS in Panama City, said the State Department will earmark an additional $80.9 million for President's Emergency Plan for AIDS Relief-funded work in Latin America. A Panamanian activist with whom the Washington Blade spoke said LGBTQ people were among those who met with the first lady during her visit.
Pope Francis visited the shelter in 2019.
"I'm glad we have the opportunity to talk about how the United States and Panama can work together to combat HIV," said the first lady.
Michael LaRosa, the first lady's spokesperson, noted Panama will receive $12.2 million of the $80.9 million in PEPFAR funding.
"This funding, pending Congressional notification, will support expanded HIV/AIDS services and treatment," said LaRosa.
UNAIDS statistics indicate an estimated 31,000 Panamanians were living with HIV/AIDS in 2020. The first lady's office notes the country in 2020 had the highest number of "newly notificated cases of HIV/AIDS" in Central America.
The first lady visited Panama as part of a trip that included stops in Ecuador and Costa Rica.
The Summit of the Americas will take place next month in Los Angeles. The U.S. Agency for International Development and PEPFAR in April announced they delivered more than 18 million doses of antiretroviral drugs for Ukrainians with HIV/AIDS.