Onward to the House for ENDA
Boehner pressured to allow vote after bipartisan Senate passage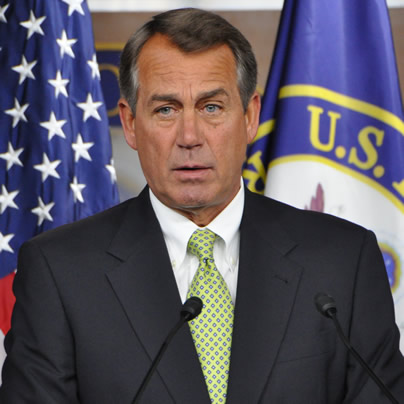 Supporters of the Employment Non-Discrimination Act are hoping to capitalize on the momentum from last week's historic bipartisan Senate victory as they pursue a vote on the bill in the U.S. House.
Ten Senate Republicans voted for ENDA, which would prohibit most employers from discriminating on the basis of sexual orientation or gender identity. Their support gave the bill more bipartisan support than "Don't Ask, Don't Tell" repeal, which had just eight GOP votes, and more than any other pro-LGBT bill that has come to a vote in the Senate.
Liz Mair, a Republican political strategist who favors LGBT inclusion in the party, said the support that ENDA received in the Senate from Republicans demonstrates the party isn't as opposed to LGBT rights as some observers might think.
"The fact that ENDA garnered 10 Republican votes in the Senate — and from a Republican caucus that is significantly less moderate than certain predecessor versions now that it lacks Scott Brown, Olympia Snowe, Judd Gregg and the like — is a reminder that the GOP is much more attuned to gay rights issues and much more in line with mainstream American attitudes on those issues than one would think from the image of the GOP that certain very conservative party leaders and the media tend to present," Mair said.
The two Republican original co-sponsors — Sens. Susan Collins (R-Maine) and Mark Kirk (R-Ill.) — were joined in support by Sens. Rob Portman (R-Ohio), Kelly Ayotte (R-N.H.), Pat Toomey (R-Pa.), Dean Heller (R-Nev.), Orrin Hatch (R-Utah), Lisa Murkowski (R-Alaska) John McCain (R-Ariz.) and Jeff Flake (R-Ariz.).
Of those 10, the votes from McCain and Flake are particularly noteworthy because they represent a "red" state that President Obama lost in both 2008 and 2012. In addition, both senators expressed misgivings about ENDA before they ultimately voted for the bill.
Gregory Angelo, executive director of the Log Cabin Republicans, nonetheless said he wasn't surprised by their support for the bill in the end.
"I know that both senators had expressed some hesitancy before casting their votes, but Flake is someone who voted for ENDA in 2007 when he was a member of the House, and Sen. McCain had even indicated that he would be open to supporting ENDA when he was running for president in 2008 — as part of, I believe, a questionnaire or interview he did with the Blade no less," Angelo said.
A Senate source familiar with ENDA said McCain was able to support the bill after the adoption of the Portman-Ayotte amendment, which would prohibit federal, state and local governments from retaliating against institutions that invoke the religious exemption in the bill to discriminate against LGBT employees.
For Flake, who earlier told the Washington Blade he'd vote against ENDA because of the transgender protections in the bill, the Senate source said his support was solidified after he received assurances that businesses would receive guidance on the prohibition of gender identity discrimination.
Also significant on the Republican position on ENDA was the fact that Senate Minority Leader Mitch McConnell, according to Senate Republican aides familiar with the bill, didn't whip the vote on the legislation and instead allowed members of his caucus to vote their conscience.
Angelo was among those who saw no evidence of Republican leadership instructing members to vote against ENDA.
"The fact that you had almost one-in-four members of the GOP caucus in the Senate vote in favor shows that membership was allowed to take a vote of conscience on this issue," Angelo said.
Will the House vote on ENDA?
Now that the Senate has wrapped up its consideration of ENDA, attention has turned to passing the bill in the House, where Republican support will be necessary, first, to bring the bill to the floor and, second, to find 218 votes for the bill in the Republican majority chamber.
House Speaker John Boehner (R-Ohio) has indicated his opposition to the bill out of concern it would lead to "frivolous lawsuits" and a spokesperson for House Minority Leader Eric Cantor (R-Va.) was quoted in The Huffington Post as saying the bill "is currently not scheduled in the House."
Nonetheless, Democrats ranging from Senate Majority Leader Harry Reid (D-Nev.) to gay Rep. Jared Polis (D-Colo.), ENDA's chief sponsor in the House, insist that the House has enough votes for passage should it come to the floor.
Drew Hammill, a spokesperson for House Minority Leader Nancy Pelosi (D-Calif.), told the Blade his boss is among those who believe ENDA has sufficient support in the House for passage.
"Leader Pelosi has made it clear that there is sufficient support in the House to pass ENDA now," Hammill said. "Instead of scheduling a vote on this measure, House Republicans are planning to vote for the 46th time to repeal or undermine the Affordable Care Act. There is only one man standing in the way of the expansion of workplace protections for millions of LGBT Americans. His name is John Boehner."
ENDA has 196 House sponsors. That's just 22 votes short of the necessary votes to pass the legislation on the House floor.
While the bill could technically come up at any time during the 13 months that remain in the current Congress, Polis said the legislation should come up sooner rather than later because, as Election Day approaches, members of the House will leave to campaign in their districts. It would be the first time that ENDA has come to the House floor since 2007, and the first time ever the chamber would consider a version of the bill that included transgender protections.
ENDA supporters claimed another Republican as their own last week when former White House Press Secretary Ari Fleischer, who served as spokesperson for former President George W. Bush, penned an op-ed in Politico urging the House to pass the bill.
"Allowing people to be successful in their workplaces is an essential piece of individual opportunity and liberty," Fleischer said. "Working for a living is one of America's freedoms. It's a virtue to be encouraged — and supporting it is important to the future of the Republican Party."
But not all LGBT advocates agree that sufficient votes exist to pass ENDA in the House. Some Republican supporters of the legislation stopped short of saying ENDA already has sufficient support to pass on the floor.
Jeff Cook-McCormac, senior adviser to the pro-LGBT Republican group American Unity Fund, said more work is needed when asked if ENDA is ready to move to the House floor.
"We're encouraged by the momentum, working to identify and demonstrate majority support and committed to engaging legislators in the thoughtful and respectful conversations necessary to get there as quickly as possible," Cook-McCormac said.
Mair said ENDA will be "a more uphill battle in the House" not only because of conservative worries over the bill's content, but also out of fear of supporting anything seen as part of Obama's agenda. Still, she wouldn't rule out a surprise.
"Even back in 2007, ENDA garnered a noteworthy amount of GOP support in the House, including from some rather conservative members," Mair said. "Thirty-five Republicans voted for ENDA then, including John Campbell, Jeff Flake, Thaddeus McCotter and Paul Ryan. So it will be interesting to see how it plays out this time around."
For Cook-McCormac, the next priority is to build the number of Republican co-sponsors for ENDA. There are currently five: Reps. Charlie Dent (R-Pa.), Chris Gibson (R-N.Y.), Richard Hanna (R-N.Y.), Ileana Ros-Lehtinen (R-Fla.) and Jon Runyan (R-N.J.).
Dent told the Washington Post that Boehner "should allow a vote on this bill" because the American public believes the workplace should be free of discrimination.
Ros-Lehtinen said in a statement to the Blade that she also hopes Republican leadership will bring ENDA to the floor for a vote, but chose her words carefully about its prospects.
"The passage of ENDA by the Senate is a great first step toward making this bill law," Ros-Lehitnen said. "I urge my colleagues in the House to sign on to the companion bill and hope House leadership will bring it up for a vote. I believe if it is brought to a vote, it has the opportunity to pass."
Renee Gamela, a Hanna spokeswoman, said ENDA is good for business.
"Rep. Hanna would like ENDA to receive a vote in the House when it is clear that there are sufficient votes for passage," Gamela said. "He intends to speak directly with his colleagues about why, as a small business owner, he believes supporting the legislation is good for economic competitiveness, individual liberty and our party."
As articulated by Pelosi, one approach seen as a pathway for passage of ENDA in the House would be similar to what happened with reauthorization of the Violence Against Women Act. Amid public pressure, the House in February passed a bill with protections for LGBT victims of domestic violence after the Republican version of the bill without the provisions failed on the floor.
Log Cabin's Angelo said whether a vote on ENDA will take place in the House "comes down to pressure" both from Republicans in the House who support it and advocates on the outside who want to see it passed.
"I think if you had a similar push that happened with the Violence Against Women Act, where you had a tremendous surge among grassroots, and you also had GOP members of Congress urging leadership to bring this up for a vote, you got there," Angelo said. "But it's going to take considerable pressure. I'm not a Pollyanna when it comes to prospects in the House, but I am cautiously optimistic."
Victory Fund honors gay Guatemalan congressman at D.C. conference
Aldo Dávila a vocal critic of country's government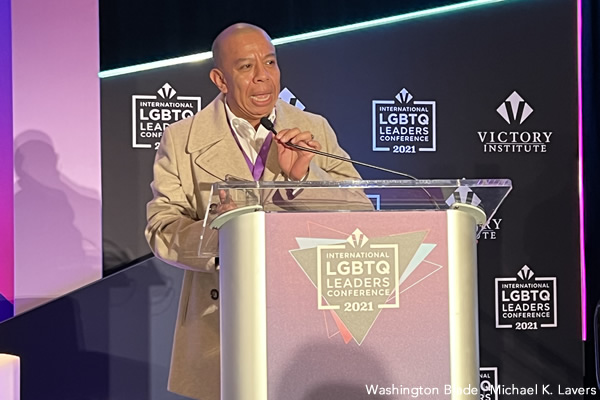 The Victory Fund on Friday honored an openly gay Guatemalan congressman who has faced death threats because of his efforts to fight corruption in his country.
Dávila — a member of the Winaq movement, a leftist party founded by Rigoberta Menchú, an indigenous human rights activist and Nobel Peace Prize winner — in 2019 became the first openly gay man elected to Guatemala's congress. Dávila, who also lives with HIV, had previously been the executive director of Asociación Gente Positiva, a Guatemala City-based HIV/AIDS service organization.
Supporters of President Alejandro Giammattei have lodged several formal complaints against Dávila after he publicly criticized the government over corruption, its response to the pandemic and other issues.
Three men on April 19 approached Dávila's vehicle near Guatemala's National Library and tried to rob him. One of Dávila's bodyguards shot one of the men, but the two other assailants fled the scene before police officers and passersby arrived.
Dávila told the Washington Blade in September during an interview at a Guatemala City hotel that he and his partner installed cameras in their apartment after someone killed their dog.
Two female police officers who arrived at the hotel with Dávila sat in the lobby while he spoke with the Blade. The government a few weeks later reduced his security detail.
"Guatemala is living through the worst democratic crisis in the last 40 years," said Dávila after he accepted the Victory Fund's Global Trailblazer Award at its 2021 International LGBTQ Leaders Conference that is taking place in-person at the JW Marriott in downtown D.C. "Guatemala right now is being paralyzed by corruption and impunity and my voice is uncomfortable because of this."
Dávila became emotional at the end of his remarks.
"I will keep fighting for our rights," he said.
Comings & Goings
Nathanson takes role at Outright Action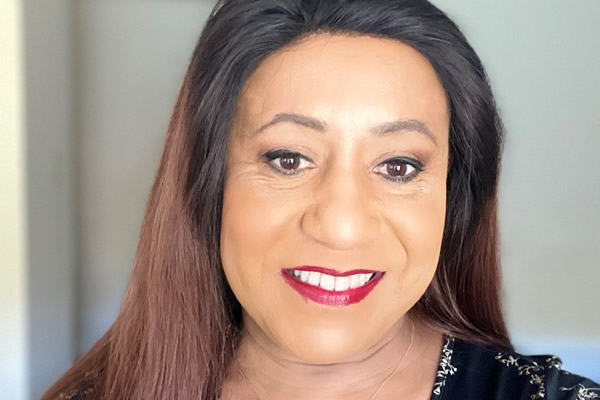 The Comings & Goings column is about sharing the professional successes of our community. We want to recognize those landing new jobs, new clients for their business, joining boards of organizations and other achievements. Please share your successes with us at: [email protected]
The Comings & Goings column also invites LGBTQ+ college students to share their successes with us. If you have been elected to a student government position, gotten an exciting internship, or are graduating and beginning your career with a great job, let us know so we can share your success.
Congratulations to Rikki Nathanson on her new position as Senior Advisor – Global Trans Program with OutRight Action International in New York. Nathanson will be based in D.C.
"I am absolutely thrilled to be taking on this new role as Senior Advisor in OutRight's Global Trans Program," said Nathanson. "I have finally found the perfect fit for me: as a trans woman who has been fighting for equality not only for myself, but for others globally, this position is not only a job, it's intrinsically part of who I am. So, what better way to live, nurture and grow myself."
Nathanson will be working closely with all program staff to ensure a cohesive and intentional approach to gender issues throughout OutRight's programs, including its approach to gender ideology movements. She will lead new initiatives on gender advocacy and policy change, focused but not limited to legal gender recognition and anti-discrimination legislation and policies.
Prior to this Nathanson was director of housing programs at Casa Ruby in D.C. She has also held a number of other positions including: founder/executive director of Trans Research, Education, Advocacy & Training (TREAT), Zimbabwe; chairperson Southern Africa Trans Forum, SATF, Cape Town, South Africa; executive director, Ricochet Modeling Agency, Zimbabwe; and company secretary for Dunlop Zimbabwe Limited, Zimbabwe.
SMYAL Director Shakir to step down Dec. 31
Board to launch Executive Search beginning in January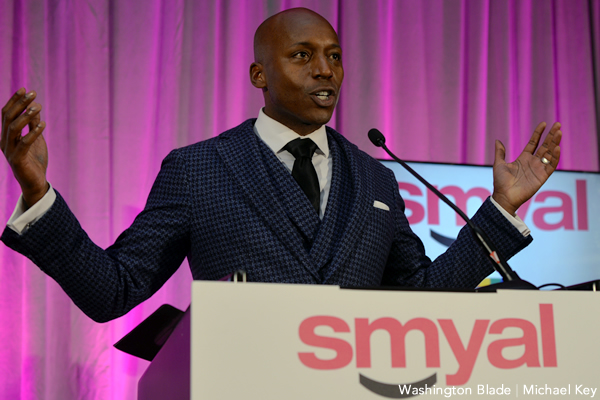 Sultan Shakir, who has served as executive director of D.C.'s LGBTQ youth advocacy organization SMYAL since August 2014, announced on Friday that he will be stepping down from his position effective Dec. 31.
In a Dec. 3 announcement, SMYAL said details of Shakir's future career plans would be announced in the coming weeks.
"While we are sad to see Sultan leave, we wish him nothing but the same success in his new endeavor as he had at SMYAL," said Rob Cogorno, SMYAL's board chair. "His leadership and vision enabled SMYAL to expand greatly needed services to LGBTQ youth in the DC metro area throughout his tenure," Cogorno said.
"I am immensely proud of the work we have been able to accomplish together in my time at SMYAL," Shakir said in a statement released by SMYAL. "SMYAL has been an integral and vital resource in the DMV community for over 37 years, and while we have come a long way in combating homophobia, transphobia, racism, sexual health stigma, homelessness, violence against the LGBTQ community, and oppression, we have a long way to go," he said.
"This work has never been about one person," said Shakir. "SMYAL was founded by our community and we're still around because of our community," he said. "I leave knowing that the commitment and passion of the SMYAL Board, staff, volunteers, and youth leaders have created a solid foundation from which our work will continue to grow until LGBTQ youth no longer need us."
The SMYAL statement says that under Shakir's tenure, SMYAL, which stands for Supporting and Mentoring Youth Advocates and Leaders, expanded its programs and services for LGBTQ youth. Among other things, in 2017 SMYAL opened its first of several housing facilities for homeless LGBTQ youth that include culturally competent case management, education and employment assistance.
"The Youth Housing Program now comprises five programmatic models that serve a combined 61 youth residents," the statement says.
It points out that also under Shakir's leadership, SMYAL expanded the age range of the youth its programs serve under a new Little SMYALs program, which welcomes LGBTQ youth ages 6-12. And earlier in 2021 under Shakir's guidance, SMYAL began a new Clinical Services Department "which provides affirming and accessible mental health counseling," the statement says.
"The SMYAL Board of Directors will officially launch an Executive Search beginning in January 2022 and expects to have named a new Executive Director by summer 2022," the statement says. It says the board will soon name an interim executive director to work with SMYAL's Deputy Executive Director, Jorge Membreno, and the organization's leadership team to oversee the day-to-day activities until a new executive director is named.