How goes transition to open military service? Don't ask
Gay troops face host of new challenges after repeal of 'Don't Ask, Don't Tell'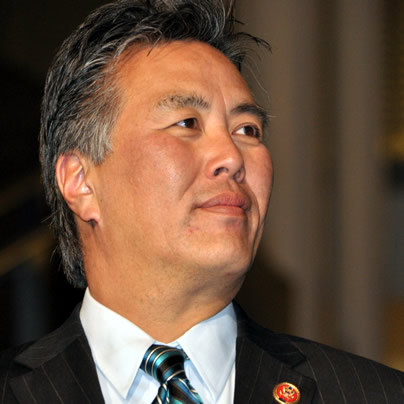 Despite rosy pronouncements from the Obama administration and others about the supposedly smooth transition to open service in the military following the lifting of "Don't Ask, Don't Tell," a host of new problems has emerged for gay and lesbian troops.
Stephen Peters, president of the American Military Partners Association, said "there are clearly challenges that remain" for gay service members following the implementation of open service.
"These military families are still facing challenges that need to be addressed sooner rather than later," Peters said. "All they are asking for is to be treated the same way as their counterparts — simple equality, no more and no less."
In the past week, attention has focused on state national guard units refusing to process spousal benefit applications for troops in same-sex marriages; an Army base having to make special arrangements for chaplains to accommodate a lesbian couple; gay veterans not receiving benefits in non-marriage equality states; and the condition for gay cadets at the Air Force Academy, where a practitioner of "ex-gay" conversion therapy holds a leadership role.
Nat'l Guards refusing benefits for gay troops
Several state national guards continue to refuse to process spousal benefit applications for troops in same-sex marriages, citing state constitutional amendments banning gay nuptials. This comes after an edict from Defense Secretary Chuck Hagel saying he's directed the National Guard Bureau to ensure the guards follow Pentagon policy to provide these benefits everywhere in the wake of the Supreme Court decision against the Defense of Marriage Act.
One state that has received significant attention is Oklahoma, where Gov. Mary Fallin on Nov. 6 ordered her national guard facilities to stop processing benefits altogether and directed all couples — gay and straight — to federal installations within her state to apply for benefits.
"Oklahoma law is clear," Fallin said. "The state of Oklahoma does not recognize same-sex marriages, nor does it confer marriage benefits to same-sex couples. The decision reached today allows the National Guard to obey Oklahoma law without violating federal rules or policies."
Like other states, Fallin cited a constitutional amendment prohibiting same-sex marriage or conferral of spousal benefits to gay couples. In the case of Oklahoma, voters approved an amendment banning same-sex marriage in 2004 by 75 percent of the popular vote.
According to the National Guard Bureau, a total of five states are not complying with the edict: Texas, Mississippi, Georgia, Louisiana and South Carolina. The list omits Oklahoma, but the Guard wouldn't respond to a request for comment on why the state isn't included.
These states maintain only the processing of same-sex benefit applications is being denied, so once these troops are enrolled in the Defense Enrollment Eligibility Reporting System, they'd be able to receive them wherever their assignment. However, LGBT advocates have said participation by same-sex couples in national guard activities, such as "Strong Bonds" retreats for married couples, is threatened by these states' decisions.
Although the Pentagon has threatened additional action if these states refuse to comply with the Defense Department directive on benefits, a Defense official wouldn't speculate as to what this action would be.
"These are federal ID cards paid for with federal funding to provide federally mandated benefits," the official said. "The Secretary has directed General Grass to resolve this issue with the TAGs. We're not going to speculate on legal options at this time."
Some ideas that have been speculated include a lawsuit against these states, deprivation of federal funds or federalization of these guards by President Obama.
Gay veterans not receiving spousal benefits
Also gaining attention in recent weeks is the inability of gay veterans to obtain certain spousal benefits if they live in a non-marriage equality state.
Even though the Supreme Court struck down part of DOMA, Section 103(c) of Title 38 looks to the state of residence, not the state of celebration, in determining whether a couple is married. That means that gay veterans who marry their same-sex partner in one state and move to another that doesn't recognize their marriage can't apply for benefits while living in that state.
Rep. Tim Walz (D-Minn.), the highest-ranking enlisted soldier ever to serve in Congress, last week introduced a bill that would change Title 38 to enable benefits to flow to gay married veterans no matter where they live.
Joining him as original co-sponsors for the bill, known as the Protecting the Freedoms and Benefits for All Veterans Act, were gay Rep. Mark Takano (D-Calif.) and Reps. Richard Hanna (R-N.Y.) and Ileana Ros-Lehtinen (R-Fla.).
In an interview with the Blade, Takano said the legislation is a "backup" plan should the Obama administration decide it must continue enforcing the marriage state of residency statute even after the Supreme Court ruling against DOMA.
"We are not 100 percent sure whether the administration will or is able at this point to do that," Takano said. "We're introducing this legislation as a backup. We're not finding fault with the administration; it's just that it came to the attention of committee staff and the Equality Caucus in the Congress that this is a potential issue, and so we wanted to make sure that we drop along with the necessary Republicans and Democratic co-sponsors."
Calls on the Obama administration to stop enforcing the state of residency statute under Title 38 in the wake of the court ruling against DOMA have previously come from Sen. Mark Udall (D-Colo.), who has called on the administration to stop enforcing the statute until a legislative fix happens.
Chaplains can't accommodate gay couple on retreat
The issue of chaplains not being able to accommodate same-sex couples at "Strong Bonds" retreats run by the U.S. Army Chaplain's Corps for members of the national guard has also emerged as an issue.
Last week, the American Military Partners Association issued a news release saying that a lesbian U.S. soldier, whose named wasn't disclosed, and her same-sex spouse, Shakera Leigh Halford, were denied access to a retreat at Fort Irwin in California.
After the story generated media attention, the public affairs team at Fort Irwin shot back by insisting the couple wasn't denied access, and instead the chaplains at the base had sought to find other chaplains to make accommodations.
Pamela Portland, a spokesperson for Fort Irwin, confirmed that account for the Washington Blade, saying chaplains had sought to find an appropriate person to make the accommodation following a Nov. 7 meeting between couples and the commanding general — even before the news story broke.
"We have eight chaplains here at Fort Irwin," Portland said, "and they were restricted by their religious affiliation, they could not move ahead, but they immediately went out to find someone who could."
Still, in a statement from the American Military Partners Association that followed, Halford decried the notion that she and her spouse required special arrangements.
"It makes the whole thing very awkward and embarrassing," Halford said. "Why can't we just be another couple at the retreat, like everyone else? Why do we have to have special arrangements?"
Air Force Academy hires 'ex-gay' advocate
Finally, the Air Force Academy in Colorado Springs, Colo., has received criticism after AMERICAblog first reported that Mike Rosebush, an advocate of widely discredited "ex-gay" conversion therapy, was hired by the Academy to oversee its character coaching program.
As AMERICAblog's editor John Aravosis points out on his blog, Rosebush served as a clinical member of the National Association for Research & Therapy of Homosexuality, a fringe group that advocates for "ex-gay" therapy, and as a vice president of the anti-gay Focus on the Family.
"Rosebush's entire career for the past two decades has been devoted to 'curing' gay people of what he clearly deems a problem, and what his former employers consider an illness and a depravity," Aravosis writes. "How then could Rosebush not include a discussion of sexual orientation in his character and leadership coaching at the US Air Force Academy?"
During a conference call with reporters last week, the Air Force Academy presented three gay cadets at the Academy in an attempt to dispel the notion the Academy fostered an anti-gay atmosphere.
While presenting a general sense of acceptance, the cadets reportedly acknowledged they did face issues at the academy, but they had been addressed. To the consternation of reporters on the call, the Academy wouldn't go into the nature of the issues, citing privacy concerns.
The presence of Rosebush at the academy inspired a response from the American Military Partners Association and the Human Rights Campaign, which both called for the removal of the "ex-gay" practitioner from the school.
"It's stunning that Air Force Academy officials think it's even remotely appropriate to have someone like Mike Rosebush in a leadership position," HRC's Fred Sainz said. "While it's positive that some cadets feel the culture at the Academy is welcoming to openly LGB people, it's undeniable that Mike Rosebush's toxic views send a harmful message that there is something fundamentally wrong with being gay."
In addition to these problems, other issues remain unresolved, such as the inability of transgender service members to serve openly in the military.
AMPA's Peters said one pathway to accommodate many of the problems faced by gay service members is the codification of an explicit non-discrimination clause in the military's equal opportunity policy — a request the Pentagon has repeatedly rebuffed.
"A reliable and trustworthy system must be in place to address incidents of inappropriate discrimination against gay and lesbian service members and to foster command climates that are supportive of all military families," Peters said. "Inclusion of orientation in the non-discrimination policy would send a strong message that all service members, regardless of their sexual orientation or the gender of their spouse, deserve fair and equal treatment."
Marc Mazzone, a spokesperson for the LGBT military group SPART*A, said new issues are entering the public dialogue following repeal of "Don't Ask, Don't Tell" and the Supreme Court decision against DOMA.
"The recent news gives a very loud and clear message we are moving into a dialogue on how to battle discrimination in its newest forms throughout the military, and we will be working to find a strong resolution to these problems to ensure all service members and spouses receive fair and equal treatment and benefits they are entitled to," Mazzone said.
UPDATE: Shin Inouye, a White House spokesperson, responded to the Blade's request to comment on the issues facing gay service members in the post-"Don't Ask, Don't Tell" after the posting of this article.
"The President remains proud of the repeal of 'Don't Ask, Don't Tell,' which has strengthened our national security and upholds the ideals that our fighting men and women risk their lives to defend," Inouye said. "We are confident that the Department, under Secretary Hagel's leadership, will ensure that all service members are treated with dignity and respect."
Petition urges White House to develop plan to protect LGBTQ Afghans
Taliban regained control of country on Aug. 15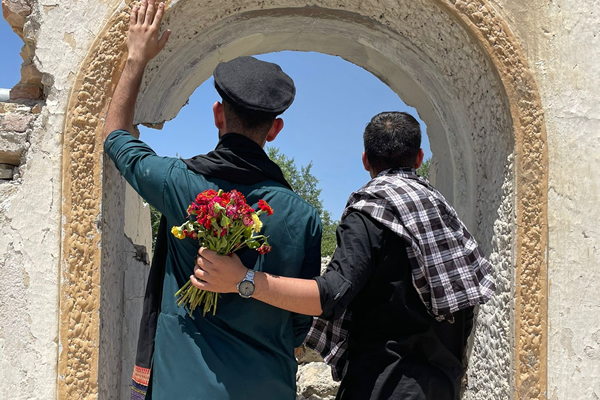 More than 10,000 people have signed a petition that urges the Biden administration to do more to help LGBTQ Afghans who remain in Afghanistan after the Taliban regained control of the country.
The Human Rights Campaign; the Council for Global Equality; Immigration Equality; Rainbow Railroad; the Organization for Refuge, Asylum and Migration and the International Refugee Assistance Project on Friday presented to the White House the petition that urges the administration to adopt "a 10-point action plan … to expedite and ease the refugee and asylum process for LGBTQI Afghans."
The same six groups last month urged the Biden administration to adopt a plan that would "prioritize the evacuation and resettlement of vulnerable refugee populations, including LGBTQI people, and ensure that any transitory stay in a third country is indeed temporary by expediting refugee processing." The groups, among other things, asked the White House to "speak out forcefully against human rights abuses by the new Taliban regime and any increased targeting of vulnerable communities, including LGBTQI people, and use existing mechanisms to sanction and hold accountable perpetrators of human rights abuse."
The Taliban entered Kabul, the Afghan capital, on Aug. 15 and regained control of the country.
A Taliban judge in July said the group would once again execute people if it were to return to power in Afghanistan.
Rainbow Railroad and Immigration Equality are among the other groups that have continued their efforts to evacuate LGBTQ Afghans since American troops completed their withdrawal from the country on Aug. 30. Some of the 50 Afghan human rights activists who Taylor Hirschberg, a researcher at the Columbia Mailman School of Public Health who is also a Hearst Foundation scholar, has been able to help leave the country are LGBTQ.
"We reiterate our call for President Biden to adopt the 10-point policy plan which will expedite and ease the refugee process for LGBTQI Afghans," said Human Rights Campaign Senior Vice President for Policy and Political Affairs JoDee Winterhof in a press release. "The 10,000+ people who signed our petition have demonstrated that they want the United States, long a beacon of refuge for those fleeing persecution, to take action to protect LGBTQI Afghans—a vulnerable group who risk oppression, even death, simply for who they are or who they love. Now is the time for action."
VIDEO: Utah deal promoted as national model for LGBTQ rights, religious liberty
Data finds state has 2nd highest support for LGBTQ rights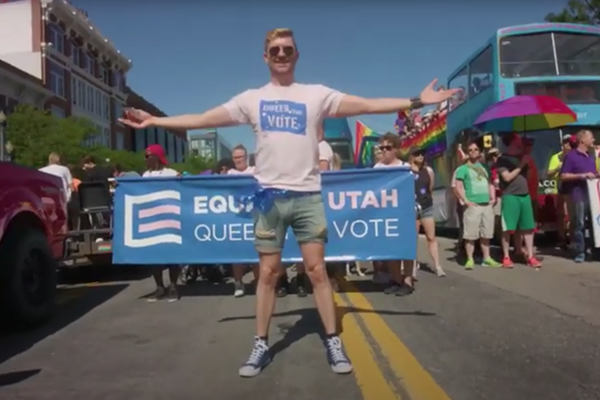 A new video from the premier LGBTQ group in Utah, challenging the idea LGBTQ rights must be at odds with religious liberty, promotes an agreement reached in the state as a potential model to achieve a long sought-after update to civil rights law at the federal level.
The video, published Friday by Equality Utah, focuses on a 2015 agreement in Utah between the supporters of LGBTQ rights and the Mormon Church to enact a compromise acceptable to both sides. The agreement by those two sides led to an LGBTQ civil rights law in the state, which has Republican control of the state legislature and the governor's mansion.
Troy Williams, executive director of Equality Utah, says in the video dialogue is key to achieving meaningful success, whether its among the people of Utah, a state legislature or lawmakers in Congress.
"When you are working with LGBT rights in a state like Utah, and you want to advance legal equality, you can't do it without working with Republicans, with conservative, with people of faith," Williams says.
Williams, speaking with the Washington Blade over a Zoom call, said the main audience for the video is people on "the center right and the center left" willing to listen to other side when it comes to LGBTQ rights and religious liberty.
"People that have the courage to reach out to each other, and sit down across from each other and say, 'Hey look, let's hammer this out," Williams said. "That's who my audience is."
Not only did Utah enact non-discrimination protections for LGBTQ people, but the state under a Republican governor administratively banned widely discredited conversion therapy for youth. When lawmakers proposed legislation that would ban transgender youth from competing in school sports, the proposal was scuttled when Gov. Spencer Cox (whom Williams called a "super Mormon") said he'd veto it after it came to his desk.
Marina Gomberg, a former board for Equality Utah, is another voice in the video seeking dispel the narrative religious liberty and LGBTQ rights are in conflict.
"in order to protect LGBTQ people, we don have to deny religious liberty, and in order to provide protections for religious liberties, we don't have to deny LGBTQ people," Gomberg says. "The idea that we do is a fallacy that Utah has dismantled."
In July, new polling demonstrated the surprisingly the Utah, despite being a conservative state, has the second highest percentage of state population in support for non-discrimination protections for LGBTQ people. The data Public Religion Research Institute from 77 percent of Utah residents support LGBTQ people, which is just behind New Hampshire at 81 percent.
Tyler Deaton, senior adviser for the pro-LGBTQ American Unity Fund, said the Utah agreement demonstrates the possibility of reaching an agreement at the federal level once "second order" issues are put into perspective.
"The first order question has to be how are we winning the culture," Deaton said. "Do people even want to pass the bill? And if they do, you then figure out the details."
The American Unity Fund has helped promote as a path forward for LGBTQ non-discrimination at the federal level the Fairness for For All Act, legislation seeking to reach a middle ground on LGBTQ rights and religious freedom. Polling earlier this year found 57 percent of the American public back a bipartisan solution in Congress to advance LGBTQ civil rights.
Supporters of the Equality Act, the more established vehicle for LGBTQ rights before Congress, say the Fairness for For All Act would give too many carve-out for LGBTQ rights in the name of religious freedom. The Equality Act, however, is all but dead in Congress and has shown no movement in the U.S. Senate.
Skeptics of the Utah law would point out the law doesn't address public accommodations, one of the more challenging aspects in the fight for LGBTQ rights and one or remaining gaps in civil rights protections for LGBTQ people in the aftermath of the U.S. Supreme Court's decision last year in Bostock v. Clayton County. As a result, it's perfectly legal in Utah for a business owner to discriminate against LGBTQ coming as patrons.
Williams, however, shrugged off the idea the lack of public accommodations protections in Utah make the agreement in the state makes it any less of a model, making the case the spirit behind the deal is what matters.
"I think copying and pasting Utah's law doesn't work for lots of reasons," Wililams said. "What's most important is a model of collaboration because when you are sitting around the table with each other — Democrats and Republicans, LGBTQ people and people of faith — that's when the transformation happens. That is when the mutual respect is really forged."
Youngkin reiterates opposition to marriage equality
Va. gubernatorial candidate says issue 'legally acceptable' in state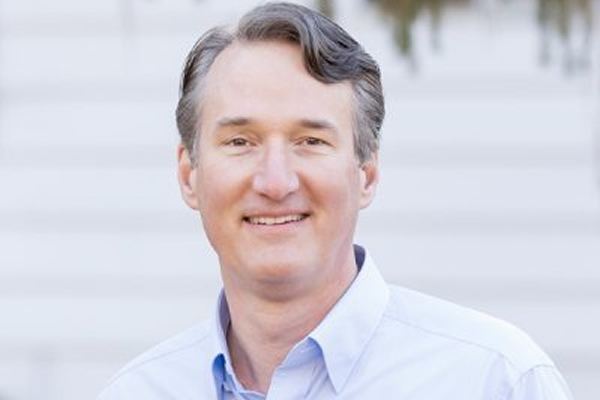 Glenn Youngkin in an interview with the Associated Press has reiterated his opposition to marriage rights for same-sex couples.
Youngkin—a Republican who is running against Democrat Terry McAuliffe to succeed Virginia Gov. Ralph Northam—said in an interview published on Friday that he feels "called to love everyone." Youngkin then reiterated his opposition to marriage equality before he added it is "legally acceptable" in the state.
"I, as governor, will support that," Youngkin told the AP.
McAuliffe was Virginia's governor from 2014-2018.
Same-sex couples began to legally marry in Virginia a few months after McAuliffe took office.
McAuliffe in 2014 became the first governor of a Southern state to officiate a same-sex wedding. The lesbian couple who McAuliffe married recently appeared in one of his campaign ads.
McAuliffe on Friday criticized Youngkin. "As governor, I worked my heart out to keep Virginia open and welcoming to all," said McAuliffe in a tweet. "This type of bigotry and intolerance has no place in our commonwealth."
As governor, I worked my heart out to keep Virginia open and welcoming to all. This type of bigotry and intolerance has NO place in our Commonwealth. https://t.co/T8olFwkszP

— Terry McAuliffe (@TerryMcAuliffe) October 22, 2021
The anti-LGBTQ Family Research Council, which the Southern Poverty Law Center has categorized as an extremist group, earlier this month endorsed Youngkin, but Log Cabin Republicans are among the groups that have backed his campaign. The Human Rights Campaign in 2019 named Youngkin's former company, the Carlyle Group, as a "Best Place to Work for LGBTQ Equality" in its annual Corporate Equality Index.