How goes transition to open military service? Don't ask
Gay troops face host of new challenges after repeal of 'Don't Ask, Don't Tell'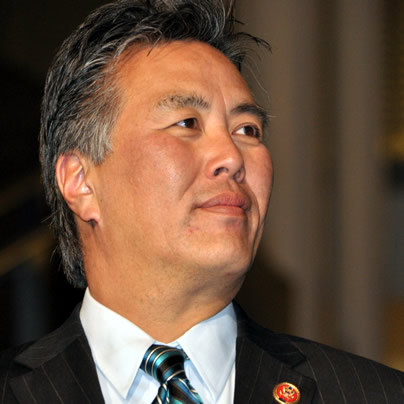 Despite rosy pronouncements from the Obama administration and others about the supposedly smooth transition to open service in the military following the lifting of "Don't Ask, Don't Tell," a host of new problems has emerged for gay and lesbian troops.
Stephen Peters, president of the American Military Partners Association, said "there are clearly challenges that remain" for gay service members following the implementation of open service.
"These military families are still facing challenges that need to be addressed sooner rather than later," Peters said. "All they are asking for is to be treated the same way as their counterparts — simple equality, no more and no less."
In the past week, attention has focused on state national guard units refusing to process spousal benefit applications for troops in same-sex marriages; an Army base having to make special arrangements for chaplains to accommodate a lesbian couple; gay veterans not receiving benefits in non-marriage equality states; and the condition for gay cadets at the Air Force Academy, where a practitioner of "ex-gay" conversion therapy holds a leadership role.
Nat'l Guards refusing benefits for gay troops
Several state national guards continue to refuse to process spousal benefit applications for troops in same-sex marriages, citing state constitutional amendments banning gay nuptials. This comes after an edict from Defense Secretary Chuck Hagel saying he's directed the National Guard Bureau to ensure the guards follow Pentagon policy to provide these benefits everywhere in the wake of the Supreme Court decision against the Defense of Marriage Act.
One state that has received significant attention is Oklahoma, where Gov. Mary Fallin on Nov. 6 ordered her national guard facilities to stop processing benefits altogether and directed all couples — gay and straight — to federal installations within her state to apply for benefits.
"Oklahoma law is clear," Fallin said. "The state of Oklahoma does not recognize same-sex marriages, nor does it confer marriage benefits to same-sex couples. The decision reached today allows the National Guard to obey Oklahoma law without violating federal rules or policies."
Like other states, Fallin cited a constitutional amendment prohibiting same-sex marriage or conferral of spousal benefits to gay couples. In the case of Oklahoma, voters approved an amendment banning same-sex marriage in 2004 by 75 percent of the popular vote.
According to the National Guard Bureau, a total of five states are not complying with the edict: Texas, Mississippi, Georgia, Louisiana and South Carolina. The list omits Oklahoma, but the Guard wouldn't respond to a request for comment on why the state isn't included.
These states maintain only the processing of same-sex benefit applications is being denied, so once these troops are enrolled in the Defense Enrollment Eligibility Reporting System, they'd be able to receive them wherever their assignment. However, LGBT advocates have said participation by same-sex couples in national guard activities, such as "Strong Bonds" retreats for married couples, is threatened by these states' decisions.
Although the Pentagon has threatened additional action if these states refuse to comply with the Defense Department directive on benefits, a Defense official wouldn't speculate as to what this action would be.
"These are federal ID cards paid for with federal funding to provide federally mandated benefits," the official said. "The Secretary has directed General Grass to resolve this issue with the TAGs. We're not going to speculate on legal options at this time."
Some ideas that have been speculated include a lawsuit against these states, deprivation of federal funds or federalization of these guards by President Obama.
Gay veterans not receiving spousal benefits
Also gaining attention in recent weeks is the inability of gay veterans to obtain certain spousal benefits if they live in a non-marriage equality state.
Even though the Supreme Court struck down part of DOMA, Section 103(c) of Title 38 looks to the state of residence, not the state of celebration, in determining whether a couple is married. That means that gay veterans who marry their same-sex partner in one state and move to another that doesn't recognize their marriage can't apply for benefits while living in that state.
Rep. Tim Walz (D-Minn.), the highest-ranking enlisted soldier ever to serve in Congress, last week introduced a bill that would change Title 38 to enable benefits to flow to gay married veterans no matter where they live.
Joining him as original co-sponsors for the bill, known as the Protecting the Freedoms and Benefits for All Veterans Act, were gay Rep. Mark Takano (D-Calif.) and Reps. Richard Hanna (R-N.Y.) and Ileana Ros-Lehtinen (R-Fla.).
In an interview with the Blade, Takano said the legislation is a "backup" plan should the Obama administration decide it must continue enforcing the marriage state of residency statute even after the Supreme Court ruling against DOMA.
"We are not 100 percent sure whether the administration will or is able at this point to do that," Takano said. "We're introducing this legislation as a backup. We're not finding fault with the administration; it's just that it came to the attention of committee staff and the Equality Caucus in the Congress that this is a potential issue, and so we wanted to make sure that we drop along with the necessary Republicans and Democratic co-sponsors."
Calls on the Obama administration to stop enforcing the state of residency statute under Title 38 in the wake of the court ruling against DOMA have previously come from Sen. Mark Udall (D-Colo.), who has called on the administration to stop enforcing the statute until a legislative fix happens.
Chaplains can't accommodate gay couple on retreat
The issue of chaplains not being able to accommodate same-sex couples at "Strong Bonds" retreats run by the U.S. Army Chaplain's Corps for members of the national guard has also emerged as an issue.
Last week, the American Military Partners Association issued a news release saying that a lesbian U.S. soldier, whose named wasn't disclosed, and her same-sex spouse, Shakera Leigh Halford, were denied access to a retreat at Fort Irwin in California.
After the story generated media attention, the public affairs team at Fort Irwin shot back by insisting the couple wasn't denied access, and instead the chaplains at the base had sought to find other chaplains to make accommodations.
Pamela Portland, a spokesperson for Fort Irwin, confirmed that account for the Washington Blade, saying chaplains had sought to find an appropriate person to make the accommodation following a Nov. 7 meeting between couples and the commanding general — even before the news story broke.
"We have eight chaplains here at Fort Irwin," Portland said, "and they were restricted by their religious affiliation, they could not move ahead, but they immediately went out to find someone who could."
Still, in a statement from the American Military Partners Association that followed, Halford decried the notion that she and her spouse required special arrangements.
"It makes the whole thing very awkward and embarrassing," Halford said. "Why can't we just be another couple at the retreat, like everyone else? Why do we have to have special arrangements?"
Air Force Academy hires 'ex-gay' advocate
Finally, the Air Force Academy in Colorado Springs, Colo., has received criticism after AMERICAblog first reported that Mike Rosebush, an advocate of widely discredited "ex-gay" conversion therapy, was hired by the Academy to oversee its character coaching program.
As AMERICAblog's editor John Aravosis points out on his blog, Rosebush served as a clinical member of the National Association for Research & Therapy of Homosexuality, a fringe group that advocates for "ex-gay" therapy, and as a vice president of the anti-gay Focus on the Family.
"Rosebush's entire career for the past two decades has been devoted to 'curing' gay people of what he clearly deems a problem, and what his former employers consider an illness and a depravity," Aravosis writes. "How then could Rosebush not include a discussion of sexual orientation in his character and leadership coaching at the US Air Force Academy?"
During a conference call with reporters last week, the Air Force Academy presented three gay cadets at the Academy in an attempt to dispel the notion the Academy fostered an anti-gay atmosphere.
While presenting a general sense of acceptance, the cadets reportedly acknowledged they did face issues at the academy, but they had been addressed. To the consternation of reporters on the call, the Academy wouldn't go into the nature of the issues, citing privacy concerns.
The presence of Rosebush at the academy inspired a response from the American Military Partners Association and the Human Rights Campaign, which both called for the removal of the "ex-gay" practitioner from the school.
"It's stunning that Air Force Academy officials think it's even remotely appropriate to have someone like Mike Rosebush in a leadership position," HRC's Fred Sainz said. "While it's positive that some cadets feel the culture at the Academy is welcoming to openly LGB people, it's undeniable that Mike Rosebush's toxic views send a harmful message that there is something fundamentally wrong with being gay."
In addition to these problems, other issues remain unresolved, such as the inability of transgender service members to serve openly in the military.
AMPA's Peters said one pathway to accommodate many of the problems faced by gay service members is the codification of an explicit non-discrimination clause in the military's equal opportunity policy — a request the Pentagon has repeatedly rebuffed.
"A reliable and trustworthy system must be in place to address incidents of inappropriate discrimination against gay and lesbian service members and to foster command climates that are supportive of all military families," Peters said. "Inclusion of orientation in the non-discrimination policy would send a strong message that all service members, regardless of their sexual orientation or the gender of their spouse, deserve fair and equal treatment."
Marc Mazzone, a spokesperson for the LGBT military group SPART*A, said new issues are entering the public dialogue following repeal of "Don't Ask, Don't Tell" and the Supreme Court decision against DOMA.
"The recent news gives a very loud and clear message we are moving into a dialogue on how to battle discrimination in its newest forms throughout the military, and we will be working to find a strong resolution to these problems to ensure all service members and spouses receive fair and equal treatment and benefits they are entitled to," Mazzone said.
UPDATE: Shin Inouye, a White House spokesperson, responded to the Blade's request to comment on the issues facing gay service members in the post-"Don't Ask, Don't Tell" after the posting of this article.
"The President remains proud of the repeal of 'Don't Ask, Don't Tell,' which has strengthened our national security and upholds the ideals that our fighting men and women risk their lives to defend," Inouye said. "We are confident that the Department, under Secretary Hagel's leadership, will ensure that all service members are treated with dignity and respect."
Boston Children's Hospital targeted by violent anti-LGBTQ threats
'We condemn these attacks in the strongest possible terms'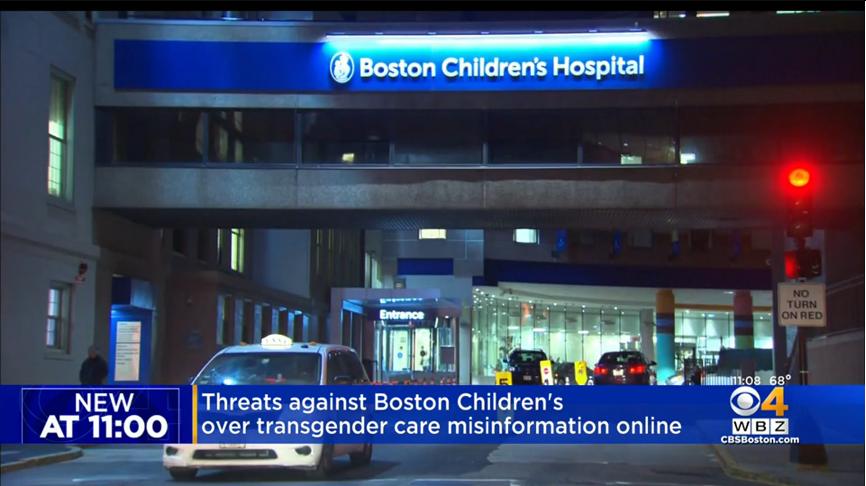 Anti-LGBTQ far right extremists are targeting Boston Children's Hospital, threatening its employees and medical staff after falsehoods and disinformation spread online recently about the healthcare facility's treatment of transgender youth.
In a statement posted online, a spokesperson for Boston Children's Hospital wrote: "In response to commentary last week critical of our Gender Multispeciality Service (GeMS) Program, Boston Children's Hospital has been the target of a large volume of hostile internet activity, phone calls and harassing emails including threats of violence on our clinicians and staff fueled by misinformation and a lack of understanding and respect for our transgender community."
The statement notes that the false information, with special attention being cast on the lies that Boston Children's Hospital was performing hysterectomies (transgender care related) on minors. The age of consent for that gender-affirming procedure is 18.
"We condemn these attacks in the strongest possible terms, and we reject the false narratives upon which they are based," the hospital continued. "We are working with law enforcement to protect our clinicians, staff, patients, families and the broader Boston Children's Hospital community and hold the offenders accountable. We will continue to take all appropriate measures to protect our people."
August 16, 2022
Journalist Martha Bebinger with WBUR,  Boston's NPR news station, noted the campaign started last week with criticism of a video posted on the hospital's website about hysterectomies. Several conservative social media accounts shared posts about the video on Twitter. The hospital performs hysterectomies on patients 18 and older, but not on children as some of the posts claimed.
The social media account Libs of TikTok, which has often promoted "groomer" discourse that falsely linked LGBTQ teachers and parents to pedophilia, began to make a variety of false claims. One allegation included the lie about Boston Children's Hospital offering gender-affirming hysterectomies to children under 18 years old.
Surgeons at Boston Children's Hospital have said they would consider performing other procedures, including phalloplasty, or penis construction, on 17-year-old male trans patients. But hospital staff say that hasn't happened because no 17-year-old has met the required legal and other criteria.
Conservative journalist and anti-LGBTQ+ activist Christopher Rufo, who has helped incite white Christian nationalist right-wing uproar over the critical race theory being taught in the nations' secondary schools and also fabricated a story that queer theory was also being to taught kindergarteners up through high school, took aim at Boston Children's Hospital in a tweet Wednesday.
Yes, American doctors are performing "vaginoplasties" on minors—castrating young males and creating artificial vaginas out of their penile tissue.https://t.co/LzLsZpeeRU pic.twitter.com/6NgBGitZZh

— Christopher F. Rufo ⚔️ (@realchrisrufo) August 17, 2022
Then adding to the far-right extremist pile-on, Media Matters for America reported Wednesday that anti-trans pundit Matt Walsh also attacked the hospital.
The Daily Wire's Matt Walsh falsely accused Boston Children's hospital of putting "every toddler who has ever been born…on a path to sterilization and butchery before they can even talk." Two days later, the hospital's staff was deluged by violent threats. pic.twitter.com/uoyb35VPM6

— Media Matters (@mmfa) August 17, 2022
Christina Buttons, a Nashville-based radical anti-LGBTQ far-right journalist for the Canadian anti-LGBTQ conservative publication, the Post Millennial, which features other transphobic writers, attacked NBC News reporter Brandy Zadrozny on Twitter over her reporting on Boston Children's Hospital.
God help me, I know I shouldn't bother, but just quick before I log off: the "evidence" for this lie, that a children's hospital is performing genital surgery on minors, actually shows that the center provided ZERO of these surgeries on minors.https://t.co/elQ7nF1dCU https://t.co/478VyUsx4U pic.twitter.com/L6BP11HHDc

— Brandy Zadrozny (@BrandyZadrozny) August 17, 2022
A spokesperson for Twitter told the Washington Blade Wednesday afternoon that the company support team was looking into the reports of harassment.
Zadrozny reported: Anti-trans activists also targeted the individual doctors who appeared in the YouTube videos from Boston Children's Hospital, leaving vulgar and harassing comments on their social media accounts and flooding their online pages with negative reviews. Some hospital staff have since made their social media profiles private.
This isn't the first time that far-right activists have targeted doctors and medical institutions — or even Boston Children's Hospital.
Lee Leveille, co-director of Health Liberation Now, a trans rights advocacy group that investigates the effects of policy on trans health, said the hospital was also a target in May 2021 for providing gender-affirming care amid a similar wave of targeted harassment on medical facilities.
"The original organized network that jump started the clinic protests has been slowing down a bit and is more decentralized," Leveille said over email. "Local pockets will still operate here and there, but they're less connected to a central organized push than the original ones. Now we're seeing new faces rallying the cause — including the likes of Matt Walsh and Libs of TikTok."
A spokesperson for the Boston Police Department said the department is aware of the threats and is working with hospital staff.
Will D.C. host World Pride 2025 after Taiwan cancellation?
InterPride organizers mum on selection of new host city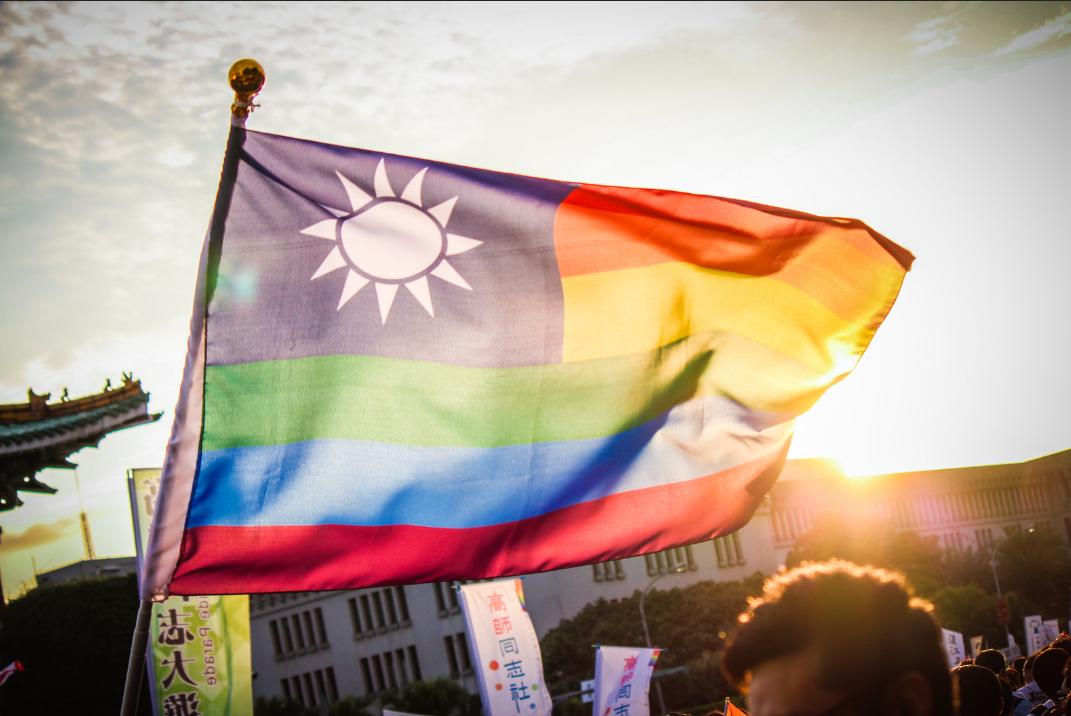 A surprise announcement last week by Taiwanese organizers of World Pride Taiwan 2025 that they have withdrawn their agreement to host the international Pride event has raised the immediate question of whether the event will be moved to Washington, D.C., which lost its bid to host the event to Taiwan.
Capital Pride Alliance, the group that organizes D.C.'s annual Pride events, submitted a bid for D.C. to become the host city last September with the support of D.C. Mayor Muriel Bowser and city agencies that help organize large events.
World Pride Taiwan 2025 is the group that won its 2021 bid to host World Pride 2025 in the Taiwanese port city of Kaohsiung. The group said in a statement that it decided to cancel its role as the host for World Pride following a dispute with InterPride, the U.S.-based international organization that founded and administers World Pride, and that selects the host city.
World Pride, an international event that takes place every two years, draws thousands of participants from throughout the world to the host city.
Although disagreements had surfaced over whether World Pride Taiwan had the economic capacity to host an international event like World Pride, the group said in its statement that the issue that prompted the cancellation was InterPride's insistence that the name "Taiwan" could not be used in the title of the event and only the name World Pride Kaohsiung 2025 could be used.
According to the statement, the name "Taiwan Pride" has symbolic significance for the Taiwanese LGBTQ community, among other reasons, because all the island nation's Pride events since 2003 have used the name Taiwan Pride.
In its own statement, InterPride said all past World Pride events have used the name of the host city rather than the country in which the city is located. In its statement, it said it offered a compromise allowing Taiwanese organizers to call the event "World Pride Kaohsiung, Taiwan," a claim Taiwanese organizers dispute.
The Washington Blade couldn't immediately reach an official or spokesperson for InterPride to determine whether it plans to reopen the bidding process to select another city to host World Pride 2025 or whether it would invite D.C.'s Capital Pride Alliance to host the event on behalf of D.C.
Capital Pride Alliance submitted what it said was a comprehensive bid last September calling on InterPride to select D.C. as the World Pride 2025 host. Capital Pride and the Taiwanese group were the only two organizations to submit a bid for World Pride 2025.
When InterPride announced last November that it had selected the Taiwanese city of Kaohsiung to host the international event, Capital Pride issued a statement congratulating Kaohsiung Pride and World Pride Taiwan 2025 for winning the bid.
Ryan Bos, the Capital Pride Alliance executive director, told the Blade on Wednesday that as of early this week InterPride had not contacted Capital Pride Alliance about the Taiwanese group's decision to cancel the event. He said Capital Pride learned about the cancellation from news media reports.
Asked if Capital Pride plans to reactivate its bid to host World Pride 2025, Bos did not offer a direct answer.
"We definitely need to have conversations about it," he said. "We definitely would be open to the conversation. Our team put in a lot of time and effort to put together a very comprehensive and strong bid," Bos said. "D.C. is a worthy destination, and we can truly make a major impact on the world stage by hosting an event such as this," Bos said. "So, we would be open to entertaining the conversation."
Bos pointed to Capital Pride's announcement at the time it submitted its bid to host World Pride 2025 last September that hosting the event in 2025 would come at a time when Capital Pride plans to commemorate the 50th anniversary of D.C.'s first LGBTQ Pride event in 1975, which began as a block party near Dupont Circle.
"So, though we were not selected last fall, we have been moving forward in organizing an international Pride event for 2025 on the world stage for our 50th anniversary," Bos said. "So, regardless of what happens, we will be continuing down that path."
Bos said Capital Pride Alliance officials will also be attending InterPride's annual international conference this October in Guadalajara, Mexico, which is held each year in connection with InterPride's role as an association of LGBTQ Pride organizations throughout the world. Bos said the issue of selecting a new host city for World Pride 2025 could emerge as a topic of discussion at that conference.
World Pride Taiwan 2025 organizers said in their statement that InterPride did not insist on leaving out the name Taiwan in the title of the event during the bidding process last year and at the time InterPride decided to select the Taiwanese group to host the event in Kaohsiung. The group also disputes InterPride's claim that it offered a compromise to include the name Taiwan along with Kaohsiung in the event's title.
Delaware to open monkeypox vax clinics in Rehoboth, Wilmington
State expands access per CDC recommendations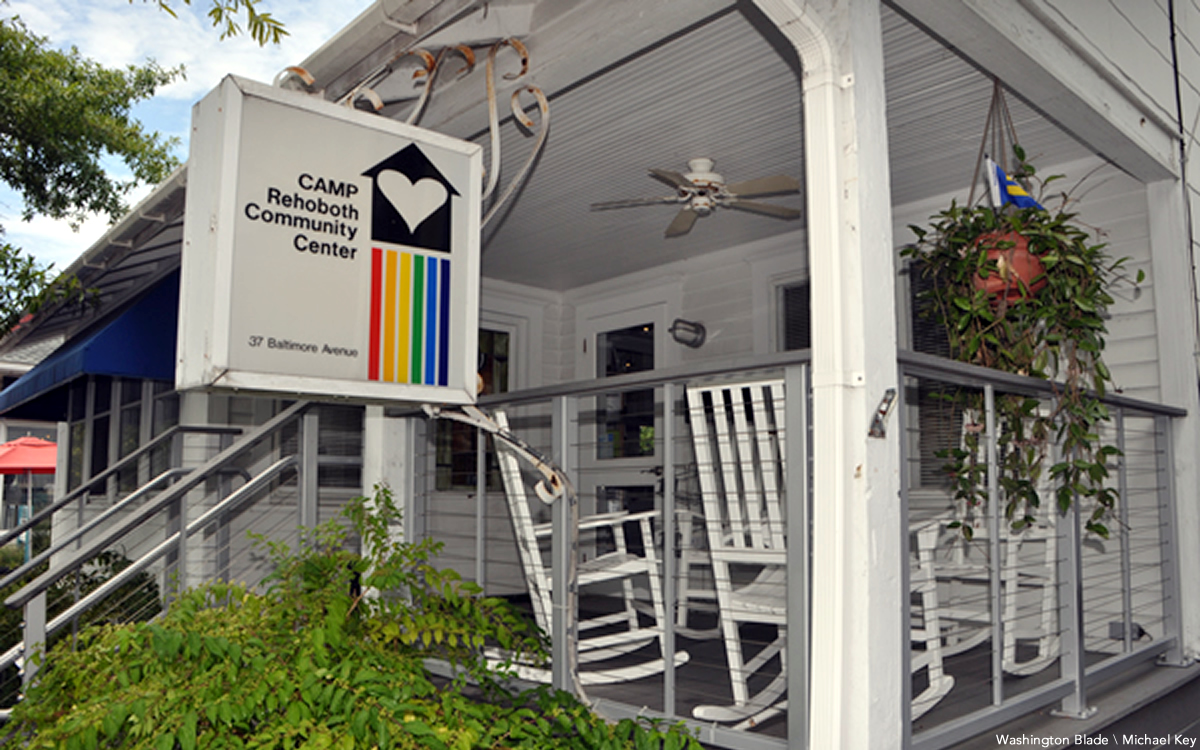 Rehoboth and Wilmington, Del. will host monkeypox vaccination clinics next week after the Delaware Division of Public Health authorized the administration of one-fifth of the original vaccine dosage — per federal recommendations — on Monday.
On Aug. 23 CAMP Rehoboth, a local LGBTQ organization, will host a vaccine clinic from 9 a.m. to 3 p.m. in its community center at 37 Baltimore Ave. An additional vaccine clinic will be held on Aug. 25 from 9 a.m. to 3 p.m. in Wilmington on the ground floor of the city's Community Service Building at 100 West 10th St.
According to a Tuesday CAMP Rehoboth news release, individuals "engaging in high-risk activities" should consider vaccination against monkeypox, namely men who have sex with men or anonymous sexual partners, trans and non-binary individuals assigned male at birth who have sex with men, sex workers, and staff at establishments where sexual activity occurs.
To receive a vaccine at the Rehoboth clinic, individuals must register in advance by calling 302-227-5620 between 9 a.m. and 5 p.m. Monday through Friday. To receive a vaccine at the Wilmington clinic, individuals must register in advance by calling 302-652-6776 between 9 a.m. and 3 p.m. Monday through Thursday. Two hundred slots are available at each clinic, and second doses will be administered on Sept. 20 in Rehoboth and Sept. 22 in Wilmington at the same time as the initial vaccination appointment.
The two-dose vaccination series is not considered effective until two weeks after the second dose, CAMP Rehoboth noted in a Tuesday news release. The vaccine, JYENNOS, is approved by the Food and Drug Administration, but may not provide protection to those who have received a smallpox vaccine more than three years ago, the news release added.
In addition, as of Monday, individuals living with HIV or taking pre-exposure prophylaxis to prevent HIV are eligible for vaccine access, and can contact their healthcare providers or DPH at 866-408-1899 to receive a vaccination appointment.
The state's decision to expand vaccine access follows national trends, and comes after local and national organizations advocated for increased action from the Centers for Disease Control to combat the spread of the virus. On Aug. 12, more than 150 LGBTQ centers and organizations across the country, including Delaware's Sussex Pride, signed a letter to the CDC in favor of "increasing the number of available vaccines" and expanding current data and testing on the virus nationally. As of Aug. 5, Delaware has administered 33 doses of the monkeypox vaccine, according to a DPH news release.
For more information, individuals can contact the DPH hotline for monkeypox-related questions and concerns on weekdays from 8:30 p.m. to 4:30 p.m. at 866-408-1899, or email [email protected]. Information concerning monkeypox prevention programs and resources can be found at de.gov/monkeypox.