Vandalism of Blade boxes, theft of papers continues
Excrement placed in boxes in Dupont Circle, 17th Street area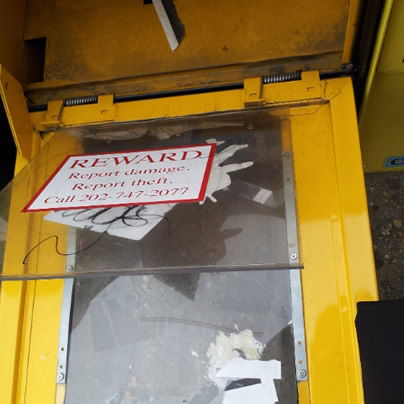 Unidentified perpetrators are emptying some of the Washington Blade's newspaper distribution boxes of papers on the day they are delivered and vandalizing others by smearing human excrement on the papers and the inside surfaces, preventing readers from gaining access to the Blade in locations throughout the city.
Blade publisher Lynne Brown said that while the bulk theft of the papers and the vandalism of the boxes have been taking place for the past two years, the frequency and intensity of the incidents appear to have increased during Thanksgiving week.
"We restock and clean as fast as possible," Brown said. "But there's a loss of property. This is our product. It's being destroyed," she said. "And the confidence of our readers is being challenged."
John Ryan, co-owner of Media Point LLC, a newspaper distribution company that delivers the Blade each week to the street boxes and other locations, such as bars, bookstores and restaurants, said his drivers remove the boxes soiled by excrement and take them to a company warehouse, where they are steam cleaned.
Ryan said during the past month or two, the unidentified perpetrator or perpetrators have repeatedly targeted Blade boxes on 17th Street outside some of the neighborhood's popular bars and restaurants, including the gay bar Colbalt at 17th and R streets, N.W.
"I don't know how they are getting it into the box, but it's the fifth time with these boxes that we've had to pull them off the street and clean them and put them back," he said in referring to the boxes smeared with excrement.
"We're at wit's end as far as that goes because that is a nasty job as you can imagine," he said.
"And three days later they're doing it again, and we have to pick them back up," said Media Point supervisor Richard Goldsmith, who is in charge of the Blade distribution operation.
D.C. police spokesperson Gwendolyn Crump said earlier this year that the department is "very committed" to addressing reports of vandalism of newspaper boxes. But Crump and other police officials have said the U.S. Attorney's office has determined that it's not a crime to take a free newspaper, even large quantities of the paper.
Maryland and other states have passed laws that make it a crime to remove large quantities of free newspapers if the intent is to deprive others from reading them or obtaining them. D.C. has yet to adopt such a law, police officials have said.
Brown said that with the vandalism appearing to be increasing, she plans to more aggressively report the incidents to police at the time the delivery drivers discover the damaged boxes.
According to Brown and Ryan, in addition to the excrement smearing, vandals have started to smash the plastic window on the boxes and break off a clip that holds one copy of the paper against the window so readers can read the headlines and determine if a new issue has been delivered.
Ryan and Goldsmith said they take steps to repair and replace the broken windows and clips on the boxes as fast as they can, but in certain locations the vandals return and break them almost as soon as the repaired boxes are put back on the street.
"If a hate crime is a factor, one of my concerns is what if a reader is taking a Blade out and this hateful, spiteful person who's kicking out the window on the box decides to attack a Blade reader," Brown said.
Judge rules trans teacher's lawsuit against P.G. County can go to trial
Gay man files separate case charging discrimination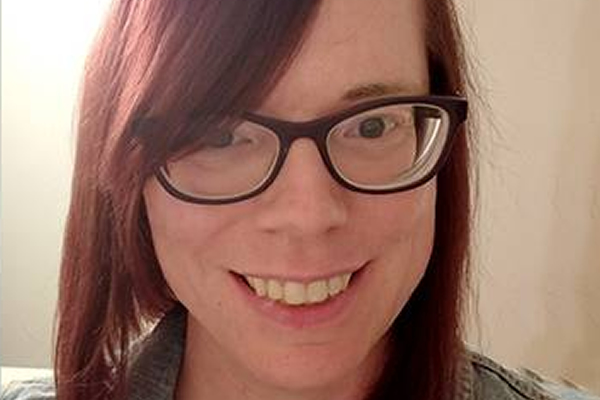 A federal judge in Maryland issued a ruling on Tuesday, Jan. 18, clearing the way for a lawsuit filed by transgender former English teacher Jennifer Eller in 2018 charging the Prince George's County, Md., Public Schools with discrimination and harassment based on her gender identity to proceed to a trial.
In the ruling, Judge Theodore D. Chuang of the U.S. District Court for the District of Maryland denied key parts of several motions filed by attorneys representing the P.G. County Public Schools that in effect called for the dismissal of the lawsuit. The motions, among other things, claimed the lawsuit failed to provide sufficient evidence that Eller was subjected to discrimination and harassment, which forced her to resign due to a hostile work environment.
Chuang also ruled against a separate motion introduced by Eller's attorneys calling for him to issue a summary judgement decision affirming all the lawsuit's allegations that would have ended the litigation in Eller's favor without the need to go to trial.
Eller's lawsuit charges that school officials acted illegally by failing to intervene when she was subjected to a hostile work environment for five years that included abuse and harassment by students, parents, fellow teachers, and supervisors and retaliation by school administrators.
The lawsuit alleges that the school system and its administrators in its actions against Eller violated Title VII of the U.S. Civil Rights Act of 1964, Title IX of the federal Education Amendments Act of 1972, the Equal Protection Clause of the U.S. Constitution, the Maryland Fair Employment Practices Act, and the nondiscrimination provision of the Prince George's County Code.
"We think the judge did as best he could," said Omar Gonzales-Pagan, an attorney with the LGBTQ litigation group Lambda Legal, which, along with the D.C. law firm Arnold & Porter, are representing Eller in her lawsuit.
"The takeaway is that the case is now in a posture to proceed to trial," Gonzales-Pagan told the Washington Blade. "The court found that the alleged facts and the information as discovered throughout the case in the discovery process is sufficient to allow a jury to find whether Jennifer Eller was subjected to a hostile work environment and constructive discharge and retaliation unlawfully by the defendants," he said.
By the term constructive discharge, Gonzales-Pagan was referring to the lawsuit's charge that Eller was forced to resign from her teaching job in 2017 after being diagnosed with post-traumatic stress disorder due to the alleged abuse she faced on the job.
P.G. County Public Schools officials have declined to comment on the lawsuit on grounds that the school system has a longstanding policy of not discussing pending litigation. However, in its response to the lawsuit in court filings, school system officials have denied Eller's allegations of discrimination, harassment, and retaliation.
"For years, I was aggressively misgendered, attacked and harassed in the hallways and even in my own classroom by students, peers and supervisors," Eller said in a statement released by her attorneys.
"My pleas for help and for sensitivity training on LGBTQ issues for students and staff, were ignored," Eller said in her statement. "The relentless harassment stripped me of the joy of teaching and forced me to resign," she said. "It is time for Prince George's County Public Schools to be held accountable."
The lawsuit says the harassment and discriminatory action against her began in 2011 when she began presenting as female during the school year. It says school officials initially responded to her complaints about the harassment by demanding that she stop dressing as a woman and return to wearing men's clothes, which she refused to do.
In a separate action, gay former Spanish teacher Jared Hester filed on his own without an attorney a lawsuit in the Maryland federal court charging the P.G. County Public Schools with failing to take action to prevent him from being subjected to discrimination and harassment similar to some of the allegations made in Eller's lawsuit.
Hester told the Blade that he was subjected to harassment by students who repeatedly called him "faggot," but school officials, including the principal of the middle school where he taught, refused to take action to stop the harassment.
He provided the Blade with copies of earlier complaints he filed against school system officials with the U.S. Equal Employment Opportunity Commission (EEOC), the Maryland Commission on Civil Rights, and the P.G County Public Schools' internal Office of Equity Assurance. Each of the three agencies issued rulings against Hester's complaints, with two of them saying sufficient evidence could not be found to support his allegations.
The EEOC, in a Nov. 3, 2021 "dismissal" notice, told Hester the EEOC "will not proceed further with its investigation, and makes no determination about whether further investigation would establish violations of the statute." The notice added, "This does not mean the claims have no merit" or that the respondent, meaning the P.G. County Public Schools, "is in compliance with the statutes."
The notice did not give a reason for why it chose to end its investigation into Hester's complaint, but it said his filing with the EEOC cleared the way for him to file a lawsuit to further his case against the school system.
Hester told the Blade he reached out to Lambda Legal to represent him in his lawsuit, but the LGBTQ litigation group declined to take on his case without giving a reason. Gonzalez-Pagan, the Lambda attorney working on the Eller case, said he was unfamiliar with Hester's request for representation. Another Lambda official couldn't immediately be reached to determine the reason for its decision not to represent Hester.
FreeState Justice outlines 2022 legislative priorities
Bills introduced to repeal 'unnatural or perverted sexual practice' law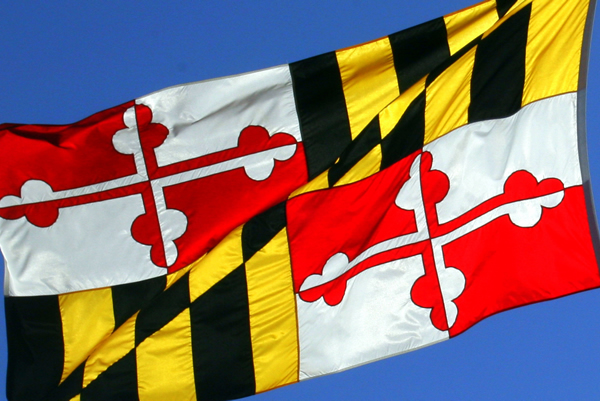 FreeState Justice has outlined its legislative priorities for the Maryland General Assembly's 2022 legislative session that began on Jan. 12.
State Sen. Clarence Lam (D-Baltimore and Harford Counties) has introduced Senate Bill 22, which would repeal a provision of Maryland law that bans "unnatural or perverted sexual practice." State Dels. David Moon (D-Montgomery County), Lorig Charkoudian (D-Montgomery County) and Julie Palakovich Carr (D-Montgomery County) have introduced an identical bill in the House of Delegates.
A bill that repealed Maryland's sodomy law took effect in 2020 without Republican Gov. Larry Hogan's signature, but the "unnatural or perverted sexual practice" provision that criminalizes oral sex and bestiality remains in place.
FreeState Justice Policy Director C.P. Hoffman on Jan. 12 noted during a virtual briefing that prosecutors rarely bring charges under the law. Hoffman nevertheless pointed out four men who were arrested at a video store in Harford County in May 2021 were indicted under it.
"Its really just offensive that this is being used against queer people in 2021," said Hoffman. "So we want to see it repealed."
Hoffman and their FreeState Justice colleagues also noted the ability for transgender Marylanders to more easily obtain official documents that correspond with their gender identity is another legislative priority.
Maryland since 2019 has allowed trans and non-binary people to receive a driver's license with an "X" gender marker.
Hoffman said FreeState Justice will support bills that would allow Marylanders to change their name on their marriage certificate without a court order or getting divorced and remarry. FreeState Justice will also back a measure that would allow trans parents to amend their child's birth certificate to accurately reflect their gender identity.
"We're trying to clean that up to make one consistent policy that allows for trans folks to do this," said Hoffman.
FreeState Justice Executive Director Jeremy LaMaster during the briefing noted another legislative priority is the Inclusive Schools Act, which would require Maryland public schools to implement a uniform non-discrimination policy through the state's Department of Education. FreeState Justice Policy Coordinator Jamie Grace Alexander highlighted the organization will also urge lawmakers to expand access to PrEP and PEP in Maryland and to support legislation that would, among other things, prohibit housing incarcerated trans women with men.
"The conditions for transgender people — especially transgender women — while they're incarcerated are extremely grim and dark," said Alexander.
Mother says teen boy charged with assault in girl's bathroom at Va. school is straight
Earlier reports that Loudoun County student was gender fluid triggered backlash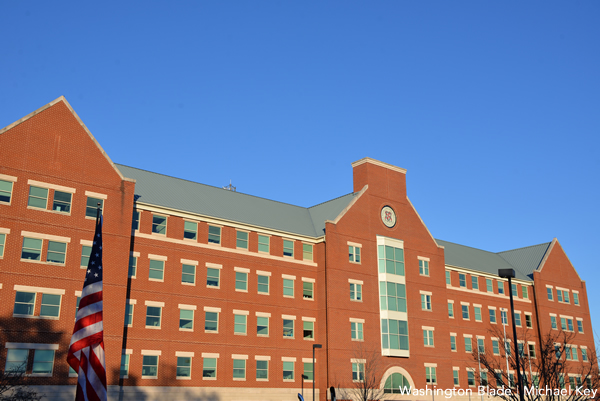 In a little-noticed interview last November with the British online newspaper, DailyMail.com, the mother of a 15-year-old boy charged with sexually assaulting a girl last May in the girl's bathroom at a Loudoun County, Va., high school that the two students attended said her son identifies as heterosexual.
The May 28, 2021, sexual assault first surfaced in the news media in October at the same time law enforcement authorities disclosed that the boy allegedly sexually assaulted a girl on Oct. 6 in a vacant classroom at another high school to which he was transferred.
The disclosure of the two assaults triggered a furious backlash by some parents and conservative political activists against a Virginia school policy allowing transgender and gender fluid students to use the bathroom that conforms to their gender identity.
"First of all, he is not transgender," the boy's mother told DailyMail.com in a Nov. 2 interview. "And I think this is all doing an extreme disservice to those students who actually identify as transgender," the newspaper quoted her as saying.
The mother, who agreed to the interview on grounds that she was not identified to protect the identity of her son, said her son identifies as heterosexual and absolutely does not identify as female.
LGBTQ activists have said the backlash against both the Virginia state and Loudoun County transgender non-discrimination policies — which spread to school districts across the country that have similar policies — was fueled by what they have said all along was unsubstantiated claims that the boy was transgender or gender fluid.
Conservative activists who strongly oppose the school systems' trans supportive bathroom policies have said it was those policies that enabled the 15-year-old boy, who police say was wearing a skirt at the time of the May 28 sexual assault incident, to enter the girl's bathroom to target the girl.
Since that time, testimony in a Loudoun County Juvenile Court where the boy was being prosecuted revealed that the 14-year-old girl who brought the charges against him said she and the boy had two consenting sexual encounters in a girl's bathroom at Stone Bridge High School in Ashburn, Va., prior to the incident in which the boy allegedly assaulted her.
According to the Washington Post, whose reporter attended one of the juvenile court hearings, the girl testified that she agreed to meet the boy in the girl's bathroom after he requested a third sexual encounter there, but she told him she did not want to have sex at that time.
"The girl previously testified in court that the defendant threw her to the ground in the bathroom and forced her to perform two sexual acts on him after she told him that she was not interested in sex on that occasion," the Post reported in a story last week about the final outcome of the case.
At a Jan. 12 sentencing hearing, Loudoun County Juvenile Court Chief Judge Pamela Brooks placed the boy on the Virginia sex offender registry for life, the Post reported. After ruling in an earlier hearing in November that the evidence confirmed that the boy was responsible for sexually assaulting the two girls, Brooks sentenced the boy to a residential treatment facility rather than a juvenile detention facility and required that he remain on probation until he turns 18, the Post reported.
"He's a 15-year-old boy that wanted to have sex in the bathroom, with somebody that was willing," the boy's mother told DailyMaiI.com. "And they're twisting this just enough to make it a political hot button issue," she said.
In her interview with the newspaper, the mother said her son wasn't gender fluid despite the reports, which she confirms, that he wore a skirt at the time of the first of the two sexual assaults.
"He would wear a skirt one day and then the next day, he would wear jeans and a T-shirt, a Polo or hoodie," she told the newspaper. "He was trying to find himself and that involved all kinds of styles. I believe he was doing it because it gave him attention he desperately needed and sought," she said.
The mother acknowledged in the interview that her son was deeply troubled, saying he had a long history of misbehavior, including sending nude photos of himself to a girl when he was in the fifth grade.
On Jan. 12, the same day as the boy's sentencing hearing, Virginia House of Delegates member John Avoli (R-Stanton) introduced a bill calling for restricting the ability of transgender students from using bathrooms and other facilities in public schools that are consistent with their gender identity.
A separate bill introduced last month by Virginia State Sen. Travis Hackworth (R-Tazewell County) calls for eliminating the requirement that Virginia school districts adopt the state Department of Education's nondiscrimination policies for trans and non-binary students.
Although Virginia's newly inaugurated Republican Gov. Glenn Youngkin and the GOP-controlled House of Delegates could move to advance the two bills, LGBTQ activists note that the state Senate remains in Democratic control and would block the two bills from being approved by the General Assembly.
Cris Candice Tuck, president of the LGBTQ group Equality Loudoun, told the Blade she expects opponents of LGBTQ nondiscrimination policies in the Loudoun County Public Schools and other school systems in Virginia to continue to use the sexual assault case of the Loudoun boy as a pretext to repeal LGBTQ and trans supportive policies.
"We firmly believe it should have absolutely no bearing as the perpetrator was not transgender, non-binary, or gender fluid, and so that doesn't apply to this policy at all," Tuck said. "A single conviction of an individual who is not even part of the group in question is no reason to invalidate the rights and expose to potential violence the hundreds of students who identify as transgender or non-binary," Tuck said in an email message.
"Currently, the Catholic Church, the Boy Scouts of America, and hundreds of cisgender teachers, clergy, and coaches are embroiled in legal battles nationwide involving sexual molestation, rape, and abuse of children across the country that has been ongoing for decades," Tuck said. "Yet no one is proposing restroom restrictions for any of those groups. A double standard cannot exist for the LGBTQ+ based on fear mongering, misinformation, and discrimination."