Wearable wonderland
Got a techie on your list? They'll love these hot cutting edge holiday finds.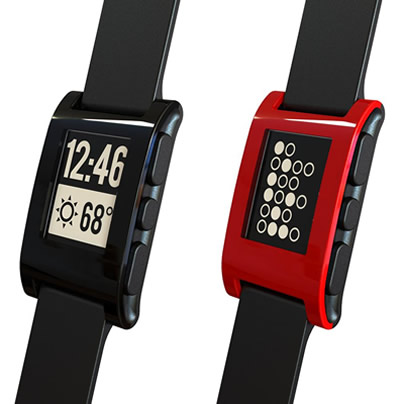 Phones and laptops are so 2012. This year ushered in a new era for tech and there's no doubt that wearables are making the technophiles salivate.
If you want to put that special geek on your list ahead of the curve for 2014, it's time to leave your device comfort zone. But with such vast differences between options, which wearable is right for you?
Sony SmartWatch
$99.97
The Sony SmartWatch is the best value. Like most watches on this list, the wrist device uses Bluetooth to pair with the phone in your pocket (and other accessories, like Bluetooth headsets) to allow you to control basic phone operations — such as check notifications, read Twitter updates, compose text messages and even take calls — without taking your phone out of your pocket.
The downside of the Sony: it's little more than a remote control for your Android smartphone. You can operate your phone's music player or quickly reply to text messages, but if you want to take that call, you need to take your phone out of your pocket or have an earpiece in. Still, it has a vibrant color screen and looks classy.
Kreyos
$169.95
Similar to Sony's, but slightly more robust is the Kickstarter darling, Kreyos. While the Kreyos only has a black-and-white screen, it goes beyond touch control and supports voice commands and even gesture commands. Wave your notifications away quickly instead of tapping through menus and tell your phone to move on to the next song, rather than click. Also, while the Sony watch only supports Android phones, Kreyos supports any smartphone with Bluetooth.
Watch bands for the Kreyos offered on the site are limited to the bright colored silicone, so this is no boardroom watch. Oh, and the first Kreyos won't be delivered until January, so if you planned on gifting it, you better gift yourself some printer ink first, because the only thing you'll be able to give on Christmas will be a printout verifying the purchase. That said, the apps available for this watch are pretty impressive and it looks like it could be a viable competitor in the smartwatch field.
Pebble
$150
Pebble is the waterproof e-ink smartwatch that does as much as the Sony watch, but with more style and with a longer battery life. Another Kickstarter project, Pebble has a rich app developer community and is likely the most durable smartwatch out there.
At $50 more than the Sony watch, though, it still isn't much more than a remote for the phone in your pocket. It's still very functional and a good alternative to the also black-and-white display Kreyos. Pebble also connects to the iPhone as well as Android, where Sony does not.
Galaxy Gear
$299
The first watch on this list that's more than just a remote, for a small group of people, Samsung's Galaxy Gear will make an unbelievably great gift. This powerful, full color smart watch does everything the previous three watches do — allow users to check notifications and perform basic phone tasks on their Samsung Galaxy Note or S4/S3 phones — but the Gear goes beyond basic notification and remote capabilities.
Gear allows users to take calls right from the watch, so a separate earpiece is unnecessary. The Gear also syncs with apps on the phone, so when a user checks an app notification on his or her watch and then unlocks the phone, the phone automatically loads the app that corresponds with the notification. You can even find your devices and lock them from afar using your Gear.
The bad news is that the Gear is only compatible with the Galaxy Note 3 and 4 as well as the Galaxy S3 and S4. Still, for users of those devices, the Gear is the clear frontrunner.
Fitbit Force
$129.95
While the Fitbit does have a digital time display, this is no smart watch. The Fitbit is an incredible piece of fitness equipment that tracks many dimensions of your workouts, syncs with other devices — like compatible digital scales — and helps you get into the minutiae of your routine. If you're a data-nerd like me, you want to know what the altitude and temperature were when you were rounding that particularly grueling corner, not just your speed, pulse and calories burned. Fitbit even tracks your sleep, then helps bring all of that data together to help you make better fitness decisions.
10 LGBTQ events this week
Catch upcoming drag shows, an ugly sweater party and Pamala Stanley live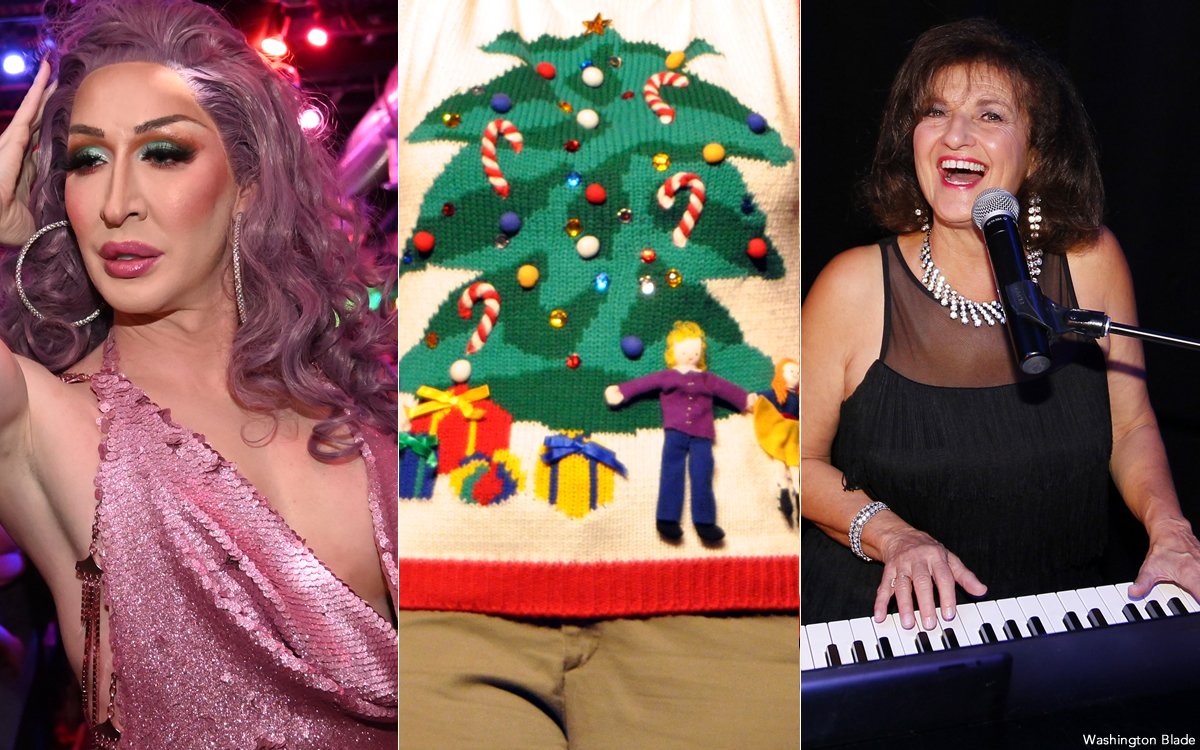 Below are our picks for some of the most fun and creative things to do this week in the DMV that are of special interest to the LGBTQ community.
---
Mocktail Night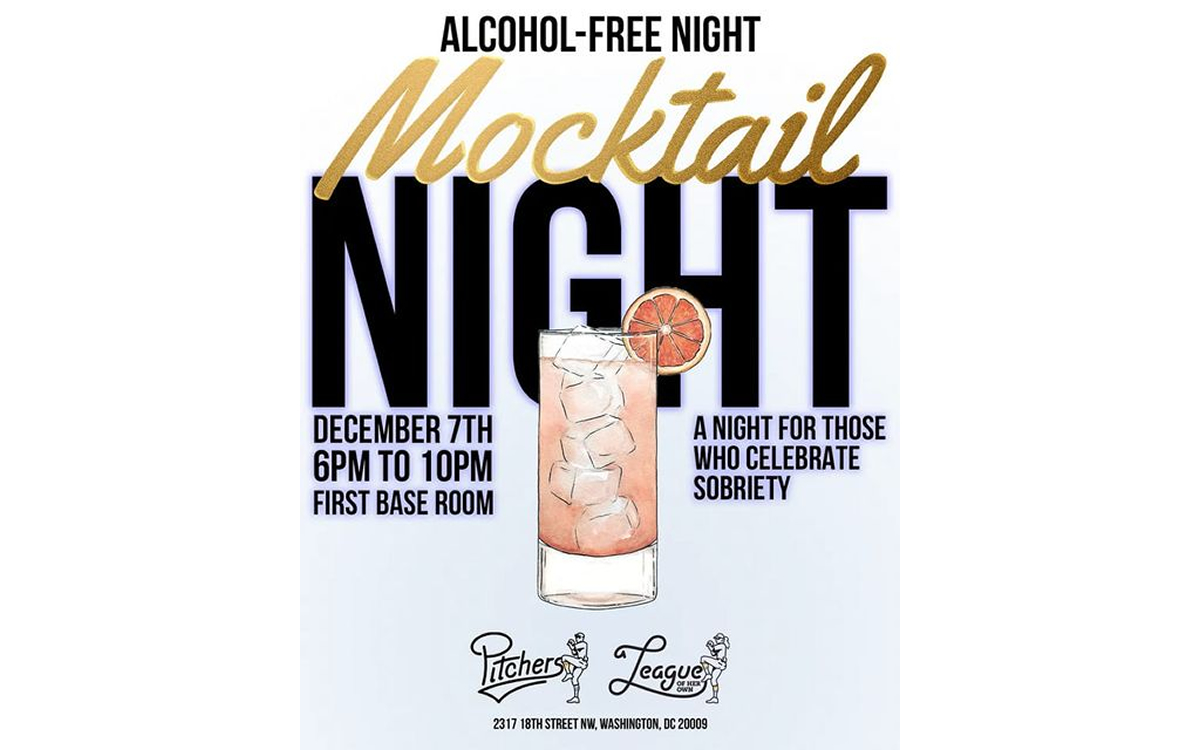 Wednesday, December 7
6-10 p.m.
Pitchers DC
2317 18th Street, N.W.
First Base Room
Facebook
Pitchers is hosting its first alcohol-free night for those celebrating sobriety with festive mocktails. No alcohol will be served, so go to Pitchers for a stress-free social event with other sober LGBTQ friends and allies.
---
"Flee" Movie Screening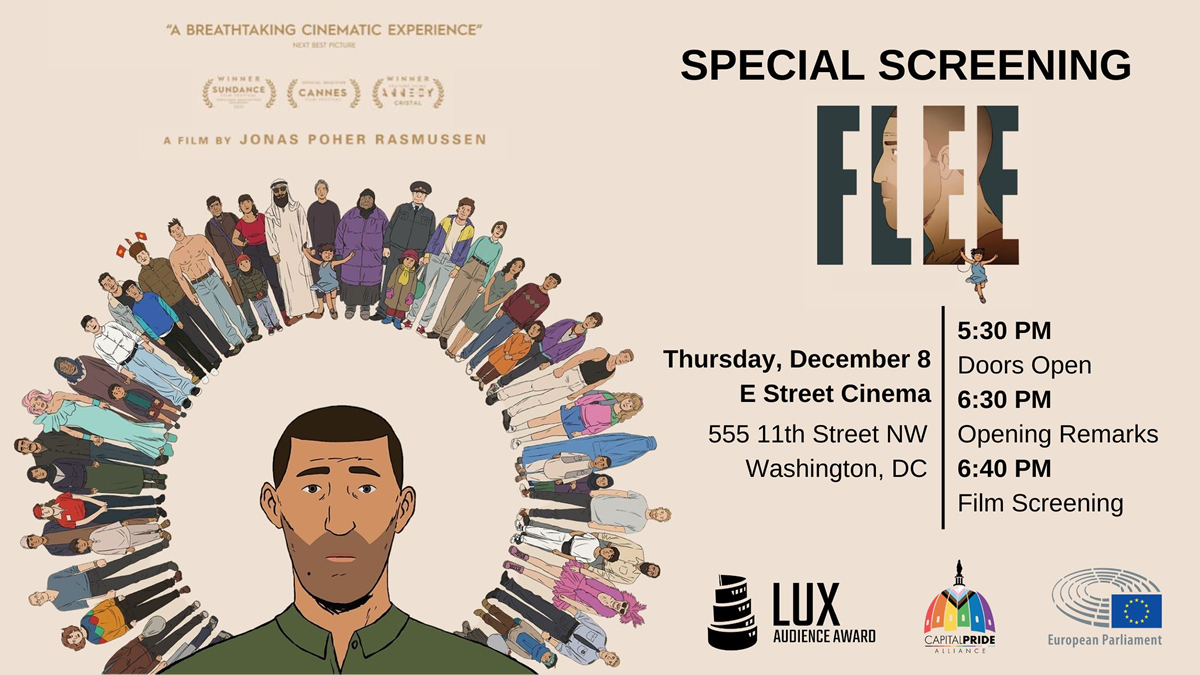 Thursday, December 8
Doors 5:30 p.m./Opening remarks 6:30 p.m.
Landmark's E Street Cinema
555 11th Street, N.W.
Free/registration required
Facebook | Register
The European Parliament Liaison Office and Capital Pride present a screening of European Parliament LUX Award 2022 finalist, "Flee."
"Flee" portrays the true story of a man who shares his hidden past of fleeing his home country of Afghanistan to Denmark.
---
Christmas Misfits: A Drag Holiday Extravaganza!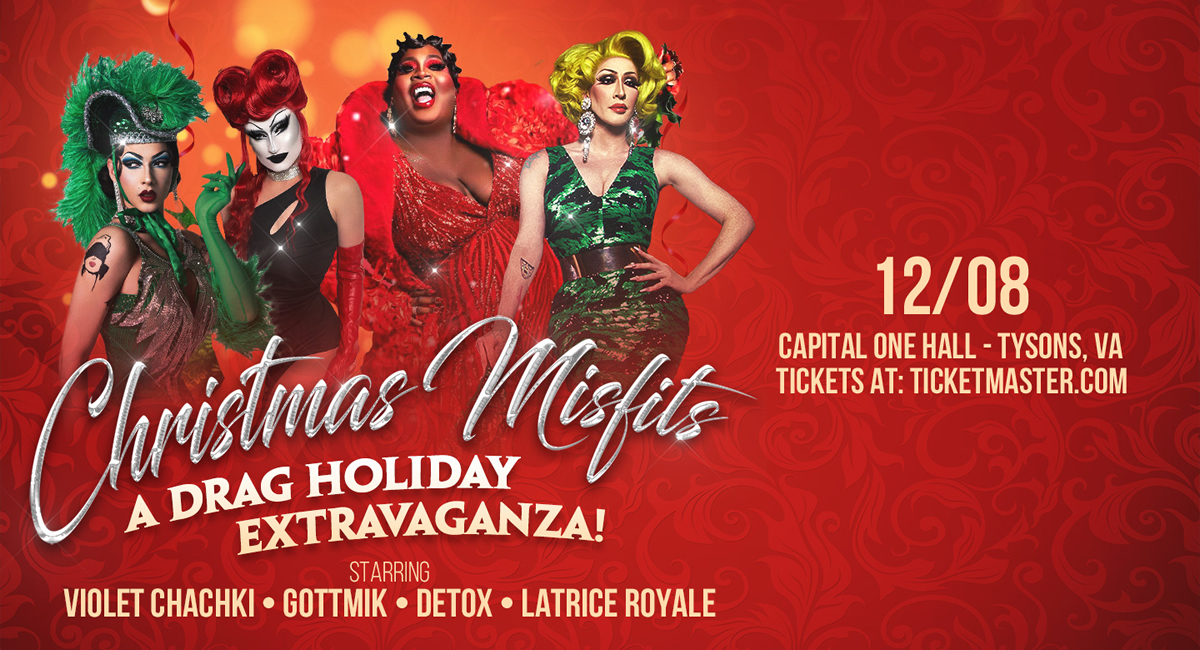 Thursday, December 8
6 p.m.
Capital One Hall
7750 Capital One Tower Road
McLean, Va.
$69.50-$252.50
Facebook | Tickets
"RuPaul's Drag Race" alumni Violet Chachki, Gottmik, Detox and Latrice Royale perform at a holiday show on Thursday.
---
Vernonza Extravaganza Lipsync Battle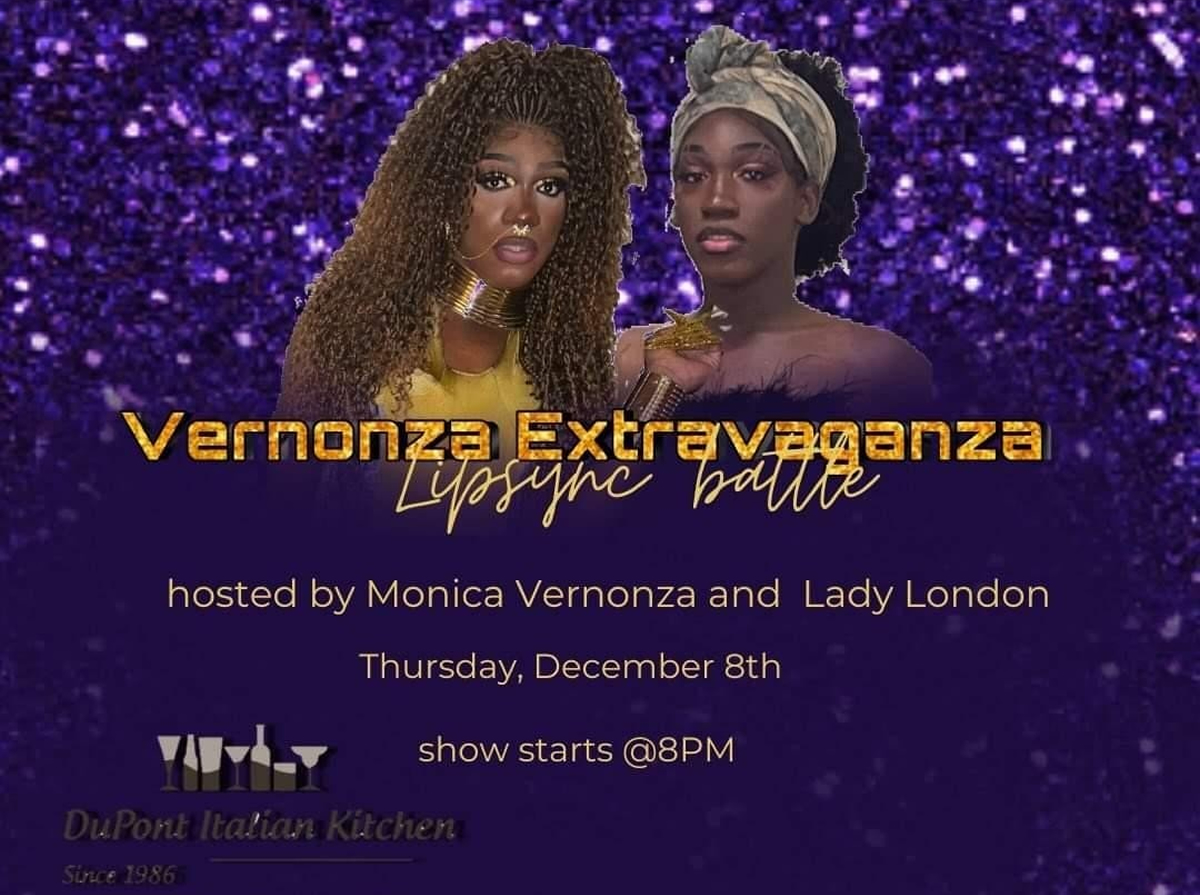 Thursday, December 8
8 p.m.
Dupont Italian Kitchen
1637 17th Street, N.W.
Facebook
Monica Vernonza and Lady London host a lip sync battle at Dupont Italian Kitchen on Thursday.
---
StartOut Baltimore-Washington Launch Reception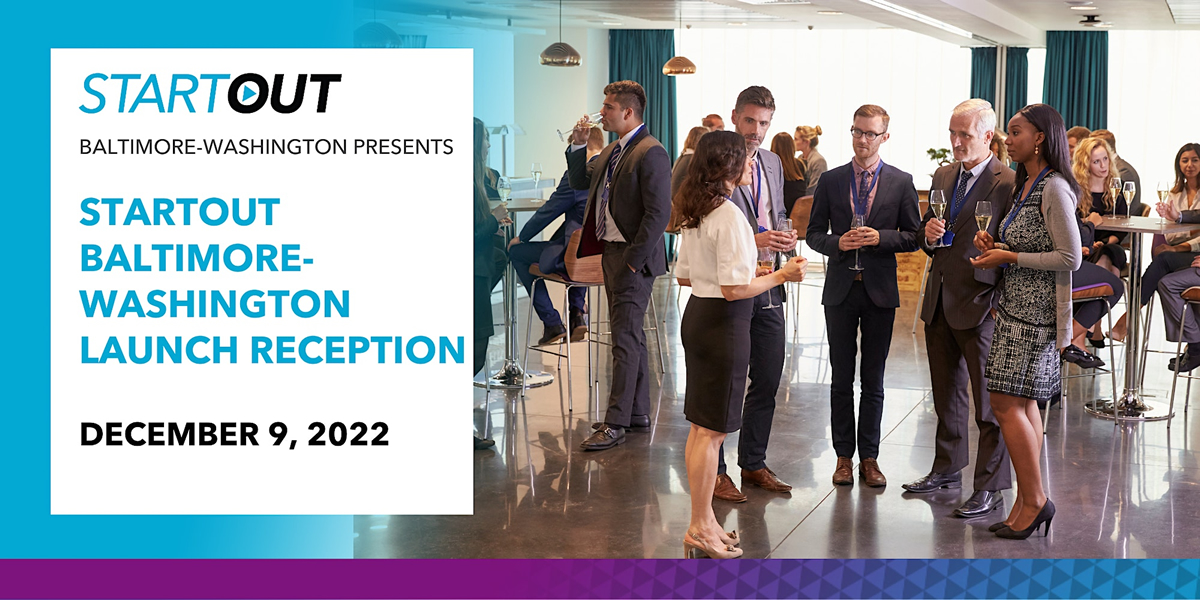 Friday, December 9
6 p.m.
Selina Union Market
411 New York Avenue, N.E.
Facebook | Eventbrite
StartOut Baltimore-Washington holds a launch party with cocktails, hors d'oeuvres, live entertainment and networking at the rooftop at Selina Union Market on Friday. The new organization looks to increase the number, diversity and impact of LGBTQ entrepreneurs.
---
Pretty Girl Rock Drag Brunch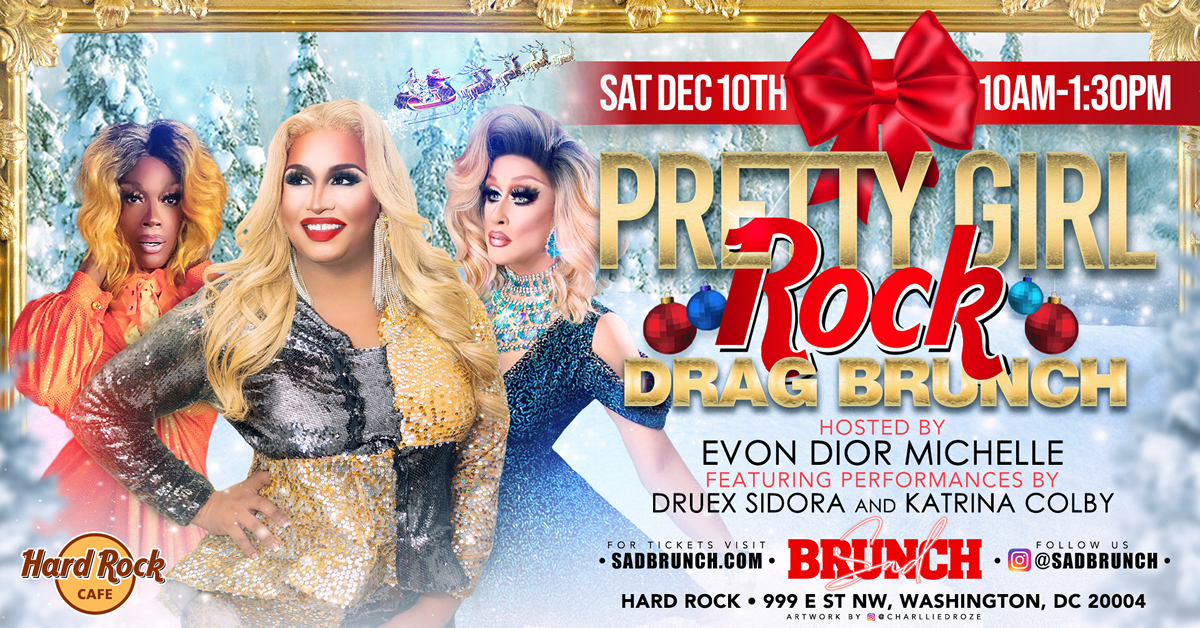 Saturday, December 10
10 a.m.-1:30 p.m.
Hard Rock Cafe
999 E Street, N.W.
$15+
Facebook | Tickets
Evon Dior Michelle hosts a drag brunch with Druex Sidora and Katrina Colby at Hard Rock Cafe on Saturday.
---
Ugly Sweater Party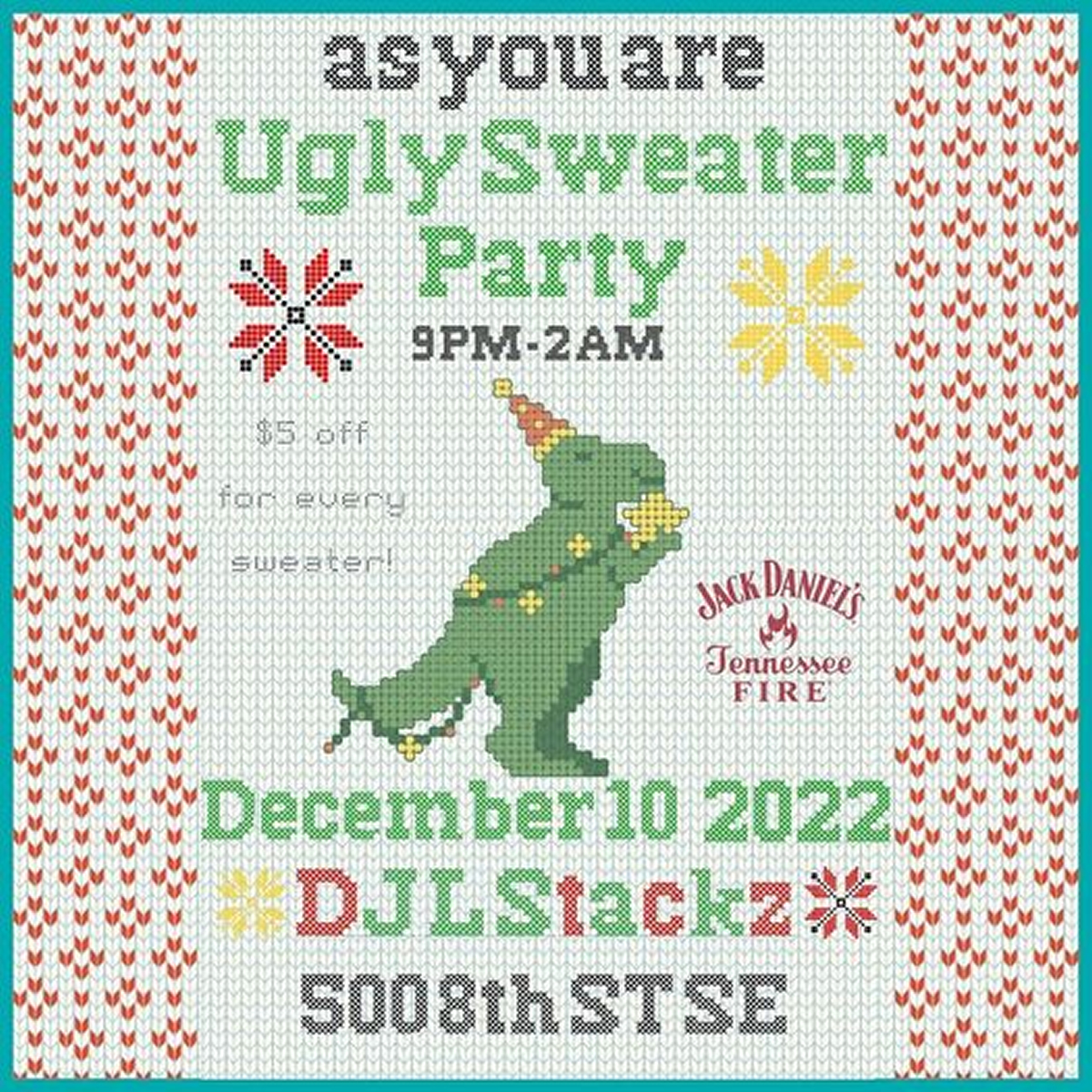 Saturday, December 10
9 p.m.
As You Are DC
500 8th Street, S.E.
Facebook
Wear your ugliest sweater and party all night with DJ L Stackz at As You Are on Saturday.
---
UNCUT: Jingle Balls with DJ Cindel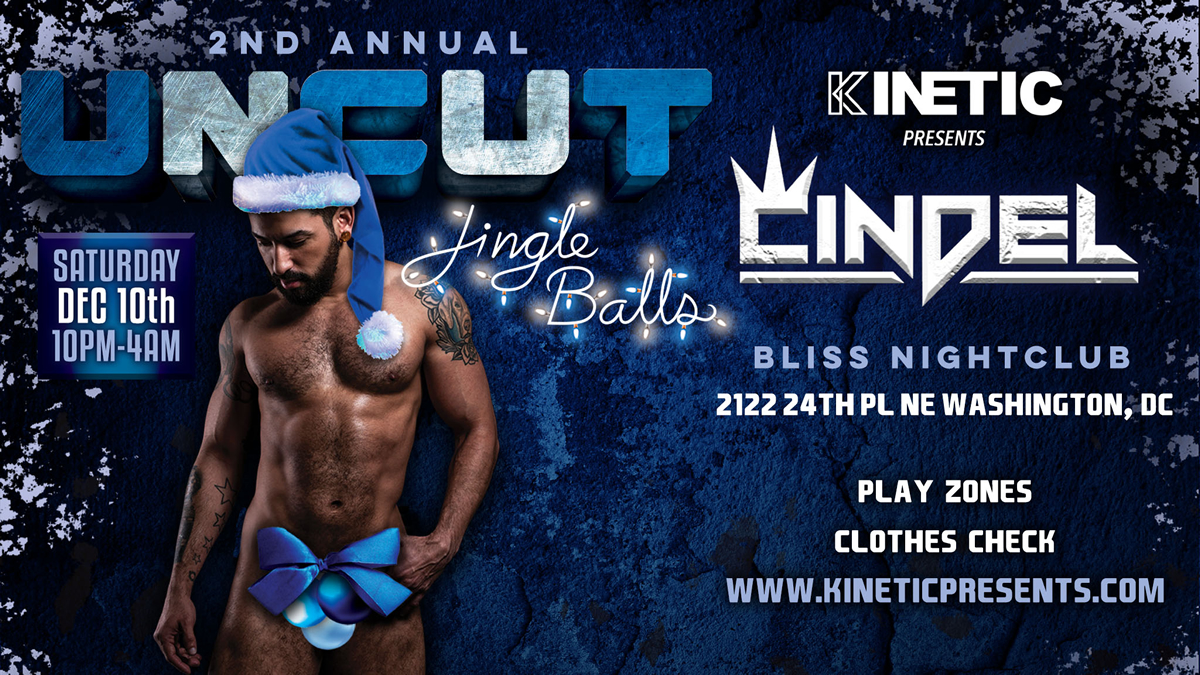 Saturday, December 10
10 p.m.
Bliss Nightclub
2122 24th Place, N.E.
$65+
Facebook
Kinetic presents the 2nd annual UNCUT Jingle Balls event at Bliss Nightclub on Saturday complete with a clothes check and play zones.
---
It's Britney, Brunch!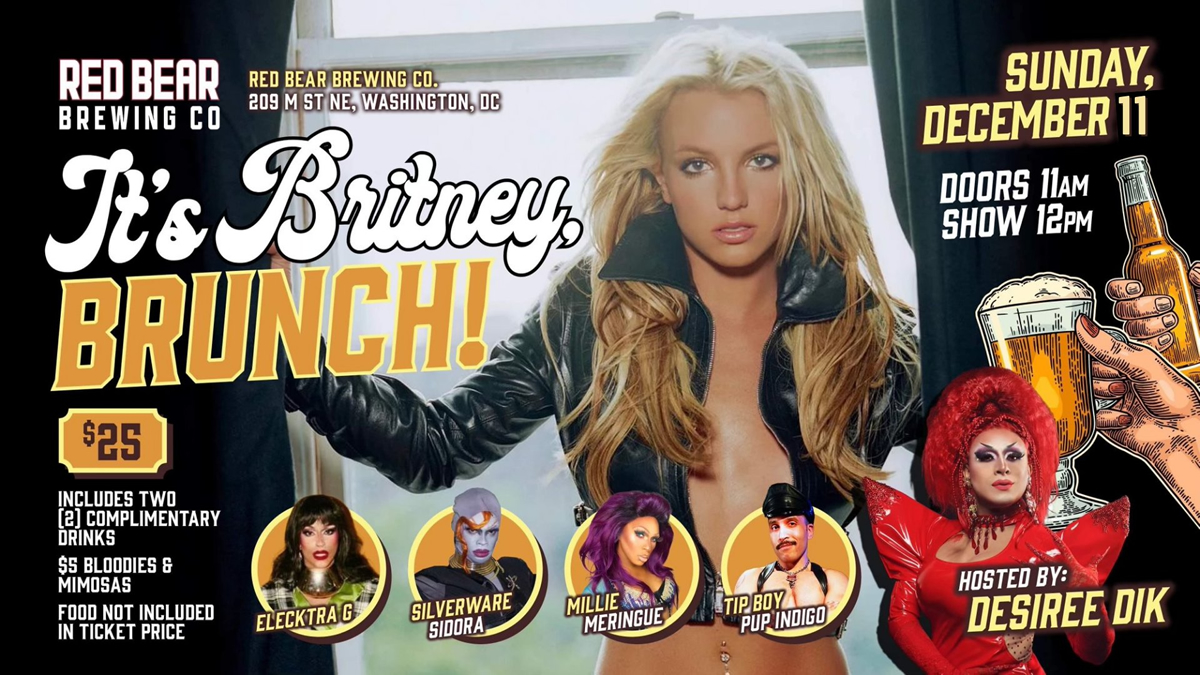 Sunday, December 11
Doors 11 a.m./show 12 p.m.
Red Bear Brewing Co.
209 M Street, N.E.
$25
Facebook
Desiree Dik leads the Britney Spears-themed drag brunch featuring Elecktra G, Silverware Sidora, Millie Meringue and Tip Boy Pup Indigo at Red Bear Brewing Company on Sunday.
---
Pamala Stanley LIVE at Freddie's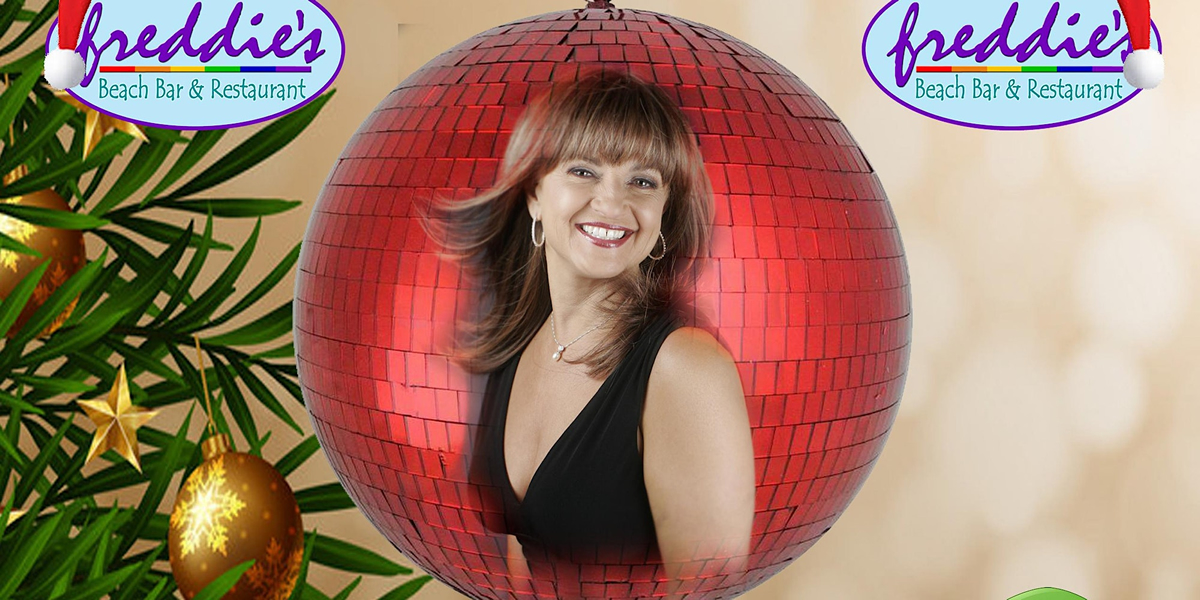 Sunday, December 11
7-9:30 p.m.
Freddie's Beach Bar
555 23rd Street S
Arlington, Va.
$15
Facebook
Pamala Stanley returns to Freddie's Beach Bar in Arlington for a holiday show on Sunday.
---
PHOTOS: Safe Space
New LGBTQ+ party held at Black Cat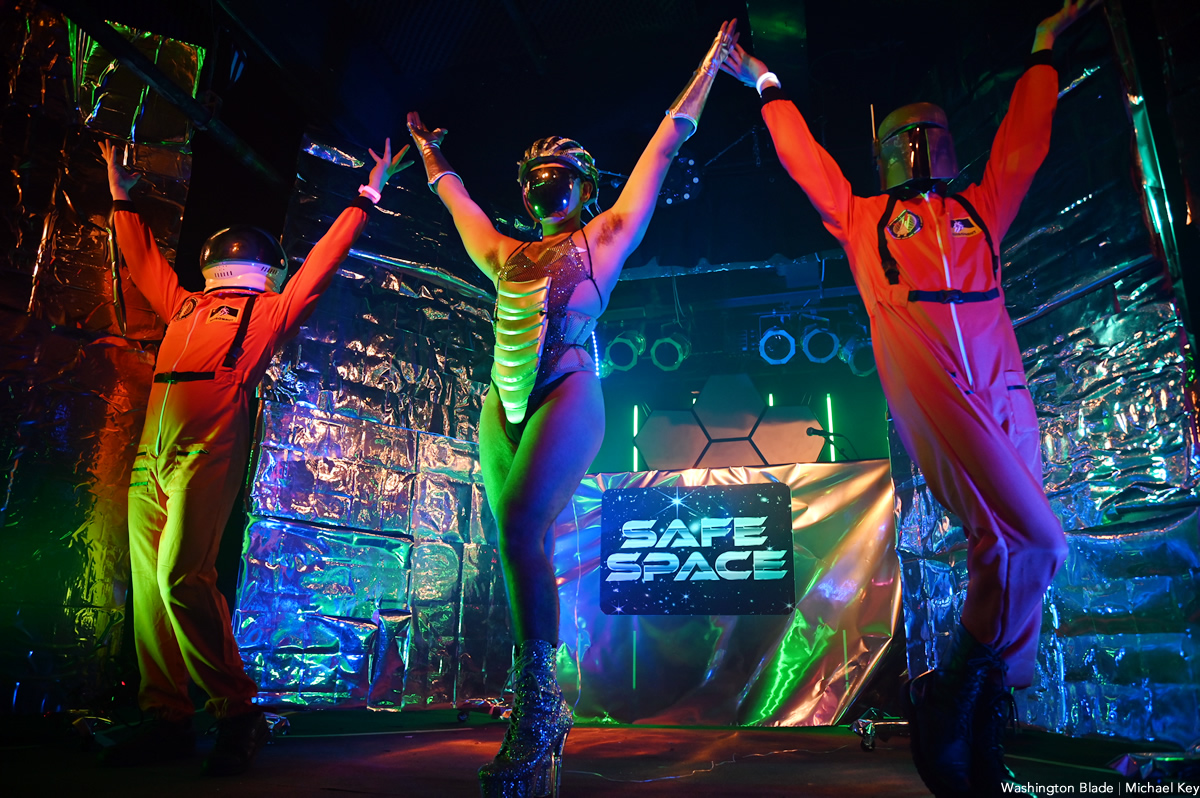 The Safe Space 2: A Safer Space party was held at the Black Cat on Saturday, Dec. 3.
(Washington Blade photos by Michael Key)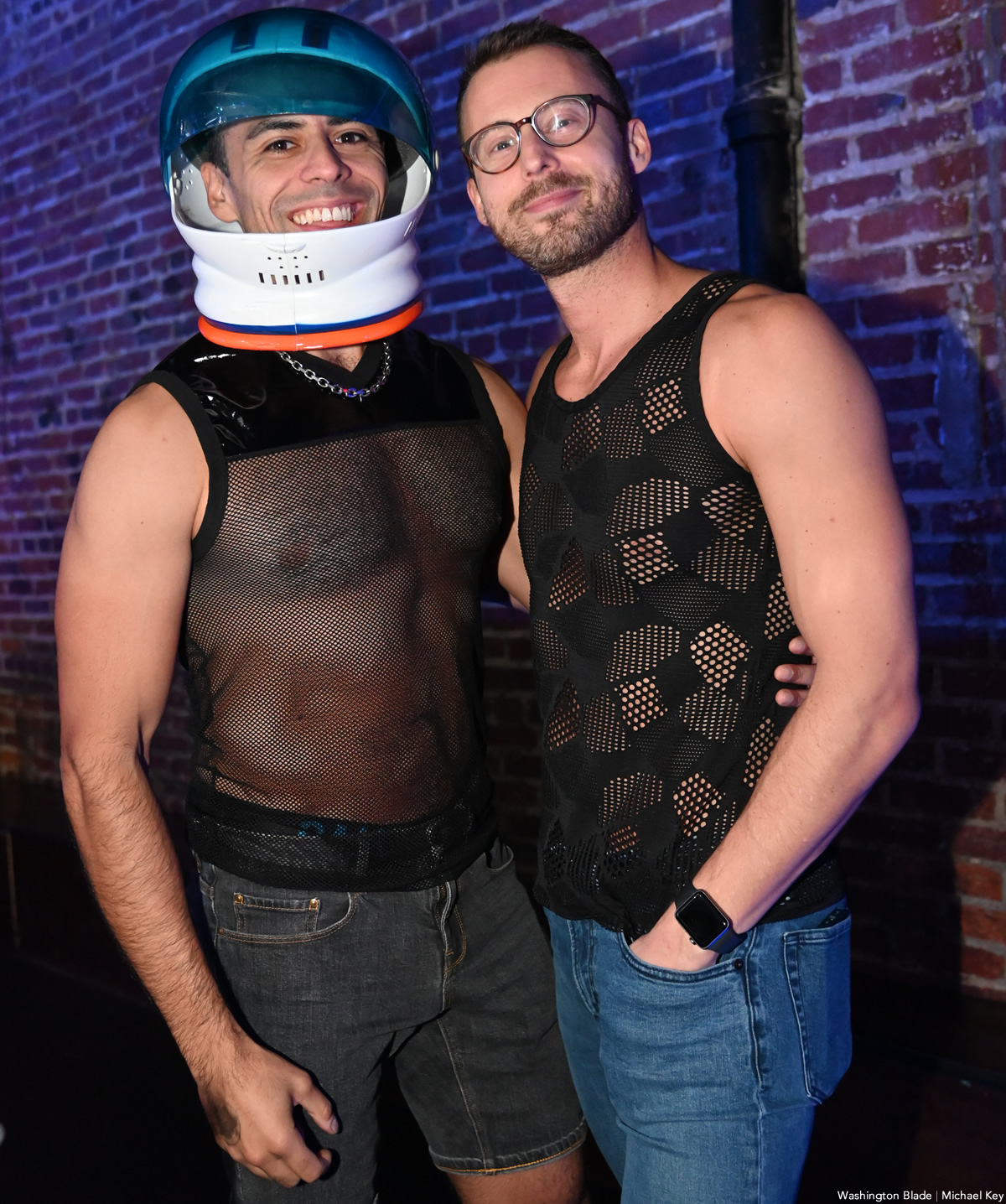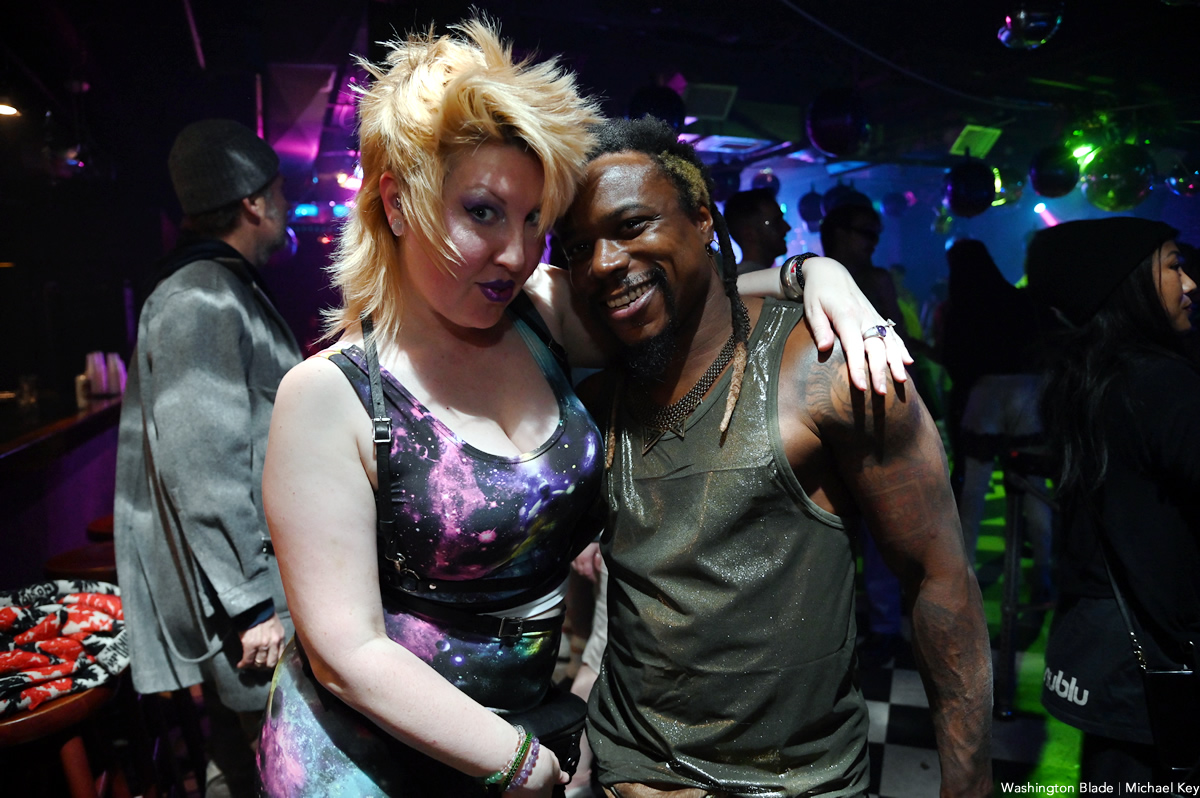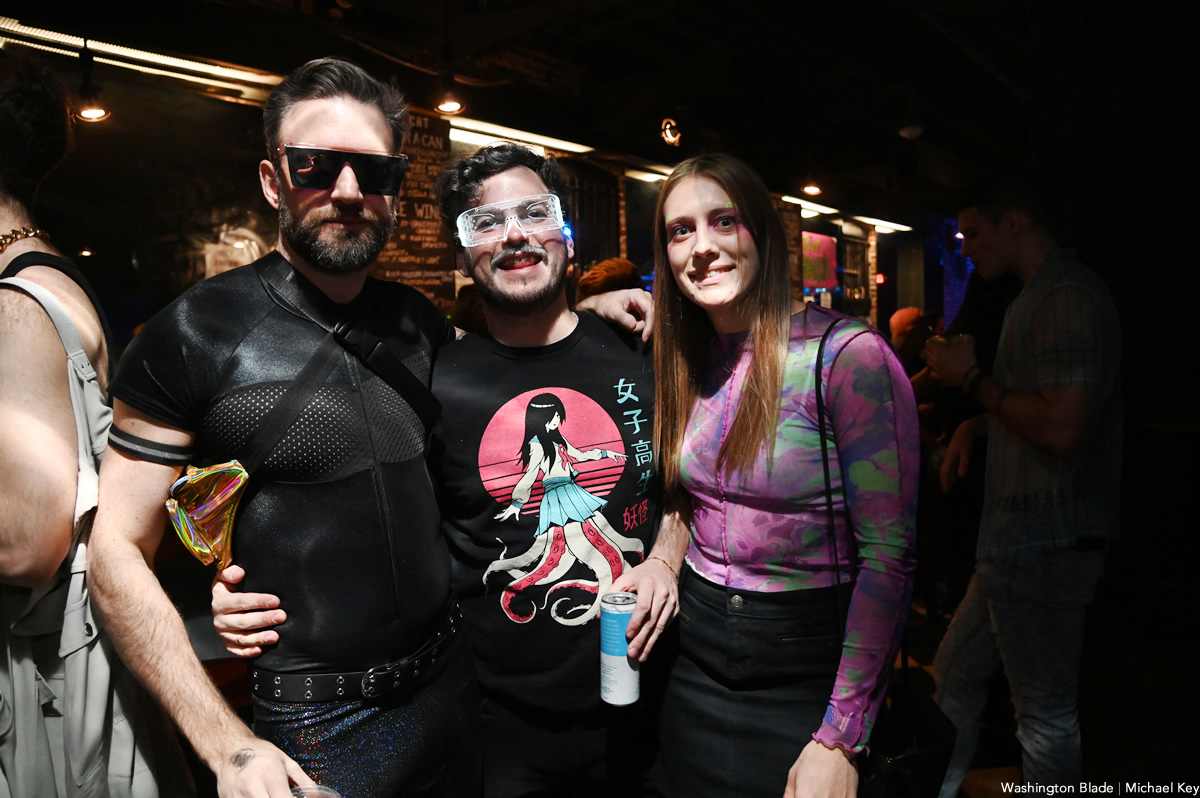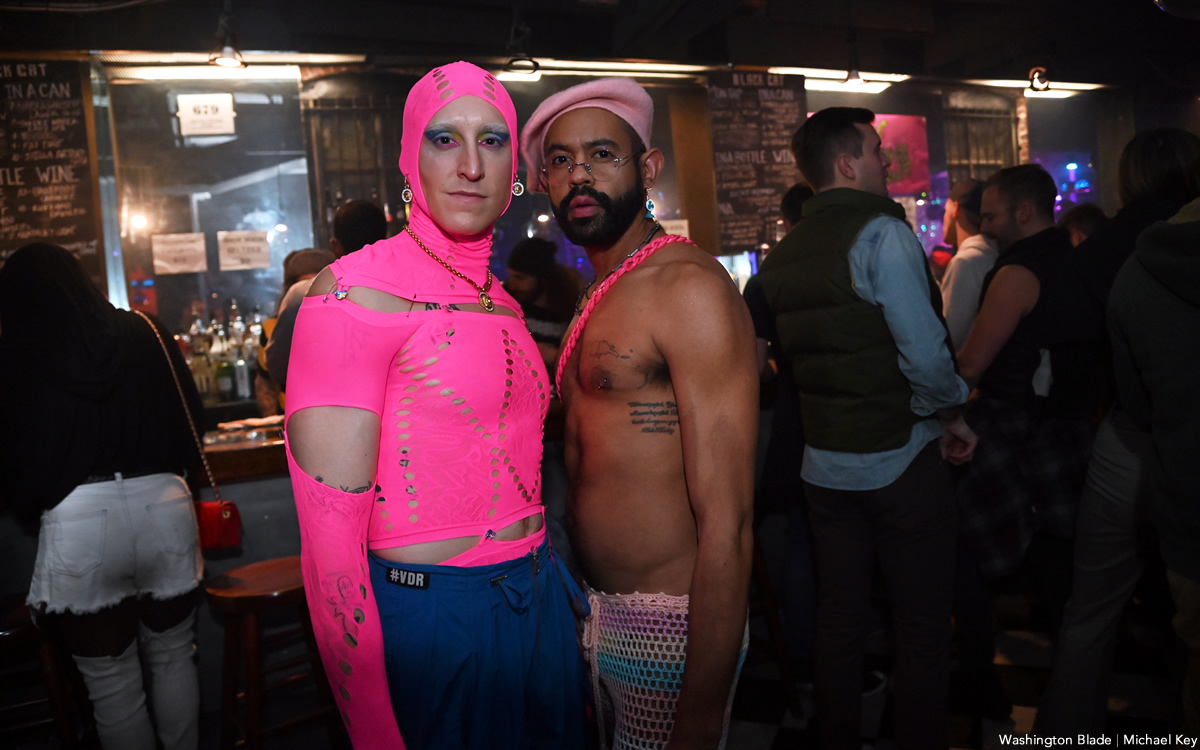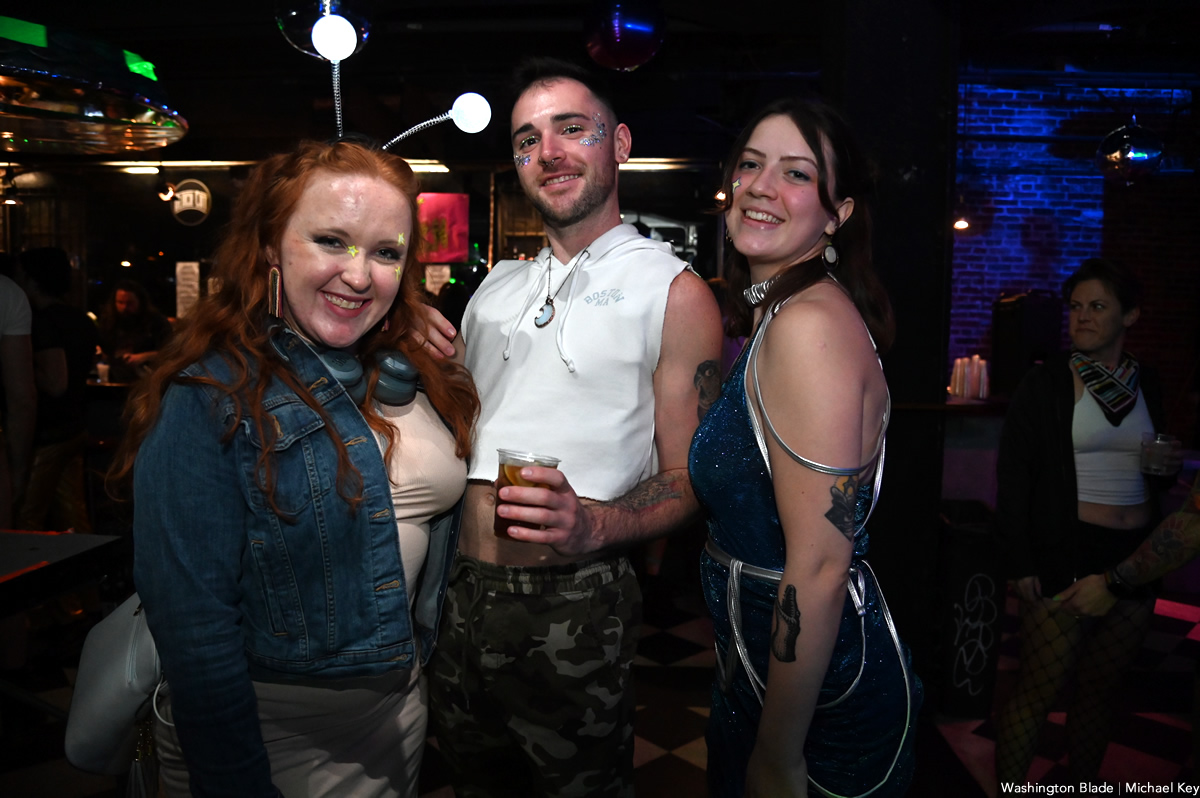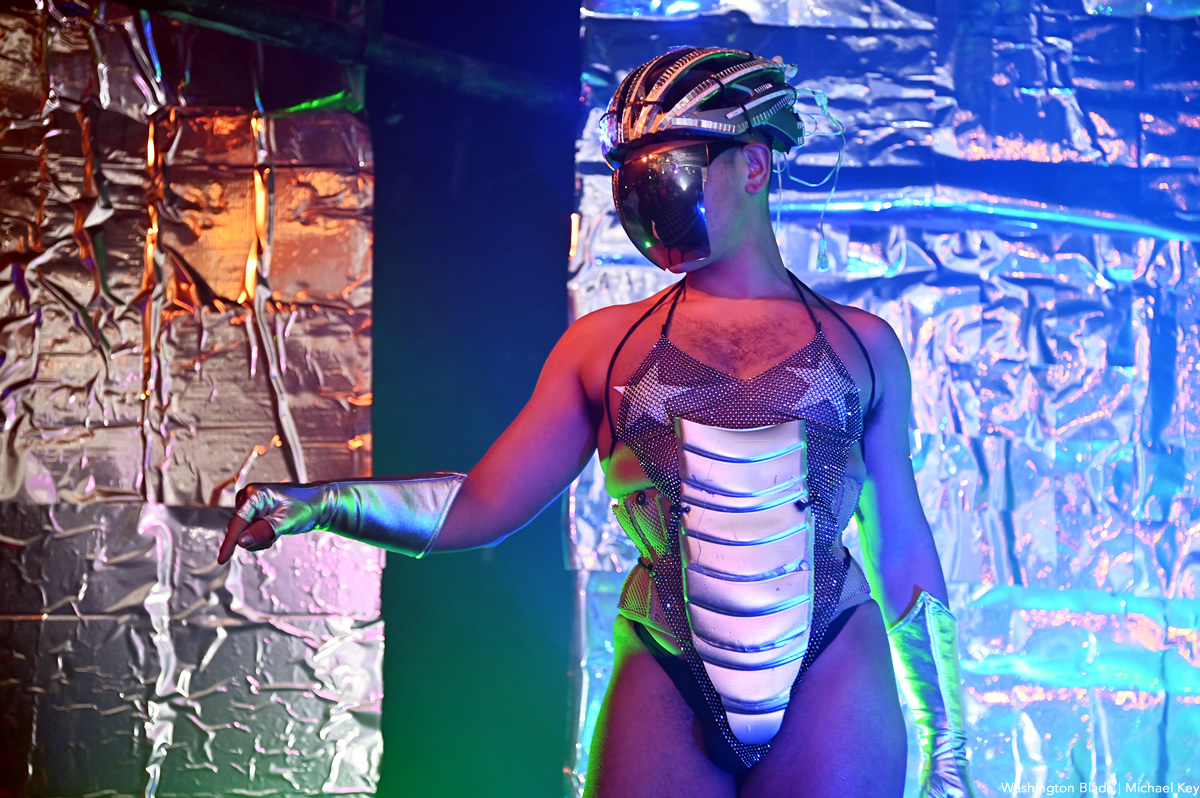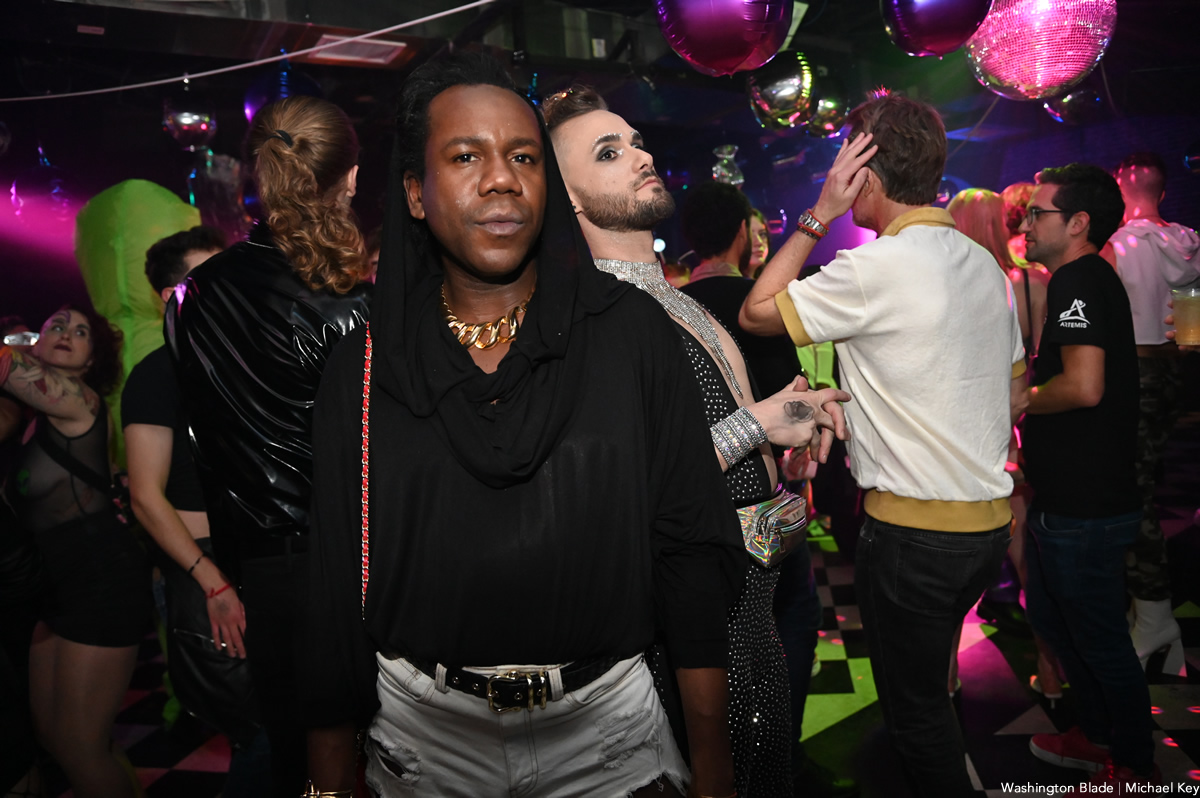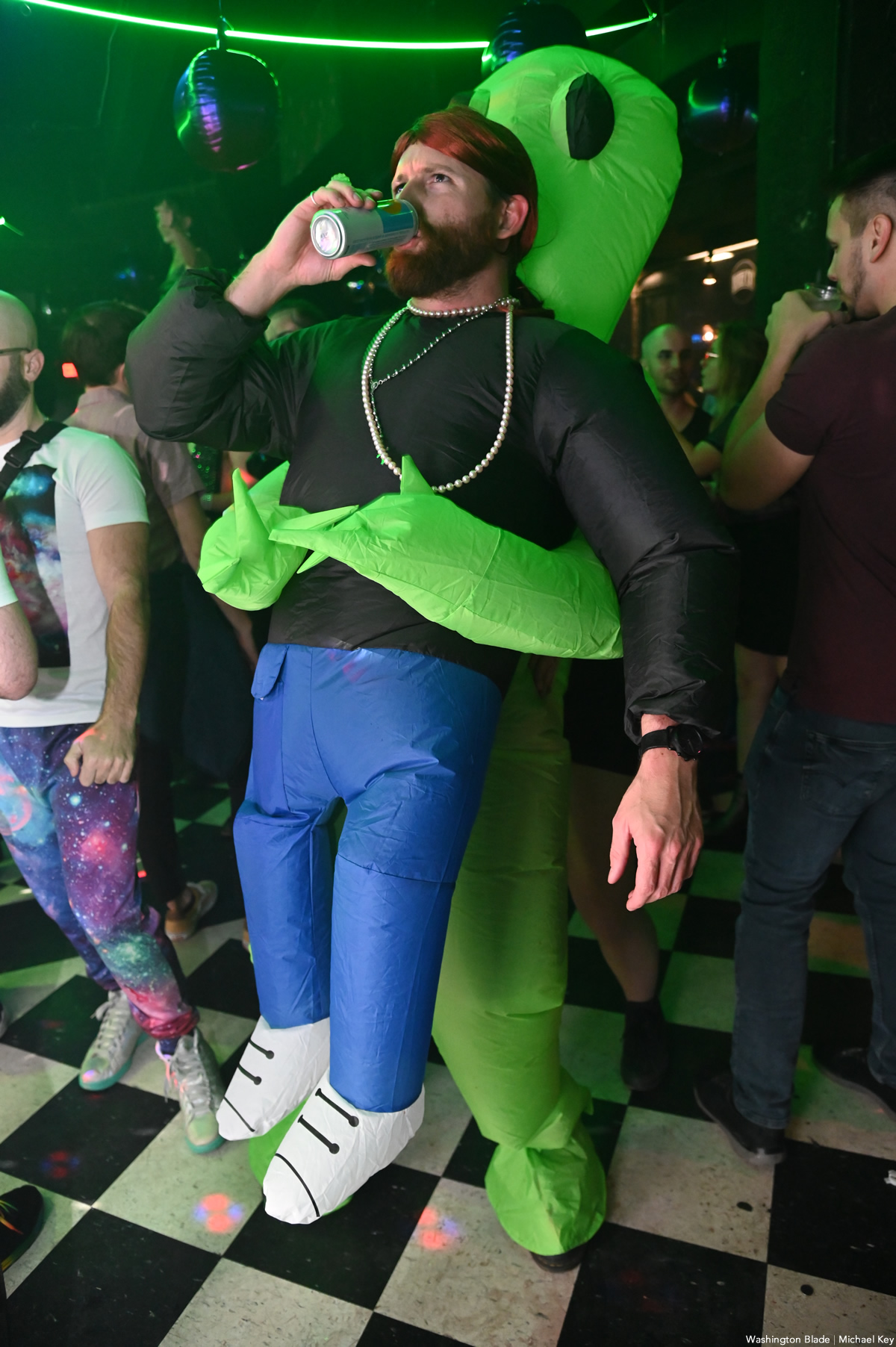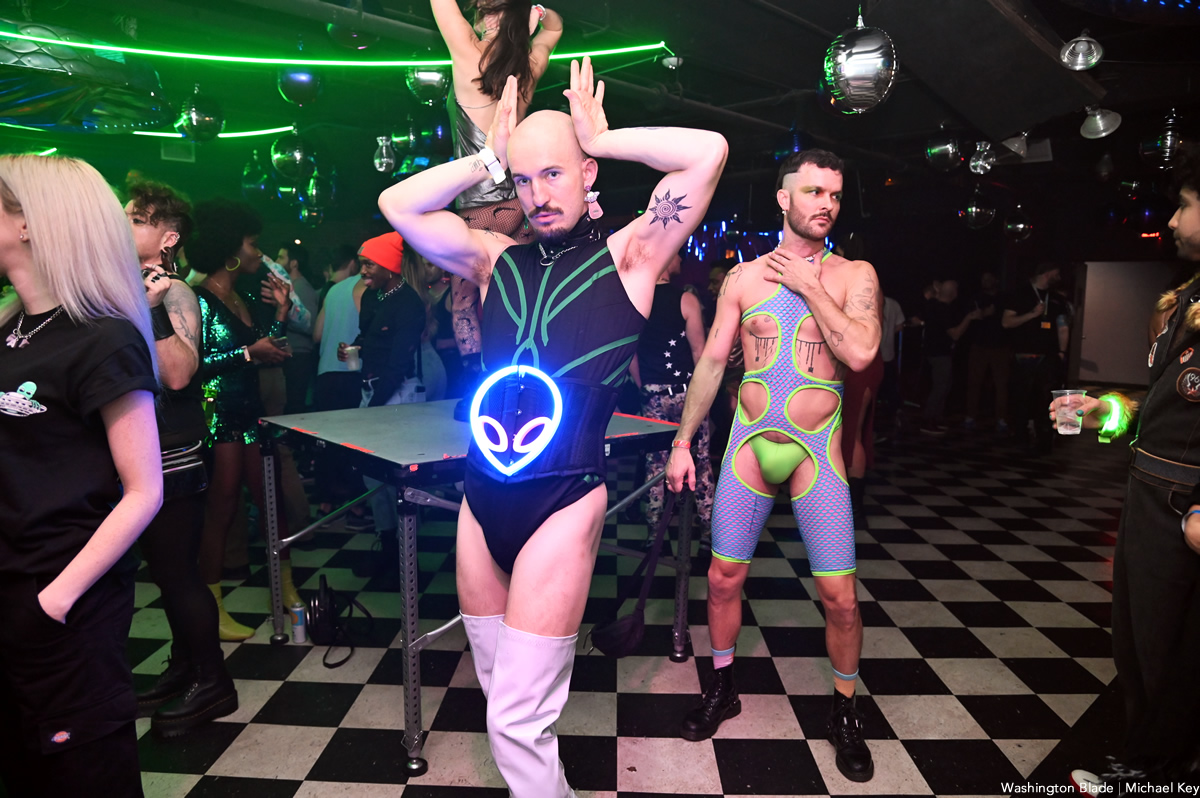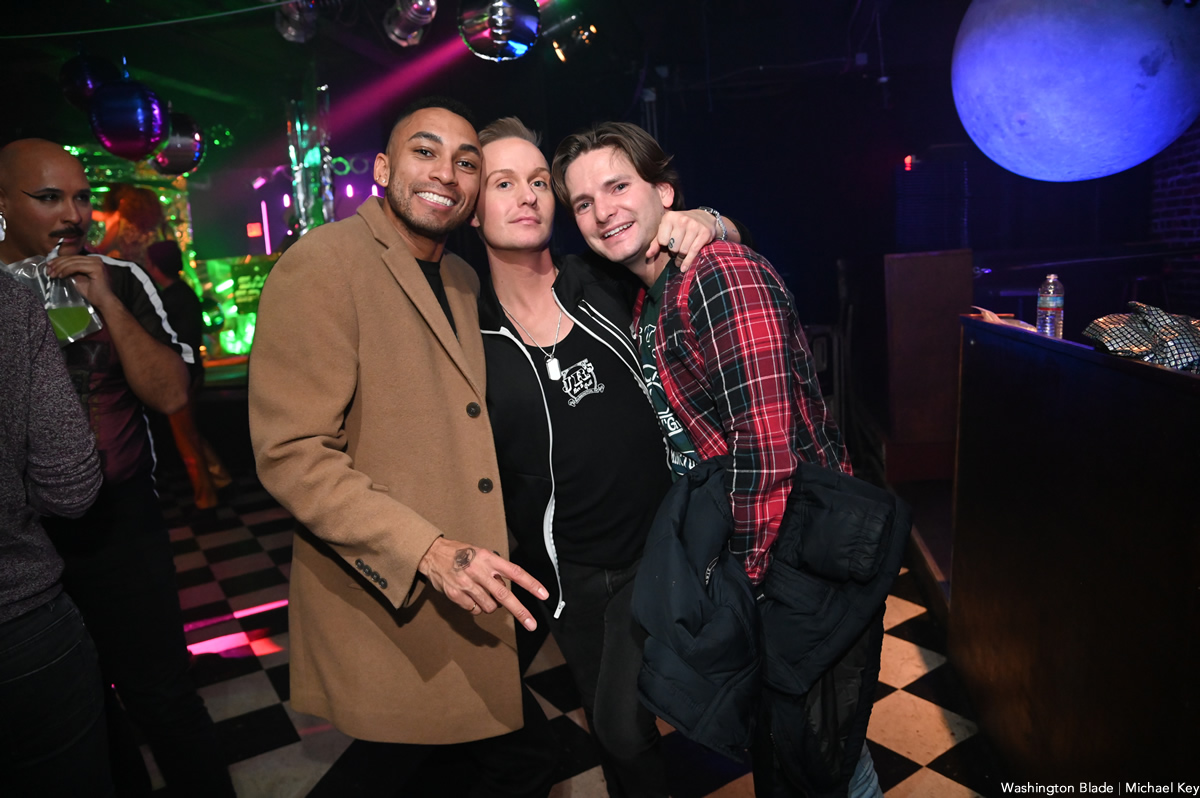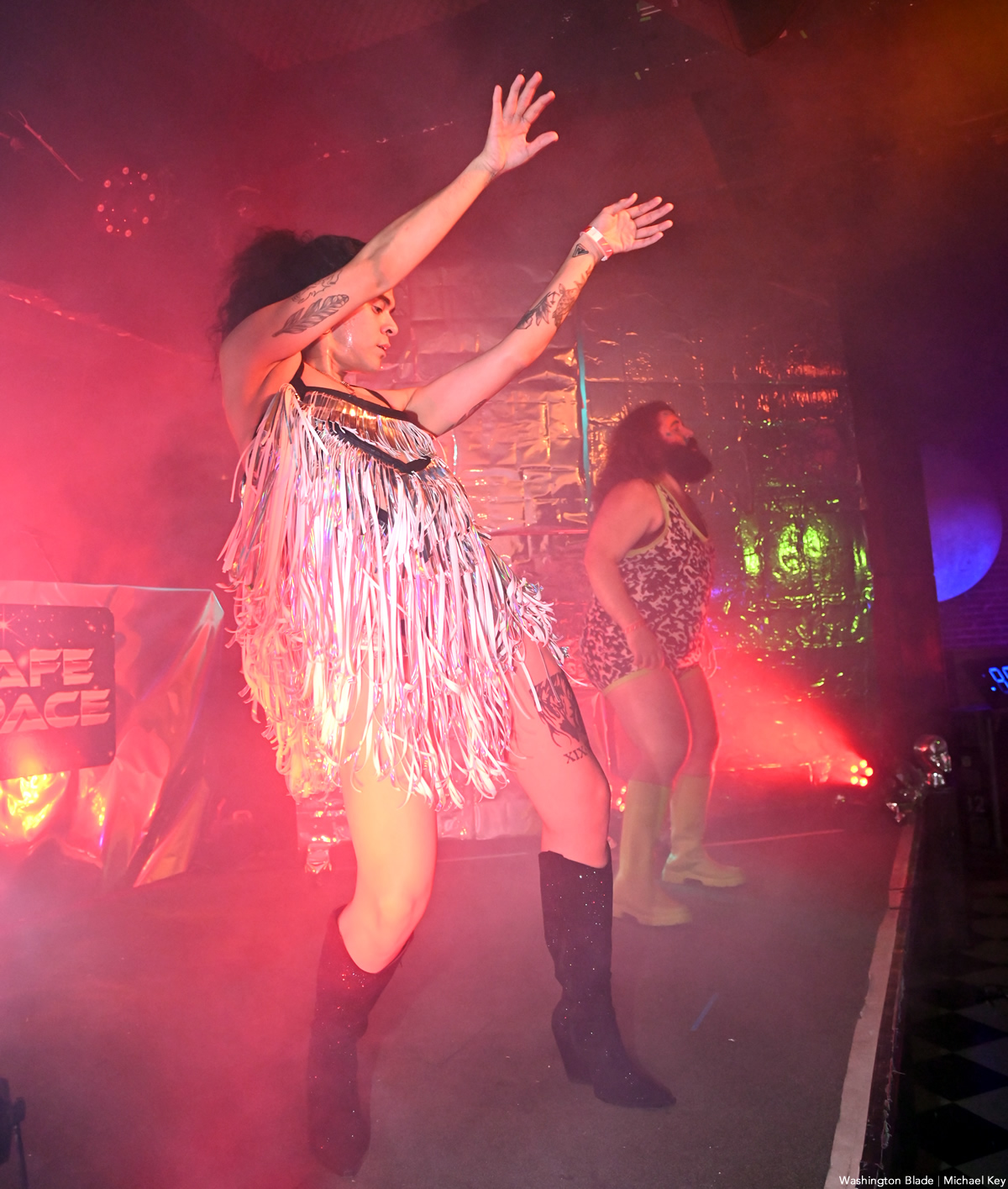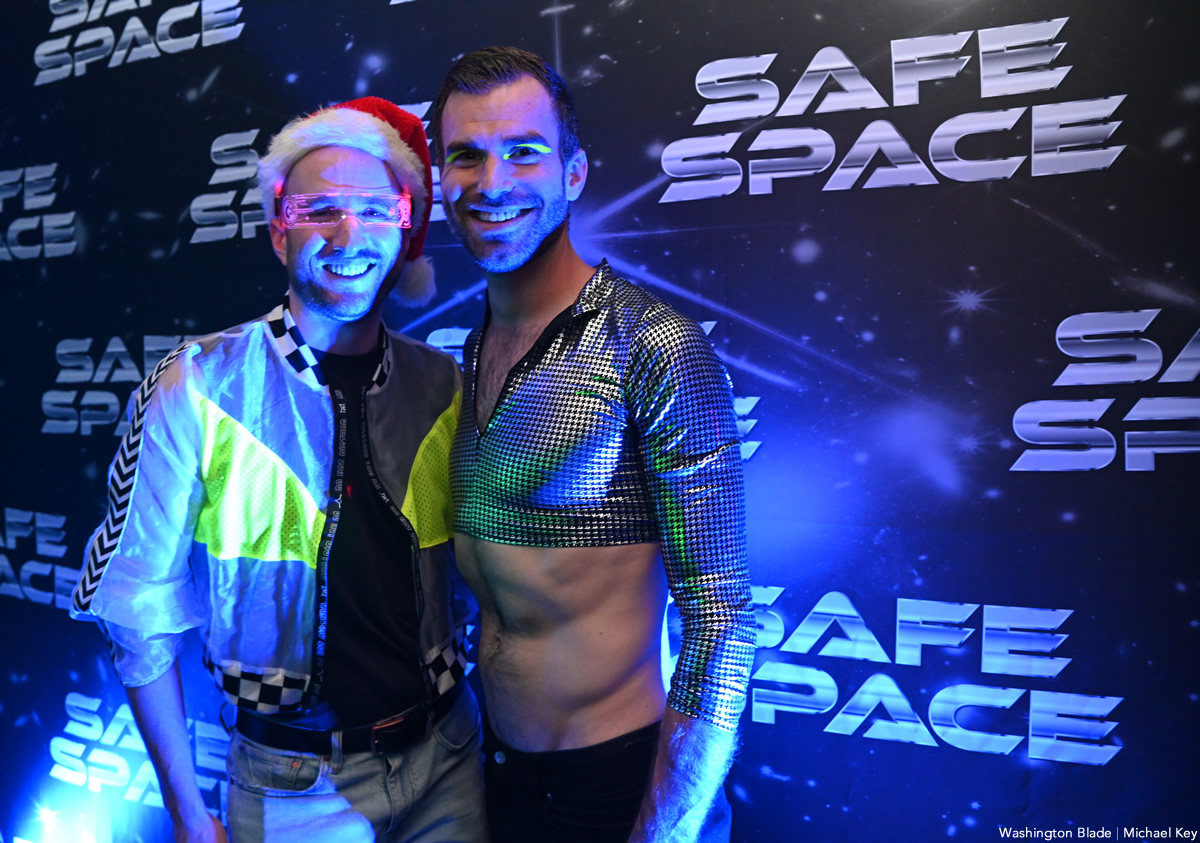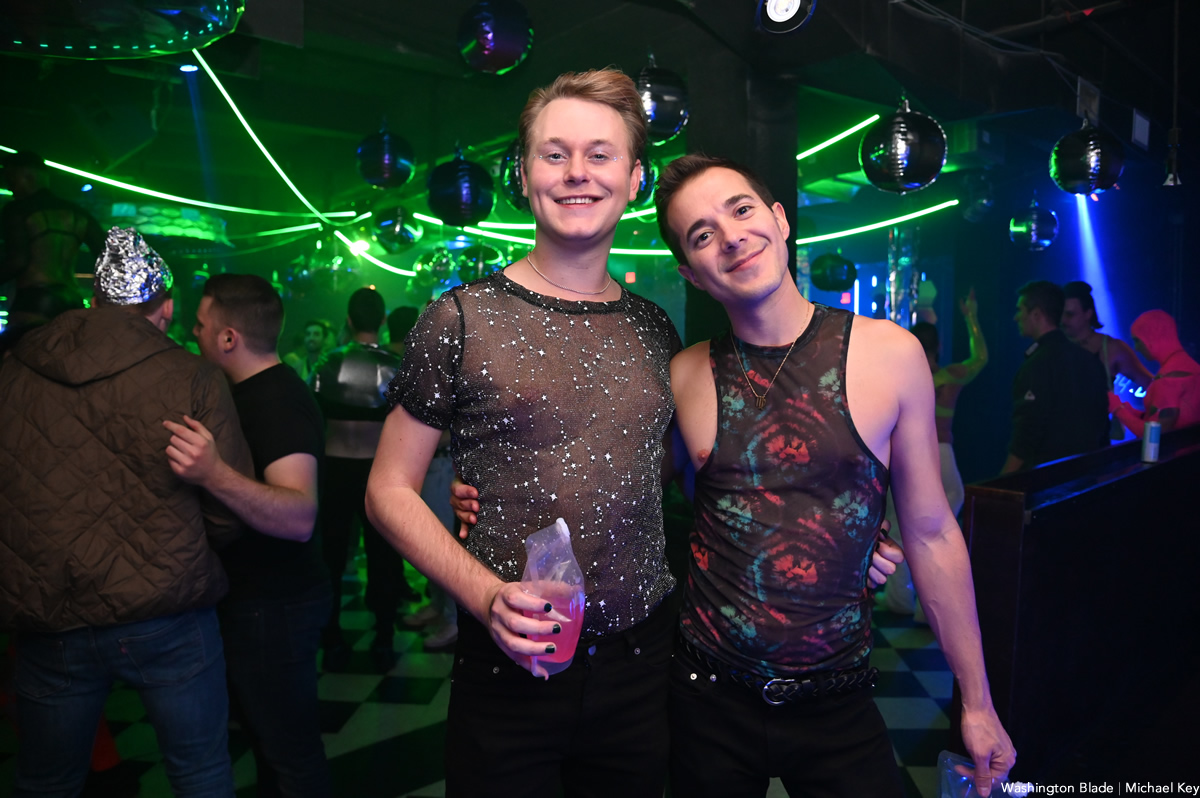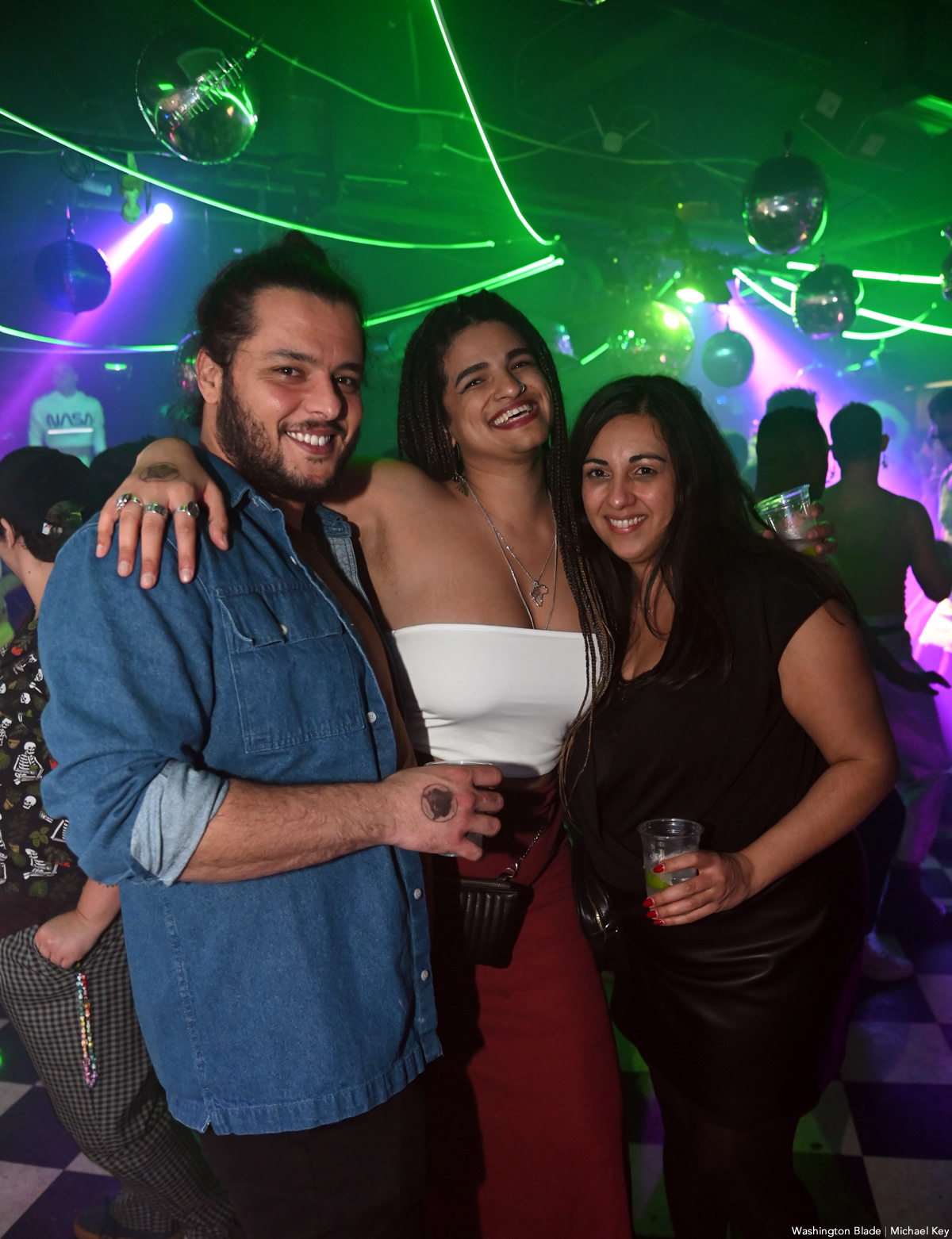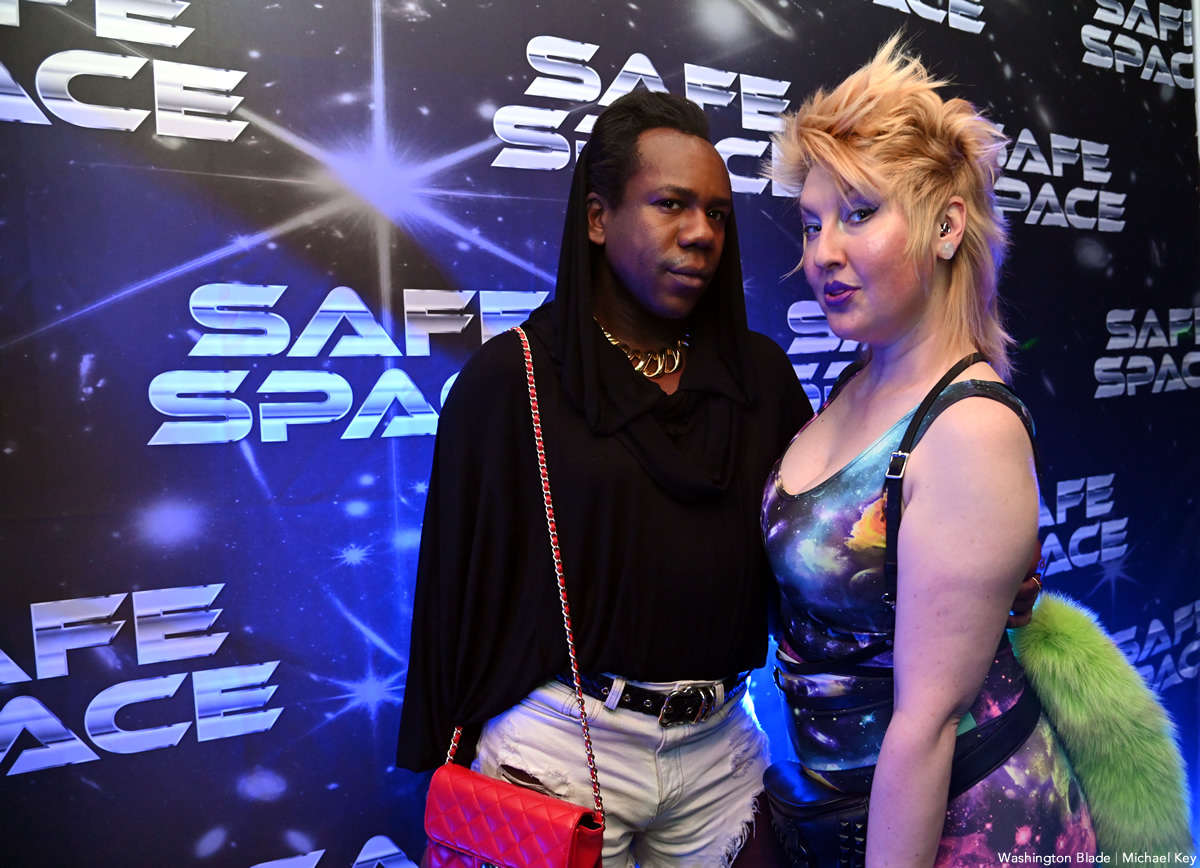 Covering the Safe Space party at @BlackCatDC for @WashBlade pic.twitter.com/uTVCvwve20

— Michael Patrick Key (@MichaelKeyWB) December 4, 2022
PHOTOS: Holiday Show
The Gay Men's Chorus of Washington perform annual concert at Lincoln Theatre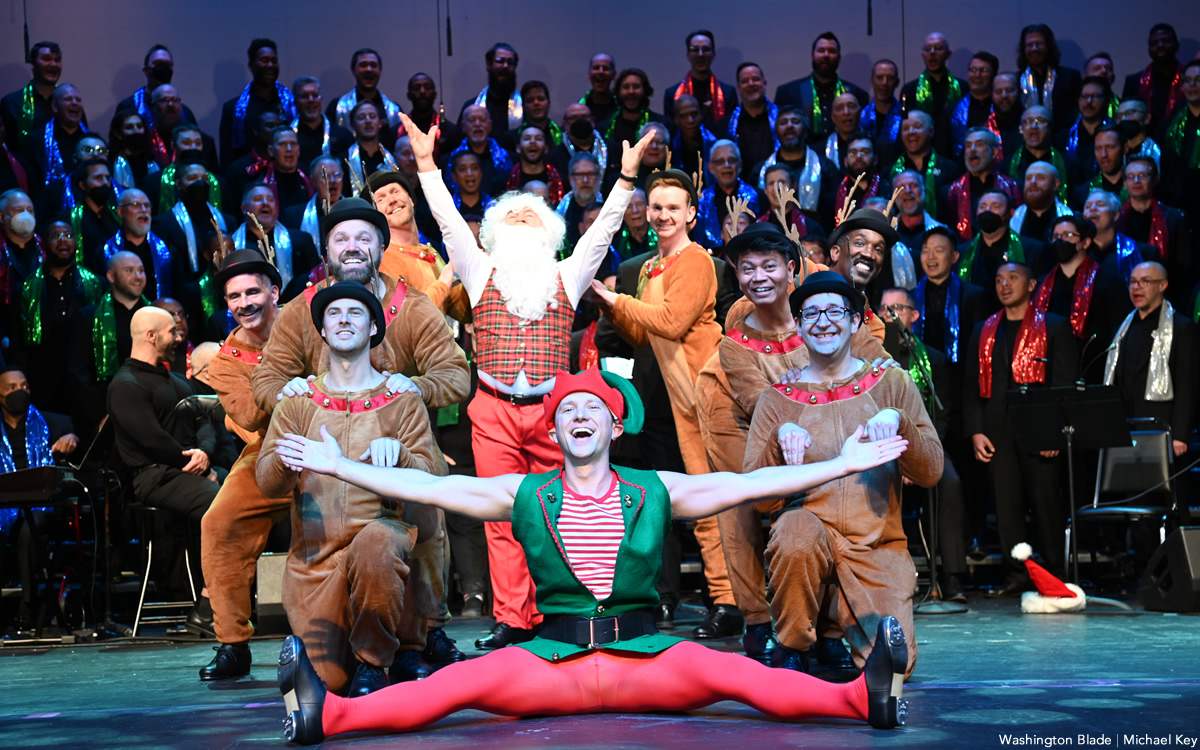 The Gay Men's Chorus of Washington and the GenOUT Youth Chorus performed "The Holiday Show" at a dress rehearsal on Friday, Dec. 2 at Lincoln Theatre. The Chorus has performances scheduled for Dec. 9 and 11. For tickets and showtimes, visit gmcw.org.
(Washington Blade photos by Michael Key)