Retired German soccer player Thomas Hitzlsperger comes out
Newspaper on Wednesday posted excerpts of interview with former midfielder
"I am expressing my homosexuality because I want to promote the discussion of homosexuality among professional athletes," he told the German newspaper Die Zeit that published excerpts of the interview on its website on Wednesday.
The Associated Press reported the 31-year-old midfielder played 52 games for Germany between 2004-2011 that included an appearance in the 2006 World Cup. Hitzlsperger also played for the English Premier League teams West Ham and Everton, Stuttgart and Wolfsburg in the German Bundesliga and the Italian soccer team Lazio.
Injuries forced the midfielder to retire last September.
"Homosexuality is not an issue in England, Germany or Italy, at least in the locker room," Hitzlsperger told Die Zeit.
Hitzlsperger said he takes issue with stereotypes associated with gays.
The retired midfielder told Die Zeit while he has never been "ashamed" of who he is, he has struggled to cope with some of his teammates' homophobic remarks.
"Think about it: There are 20 young men sitting around a table and drinking," Hitzlsperger told Die Zeit. "You let the majority of it go, as long as the jokes are reasonably funny and the garbage about homosexuals is not massively offensive."
Several of Hitzlsperger's former teammates applauded him for coming out.
"Brave and right decision," tweeted German forward Lukas Podolski. "His outing is an important sign in our time."
Former England captain Gary Lineker on Twitter congratulated Hitzlsperger for "bravely being the first player to have played in the [English Premier League] to 'come out.'" Former NBA center John Amaechi also applauded the retired German midfielder.
"It's certainly too bad that he didn't come out last year while he was still with Everton, but his coming out now is still another step," wrote Cyd Zeigler, co-founder of Outsports.com, an LGBT sports website, after Die Zeit published excerpts of its interview with Hitzlsperger. "European soccer has long been the most homophobic corner of the Western sports world. It makes the NFL look like a local GLAAD chapter."
Hitzlsperger came out nearly a year after Robbie Rogers of the Los Angeles Galaxy publicly declared his homosexuality.
Swedish footballer Anton Hysen came out as gay in 2011.
Recently retired soccer player Thomas Hitzlsperger has become the first German footballer to come out as gay.
Ukrainian ambassador to U.S. highlights support of LGBTQ, intersex rights
Oksana Markarova spoke at servicemembers photo exhibit in D.C.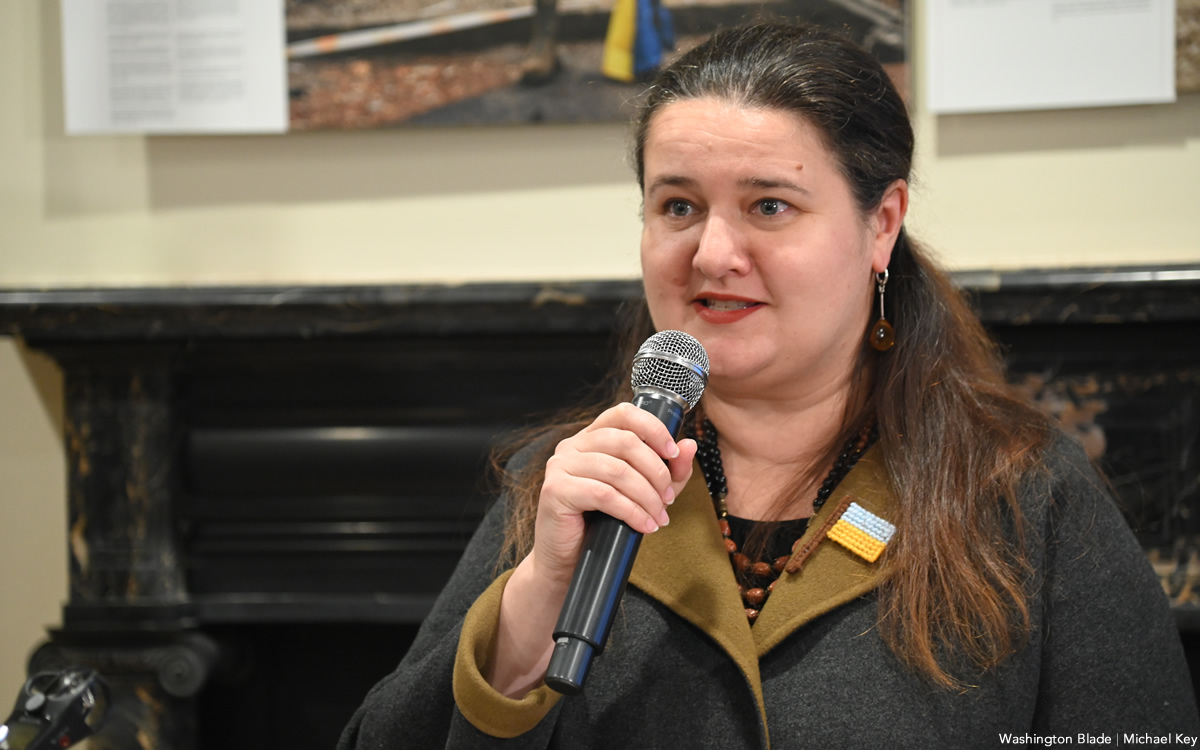 Ukrainian Ambassador to the U.S. Oksana Markarova on Jan. 26 spoke in support of LGBTQ and intersex rights during an event that highlighted her country's LGBTQ servicemembers.
"(The) LGBTQ+ community is an inseparable community of us, whether it's here or in Ukraine," said Markarova. "The faster we can stop any discrimination, the faster we will win, not only in the battlefield in Ukraine, but we also will win globally."
Markarova spoke during a photo exhibit at Ukraine House that showcased LGBTQ and intersex Ukrainian servicemembers.
QUA – LGBTQ Ukrainians in America, the Ukrainian Union of the LGBT Military and KyivPride organized the exhibit that features photographs from Alim Yakubov, a Crimean Tartar who moved to Kyiv, the Ukrainian capital, after Russia annexed the peninsula in 2014.
KyivPride Executive Director Lenny Emson, QUA – LGBTQ Ukrainians in America President Bogdan Globa and U.S. Agency for International Development Senior LGBTQI+ Coordinator Jay Gilliam are among those who spoke alongside Markarova.
Viktor Pylipenko, an openly gay Ukrainian servicemember who founded the Ukrainian Union of the LGBT Military, spoke via a video from the frontlines of Russia's war against his country. A Russian missile attack forced him to end his remarks and seek shelter.
"I want to thank all of them for their service to country," said Markarova. "It's unbelievable and (the) ultimate sacrifice to be there in harm's way."
Markarova also described Globa as "a leader for all Ukrainians here" and said she is "really thankful for all the activities that we do together, and everything that you do." Globa later told the Washington Blade that Markarova is the first Ukrainian ambassador to speak at an LGBTQ-specific event in the U.S.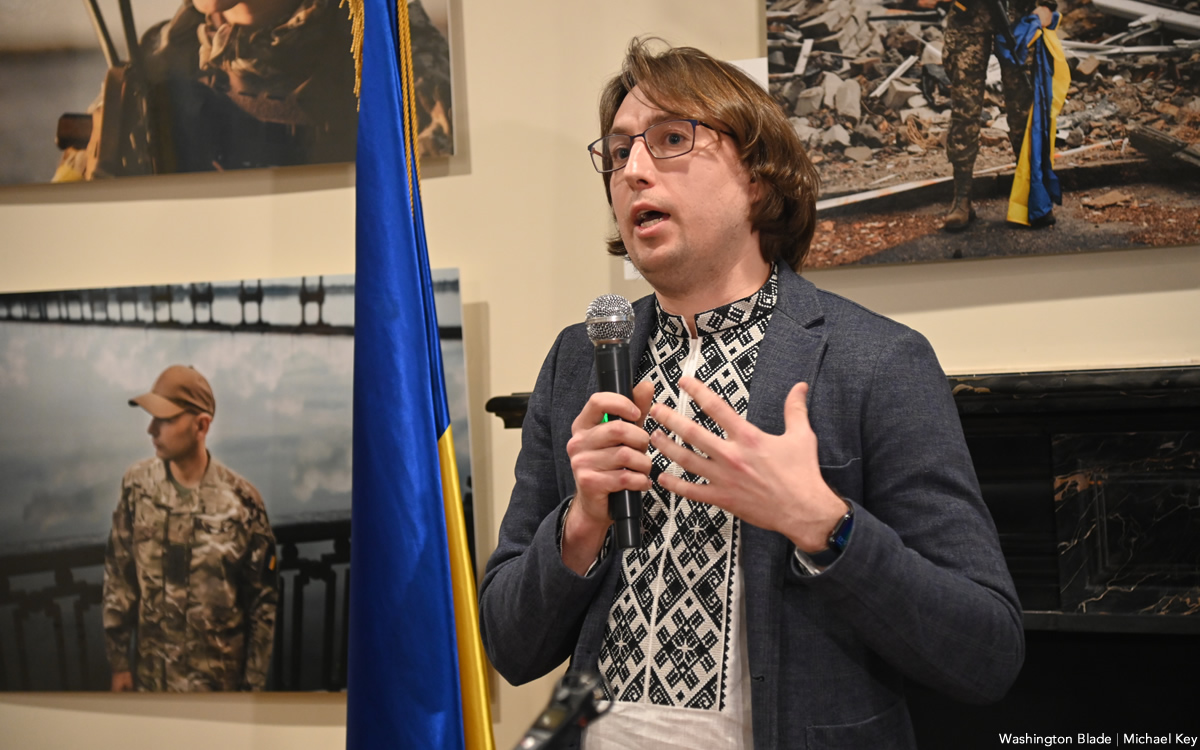 President Volodymyr Zelenskyy in 2021 pledged Ukraine would continue to fight discrimination based on sexual orientation and gender identity after he met with President Joe Biden at the White House.
Russia on Feb. 24, 2022, launched its war against Ukraine.
Zelenskyy last summer said he supports a civil partnership law for same-sex couples.
Ukrainian lawmakers last Dec. 15 unanimously approved a media regulation bill that bans hate speech and incitement based on sexual orientation and gender identity. Zelenskyy less than a week later traveled to D.C.
Zelenskyy, a former actor and comedian, earlier this month made a broad reference to LGBTQ and intersex rights in a virtual Golden Globes appearance.
Markarova praised Emson and Kyiv Pride and other Ukrainian LGBTQ and intersex rights groups that include Gender Z and Insight.
"Thank you for everything you do in Kyiv, and thank you for everything that you do in order to fight the discrimination that still is somewhere in Ukraine," said Markarova, speaking directly to Emson. "Not everything is perfect yet, but you know, I think we are moving in the right direction. And we together will not only fight the external enemy, but also will see equality."
"It's a constant fight," added Markarova. "It's a fight that makes us better. It's a fight that makes us freer, and it's a fight that ultimately will give us the opportunity to live in the country where everyone again, regardless of their nationality, religion, color of their skin or sexuality, can live where they want to live."
Markarova also noted Russia "brutally crossed the border and attacked us in 2014 and again attacked us now." She added her country is "also fighting for something bigger."
"We are fighting for our right to live how we want to live. We are fighting for our democracy. We're fighting for the right to choose who we want to choose and whether it has to do with the government or whether it has to do with who we love and how we believe and this is very important," said Markarova. "This is what differentiates Ukraine from Russia that attacks us; that we are free, we are democratic and we want to live like we want to live. That's why we will never give up or surrender again."
Justice Department eyes criminal probe of Santos' campaign finances
House Speaker Kevin McCarthy's (R-Calif.) office has not commented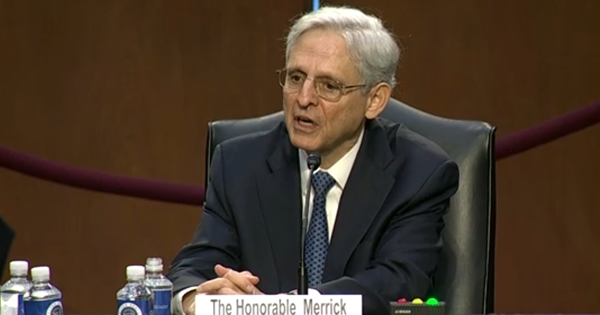 The Justice Department has asked the Federal Election Commission to hold off on law enforcement activity over Republican U.S. Rep. George Santos (N.Y.) as federal prosecutors conduct their own criminal probe into the congressman's campaign finances.
The news, first reported Friday by the Washington Post, was confirmed Saturday by the Washington Blade via a Justice Department source familiar with the matter who was not authorized to speak with the press.
The attorney who filed the FEC complaint against Santos previously told the Blade that the agency would yield to the Justice Department if prosecutors initiate a criminal probe — indicating that in Washington the matter would be overseen by the Department's Public Integrity Section. 
The Nassau County District Attorney's Office and the office of New York Attorney General Letitia James are also looking into Santos' financial conduct, while the congressman has simultaneously been enmeshed in controversies over his compulsive lying, having fabricated virtually every part of his life and identity.
As of this publication, House Speaker Kevin McCarthy's (R-Calif.) office has not responded to a request seeking comment. McCarthy, along with the rest of Republican leadership in the chamber, have addressed the controversies only minimally, telling reporters they have no plans to ask Santos to step down until or unless criminal proceedings against him are underway.
Santos voted for McCarthy's bid for speakership in each of the 15 ballots that were required to unite the House GOP conference behind him due to the objections of a couple dozen ultra-conservative members who were able to delay the vote and extract painful concessions because of the party's narrow control of the House majority.
Memphis police release Tyre Nichols arrest, fatal beating video
29-year-old Black man died after traffic stop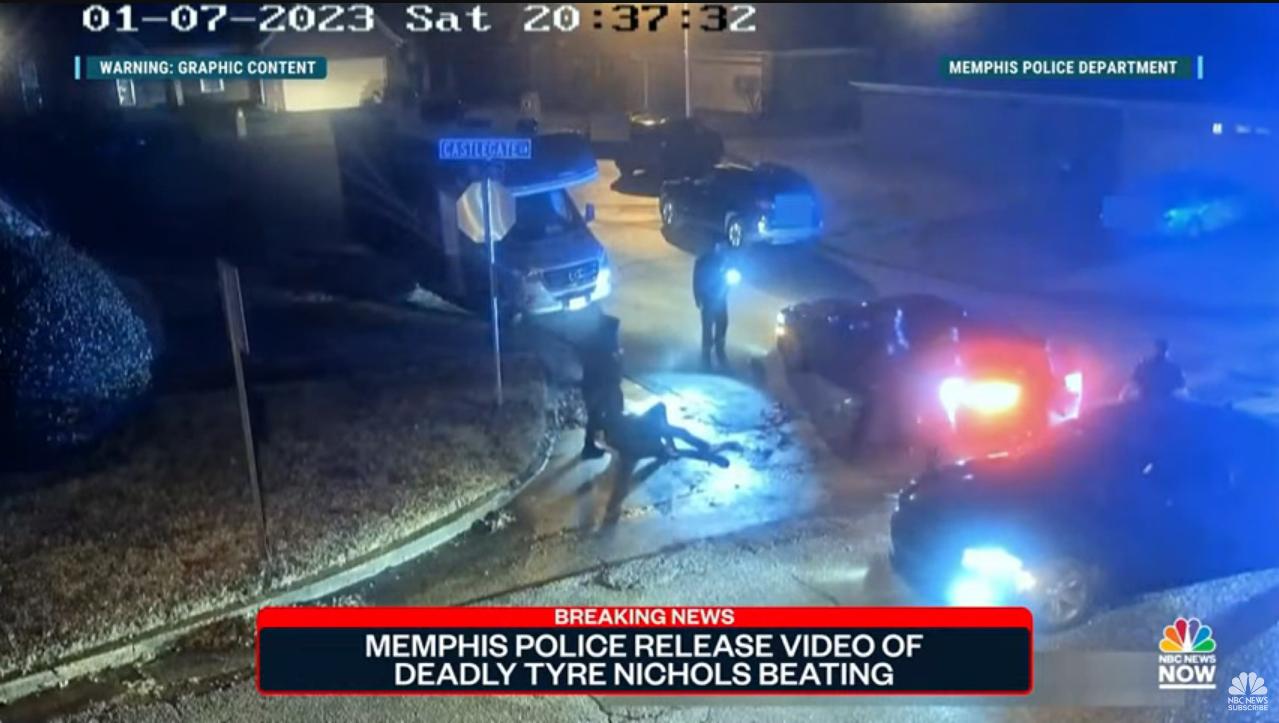 Three videos consisting of both body cam footage and street surveillance footage were made public by the Memphis Police Department Friday evening showing the violent arrest and beating of Memphis resident 29-year-old Tyre Nichols.
Nichols died three days after he was beaten by police in a traffic stop in the Hickory Hill neighborhood around 8:22 p.m. on Jan. 7, in an altercation Memphis Police Chief C.J. Davis described, saying "in my 36 years in law enforcement, I don't think I have witnessed the disregard for a human being displayed in this video." 
Shelby County District Attorney Steve Mulroy announced Thursday that five now-former Memphis police officers — Tadarrius Bean, Demetrius Haley, Emmitt Martin III, Desmond Mills, Jr., and Justin Smith — were fired for misconduct, indicted by a grand jury and taken into custody.
Each is charged with second-degree murder, aggravated assault, two counts of aggravated kidnapping, two counts of official misconduct and official oppression. By Friday morning, they had posted bond.
As news of the beating and death spread beyond Tennessee, officials expressed concern that release of the footage would touch off violent protest in reaction.
The attorneys and family of Nichols asked for justice for their son, and peace in their city, at a press conference in Memphis on Friday, WREG News 3 reported.
Speakers included family members, attorneys Ben Crump, Antonio Romanucci and Van Turner, president of the Memphis branch of the NAACP.
Rodney Wells, Nichols' stepfather, said that he initially wanted first-degree murder charges against the officers, but the family is satisfied with second-degree murder.
He pleaded for peace in Memphis Friday night.
"We want peace. We do not want any type of uproar. We do not want any type of disturbance," Wells said. "Please, please, protest, but protest safely."
Protests took place in Memphis after police released more than an hour of footage in the case with some major highways temporarily shut down.
Other protests were organized in New York, as well as D.C., Sacramento, Los Angeles, Atlanta, Philadelphia and Seattle, with police at the ready for potential violence.
"Tonight, I stand with the millions of Americans sending condolences and love to the family of Tyre Nichols as the navigate this unimaginably difficult tragedy," said D.C. Mayor Muriel Bowser in a statement. "We are a nation traumatized by violence, especially violence against Black Americans. We don't even need to see the video to feel outraged that those five former officers, sworn to protect their community and now arrested and charged with murder, killed Tyre. But tonight, many people will see the video and it will elicit strong feelings — from sadness and anger to confusion and despair. Tonight, we are a city and country united by tragedy, but we are also determined — to deliver justice for Tyre and change for our nation."
The White House held a joint emergency call Friday with the mayors of at least 16 cities before the video's release "to brief them on federal preparations in support of state and local leaders."
"Participating mayors shared their perspectives on how important it is to recognize the pain felt by communities across this country, be prepared in advance with a game plan to provide adequate community support, and to reinforce the importance of peace and calm during these difficult moments," the White House said in a statement about the call, which included cities from New York City, to Atlanta, Los Angeles, D.C., Seattle and Portland.
The Los Angeles Police Department issued a statement condemning the actions of the Memphis officers and calling for demonstrations to remain peaceful.
"The accounts of the circumstances of this heinous crime and the criminal actions of those involved are reprehensible," the LAPD said.
"The department will do all within its power to ensure the lawful expression of the public's anger and frustration is protected and prepared to facilitate those wishing to exercise their First Amendment rights."
The Los Angeles County Sheriff's Department told local media that it is preparing for the possibility of disturbances after the footage is made public. and is coordinating with other state, local and federal agencies.
"Our patrol stations and specialized units remain in a state of readiness to respond to any disturbances that might occur," the LASD said.
"The sheriff's department supports the First Amendment and the people's right to protest."
Speaking with reporters as he prepared to depart for Camp David at the White House Friday evening, President Joe Biden said that he had spoken with Nichols' mother prior to the video footage release for about 10 or 15 minutes.
"I spoke with Tyre's mother and expressed my condolences and told her that I was going to be making the case to the Congress to pass the George Floyd Act. We should get this under control. I can only do so much on the executive order at the federal level," Biden said. "I was really pleased that she called for peaceful protest, no violence," he added.
When asked about the potential for violence Biden said:
"I'm obviously very concerned about it. But I think she has made a very strong plea. She's obviously in enormous pain. I told her I had some idea of what that loss is like and although it is impossible to believe now, a time will come when his memory brings a smile before a tear."
The White House released a statement from the president that said in part:
"Like so many, I was outraged and deeply pained to see the horrific video of the beating that resulted in Tyre Nichols' death. It is yet another painful reminder of the profound fear and trauma, the pain, and the exhaustion that Black and Brown Americans experience every single day.

My heart goes out to Tyre Nichols' family and to Americans in Memphis and across the country who are grieving this tremendously painful loss. The footage that was released this evening will leave people justifiably outraged. Those who seek justice should not to resort to violence or destruction. Violence is never acceptable; it is illegal and destructive. I join Mr. Nichols' family in calling for peaceful protest."
California Gov. Gavin Newsom issued a statement in response to the Memphis Police Department's body camera footage being released, showing the deadly actions that took the life of Nichols, a Sacramento native, and led to the charging of five since fired Memphis law enforcement officers.
"Jennifer and I send our deepest condolences to the family and friends of Tyre Nichols. Tyre Nichols should be alive today. The video released shows abhorrent behavior and these officers must be held accountable for their deadly actions and clear abuse of power," said Newsom. "Today, we are a country in mourning, and must continue our work nationwide to push reforms to prevent excessive use of force and save lives."
"Tonight, we saw ferocious violence from an out-of-control herd," said Los Angeles Mayor Karen Bass.
Late Friday evening Vice President Kamala Harris' office released a statement from the vice president on Nichols:
"Tyre Nichols should have made it home to his family. Yet, once again, America mourns the life of a son and father brutally cut short at the hands of those sworn to protect and serve. The footage and images released tonight will forever be seared in our memories, and they open wounds that will never fully heal.

The persistent issue of police misconduct and use of excessive force in America must end now.
I join President Biden in his call for accountability and transparency. We must build trust—not fear — within our communities."

VIDEO COURTESY OF KTLA:
TYRE NICHOLS VIDEO VIEWER DISCRETION ADVISED, GRAPHIC CONTENT AND LANGUAGE WARNING.