Looking back: Gay mentions during State of the Union
Clinton, Bush and Obama addressed gays during speeches before Congress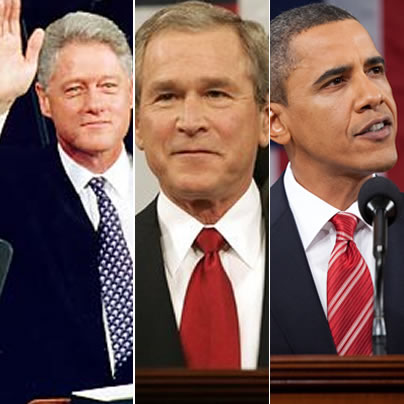 The State of the Union address is considered a pivotal speech for U.S. presidents in shaping their agenda for the year ahead, and the last three haven't shied from including LGBT people in their proposed policies.
Presidents Bill Clinton, George W. Bush and Barack Obama each made references to policy items affecting LGBT people. Clinton was the first, Bush's proposed policies were entirely negative and Obama has incorporated LGBT people into his speeches consistently.
The Washington Blade has complied a list of mentions of LGBT issues in State of the Union speeches, all of which were made in recent times. The list doesn't include mentions of HIV-related items, although Clinton, Bush and Obama each called on Congress to appropriate funds to combat the disease in their speeches.
1999 — Clinton calls for hate crimes, ENDA passage
President Clinton made a reference to two pieces of landmark legislation during his 1999 State of the Union, calling on Congress to pass hate crimes protections legislation and the Employment Non-Discrimination Act.
"Discrimination or violence because of race or religion, ancestry or gender, disability or sexual orientation, is wrong, and it ought to be illegal," Clinton said. "Therefore, I ask Congress to make the Employment Non-Discrimination Act and the Hate Crimes Prevention Act the law of the land."
After the murder of gay college student Matthew Shepard near Laramie, Wyo., in 1996, Clinton had endorsed legislation to make violent crimes based on anti-gay animus part of federal law. Clinton was also known as a supporter of ENDA, a bill that in its current version would bar workplace discrimination against LGBT people.
2000 – Clinton makes first explicit reference of 'gay'
The next year, Clinton tried again to encourage Congress to pass hate crimes protection legislation and ENDA, saying for the first time during a State of the Union address the word "gay."
Clinton made the appeal to pass both pieces of legislation when talking about incidents of hate crimes against minorities throughout the country.
"We saw a young man murdered in Wyoming just because he was gay," Clinton said. "Last year we saw the shootings of African Americans, Asian Americans, and Jewish children just because of who they were. This is not the American way, and we must draw the line. I ask you to draw that line by passing without delay the Hate Crimes Prevention Act and the Employment Non-Discrimination Act."
After Clinton's call, hate crimes legislation received a floor vote in 2000 as part of an amendment to the major Pentagon budget legislation. No attempt was made to pass ENDA on the floor that year.
Congress passed hate crimes legislation nine years later under President Obama; ENDA continues to languish in Congress and no explicit federal non-discrimination protections for LGBT workers are in place.
2004 — Bush calls for anti-gay constitutional  amendment
Preparing for his re-election campaign, President George W. Bush made a reference in his 2004 State of the Union speech affecting gay people, but in a negative way.
In the year after the Massachusetts Supreme Court legalized marriage equality, Bush used his speech to call for a U.S. constitutional amendment banning same-sex marriage, saying "a strong America must also value the institution of marriage."
"Activist judges, however, have begun redefining marriage by court order, without regard for the will of the people and their elected representatives," Bush said. "On an issue of such great consequence, the people's voice must be heard. If judges insist on forcing their arbitrary will upon the people, the only alternative left to the people would be the constitutional process. Our nation must defend the sanctity of marriage."
Following his call for a Federal Marriage Amendment, both chambers of the Republican-controlled Congress vote on the measure, but the measure failed in both chambers.
Bush's call for the amendment so invoked the ire of then-San Francisco Mayor Gavin Newsom, who was present in the audience, that he elected on his own to issue marriage licenses to gay couples in San Francisco City Hall. His actions were later rescinded by the California Supreme Court.
2005 — Bush renews call for federal marriage amendment
Fresh off his re-election win after campaigning on a Federal Marriage Amendment and the passage of 11 state constitutional anti-gay marriage amendments, Bush renewed his call for a Federal Marriage Amendment.
"Because marriage is a sacred institution and the foundation of society, it should not be redefined by activist judges," Bush said. "For the good of families, children, and society, I support a constitutional amendment to protect the institution of marriage."
Although Congress had additional Republican majorities since the previous votes in 2004, the measure failed yet again in both the House and the Senate.
2006 — Bush isn't done with the FMA
Despite the previous failures of the Federal Marriage Amendment, Bush continued to express concerns about the advancement of same-sex marriage in his 2006 State of the Union address.
"Yet many Americans, especially parents, still have deep concerns about the direction of our culture and the health of our most basic institutions," Bush said. "They're concerned about unethical conduct by public officials and discouraged by activist courts that try to redefine marriage."
That would be the last time Bush would express concerns about same-sex marriage during a State of the Union address. On Election Day in 2006, Democrats won control of both chambers of Congress, giving them control of the floor.
2009 — Obama omits gays from first speech
Although he would later be known for building a record on LGBT rights, President Obama made no explicit reference to LGBT issues during a speech before a joint session of Congress during his first year in office. All his future speeches would make some reference to gay-related issues.
The omission is in line with the perception that Obama was reluctant to tackle LGBT issues, which had proved thorny for President Clinton during his first year in office.
Because the speech was at the start of his first term, the address also technically wasn't a State of the Union address, but a speech before a joint session of Congress.
2010 — Obama pledges to work to repeal "Don't Ask'
Obama's first mention of any gay issue during a State of the Union address was in 2010 in which he pledged to move forward with the process of "Don't Ask, Don't Tell" repeal.
"This year, I will work with Congress and our military to finally repeal the law that denies gay Americans the right to serve the country they love because of who they are," Obama said.
Amid increasing pressure for Obama to act on ending the ban on openly gay service members, LGBT advocates widely praised the words — even those critical of him for not taking executive action to stop the discharges.
And Obama's words during the speech were prophetic. After a 10-month study at the Pentagon and long struggle of moving legislation through the Congress to repeal the 1993 law, Obama signed legislation at the end of the year repealing "Don't Ask, Don't Tell."
2011 — Obama pledges to finish the job on 'Don't Ask' repeal
A month after having signed the repeal into law, Obama made another reference to the ban on open service by pledging to certify "Don't Ask, Don't Tell" by the end of the year.
"Our troops come from every corner of this country," Obama said. "They're black, white, Latino, Asian, Native American. They are Christian and Hindu, Jewish and Muslim. And yes, we know that some of them are gay. Starting this year, no American will be forbidden from serving the country they love because of who they love."
Although President Obama signed repeal legislation in the previous month, the ban would only be lifted after he, the defense secretary and the chair of the Joint Chiefs of Staff certified the military was ready for repeal.
With no timetable included in the repeal legislation for when certification would have to take place, Obama's words allayed concerns the process would go on indefinitely with no formal lifting of the ban on open service.
But Obama immediately giving those reassurances called on colleges to allow military recruiters on campuses. Many had barred there presence because they perceived the ban on open service as discriminatory.
"And with that change, I call on all our college campuses to open their doors to our military recruiters and ROTC," Obama said. "It is time to leave behind the divisive battles of the past. It is time to move forward as one nation."
Those words drew concern from transgender advocates because although the ban on openly gay service was lifted, the ban on openly trans service was — and remains — still in place.
2012 — Obama includes gays in shout-out to U.S. troops
As part of a general effort to tout "Don't Ask, Don't Tell" repeal heading into his re-election campaign, Obama in his 2012 State of the Union listed gay troops as among those serving in the armed forces.
"When you put on that uniform, it doesn't matter if you're black or white, Asian, Latino, Native American; conservative, liberal; rich, poor; gay, straight," Obama said.
By this time, certification for open service in the U.S. military had already taken place months ago in September and gay service members were serving openly without fear of discharge.
But that was the only explicit LGBT mention during the State of the Union address, prompting advocates at the time to express disappointment he went no further.
2013 — Obama touts benefits for gay troops
Obama won praise from advocates for his 2013 State of the Union speech by making two references to the gay community, one overt and the other less explicit.
The most overt reference was an appeal to the nation to agree that gay service members are entitled to the same spousal benefits as straight troops.
"We will ensure equal treatment for all servicemembers and equal benefits for their families, gay and straight," Obama said.
Just weeks earlier under significant pressure from LGBT advocates, the Pentagon pledged to move forward with partner benefits for gay troops available under the law and would have them in place later in the year.
But he also made an implicit gay reference early on in the speech by saying he wants the economy to work for Americans regardless of "who you love" — an apparent reference to gay people that some took as a veiled reference to ENDA.
"It is our unfinished task to restore the basic bargain that built this country: the idea that if you work hard and meet your responsibilities, you can get ahead, no matter where you come from, no matter what you look like or who you love," Obama said.
2014 — What will happen?
It remains to be seen whether Obama will make any LGBT references in his 2014 State of the Union address on Tuesday. LGBT advocates are calling on him to ask Congress to pass ENDA, pledge to sign an executive order barring LGBT discrimination among federal contractors and explicitly use the word "transgender."
Venezuelan man with AIDS dies in ICE custody
Pablo Sánchez Gotopo passed away at Miss. hospital on Oct. 1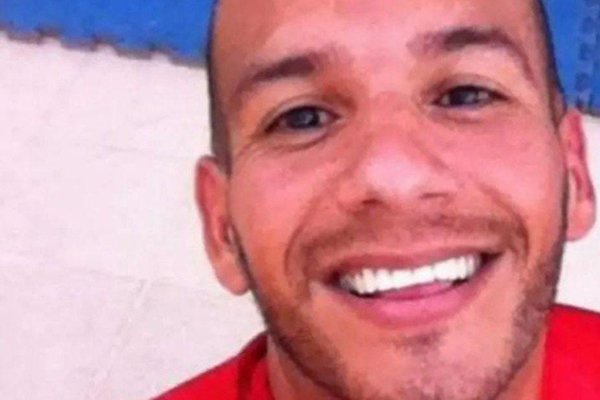 A Venezuelan man with AIDS died in U.S. Immigration and Customs Enforcement custody on Oct. 1.
An ICE press release notes Pablo Sánchez Gotopo, 40, died at Merit Health River Oaks in Flowood, Miss., which is a suburb of Jackson, the state capital. The press release notes the "preliminary cause of death was from complications with acute respiratory failure, Acquired Immune Deficiency Syndrome (AIDS), pneumonia, acute kidney failure, anemia and COVID-19."
ICE said U.S. Border Patrol took Sánchez into custody near Del Rio, Texas, on May 17. He arrived at the Adams County Detention Center in Natchez, Miss., four days later.
"Upon arrival to an ICE facility, all detainees are medically screened and administered a COVID-19 test by ICE Health Service Corps (IHSC) personnel," said ICE in its press release. "Sánchez's test results came back negative."
The press release notes Sánchez on July 28 received another COVID-19 test after he "began showing symptoms of COVID-19." ICE said he tested negative, but Adams County Detention Center personnel transferred him to a Natchez hospital "for additional advanced medical care."
ICE Enforcement and Removal Operations staff in its New Orleans Field Office, according to the press release, "coordinated with hospital staff to arrange family visitation" after Sánchez's "health condition deteriorated." Sánchez was transferred to Merit Health River Oaks on Sept. 25.
"ICE is firmly committed to the health and welfare of all those in its custody and is undertaking a comprehensive agency-wide review of this incident, as it does in all such cases," says the press release.
Venezuela's political and economic crises have prompted more than 10,000 people with HIV to leave the country, according to the New York-based Aid for AIDS International.
Activists and health care service providers in Venezuela with whom the Washington Blade has spoken in recent years have said people with HIV/AIDS in the country have died because of a lack of antiretroviral drugs. Andrés Cardona, director of Fundación Ancla, a group in the Colombian city of Medellín that works with migrants and other vulnerable groups, told the Blade last month that many Venezuelans with HIV would have died if they hadn't come to Colombia.
The Blade has not been able to verify a Venezuelan activist's claim that Sánchez was gay. It is also not known why Sánchez decided to leave Venezuela and travel to the U.S.
ICE detainee with HIV described Miss. detention center as 'not safe'
Activists and members of Congress continue to demand ICE release people with HIV/AIDS in their custody amid reports they don't have adequate access to medications and other necessary medical treatment.
Two trans women with HIV—Victoria Arellano from Mexico and Roxsana Hernández from Honduras—died in ICE custody in 2007 and 2018 respectively. Johana "Joa" Medina Leon, a trans woman with HIV who fled El Salvador, died in 2019, three days after ICE released her from a privately-run detention center.
The Blade in July 2020 interviewed a person with HIV who was in ICE custody at the Adams County Detention Center. The detainee said there was no social distancing at the privately-run facility and personnel were not doing enough to prevent COVID-19 from spreading.
"It's not safe," they told the Blade.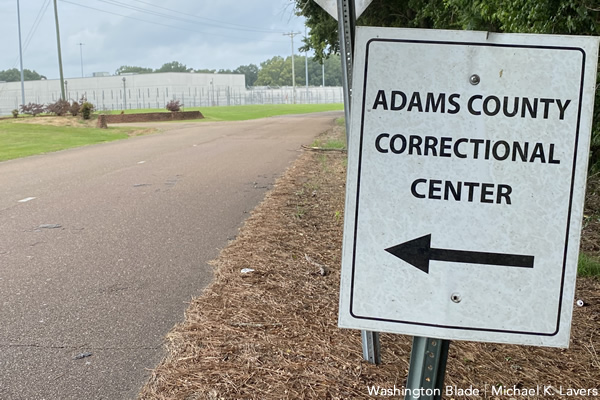 Elisabeth Grant-Gibson, a Natchez resident who supports ICE detainees and their families, on Wednesday told the Blade that she was able to visit the Adams County Detention Center and other ICE facilities in the Miss Lou Region of Mississippi and Louisiana from November 2019 until the suspension of in-person visitation in March 2020 because of the pandemic.
"Medical neglect and refusal of medical care has always been an issue in the detention center at Adams County," said Grant-Gibson. "After the facilities were closed to public visitation, those problems increased."
Grant-Gibson told the Blade she "worked with a number of families and received phone calls from a number of detainees, and I was told again and again that detainees were being refused the opportunity to visit the infirmary."
"When they did visit the infirmary, they were given virtually no treatment for the issues they were presenting with," said Grant-Gibson.
ICE in its press release that announced Sánchez's death said fatalities among its detainees, "statistically, are exceedingly rare and occur at a fraction of the national average for the U.S. detained population." ICE also noted it spends more than $315 million a year "on the spectrum of healthcare services provided to detainees."
"ICE's Health Service Corps (IHSC) ensures the provision of necessary medical care services as required by ICE Performance-Based National Detention Standards and based on the medical needs of the detainee," notes the ICE press release. "Comprehensive medical care is provided from the moment detainees arrive and throughout the entirety of their stay. All ICE detainees receive medical, dental, and mental health intake screening within 12 hours of arriving at each detention facility, a full health assessment within 14 days of entering ICE custody or arrival at a facility, and access to daily sick call and 24-hour emergency care."
An ICE spokesperson on Wednesday pointed the Blade to its Performance-Based Detention Standards from 2011, which includes policies for the treatment of detainees with HIV/AIDS.
A detainee "may request HIV testing at any time during detention" and ICE detention centers "shall develop a written plan to ensure the highest degree of confidentiality regarding HIV status and medical condition." The policy also states that "staff training must emphasize the need for confidentiality, and procedures must be in place to limit access to health records to only authorized individuals and only when necessary."

"The accurate diagnosis and medical management of HIV infection among detainees shall be promoted," reads the policy. "An HIV diagnosis may be made only by a licensed health care provider, based on a medical history, current clinical evaluation of signs and symptoms and laboratory studies."
Report details anti-LGBTQ discrimination, violence in Kenya refugee camp
March 15 attack left gay man dead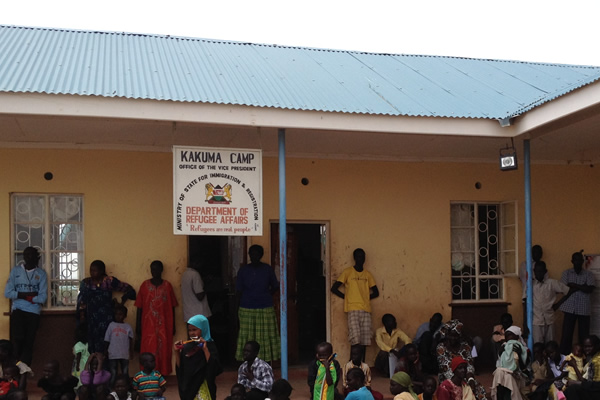 A new report released on Wednesday indicates nearly all of the LGBTQ people who live in a Kenya refugee camp have experienced discrimination and violence because of their sexual orientation and/or gender identity.
The Organization for Refuge, Asylum and Migration and Rainbow Railroad in May 2021 surveyed 58 LGBTQ asylum seekers who live at the Kakuma refugee camp and the Kalobeyei Integrated Settlement that opened in 2016 to help alleviate overcrowding at Kakuma. The groups also interviewed 18 "key informants."
More than 90 percent of the LGBTQ asylum seekers who spoke with ORAM and Rainbow Railroad said they have been "verbally assaulted."
Eighty-three percent of them indicated they suffered "physical violence," with 26 percent of them reporting sexual assault. All of the transgender respondents "reported having experienced physical assault," with 67 percent of them "reporting sexual assault."
Eighty-eight percent of respondents said they had been "denied police assistance due to their sexual identity." Nearly half of the respondents told ORAM and Rainbow Railroad they had to be "relocated from their allocated shelters to alternative accommodation due to the constant abuses directed at them by neighbors."
Kakuma, which is located in northwest Kenya near the country's border with Uganda and South Sudan, is one of two refugee camps the U.N. Refugee Agency operates in the East African nation. The other, Dadaab, is located near Kenya's border with Somalia.
The report notes upwards of 160,000 refugees from South Sudan, Sudan, Somalia, the Democratic Republic of Congo, Burundi, Ethiopia and Uganda were living in Kakuma as of January.
Those who responded to the ORAM and Rainbow Railroad survey are from Uganda, Burundi, the Democratic Republic of Congo, Sudan, South Sudan, Rwanda, Afghanistan, Yemen and Ethiopia and all of them have asked for asylum in Kenya. Ninety-four percent of them live in Kakuma, while the remaining six percent live in Kalobeyei.
The report also estimates there are 350 LGBTQ asylum seekers in Kakuma and Kalobeyei. UNHCR in 2020 created Block 13 in Kakuma that is specifically for LGBTQ refugees.
Gay man died after Block 13 attack
Two gay men suffered second-degree burns during an attack on Block 13 on March 15. One of the men died a few weeks later at a hospital in Nairobi, the Kenyan capital.
Forty-one of the Block 13 residents who participated in the ORAM and Rainbow Railroad survey said that "relocation to a safer place as a priority." The report also notes some respondents who live outside Block 13 "said that the activism in Block 13 was affecting the overall relationship between LGBTQI+ asylum seekers and service providers in the camp."
"They expressed concern with some activities conducted as part of their activism," reads the report. "For example, they alleged that some activists were conducting staged attacks on individuals and false claims of violence to attract media attention as part of their advocacy."
The report notes "allegations of activity from activists in Block 13 have not been confirmed." Some of the "key informants" who ORAM and Rainbow Railroad interviewed for their report, however, "observed that LGBTQI+ activists from different countries have been supporting the advocacy in Block 13 without considering the local context and potential negative or unintended consequences."
"They allege that the advocacy has been antagonizing LGBTQI+ members with other refugees in the camp and service providers," reads the report. "For example, some of the LGBTQI+ asylum seekers were reported to have deserted their allocated shelters, moved to Block 13 and were persistently demanding new shelters."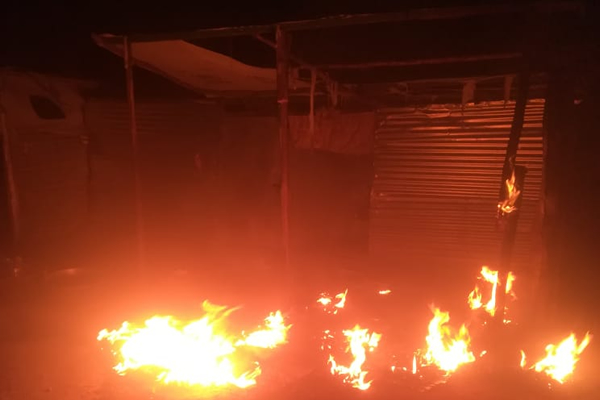 UNHCR in a statement after the March 15 attack noted Kenya "remains the only country in the region to provide asylum to those fleeing persecution based on sexual orientation, gender identity or expression," even though consensual same-sex sexual relations remain criminalized. The ORAM and Rainbow Railroad report acknowledges both points.
"Asylum seekers and refugees in Kenya are not immune to pervasive anti-LGBTQI+ attitudes in the community," it reads. "As the number of LGBTQI+ asylum seekers and refugees increases rapidly, it is important to understand their unique protection needs and plan for safe and dignified service delivery to meet those needs."
The report notes more than 70 percent of respondents have gone to Kakuma's main hospital the International Rescue Committee operates in order to receive HIV/AIDS-related services. More than 85 percent of respondents said they "preferred to seek all other health services beyond HIV and AIDS services at the main hospital, since the facility was friendly and provided a stigma-free environment for the LGBTQI+ community in the camp."
"Respondents reported traveling long distances in order to visit the main hospital," reads the report.
The report notes limited access to cardiologists and other specialists at the eight health facilities in the camp that UNHCR partner organizations operates. Roughly a third of respondents also said they have "been stigmatized in some of the health clinics."
"This included being referred to as shoga (a derogatory Kiswahili term used to refer to homosexuality) either by staff members or other refugees in the waiting room while waiting to see a provider, or some providers just directing them to the main hospital with snide remarks about how they do not entertain LGBTQI+ persons in their facility," reads the report.
The African Human Rights Coalition, the Refugee Coalition of East Africa and Upper Rift Minorities are among the other groups that work with the camp's LGBTQ residents.
The report notes only a third of respondents "were actively engaged in economic activity at the time of the study, a majority depended on the food rations distributed in the camp." It also contains 10 recommendations, which are below, to improve conditions for LGBTQ refugees in Kakuma.
1) The Refugee Affairs Secretariat of Kenya must fast-track refugee status determination of LGBTQ asylum seekers with further support from UNHCR and civil society organizations.
2) The Refugee Affairs Secretariat of Kenya and UNHCR must create more responsive and sensitive protection services for LGBTQ refugees in Kenya.
3) Civil society organizations and their supporters should provide livelihood support and other support to meet the immediate needs of LGBTQ refugees in Kakuma.
4) Governments of resettlement countries must resume and fast track resettlement of LGBTQ refugees from Kenya.
5) UNHCR and civil society organizations must continue to build skills development programs for employability.
6) LGBTQ civil society organizations should work more closely with refugee-led organizations and collectives to build self-protection services.
7) Donor communities should participate in more long-term development programming for LGBTQI+ refugees in Kenya.
8) LGBTQ civil society organizations providing support to refugees in Kenya must coordinate more closely.
9) LGBTQ civil society organizations and refugee-led organizations should continue to advocate for more inclusive human rights in Kenya.
10) Civil society must continue the push for LGBTQ human rights globally, including decriminalization of same sex intimacy.
"This much-needed report underscores the challenges, dangers and complexities of life that LGBTQI+ refugees and asylum seekers face in Kakuma refugee camp," said ORAM Executive Director Steve Roth in a press release that announced the report's release. "The refugees themselves have spoken and they want to be heard. UNHCR, governments and civil society organizations must work together to ensure the immediate safety and well-being of this community while also addressing the longer term, durable solutions we recommend in the report."
Rainbow Railroad Executive Director Kimahli Powell added refugee camps cannot "become permanent solutions to crises of forced displacement."
"The findings of this report confirm a key goal of Rainbow Railroad—to fast track resettlement of LGBTQI+ refugees," he said. "Rainbow Railroad and civil society partners are ready to provide support to LGBTQI+ persons at risk and assist in further resettlement. Ultimately, we need the UNHCR, the government of Kenya and governments of countries that are destinations for refugees to step up an ensure that LGBTQI+ asylum seekers in the camp are resettled in safer countries."
¿Cómo debe quedar redactado el Código de las Familias de Cuba?
Activistas presentan sugerencias para que la nueva ley sea más inclusiva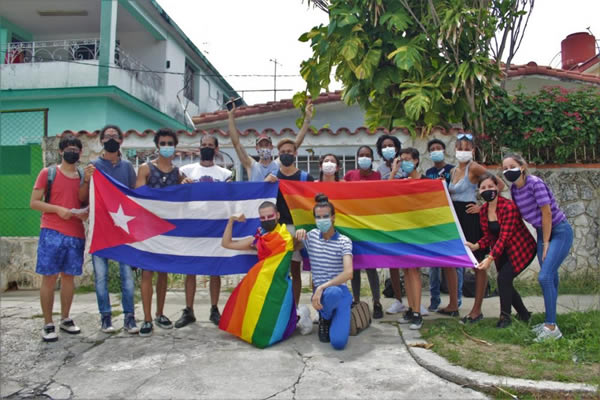 Tremenda Nota es el socio mediático del Washington Blade en Cuba. Esta nota salió en su sitio web el 18 de octubre.
LA HABANA — Varios grupos LGBTIQ+ presentaron propuestas sobre el anteproyecto de Código de las Familias, con el propósito de que sean valoradas por la comisión redactora y sirvan para mejorar la futura ley que debe reconocer el matrimonio igualitario, además de otros derechos.
"Quienes firmamos este documento somos proyectos, iniciativas y activistas de la comunidad LGBTIQ+ cubana. A través del mismo deseamos hacerles llegar nuestras consideraciones sobre el anteproyecto de Código de las Familias, el cual se encuentra actualmente en un proceso de consultas especializadas", escribieron en la presentación del documento, que está firmado por la Plataforma 11M, el Proyecto AfroAtenAs, la campaña Ahora Sí, la Alianza Afro-Cubana, el grupo Dame la Mano, el Centro Social y Biblioteca Libertaria Abra, y la revista Tremenda Nota.
Los activistas consideraron que el anteproyecto de ley "es un documento avanzado y progresista, no solo con respecto a su antecesor, sino incluso comparado con las legislaciones en otros países del mundo".
A pesar de eso, opinaron que "faltan algunas cuestiones importantes en este documento para que sea un Código verdaderamente revolucionario y atemperado a la sociedad cubana actual y futura".
Después de mencionar varios "aspectos positivos", que los activistas asumen como "innegociables" hicieron minuciosas recomendaciones a los redactores del texto legal, "en ejercicio de nuestro derecho ciudadano a participar en la revisión del Código de Familias".
Estas observaciones tienen el objetivo de que el proyecto de ley "sea lo más abarcador y flexible posible, de modo que refleje el espíritu y letra de la Constitución de Cuba aprobada en 2019 y refrende los tratados internacionales de protección de la infancia, la mujer y la familia de los que Cuba es signataria".
Sobre el pasaje relativo a "Derechos de la infancia y la adolescencia en el ámbito familiar", los activistas recomendaron incluir "la libertad del menor a la libre identidad de género y orientación sexual".
Para el artículo 61, que define el matrimonio como "la unión voluntariamente concertada de dos personas", recomendaron "que se tomen en cuenta las relaciones de más de dos personas".
El anteproyecto plantea la posibilidad de una "autorización judicial excepcional" para que personas menores de 18 años puedan casarse. Los activistas, en cambio, sugieren eliminar esa opción, ateniéndose a normas internacionales.
Una de las novedades del nuevo Código de las Familias es la "gestación solidaria", que la ley autorizará a personas "unidas por vínculos familiares". Los grupos LGBTIQ+ piensan que la opción debe existir también para personas "afectivamente cercanas".
También recomendaron que se añada una definición de "gestación solidaria" y se incluyan principios que protejan a las gestantes de cualquier presión o violencia.
"La gestante contará con un asesor legal independiente al de las personas comitentes", proponen añadir al texto.
Sobre la "responsabilidad parental", el concepto que sustituye a la "patria potestad" tradicional, los activistas señalaron que los padres deben "proteger" la "libre determinación" de la "identidad de género y orientación sexual".
En este punto, también recomendaron garantizar "los conocimientos y garantías materiales para el libre ejercicio de su sexualidad sin discriminaciones".
También propusieron que "los derechos y responsabilidades parentales para con la/el menor no se vean afectados cuando alguno de los padres o las madres lleve a cabo un proceso de transición de género".
Por último, sugirieron que "en cuanto a los menores bajo la tutela del Estado se les respete y proteja su libre determinación en cuanto a la identidad de género y orientación sexual velando siempre por el interés superior del menor".
"Esperamos que estas consideraciones y sugerencias sean tomadas en cuenta para la redacción final del anteproyecto que será presentado próximamente a la Asamblea Nacional del Poder Popular", concluyeron.
Activistas se reúnen con la Unión de Jóvenes Comunistas en Santa Clara
La publicación Entre Diversidades informó que el pasado 12 de octubre un grupo de activistas LGBTIQ+ se reunió en Santa Clara, al centro de Cuba, con funcionarios de la Unión de Jóvenes Comunistas en esa ciudad.
En el intercambio participó el promotor cultural Ramón Silverio, el fundador del centro El Mejunje, considerado un lugar icónico para la comunidad LGBTIQ+ en Cuba.
Estos activistas también hicieron recomendaciones sobre el futuro Código de las Familias y el programa de educación sexual establecido por el Ministerio de Educación, que fue postergado en septiembre, probablemente tras la presión de grupos fundamentalistas cristianos.
Los activistas reclamaron "una educación (escolar y comunitaria) que realmente contemple la diversidad en todo su espectro" y en ese sentido se declararon inconformes con el aplazamiento del programa de educación sexual.
También pidieron espacio en los medios de comunicación para visibilizar a la comunidad LGBTIQ+.
Celebraron la adopción del matrimonio igualitario en el anteproyecto de Código de las Familias, pero solicitaron "que se garanticen los derechos de la comunidad trans en toda su pluralidad".
Según los activistas, el Estado debe garantizar a las personas trans "cambio de identidad en el carnet, tratamiento hormonal y apoyo en la reasignación de sexo".
"Además se hace necesaria una estrategia respecto al uso de baños públicos para esta comunidad", añadieron.
Lo mismo que las organizaciones independientes, señalaron que se garanticen derechos a las "infancias trans".
Aprovecharon para denunciar la violencia policial contra personas LGBTIQ+.
"Se debe garantizar la protección por parte de los agentes de seguridad ante cualquier acto de discriminación y odio. Se debe abarcar desde un comentario homofóbico hasta la violencia física contra cualquier miembro de la comunidad. Por esta razón, son necesarias leyes que juzguen justamente a quienes nos agraden", dice la nota de Entre Diversidades.
Los activistas denunciaron "el papel que han jugado las instituciones estatales en la marginación de la comunidad LGBTIQ+".
"Para demostrar una verdadera voluntad política de cambio, es necesario que estas instituciones apoyen el trabajo de los activistas, ya que estas son las que tienen los medios. También es necesario que de dichas instituciones salgan iniciativas inclusivas y que aporten a la creación de una Cuba verdaderamente diversa", dijeron.
Por último, alertaron sobre "el ascenso de los fundamentalistas religiosos a puestos directivos y de poder, como universidades y hospitales". Consideraron que "esto puede poner en peligro los derechos alcanzados hasta al momento y la concreción de las luchas futuras, como la aprobación del Código de las Familias".