Maryland Senate committee holds hearing on transgender rights bill
Heather Mizeur among those who testified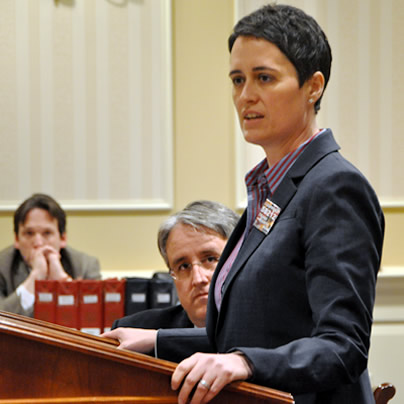 ANNAPOLIS, Md.—Maryland lawmakers on Tuesday held a hearing on a bill that would ban anti-transgender discrimination in the state.
Members of the Senate Judicial Proceedings Committee heard testimony from supporters and opponents of Senate Bill 212 that state Sen. Rich Madaleno (D-Montgomery County) introduced last month. The measure would ban discrimination based on gender identity and expression in employment, housing, public accommodation and credit.
"At its core, SB 212 is about securing basic civil rights for transgender Marylanders: the right to a job, a place to live and fair treatment in public spaces," said Madaleno.
Gov. Martin O'Malley is among those who submitted testimony in support of SB 212.
Gubernatorial candidate Heather Mizeur pointed out during her testimony that the Baltimore County Council passed a trans rights bill after two teenagers attacked Chrissy Lee Polis at a Rosedale McDonald's in 2011.
"This is a protection we want to make sure gets extended statewide," said Mizeur. "Protection against discrimination shouldn't depend on your zip code."
Mizeur's Democratic challengers and their running mates — Lieutenant Gov. Anthony Brown and Howard County Executive Ken Ulman and Attorney General Doug Gansler and state Del. Jolene Ivey (D-Prince George's County) — back SB 212.
Brown and Gansler both submitted written testimony in support of the measure.
"The Fairness for All Marylanders Act of 2014 is critical to our ability to move forward as a state because no Marylander should face discrimination based on gender identity or sexual orientation," said Brown. "Whether they're using a public accommodation or finding housing, looking for private sector employment, leasing a commercial space for their business or deciding what to wear for work, all Marylanders deserve to be treated equally."
Senate President Thomas V. "Mike" Miller (D-Prince George's and Calvert Counties) and House Speaker Michael Busch (D-Anne Arundel County) also back SB 212.
"The protections in Senate Bill 212 are needed in real people's lives," said Equality Maryland Executive Director Carrie Evans. "These individuals are our spouses, our friends, our co-workers and our fellow Marylanders."
Francis DeBernardo, executive director of New Ways Ministry in Mount Rainier, and Sister Jeannine Gramick, executive co-director of the National Coalition of American Nuns, also testified in support of SB 212.
"We need to incorporate the vulnerable members of our society into our laws and our customs," said Gramick.
The Maryland Catholic Conference is among the organizations that submitted testimony in opposition to SB 212.
"The church firmly opposes undue harassment or discrimination against any person," said the group. "That principle does not, however, warrant creating a new class of protected individuals in the state's anti-discrimination statute, especially when the extension of the law would presumably apply to only a small number of individuals."
Elaine McDermott of Maryland Citizens for a Responsible Government and Peter Sprigg of the Family Research Council are among those who also spoke against the measure.
"I am here to stand up for women, children and their safety," said McDermott, who submitted to the committee newspaper articles that detail men who allegedly targeted women and girls in restrooms and locker rooms. "Women worry about their safety in bathrooms and locker rooms. Proponents of this bill deny that there will be problems with restrooms and locker rooms."
Zane Walsh, 13, of Baltimore County countered McDermott.
"I am not a pervert lurking in the bathroom," he said. "I'm pretty much a normal kid."
The Senate Judicial Proceedings Committee last year narrowly killed an identical bill that Madaleno introduced.
State Sens. C. Anthony Muse (D-Prince George's County) and James Brochin (D-Baltimore County), who voted against the aforementioned measure in 2013, asked Madaleno and other SB 212 supporters about access to restrooms and locker rooms during the hearing. Michael Lore, an aide to state Sen. Norman Stone (D-Baltimore County), told the Washington Blade on Monday that LGBT rights advocates should not expect the lawmaker's position on the issue to change unless SB 212 supporters address his concerns over employment contracts.
"He was certainly sympathetic to some of the concerns," said Lore, discussing Stone's vote against the 2013 bill. "He's willing to listen to all sides."
Baltimore City and Baltimore, Montgomery and Howard Counties have already added gender identity and expression to their non-discrimination laws. Hyattsville in December became the first jurisdiction in Prince George's County to pass a trans-inclusive anti-discrimination ordinance.
"It is time for Maryland to pass this legislation," said Madaleno.
Gender Rights Maryland Executive Director Dana Beyer, who announced last week she will challenge Madaleno in the June Democratic primary, noted only 47 percent of Marylanders live in jurisdictions that have adopted trans-inclusive anti-discrimination laws.
"This situation is patently unfair," said Beyer in written testimony. "I ask you to favorably report SB 212 to the floor to remedy that situation."
Neighboring Delaware is among the 17 states along with D.C. and Puerto Rico that ban discrimination based on gender identity and expression. Lawmakers in Pennsylvania, New York and other states have introduced similar measures.
The Maryland House of Delegates in 2011 approved a trans rights bill. There are enough votes in the state Senate to ensure passage of SB 212 if it advances out of committee.
Comings & Goings
Cummings joins White House Office of National Cyber Director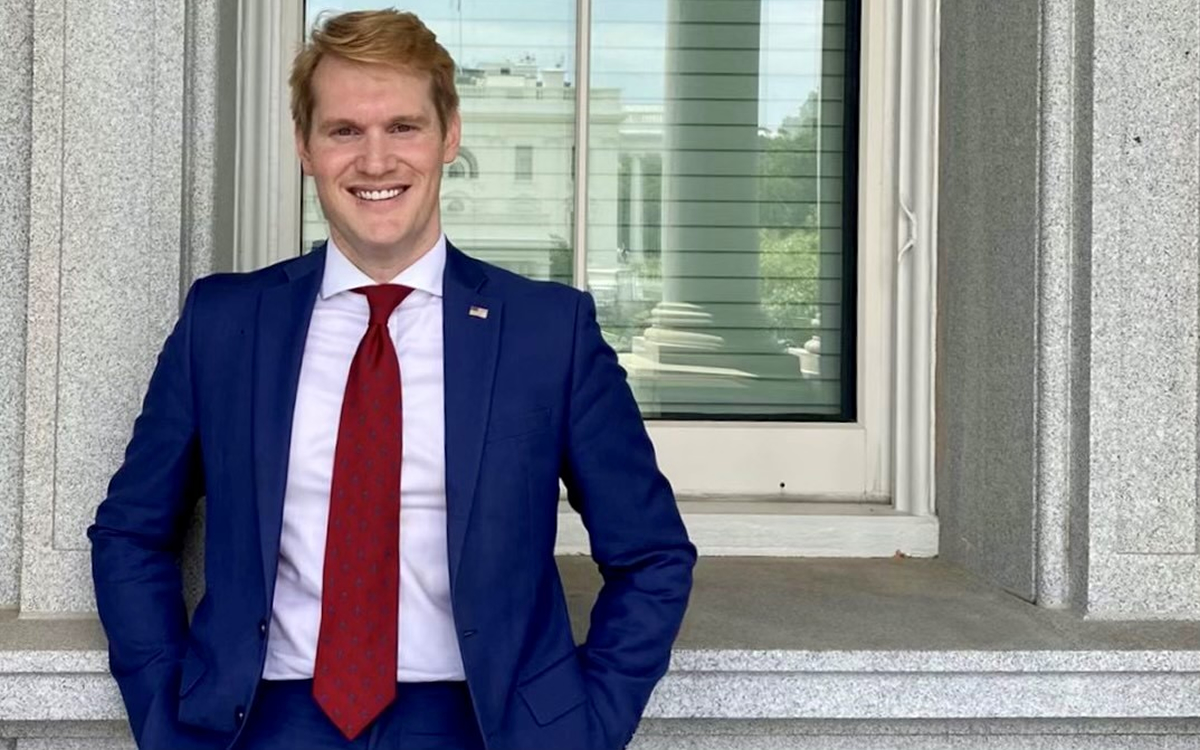 The Comings & Goings column is about sharing the professional successes of our community. We want to recognize those landing new jobs, new clients for their business, joining boards of organizations and other achievements. Please share your successes with us at: [email protected]. 
Congratulations to John Cummings on joining the Office of the National Cyber Director at the White House as Director of Supply Chain and Technology Security. Upon getting the position, he said, "I am beyond thrilled to join the growing team at the National Cyber Director's Office and bring my experience to our mission of mitigating the cyber threats facing our nation and ensuring every American can enjoy the full benefits of the digital ecosystem. It is truly a privilege to work with this incredibly brilliant and collegial group of cyber experts." 
Prior to joining the White House, Cummings served as Associate General Counsel at the Office of the Director of National Intelligence (ODNI). Before that role, he served as interim Chief Counsel for ODNI's National Counterintelligence and Security Center and as Associate General Counsel for the Office of the Inspector General of the Intelligence Community.
He has provided legal advice and counsel on matters of government-wide and interagency policy and national security in the areas of executive authority, cyber, constitutional law, civil rights and civil liberties, legislative affairs, and international cooperation. He has worked on recruiting LGBTQ, women, and minority applicants for government roles in national security and is experienced in public relations, stakeholder relationships, and international partnerships.
Cummings began his career clerking for the Honorable Ivan L.R. Lemelle, U.S. District Court for the Eastern District of Louisiana, and also clerked for the House Committee on Homeland Security and the American Bar Association's Standing Committee on Law and National Security.
He attended Villanova University where he received a bachelor's degree in English. He earned his J.D. from Loyola Law, New Orleans, and his LL.M. in National Security Law from Georgetown Law.
Abortion rights in post-Roe Maryland, Delaware
Practice generally legal, with some restrictions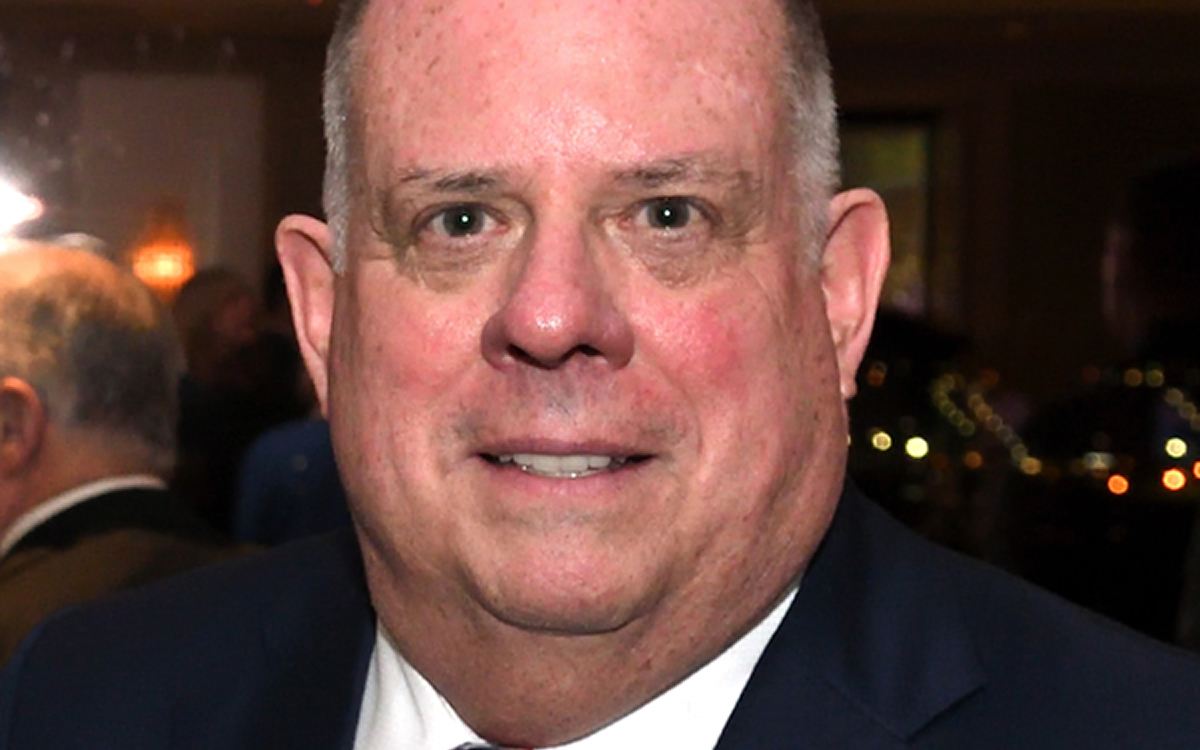 The U.S. Supreme Court on Friday overturned Roe v. Wade, which in 1973 found that the decision to receive an abortion was generally protected by the Constitution of the United States. With the broadest federal protection of abortion access now rescinded, the legality of abortion will by and large be determined on the state level.
In Delaware, abortion is legal through the Medical Practice Act — but with some restrictions.
After fetal viability, or the point where a fetus can survive outside the uterus, abortion in the First State becomes illegal unless necessary for the patient's "life or health," or if the fetus has a condition "for which there is not a reasonable likelihood" that it will survive outside the uterus, according to Subchapter IX of the act.
Additionally, under the state's Parental Notice of Abortion Act, physicians cannot perform a surgical abortion on minors under the age of 16 unless the patient's parent or guardian has received at least 24 hours notice from a medical professional. Notice is not required for nonsurgical abortions.
On the federal level, the funding of abortion is illegal through the 1977 Hyde Amendement "except in cases of life endangerment, rape or incest," according to the Guttmacher Institute, a sexual and reproductive rights advocacy organization. States are only federally required to fund abortions that meet these conditions through federal-state Medicaid programs.
While some states also fund abortions deemed medically necessary regardless of whether they endanger a patient's life, Delaware state law does not extend beyond federal guidelines: The state only funds abortions in cases of life endangerment, rape or incest.
Abortion legislation in Delaware mirrors neighboring Maryland, whose laws include similar restrictions on abortion after fetal viability and abortion for minors under the age of 16. But abortion laws in these states are generally more restrictive than other mid-Atlantic counterparts, such as New Jersey and New York.
Maryland Gov. Larry Hogan (R) weighed in on the state's abortion law on Friday.
"In 1992, Maryland voters approved a constitutional referendum legalizing and protecting access to abortion as a matter of state law – that measure remains in effect today following the Supreme Court decision in Dobbs v. Jackson. I swore an oath to uphold the Constitution and the laws of Maryland, and that is what I have always done and will continue to do as governor."
The impact of Roe v. Wade's fall in Delaware remains uncertain. While the abortion rate in Delaware steadily declined between 2014 and 2017, recent findings show that instances of abortion are increasing once again in the state, reflecting a rise on the national level.
Youngkin backs abortion ban after 15 weeks of pregnancy
Republican governor supports exceptions for incest, rape and protecting mother's life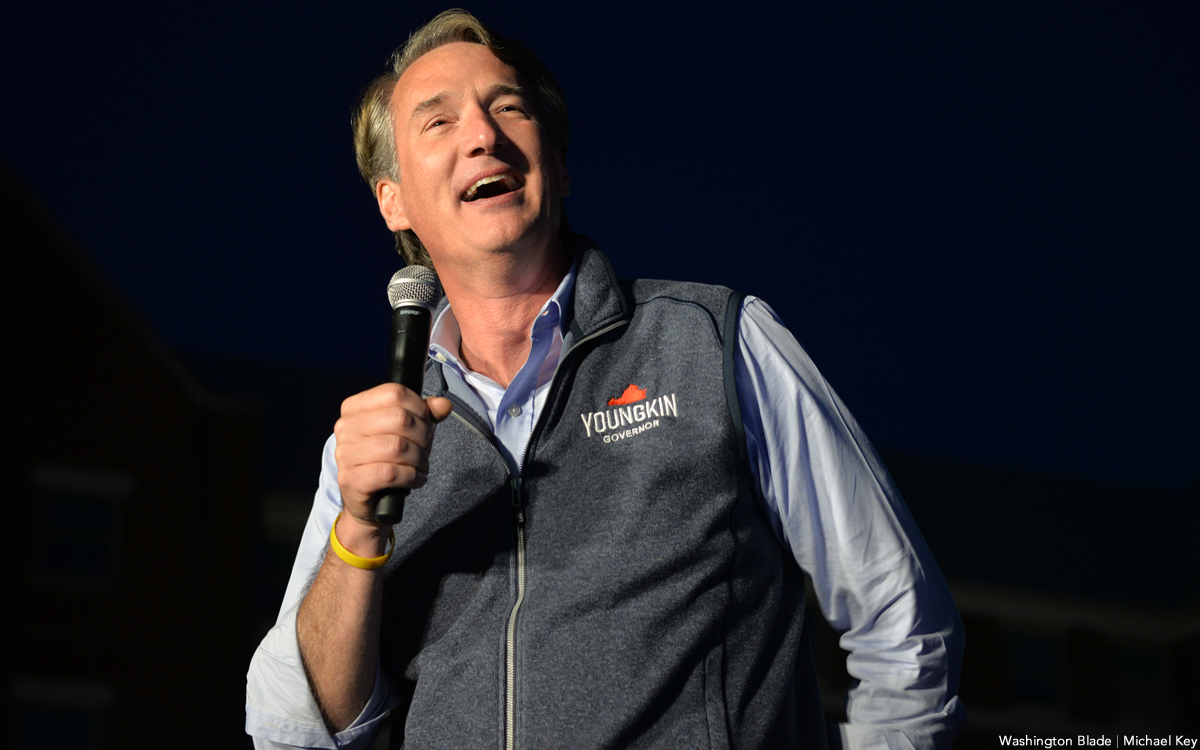 Virginia Gov. Glenn Youngkin in response to the U.S. Supreme Court ruling that overturned Roe v. Wade said he will seek to ban abortions in his state after 15 weeks of pregnancy.
"Virginians do want fewer abortions as opposed to more abortions," Youngkin told the Washington Post. "I am not someone who is going to jump in and try to push us apart … There is a place we can come together."
Youngkin, a Republican, took office in January.
His party controls the Virginia House of Delegates, but Democrats maintain a 21-19 majority in the state Senate.
"Today, the Supreme Court ruled in favor of Dobbs, giving power back to the states to make decisions on abortion," said Lt. Gov. Winsome Earle-Sears in a statement. "The court has recognized that the 1973 decision was an example of judicial and federal overreach. The important question of abortion has now been returned to statehouses across the country, in order for them to make their own policy decisions, which is exactly what the founding fathers envision when they wrote the 10th amendment to the Constitution."
"I applaud the court for recognizing this wrong and having the courage to correct it. I look forward to working with the governor and the General Assembly in the next legislative session on legislation that respects life," she added.
Abortion is currently legal in Virginia during the first and second trimesters.
Youngkin on Friday said he supports abortion exemptions in cases of rape, incest or if the mother's life is at risk.