Md. Senate committee kills transgender rights bill
Measure struck down in 6-5 vote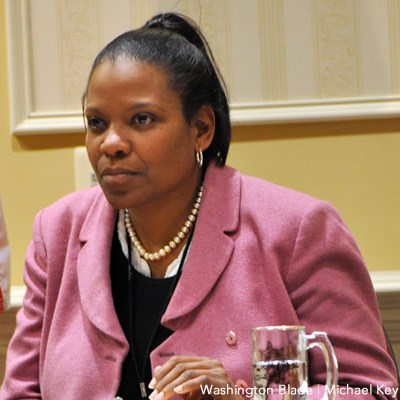 The 6-5 vote in the Senate Judicial Proceedings Committee came slightly more than two weeks after it held a hearing on Senate Bill 449 — the Fairness for All Marylanders Act of 2013 — that state Sens. Rich Madaleno (D-Montgomery County) and Jamie Raskin (D-Montgomery County) introduced.
Raskin along with state Sens. Brian Frosh (D-Montgomery County,) Lisa Gladden (D-Baltimore City,) Jennie Forehand (D-Montgomery County) and Robert Zirkin (D-Baltimore County) voted for SB 449. Senators Norman Stone (D-Baltimore County,) C. Anthony Muse (D-Prince George's County,) Nancy Jacobs (R-Cecil and Harford Counties,) James Brochin (D-Baltimore County,) Christopher Shank (R-Washington County) and Joseph Getty (R-Baltimore and Carroll Counties) opposed it.
"Despite months of hard work by our broad coalition of supporters, key committee members were unwilling to advance the promise of equality under the law to the transgender community," Madaleno said in an e-mail he sent to his constituents after the vote. "A majority of committee members were unwilling to pass a bill that prohibited discrimination by restaurants, theaters, hotels, shopping centers and other places of public accommodations. Their lack of understanding and empathy for their fellow Marylanders is appalling."
Dana Beyer, executive director of Gender Rights Maryland, also expressed outrage.
"Bigotry won the day, and I say that because the sponsor bent over backward to assuage the concerns of his Democratic colleagues," she told the Washington Blade. "None of it was good enough, nor did they then offer any solution themselves other than to strip out public accommodations protections entirely."
"It is terribly disappointing the committee failed to stand up for fairness and protect transgender Marylanders," Equality Maryland Executive Director Carrie Evans added.
Peter Sprigg, senior fellow for policy studies at the Family Research Council, and other SB 449 opponents testified against the measure during the Feb. 26 committee hearing.
"This bill will force the state and private actors — employers, landlords and others who provide public services — to officially and legally affirm the very delusion that puts these suffering individuals at odds with reality," Sprigg said. "Not only will it not makes their lives better, but it will prevent them from getting the very help they do need to make their lives better."
The state House of Delegates in 2011 passed a trans rights bill, but a similar measure died in a Senate committee last year.
Governor Martin O'Malley, who signed Baltimore City's trans rights ordinance into law in 2002 when he was mayor, told the Washington Blade last month he was "absolutely" reaching out to state lawmakers to encourage them to support SB 449. State Del. Bonnie Cullison (D-Montgomery County) and other gay state lawmakers with whom the Blade spoke after the committee's Feb. 26 hearing stressed the passage of last November's referendum on the same-sex marriage law O'Malley signed had provided a foundation of support upon which they thought the measure could have passed.
Senate President Thomas V. "Mike" Miller (D-Prince George's and Calvert Counties) also backed SB 449.
"It is now 14 years since transgender protections were stripped from LGBT anti-discrimination legislation by the General Assembly," Donna Cartwright of the Maryland Coalition for Trans Equality said. "It's long past time for the legislature to take meaningful action to address the severe discrimination and disadvantage that trans people face."
Baltimore County, of which Brochin represents portions in Annapolis, along with Montgomery and Howard Counties and Baltimore City have already adopted trans-inclusive non-discrimination laws.
"[Brochin] had at least 1,000 constituents contact him asking him to support this bill," Evans said. "Despite this, he turned his back on these voters. It ironic that transgender people in his own district [Baltimore County] have protections yet he wouldn't cast a vote to extend these protections to individuals in the 20 counties that aren't so fortunate."
Sixteen states and D.C. currently ban discrimination based on gender identity and expression.
Madaleno and other SB 449 supporters vow they will continue to fight to protect trans Marylanders from discrimination.
"This fight is not over, and together we continue undeterred on our path to full equality and freedom for all," Madaleno said.
"Equality Maryland will come back every year until transgender Marylanders are afforded the right to be free from discrimination in their jobs, homes, and places of public accommodations," added Evans.
A Maryland state Senate committee on Thursday struck down a bill that would have banned anti-transgender discrimination in housing, employment and public accommodation.
Sheila Alexander-Reid to step down as director of D.C. LGBTQ Affairs Office
Veteran community activist to take new job workplace bias consultant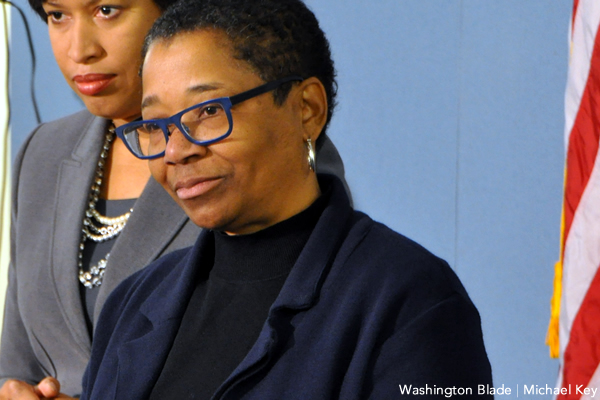 Longtime LGBTQ community advocate Sheila Alexander-Reid, who has served since 2015 as director of Mayor Muriel Bowser's Office of Lesbian, Gay, Bisexual, Transgender, and Questioning Affairs, is stepping down from her city job in mid-July.
Alexander-Reid told the Washington Blade she will take a few weeks of accumulated leave beginning June 15 to recuperate from follow-up knee surgery before officially leaving her current job to take on a new role as a private sector consultant in the area of workplace bias and diversity training.
She said will announce the name of the private sector company she will be joining as a senior vice president when she begins her new job in mid-July.
Among her duties at the Mayor's LGBTQ Affairs Office has been to lead the office's staff in providing LGBTQ related diversity or competency training for D.C. government employees at all city agencies.
According to the office's website, other activities it carries out include connecting LGBTQ residents with city services they may need, advocating on behalf of programs and policies that benefit the lives of LGBTQ residents, providing grants to community-based organizations that serve the LGBTQ community and LGBTQ homeless youth; and host events that "enrich, promote, and bring together" the LGBTQ community in D.C.
"That work is always going to be part of who I am," Alexander-Reid said. "But now I will be expanding on that work to look at racial equity and gender bias as well as LGBTQ bias," she said. "I feel like I will be doing the same work but in a different format."
Prior to starting her job at the mayor's office, Alexander Reid served as Vice President of Strategic Initiatives at the Washington Blade, Director of Strategic Engagement at the Washington City Paper, and Founder and Executive Director of the D.C. based Women in the Life Association. She has also served as host of Inside Out, a local FM LGBTQ radio show.
Alexander-Reid noted that when she began work at the LGBTQ Affairs Office in late January 2015, less than a month after Bowser took office as mayor, the office consisted of two full-time employees, including her, with a budget of $209,000. In the current fiscal year 2021, the office now has four full-time employees and two additional detailed employees, from the Department of Health and Department of Human Services. The mayor is proposing a budget of $561,000 for the office for fiscal year 2022.
"I would be remiss if I didn't say what a pleasure it has been to work for Mayor Bowser," said Alexander-Reid. "I was excited to work for her and I don't regret it for one second. "It's been an amazing journey and I appreciate her having faith in me."
She said she expects an interim director to be named to run the office in mid-July while a search is conducted for a permanent director.
Attack on trans woman in D.C. laundromat captured in video
Police seek help from community in identifying suspects.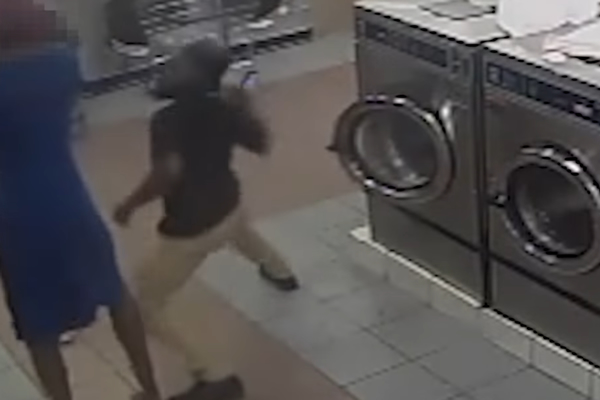 D.C. police on Thursday night released a dramatic video taken from a surveillance camera showing two women and a man repeatedly punching and shoving a transgender woman at a laundromat on Benning Road in Northeast Washington in an incident in which the victim was stabbed in the head.
Police, who have listed the Sunday, June 6, incident as a suspected anti-LGBTQ hate crime, are appealing to the community for help in identifying the three suspects, who are shown in the video attacking the trans woman before escaping in a black SUV while carrying laundry bags.
Detectives from the Metropolitan Police Department's Sixth District obtained the video from a surveillance camera at the Capital Laundry Mat at 1653 Benning Road, N.E., according to a police report and a police statement released Thursday night.
The video shows that the suspects were accompanied by two young children. It shows one of the adult female suspects appearing to be dancing by herself in front of a row of washing machines seconds before the three suspects lunged at the victim and began punching her.
"One of the suspects brandished a knife and stabbed the victim," the police statement says. "The suspects fled the scene in a vehicle. The victim was transported to a local hospital for treatment of non-life-threatening injuries," the statement says.
"Anyone who can identify these individuals, or vehicle, or has knowledge of this incident should take no action but call police at 202-727-9099 or text your tip to the Department's TEXT TIP LINE at 50411," the statement adds. It says the department's Crime Solvers program offers a reward of up to $1,000 to anyone who provides information leading to the arrest and indictment of a person or persons responsible for a crime committed in D.C.
Police spokesperson Alaina Gertz told the Washington Blade that because the investigation is ongoing, police could not immediately disclose whether they know if the victim knew one or more of the attackers before the incident took place or what, if anything, prompted the suspects to attack the victim other than due to her status as a transgender person.
The video released by D.C. police can be accessed here: https://youtu.be/7v8lthvUPcg
Trans woman attacked, stabbed at D.C. laundromat
Police seeking three suspects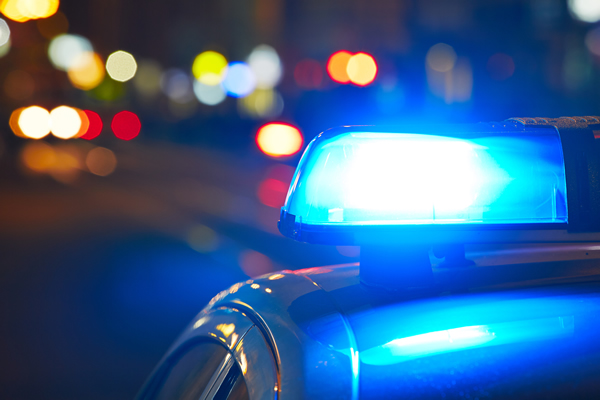 D.C. police are investigating a June 6 assault and stabbing of a transgender woman at a laundromat on Benning Road in Northeast Washington that a police incident report lists as a suspected anti-LGBT hate crime.
"On Sunday, June 6, 2021, MPD officers responded to a radio assignment for a stabbing at 1653 Benning Road, N.E.," the report says. "Officers arrived on the scene with Victim 1 bleeding," the report continues. "Victim 1 stated that they were stabbed in the head and assaulted by Suspect 1, Suspect 2, and Suspect 3," according to the report.
The report, which lists the incident as an assault with a dangerous weapon, says officers provided first aid to the victim until an ambulance arrived and took the victim to a local hospital for medical treatment. The report does not disclose the victim's gender identity or sexual orientation.
But D.C. transgender activists Earline Budd, an official with the LGBTQ supportive group HIPS, and Ruby Corado, founder and CEO of the LGBTQ community services center Casa Ruby, each said they learned that the victim is a transgender woman.
Corado said she has heard that the victim was recovering from her injuries and may have been released from the hospital where she was treated.
D.C.'s Fox 5 News reported details of the incident that were not in the police report obtained by the Washington Blade. According to Fox 5, the victim told D.C. police the assailants used anti-LGBTQ slurs during the attack and the assailants consisted of a man and two women who "beat her and stabbed her in the head."
The police report obtained by the Blade from the police public information office does provide a description of the three suspects and does not state whether or not the victim knew them prior to the attack.