Pentagon sees no need for gay discharged troops bill
Proposed measure would codify process for upgrading separations to 'honorable'
The Pentagon sees no need for new legislation to enable gay troops to remove the distinction of "dishonorable" from their discharge papers if they were expelled from the U.S. military because of their sexual orientation.
Lt. Cmdr. Nathan Christensen, a Pentagon spokesperson, said the administrative process in place for upgrading paperwork is sufficient to ensure troops dismissed for being gay during the "Don't Ask, Don't Tell"-era and before have honorable discharges.
"We continue to closely monitor the workload of the Boards, which indicate that DADT-related applications are being processed effectively, under clear procedures, and that no new policy guidance or legislation is required at this time," Christensen said.
Asked whether that statement means the Pentagon opposes legislation to codify the process known as the Restore Honor to Service Members Act, Christensen said the Pentagon doesn't comment on pending legislation as a matter of policy.
Late last month, Sen. Brian Schatz (D-Hawaii) introduced the bill in the U.S. Senate along with 17 Democratic co-sponsors. Companion legislation sponsored by gay Rep. Mark Pocan (D-Wis.) was already pending in the U.S. House and has more than 140 co-sponsors.
An estimated 114,000 troops were discharged from the armed forces for being gay starting in World War II until the lifting of "Don't Ask, Don't Tell" in 2011.
Although many service members were given an "honorable" discharge from the military if they were expelled because of their sexual orientation, others were given "other than honorable," "general discharge" or "dishonorable" discharge.
By having designation other than "honorable" on their papers, former troops may be disqualified from accessing certain benefits, such as GI bill tuition assistance and veterans' health care, and may not be able to claim veteran status. In some cases, they may be prevented from voting or have difficulty acquiring civilian employment.
Meaghan Smith, a Schatz spokesperson, said the senator appreciates the Pentagon's work on the issue, but service members seeking upgrades had complained the process wasn't working fast enough.
"Based on direct input from veterans groups that went into the drafting of the Restore Honor to Service Members Act, the existing process is overly burdensome on the veteran, and more can be done to simplify the process as well as to protect veterans' privacy," Smith said.
The Restore Honor to Service Members Act aims to adjust the process for upgrading paperwork by codifying it, simplifying the paperwork requirement and requiring military services historians to review the facts and circumstances surrounding these discharges.
"Put simply, who is to say that a future administration may not decide that those reviews are beyond the scope of those discharge and military records boards?" Smith said. "This bill would make those reviews specifically within their scope of inquiry, ensuring that that process always remains available to these service members to seek corrective action."
Pocan's office didn't immediately respond to the Washington Blade's request for comment.
The legislation has the support of LGBT and non-LGBT organizations, including the Human Rights Campaign, the American Veterans for Equal Rights and Service Women's Action Network and Equality Hawaii.
Fred Sainz, HRC's vice president of communications, reiterated his organization's support for the bill when asked about the Pentagon's view that the existing process is sufficient.
Walking through the existing process, Christensen insisted the Pentagon enacted a "robust and responsive" policy in 2011 to ensure troops discharged because of their sexual orientation can receive upgrades through the Military Department Board for Correction of Military/Naval Records (BCM/NR) or the Military Department's Discharge Review Board.
"The resulting Department-wide policy and Service Review Board procedures ensure equitable and consistent review of all cases related to DADT," Christensen said. "Presently, members discharged under DADT may request a correction to their military records from either their Military Department DRB or their BCM/NR based upon these implemented changes in law and policy."
Military department DRBs are responsible for reviewing cases within the last 15 years and change discharge characterization from "Homosexual Conduct" to "Secretarial Authority." If an applicant is not satisfied with DRB decision, or needs additional relief, he or she may appeal to the BCM/NR, which also reviews cases 15 years or older, or those that fall outside the scope of the DRBs.
By law, the BCM/NRs speak for the military service as final authority on the decision, but if applicants still are not satisfied, they may write their service secretary for intervention or file suit in federal civil court.
Upon the introduction of the House bill in July 2013, Rep. Charlie Rangel (D-N.Y.), one of the legislation's co-sponsors, said during a conference call with Pocan he wants the White House and the Pentagon to support the legislation. The White House hasn't responded to numerous requests for comment about the bill.
Rangel called for continued efforts to pass the legislation in a statement to the Blade when asked about the Pentagon response to the bill.
"It was the President's Under Secretary of Defense who published the Memo which has acted as one of the cornerstones of our "Restore Honor to Service Members Act,'" Rangel said. "However, a Memo is not law. Congress needs to do its job, make this process law, and ensure all service members' records can always be corrected regardless of who is in the White House. We now have over 150 cosponsors in the House and a dozen Senators ready to act and we are adding more each week. I won't stop fighting to right the wrong."
Victory Fund honors Maine House speaker at D.C. conference
Ryan Fecteau is gay Catholic University alum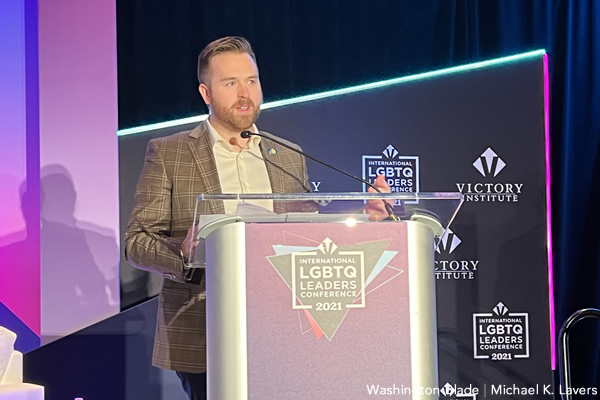 The Victory Fund on Saturday honored Maine House Speaker Ryan Fecteau on the last day of its International LGBTQ Leaders Conference in D.C.
Fecteau — an openly gay Catholic University of America alum — won a seat in the Maine House of Representatives in 2014. He became the chamber's speaker in 2018.
"Hate and intolerance will not derail us," said Fecteau after Florida state Rep. Carlos Guillermo Smith presented him with the Tammy Baldwin Breakthrough Award, which is named after U.S. Sen. Tammy Baldwin (D-Wis.). "Our community will not be intimidated."
The Victory Fund on Friday honored Guatemalan Congressman Aldo Dávila, a gay man who is living with HIV.
Victory Fund honors gay Guatemalan congressman at D.C. conference
Aldo Dávila a vocal critic of country's government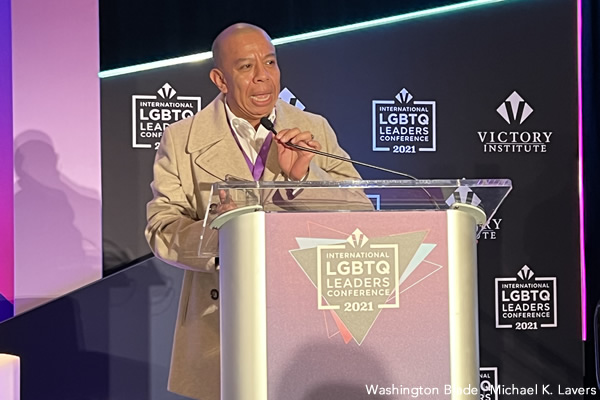 The Victory Fund on Friday honored an openly gay Guatemalan congressman who has faced death threats because of his efforts to fight corruption in his country.
Dávila — a member of the Winaq movement, a leftist party founded by Rigoberta Menchú, an indigenous human rights activist and Nobel Peace Prize winner — in 2019 became the first openly gay man elected to Guatemala's congress. Dávila, who also lives with HIV, had previously been the executive director of Asociación Gente Positiva, a Guatemala City-based HIV/AIDS service organization.
Supporters of President Alejandro Giammattei have lodged several formal complaints against Dávila after he publicly criticized the government over corruption, its response to the pandemic and other issues.
Three men on April 19 approached Dávila's vehicle near Guatemala's National Library and tried to rob him. One of Dávila's bodyguards shot one of the men, but the two other assailants fled the scene before police officers and passersby arrived.
Dávila told the Washington Blade in September during an interview at a Guatemala City hotel that he and his partner installed cameras in their apartment after someone killed their dog.
Two female police officers who arrived at the hotel with Dávila sat in the lobby while he spoke with the Blade. The government a few weeks later reduced his security detail.
"Guatemala is living through the worst democratic crisis in the last 40 years," said Dávila after he accepted the Victory Fund's Global Trailblazer Award at its 2021 International LGBTQ Leaders Conference that is taking place in-person at the JW Marriott in downtown D.C. "Guatemala right now is being paralyzed by corruption and impunity and my voice is uncomfortable because of this."
Dávila became emotional at the end of his remarks.
"I will keep fighting for our rights," he said.
Comings & Goings
Nathanson takes role at Outright Action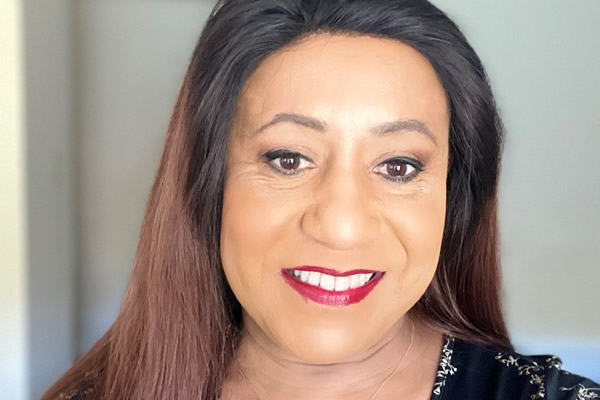 The Comings & Goings column is about sharing the professional successes of our community. We want to recognize those landing new jobs, new clients for their business, joining boards of organizations and other achievements. Please share your successes with us at: [email protected]
The Comings & Goings column also invites LGBTQ+ college students to share their successes with us. If you have been elected to a student government position, gotten an exciting internship, or are graduating and beginning your career with a great job, let us know so we can share your success.
Congratulations to Rikki Nathanson on her new position as Senior Advisor – Global Trans Program with OutRight Action International in New York. Nathanson will be based in D.C.
"I am absolutely thrilled to be taking on this new role as Senior Advisor in OutRight's Global Trans Program," said Nathanson. "I have finally found the perfect fit for me: as a trans woman who has been fighting for equality not only for myself, but for others globally, this position is not only a job, it's intrinsically part of who I am. So, what better way to live, nurture and grow myself."
Nathanson will be working closely with all program staff to ensure a cohesive and intentional approach to gender issues throughout OutRight's programs, including its approach to gender ideology movements. She will lead new initiatives on gender advocacy and policy change, focused but not limited to legal gender recognition and anti-discrimination legislation and policies.
Prior to this Nathanson was director of housing programs at Casa Ruby in D.C. She has also held a number of other positions including: founder/executive director of Trans Research, Education, Advocacy & Training (TREAT), Zimbabwe; chairperson Southern Africa Trans Forum, SATF, Cape Town, South Africa; executive director, Ricochet Modeling Agency, Zimbabwe; and company secretary for Dunlop Zimbabwe Limited, Zimbabwe.