SPECIAL REPORT: Poverty in the LGBT community
Studies show image of 'gay affluence' is a myth
Editor's note: This week, the Blade kicks off a special yearlong focus on poverty in the LGBT community. The occasional series will examine the problem with special reports from D.C. and around the country. To share your ideas or personal story, visit us on Facebook or email [email protected].
As the 50th anniversary of the U.S. war on poverty launched by President Lyndon B. Johnson in 1964 is commemorated this year, LGBT advocates are pointing to little noticed studies showing that the rate of poverty in the LGBT community is higher than that of the general population.
In a 2013 report analyzing data from the U.S. Census Bureau and other data measuring poverty in the United States, the Williams Institute, a research arm at the University of California Law School in Los Angeles that specializes in LGBT issues, concludes that rates of poverty are higher than the general population among gay men and lesbians between the ages of 18-44 and gay men and lesbians living alone.
The report shows that couples – both gay and straight – tend to have a lower rate of poverty than single people and the population as a whole. But it found that the poverty rate for lesbian couples is higher than that of gay male couples and opposite-sex couples and the poverty rate of same-sex African-American couples is higher than it is for opposite-sex African-American couples.
Among the report's findings that surprised LGBT activists were data showing that bisexual men and women had poverty rates of 25.9 percent and 29.4 percent respectively – higher than gay men (20.5 percent) and lesbians (22.7 percent). The report says the same set of data show that heterosexual men had a poverty rate of 15.3 percent compared to a rate of 21.1 percent for heterosexual women.
"The LGB poverty data help to debunk the persistent stereotype of the affluent gay man or lesbian," the Williams Institute report says.
"Instead, the poverty data are consistent with the view that LGB people continue to face economic challenges that affect their income and life chances, such as susceptibility to employment discrimination, higher rates of being uninsured, and a lack of access to various tax and other financial benefits via exclusion from the right to marry," the report says.
The report uses the U.S. Census Bureau definition of poverty for 2012 in its analysis of LGBT poverty levels based on family income. That definition lists the "poverty line" for a single person household as an annual income of $11,815 or less. The poverty line for a two-person household was $15,079, and for a four-person household was $23,684 in 2012.
Trans poverty 'extraordinarily high'
A separate study prepared jointly by the National Center for Transgender Equality and the National Gay and Lesbian Task Force in 2011, called "Injustice at Every Turn," shows dramatically higher rates of poverty and homelessness among transgender Americans in each state, the District of Columbia and U.S. territories.
Kylar Broadus, senior policy counsel and director of the Trans Civil Rights Project for The Task Force, called the poverty rate in the transgender community "extraordinarily high." He said a key factor leading to economic hardship among transgender people is the persistent problem of employment discrimination.
"There's double the national rate of unemployment," he said in discussing the trans community of which he said he's a member. "And once we're employed 90 percent of those surveyed reported experiencing harassment and discrimination on the job," he noted in pointing to the NCTE-Task Force study.
"Forty-seven percent said they experienced adverse outcomes such as being fired, not hired or denied promotions because of being transgender or gender non-conforming," Broadus said.
He said the respondents reported various forms of housing discrimination that are contributing factors to homelessness in the transgender community. According to the study, 19 percent of respondents reported having been refused a home or an apartment to rent and 11 percent reported being evicted because of their gender identity or expression.
"Nineteen percent experienced homelessness at some point in their lives because they were transgender or didn't conform as well, and then 55 percent were denied access to shelters," he said.
Another study released by the Williams Institute last week reports that 2.4 million LGBT adults, or 29 percent, "experienced a time in the last year when they did not have enough money to feed themselves or their family."
The study, written by Williams Institute demographer Gary Gates, found that LGBT people are more likely to rely on the federal food stamp program for assistance than their heterosexual counterparts.
"One in four bisexuals (25 percent) receive food stamps," the report says, "34 percent of LGBT women were food insecure in the last year; and LGBT African Americans, Native Americans, and Native Hawaiians experienced food insecurity in the last year at rates of 37 percent, 55 percent, and 78 percent respectively," the report says.
LGBT homeless rate high in San Fran
Yet another report released last June found that 29 percent of the homeless population in San Francisco identified as LGBT. The report, which was part of the city's biennial homeless count, included for the first time a count of the number of homeless people who identified themselves as gay, lesbian, bisexual or transgender, according to the San Francisco Chronicle.
Brian Bassinger, director of the San Francisco-based AIDS Housing Alliance, which provides services to the HIV and LGBT communities, said although the finding to some degree reflects the high LGBT population in San Francisco, which is 15 percent, he believes LGBT people make up a sizable percent of the homeless population in other cities throughout the country.
Bassinger said he also believes the 29 percent figure for San Francisco is most likely an under count and that the actual number is higher.
"LGBT people in the shelter system here are regularly targeted for violence, harassment and hate crimes, which are very well documented," he said.
Since much of the effort to count homeless people in the city takes place at shelters, large numbers of LGBT homeless people are not counted because they generally avoid the shelters out of fear of harassment and violence, Bassinger said.
He said his group also closely monitors a development in San Francisco threatening to push the city's older LGBT population into poverty and which may be occurring in other cities – the enormous rise in the cost of housing due to gentrification and a booming real estate market. Those who for years have lived in popular gay neighborhoods as tenants are being displaced by the conversion of rental apartment buildings and houses into upscale condominiums, Bassinger said.
"Long-term San Franciscans who have spent decades building the system to deliver access to equal treatment under the law here in San Francisco are getting displaced by all of these people moving into our community," he said.
And because they can no longer afford to live in San Francisco many are being forced to move to other parts of the state or other states that are less LGBT friendly and don't have the support community they came to enjoy for so many years, according to Bassinger.
The Williams Institute's 2013 report, meanwhile, analyzes data from four surveys of the U.S. population with a demographic breakdown that included mostly gay men, lesbians, and bisexuals as well as a smaller, combined "LGBT" sample.
The four surveys were conducted by these organizations or government agencies:
• The 2010 American Community Survey conducted by the U.S. Census Bureau with a sample of more than 500,000 and which included data from same-sex couple households.
• The National Survey of Family Growth conducted by the U.S. Centers for Disease Control and Prevention's National Center for Health Statistics from 2006-2010 included a sample of more than 19,000 people throughout the country, including people who identified as LGB, the Williams Institute study says.
• The California Health Interview Survey conducted by UCLA's Center for Health Policy Research in collaboration with California Department of Public Health surveyed more than 50,000 Californians, including LGB adults from 2007 to 2009.
• A Gallup Daily Tracking Poll conducted between June 1 and Sept. 30, 2012 with a sample of more than 120,000 adults from 18 and older, included people who identified themselves as LGBT in all 50 states and D.C. The poll was conducted by phone.
The report includes these additional findings on the subject of poverty in the LGBT community:
• African-American same-sex couples have poverty rates more than twice the rate of different-sex married African Americans.
• One-third of lesbian couples and 20.1 percent of gay male couples who don't have a high school diploma are in poverty, compared to 18.8 percent of heterosexual couples.
• Lesbian couples living in rural areas are more likely to be poor (14.1 percent) compared to 4.5 percent of lesbian couples in large cities; 10.2 percent of gay male couples who live in small metropolitan areas are poor compared with just 3.3 percent of gay male couples who live in large metropolitan areas.
• Nearly one in four children living with a male same-sex couple and 19.2 percent of children living with a female same-sex couple is in poverty. This compares with 12.1 percent of children living with married heterosexual couples who are in poverty.
• African-American children in gay male households have the highest poverty rate (52.3 percent) of any children in any household type.
• 14 percent of lesbian couples and 7.7 percent of gay male couples received food stamps, compared to 6.5 percent of straight married couples. In addition, 2.2 percent of same-sex female couples received government cash assistance compared to 0.8 percent of women in different-sex couples. And 1.2 percent of men in same-sex couples received cash assistance compared to 0.6 percent of men in different-sex couple relationships who received cash assistance.
The report's co-author Lee Badgett, a Williams Institute senior fellow and professor at the University of Massachusetts at Amherst, said it's difficult to draw a conclusion from the Williams Institute and other studies as to why there are higher poverty levels in the LGBT community.
"The people that I know who worked with LGBT people in poverty talk about the reasons being very complex," she said.
"I suspect that there are lots of disadvantages that people face, whether it's in the labor market or in schools and that maybe somehow they kind of come together, that they are sort of cumulative over time and make people more vulnerable to poverty. But I think we don't really know exactly why that happens," Badgett told the Blade.
In the Williams Institute report, she and co-authors Laura Durso and Alyssa Schneebaum call for further studies to explore the factors that contribute both to "poverty and economic resilience" within the LGBT community.
"Our analyses highlight different demographic subpopulations that may be particularly at-risk; however, we are unable to take a more fine-grained approach to identifying factors that contribute to poverty in these different communities," the report says.
"Identifying the conditions under which individuals and families descend into and escape from poverty will aid service organizations and government agencies in designing interventions to address this significant social problem," the report concludes.
Broadus of the Task Force said discrimination and bias make up at least some of the conditions that force LGBT people into poverty.
"We are less economically secure as a community due to suffering at the hands of discrimination in employment, marriage, insurance and less familial and societal support," he said. "The LGBT community as a whole lives at the margins and some at the margins of the margins such as women, people of color and children. When some of our community is vulnerable we are all vulnerable."
Activists demand ICE release transgender, HIV-positive detainees
Protest took place outside agency's D.C. headquarters on Wednesday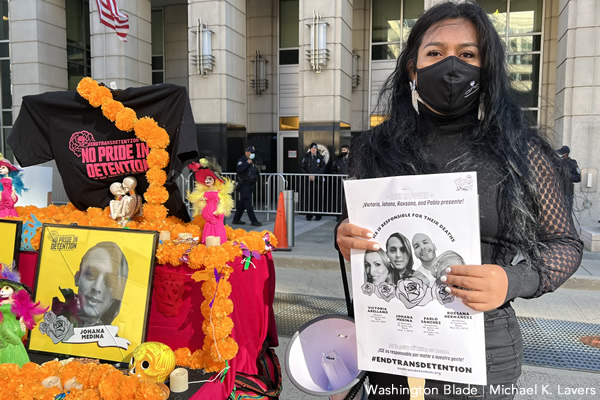 Jessycka Ckatallea Letona is an indigenous transgender woman from Guatemala who fled persecution in her homeland because of her gender identity.
She asked for asylum in the U.S. in 2016 when she entered the country in Eagle Pass, Texas.
Ckatallea on Wednesday told the Washington Blade that U.S. Immigration and Customs Enforcement officials placed her in a pod with 70 men at a privately-run detention center in Florence, Ariz. She also said personnel at another ICE detention center in Santa Ana, Calif., ridiculed her because of her gender identity and forced her to strip naked before she attended hearings in her asylum case.
Ckatallea spent a year and eight months in ICE custody before her release. She won her asylum case and now lives in the San Francisco Bay Area.
"It was a very traumatic experience," said Ckatallea as she spoke with the Blade in front of ICE's headquarters in Southwest D.C. "I came to a country thinking that it would take care of me, that it would protect me because of my gender identity."
Ckatallea is one of the more than a dozen immigrant rights activists who participated in a protest in front of ICE's headquarters that Familia: Trans Queer Liberation Movement, Immigration Equality and the End Trans Detention campaign organized. Ckatallea, Immigration Equality Executive Director Aaron Morris and other protest participants demanded ICE immediately release trans people and people with HIV/AIDS from their custody.
The groups placed on the sidewalk in front of the building a Day of the Dead "ofrenda" to honor three trans women—Victoria Orellano, Roxsana Hernández and Johana "Joa" Medina León—who died in ICE custody or immediately after their release. The "ofrenda" also paid tribute to Pablo Sánchez Gotopo, a Venezuelan man with AIDS who died in ICE custody on Oct. 1.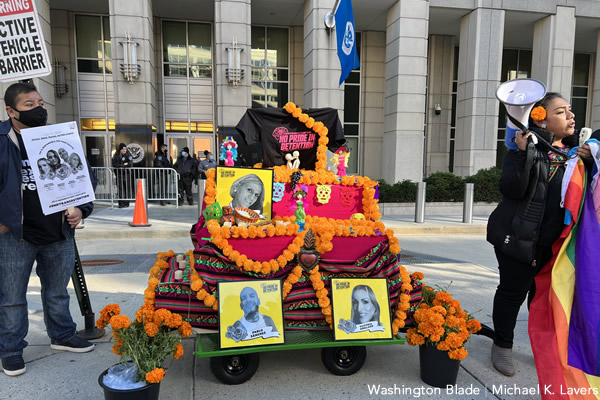 Ckatallea, Morris and the other protesters approached the building's entrance and presented security personnel with a petition that calls upon President Biden and Homeland Security Secretary Alejandro Mayorkas to "immediately release all transgender people, people living with HIV, and people with medical conditions from ICE custody."
ICE has repeatedly defended its treatment of trans people and people with HIV/AIDS who are in their custody.
The Blade in July 2020 interviewed a person with HIV who was in ICE custody at the Adams County Detention Center, the same privately-run facility in which Gotopo was held until his hospitalization. The person with whom the Blade spoke described conditions inside the detention center as "not safe" because personnel were not doing enough to protect them and other detainees from COVID-19.
Congressman Mike Quigley (D-Ill.) is among the dozens of lawmakers who have called for the release of all trans people and people with HIV/AIDS from ICE custody. The Illinois Democrat on Tuesday reiterated this call during a virtual briefing that Familia: Trans Queer Liberation Movement, Immigration Equality and the End Trans Detention Campaign organized.
"ICE's clear inability to do better leads me to seek to end of ICE's detention of all trans migrants," said Quigley. "During both the Trump and Biden administration I led dozens of my colleagues to demand that ICE release transgender detainees and end its practice of holding trans migrants in custody. We had hoped that things would change with the new administration, so far I'm disappointed."
Congresswoman Pramila Jayapal (D-Wash.) also participated in the briefing alongside Immigration Equality Legal Director Bridget Crawford and Sharita Gruberg of the Center for American Progress and others.
Texas GOP Governor Greg Abbott signs anti-Trans youth sports bill
"Despite the powerful testimony of trans kids & adults- the emails to the Governor to veto this harmful piece of legislation it is now law"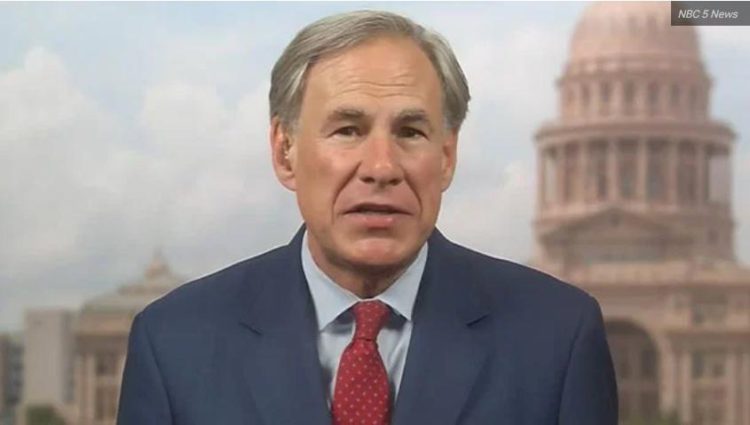 AUSTIN – Texas Republican Gov. Greg Abbott signed into law Monday H.B. 25, an anti-Transgender youth sports bill banning Trans K-12 student-athletes from playing on sports teams consistent with their gender identity.
H.B. 25 is the 9th statewide bill signed into law this year banning transgender youth from participating in school sports and the 10th in the country. This bill also comes during a year when Texas lawmakers have proposed nearly 70 anti-LGBTQ bills, including more than 40 bills that specifically target transgender and nonbinary youth — far more than any other state.
"We are devastated at the passage of this bill. Despite the powerful testimony of trans kids and adults, families and advocates, and the many emails and calls our community placed to the Governor's office to veto this harmful piece of legislation it is now law," Ricardo Martinez, CEO of Equality Texas, said.
"Most immediately, our focus is our community and integrating concepts of healing justice to provide advocates who have already been harmed by this bill with spaces to refill their cup and unpack the acute trauma caused by these legislative sessions. Our organizations will also begin to shift focus to electing pro-equality lawmakers who understand our issues and prioritize representing the vast majority of Texans who firmly believe that discrimination against trans and LGB+ people is wrong," he added.
Earlier this month, the Texas state government was criticized for removing web pages with resources for LGBTQ youth, including information about The Trevor Project's crisis services. The Trevor Project the world's largest suicide prevention and crisis intervention organization for LGBTQ+ young people.
"Transgender and nonbinary youth are already at higher risk for poor mental health and suicide because of bullying, discrimination, and rejection. This misguided legislation will only make matters worse," Amit Paley, CEO and Executive Director of The Trevor Project said in a statement released Monday afternoon.
To every trans Texan who may be feeling hurt and attacked by this legislation and months of ugly political debate — please know that you are valid, and you are deserving of equal opportunity, dignity and respect. The Trevor Project is here for you 24/7 if you ever need support, and we will continue fighting alongside a broad coalition of advocates to challenge this law," Paley said.
Breaking: Transgender students in Texas will be restricted from playing on K-12 school sports teams that align with their gender identity under a bill Gov. Greg Abbott has signed into law. https://t.co/54kMy2fWGu

— Texas Tribune (@TexasTribune) October 25, 2021
********************
Additional resources:
Research consistently demonstrates that transgender and nonbinary youth face unique mental health challenges and an elevated risk for bullying and suicide risk compared to their peers.
If you or someone you know needs help or support, The Trevor Project's trained crisis counselors are available 24/7 at 1-866-488-7386, via chat at TheTrevorProject.org/Help, or by texting START to 678678.
Ohio high school cancels play with Gay character after Pastor complains
The School's fall production of "She Kills Monsters" was scheduled to open in less than one month until the play was canceled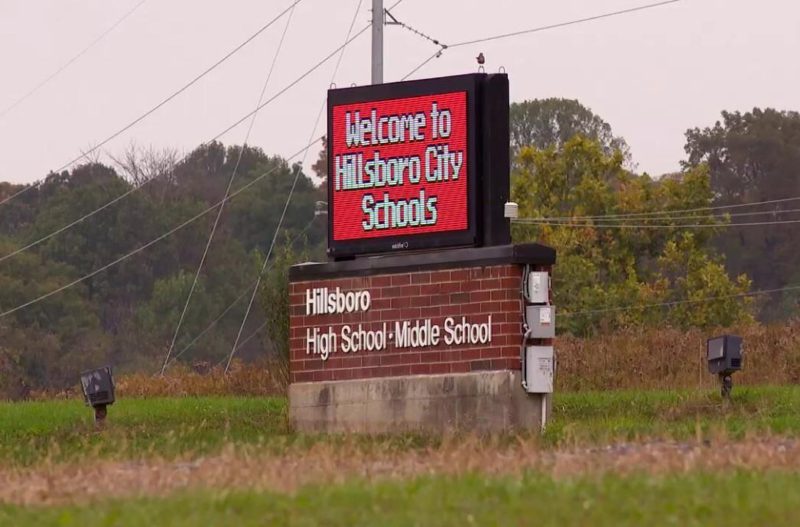 HILLSBORO, Oh. — A Southwest Ohio high school's play was abruptly canceled after Jeff Lyle, a local pastor from Good News Gathering, complained of a gay character.
Hillsboro High School's fall production of "She Kills Monsters" was scheduled to open in less than one month, until students learned the play would be canceled last week, reports Cincinnati's ABC affiliate WCPO.
The story follows a high school senior as she learns about her late sister's life. It is implied throughout the play that her sister is gay, according to the news station.
The play's cancellation comes a week after Lyle, a long-time voice of the anti-LGBTQ+ religious-right in Ohio, and a group of parents confronted the production's directors at a meeting, according to Cincinnati CBS affiliate Local 12. Lyle denies pressuring school officials, but tells WCPO he supports the decision.
"From a Biblical worldview this play is inappropriate for a number of reasons, e.g. sexual innuendo, implied sexual activity between unmarried persons, repeated use of foul language including taking the Lord's name in vain," Lyle said.
Some families say they believe Lyle did influence the school's decision.
"I think that's wrong," Jon Polstra, a father of one of the actors, told WCPO. "All they would have had to do if they objected to something in the play was not go to the play."
In a statement to Local 12, Hillsboro City Schools Superintendent Tim Davis said the play was canceled because it "was not appropriate for our K-12 audience."
The Lexington Herald Leader reports that the school planned to perform a version intended for audiences as young as 11 years old.
Students were "devastated" and "blindsided" by the news, according to WCPO.
"It felt like we had just been told, 'Screw off and your lives don't matter,'" Christopher Cronan, a Hillsboro High student, said. "I am openly bisexual in that school and I have faced a lot of homophobia there, but I never expected them to cancel a play for a fictional character."
Cronan's father, Ryan, also voiced his frustration.
"They want to say the town is just not ready, but how are you not ready? It's 2021," Ryan Cronan said.
Students have started a GoFundMe in hopes of putting on the production at a community theater in 2022.
"If we do raise enough money, I am going to be genuinely happy for a very long time, because that means people do care," Cronan told WCPO.