How to get married in D.C., Maryland & Delaware
You're considering taking the plunge?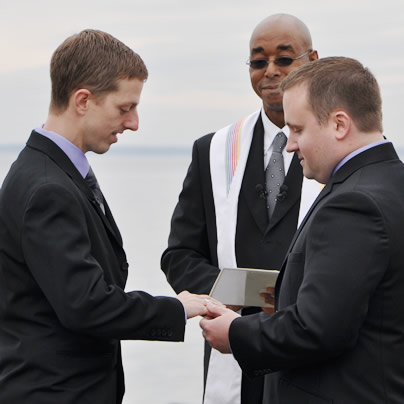 So you're considering taking the plunge, but do you know exactly how to get married? Where to obtain a license? Where it's legal?
The good news for D.C.-area couples is that you have three local options for tying the knot, as same-sex marriage is legal in D.C., Maryland and Delaware. Virginia lags but two lawsuits are working their way rapidly through the courts and could lead to marriage equality in the commonwealth in the not-too-distant future.
All couples, including same-sex couples, planning to get married in the District of Columbia, Maryland and Delaware must first obtain a marriage license at a designated government office or courthouse.
Each of the three jurisdictions provides couples with the option of getting married at a courthouse or county government office in a civil ceremony performed by an official appointed by the jurisdiction. The couples may also select a member of the clergy to perform the marriage at a religious institution or other location of the couple's choosing.
District of Columbia
Marriage Bureau

D.C. Superior Court

500 Indiana Ave., N.W., Room 4555

Washington, D.C.
• One or both of the parties or a designated surrogate must come to the Marriage Bureau to complete a marriage license application.
• Identification and proof of age is required for both parties in the form of a government-issued ID such as a driver's license, birth certificate or passport.
• The minimum age for marriage in D.C. is 18. Persons of the age of 16 or 17 may marry with the consent of a parent or guardian.
• The marriage license application fee is $35 and the marriage certificate fee is $10. All fees must be paid in cash or by money order payable to the Clerk, D.C. Superior Court.
• Previous marriage information is required from both parties, such as documentation of a divorce or the death of a former spouse and the state or jurisdiction of the previous marriage.
• Religious celebrants and judges other than those of the D.C. courts must be authorized by the court and registered by the Marriage Bureau in order to perform a legal marriage in D.C.
• The full name of the intended celebrant must be given at the time the application is submitted.
• A recently enacted D.C. law, the Marriage Officiant Amendment Act of 2013, allows the couple getting married to select any adult to perform their marriage as a "temporary officiant." The new law also allows the couple to perform their own marriage. The law applies only for marriage ceremonies performed outside the courthouse.
• Under a separate, longstanding D.C. law, three full days must pass between the time the marriage license application is submitted and the time the license can be issued. One or both members of the couple or a designee must return in person to pick up the license. The license has no expiration date.
• At the time the marriage license application is submitted, a request for a civil wedding at the courthouse may be made. A clerk will schedule the ceremony with a court official who will perform the marriage on or close to a date selected by the couple but not sooner than 10 business days after the license is issued.
• The marriage ceremony room accommodates approximately 10 to 15 guests. There is no fee for the ceremony.
Maryland
• Marriage licenses in Maryland are issued by the Clerk of the Circuit Court in each of the state's 23 counties and the City of Baltimore, which is treated as a county. The fee for a marriage license varies from county to county but is usually within the range of $35 to $55.
• Maryland law requires that the marriage license be obtained from the Circuit Court in the county where the marriage is to take place regardless of the place of residence of the couple to be married.
• The marriage license must be obtained at least 48 hours before the marriage ceremony. Couples may seek a waiver of the two-day waiting period from a judge, and military service or illness is considered grounds for a possible waiver.
• A divorced person must provide a copy of the divorce decree that shows where and when the divorce took place. A license cannot be processed without this information.
• Identification for both parties, such as a driver's license, birth certificate, passport, or military I.D. must be presented at the time the application is submitted.
• In some counties, such as Montgomery County near D.C., out-of-state residents may obtain a license application form by email for a fee of $55. The application must be returned along with the fee by mail. In Montgomery County, officials will mail the license to the couple.
• A marriage license in Maryland expires in six months if the couple doesn't marry within that time.
• In many counties, a judge, Clerk of the Circuit Court or a designated deputy clerk of the court are available to perform civil marriage ceremonies at the courthouse for a fee. Couples interested in a civil ceremony by the court should contact the Circuit Court in the county in which they plan to marry.
• An individual of the age of 16 or 17 must present proof of consent of a parent or guardian in order to obtain a marriage license. An individual of the age of 16 or 17 that doesn't have parental permission and an individual at age 15 may be granted a marriage license if a licensed physician provides a certificate stating that the woman to be married is pregnant or has given birth to a child.
Delaware
• Marriage licenses in Delaware are issued by the County Clerk's Office in each of the state's three counties – New Castle County (Wilmington), Kent County (Dover), and Sussex County (Georgetown, which is near Rehoboth Beach).
• The couple must appear together at the county clerk's office to apply for the license and must bring identification such as a driver's license or birth certificate to confirm their identities.
• There is a one-day waiting period for obtaining the marriage license upon completion of the application for state residents and a four-day waiting period for out-of-state residents. The license is valid for 30 days.
• The application fee ranges from $30 to $100 depending on the county.
• In Sussex County a marriage license can be applied for online for an additional processing fee of $14.95. However, it must be picked up in person by both applicants at the Sussex County Marriage Bureau. It may be used anywhere in the state.
• Applicants must be at least 18 years old to be eligible for a marriage license. If either applicant is under the age of 18 they are considered minors and must petition the Delaware Family Court for authorization to marry.
• An original copy of a divorce decree or annulment decree is required for individuals who have been divorced or whose marriage has been annulled in order to be eligible for a marriage license in Delaware.
• If either applicant is on probation or parole, they must obtain written permission to marry from their probation or parole officer.
• In Sussex County, the Clerk of the Peace John Brady is available to perform "Memorable Marriage" ceremonies any day of the week and at any location within Sussex County, according to information on the Sussex County website, www.sussexcountyde.gov.
• Under state law, a witness is required to be present during a wedding ceremony. In Sussex County, the office of Clerk of the Court Brady has arranged for volunteers – including some associated with the Rehoboth Beach LGBT community center, CAMP Rehoboth, to serve as witnesses with a non-mandatory contribution suggested for the center.
D.C. Restaurant Week returns
Celebrating a revitalized dining scene after COVID closures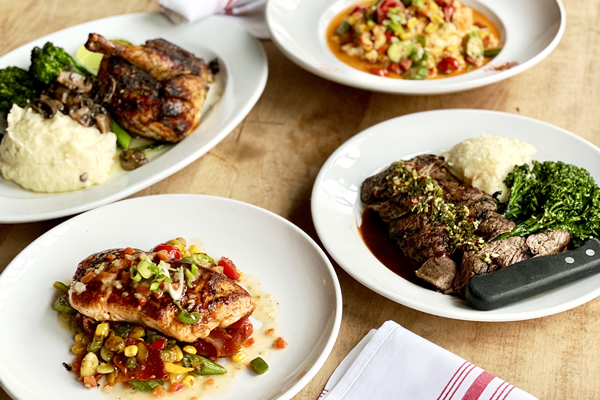 After being confined to a to-go program for the last two iterations, Washington, D.C.'s Restaurant Week is back this summer to celebrate the revitalized dining scene in the city. Summer Restaurant Week 2021, run by Restaurant Association Metropolitan Washington (RAMW), is scheduled to kick off Monday, Aug. 9, and last through Sunday, Aug. 15.
The signature summer dining event returns to a one-week promotion this year, though restaurants have the option of extending their promotions. Diners can enjoy three-course menus at a range of indoor/outdoor comfort levels at more than 200 restaurants, ranging from fast-casual eateries to fine-dining destinations. In addition, the to-go family-style options that were introduced last year are not gone, however, as many restaurants will also offer this off-premise option. Of course, many spots plan to include a cocktail pairing as well.
Dinner is the main event for participating restaurants, with the classic three-course dinner priced at $35 per person. Several restaurants with higher overall price points are also offering an elevated $55 dinner with exclusive items. Three-course lunches run $22, and weekend brunch is also $22.
Finally, many restaurants will also offer "RW-To-Go" dinner meals, available at two price points: $60 or $120 for two people and $100 or $200 for four people.
These RW-To-Go dinner meal packages are available for takeout or delivery, and diners can order RW-To-Go either directly from the participating restaurant or check their delivery app for the offer.
D.C. restaurants remain open at 100 percent capacity, but Mayor Bowser last week reinstated mask mandates for indoor spaces.
New restaurants participating in Summer Restaurant Week include Angolo, ANXO, Flower Child, Le Sel, GATSBY, Glover Park Grill, Gypsy Kitchen, and Truluck's in D.C.; and Spice Kraft Indian Bistro in Virginia.
"This year's Summer Restaurant Week is not only providing diners with great options at great prices for dining out, but is also the first time all restaurants across our region are able to accommodate diners at full capacity both indoors and outdoors," says Kathy Hollinger, president and CEO of the Restaurant Association Metropolitan Washington. "Being fully open is a step toward recovery for the industry and also toward a return to our dynamic local restaurants in their spaces which help to elevate the dining experience."
RAMW is the regional association representing restaurants and the foodservice industry in the D.C. Metropolitan Area. RAWM also runs the RAMMYs, the awards for the food and beverage industry.
Restaurant operators themselves reinforced how important the promotion is to them. "Restaurant Week is an opportunity for us to showcase our resilience and commitment to serving our staff and community," says Salwa Laaraichi of Station 4.
For Eric Heidenberger, a partner at The DC Restaurant Group, which owns spots like Shaw's Tavern and 801 Restaurant, the past year has been a challenge. But RAMW, he says, "has been very supportive to the D.C. restaurant community and a key a resource in helping us navigate the challenges of the pandemic. We're excited to participate in the first "normal" restaurant week in almost a year and a half. Restaurant week is a great opportunity for us reach new diners and showcase new dishes to our regular/repeat customers."
All of gay-owned Knead Restaurant + Design's locations are participating in Restaurant Week. Co-owners Jason Berry said that he hopes that Restaurant Week "offers a way for diners to begin dipping their toe by taking advantage of these well-priced promotions. Restaurant Week brings a much-needed lift to August revenue and is especially meaningful this year as so many restaurants have been hurting these last 16 months."
As for what's going to be offered at his restaurants, which include Gatsby, The Grill, Mi Casa, Mi Vida, and Succotash, most of which debuted just this year, "each of our restaurants takes a unique approach to offering seasonal additions, fun new items and crowd pleasers so that all guests have something for them during Restaurant Week."
Trusting The Tech – Why technology is key for the LGBTQ community
The LGBTQ community is harnessing the power of technology in order to promote inclusion.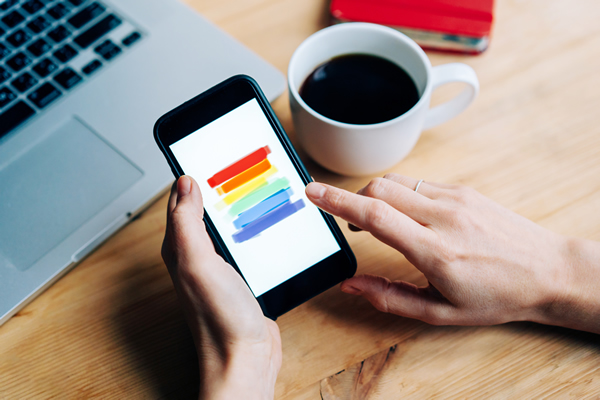 After another Pride month, we reflect on how far we've come – and how much work is still left to do. Changing perceptions and raising awareness is never easy but, in the modern world, the LGBTQ community is harnessing the power of technology in order to promote inclusion. In this article, we're going to look at the ways in which our tech is taking things to new levels:
Safety First
In 2021, we're still seeing far too many headlines about attacks on members of the LGBTQ community, and its vital that individuals are vigilant about their safety – and that of others. Technology such as the GeoSure travel safety app can provide a valuable layer of protection. Additionally, new features such as the functionality introduced by Tinder to prevent LGBTQ identification being shown in the profile of users who may be travelling through intolerant nations are incredibly important. We're all working toward a world without discrimination but, until that day comes, safety is of paramount importance. Similarly, technology comes into play when it comes to venues such as salons in areas where safety may be an issue. A lot of salons are now mindful of this and are using appointment booking software such as Booksy which allows them to manage appointments through an app to ensure that their environments are as safe and comfortable as possible.
Inform And Educate
Technology can be an incredibly powerful tool when it comes to breaking down barriers between the LGBTQ community and other members of society. The groundbreaking LGBTQ+ Experiment website has been created to do just that by allowing people to ask – and answer – questions in order to increase understanding. More importantly, innovations like this one are incredibly useful in eliminating some of the myths and misconceptions surrounding the LGBTQ community.
Uniting Communities
You may have read about a recent incident on Lake Moses, Washington, whereby a group of young boaters were recorded hurling abuse at fellow boaters who were displaying a Pride flag. During the incident, the abusers ran into trouble when their boat burst into flames…….and were rescued by the boaters with the Pride flag.
Following the incident, thousands of Washingtonians took to social media to praise the rescuers – with many describing the incident as 'karma'. As unpleasant as this event was, through the use of social media, it brought together members of all communities, thereby connecting and uniting people against this kind of mindless abuse.
Putting LGBTQ In The Picture
Improving visual representation has always been important for different ethnic and gender groups; from the introduction of African American Barbie dolls to more inclusion in television and film. Tech giant, Apple, has highlighted its commitment to visual inclusivity by introducing gender neutral and same sex couple emojis – a move which can only help to improve inclusivity.
Connecting Through Content
Historically, media channels tended to 'play it safe' when it came to the representation of minorities – something which resulted in a widespread sense of isolation and alienation. The advent of the internet – and more significantly, social media – means that representation, and the publishing of content, is handed to the masses, rather than to a few media outlets who may or may not have their agenda. For the LGBTQ community, the ability to create and publish content which highlights issues and promotes inclusion is a huge step toward better understanding and awareness.
Technology is constantly evolving and can be an extremely valuable tool when it comes to connecting and uniting communities and improving understanding. In a world where it seems that anything is possible, this technology is key to breaking down barriers and creating a world where inclusion is the norm.
How to prepare yourself in this seller's market
Millennials are putting down the avocado toast and picking up mortgages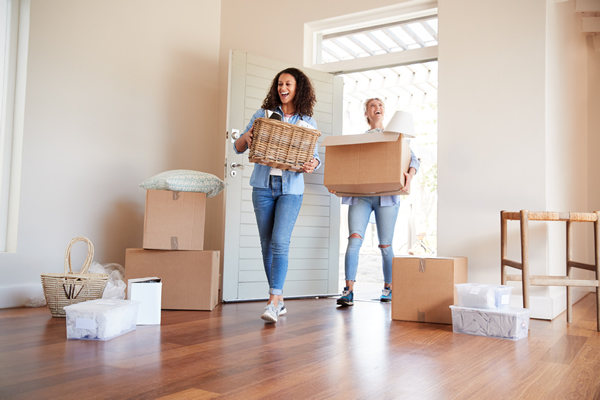 For the first time, Millennials are cutting back on spending money on multiple streaming subscriptions, $10 drinks, and avocado toast. They are dipping their feet into purchasing their first home. The current market conditions can be tough for some buyers though, so being prepared is more important now than ever.
The first step in the home buying process is finding the right real estate agent. Your agent should be trustworthy and someone who is knowledgeable about the area, sales contract, and local programs that may be able to save you money. Once you find the perfect agent, ask them to refer you to their preferred local lenders. When talking with lenders, not only should you focus on interest rates, but also ask about their in-house processing and underwriting. This may be able to give you a competitive advantage against other offers.
Once you've decided on your lender, they will need several documents to help them determine your eligible purchase price. Now is the perfect time to get your documents in order, including 30 days of pay stubs, two years of tax returns and/or W2s and 1099s, and two consecutive bank statements. Providing these documents in a timely manner can help expedite the pre-approval process and prevent delays once you're under contract. The lender will also look at your median credit score from the three major credit bureaus. Since your credit score has a direct effect on your interest rate, it's important to pay close attention to your score. If your credit score needs a little help, talk to your Realtor and lender to see if they have recommendations on how to boost your score or programs that may be able to help.
After you've been pre-approved, it's time to look at properties. With these current market conditions, properties typically don't stay on the market for very long. Depending on the type of property, some may only be on the market for a few days. Doing your due diligence at the beginning of your home search can help save you time and focus on the properties that really fit your criteria. Now is the time to make that wish list, visit neighborhoods, research schools, and get a really good idea of what you're looking for. In this market, it's very important to see a property as soon as it hits the market. By fully understanding your search criteria in advance and making sure you're available to see properties after work or on a lunch break, you will be better prepared to make an offer when "the one" hits the market.
The most common question I get now is, "should I wait?" In most cases, the cost of waiting can cost you. With historically low interest rates and housing prices continuing to increase, now is still a great time to purchase real estate. Being prepared, patient and having an informed Realtor and lender on your side will definitely help in this market.
Teddy Rojanadit is a licensed Realtor in D.C., Virginia, and Maryland with Bediz Group at Keller Williams Capital Properties. Follow him at @teddydcrealtor on Instagram, TikTok and Facebook. He can be reached at [email protected] or 202-664-3736.