In reversal, Kameny heir says no ashes for public memorial
Dramatic shift leaves fate of cemetery plot unclear
Timothy Clark, the man D.C. gay rights pioneer Frank Kameny named in his will as heir to his estate, has released a statement through his lawyers saying he has decided to inter Kameny's ashes at an undisclosed location.
The statement released Feb. 20 by the D.C. law firm Ackerman Brown represents a dramatic change from Clark's earlier statements, including comments in an interview with the Blade in 2012, that he would release half of the ashes for burial at a memorial site in the city's historic Congressional Cemetery. He reiterated his intent to inter ashes in D.C. in another Blade interview in July 2013.
"We reached an agreement on that so I'm going to keep the burial plot," Clark said at that time. "I just have to decide on when I want to have something," he said in referring to a burial ceremony at Congressional Cemetery.
Clark, 37, Kameny's housemate and longtime friend, had said in the months following Kameny's death on Oct. 11, 2011, that he planned to keep some but not all of the ashes for his personal reflection and possible interment elsewhere. Kameny died in his Washington home of natural causes at the age of 86.
"The decision regarding interment of Frank Kameny's ashes rests solely with Timothy Clark, the Personal Representative of the Estate of Franklin E. Kameny," the Ackerman Brown statement says.
"Mr. Clark has decided to inter the ashes at an undisclosed location. Mr. Clark asks the community to respect his wishes and his privacy," the statement says.
Clark's announcement through his attorneys comes more than two years after the local LGBT charitable group Helping Our Brothers and Sisters (HOBS) purchased a burial plot for Kameny's ashes at Congressional Cemetery.
HOBS and some of Kameny's gay activist friends and supporters who worked with the group to choose the location of the cemetery site said it would become a monument to Kameny's legacy and a place where people could go to pay their respects to a nationally known figure considered a hero to the LGBT rights cause.
The site they selected is located just behind the gravesite of the late gay rights leader and U.S. Air Force Sgt. Leonard Matlovich, who, with Kameny's assistance in 1975, became the first active duty military service member to come out of the closet and challenge the military's ban on gay service members. Matlovich died in 1987.
A planned ceremony and burial of Kameny's ashes scheduled for March 2012 was abruptly cancelled at the request of the estate, according to Patrick Crowley, who worked as senior manager of Congressional Cemetery at that time. Lawyers for the Kameny estate wanted HOBS to transfer ownership of the cemetery plot to the estate, Crowley said.
Although HOBS agreed to the transfer, a dispute arose over the terms of an agreement proposed by lawyers for both parties, and negotiations dragged on for nearly two years.
Last July, both sides said a tentative agreement had been reached, raising hopes among Kameny's friends and admirers that a burial ceremony and the official opening of a Kameny memorial site at Congressional Cemetery would soon take place.
"The estate has always been, and remains willing to work with gay community representatives who knew Frank Kameny in organizing a burial service and appropriate gravesite at which members of the community could pay tribute to Kameny," said attorney Christopher Brown of Ackerman Brown at that time.
However, no announcement of an agreement emerged since that time. When Ackerman Brown released its statement last week saying Clark decided to inter the ashes at an undisclosed location, neither Ackerman Brown nor HOBS would disclose where things stood with the cemetery plot.
"The estate has no further comment," said Glen Ackerman, principal partner of Ackerman Brown, in a Feb. 23 email to the Blade.
Matthew Cook, an attorney with the national law firm Fried Frank, which is representing HOBS, sent the Blade a separate statement from HOBS that made no mention of whether ownership of the cemetery plot had been transferred to the estate or whether HOBS would seek to set up another memorial site for Kameny at Congressional Cemetery.
"Dr. Kameny was a true gay rights pioneer and local legend," the HOBS statement says. "HOBS was proud to work with and for Dr. Kameny during the last years of his life. Of course, as the executor of the Kameny Estate, it is Mr. Clark's decision where to inter Dr. Kameny's ashes."
Veteran D.C. gay activist Paul Kuntzler, who worked with Kameny on gay rights activities beginning in 1962, and San Francisco gay activist Michael Bedwell, a friend of Kameny's, each told the Blade that the LGBT community should now take immediate steps to arrange for another memorial site for Kameny at Congressional Cemetery, even though the ashes won't be interred there.
The four local activists and Kameny friends who initiated plans to inter Kameny's ashes at Congressional Cemetery in early 2012 – Marvin Carter, CEO of HOBS and LGBT rights advocates Charles Francis, Bob Witeck and Rick Rosendall – have declined to comment on Clark's decision to inter the ashes at another location.
They also declined to comment on what, if anything, they may do to set up a Kameny memorial site at the cemetery now that the ashes are out of the picture.
"Frank Kameny's monumental legacy may be best remembered by laws he helped overturn, the hateful policies he defeated and the causes of equal rights he unselfishly advanced for the LGBT community," said Witeck in an email statement on Sunday.
The relationship between the four men and the Kameny estate became strained in 2012 shortly after they announced plans for a Congressional Cemetery memorial site and burial when Clark stated through his attorneys that Clark was never given the courtesy of being consulted about those plans.
Carter, however, has said Clark was informed about the plans and invited to participate in the planned ceremony.
The relationship between the four men and the estate became further strained when the estate filed individual lawsuits against each of them, charging that they took without permission items from Kameny's house that belonged to the estate shortly after Kameny's death. The men disputed the allegations, saying Clark along with Clark's lawyer at the time, Michele Zavos, gave them permission to enter the house and take an inventory of Kameny's papers and other possessions to arrange for their safe keeping.
The lawsuits, which were filed by Ackerman Brown on Clark's behalf, were later dropped after undisclosed settlements were reached in three of the cases. The court dismissed the case against Rosendall on grounds that no cause was shown to justify the complaint, according to Rosendall's attorney, Mindy Daniels.
Upon learning of Clark's decision to inter the ashes in an undisclosed location, Bedwell expressed concern that Clark, who among other things, inherited Kameny's house that the estate sold in 2012 for $725,000, was not doing his part to promote Kameny's legacy.
"Frank's trust and affection made Mr. Clark a wealthy man," Bedwell said. "His sacrifices helped make him, like all LGBTs, a freer man," Bedwell said.
"Now that Mr. Clark has disappeared with Frank's ashes along with any hopes of his repaying Frank's extraordinary generous friendship by sharing them for a memorial, I trust that others will create one without them," he said.
Clark didn't respond to a phone message from the Blade this week.
In a 2012 interview with the Blade, Clark described himself as a private person who shunned the spotlight, saying he intentionally remained in the background during the 19 years he lived in Kameny's house.
Also remaining unclear this week is what will become of a headstone and separate grave marker that HOBS and the activists working with the group installed at the cemetery site before the dispute with the estate surfaced.
Francis, the founder of the Kameny Papers Project, which arranged several years before Kameny's death to have Kameny's voluminous collection of letters and gay rights documents donated to the Library of Congress, obtained the headstone from the U.S. Department of Veterans Affairs.
Francis and others working on the memorial site said the military headstone would recognize Kameny's role as a World War II combat veteran. The stone is identical to gravestones used for soldiers and veterans buried at Arlington National Cemetery, and is issued free of charge to all deceased military veterans.
HOBS purchased a separate footstone inscribed with the slogan Kameny coined in the 1960s, "Gay is Good." Carter said HOBS paid for the footstone along with the cemetery plot through funds donated by members of the LGBT community.
HOBS had both stones installed at the gravesite in March 2012 in anticipation that plans for burial of the ashes would move forward as planned.
Cemetery officials later removed the headstone and the "Gay is Good" marker and placed them in storage, saying it was inappropriate for them to remain in place while the ownership of the gravesite was in dispute.
Bedwell, who has played a role in managing the Matlovich gravesite, said he owns a separate plot next to the Matlovich site that he offered to donate for the Kameny burial shortly after Kameny died. HOBS instead chose to buy a plot a short distance away. Now, Bedwell said he is open to donating the plot he owns for a new Kameny memorial site at the cemetery.
"Neither [Clark's] permission or Frank's ashes are required for anyone to create a memorial to Frank anywhere," Bedwell said in a comment to the Blade in October. "Millions more visit Lincoln's Memorial in Washington every year than his actual gravesite in Springfield, Ill.," he said.
"I'm confident many would be eager to contribute to the purchase of another marker bearing Frank's name," Bedwell said, in the event that the Veterans Administration stone or the "Gay is Good" stone won't be released by the estate.
Ackerman, while repeating his firm's written statement that the Kameny estate would have no further comment on Clark's decision to inter the ashes in a private location, said the estate would welcome inquiries "by anyone" interested in establishing a public memorial for Kameny.
"All they have to do is call us," he said.
Inaugural Uptown Pride to take place June 10
Festival to feature drag storytime, makers' market, DJs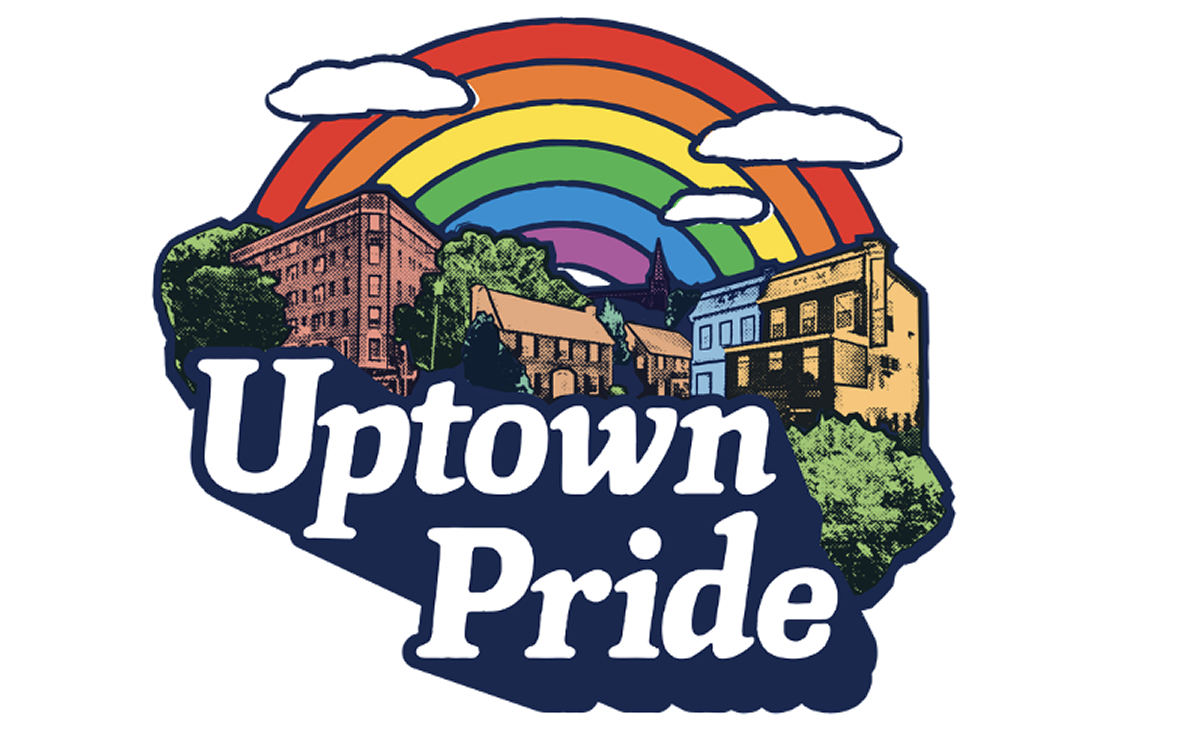 A new Pride festival is coming to D.C.
The inaugural Uptown Pride will be hosted in Sixteenth Street Heights on June 10 with Pride celebrations for Washingtonians of all ages.
The festival, hosted at the intersection of 14th Street, Colorado Avenue and Kennedy Street, NW, will feature a drag storytime, a makers' market, DJs and more. There will also be a raffle for various prizes, with all proceeds going to the Trevor Project, which provides suicide prevention services for LGBTQ teens.
The festival will be from 2-7 p.m. and is partnering with local businesses like Moreland's Tavern, Captain Cookie and Lighthouse Yoga Center for activities and refreshments.
Justin Noble, one of the organizers of the festival, said that the inspiration for the event came out of wanting a Pride experience tailored to the residents of the Sixteenth Street Heights, Petworth and Brightwood neighborhoods.
"It can be a hassle to get to downtown," Noble said. "There needs to be something in our community that supports LGBTQ+ people and the culture and all of that because we're everywhere, right? We are everywhere."
Organizer Max Davis said that the inclusion of children's events like a drag storytime was purposeful, and helps make the event more accessible to LGBTQ families and youth.
"Kids I feel are the most important in as far as just showing them, just visibly showing them that you can live out and you can be queer," Davis said. "There is no more dangerous time than now to be queer, questioning youth … So who better to welcome into the fold than kids who might be questioning their sexuality."
Davis said that a big part of wanting to bring Pride celebrations uptown was to have a physical representation of support for the LGBTQ community.
"I felt like because there wasn't anything going on in Sixteenth Street Heights — the clientele that we were serving up at Moreland's absolutely is supportive, and I never felt that it wasn't a supportive environment — but if you don't have something to actively support that I feel that your support is just words," Davis said. "If our community had someplace to attend even for one day to just be like, 'Hey, I stand with you,' … that is something that every community should have available to them to actively support the LGBTQ community."
Capital Pride announces 2023 honorees, grand marshals
Assistant Secretary of Health Levine among picks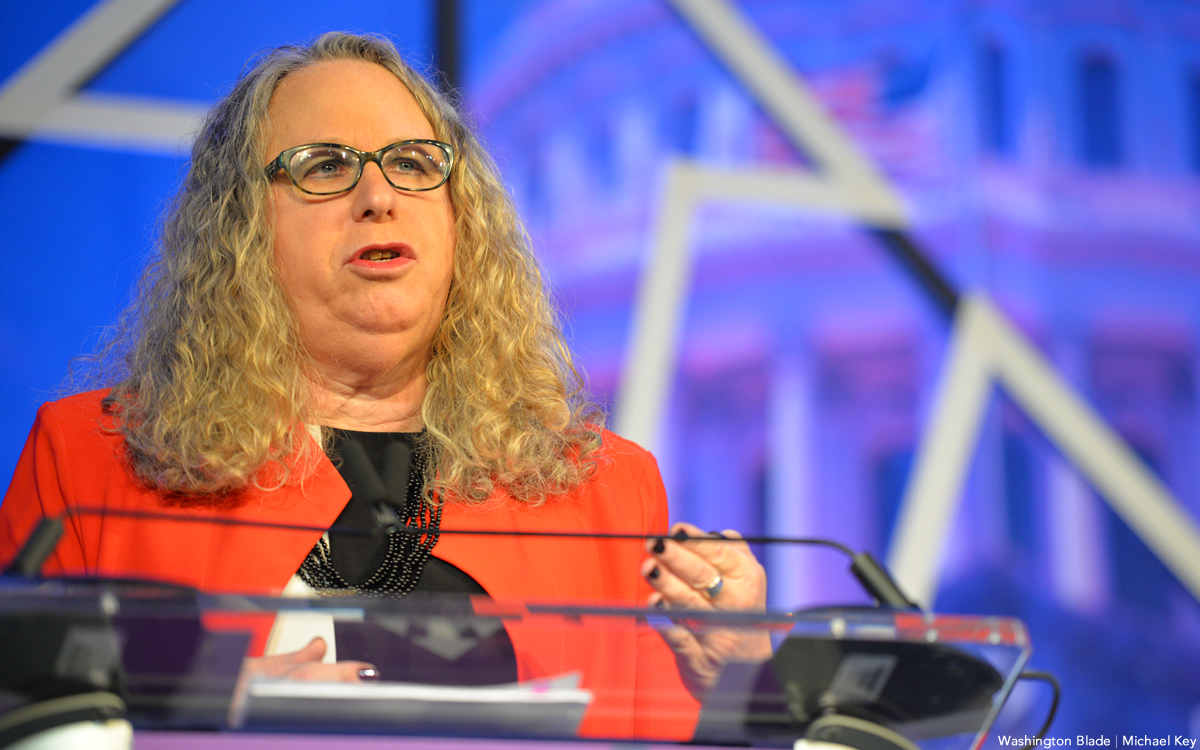 Assistant U.S. Secretary of Health Admiral Dr. Rachel Levine and acclaimed longtime D.C. LGBTQ and transgender rights advocate Earline Budd are among nine prominent LGBTQ community leaders named on Wednesday by the Capital Pride Alliance as its 2023 Capital Pride honorees.
Capital Pride Alliance, which organizes D.C.'s annual Capital Pride parade, festival, and related events, announced in a May 24 statement that it will present the honoree awards to each of the recipients at a ceremony scheduled for 7 p.m. on Friday, June 2, at the Penn Social event and catering hall at 801 E St., N.W.
"The recipients are nominated each year by members of the community," the Capital Pride statement says. "They represent individuals who and organizations that have advanced the causes of LGBTQ+ rights," it says.
The statement says Levine was selected for the Capital Pride Paving the Way Award, which "acknowledges an individual or organization that has provided exemplary contributions, support, and/or advocacy that has positively impacted the LGBTQ+ community, and whose leadership has inspired continued progress."
Levine, who was appointed by President Biden in 2021 as Assistant Secretary of Health, is a longtime pediatrician who also serves as an admiral in the U.S. Public Health Service Commissioned Corps. She became the first openly transgender person to hold the admiralty position.
Capital Pride named Earline Budd as recipient of the Capital Pride Super Hero Award, which "recognizes additional significant and important contributions to the LGBTQ+ community in the national capital region."
The statement announcing the honorees says Levine and Budd will also serve as grand marshals for the June 10 Capital Pride Parade. It says each of the other honorees will serve as parade marshals.
The announcement says the following four people have been named as recipients of the Capital Pride Hero Award:
• Shi-Queeta Lee, the D.C.-based nationally acclaimed drag performer
• Benjamin Rosenbaum, longtime congressional staffer, LGBTQ rights advocate, and LGBTQ Jewish community advocate
• Nancy Canas, president of D.C. Latinx History Project and advocate for the LGBTQ Latinx community
• Abdur-Rahim Briggs, longtime leader of the D.C.-based Project Briggs, which provides philanthropic support for LGBTQ causes.
The following two organizations were named as recipients of the Capital Pride Breaking Barriers Community Impact Award, which recognizes individuals or organizations that have "demonstrated a significant impact to the LGBTQ+ community at either the local or national level and who helped eliminate barriers for social, personal, or professional growth of the LGBTQ+ community:
• Drag Story Hour DMV
• National LGBTQ Task Force
The Bill Miles Award for Outstanding Volunteer Services, which acknowledges "exemplary contributions to the Capital Pride Alliance, its programs, initiatives, or other Pride sponsored activities," is being given to Brandon Bayton, Jr., a longtime Capital Pride volunteer, consultant, and organ transplant advocate, and LGBTQ rights advocate.
"We are fortunate to have such a vibrant honoree selection process, with so many outstanding individuals who were nominated," said Ashley Smith, president of the Capital Pride Alliance Board of Directors. "We are very pleased to celebrate these individuals at the 2023 Capital Pride Honors," Smith said in the CPA statement.
Blade names recipients of two summer fellowships
Kravis, Lev-Tov join LGBTQ news team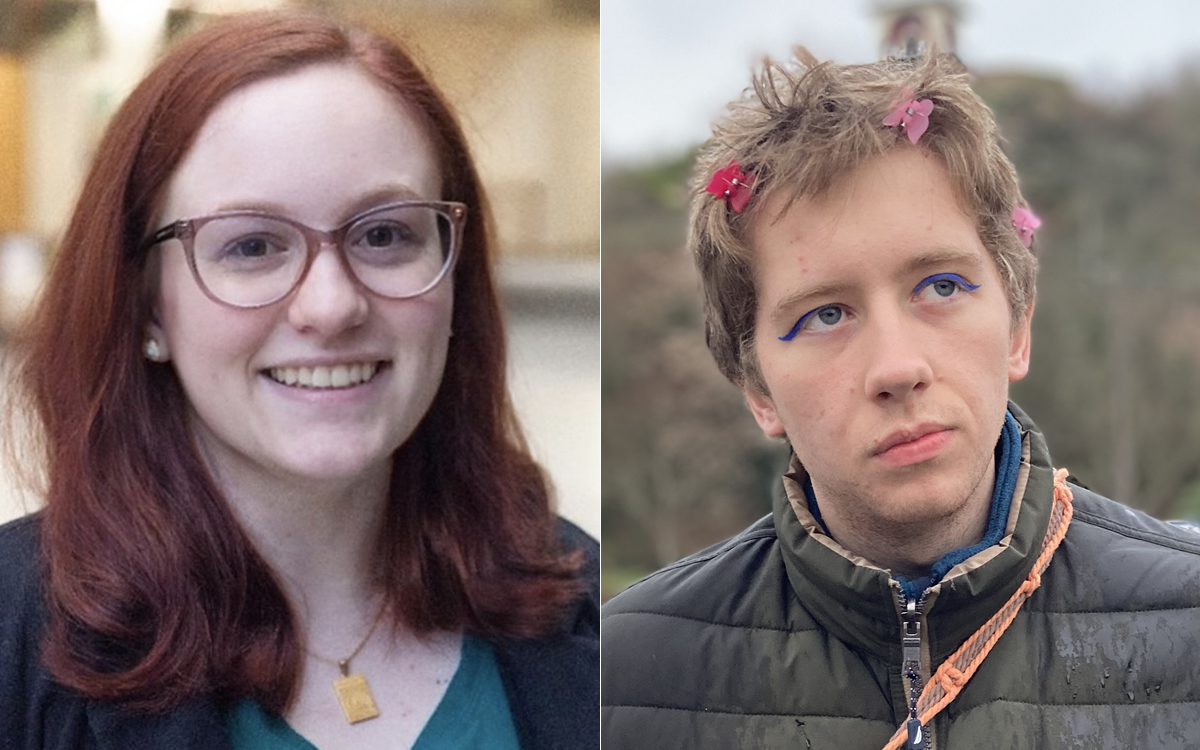 The Blade Foundation this week announced the recipients of its 2023 summer fellowship program.
Isabelle Kravis (she/they) is a senior at American University studying journalism and women's, gender, and sexuality studies. She will focus on covering LGBTQ issues in the local D.C. area for 12 weeks starting this week. The fellowship is made possible by a generous donation from the DC Front Runners Pride Run 5K event.
"I've been reading the Blade since I first moved to D.C. for my freshman year and I'm so excited to be able to contribute to such a historic paper," Kravis said. "I love covering the LGBTQ community because of the diversity of experiences that each queer person has and the joy that queer people bring to everything they do. I'm incredibly lucky to have this opportunity to be able to cover both the city and community that I love."
Joel Lev-Tov (they/them) is a senior at the University of Maryland College Park studying journalism. Lev-Tov also serves as president of the Association of LGBTQ Journalists at College Park. Lev-Tov is the sixth recipient of the Steve Elkins Memorial Journalism Fellowship, which honors the co-founder of CAMP Rehoboth. The fellow covers issues of interest to the LGBTQ community in Delaware, also for 12 weeks. The fellowship is funded by donations from the Rehoboth Beach community.
"I'm extremely excited to start reporting about my community for my community," Lev-Tov said. "The Blade is offering me a special opportunity that I'm very grateful for. I can't wait to start reporting!"
Kevin Naff, editor of the Blade, welcomed Kravis and Lev-Tov to work this week.
"We're all excited to work with Isabelle and Joel this summer," Naff said. "There's never been more news to cover and they will add an important, fresh perspective to our work. Thank you to our donors and to the Front Runners for making this program possible."
For more information on the fellowship program or to donate, visit bladefoundation.org.