Calendar: March 28-April 3
Center groups, parties, exhibits and more for the week ahead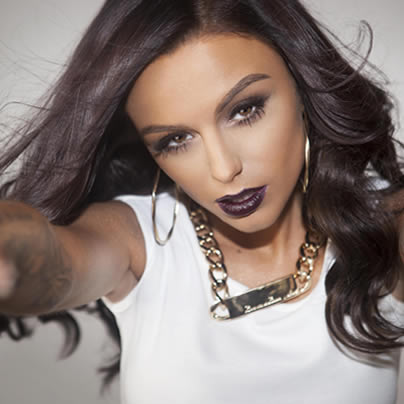 Calendar for the week ahead in LGBT D.C. events:
Friday, March 28
The Latino History Project hosts its third annual "Mujeres en el Movimiento," an event for lesbian Latinas to meet and connect, at MOVA Lounge (2204 14th St., N.W.) tonight from 6:30-8:30 p.m. The theme is "Celebrating Women of Color, Courage and Commitment." There will be drinks, Latino music and a historical digital photo exhibit. There is a $5 suggested donation. For more details, visit latinoglbthistory.org.
Chef Art Smith hosts a private dinner as part of "Taste of Pride" at his restaurant Art and Soul (415 New Jersey Ave., N.W.) tonight from 7-10 p.m. Smith, who has appeared on numerous television specials including "ABC's Lady Gaga Thanksgiving Special," will prepare a three-course dinner with red wine. There will also be a meet and greet with him. Tickets are $60. For more details and to purchase tickets, visit capitalpride.org/taste.
Bachelor's Mill (1104 8th St., S.E.) holds a happy hour from 5-7:30 p.m. tonight with all drinks half price. Enjoy pool, video games and cards. Admission is $5 after 9 p.m. Must be 21 and over. For more details, visit bachelorsmill.com.
Women in Their 20s, a social discussion group for lesbian, bisexual, transgender and all women interested in women, meets today at the D.C. Center (2000 14th St., N.W.) from 8-9:30 p.m. All welcome to join. For details, visit thedccenter.org.
Saturday, March 29
Washington Independent Review of Books hosts "Books Alive!," a literary book conference for writers, agents and book lovers, at the Bethesda Marriott (5151 Pooks Hill Rd., Bethesda, Md.) today from 9 a.m.-5 p.m. Speakers include best-selling author Jonathan Alter, cookbook author Joan Nathan and former Washington Post restaurant critic Phyllis Richman. There will also be pitch session for aspiring authors to meet with top literary agents. Tickets are $220 and include morning coffee and a box lunch. For more information, visit washingtonindependentreviewofbooks.com.
"Bring It On: The Musical," a musical adaptation of the hit blockbuster movie "Bring It On" comes to Music Center at Strathmore (5301 Tuckerman Ln., North Bethesda, Md.) for two performances today at 3 and 8 p.m. The musical was on Broadway and written by Tony Award-winning writer of "Avenue Q," Jeff Whitty. Tickets range from $31-81. For more details, visit strathmore.org.
Town (2009 8th St., N.W.) hosts DJ Chord, who will be playing pop music, tonight. Doors open at 10 p.m. Cover is $8 from 10-11 p.m. and $12 after 11 p.m. Drinks are $3 before 11 p.m. The drag show starts at 10:30 p.m. Admission is limited to guests 21 and over.
Sunday, March 30
Perry's (1811 Columbia Rd., N.W.) hosts its weekly "Sunday Drag Brunch" today from 10 a.m.-3 p.m. The cost is $24.95 for an all-you-can-eat buffet. For more details, visit perrysadamsmorgan.com.
Adventuring, an LGBT outdoors group, holds a walking tour of the Battle of Spotsylvania this morning at 9 a.m. The tour covers seven miles of trails including the Bloody Angle, where two armies were locked in combat for nearly 24 hours. Bring a picnic lunch, bug spray and $10 for transportation and trip fees. They will carpool at 9 a.m. from the King Street Metro Station (1900 King St., Alexandria, Va.). For more information, visit adventuring.org.
Monday, March 31
University of Maryland's Jewish LGBT group hosts Rabbi Steve Greenberg, an openly gay rabbi, at Theodore R. McKeldin Library at University of Maryland (Theodore R Mckeldin Library Campus Dr., College Park, Md.) in the special events room on the sixth floor tonight from 7-10 p.m. He will speak on "wrestling with God" as an openly gay Jew in the Orthodox world. For more details, visit marylandhillel.org.
The D.C. Center (1318 U St., N.W.) hosts coffee drop-in hours this morning from 10 a.m.-noon for the senior LGBT community. Older LGBT adults can come and enjoy complimentary coffee and conversation with other community members. For more information, visit thedccenter.org.
Us Helping Us  (3636 Georgia Ave., N.W.) holds a support group for gay black men to discuss topics that affect them, share perspectives and have meaningful conversations. For details, visit uhupil.org.
Nellie's Sports Bar (900 U St., N.W.) hosts poker night tonight at 8 p.m. Win prizes. Free to play. For more information, visit nelliessportsbar.com.
Tuesday, April 1
Green Lantern (1335 Green Ct., N.W.) hosts its weekly "FUK!T Packing Party" from 7-9 p.m. tonight. For more details, visit thedccenter.org or greenlanterndc.com.
The National Education Association (1537 M St., N.W.) screens "Always Be My Son," a short documentary about a family struggling with a family member's sexuality, tonight from 7-9 p.m. For more information, thedccenter.org.
SMYAL (410 7th St., S.E.) provides free and confidential HIV testing drop-in hours today from 3-5 p.m. For more information, visit smyal.org.
Wednesday, April 2
The Tom Davoren Social Bridge Club meets tonight at 7:30 p.m. at the Dignity Center (721 8th St., S.E.) for social bridge. No partner needed. For more information, call 301-345-1571.
Bookmen D.C., an informal men's gay literature group, discusses "The Queen's Throat: Opera, Homosexuality and the Mystery of Desire," an exploration of the relationship between gay men and opera, at Tenleytown Library (4450 Wisconsin Ave., N.W.) tonight at 7:30 p.m. All are welcome. For details, visit bookmendc.blogspot.com.
Thursday, April 3
British pop singer Cher Lloyd performs at Rams Head Live (20 Market Pl., Baltimore) tonight at 8 p.m. Lloyd is a former "The X Factor U.K." contestant and received fame in the United States with her hit single "Want U Back." Lloyd has previously performed at Capital Pride. Doors open at 6 p.m. Tickets are $22 in advance and $25 the day of show. For more details, visit ramsheadlive.com.
Broadway star Linda Eder performs at Wolf Trap (1645 Trap Rd., Vienna, Va.) tonight at 8 p.m. Eder played Lucy in the Broadway musical "Jekyll and Hyde." She also has 14 solo albums and one duets album. Tickets range from $44-48. For more details and to purchase tickets, visit wolftrap.org.
Rude Boi Entertainment hosts "Tempted 2 Touch," a ladies dance party, at the Fab Lounge (2022 Florida Ave., N.W.) Doors open at 10 p.m. Drink specials $5 and vodka shots $3 all night. No cover charge. Admission limited to guests 21 and over. For more details, visit rudeboientertainment.wordpress.com.
'Hamlet/Horatio' queers the Bard
A contemporary take on classic play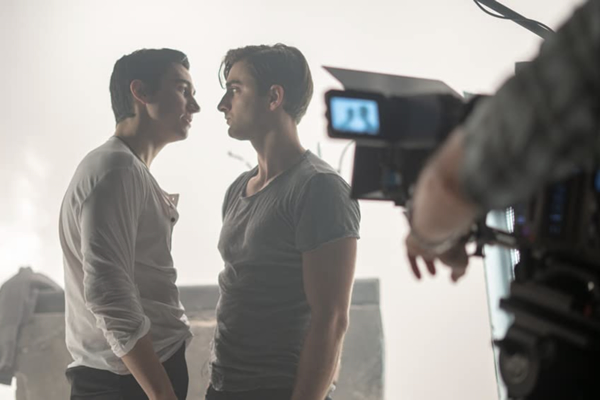 While it's not exactly a pressing topic in most people's lives, the subject of Shakespeare's sexuality has been hotly debated by literary scholars, theater artists, and historians for centuries. After all, not only are his plays filled with gender-swapping characters and sexual confusion, he also wrote a series of sonnets, widely considered the most romantic poems ever composed in English, and dedicated them to a mysterious young nobleman. Even in the Renaissance, when the "cult of male friendship" was a real thing and male artists could create breathtakingly erotic depictions of young men to be displayed in a church, such a bold gesture of affection from one man to another must have raised at least a few eyebrows.
It's a controversy that isn't likely to go away, considering the fact that anyone who might give us first-hand knowledge on the subject has been dead for about 400 years. And while some contemporary artists, across various media, have been willing to explore the playwright's work through the lens of his possible queerness, most cinematic interpretations – with a few notable exceptions, like Derek Jarman's "The Tempest" – have kept things decidedly hetero-centric.
Paul Warner, director of the soon-to-be-released "Hamlet/Horatio," which riffs on a central but often overlooked relationship in Shakespeare's most famous tragedy, can't imagine why. A graduate of both Harvard and the American Film Institute, Warner is currently a senior instructor of acting, directing, and producing at The New York Film Academy. He's also a Shakespeare veteran, having been involved in many stage renditions of the Bard's work (including a rock musical version of "Twelfth Night") throughout his career – and as he tells the Blade, it's obvious to him that the revered wordsmith was either gay or bisexual.
"There's a tremendous amount of exploration of gender fluidity in his work," he says. "There's never a label on it, but it permeates Shakespeare. There are a lot of characters who fall in love with the soul of the person, rather than the gender."
While these themes may run through comedies like "Twelfth Night" or "As You Like It," they are considerably less obvious in Shakespeare's tragedies – but that doesn't mean they aren't there, and Warner's new film hinges on using them to illuminate one of the most iconic male friendships in literature.
For those unfamiliar, Shakespeare's "Hamlet" is the tale of a Danish prince, who is visited by the ghost of his recently murdered father and told to seek revenge against the murderer – none other than Hamlet's uncle Claudius, who has not only murdered the former king but taken both his throne and his queen, Gertrude, who is also Hamlet's mother. Seeking confirmation of the crime, Hamlet engages in a game of cat-and-mouse with his uncle, in which both Hamlet's presumed future bride Ophelia and her brother Laertes become unwitting pawns. It goes without saying that things don't turn out well – but through it all, one steadfast and trusted figure stands at Hamlet's side: his confidant and companion, Horatio.
"Hamlet/Horatio," which Warner directed from a script by playwright (and frequent stage collaborator) David Vando, reimagines the original play through an unusual conceit. In his dying moments, Hamlet (Andrew Burdette) sees his life flashing before his eyes, unfolding through a film that Horatio (Themo Melikidze) directs to tell his story. By shuffling dialogue, resetting scenes, and leaning deeply into subtext, Warner reframes Hamlet's experience into a story of spiritual and humanistic transcendence – and reveals a deeply intimate, loving bond between these two young men that has perhaps been "hiding in plain sight" all along.
Despite his interest in exploring the relationship between Hamlet and Horatio, Warner insists that he didn't set out to make a "gay Shakespeare movie." Indeed, he is adamant even now that the intention behind Vondo's script (which he helped to adapt into a screenplay) was to "move past" that conception.
"Part of it was trying not to make things 'gay' or 'straight,' or 'this' or 'that' anymore, but really it's about two people who are flip sides of each other," he explains. "They are spiritually two sides of the same coin. And they're in a relationship – it's clear that there is a repressed love there. And there's definitely an exploration of their homosexuality, but also of the fluidity of their sexuality.
"This is why the characters don't wear their 'identities' on their sleeves. We wanted to show something more closely resembling a non-binary, gender-fluid vision of love and sexuality that is part of a bigger story about human truth."
To that end, he envisioned a version of "Hamlet" in which the Denmark's Elsinore castle bears a striking resemblance to the Trump White House. The usurping king is a despot posing as a benefactor, exerting an authoritarian rule and setting the people close to him against each other to prove their loyalty, while his queen turns a blind eye to his increasingly obvious misdeeds.
"Maybe I'm one-sided, but I tried to depict the 'ickyness' of that Melania-Donald dynamic between Claudius and Gertrude," he says, not without a hint of relish. "I've made her trapped, like Melania, and she's constantly drinking – she's an immigrant, and she doesn't speak up because she's controlled by his finances."
In this light, as Warner puts it, Hamlet becomes a hero of resistance, who rises to "slay" fascism, while Horatio is the filmmaker who documents it.
"It's ultimately about Hamlet's spiritual journey to fullness. It's about him letting go of rage and embracing the light."
Yet, when all is said and done, it's the love between these two men that shines above all else.
"Hamlet eventually sacrifices his life to root out the corruption and to save those who are still alive – which is basically Horatio, his boyfriend, because everybody else is dead."
"Hamlet/Horatio" has already played in front of audiences at a number of festivals, and has taken honors at several of them – including a Best Feature Film Jury Award at last year's inaugural FFTG (Film Festivals to Go) Fest. The enthusiastic response has given Warner reason to hope that, despite his "queering of Shakespeare," his film will find a "wider audience" when it debuts on digital platforms in June.
Of course, Warner fully expects to be raked across the coals for some of the liberties he has taken, such as the choice to cast transgender Native American actor Ty Defoe as the Player King and the inclusion of a scene where Hamlet and Horatio take a steam bath together – "which is not anywhere in 'Hamlet,' of course," he says with a laugh.
Still, for him, his approach to the material rings true to the source.
"There's a timelessness in the way Shakespeare deals with the danger of rage, and how that threatens spirituality. In his plays, you always have the autocrats, who want to control others, and then you have the purer people, usually younger characters, like Hamlet, who propose love, who pursue a humanitarian vision against them. That's Shakespeare, who was, of course, writing under a monarchy.
"And after four years of authoritarian rule under Trump, I think he was way ahead of his time."
Palm Springs remains an ideal outdoor getaway
Safe fun with hiking and other socially distanced activities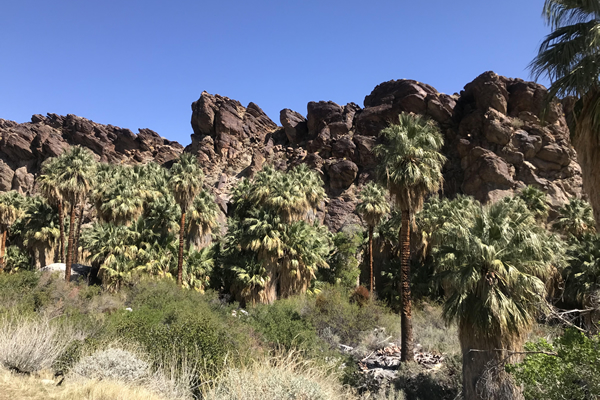 Palm Springs, Calif., is a perfect vacation destination when you feel safe to travel again. With outdoor hiking and adventures, there is plenty of room to spread out and enjoy the desert and mountain scenery. The LGBTQ life is back open (socially distanced, outdoor dining and drinking, masks required). The LGBTQ scene includes a vibrant downtown street, Arenas, where most (but not all) of the bars are located.
The city is nestled against the dramatic San Jacinto Mountains. The often-snow-capped peaks tower over the desert community, which is arguably the most LGBTQ friendly in the country. Palm Springs is one of seven or so cities in the Coachella Valley.
GETTING THERE: I took Southwest Airlines, which has stared service from Oakland, Denver, and Phoenix, to the very handy Palm Springs Airport. To get downtown, walk across the street to the Civic Center bus (#2) to get to your hotel. I took American back through Phoenix. Service was top notch on my favorite legacy carrier, which had great in-flight entertainment and charging stations for your devices in the seat. You can also take Amtrak direct three times a week or do an Amtrak bus/train combo to get to Palm Springs. The Sunline system also runs a bus to Riverside to connect with the commuter rail system into Los Angeles.
WHAT TO DO: Hike the Indian Canyons, the ancestral home of the Agua Caliente Band of Cahuilla Indians. The desert oasis features the native Washington fan palm trees, which are the only palms actually native to the Golden State. Both Andreas and Murray Canyons are great for hiking. Palm Canyon runs along a river filled with palms and is an easy hike for all. Bring plenty of water as it can get hot on the trail.
Also hike the Henderson Trail as well or the trails at the end of Ramon Street. Both are free. Check out the modern mid-century architecture including north of downtown.
Don't miss the LaQuinta Farmers Market on Sundays in Old Town LaQuinta (down the valley a bit). The LaQuinta Resort nearby was the destination for movie stars like Greta Garbo where you can still see her house. The beautiful grounds are worth a visit even if you don't stay at this posh resort. Stop by Lulu's Home and Fashion Accessories in Old Town La Quinta.
Visit the Lotus Garden Center in Palm Desert for art work and garden accessories. Take the Tram to the top of the mountain. Advance reservations are required.
Early risers may want to go for a walk or a run with the Palm Springs Front Runners/Walkers. Get the meeting times and locations at psfr.org. Work out at the World Gym. Day passes available.
WHERE TO EAT: The Public Greens Café has great juices. Enjoy the French pastries at Peninsula Pastries. Bouschet Wines also serves food in the parking lot on weekends. The creative bistro food is a must (www.boushet .com). You will find all three just south of downtown in the Sun Center strip mall. Nature's Health Food (555 Sunrise) has great and healthy salads and other treats. Enjoy the take-out food at the park across the street.
Sherman's Restaurant is great for New York-style deli food. You will find them downtown. The Native Food Café has a great meat free taco salad. Casa Mendoza's Restaurant in La Quinta has great Mexican Food.
NIGHTLIFE: There's a bar for everyone on Arenas Avenue downtown. Stacy's has jazz and piano. Hunter's is great for happy hour. You will find the leather crowd at the Eagle 501. Quad Z and Chill Bar are also fun as are Black Book Bar and Grill and Streetbar. Do some shopping at Gay Mart while you are in the neighborhood. All have set up outside seating to maintain social distancing and masks are required.
The Tool Shed at 600 E. Sunny Dunes Road is also fun. Enjoy a slice of pizza for $1. Farther out is the Barracks, which has a packed Sunday beer bust.
WHERE TO STAY: You cannot beat the value of the Motel 6 Downtown (660 S. Palm Canyon Drive). Just steps from Starbucks, the French Bakery, the Organic Restaurant, the Antiques District, and the Tool Shed Bar. Other options include the LGBTQ resorts, including those on Warm Sands Drive (just east of downtown). The Best Western downtown is also handy (and is right next to the Arenas area). I have also stayed at the Courtyard by Marriott. Also recommended is the Ace Hotel and Saguaro. You will find the LGBTQ resorts on Warm Sands and other locations. The Santiago resort is also very nice.
UPCOMING EVENTS: The Dinah Shore golf tournament has been moved to this fall. The Pride Parade may (or may not) be held in November.
TRAVEL TIPS: Summer is your value season as temps can be toasty. Also, you will need a reservation on weekends as the city is quite popular with the LA crowd. During the week is quieter.
Check current COVID-19 restrictions before any travel. When I was there, masks were required everywhere – inside and out including on hiking trails and sidewalks. Check COVID-19 travel recommendations from the CDC, the state of California, and Riverside County before booking your reservation to the area.
For more information, Visit Palm Springs, the official tourism website, has all you need to plan your Palm Springs vacation (visitpalmsprings.com). Check out their LGBTQ guide which has all the information you need including on the variety of LGBTQ resorts.
Bill Malcolm is America's only LGBTQ value travel writer. Based in Indianapolis, he has written more than 30 columns that have appeared in LGBTQ publications around the country. His opinions are his own. He is not recommending travel unless authorized by the CDC, the State of California, and Riverside County. Check current COVID travel recommendations and restrictions before deciding to travel.
Essential tips for COVID-free travel
Be ready for a patchwork of confusing rules this summer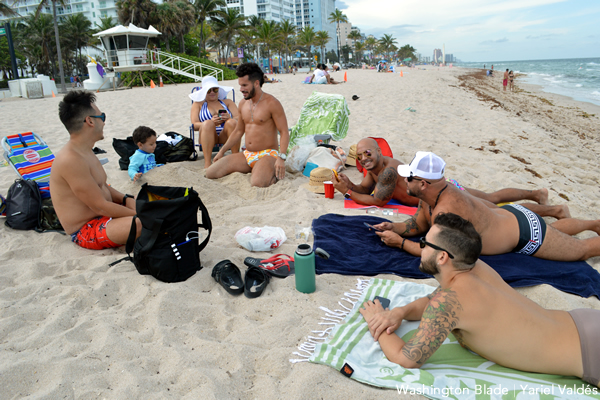 COVID-19 will make travel a bit more complicated this summer. Going to Europe? Taking a cruise? Visiting Hawaii, San Juan or St. Lucia? Or maybe you are planning a road trip? The rules for traveling responsibly during COVID vary greatly. Be ready to encounter a patchwork of confusing rules and requirements this summer.
Depending on what you choose to do for your well-earned escape, it is going to be necessary to educate yourself on what to expect; how to travel by the rules; and be ready to prove you have a negative COVID-19 test (and it may cost you to prove it). Trust, prepping for your trip in advance will pay off.
Your health, safety, peace of mind, and fun are an important part of the travel experience. Here are five essential tips for to ensure you have a fabulous summer getaway.
1. Research before booking your trip. Before you book your trip, be sure to understand how COVID-19 has changed the experience. Nearly everything about travel has changed due to COVID-19. Hotels, airplanes, trains, theme parks, destinations and resorts have all have modified safety precautions in place. The good news is that you will likely find fewer crowds, more space and enhanced cleaning. You may also find limited services such as curfews with bars and restaurants closing early. A driving trip within the U.S. likely will find fewer restrictions compared to an island trip.
2. Make reservations and buy tickets in-advance. Before leaving for your trip, you should book your restaurant reservations and reserve your tickets to a museum or attraction. While you might not like having to plan out your vacation in advance, you will likely find it hard to do all the things you want to do by waiting. COVID-19 means capacity restrictions, so there is limited availability especially on weekends and during peak periods. You can always make changes when you are there.
3. When flying give yourself extra time at the airport. Many stores and food establishments may still be closed or have limited service, so it will take longer to buy food and drink. Some airlines have also eliminated beverage and snack service in coach, so be ready to "Bring Your Own." If you are used to flying first class, be ready for a curtailed (i.e. downgraded) experience as well.
4. Stay at a trusted hotel. Staying at a hotel is perhaps one of the most important travel decisions you will make. Most hotels have developed respected cleaning protocols to keep you and their employees safe. Among the hotel industry's leaders is The Four Seasons. The Four Seasons has developed "Lead With Care" that includes both obvious hotel guest protocols and enhanced procedures behind-the-scenes including employee trainings. The Four Seasons also developed an app that provides guests with the high-standard customer service the luxury chain is known for while providing guests with privacy and limiting interactions with the team. COVID-19 has increased the costs for many hotels so it is important to stay with a trusted brand that you can count on to deliver on the safety measures promised.
5. Proof of a negative COVID test. The most complicated and expensive part of COVID-free travel will be meeting a requirement, if needed, to prove you have a negative COVID test. Hawaii, San Juan, cruise ships and other travel experiences are requiring that travelers prove they are COVID negative upon arrival at the destination or before starting your trip. Some destinations even require a mid-trip test to prove, again, that you are still COVID negative. Hawaii implemented a program that requires travelers to the islands to use a 'trusted partner' (so you can't use any test and vaccinations are not accepted). You must create an account at travel.hawaii.gov, download an app, and submit results upon arrival from a COVID test within 72 hours of arrival from a trust partner. Coming from Philadelphia through Chicago, that means I had to order an expensive test from American Airlines that was sent to me by UPS, the test included a virtual call to prove my identity and a virtual assistant to show me how to properly take the nasal smear.
Within a day of sending my test back via UPS, I had my results. I printed out my negative test, uploaded my results and also downloaded the QR code to my phone. Aloha! Are you negative? Mahalo.
Jeff Guaracino is the author of two books on LGBT travel, a syndicated travel columnist and a tourism executive with more than two decades in the industry.