Carney: ENDA would make executive order 'redundant'
LGBT advocates pounce on notion that directive unnecessary if law enacted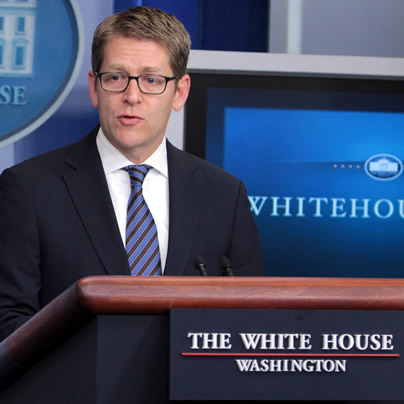 White House Press Secretary Jay Carney said Thursday he believes passage of the Employment Non-Discrimination Act would make "redundant" an executive order barring LGBT discrimination among federal contractors — an assertion that advocates say is untrue as they continue to press for both legislation and the directive.
Carney made the remarks in response to a question from the Washington Blade on whether passage of ENDA — which has already passed the Senate, but remains pending in the House — would change the thinking of President Obama on the executive order, which he continues to withhold despite continued pressure from LGBT rights supporters.
"I think if the law passed — and I'm not a lawyer — and I haven't read every sentence of the law, but I think if a law passed that broadly banned this kind of employment discrimination, it would make redundant an executive order," Carney said.
Carney articulated his belief that an executive order would be "redundant" in the event ENDA became law after emphasizing the broad-based protections under the bill, which applies not just to federal contractors, but to many public and private employers.
"I think the employment non-discrimination legislation, the Employment Non-Discrimination Act, would broadly apply, and that's one of the reasons why we support it," Carney said. "Because it's a broad solution to the problem, and it ought to be passed by Congress."
When the Blade pointed out there are possible instances of LGBT discrimination that ENDA wouldn't cover, but may be covered under the executive order, Carney called such potential acts of anti-LGBT job bias "hypothetical."
"Well, that could be, hypothetically, but I think we'd like to see the legislation passed," Carney said. "That would be a good thing."
LGBT advocates disputed the notion that an executive order barring LGBT discrimination would be redundant if ENDA were law, saying both are necessary to enable greater legal protections for LGBT workers.
Fred Sainz, vice president of communications for the Human Rights Campaign, said his organization is directly at odds with Carney's assertion and blasted the White House spokesperson for being "completely out of step."
"We couldn't disagree more," Sainz said. "Even if ENDA passed tomorrow, we'd still want the EO. His assertion is completely out of step with over 60 years of social change strategy related to enduring legal protections for race and gender and more recently for hate crimes and non-discrimination protections on the basis of sexual orientation and gender identity. What he's asserting is the equivalent of saying that if ENDA passed tomorrow, we wouldn't need non-discrimination laws in the majority of states that still don't have them. That's absolutely not the case."
Other categories for individuals — race, color, religion, sex or national origin — are protected under current law by Title VII of Civil Rights Act of 1964, which is enforced by the U.S. Equal Employment Opportunity Commission, and by Executive Order 11246, which is enforced by the Labor Department's Office of Federal Contract Compliance. Both were put in place under former President Lyndon Johnson.
Ian Thompson, legislative representative of the American Civil Liberties Union, said both ENDA and an executive order are needed to provide "parallel protections" for LGBT people enjoyed by other categories of workers.
"Race discrimination, for example, is prohibited under both Title VII of the 1964 Civil Rights Act and Executive Order 11246," Thompson said. "It's certainly our opinion and our view that the same should apply to LGBT workplace discrimination as well. Even if ENDA were to be passed and signed into law tomorrow, we would still advocate for and want the executive order, and absolutely, definitely do not see it as redundant."
Rea Carey, executive director of the National Gay & Lesbian Task Force, also insisted that legislation and an executive order are necessary to provide full protections to LGBT workers.
"We need both," Carey said. "We urge the president to use his power and act immediately with an executive order that protects millions of LGBT employees who work for federal contractors and we urge Congress to follow the lead of the Senate and pass ENDA. Rights delayed are rights denied."
One difference between the executive order and ENDA would be the enforcement mechanism. If ENDA were law, anti-LGBT discrimination would be still be allowed by small businesses, or companies with fewer than 15 employees, as well as by religious organizations in a broader way than other groups because of ENDA's religious exemption. But if an executive order were in place — and modeled after the existing executive order barring discrimination among other groups — companies exempt under ENDA could face penalties as long as they do $10,000 a year in business with the U.S. government.
According to Freedom to Work, under ENDA, a victim must first file a complaint with the EEOC before an investigation into anti-LGBT workplace discrimination can take place. But under the executive order, the Labor Department could proactively investigate a company for such discrimination — even if no complaint were filed. In fact, the Labor Department regularly conducts audits of federal contractors to determine if they've engaged in discrimination under the current directive.
Tico Almeida, president of Freedom to Work, took Carney to task, saying he's incorrect and apparently unfamiliar with the Obama administration's work against employment discrimination.
"When he calls the executive order 'redundant,' Mr. Carney is wrong on the law, and surprisingly, he's even wrong on the facts about the Obama administration's own successful record enforcing the existing executive order banning racial and sex discrimination at federal contractors," Almeida said. "In order to have full equality under the law, LGBT Americans need both the statute and the executive order because they have distinct enforcement procedures, and more discrimination can be prevented when both policies work in tandem."
Almeida added that Carney should consult with "dedicated public servants" at the Labor Department, which, among other victories, under Executive Order 11246 recently won a $2.2 million settlement with federal contractor Cargill in a set of hiring discrimination cases on behalf of nearly 3,000 African-American, Latino and female job applicants — even with a law barring this discrimination in place.
"LGBT Americans deserve these same workplace protections that the Obama Labor Department has been enforcing for other hardworking Americans," Almeida said. "There's no good reason to leave only the LGBT community out of the workplace protections that have been applied by the Labor Department to everyone else."
Also during the briefing, Carney responded to an email from Democratic National Committee Treasurer Andrew Tobias in which he told LGBT donors on an off-the-record listserv the executive order should be signed and its absence is "frustrating and perplexing."
"I think that there are lot of strongly held views on these matters," Carney replied. "The president believes very strongly in employment non-discrimination. That's why he has urged Congress to act on the ENDA legislation. We've seen some progress on that. It needs to be completed. Those who oppose it are standing in the way of history and they'll look foolish in the future as future generations look back at that stance and recognize it for what it is. I just don't have any updates for you on the EO that you mentioned."
Pope, Canterbury archbishop, Presbyterian leader denounce criminalization laws
Religious officials made comments after leaving South Sudan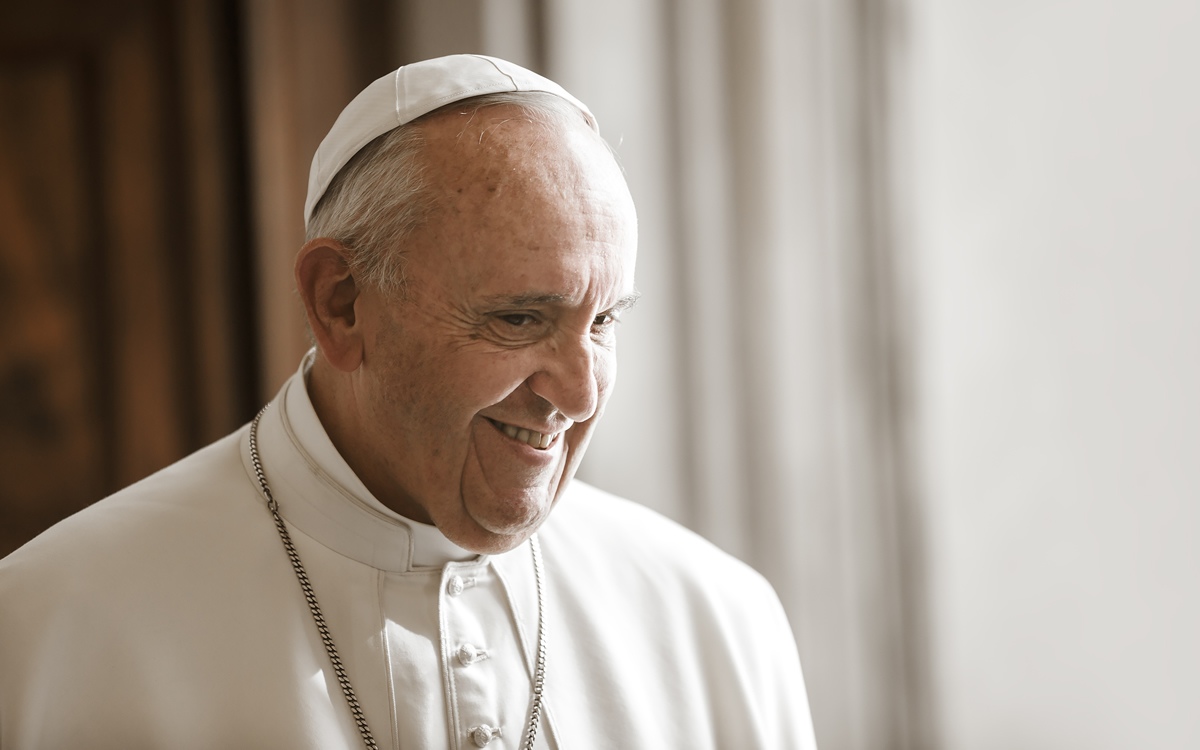 Pope Francis, Archbishop of Canterbury Justin Welby and the world's top Presbyterian minister on Sunday publicly denounced laws that criminalize LGBTQ and intersex people and said their respective churches should welcome them.
The Associated Press noted Francis told reporters during a press conference onboard his plane after it departed from South Sudan that "criminalizing people with homosexual tendencies is an injustice." Welby and the Rt. Rev. Iain Greenshields, the Presbyterian moderator of the Church of Scotland, were standing alongside the pontiff.
"There is nowhere in my reading of the four Gospels where I see Jesus turning anyone away," said Greenshields, according to the AP. "There is nowhere in the four Gospels where I see anything other than Jesus expressing love to whomever he meets."
"And as Christians, that is the only expression that we can possibly give to any human being, in any circumstance," added Greenshields.
Francis during an exclusive interview with the AP on Jan. 24 described criminalization laws as "unjust" and said "being homosexual is not a crime."
The pontiff acknowledged some Catholic bishops support criminalization laws and other statutes that discriminate against LGBTQ and intersex people. Francis told the AP that cultural backgrounds contribute to these attitudes, and added "bishops in particular need to undergo a process of change to recognize the dignity of everyone."
Francis spoke to the AP ahead of his trip to Congo and South Sudan, which is among the nearly 70 countries in which consensual same-sex sexual relations remain criminalized.
The pontiff — who was a vocal opponent of the marriage equality bill in his native Argentina before then-President Cristina Fernández de Kirchner signed it into law in 2010 — now supports civil unions for same-sex couples.
The AP notes the Church of Scotland allows same-sex marriages. The Church of England allows clergy to bless same-sex civil marriages, but LGBTQ couples cannot marry in its churches.
The Vatican's tone towards LGBTQ and intersex issues has softened since Francis assumed the papacy in 2013, but the church continues to consider homosexuality a sin. The Vatican also opposes marriage for same-sex couples and blessings of them.
Defendant pleads guilty to second-degree murder in Vongell Lugo case
Victim's family, friends upset over proposed 14–16-year sentence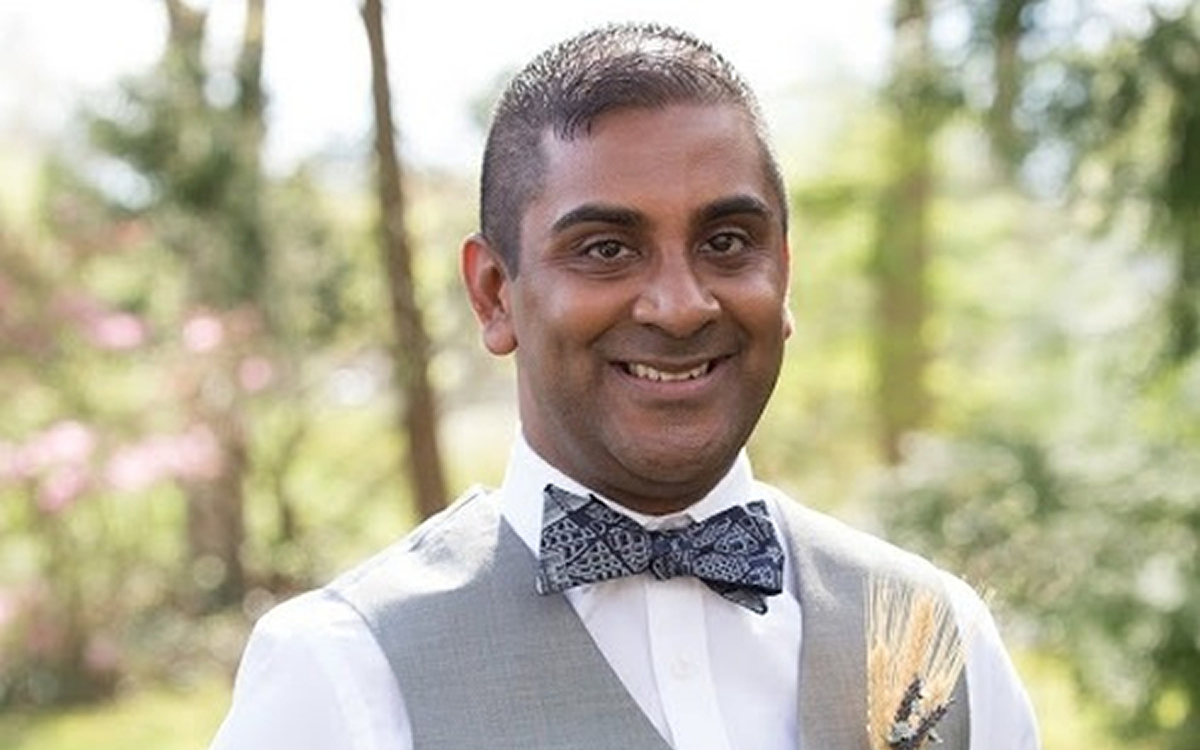 A man charged with premeditated first-degree murder while armed for the Jan. 6, 2019, murder of gay corporate manager Vongell Lugo pleaded guilty in D.C. Superior Court on Feb. 3 to a single count of second-degree murder while armed as part of a plea bargain deal offered by prosecutors.
As part of the plea offer, prosecutors with the Office of the U.S. Attorney for the District of Columbia agreed to drop the first-degree murder charge against Collin J. Potter. The agreement also calls for prosecutors to ask Superior Court Judge Marisa Demeo, who's presiding over the case, to hand down a sentence of between 14 and 16 years of incarceration.
Under D.C. law, second-degree murder carries a maximum sentence of 30 years in prison. Demeo scheduled a sentencing hearing for April 14.
Potter's guilty plea came just over two weeks after Demeo on Jan. 23 approved a motion filed by Assistant U.S. Attorney Peter V. Roman, the lead prosecutor in the case, calling for dismissing four of the five counts in a grand jury indictment against Potter handed down in August 2019. The counts that were dismissed included two counts of felony murder while armed (aggravating circumstances,) kidnapping while armed and first-degree sexual assault while armed.
Roman's motion called for leaving in place the fifth count of the grand jury indictment: First degree murder while armed (premeditated) (aggravating circumstances.)
Court records show that Demeo dismissed that charge as part of the plea agreement after Potter pleaded guilty on Feb. 3 to second-degree murder while armed. The three-page plea agreement filed in court also states that second-degree murder while armed carries a maximum sentence of 30 years of incarceration under the D.C. criminal code and the judge would make the final decision on a sentence for Potter.
Two longtime friends of Lugo, Hannah Davis Hastings and Juliana Geller, who said they were representing Lugo's family, spoke briefly at the Feb. 3 court hearing at the invitation of Roman.
The two women told Demeo, who agreed to allow them to speak, that they and the Lugo family strongly object to the recommendation that Potter be sentenced to a range of 14 to 16 years, saying a just and fair sentence should be significantly greater. Demeo told the two women they and others will be given an opportunity to speak and express their concerns at the April 14 sentencing hearing.
At the time of his arrest in January 2019, Potter, then 26, was serving as a U.S. Navy Hospital Corpsman. He has been held in jail since the time of his arrest and during the more than four years that the case has gone on while Potter was awaiting a trial.
In addition to agreeing to the plea bargain offer, Potter agreed to and signed a one-page Proffer of Facts submitted by prosecutors that states in detail the allegations against Potter that it says would have been proven beyond a reasonable doubt had the case gone to trial.
The proffer begins by telling what happened after police and prosecutors say Lugo and Potter met, possibly for the first time, at the Black Whiskey bar at 1410 14th St., N.W., on the night of the murder, at which time Lugo, 36, invited Potter to Lugo's apartment in Northwest D.C.
"On Sunday, Jan. 6, 2019, at approximately 4:00 a.m., the defendant and the decedent, Vongell Lugo, were alone together in Mr. Lugo's apartment," the proffer states. "The defendant, unprovoked, attacked Mr. Lugo," it says.
"The defendant grabbed one of Mr. Lugo's kitchen knives from Mr. Lugo's kitchen and stabbed Mr. Lugo 42 times in the head, neck, and torso, killing Mr. Lugo," the proffer continues. "According to the autopsy, the defendant, at some point, also punched Mr. Lugo in the face. Mr. Lugo never fought back, beyond yelling for help," the proffer says, adding that two neighbors heard the calls for help and called 911.
"The defendant then attempted to clean the knife in the kitchen sink," it states. "Around 4:20 a.m. the defendant pulled Mr. Lugo's naked body out into the hallway, where Mr. Lugo's body was found and the defendant was discovered by MPD officers, standing naked, uninjured and covered in Mr. Lugo's blood."
Court records show that Potter was arrested on the scene and initially charged with second degree murder while armed. The court records show that prosecutors a short time later offered a plea bargain deal, which Potter through his attorney rejected, calling for Potter to plead guilty to second-degree murder in exchange for the government not seeking a grand jury indictment on first-degree murder and other charges.
The grand jury then handed down its five-count indictment in August 2019 that included the first-degree and felony murder charges along with the sexual assault and kidnapping charges. For reasons not provided in the public court records, the case dragged on for the next four years until a trial was scheduled to take place April 18, 2023.
The U.S. Attorney's office has declined to provide a reason why it decided for the second time to offer the plea agreement for second-degree murder rather than bring the case to trial on the charges included in the indictment.
"They just said this is a better way to do this," Hastings, Lugo's friend, told the Washington Blade after the Feb. 3 court hearing. "I don't think there is anything more we can share on this," she said.
Attorneys familiar with criminal cases like this one have said prosecutors sometimes offer plea deals when they are not certain they can obtain a conviction on first-degree murder in a trial by jury. In some cases, when the defense establishes a "reasonable doubt" in the minds of jurors, a verdict of not guilty has emerged in murder cases, lawyers have said.
Longtime D.C. defense attorney Mindy Daniels, who practices criminal law, said in the case of the Lugo murder, where there were no witnesses and the two men were in the apartment alone, the defense could have argued a number of claims that could have an impact on a jury, such as the defendant acted in self-defense after being attacked by the victim.
"Trials are unpredictable," Daniels said. "When they can get a murder conviction without a trial, the government is often satisfied," she said, noting that a second-degree murder conviction is still a murder conviction. "A jury might find the defendant guilty of second-degree murder at trial anyway," Daniels said. "A plea is a guaranteed conviction."
At the time of his death, Lugo had been working as an associate manager for TransPerfect, an international company that provides foreign language translation, interpretation and business services. Friends of Lugo have said that prior to joining TransPerfect in 2016, he worked as a manger in the men's clothing department at the D.C. area retail stores J Crew, Bloomingdale's, and the Gap beginning in 2003.
"Everyone who met him became his friend for life," said one friend who was among more than 80 people, including co-workers, friends and family members, who attended a Jan. 11, 2019, candlelight vigil celebrating Lugo's life. "Vongell was a beloved son, brother, uncle and coworker" who was a "kind soul, the center of the party, and a beacon of light that made an impact on everyone he came into contact with," another friend said at the vigil.
Va. House committee advances two anti-transgender bills
Democrats in state Senate will likely kill measures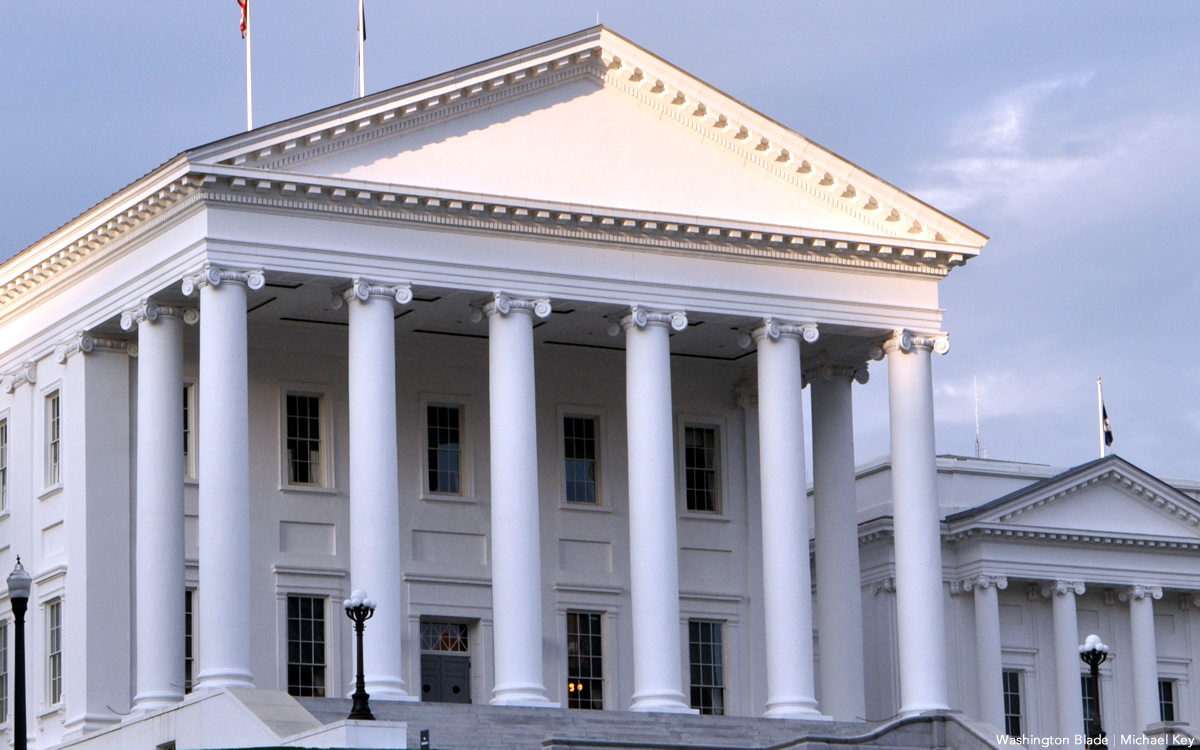 The Virginia House Education Committee on Friday approved two anti-transgender bills.
Committee members advanced state Del. Karen Greenhalgh (R-Virginia Beach)'s House Bill 1387, which would ban transgender athletes from school sports teams that correspond with their gender identity, and state Del. Dave LaRock (R-Loudoun County)'s House Bill 2432, which would require school personnel to out trans students to their parents.
A House subcommittee earlier this week approved the two bills.
Republicans control the House of Delegates by a 51-47 margin. Democrats have a 22-18 majority in the Virginia Senate.
The Senate Education Committee on Thursday killed six anti-trans bills. It is likely HB 1387 and HB 2432 will meet the same fate once they reach the state Senate.