Anti-gay views rampant in Dominican Republic
'Ex-gay' therapy remains popular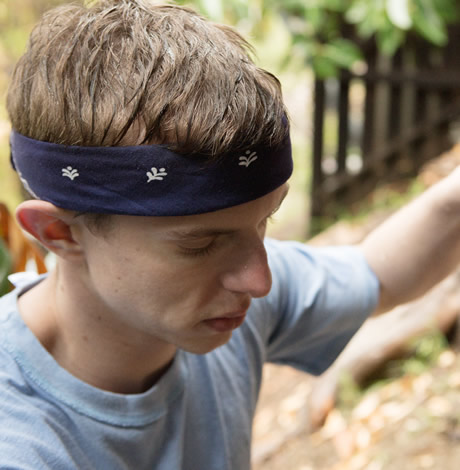 Anti-LGBT religious leaders remain influential in the Dominican Republic in spite of local advocacy efforts that have grown more visible in recent years.
Cardinal Nicolás de Jesús López Rodríguez of the Archdiocese of Santo Domingo last month told a Dominican newspaper that gay U.S. Ambassador to the U.S. James "Wally" Brewster "should take his pride elsewhere," after he and his husband, Bob Satawake, released a video to celebrate Pride month. He described the gay U.S. ambassador as a "maricón" or "faggot" in Spanish during a June 2013 press conference after President Obama nominated him with the apparent approval of Dominican President Danilo Medina.
Rev. Luís Rosario of the Santo Domingo Youth Ministry has described Brewster as a "bad example" for Dominican society and families. Rev. Cristóbal Cardozo of the Dominican Evangelical Fraternity and other religious leaders also opposed the former Human Rights Campaign board member's nomination.
"We are defending a person who is homosexual, that is gay and has come to occupy his country's public position in the Dominican Republic," Deivis Ventura of the Amigos Siempre Amigos Network of Volunteers told the Washington Blade during a March interview at his Santo Domingo home that more than a dozen other Dominican LGBT rights advocates also attended. "We are defending the right that we have to occupy public positions equally as gay, lesbian, bisexual and trans people."
Ventura and other Dominican LGBT rights advocates with whom the Blade has spoken in recent months have pointed out that Brewster has made their efforts more visible through increased media coverage and debate of gay-specific issues in the country. Anti-LGBT discrimination, a lack of support from the government and persistent health and educational disparities are among the myriad issues they continue to confront.
López in 2010 described Parque Duarte in Santo Domingo's Colonial City where hundreds of LGBT Dominicans gather on weekend nights as "a space where all types of insolences and vulgarities abound." He and some neighbors have unsuccessfully tried to ban them from the square that is across the street from a church.
Ventura told the Blade last week that Dominican psychiatrists practicing so-called "reparative therapy" is becoming more common.
José Dunker Lambert, a psychiatrist and family therapist, on June 18 published on his website a list of 10 reasons "to treat homosexuality." These include the arguments that homosexuality is a "social deviation" and "learned conduct."
Dunker, Dominican Sexology Society President Martha Arredondo Soriano and Amigos Siempre Amigos Executive Director Leonardo Sánchez in April debated in a Dominican newspaper the topic of whether homosexuality is a choice.
"A person who has a homosexual orientation, who feels attracted to people of the same sex, in any given moment can decide to not exercise their true orientation," Arredondo says. "But the science is clear and comes with evidence: Sexual orientations cannot be changed."
"Kidnapped for Christ," a documentary co-produced by Lance Bass that debuted at this year's Sundance Film Festival features Escuela Caribe, a Christian boarding school near the city of Jarabacoa in the country's mountainous interior. The institution that an Indiana-based Evangelical organization opened in 1972 subjected students to physical abuse and other forms of punishment that included forced labor and "conversion therapy."
Ventura noted to the Blade that fundamentalist Christian churches in the U.S. fund Escuela Caribe — which closed in 2012 and reopened under a new name — and similar institutions in the Dominican Republic.
Over 100 LGBTQ-themed books in a Florida school district labeled with advisory warning
They warn: "this book has been identified by some community members as unsuitable for students."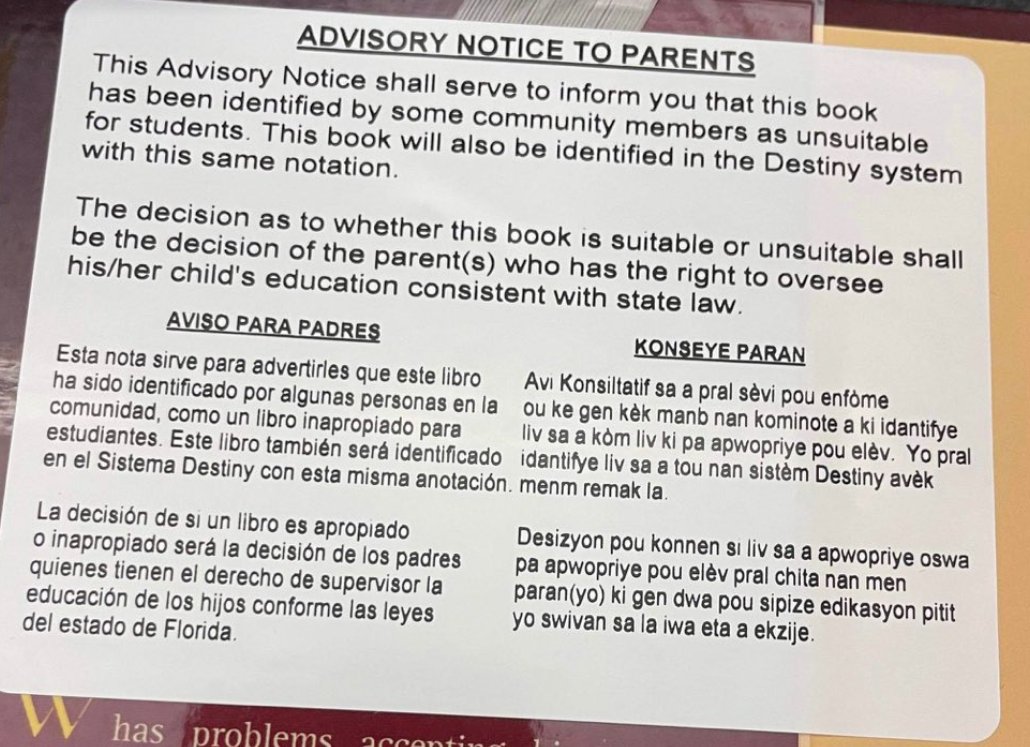 A southwest Florida district put parental "advisory notice" on over 100 books, many of which are race or LGBTQ-themed. 
A great number of books in Collier County Public Schools, either digital or physical, now have warning labels writing "Advisory notice to parents," according to an NBC report,
The label, tweeted by nonprofit free-speech-promoting group PEN American, states, "This Advisory Notice shall serve to inform you that this book has been identified by some community members as unsuitable for students. This book will also be identified in the Destiny system with the same notation. The decision as to whether this book is suitable or unsuitable shall be the decision of the parent(s) who has the right to oversee his/her child's education consistent with state law." 
The labels appear digitally in the library records & physically on the books. They warn: "this book has been identified by some community members as unsuitable for students." Apparently, a lot is 'unsuitable'. Even Everywhere Babies by Susan Meyers & illustrated by @MarlaFrazee. pic.twitter.com/wA5fT5fjLr

— PEN America (@PENamerica) August 5, 2022
Stephana Ferrell, co-founder of the Florida Freedom to Read Project, which means to fight book banning, told NBC that she had a call from Elizabeth Alves, the associate superintendent of teaching and learning for Collier County Public Schools. In the call, Alves told her that the district added the labels starting in February. 
These measures, which Alves described as a "compromise," happened after the district's legal representative talked with the Florida Citizens Alliance, a conservative group which initiated a "Porn in Schools Report" project last year. The report included a list of books that "promote gender self-identification and same-sex marriage" as well as titles that include "indecent and offensive material," as the group explained.
Chad Oliver, the Collier County Public Schools spokesperson, on the other hand offered a different story.
Oliver sent an email to NBC News and said, "Based upon advice from the General Counsel, we placed advisory notices on books about which parents and community members had expressed concern and in accordance with the recently passed Parents' Bill of Rights Law (HB 241)."
The law referred by Oliver is also known as the "Don't Say Gay" law.
According to PEN America, there are 110 labeled books in total, and the list greatly overlaps with the one Florida Citizens Alliance inquired about with Collier County Public Schools. 
Rep. Sean Patrick Maloney introduces bill to make monkeypox testing free
Health insurers would be required to cover costs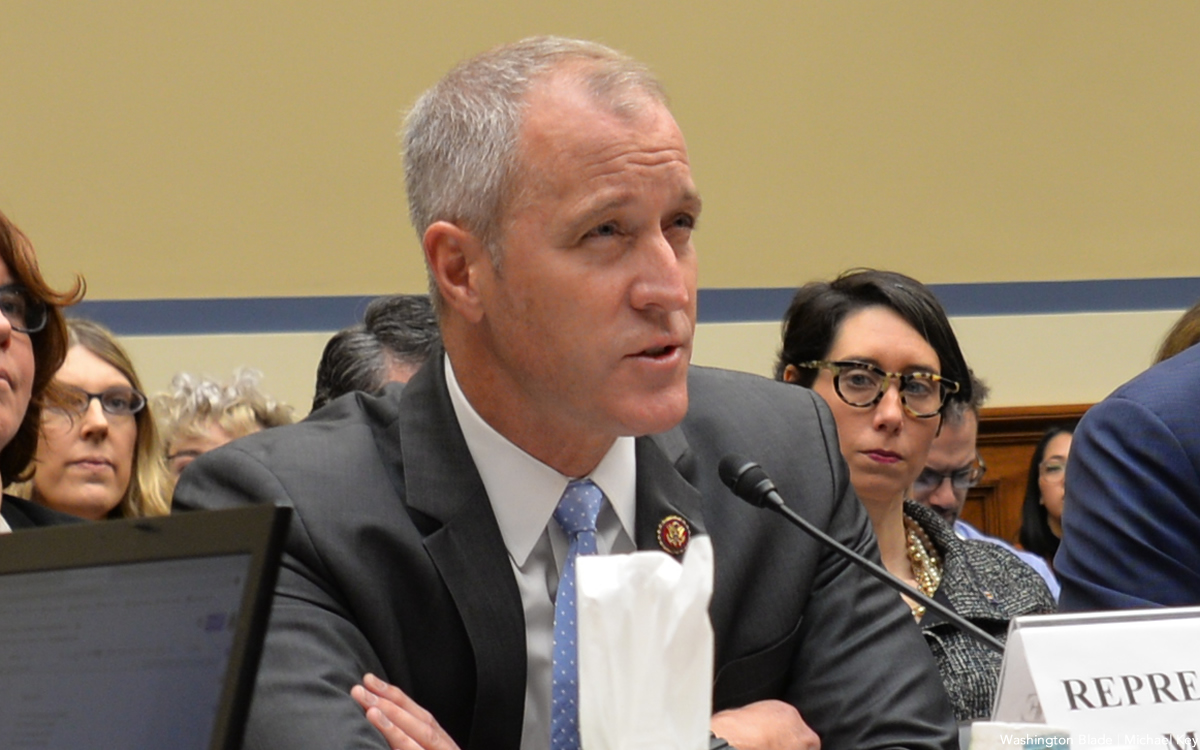 Rep. Sean Patrick Maloney (D-N.Y.), amid the ongoing monkeypox affecting gay and bisexual men, has introduced legislation in the U.S. House seeking to make testing for disease free to the public.
Maloney, one of seven openly gay members of Congress and chair of the Democratic Congressional Campaign Committee, said in a statement the measure, called the No Cost for Monkeypox Testing Act, would testing amid the monkeypox outbreak would be accessible to all.
"It is critical that we eliminate cost as a barrier to testing for monkeypox to ensure we can identify cases and prevent further spread," Maloney said. "This legislation takes the lessons we learned from past public health emergencies and protects those at risk of contracting monkeypox by making tests accessible to everyone."
The legislation would require private health insurers as well as Medicare and Medicaid to cover the costs of monkeypox testing at no expense to the patients, either through deductibles, co-payments, and co-insurance.
The bill introduction comes the week after the Biden administration declared the monkeypox outbreak a public health emergency and the same it has issued new guidance to enhance to the accessing of existing vaccines doses amid criticism federal officials were too slow in distributing shots.
The Washington Blade has placed a request in with the Centers for Disease Control seeking comment on the legislation. Secretary of Health & Human Services Xavier Becerra said Tuesday the federal government has the capacity to conduct an estimated 80,000 tests each week.
Maloney has been representing New York's 18th congressional district, but after redistricting is now seeking re-election in the 17th district. Amid controversy over a potential showdown between Maloney and Rep. Mondaire Jones (D-N.Y.), who's Black, another openly gay member of Congress and the current representative of that district, Jones has since opted to run for re-election in the New York's 10th congressional district. Maloney is now running unopposed in the 17th.
Out Vermont state senator wins Democratic primary race
Tuesday's victory makes her likely to become the first woman and openly LGBTQ+ person to represent the heavily Democratic state in Congress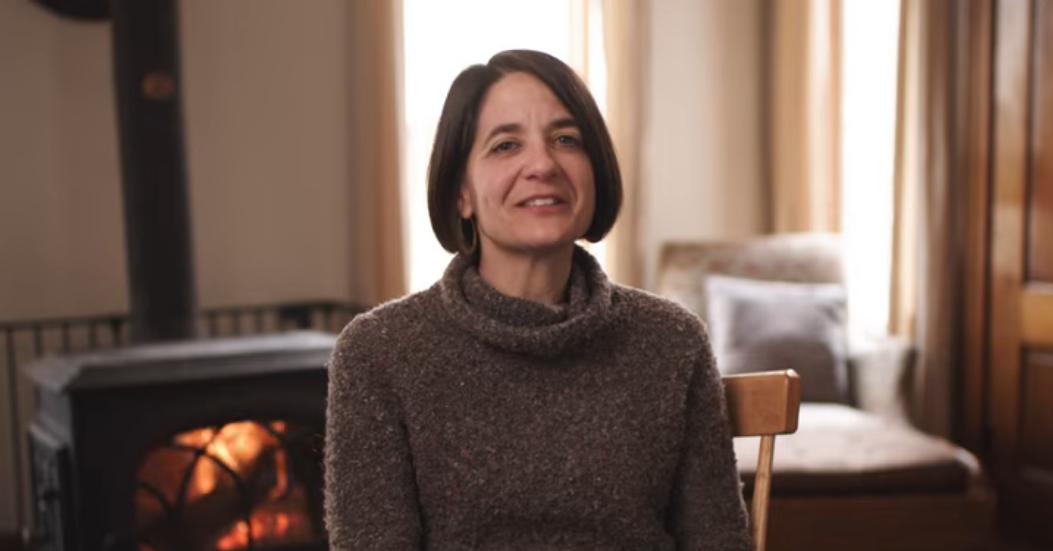 The Green Mountain State's state Senate president pro tempore has won the Democratic nomination for the state's at-large congressional seat, the state's lone seat in the U.S. House of Representatives.
Becca Balin is running to succeed U.S. Rep. Peter Welch and Tuesday's victory makes her likely to become the first woman and openly LGBTQ+ person to represent the heavily Democratic state in Congress if elected in November. Vermont is the only state that has never had a female member of its congressional delegation.
The VTDigger, a statewide news website, reported; "Balint, 53, is the first openly gay woman elected to the Vermont Senate and the first woman to serve as its president. The former middle school teacher and stay-at-home mother won her first political contest in a race for her southeastern Vermont Senate seat in 2014.
She rose quickly through the ranks of the Democrat-controlled chamber, becoming majority leader in 2017, at the start of her second term. Four years later, in 2021, she was elected pro tem — the top position in the Senate."
Becca Balint, the president pro tempore of the Vermont Senate, has won the Democratic primary for the state's open congressional seat. She could become the first woman and the first openly gay person to represent the state in Congress. https://t.co/RaAgwmtQJD

— The Associated Press (@AP) August 10, 2022