Ricardo Martinez dies at 71
Economist, former D.C. resident worked for development bank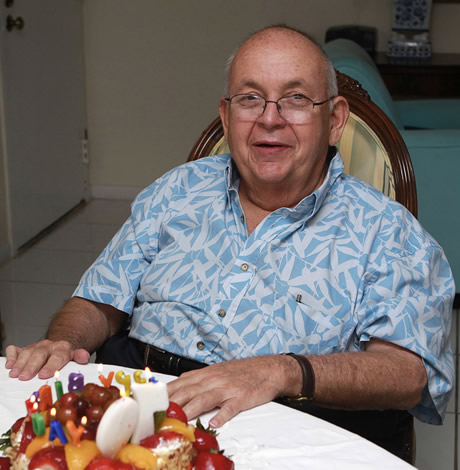 Ricardo C. Martinez, a senior economist with the D.C.-based Inter-American Development Bank (IDB) for more than 20 years and a well-known figure in the gay communities of Washington and Fort Lauderdale, Fla., died August 15 at a hospice in Fort Lauderdale from complications associated with a stroke. He was 71.
Friends and colleagues note that he worked for years traveling extensively to countries in Latin America and the Caribbean on behalf of the IDB to assess and make recommendations on those countries' needs for economic development loans.
The friends from Washington and the Fort Lauderdale-Miami area, where Martinez moved after taking early retirement at the age of 55, say his retirement enabled him to devote more time to his lifelong passion for the performing arts, especially opera.
"Sometimes he saw his own life in terms of the grand opera he so adored," said George Jackson, one of his longtime Washington friends.
Martinez was born and raised in Havana, Cuba. He told friends he completed high school there just as the uncertainty and turmoil that followed the assumption of power by Fidel Castro prompted many Cubans to flee to the U.S.
As an only child, he told friends his parents arranged for him to abruptly depart his homeland by himself and arrive in Miami in 1960 as part of the Catholic Church operated "Peter Pan" program, through which thousands of unaccompanied Cuban children and teenagers were dispatched to the U.S. in the early 1960s.
According to his friend Richard Poms, Martinez said his parents arrived in the U.S. the following year and the family settled in Northern Virginia. A short time later, Martinez began his studies in economics at Catholic University in D.C. through an academic scholarship.
After receiving a bachelor's degree in economics at Catholic University he studied economics on the graduate level at the University of Virginia in Charlottesville.
He taught courses in intermediate level macroeconomic theory and principles of economics and economic systems at George Mason University in Fairfax, Va., from 1968 to 1970. He next joined the staff of the Brookings Institution in Washington as a research assistant from 1970 to 1974, according to his curriculum vitae.
Martinez began his tenure at the Inter-American Development Bank in 1974 as an economist with the bank's Country Economic Division. He assumed the position of senior economist at the bank's General Studies Division in 1981 and assumed additional responsibilities in 1989 as senior economist with the Country Economics Division.
As someone fluent in English and Spanish, he wrote over 40 chapters during his tenure at the IDB for the annual publication Economic and Social Progress in Latin America. Among the countries he visited and for which he made loan related assessments and recommendations were Barbados, Suriname, Venezuela, El Salvador, Mexico and Costa Rica.
Upon his retirement in 1998 Martinez moved from his longtime residence in Arlington, Va., to Miami Beach before settling later in Fort Lauderdale.
According to friends, he shared his passion for the opera with a longstanding interest in European history and the European nobility.
"He loved European nobility," said Poms. "He was an expert on the kings and the queens going back all the way. He knew who was married to whom – what family this, what family that."
Before and after retirement his love for opera prompted him travel to opera houses in the U.S. and Europe, including regular trips to the Metropolitan Opera in New York, where he boasted of crossing paths and socializing with famed Metropolitan Opera conductor and music director James Levine at Manhattan nightspots after the performances.
"I remember his love for good cuisine and how he wouldn't eat dinner until the sun had set," said Tom Hardy, a friend from Washington. "He went to all the best restaurants, and he loved company and he loved to tell us about history and of course ancestry and the European monarchs."
Martinez is predeceased by his parents, Ricardo, Sr., and Hilda Martinez, of Arlington, Va., and his longtime friend Jack Keegel of Washington.
He is survived by an uncle in Jacksonville, Fla., Orlando Acosta, a cousin in Los Angeles, and many friends in Washington and Fort Lauderdale, including Richard Poms, Richard Viola, Steven Frias Rodriquez, Tom Hardy, Carl Spier, Larry Smelser, George Jackson, David Cox, Emilio Cueto, and this reporter, among many others.
Poms said plans would be announced soon for memorial services in Fort Lauderdale and D.C. He said plans were being made for interment of Martinez's ashes at Columbia Gardens Cemetery in Arlington, Va., near the gravesite of his parents.
Virginia Beach high school students stage walkouts to support transgender rights
City's school board approved policy to out trans students to parents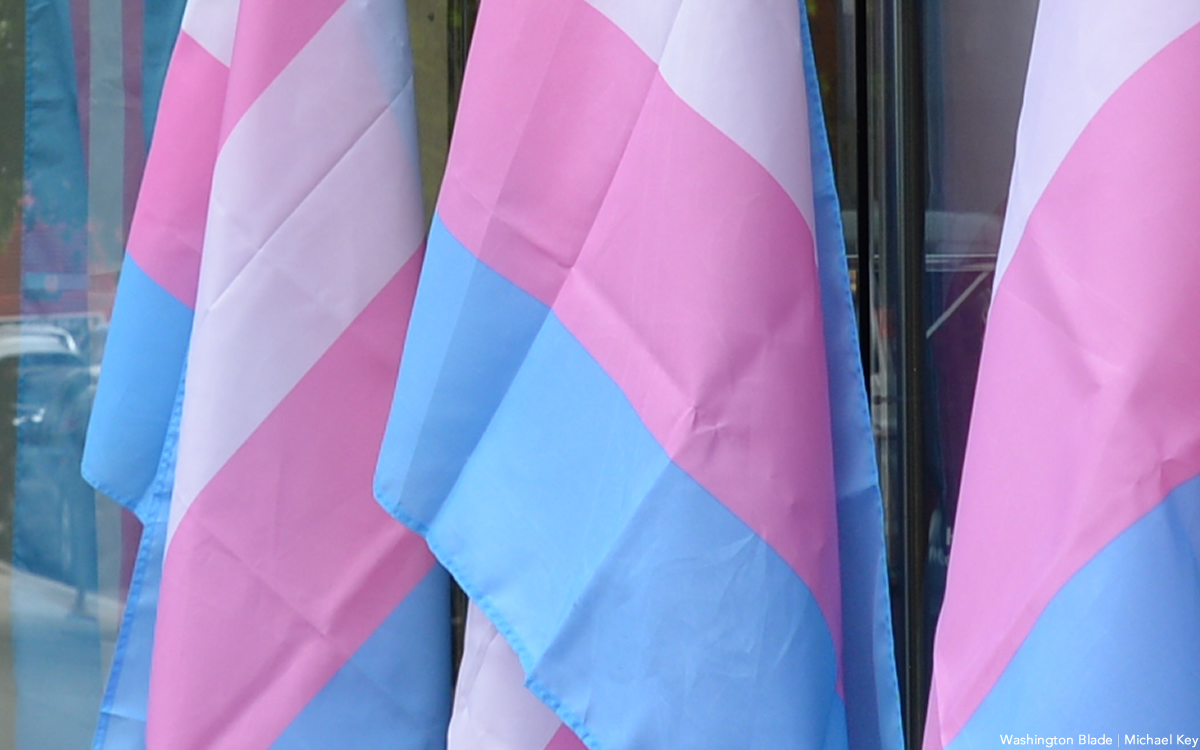 Students at five Virginia Beach high schools on Friday staged walkouts in support of transgender rights.
The walkout is in response to the Virginia Beach School Board approving policy 5-31, which the Pride Liberation Project says will require schools to out trans students to their parents.
Students have been organizing walkouts across the state since Republican Gov. Glenn Youngkin earlier this year announced new guidelines for trans and nonbinary students.
"Students like me aren't going to be able to talk to our teachers if we're constantly worried about our school officials calling home to forcibly out us," AJ, a trans Kellam High School Student, told the Pride Liberation Project.
Pepco, Exelon announce $2.7 million in funding for four minority-owned businesses
'It's good business sense to bring more people to the table'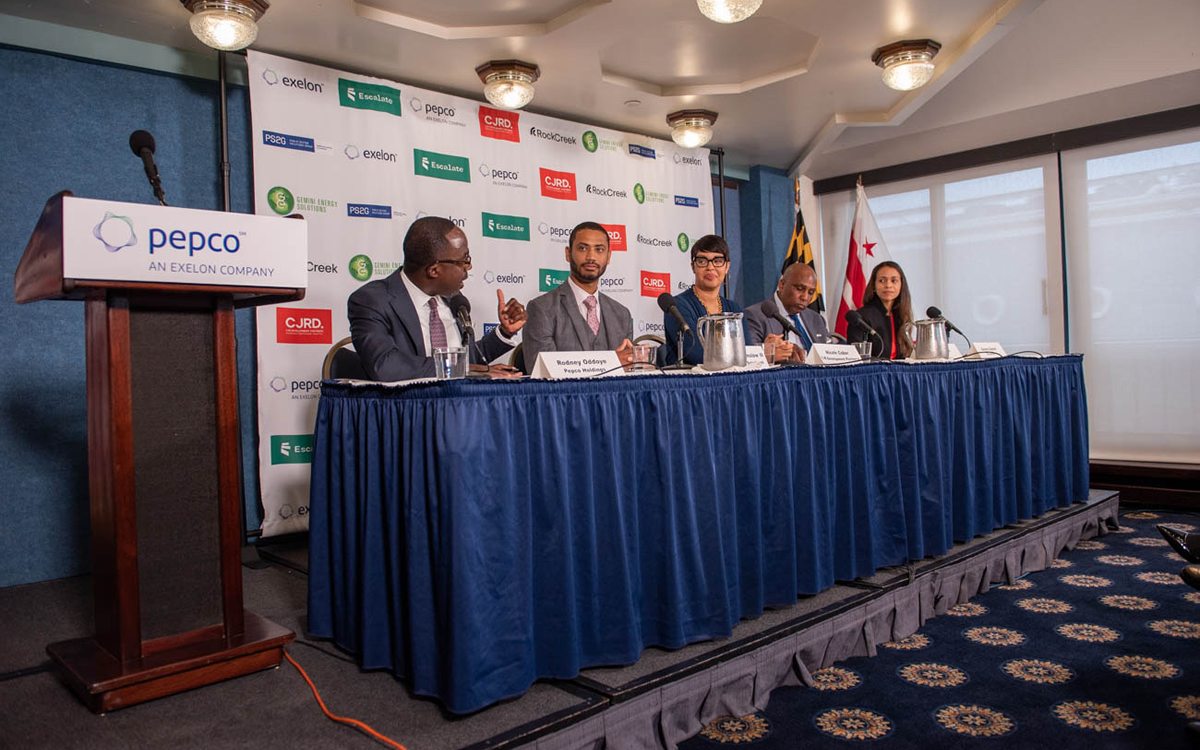 Pepco and Exelon announced a $2.7 million investment in four minority-owned businesses on Friday.
"Today's been a long time coming," said Pepco Vice President of Governmental and External Affairs Valencia McClure.
Pepco's parent company, Exelon, launched the Racial Equity Capital Fund (RECF) in 2022 to expand capital access to diverse businesses. This latest $2.7 million investment is just a portion of RECF's $36 million in funding.
At the announcement, D.C. Mayor Muriel E. Bowser spoke about the other ways Pepco and Exelon have "put their money where their mouth is" through their partnership with the D.C. Infrastructure Academy. She reported that all 22 of the residents that graduated from the program last week have a job offer from Pepco.
"We know that is not just a job, but a career," she said to the crowd's applause. "We know that working together, we can invest in D.C. residents, provide opportunity, and ensure that our D.C. businesses are a part of D.C.'s growing prosperity."
The four minority businesses that received funding were Gemini Energy Solutions, Public Sector Solutions Group, CJR Development Partners, and Escalate.
"It's good business sense to bring more people to the table," said fund recipient Nicole Cober, CJR Development's Principle Managing Partner.
Gemini Energy Solutions, which is Black owned, received $1 million, the most of the four companies. Its mission is to equitably scale energy efficiency to marginalized communities. For the founder and CEO Anthony Kinslow II, this investment means that he is able to get paid and advance the work of his organization.
"We are now able to accelerate the work in our software and technology development," he said. "What we were going to do in two years, we are now going to do in six months."
For Escalate, a workforce development platform focused on frontline worker retention, the funding means that it will be able to double the pay for frontline workers.
Public Sector Solutions Group CEO Darryl Wiggins emphasized that this investment was not just 'charity' work, but mission-driven work.
"The principle and the intent is greater than the money we receive," he said. Public Sector Solutions is Black owned.
Public Sector Solutions Group received a $600,000 debt investment; CJR Development, a minority and woman-owned small business, received a $600,000 debt investment; and Escalate, a majority Black and woman-owned company, received a $500,000 equity investment.
Exelon launched the RECF in partnership with RockCreek, one of the world's largest diverse-owned global investment firms, in 2022. The RECF expands capital access to diverse businesses so they can create more jobs, grow their companies and reinvest in their neighborhoods and communities, according to a statement from Exelon.
New RECF applications are accepted on a rolling basis. Interested businesses may apply online or contact RockCreek at [email protected] for more information.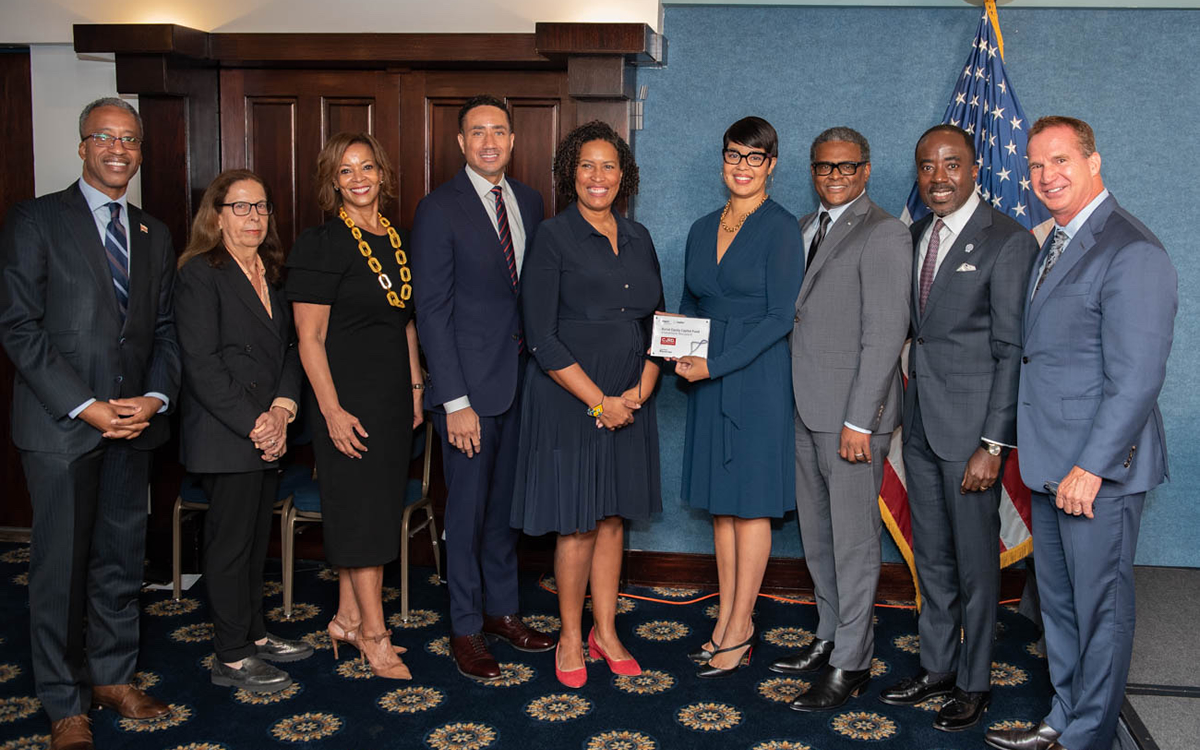 Comings & Goings
Armstrong recognized with Lifetime Achievement Award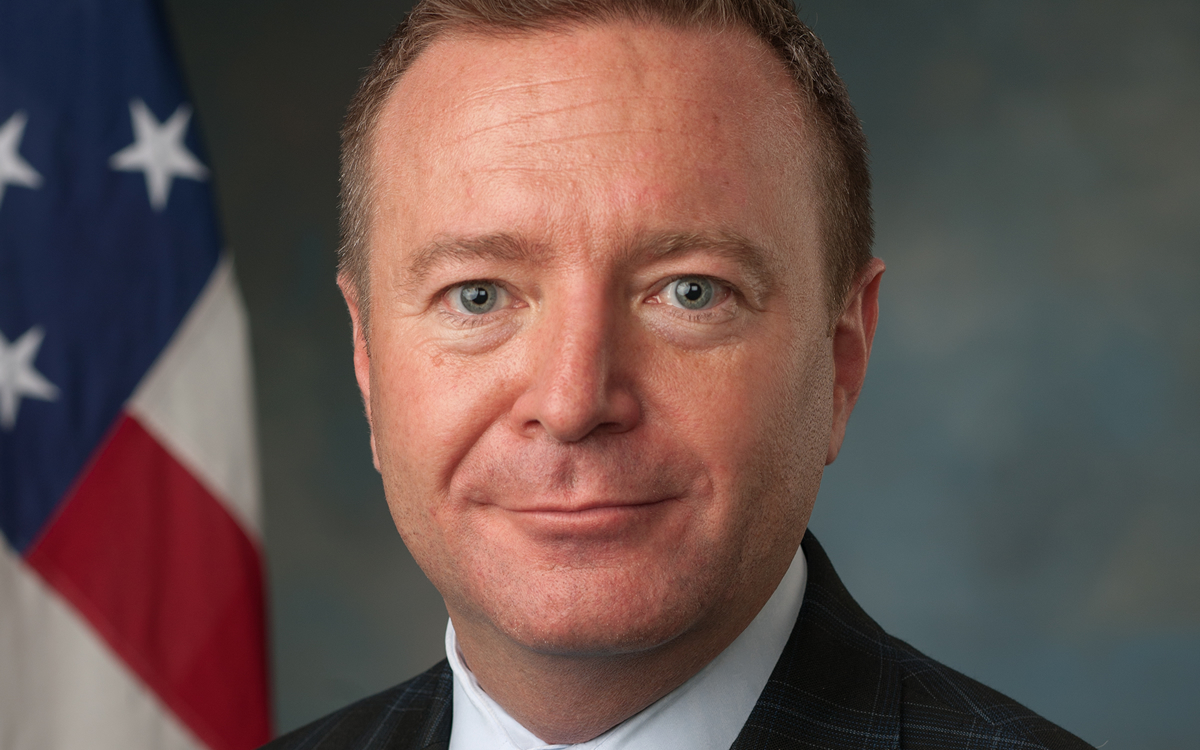 The Comings & Goings column is about sharing the professional successes of our community. We want to recognize those landing new jobs, new clients for their business, joining boards of organizations and other achievements. Please share your successes with us at: [email protected].
Congratulations to Lynden C. Armstrong on his Lifetime Achievement award from the Congressional Management Foundation in recognition of his exemplary public service in Congress.
Upon receiving the award Armstrong said, "This recognition is not just a personal achievement, but a testament to the unwavering dedication and hard work of colleagues and mentors who have been with me on this journey. I've dedicated my entire career to public service within the Senate, where recognition isn't the primary motivation for our work, making this recognition even more humbling." He is currently Deputy Assistant Senate Sergeant at Arms and Chief Information Officer.
Armstrong started his career with Sen. Pete Domenici (R-N.M.), where he rose to Deputy Chief of Staff in his more than 13-year stint. In 2004, during his tenure with Domenici, amid a debate on the Federal Marriage Amendment, Armstrong became a co-founder of the Gay, Lesbian and Allies Senate Staff (GLASS) Caucus. In 2014, he moved to the Sergeant at Arms CIO organization, where he established a new department within the CIO that was crafted to engage Senate offices in comprehending and harnessing technologies provided by the SAA.
Lynden has previously served as Chief Clerk on the U.S. Senate, Committee on Rules and Administration, and with the U.S. Senate, Joint Congressional Committee on Inaugural Ceremonies, as Deputy Inaugural Coordinator, 2012–2013. In that role among other responsibilities, he served as civilian liaison to the National Special Security Event Executive Steering Committee and subcommittees, including the Capitol, USCP, Crowd Management, Public Relations, Transportation, and credentialing, and as liaison to the Joint Task Force – National Capital Region.