February 5, 2015 at 11:30 am EST | by Kristen Hartke
Table for two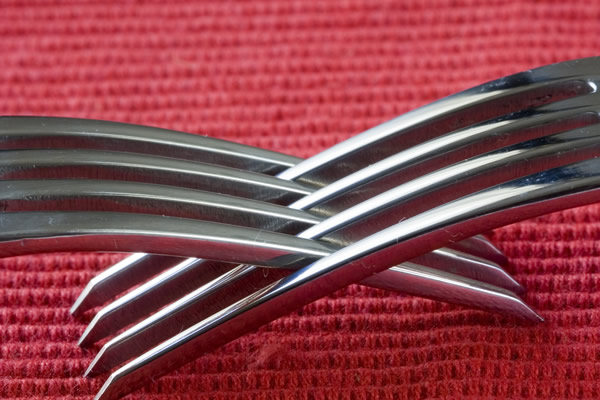 Virginia Woolf famously wrote "One cannot think well, love well, sleep well, if one has not dined well" and, with Valentine's Day on the horizon, it is certainly time to both eat and love well — sleeping and thinking are optional. There are many places across the D.C. region where you can hold hands across the table and gaze mistily into the eyes of that special someone; here's a sampling of just a few local eateries that may help promote true love.
America Eats Tavern: You can celebrate love American-style at the Ritz-Carlton in Tyson's Corner, and, since Valentine's Day falls on a Saturday this year, make it a real weekend getaway, since the restaurant is offering both a four-course Valentine's Day tasting menu and a Sweetheart's brunch all weekend. The $75-per-person tasting menu includes an array of truly American dishes, from oysters Rockefeller and Waldorf salad to Steak Delmonico for two and Martha Washington's chocolate cake. The brunch, at $50 per couple, offers bellinis and mimosas, shrimp and grits, eggs à la Benedick, and waffles smothered in ice cream. Make it a real adventure, and avoid the traffic, by heading out there on the Silver Line. 1700 Tysons Boulevard, Tysons Corner, VA. americaeatstavern.com.
Equinox: Chef Todd Gray's innovative Valentine's Day menu explores the evolution of the relationship, which begins with the Introduction, a surprise "flirtation" from the chef upon arrival. From there you'll experience four themed courses: The Date Night, which includes oyster stew or grilled port wine duck sausage; First Kiss, with a ravioli of Maine lobster with artichoke chips or pan-seared diver scallops on shrimp toast; Settled In, featuring pistachio-crusted rack of lamb or sautéed wild Norwegian cod; and ending with Life's Sweet Moments, including a classic Key lime pie and mini chocolate soufflé cake. If you and/or your loved one embrace a meatless lifestyle, Equinox also offers a truly delicious vegan Valentine's Day menu, which includes a black trumpet mushroom crespelle, red wine casarecchia "en Jambalaya," and curried cauliflower stew. $85 per person, $115 with wine pairing. 818 Connecticut Ave., NW. equinoxrestaurant.com.
Iron Gate: One of the most romantic dining rooms in the city is offering a special Valentine's Day menu throughout the week of Feb. 9; Chef Anthony Chittum will highlight antipasti such as scallops crudo, lamb tartare and foie gras torchon, followed by Garlic Crusted Skate with Chincoteague oysters and hackleback caviar and  Maryland Beef Striploin with oak grilled trumpet mushrooms, black truffle risotto, and red wine jus, plus sumptuous desserts for $135 per person. Wine director Brent Kroll can add hand-picked wine pairings to the meal as an additional option, and afterwards you can cozy up on the patio under the blankets by the fire pits and enjoy a night cap from Spirits Director Jeff Faile. 1734 N St. NW. irongaterestaurantdc.com.
Marcel's: If you're looking to wow your date with a truly elegant dining experience, you'll score points here in Marcel's newly redesigned dining room at Chef Robert Weidmaier's flagship restaurant. The staff are both attentive and friendly, making fine dining approachable rather than intimidating. For Valentine's Day, Marcel's is offering a special dessert tasting menu to end your à la carte French-Belgian meal, featuring white chocolate mousse with passionfruit gelée and blackberry citrus coulis or a chocolate pot de crème with Caramel semifreddo and raspberry consommé, followed by a special friandise of assorted truffles and petit fours. 2401 Pennsylvania Ave., NW. marcelsdc.com.
Power Supply: What if you really don't feel like going out on Valentine's Day? Nothing wrong with that. Stay in with your sweetie and have a healthy chef-created meal delivered to your door, or you can pick it up at one of over 90 spots across the DMV, generally at local gyms and studios. If you are seeking to stay healthy this Valentine's Day, Power Supply focuses on meals that are paleo, vegetarian, or a mix of both, and you can customize meals to be gluten- and/or dairy-free; some recent menus included pulled pork with plum sauce, sweet potato mash, and spinach purée; salmon in blood orange sauce with parsnips and sautéed greens; and broccoli and cauliflower with lemon mustard sauce, oven-baked potato pancake, and cumin lentil chili. Note that you'll have to order a minimum of three meals for the week and that you'll need to place your order a week in advance. Starts at $9.50 per meal. dc.mypowersupply.com
Rosa Mexicano: Start your Día de san Valentín fiesta with the Rosa Royale — sparkling cava, fresh pomegranate juice, Cointreau and agave nectar — and the restaurant's signature tableside Guacamole en Molcajete, followed by a three-course prix fixe meal featuring Mexican delicacies like Flautas de Langosta, crispy tortillas filled with lobster and potatoes, and Shrimp and Scallop Brochette, grilled wild jumbo shrimp and scallops served over cilantro-mint short grain brown rice with roasted tomato-jalapeño caper sauce. Three locations: Penn Quarter, Chevy Chase, and National Harbor. rosamexicano.com.
Zaytinya: Head to the eastern Mediterranean, via Gallery Place, to share a special Valentine's Day mezze with your sevgilim. The Chef's Experience menu includes Olde Salts Oysters, with Lindera honey vinegar, green apple, and baharat seasoning; papiatopita, braised duck and foie gras in a house-made phyllo;  and bone marrow kibbeh, with almonds, pine nuts, and za'atar labneh. Finish your meal with their Chocolate Rose, a decadent Valrhona chocolate pudding accented with blood orange and finished with cardamom cream. If you don't want to do the special menu at $75 per person, all the same items are also available à la carte. 701 9th St. NW. zaytinya.com.
Kristen Hartke is managing editor of Edible DC and writes about cocktails at goodbooze.wordpress.com.