March 11, 2015 at 4:40 pm EST | by Staff reports
Blade launches 'LGBT Welcoming Business' campaign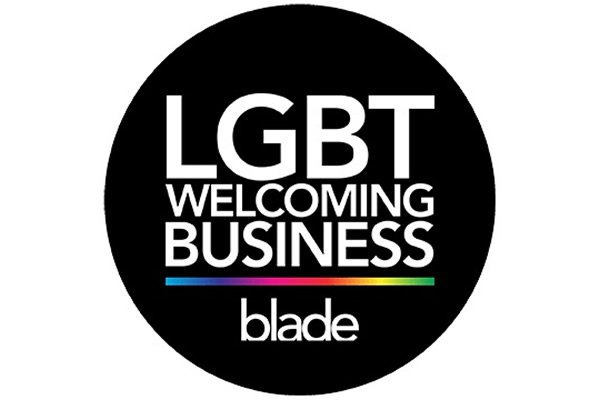 The Washington Blade announced this week the launch of its "LGBT Welcoming Business" campaign. The campaign comes in response to efforts in other jurisdictions to pass laws enabling discrimination against LGBT patrons and seeks to create a more welcoming business environment in D.C. and a way for businesses to highlight their appreciation for all customers regardless of gender identity or sexual orientation.
Business owners can sign up at washingtonblade.com/business. An event to mark the launch of the campaign will be held March 16 at 9:30 a.m. at Duke's Grocery. By signing up for the campaign the business affirms that its owners:
Will avoid heterosexist assumptions, confront homophobia, and use inclusive language;
Believe that their business is enriched by the inclusion of LGBT people;
By placing the 'LGBT Welcoming Business' logo in their window or website that they are working to create a 'safe space' for LGBT patrons.
Each business that signs up will receive a free window cling to place in their storefront.
"We are excited to launch a new program for D.C. businesses to highlight their support for the LGBT community," said Blade publisher Lynne Brown. "When a member of the community sees this logo in the window, it should make them feel welcome."
Supporters of the campaign include the Mayor's Office of LGBT Affairs, DC Department of Small and Local Business Development (DSLBD), The Restaurant Association of Metropolitan Washington (RAMW), CityCenterDC and the Capital Area Gay and Lesbian Chamber of Commerce (CAGLCC).
"It would be hard to imagine the DC business community without the many successful LGBT-owned businesses and the loyal set of LGBT customers who support so many small businesses in D.C.," said Ana Harvey, director of DSLBD, in a release. She added, "Programs such as Washington Blade LGBT Welcoming Business are critical in ensuring the inclusion of all residents in the business ecosystem."
"RAMW is proud to be a partner in the LGBT Welcoming Business campaign," said RAMW President & CEO Kathy E. Hollinger. "Restaurants in our community serve as the kitchens, dining rooms and living rooms of our lives creating spaces where District residents share more than just delicious meals — they live their lives daily in so many of our member restaurants. The restaurant industry cherishes being part of these personal moments and is eager to show support for the guests they welcome as patrons."