DOJ slammed for ducking on trans exclusion in ADA
Obama administration says resolution to case based on Title VII the right approach
Gay & Lesbian Advocates & Defenders took the Justice Department to task in a statement last week for declining to weigh in on the explicit transgender exclusion written into the 1990 law.
The ADA prohibits discrimination on the basis of disability in employment, public accommodations and other areas, but the law explicitly states it doesn't include "transvestism, transsexualism, pedophilia, exhibitionism, voyeurism [and] gender identity disorders not resulting from physical impairments or other sexual behavior disorders."
Jennifer Levi, director of GLAD's trans rights project, said the Justice Department's decision to avoid the trans exclusion in a statement of interest filed on July 21 is "surprising and disappointing."
"Given the rank animus behind it, the exclusion serves to marginalize and stigmatize a minority group that the DOJ has recognized needs and deserves legal protections," Levi said.
Kate Lynn Blatt, a transgender employee at the hunter gear Cabela's Retail, filed a discrimination claim against her employer under both Title VII of the Civil Rights Act of 1964, on the grounds the store discriminated against her based on her sex; and the ADA, on the basis the store refused to reasonably accommodate her by denying her use of a restroom consistent with her gender identity and the ability to wear a nametag with her correct name. Blair also endured harassment from supervisors and co-workers and was abruptly terminated in 2007.
In a four-page statement of interest signed by trial attorney Emily Nestler, the Justice Department asks the court to hold off on determining the constitutionality of ADA's trans exclusion until the challenge on the basis of Title VII is resolved.
"The United States respectfully requests that the Court defer ruling upon Plaintiff's constitutional challenge to the GID Exclusion until after the Title VII claims are resolved, as disposition of Plaintiff's Title VII claims could resolve this case without the need to reach the constitutionality of the GID Exclusion," the filing says. "Should the Court later determine that the constitutional issue cannot be avoided, the United States respectfully reserves the right to intervene or file a supplemental statement of interest at that time."
In 2012, the U.S. Equal Employment Opportunity Commission determined in the case of Macy v. Holder the gender provision under Title VII applies to workplace discrimination against people for being transgender. In a statement in December, the Justice Department followed suit, saying the U.S. government would no longer deny the law covers gender-identity discrimination.
Levi added the filing has two silver linings: the reassertion that Title VII prohibits workplace discrimination against transgender people and language that enables the Justice Department to revisit the trans exclusion at a later time.
"While we acknowledge these bright spots, the problem created by the ADA exclusion remains," Levi said. "Congress excluded transgender people from the protections of the ADA because of the stigma associated with gender dysphoria. As long as the transgender exclusion remains within the law, the ADA fails in its promise to create a level playing field in employment for all people capable of doing the job."
The U.S. Justice Department deferred to its filing in the case in response to the Washington Blade's request to comment on GLAD's criticism.
Representing Blatt is Sidney Gold, Neelima Vanguri and Brian Farrell of the Philadelphia-based Sidney L. Gold & Associates. Along with Law Professor Kevin Barry of Quinnipiac University, GLAD and other trans rights groups filed a friend-of-the-court brief in January arguing by maintaining the trans exclusion, the ADA perpetrates the kind of discrimination it seeks to dismantle.
As civil rights advocates celebrate the 25th anniversary enactment of the Americans with Disabilities Act, one New England-based LGBT group is criticizing the Obama administration for ducking on the issue of whether the transgender exclusion in the law is unconstitutional.
FBI, SEC launch investigations into alleged George Santos GoFundMe scam
Embattled N.Y. congressman stepped down from committees on Tuesday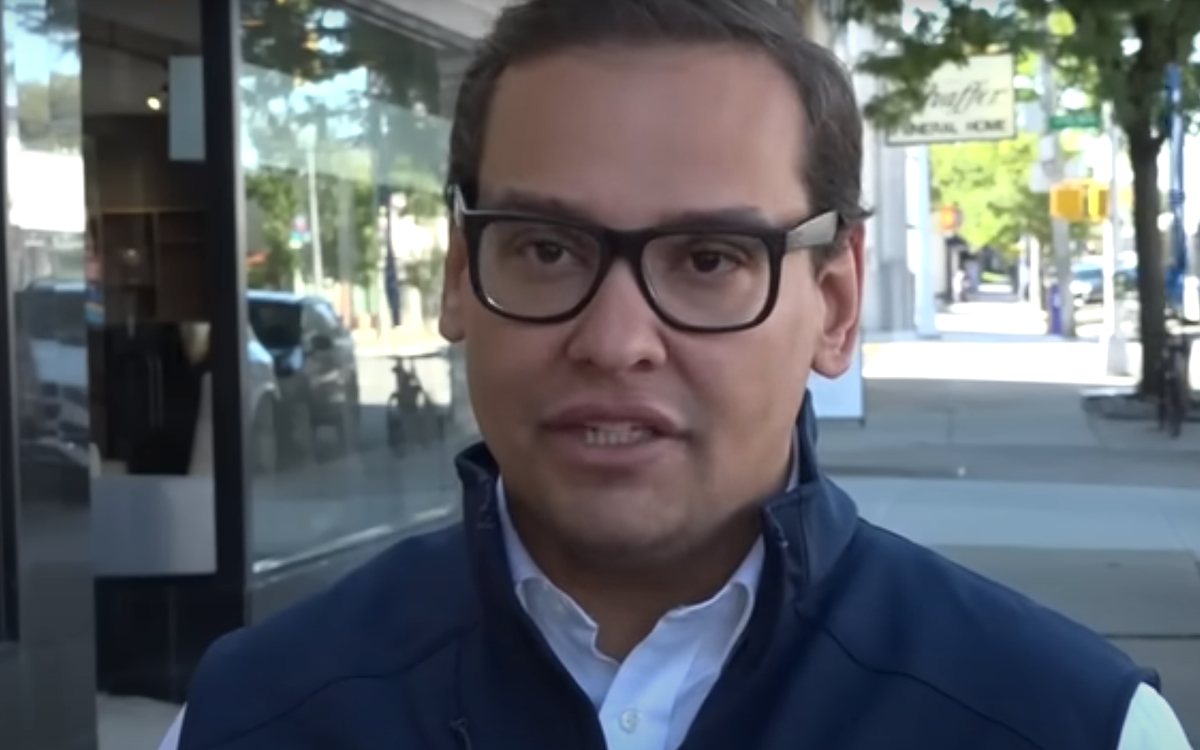 Republican U.S. Rep. George Santos (N.Y.) faces yet another law enforcement probe, this time over allegations the congressman ran a GoFundMe scam in 2016 by crowdsourcing for a U.S. Navy veteran and his cancer-stricken service dog before absconding with the money.
Politico reported on Wednesday that the veteran, Richard Osthoff, furbished text messages to FBI agents who were working on behalf of the U.S. Attorney's Office for the Eastern District of New York, which is reportedly conducting a parallel investigation into Santos' campaign finances.
The news comes a day after Santos resigned from his two committee assignments following a meeting with House Speaker Kevin McCarthy (R-Calif.) on Monday.
Meanwhile, U.S. Rep. Ritchie Torres (D-N.Y.) announced on Twitter Wednesday that he filed a complaint against Santos with the U.S. Securities and Exchange Commission "for violating federal securities law."
Torres wrote that his GOP colleague "illegally operated as a broker without a license, raising funds from unsuspecting investors for Harbor City Capitol, a 17 million dollar Ponzi scheme."
NEW: I just asked the SEC to investigate George Santos for violating federal securities law.

Mr. Santos illegally operated as a broker without a license, raising funds from unsuspecting investors for Harbor City Capitol, a 17 million dollar Ponzi Scheme. pic.twitter.com/2z4YpqhOvm

— Ritchie Torres (@RitchieTorres) February 1, 2023
Last month, Torres and fellow U.S. Rep. Dan Goldman (D-N.Y.) filed an FEC complaint against Santos over his alleged violations of campaign finance laws. And over the weekend, the Justice Department reportedly asked the FEC to yield to federal prosecutors — likely a sign that the campaign finance issues are the subject of a criminal probe.
Santos reportedly faces investigations by the Nassau County District Attorney's Office and the office of New York Attorney General Letitia James. He has been embroiled in controversy since his arrival to Washington following revelations that nearly every part of his biography and identity were complete fabrications.
Trump pledges to weaponize fed'l gov't against trans Americans if reelected
Former president's anti-trans proposals range from healthcare to education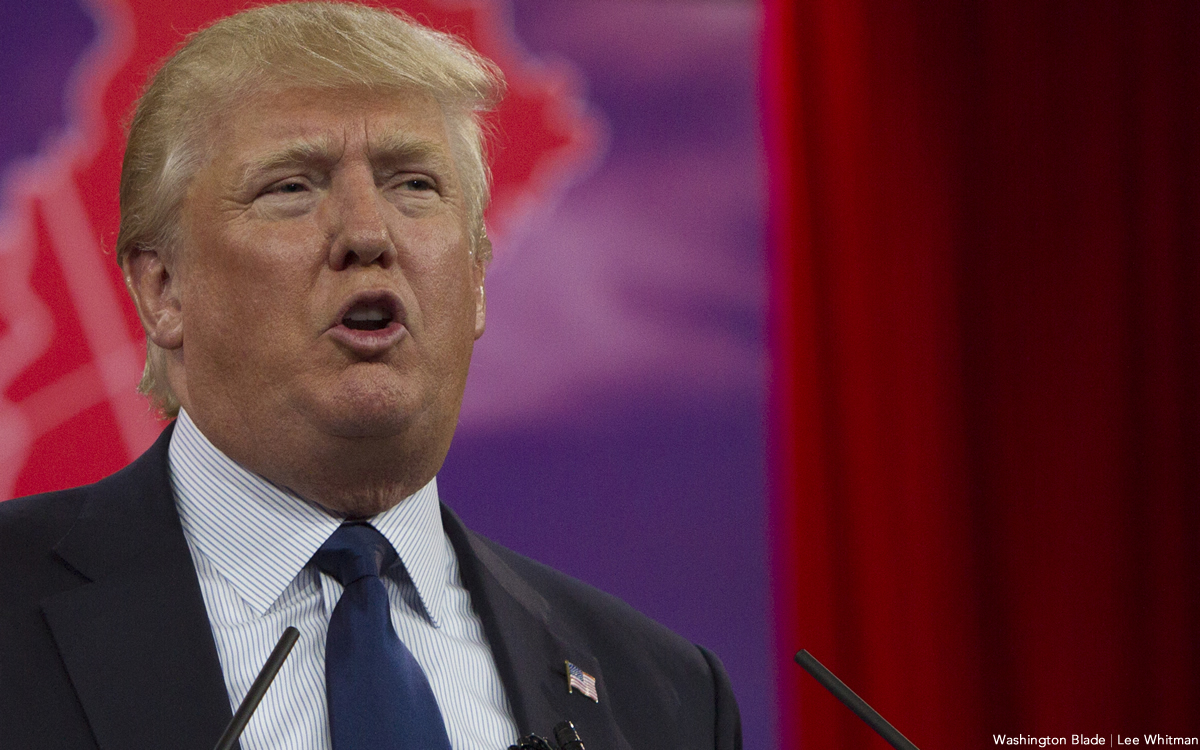 Former President Donald Trump promised to weaponize the might of the federal government against transgender Americans if voters send him back to the White House next year.
He detailed the plans in a video shared on the platform Rumble, which is popular among conservative and far-right users.
Some would restore policies enacted during his administration by executive orders that were overturned by President Joe Biden, while other proposals were more extreme or would face an unclear path to implementation because they would require acts of Congress.
Trump began by inveighing against guideline-directed medical care for the treatment of gender dysphoria in minors — practices that are approved by every major mainstream American and international scientific and medical institution with relevant clinical expertise.
"I will sign a new executive order instructing every federal agency to cease all programs that promote the concept of sex and gender transition at any age," Trump said, promising also to urge Congress to ban certain procedures for minors nationwide.
"I will declare that any hospital or healthcare provider that participates in the chemical or physical mutilation of minor youth will no longer meet federal health and safety standards for Medicaid and Medicare and will be terminated from the program immediately," the former president said, referring again to healthcare interventions whose safety and efficacy has been demonstrated in hundreds of peer reviewed studies in scientific and medical journals.
Trump also said he would create a private right of action allowing for lawsuits against doctors and healthcare providers for administering or facilitating access to treatments for trans and gender non-conforming youth.
Democrats should be studying Nicola Sturgeon and the forceful response she's given to the UK's efforts to hold back trans rights. Dismissing this fight as a distraction will only get you so far–take it head on, put your values up front, and don't hesitate. https://t.co/ZC9W2uKgIT

— Gillian Branstetter (@GBBranstetter) February 1, 2023
"The Department of Justice will investigate big pharma and the big hospital networks to determine whether they have deliberately covered up horrific long term side effects of sex transitions in order to get rich at the expense of vulnerable patients," Trump said.
The former president then looked beyond healthcare, promising to erase trans people from schools and refuse to recognize them by the U.S. government.
"My Department of Education will inform states and school districts that if any teacher or school official suggests to a child that they could be trapped in the wrong body, they will be faced with severe consequences including potential civil rights violations for sex discrimination and the elimination of federal funding," Trump said.
As part of credentialing for America's teachers, messages promoting "the nuclear family" and child-rearing by "mothers and fathers" would be required, Trump said, adding that he would ask Congress to "pass a bill establishing that the only genders recognized by the United States government are male and female and they are assigned at birth."
"The bill will also make clear," Trump said, "that Title IX prohibits men from participating in women's sports and we will protect the rights of parents from being forced to allow their minor child to assume a gender which is new and an identity without the parents' consent."
Trump concluded his message with the false assertion that gender dysphoria "was never heard of in all of human history" until "the radical left invented it just a few years ago."
D.C. police data show 67 anti-LGBTQ hate crimes reported in 2022
Community continues to be hit with most bias incidents in city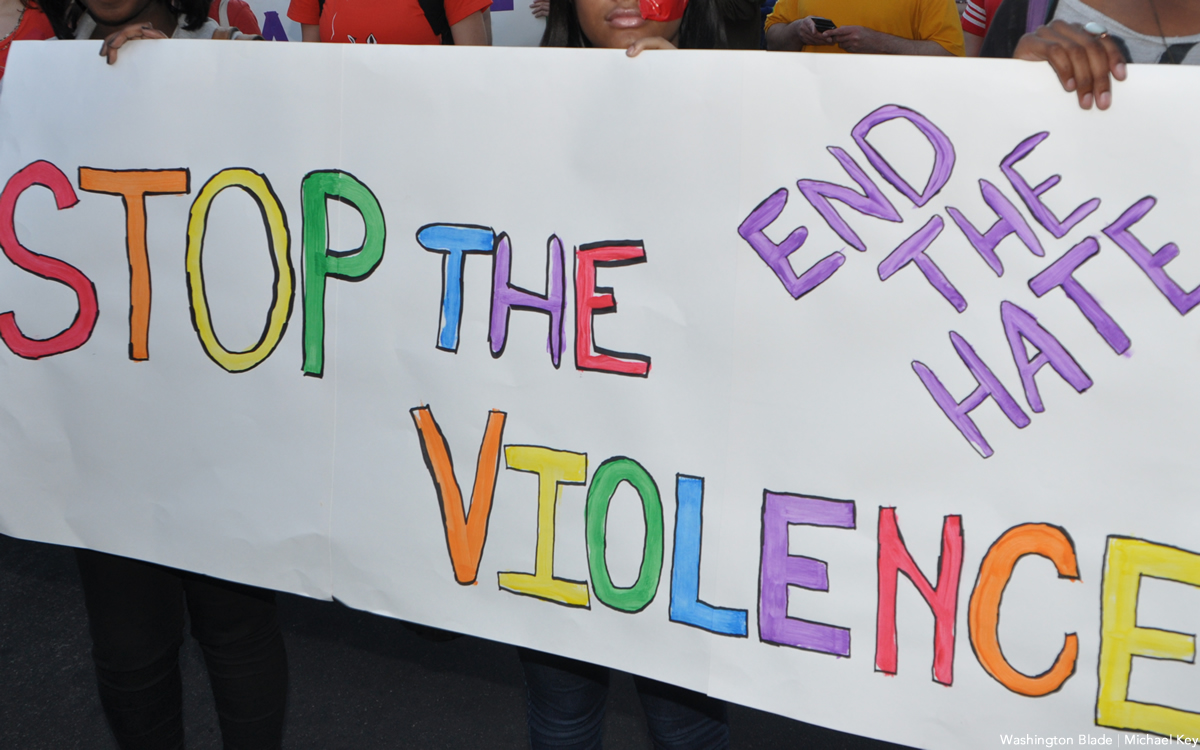 Recently released hate crime data by the D.C. Metropolitan Police Department shows that similar to nearly every year since 2011, LGBTQ people in 2022 were victims of a hate crime in far greater numbers than the other categories of victims, such as ethnicity/national origin, race, religion, or disability.
The data show that 45 of the reported hate crimes in 2022 were based on the victim's sexual orientation and 22 of the reported hate crimes were based on the victim's gender identity or gender expression, bringing the total number of anti-LGBTQ hate crimes to 67.
By comparison, the 2022 data show that 30 reported hate crimes were based on the victim's ethnicity or national origin, 20 were based on the victim's race, and four on the victim's religion. Three 2022 hate crimes were reported to be based on the victim's status as a homeless person and just one reported hate crime was said to be based on the victim's political affiliation.
The 67 reported anti-LGBTQ hate crimes reported in 2022 represent an increase over the 54 anti-LGBTQ hate crimes reported in 2021. The 2021 data show that 38 of the reported hate crimes were based on the victim's sexual orientation and 16 were based on the victim's gender identity or gender expression.
LGBTQ rights advocates, as well as law enforcement officials, have said they believe the reported number of hate crimes targeting LGBTQ people and other minorities are significantly less than the actual number of such cases because many go unreported.
"While the District strives to reduce crime for all residents of and visitors to the city, hate crimes can make a particular community feel vulnerable and more fearful," a D.C. police statement accompanying the release of the hate crime data says. "This is unacceptable and is the reason everyone must work together not just to address allegations of hate crimes, but also to proactively educate the public about hate crimes," the statement says.
Police and prosecutors have also pointed out that a hate crime is not legally classified as a crime in and of itself but instead as a hate or "bias" related designation to an underlying crime such as assault, threats of violence, destruction of property, and numerous other criminal offenses.
The Washington Blade couldn't immediately obtain from D.C. police additional 2022 data showing which underlying criminal acts were linked to the LGBTQ related hate crimes. The Blade has also requested data showing how many of the 67 reported anti-LGBTQ hate crimes in 2022 resulted in an arrest.
In past years, police data have shown that far fewer arrests are made compared to the number of reported hate crime cases. Past data has also shown that the Office of the U.S. Attorney for the District of Columbia prosecutes significantly fewer hate crimes cases than those sent to prosecutors after an arrest has been made.
The U.S. Attorney's Office has said that it has dropped a hate crime designation for cases on grounds that there was insufficient evidence to prove a motive of hate if the case goes before a trial by jury. Spokespersons for the office have said that when a hate crime designation is dropped, they often continue to prosecute the person arrested for the underlying crime.
A chart showing hate crime data reported by DC police from 2011 through 2022, including all categories of hate crimes, can be accessed at the D.C. police website.