November 13, 2015 at 10:00 am EST | by Gerard Burley
Working out in style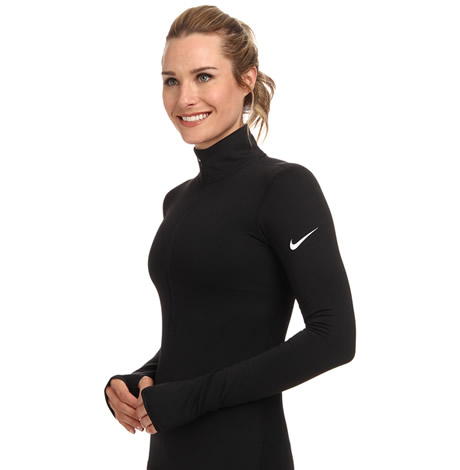 The leaves are turning color, the air is getting cold, the tank tops are turning into long sleeves and the booty shorts are becoming tights.
All signs are showing that the fall season is underway. As we move into colder weather, we must make sure that our fitness clothing game is up to par. In the past, running or working out outside in the fall months meant bulky sweat suits and a rocky wool hat, but now many brands have stepped their game up to give you comfort, cooling and style all at the same time.
Best overall product: Nike Pro Hyper Warm
This fall clothing line is my favorite when is comes to just plain-old-looking-fashion-forward-while-also-doing-the-job. It keeps you warm in the beginning of your workout, but somehow also wicks away the sweat off your body.
Result, you don't get clammy skin while working out. I also love that all the long sleeves come with a thumb slot which helps keep your hand warm while still giving you access to your thumb. Many of the products also have a built-in hoodie, which solves the problem of getting too hot or too cold in the middle of your run (which happens to me constantly when I'm running in a hat).
The only con is the price. Be prepared to shell out upwards of $150 for some of their hoodies and fleeces. If money ain't a thing, then Nike is where you go. Your best bet for a deal is checking out an outlet or online store for last year's model. You may be able to find a discount on quality gear.
Best Men's Wear: Under Armour Launch Run Leggings
I love these tights for the gentlemen because I feel like the ladies always get so many options while guys just get long or short tights. These come in various color patterns so you can be stylish but not in pink with polka dots.
Under Armour always does well with their material and moisture wicking, since they're the masters of the compression game, but they finally stepped their game up with style and design. My favorite part of these tight is the zip pocket. Now I can wear tights and still squeeze in my credit card so I can possibly stop for that latte on my way home. Priced around $80, this is great if you're looking for a more economical version, but no less stylish version of fall workout gear. (underarmour.com)
Best Women's Wear: H&M Padded Vest
I love the fall cool kid vest look. It works well for the workout, keeps you dry and warm after your workout and most importantly, acts as an amazing accessory. This is for the girl who wants to go for her run, stop at whole foods, pick up a coffee, get some new make up and then go shopping, all before heading back home.
My favorite two parts of this vest are the detachable hoodie and the variety of colors that it comes in. This vest is priced at $35 so it works for your fall fitness fashion and keeps your wallet happy. (hm.com)
With the change of the season it's important that you dress appropriately so that you can still get in your workout without getting hypothermia. Luckily we don't have to sacrifice comfort for style and function. Look for products that wick away moisture, keep your warm and most importantly, make you look good. If you look good you feel good and when you feel good you'll have a better workout.