March 23, 2016 at 2:00 pm EDT | by Suzi Chase
'Passing privilege' debate conjures stereotypes
A graphic making the rounds of social media depicts two young feminine-looking girls standing outside a locker room. The caption reads, "So, tell me, which girl shouldn't be allowed in?" At first glance, it looks like a positive message with laudable intention. Our detractors imagine a guy in a dress when opposing transgender girls using female changing facilities at school. It visually highlights that transgender girls are, first and foremost, girls.
No one can dispute the picture's timeliness. Recently, South Dakota came close to forbidding schools from allowing trans girls into female changing facilities after a bill easily passed both houses of the legislature there. Only a massive nationwide effort, teaming prominent transgender celebrities and spokespeople with local transgender youth, brought a last minute change of heart for Gov. Dennis Daugaard who initially refused to meet representatives of the transgender community. An even more restrictive bill is gaining steam in Tennessee after unanimous endorsement by lawmakers on a review committee. Transgender schoolchildren desperately need us to educate the country about their reality.
However, this image raises troubling issues.
You cannot tell which is the transgender girl. We're to conclude that being indistinguishable from a cisgender girl qualifies her to use the girls' locker room. In transgender circles that is known as "passing," when a trans person's gender history is not evident by looking. Vicious controversy surrounds that term. Many trans people revile it and refuse to engage in dialogue using it. Alas, no other agreed upon term exists.
Transgender people feel extraordinary pressure to pass. Passing privilege allows open movement without fear of harassment. It facilitates securing employment, making social connections and even finding safe housing. People won't discriminate against someone they don't know to be trans.
The difficulty of becoming passable varies widely, depending heavily on facial and bone structure and response to hormone therapy. For many, passing involves multiple surgeries with costs in the tens of thousands, and insurance coverage is spotty. Passability becomes a socio-economic indicator, more available to wealthier trans people and those with access to high-quality transition-related health care.
Some trans people's body shape and size defy any medical intervention to help them pass. However, men and women who do not pass are no less male and no less female, every bit as deserving of access to spaces available to other members of their gender. The mindset that passability affects one's entitlement to use a locker room leads us in a dangerous direction, essentially amounting to discrimination based on appearance.
Unfortunately, the graphic's worldview seems widespread among people with little personal knowledge of how trans people live. Images of feminine trans women in the men's room or buff trans guys in the ladies' are incongruous and jarring, even to those having little familiarity with transgender issues. We are powerfully tempted to incorporate such images in campaigns against restrictive restroom measures, such as the #WeJustWantToPee selfies.
Effective as those images seem, we need to resist such temptation. Basing our case for restroom and locker room access on the notion that those who look female belong in female spaces wins us ground, but only at the cost of compounding the pressure trans people already feel to conform to gender expectations imposed by our culture. If we insist that trans men and women resemble our general notion of what men or women ought to look like, we not only reinforce gender stereotypes but also disproportionately oppress those who can't or prefer not to live up to those stereotypes.
The South Dakota victory was not won by presenting impactful images. Instead, the transgender students the law would mistreat were humanized by airing their stories and acquainting decision makers with the realities of their lives. That needs to be our goal in future efforts if we are truly to move toward a world where the entire spectrum of appearances, gender identities, and presentations can live comfortably and safely.
Suzi Chase is a Maryland-based freelance writer.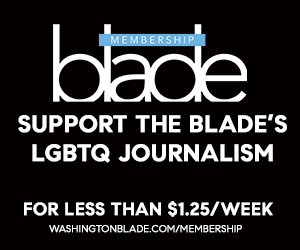 Sign Up for Blade eBlasts