June 28, 2016 at 4:34 pm EDT | by Steve Charing
Frederick celebrates amid enhanced security
Just two weeks removed from the massacre at the Pulse nightclub in Orlando, an estimated 5,000 to 6,000 people attending the fifth annual Frederick Pride festival were undeterred in their celebration on June 25. The event, which featured nearly 100 vendors on a brilliant sun-splashed day, took place at Carroll Creek Linear Park in downtown Frederick, Md.
"This is my first Pride event ever," said Jimmy Hennigan from Laurel. "It's really cool to see a bunch of people coming together, not being judged, laugh a lot and eat good food."
Stephanie Mellone of Montgomery County attended with her husband and twin sons. "I just want to support the LGBT community and my gay brother and his partner," she says. "It's more important now than ever."
Keeping the memory of Orlando in the forefront, a small memorial was created next to one of the stages. In addition to paid guards, security was bolstered to include four plainclothes police officers and several S.W.A.T. personnel stationed on top of a nearby building plus 20 uniformed officers from the Frederick City Police Department. There were also several representatives from Frederick County EMS.
"We wanted to strike a balance between having visible security while still providing that safe space for the LGBTQ community that was open and free," Kristopher Fair, chair of The Frederick Center, which ran Frederick Pride, told the Blade.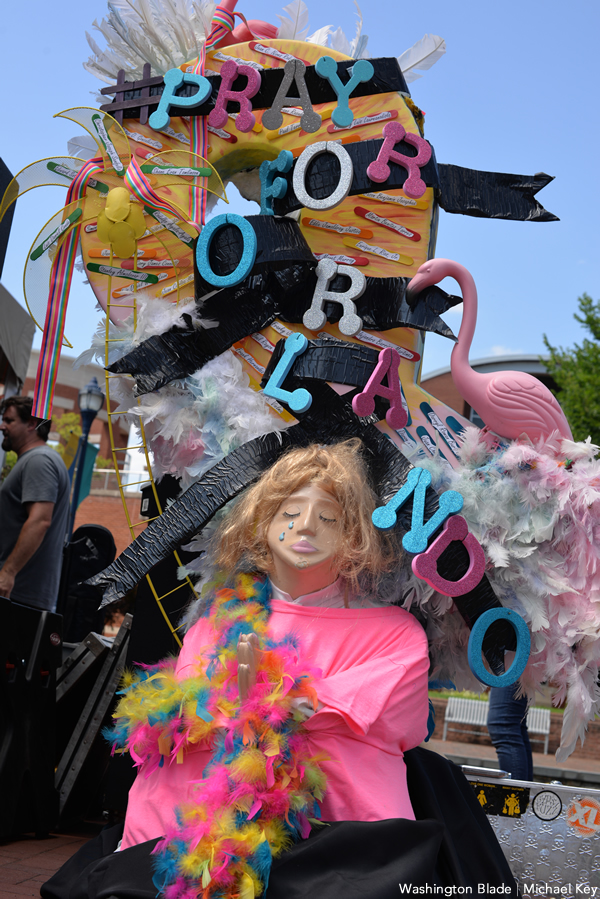 Click here to see more photos from Frederick Pride 2016.