Paris Pride parade highlights trans rights
Police shortened route amid security concerns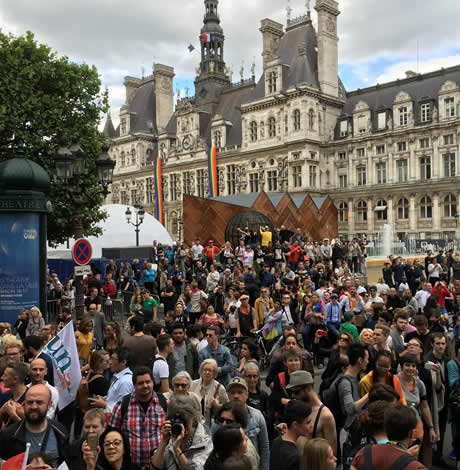 Paris' annual Pride parade, known as Marche des Fiertés, took place in the French capital on Saturday.
Equal parts protest and celebration, the parade attracted thousands of LGBT denizens that included a plethora of usual characters: Street performers in PVC cat suits, demented nuns, dancing cowboys and sailors and belly-dancing transsexuals.
For the first time ever, Inter-LGBT, the group that organized the annual event, allotted the most prominent spot in the parade, which is usually reserved for politicians and celebrities, to emphasize trans rights.
The Gay and Trans Collective Association for Equality, an LGBT group known by the French acronym ACTHE, marched front and center. It brought attention to the issues facing the transgender community with this year's motto: "The rights of trans people are in a state of emergency: Stop forced sterilizations! Stop violence! Stop insecurity!"
French Culture Minister Audrey Azoulay and Paris Mayor Anne Hidalgo were among the prominent politicians who took part.
"Our city will always be a bulwark against homophobia because openness and tolerance are part of its DNA," Hidalgo told Têtu, a French gay magazine.
LGBT organizations were also present, including the Gay and Lesbian Sports Federation, which fights homophobia and discriminations in sports. ACT UP Paris and Amnesty International — which had a festive vehicle with yellow signs that read, "Human rights are my Pride" in English and French — were among the international advocacy groups that also took part.
Paris officials postponed the parade, which usually takes place on the last weekend in June to commemorate the 1969 Stonewall riots, because of security concerns and the lack of police personnel available because of soccer's European Championships.
Instead of the usual 4.6 kilometers, the parade was reduced to 2 kilometers, running along the River Seine from the Louvre to the Bastille monument.
ACTHE in a press release urged French officials not to cower under fear and pressure.
"Give in to fear, giving in the LGBT-phobes, this is just giving up on our struggles, our battles, our rights to live, and our diversity," it said. "Give in to fear, is to give in to terrorism."
Fear and terrorism were on the minds of many parade participants.
Two brothers who said they were members of an Al-Qaida branch in Yemen on Jan. 7, 2015, stormed into the offices of Charlie Hebdo, a satirical magazine known for excoriating political and religious figures, and shot to death 12 journalists and cartoonists who were inside. Stéphane "Charb" Charbonnier, who was editor-in-chief of Charlie Hebdo, was among the victims.
A group of terrorists who pledged their allegiance to the so-called Islamic State last November killed more than 100 people in a series of attacks that took place at the Bataclan nightclub and at other locations throughout Paris.
This year's Pride march took place less than a month after a gunman who also pledged his allegiance to ISIS killed 49 people inside Pulse, a gay nightclub in Orlando, Fla. The massacre sparked widespread outrage around the world and sparked renewed debate around gun control in the U.S.
"This year's Pride parade was under heavy protection, and all of us were determined for it to take place, despite the risks we had been warned about," Flora Bolter, co-chair of the LGBT Center of Paris-Île-de-France, told the Washington Blade. "The atmosphere in the days leading up to the parade was quite electric, and for the first time we had to have security checks for all people entering the area. You could feel the tense determination everywhere."
Bolter told the Blade that this year's parade reinforced the necessity of equal protection under the law for LGBT people.
"This was a very political parade, with clear and urgent calls for action, and it was nonetheless a great success, in spite of many difficulties, and perhaps even thanks to them," she said, "The very real possibility that our parade could be canceled made people realize how important it was to take part, be proud of who we are and face those who would silence us."
Trans woman sues D.C. Jail for placing her in men's unit
Lawsuit charges city with exposing inmates to 'risk of sexual violence'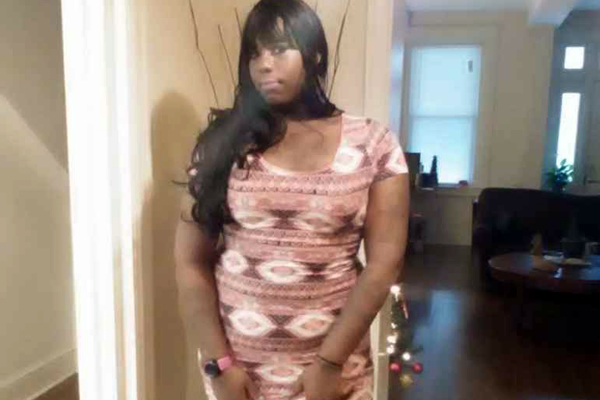 The American Civil Liberties Union of D.C. and the D.C. Public Defender Service filed a class action lawsuit on May 11 on behalf of a transgender woman being held in the D.C. Jail on grounds that the city violated its own Human Rights Act and the woman's constitutional rights by placing her in the men's housing facility at the jail.
The lawsuit charges that D.C. Department of Corrections officials violated local and federal law by placing D.C. resident Sunday Hinton in the men's unit at the D.C. Jail against her wishes without following a longstanding DOC policy of bringing the decision of where she should be placed before the DOC's Transgender Housing Committee.
The committee, which includes members of the public, including transgender members, makes recommendations on whether a transgender inmate should be placed in either the men's or the women's housing unit based on their gender identity along with other considerations, including whether a trans inmate's safety could be at risk. Under the policy, DOC officials must give strong consideration to the recommendations of the committee.
The lawsuit, which was filed in U.S. District Court for the District of Columbia, says the committee has not met or acted on any trans-related jail housing matter since January 2020.
It says Hinton was taken to the D.C. Jail on April 26 after a judge ordered her held following an arrest for an alleged unarmed burglary in which she attempted to take $20.
It notes that the Department of Corrections has a "default" policy of placing transgender inmates in either the male or female housing unit at the D.C. Jail and other city detention holding facilities based on the inmate's "anatomy." If a female transgender inmate is anatomically male, the inmate – barring other mitigating circumstances – is placed in the male housing facility under the default policy. Similarly, a male transgender inmate who is anatomically female is placed by default in the women's housing unit under the DOC policy.
"DOC's policy of focusing on anatomy rather than gender identity is both discriminatory and dangerous," the ACLU says in a statement released on the day it filed the lawsuit on Hinton's behalf. "It forces trans individuals, particularly trans women, to choose between a heightened risk of sexual violence and a near-certain mental health crisis," ACLU attorney Megan Yan said in the statement.
Yan was referring to yet another DOC policy that sometimes gives a transgender inmate placed in a housing unit contrary to their gender identity the option of being placed in "protective custody," which the lawsuit calls another name for solitary confinement. The ACLU and the Public Defender Service have said solitary confinement in prisons is known to result in serious psychological harm to inmates placed in such confinement.
"Because DOC's unconstitutional policy exposes every transgender individual in its custody to discrimination, degradation, and risk of sexual violence, Ms. Hinton seeks, on behalf of a class of similarly situated individuals, a court order that strikes down DOC's unlawful focus on anatomy as the touchstone for its housing decisions regarding transgender individuals," the lawsuit states.
It further calls on the DOC to use "gender identity, not anatomy, as the default basis for housing assignments" for transgender inmates and to provide all trans individuals a prompt hearing by the DOC Transgender Housing Committee.
It calls for the DOC to be required to implement the recommendations of the Housing Committee "so that each person is housed as safely as possible and without discrimination."
In addition to the lawsuit, Hinton's attorneys filed an application for a temporary restraining order to immediately require the DOC to transfer Hinton to the D.C. Jail's women's housing facility. The attorneys also filed a motion for a preliminary injunction to stop the DOC from using a transgender person's anatomy as the default or sole criteria in making housing assignments at the jail.
In response to a request from the Washington Blade, DOC spokesperson Dr. Keena Blackmon sent the Blade a DOC statement responding to the lawsuit.
"The Department of Corrections is dedicated to the safety and security of all residents in its care and custody," the statement says. "DOC is committed to following its policies and procedures relating to housing transgender residents," it says. "Ms. Hinton recently arrived in DOC custody and, per the agency's COVID-19 protocols, was placed into single-occupancy quarantine for 14 days."
The statement adds, "Once that quarantine ends, Ms. Hinton will go before the Transgender Housing Committee to determine her housing based on safety needs, housing availability, and gender identity. D.C. DOC is sensitive to Ms. Hinton's concerns and will continue to ensure that its residents' needs are met."
DOC spokesperson Blackmon didn't immediately respond to a follow-up question from the Blade asking why the Transgender Housing Committee has not met for over a year, which the ACLU has said resulted in all transgender female inmates being placed in the male housing facility.
Blackmon also couldn't immediately be reached for a second follow-up question asking for DOC's response to the lawsuit's claim that DOC officials told Hinton's lawyers that she was being placed in the men's housing facility because she was anatomically male.
The lawsuit says the DOC default policy of placing Hinton in the jail's male housing unit violates the D.C. Human Rights Act, which bans discrimination based on gender identity. The act has been interpreted to mean private businesses or the city government cannot prevent a transgender person from using facilities such as bathrooms or locker rooms that are in accordance with their gender identity.
D.C. Superior Court records show that Hinton has been arrested a total of 24 times in D.C. between 2006 and 2018. All except three of those arrests are listed as misdemeanor offenses, with just three listed as alleged felony offenses. One of the arrests is listed as a traffic offense.
In nearly all of the prior arrests, the court records identify Hinton by her birth first name, with her last name of Hinton used in all of the arrest records.
The burglary offense for which Hinton was charged on April 26 of this year and for which she is currently being held the D.C. Jail would  normally not result in a defendant being held in jail while awaiting trial. The fact that Hinton is being held rather than released pending trial suggests her prior arrest record may have prompted a judge to order her incarceration.
ACLU attorney Yan, who is among the attorneys representing Hinton in the lawsuit, said Hinton's prior arrest record should not be a factor in the lawsuit.
"We don't think any of the underlying things are relevant to her claim in this lawsuit, which is based on her identity and the fact that her constitutional and statutory rights to be free from discrimination are being violated," Yan said. "At the end of the day, Sunday is a transgender woman and she's a woman and she deserves to be held according to her gender identity as she desires."
Gay Iranian man murdered in so-called honor killing
State Department describes Ali Fazeli Monfared's death as 'appalling'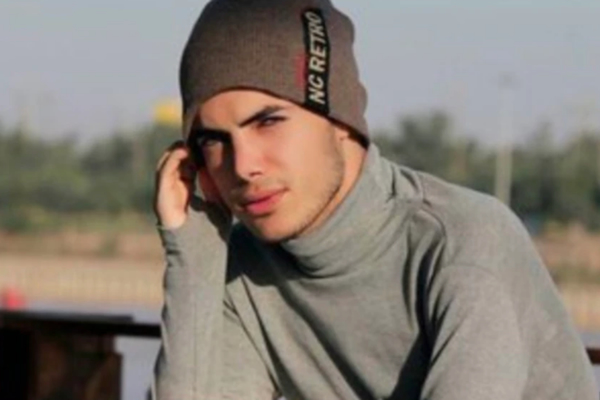 Reports indicate an Iranian man's relatives killed him after they discovered he was gay.
The Iranian Lesbian and Transgender Network wrote on its website that Ali Fazeli Monfared, 20, was kidnapped in Ahvaz, a city in Iran's Khuzestan's province on May 4.
The advocacy group said Monfared, who was known as Alireza, was beheaded. His body was reportedly found on May 5, the day after he was kidnapped.
The Iranian Revolutionary Guard Corps had exempted Monfared from military service because he is gay, even though consensual same-sex sexual acts remain punishable by death in the country. An activist who has known Monfared since late 2019 told the Iranian Lesbian and Transgender Network his half-brother discovered he was gay when he opened an envelope from the Iranian Revolutionary Guard Corps that contained his military exemption card.
Masih Alinejad, an Iranian journalist and activist, reported Monfared at the time of his murder was planning to flee Iran and live with his boyfriend, who previously sought refuge in Turkey. Alinejad said Monfared's half-brother and cousins killed him "as part of an honor killing."
2-Alireza was killed by being beheaded by his family. After beheading him, the family dumped this poor man's body under a tree outside of the city of Ahwaz. Alireza was about to flee Iran to join his boyfriend, who's a refugee waiting for him in Turkey. #علیرضا_فاضلی_منفرد pic.twitter.com/QMqAoINHIm

— Masih Alinejad 🏳️ (@AlinejadMasih) May 8, 2021
The Iranian Lesbian and Transgender Network says authorities have arrested Monfared's half-brother and cousins and charged them with first-degree murder. A State Department spokesperson on Tuesday in a statement to the Washington Blade described the Fazeli Monfared's murder as "appalling."
"The United States firmly opposes abuses against LGBTQI+ persons. The struggle to end violence, discrimination, criminalization and stigma against LGBTQI+ persons is a global challenge, and one that remains central to our commitment to promote human rights and fundamental freedoms for all individuals," said the spokesperson.
"Iran must do more to ensure the human rights of LGBTQI+ persons are protected," added the spokesperson. "We extend our deepest sympathies to Mr. Monfared's loved ones."
D.C. mayor to lift all restrictions on bars, nightclubs on June 11
'We will definitely be celebrating Pride' next month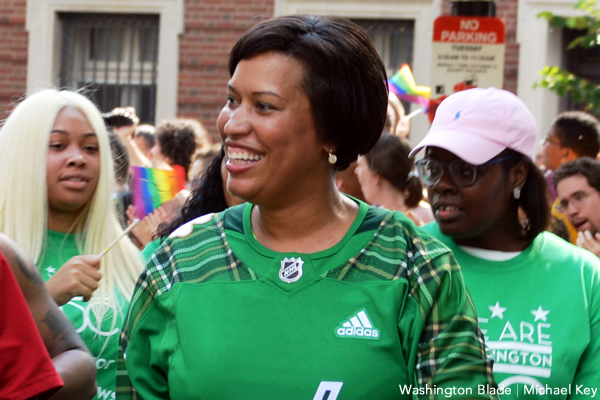 D.C. Mayor Muriel Bowser announced at a news conference on Monday that a continuing trend of significantly lower numbers of coronavirus cases and deaths in the city has enabled her to fully lift capacity and other restrictions on most businesses, including restaurants and places of worship, on May 21.
The mayor said bars and nightclubs will be allowed to increase indoor capacity from the current 25 percent to 50 percent on May 21, with all capacity restrictions for bars and nightclubs to be removed on June 11.
The mayor's announcement came after representatives of the city's nightlife businesses, including the city's gay bars and restaurants, expressed concern that D.C. had yet to lift its capacity restrictions beyond 25 percent while surrounding jurisdictions in Maryland and Virginia had already lifted most restrictions.
"On May 21, restrictions on public and commercial activity, including capacity limits, types of activities, and time restrictions, will be lifted," the mayor's directive says.
It says restrictions for bars and nightclubs would continue at a 50 percent capacity from May 21 through June 11. The directive says restrictions for large sports and entertainment venues would also continue from May 21 to June 11, which includes a requirement such events apply for a waiver of the restrictions on a case-by-case basis.
"On June 11, capacity limits and restrictions will be lifted on those venues that cannot fully reopen on May 21," the directive says.
In response to a question at the news conference, Bowser said the June 11 date would essentially end all restrictions on nightclubs and bars, including the current requirement that they close at midnight rather than the pre-epidemic closing times of 2 a.m. on weekdays and 3 a.m. on weekends.
In a development that could have a major impact on plans for D.C.'s LGBTQ Pride events, the mayor's revised health directive announced on Monday includes the lifting of all capacity restrictions on large outdoor and indoor sports and entertainment events beginning on June 11.
That change would remove restrictions that have, up until now, prevented D.C.'s Capital Pride Alliance from holding its annual Pride Parade and Festival in June during Pride Month.
Capital Pride Executive Director Ryan Bos told the Washington Blade shortly after the mayor's announcement that Capital Pride is assessing its options for expanding its current plans for in-person events in June.
"We will definitely be celebrating Pride in June," Bos said. "We just received this information as well. So, we will be getting further information," he said. "We have not been informed that they will be issuing any permits yet, so at this time we are moving forward with our original plans for doing things."
Bos was referring to a city requirement for obtaining permits for street closings and use of other public spaces for events such as a parade or street festival. He said existing plans, among other things, call for an informal parade of cars and other vehicles on June 12 that will drive throughout the city to view homes and businesses that will be decorated with Pride displays such as signs, photos, and other symbols of Pride.
Those familiar with the city's past Pride events don't think there will be enough time for Capital Pride to organize the traditional large parade and street festival in time for June. But Capital Pride officials have talked about holding a possible parade and festival in October, and the lifting of the capacity restrictions announced by Bowser on Monday would likely make that possible.
In addition to lifting all capacity restrictions on May 21 for restaurants, the mayor's May 21 timeframe for lifting restrictions includes these additional venues and events:
Weddings and special events
Business meetings and seated conventions
Places of worship
Non-essential retail
Personal services
Private at-home gatherings
Libraries, museums, galleries
Recreation Centers
Gyms and fitness centers
Pools
Office space
Schools
Childcare
"We're very pleased that over the last several days, we have seen our case spread, our community spread numbers, venture out of the red into the yellow and fast approaching the green," Bowser said in referring to a health department chart that shows the changes in coronavirus cases in the city.
"You might remember that our daily case rate peaked in January at 45.9. And today you can see it's down to 6.6," she said at her news conference on Monday.
"Throughout this process I have said how proud I am of D.C. residents and businesses who have responded, who have followed health guidance and have worked together to help protect our community throughout the pandemic. And we see it in these numbers today," she said.
"Containing the virus will continue to require all of us to be focused on maintaining a robust health system," the mayor said, adding that while over 200,000 D.C. residents have been fully vaccinated since December 2020, "many more thousands" still need to be vaccinated. "Vaccines are free and available on demand at walk-up sites across the District," she said.
The mayor also noted that the city will continue to require residents and visitors to use a mask in accordance with existing and updated guidance set by the U.S. Centers for Disease Control and Prevention.
Mark Lee, coordinator of the D.C. Nightlife Council, an association that represents restaurants, bars, nightclubs and other entertainment venues, said the mayor's directive on May 10 leaves some details to be addressed but will open the way to bring nightlife businesses back to life.
"What we do know is that on Friday, May 21, businesses begin returning to normal operations and, three weeks later, on June 11, all restrictions for all businesses in the District will end," Lee said. "It's a day we've long awaited and one that will save much of our community enterprise from financial ruin."