Tig Notaro bares double mastectomy and newborns on social media
lesbian comedian gets personal on Facebook, Twitter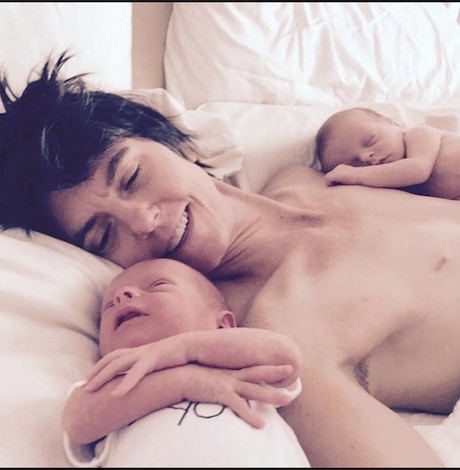 This is my life. pic.twitter.com/xPLyP2yYix

— Tig Notaro (@TigNotaro) July 18, 2016
Lesbian comedian Tig Notaro shared an intimate look at her life in a photo posted on Facebook and Twitter that showcases her double mastectomy and her newborn twin babies.
Notaro, 45, was diagnosed with breast cancer in both her breasts in 2012. The breast cancer survivor opted to have a double mastectomy without reconstructive surgery. Notaro has been open about the operation, even performing a stand-up show topless in New York City in 2014.
The comic and her married partner Stephanie Allynne, 31, had twin boys Max and Finn via a surrogate in June.
In the photo, Notaro lounges in bed topless with her children. The caption reads "This is my life."
Verhoeven returns with subversive tale of lesbian nun in 'Benedetta'
Period drama delivers sex, violence, and horrors of the Black Death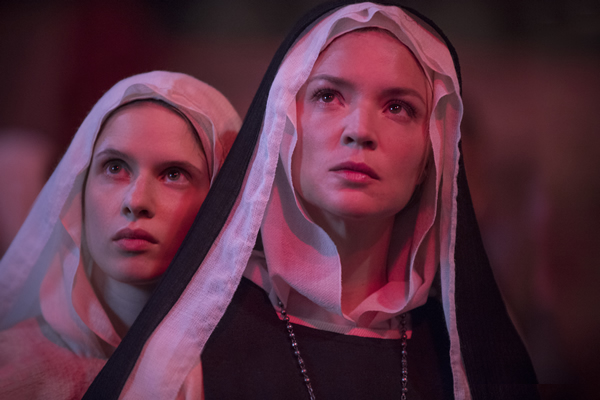 There was a time when Paul Verhoeven was a big deal in Hollywood.
The Dutch filmmaker first attracted international attention during an early career in his homeland, with critically acclaimed movies like "Turkish Delight" and "Soldier of Orange," which found an audience outside of the Netherlands and brought him greater opportunities in America, Once here, he adapted his style to fit a more commercial mold and forged a niche for himself with violent, action-packed sci-fi blockbusters, scoring major hits with "Robocop" and "Total Recall" before reaching a pinnacle with "Basic Instinct" – arguably still his most influential and iconic film.
Then came "Showgirls." Although the Joe Eszterhas-scripted stripper drama is now revered as a "so-bad-it's-great" cult classic, it was a box office bomb on its initial release, and its failure, coupled with the less-spectacular but equally definitive flopping of his next film, "Starship Troopers," effectively put an end to his climb up the Hollywood ladder.
That was not, however, the end of his story. Verhoeven moved back to his native country (where he was hailed as a returning hero) and rebounded with the critically lauded "Black Book" before spending the next two decades developing and producing new projects with other filmmakers. In 2016, he assumed the director's seat again, this time in France, and the resulting work ("Elle") put him once more into the international spotlight.
Now, he's back with another French film, and fans of his signature style – a blend of social satire, psycho-sexual themes, graphic violence, and near-exploitation-level erotic imagery that has prompted some commentators to label him as a provocateur – have every reason to be excited.
"Benedetta," which receives its long-delayed (due to COVID) release in the U.S. on Dec. 3, is the real-life story of a Renaissance-era Italian nun (Virginie Efira), whose passionate devotion to her faith – and especially to Jesus – sparks disturbing and dramatic visions. When young novice Bartolomea (Daphne Patakia) enters the convent and is assigned to her as a companion, it awakens a different kind of passion, and as their secret relationship escalates, so too do her miraculous episodes, which expand to include the physical manifestation of stigmata. Soon, despite the skepticism of the Mother Abbess (Charlotte Rampling), she finds herself heralded as a prophet by the other sisters and the local community, leading to controversy, investigation, and a power struggle that threatens the authority of the church itself.
Inspired by "Immodest Acts: The Life of a Lesbian Nun in Renaissance Italy," Judith C. Brown's biography of the real Sister Benedetta, Verhoeven's latest work is perhaps his most quintessential to date. In his screenplay (co-written with "Elle" collaborator David Birke), the Dutch auteur – who is also a widely recognized, if controversial, religious scholar – gives free reign to his now-familiar obsessions, weaving them all together into a sumptuously realized period drama that delivers copious amounts of nudity and sex, bloody violence, and the horrors of the Black Death while exploring the phenomenon of faith itself. Is Benedetta a saint or a harlot? Is she chosen by God or mentally ill? Are her visions real or is she a fraud, cynically exploiting the beliefs of those around her in a bold-faced grab for power and glory? And if she's lying, in the larger context of a world held firmly in the grip of a church that treats salvation as transactional and levies its presumed moral authority to unlimited financial and political gain, which is greater evil? Though the film strongly implies the answers lie somewhere between the "either/or" of absolutes, it shrewdly leaves the viewer to contemplate such questions for themselves.
What concerns "Benedetta" more than any esoteric debate is a sly-yet-candid commentary on the various levels of societal hierarchy and the ways in which the flow of power perpetuates itself through their devotion to maintaining the status quo. As Benedetta's perceived holiness carries her upward through the strata, from unwanted daughter of the merchant class to Mother Superior and beyond, more important than the veracity of her claims of divinity are the shifting and carefully calculated responses of those she encounters along the way. Fearing the loss of their own power, they ally and oppose themselves in whichever direction will help them maintain it. It's a Machiavellian game of "keep-away" in which those at the top will not hesitate to use economic class, gender, sexuality, and – if all else fails – torture and execution as weapons to repress those they deem unworthy.
Inevitably, the above scenario provides plenty of fodder for Verhoeven's movie to make points about religious hypocrisy, systemic oppression, and the way white heterosexual cisgender men keep the deck eternally stacked in their own favor – all of which invites us to recognize how little things have changed in the five centuries since Sister Benedetta's time. That, too, is right in line with the director's usual agenda.
Ultimately though, the signature touch that makes the movie unmistakably his is the way it revels in the lurid and sensational. Verhoeven delights in presenting imagery designed to shock us, and key elements of the film – from hyper-eroticized religious visions and explicit lesbian sex, to the prominent inclusion of a blasphemous wooden dildo as an important plot point – feel deliberately transgressive. This should be no surprise when one remembers that this is the director who brought us not only "Basic Instinct" and "Showgirls" but also "The Fourth Man," a homoerotic psychological thriller from 1983 still capable of making audiences squirm uncomfortably today; and while all this titillation may trigger the most prudish of viewers, it makes "Benedetta" into a deliciously subversive, wild-and-wooly ride for the rest of us. More to the point, it underscores the film's ultimate observation about the empowering nature of sexual liberation.
Helping Verhoeven make maximum impact with this obscure historical narrative is a cast that clearly relishes the material as much as he does. In the title role, the statuesque Efira successfully creates a compelling and charismatic figure while remaining an enigma, someone we can believe in equal measure might be sincere or corrupt and with whom we can empathize either way; likewise, Patakia exudes savvy and self-possession, transcending moral judgment as the object of her affection, and the two performers have a palpable chemistry, which is made all the more compelling by their thrillingly contemporary approach to the characters. Rounding out the triad of principal roles is Rampling, a cinematic icon who brings prestige and sophistication to the table in a masterful performance as the Abbess; more than just a grounding presence for her younger co-stars, she provides an important counterbalance with a subtle and layered performance as a woman who has devoted her life to a belief in which she has no faith, only to find herself overshadowed by a charlatan.
"Benedetta" is not exactly the kind of film that's likely to put Verhoeven back on the Hollywood fast track – it's far too radical in its underpinnings for that. Nevertheless, it's a welcome return to form from a unique and flamboyant filmmaker we've missed for far too long, and his fans – along with anybody with a taste for provocative cinema – should consider it a must-see.
Olympian Tom Daley launches knitting line
A journey for me that started when I first picked up my knitting needles- fast forward 18 months & I'm so proud to introduce these kits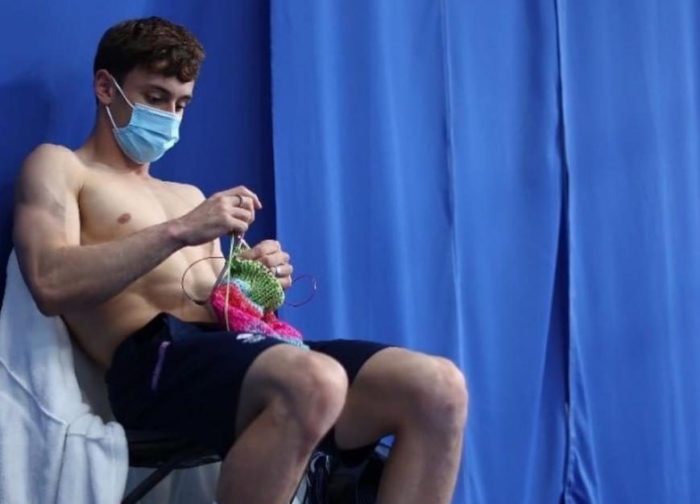 LONDON – During the entire course of the Olympic games in Tokyo 2020 this past summer, audiences following the diving competitions were certain to see British Olympian Tom Daley quietly and intently focused in-between matches- on his knitting.
The Gold medalist diving champion only picked up his first set of knitting needles in March of 2020 as the coronavirus pandemic first spread across the globe, strangling normal daily routines in its deadly grip.
Now, the 27-year-old British athlete has launched a company to encourage others to take up the hobby.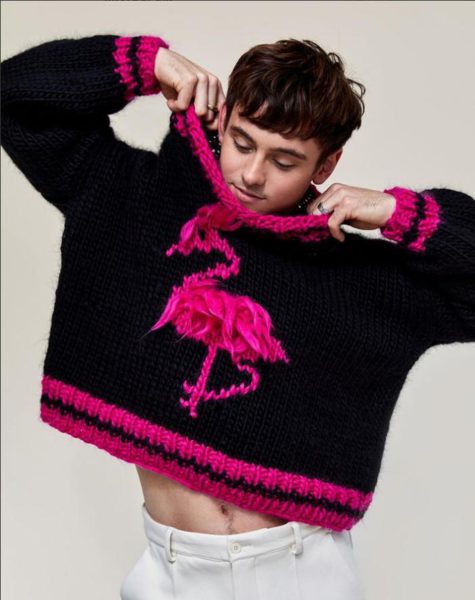 "It's been a journey for me that started when I first picked up my knitting needles in March 2020. Fast forward 18 months and I'm so proud to introduce these kits to you all so that you can experience the joy I found learning to knit," Daley said on his newly launched website.
"I designed these knit kits to help encourage you to pick up those needles, learn the basics, and fall in love with knitting at the same time – all whilst creating something to show off or pass on.
Ready? Pick up your needles, learn the basics and let's have some fun!"
The website offers various kits for beginners, intermediate and experienced knitting and crocheting enthusiasts. One of the kits, a winter warmer hat already sold out but the collection ncludes a vest, scarves, cardigans, jumpers, stockings, and a blanket.
Kits include needles, biodegradable yarn made of Merino wool, and knitting patterns.
Studio House, Visual AIDS partner for educational program
Day With(out) Art 2021 to be held at Lamont Plaza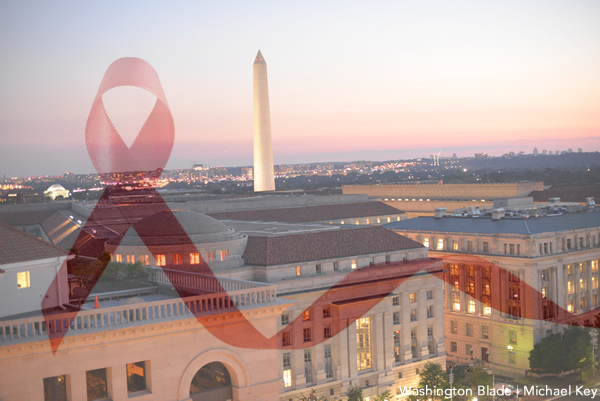 Studio House and Visual AIDS will join forces for "Day With(out) Art 2021" on Tuesday, Nov. 30 at 6 p.m. at Lamont Plaza.
This event is a community outdoor screening of "Enduring Care," a video program that highlights strategies of community care within the ongoing HIV epidemic followed by a discussion about the video.
There will be an open house in the neighborhood at the David Bethuel Jamieson (1963-1992) Studio House and Archives featuring newly commissioned work by Katherine Cheairs, Cristóbal Guerra, Danny Kilbride, Abdul-Aliy A. Muhammad and Uriah Bussey, Beto Pérez, Steed Taylor, and J Triangular and the Women's Video Support Project.
For more information, visit Eventbrite.