Rethinking the coming-out template for athletes
Despite success stories, Michael Sam lingers as cautionary tale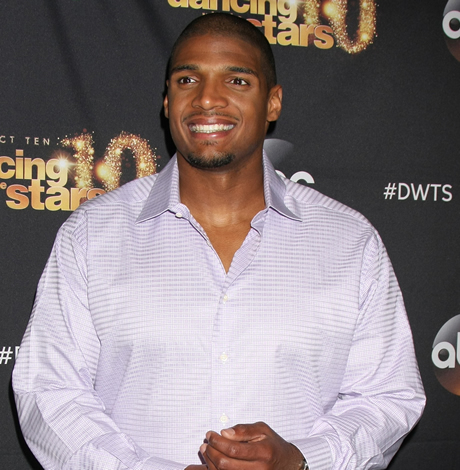 Tanner Williams didn't have a typical coming-out sports story. In 2014, the 22-year-old Norman, Okla., resident, a pole vaulter on the University of Oklahoma track and field team, posted on Facebook that he'd gotten engaged to Scott Williams, his boyfriend of less than a year.
He wrote about the experience in a more prominent coming-out moment when Outsports, an LGBT sports news site, published his story in April 2015.
Even in Oklahoma, which Williams himself (he's a native of Ardmore, Okla.) admits is "a very conservative and religious state," the experience has been overwhelmingly positive, he says.
"It's probably been one of the greatest things I've ever done," he says. "It helped me, my family, my friends to know that it's OK to be gay. It made a huge impact in Oklahoma with the inclusion-in-sports aspect. … I got a lot of positive attention. It's all been great."
Williams had read other coming-out stories on Outsports and became friendly with Jim Buzinski, who co-founded the site in 1999 with Cyd Zeigler, Jr.
"I think I just messaged him thanking him for all the stuff he's done and told him, 'If you ever want to share my story, I could probably come up with the courage,'" Williams says.
The only thing he might have done differently is to have come out sooner.
"There were a few negative comments, but it was pretty mild," he says. "After the Outsports piece ran and some other papers here in Oklahoma wrote about it, there were a few comments. People said, 'Why is this news?' and a few things like that. But then I was elected co-captain of my team and it just showed that they respected me and being gay has nothing to do with what kind of person or athlete you are. It was even more positive. It got an overwhelming amount of attention through Outsports."
But how typical is Williams' experience? Buzinski says in 16 years of telling the coming-out stories of "probably a couple hundred" athletes on "all levels," there's rarely been any issue.
"We leave the final decision up to the athlete," Buzinski says. "The bottom line for them is once you come out, you can't go back in. If you're going to come out, even in some of the smaller sports, you have to know that there's going to be different levels of attention and you have to be ready for that. Most of the time they write their own stories and even if we work, shape and edit them, they have to sign off on the final version. It's their story to tell."
He says a few times they've had athletes ready to come out, but he and Zeigler have urged them to wait.
"We've never pushed," Buzinski says. "It's frustrating to us as journalists, but we've never forced [anyone]."
He says negative feedback has been rare. He recalls "maybe two or three" who asked later for their stories to be removed from the Outsports website, which is not practical since the pieces live on in web archives. He guesses "less than" five have had second thoughts after the fact.
With lots of positives to point to — everything from Jason Collins becoming the first openly gay athlete to play in the NBA to 41 out LGBT athletes competing at this month's Rio Olympics — and LGBT rights overall making previously unheard of strides in the U.S. and around the world, some assume there's little risk in coming out.
Yet the sting of Michael Sam's aborted NFL career is still fresh and there's also a sense in some circles that things aren't always so rosy for out athletes once the media buzz and excitement wears off.
Robbie Rogers, a soccer midfielder for the Los Angeles Galaxy who came out in 2013, told the Chicago Tribune this summer he assumed he was on the outer cusp of a sort of domino effect of male athletes coming out that never materialized. Despite many out female athletes in the WNBA, Rogers is now the lone openly gay male athlete in the U.S.'s five major pro sports leagues (the NBA, MLB, NHL, NFL and MLS).
Sam came out to great fanfare in 2014 with ESPN, New York Times and Outsports profiles (Zeigler writes of how it all went down in a lengthy Outsports piece called "The Eagle Has Landed"). He was drafted by the St. Louis Rams in the seventh round of the 2014 draft but was cut at the end of training camp before ever playing a game. He also had a short stint with the Dallas Cowboys' practice squad but was waived. In 2015, he played a single game with the Montreal Alouettes becoming the first openly gay player to play in the Canadian Football League before leaving citing "mental health" concerns.
Since then, he's made many appearances for LGBT rights, did a season of "Dancing With the Stars," appeared in a documentary on OWN (the Oprah Winfrey Network) and returned to the University of Missouri (his alma mater) to pursue a master's degree. His NFL career is, for all practical purposes, likely over.
Although stressing he has "no regrets whatsoever," as he told Dan Patrick on his eponymous show last year, Sam has now said in several interviews that he'd likely be in the NFL today if he'd not come out.
"It probably would have been better for me if I didn't come out," he told Patrick. "I would be on a roster."
He also told Edge of Sports, "I think if I never would have came out, never would have said those words to the public, I would still be currently in the NFL. But because of me saying those words, I think it could have played a huge part in my current situation."
Even Zeigler agrees.
"He would have played in the NFL last season if he hadn't come out," Zeigler wrote in a September 2015 Outsports column. "The NFL teams have, individually and collectively, discriminated against Sam because he is an openly gay man. Homophobic jerks keep saying that's just sour grapes, but it's not. He'd be in the NFL right now if he hadn't come out."
Sam parted ways with former agents Cameron Weiss and Joe Barkett and Howard Bragman, the gay PR guru who masterminded Sam's coming-out media strategy. Bragman, with whom Sam had a profanity-strewn clash in clips seen in the OWN documentary, is laying low on the matter now. He declined a Blade interview request.
Buzinski says it's hard to say to what degree homophobia might have hurt Sam's career. There were several contributing factors — the Rams having been well stocked in defense (Sam is a defensive end) at the time of the draft, perhaps most notably.
"There were probably X number of teams that wouldn't touch him because he was gay, but not all 32," he says. "The NFL has a ways to go, but if teams thought Michael Sam could have helped them, they would have picked him. I don't believe it was exclusively because he was gay. That's something that can never be fully proven or disproven. It's an assertion that can never be knocked down or supported. There are hundreds of guys who are flushed out of the NFL every year for all kinds of reasons."
Christina Kahrl, an ESPN sportswriter who's transgender, isn't so quick to let the NFL and some of its other franchises off the hook.
"I'm a Raiders fan so I'm going to tell you this as an LGBT person," Kahrl told the Blade. "When Michael Sam was up, the Raiders were one of the worst defensive teams in the league. They should have taken a chance on him. You couldn't get any worse than the Raiders were at the time, so if he's out there and freely available, for Christ's sake, sign the guy. Clearly there were some management problems. There's no excuse why a team like the Raiders wouldn't have taken a chance on Michael Sam."
Kahrl says Sam's advisers had him doing too many other things when he should have been focusing on football, a point he made himself to Winfrey.
"All of a sudden, he was everywhere doing everything, every gala, every GLAAD and HRC thing, he was dancing with the stars," Kahrl says. "My throwaway line from that was we saw Michael Sam dancing with the stars before we even saw his first sack dance. He was famous before he ever did the thing he was supposed to be famous for doing, being a football player."
And now with Jason Collins retired from the NBA, Sam's never having played a down in a regular-season NFL game, David Denson, a 21-year-old outfielder who plays for the Minor League baseball team the Wisconsin Timber Rattlers, is the only other pro male out athlete to have come out. The wave many expected never happened.
"I'm at the stage where it's kind of stupid," Robbie Rogers told the Chicago Tribune in June. "I would never force anyone out and everyone has their own time, but come on, it's 2016. A lot has changed in the United States and around the world. Obviously there are a lot of rights to fight for and a lot of hate here toward the LGBT community, but it's an opportunity to be a role model for millions and change the lives of kids not only in sports, but in our culture and around the world. It's a little disheartening."
Gospel singer Jennifer Knapp, who says she experienced "total blackout" from the Christian music industry after coming out in 2010, knows what it's like to go from industry darling to non-entity. Despite a handful of gospel singers who've come out in recent years, none were invited to the CCM United industry celebration concert last year that celebrated 40 years of contemporary Christian music. She says anytime money's involved, homophobia is likely present.
"Sexual orientation is a very real factor but it's one of those things that's very difficult to put your finger on how much it affects things," Knapp says. "You can say, 'Well, [Michael Sam] would have been higher in the draft pick, but they already had a strong defense,' or in my case, they have the cover of saying, 'Well, we don't stock her old albums because she's not relevant in this field anymore, she's not making gospel music,' and I would agree with that to a point, but what you see happening — and this is a very difficult thing to measure — is when they try to minimize the impact that person had before they came out. … If your name is mentioned at all, it's, 'Oh where did she go,' 'What a waste,' 'What a black hole,' 'She's not relevant,' and when you couple that with a few things that may be true, it becomes this really murky thing that's hard to pin down. Was Michael Sam pushed out of football because of his sexual orientation? Only the long run will tell."
Tanner Williams disagrees and wonders why anyone in any field would want to be with people who don't support being out.
"I think he's throwing blame because he's not in the NFL," Williams says. "There are plenty of athletes out there who are very successful."
Kahrl mentions athletes such as Collins and Denson who've been successful, but says several factors contributed to Sam's trouble — getting involved in too many outside activities when he should have been concentrating on football, lingering anti-LGBT bias in football and the timing of his coming out.
"You might have said in 2013, 2014 that we were riding this wave that was going to go up and only getting better and instead what we've seen is this kind of chilling effect where the players in the professional leagues are more reticent in coming out," she says. "The Michael Sam situation is a pretty clear indication of what I would call an observer's paradox where all of us in the community want out athletes and want to get to the point where it goes to being no big deal."
So what went wrong?
"I think a lot of people had a lot of good intentions from his advisers to people in the community to people in pro sports in general who all wanted the best thing and it still ended up getting screwed up," Kahrl says. "It had nothing to do with Michael Sam's ability to play football. He was doing all these wonderful things, but they had nothing to do with playing football and that was particularly frustrating and it had to have been immensely frustrating for him as well."
Las Vegas Raiders head coach resigns after homophobic emails surface
Discovery made during misconduct investigation into the Washington Football Team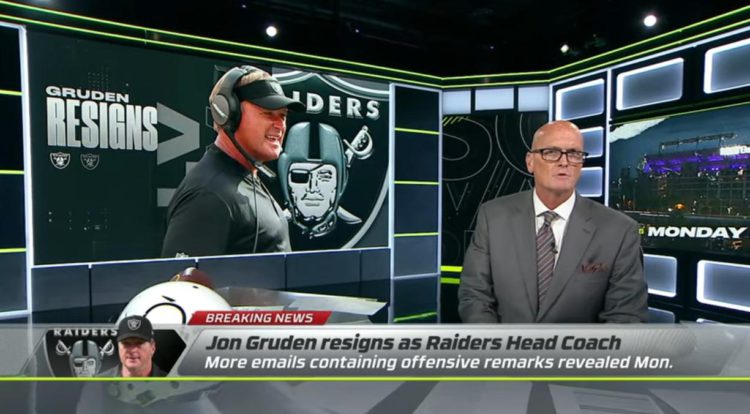 LAS VEGAS — The head coach of the Las Vegas Raiders, Jon Gruden resigned his post Monday after an article in the New York Times reported that he frequently used misogynistic and homophobic language directed at Commissioner Roger Goodell and others in the National Football League, (NFL).
The emails were discovered in a workplace misconduct investigation into the Washington Football Team the Times reported, but ended up costing Gruden his job when they also showed Gruden denounced the drafting of a gay player and the tolerance of players protesting during the playing of the national anthem among other issues.
In a statement released by the team late Monday, Gruden said; "I have resigned as Head Coach of the Las Vegas Raiders. I love the Raiders and do not want to be a distraction. Thank you to all the players, coaches, staff, and fans of Raider Nation. I'm sorry, I never meant to hurt anyone."
The sequence of events started last Friday when the Wall Street Journal reported that Gruden used a racist term to describe NFL union chief DeMaurice Smith in a 2011 email to the Washington team's former executive Bruce Allen.
According to the Associated Press, Gruden apologized for his "insensitive remarks" about Smith, saying they were made out of frustration over the 2011 lockout. But the latest emails sent from between 2011-18 when Gruden was an analyst for ESPN show his use of derogatory language went well beyond that.
A league source confirmed the accuracy of the emails to the Associated Press and said they were sent to the Raiders last week. The person spoke on condition of anonymity because the league hasn't made the emails public.
The New York Times and the Associated Press both noted that Gruden used a gay slur to insult Goodell and said he was "clueless" and "anti-football." He also said Goodell shouldn't have pressured the Rams to draft "queers," a reference to Michael Sam, who was the first openly gay player drafted by an NFL team.
Gruden's abrupt resignation was announced live on the Colts/Ravens "Monday Night Football" broadcast when the NFL ran multiple LGBTQ-inclusive advertisements, including one featuring an NFL logo wrapped in the colors of the Trans Flag and Rainbow Flag Gay City News Editor Matt Tracy reported.
Raiders owner Mark Davis issued a statement which only said that he accepted Gruden's resignation. In a separate statement the Raiders announced that special teams and assistant head coach Rich Bisaccia will serve as Interim Head Coach of the Las Vegas Raiders, effective immediately.
"Coach Bisaccia will meet with the media at the regularly scheduled media availability on Wednesday," the team said.
According to ESPN and the Associated Press, Bisaccia has been a special teams coordinator in the NFL for 19 seasons with the Raiders, Chargers, Dallas and Tampa Bay. He has no head coaching experience but his elevation will allow other assistants in the Raiders organization such as defensive coordinator Gus Bradley to stay in their current roles.
Jon Gruden resigns as Raiders head coach | SC with SVP
New Zealand university names trans athlete 'sportswoman of the year'
Laurel Hubbard is first out trans woman to compete in Olympics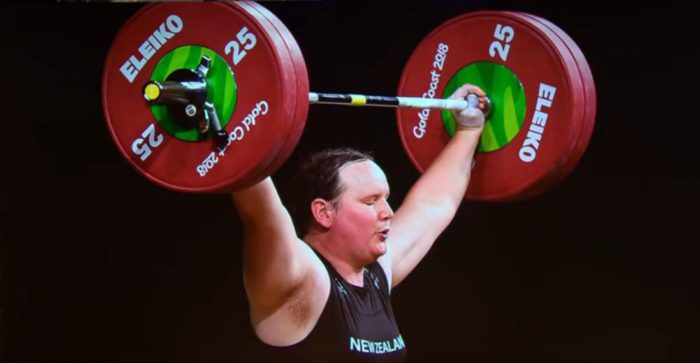 DUNEDIN, New Zealand — Olympic weightlifter Laurel Hubbard was named "sportswoman of the year" at the prestigious 113-year-old University of Otago and OUSA Blues and Golds Awards event this past week.
The 43-year-old Queenstown, South Island, native was the first openly transgender woman to compete in an Olympics when she competed in the women's 87kg weightlifting event at the 2021 Tokyo Games.
In a statement to the local newspaper, the Otago Daily Times, Hubbard said she was ''grateful for all of the support and kindness received from the teaching staff and students at Otago University.''
''It is not possible for athletes to complete at the Olympic level without the encouragement and aroha [a Māori word meaning "love"] of friends, family and supporters.
''This award belongs to everyone who has been part of my Olympic journey,'' she told the paper.
Hubbard's participation at the Tokyo Games had provoked controversy as she had prepared for competing as the world's first out transgender woman Olympian. The director of medicine and science for the International Olympic Committee, Dr. Richard Budgett, directly addressed those who had attacked and mocked the New Zealander and claimed she shouldn't be competing with cisgender women, saying "everyone agrees that trans women are women."
"To put it in a nutshell," he said, "the IOC had a scientific consensus back in 2015. There are no IOC rules or regulations around transgender participation. That depends on each international federation. So Laurel Hubbard is a woman, is competing under the rules of her federation and we have to pay tribute to her courage and tenacity in actually competing and qualifying for the Games."
Otago University Students' Association president Michaela Waite-Harvey told the Otago Daily Times that the Blues awards aim to highlight Otago students excelling in their chosen sport.
''We could think of no-one more worthy of sportswoman of the year than Laurel Hubbard who represented Otago and New Zealand incredibly well at this year's Tokyo Olympics.''
Gold medalist Tom Daley battled COVID in hospital prior to Tokyo games
An x-ray revealed "blotches" on his lungs, and he was kept at the hospital for 10 hours to increase his oxygen levels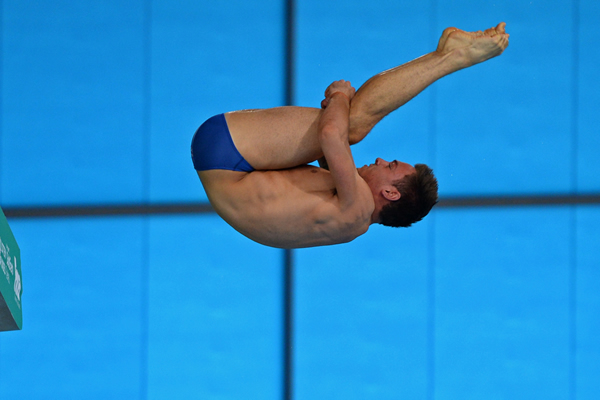 LONDON – British Olympic champion diver Tom Daley acknowledged in an recent interview with British newspaper The Times, that he had been secretly rushed to hospital seven months prior to the summer Tokyo Olympic games after contracting the coronavirus.
Daley told the paper "[my] lungs felt pressurised, as if they had sacks of rice around them", and added: "Every time I stood up, I felt the room spinning and a blinding white light, as if I was going to faint, and as if I couldn't get enough oxygen into my body."
He went on to describe his ordeal in graphic details telling Times journalist Jane Mulkerrins that he gave specific instructions to his husband, screenwriter D. Lance Black one night as he headed off to sleep, what to do in the event he quit breathing.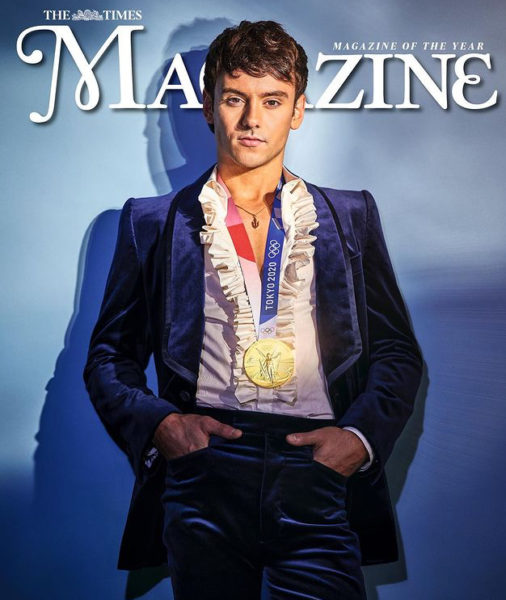 He also told Mulkerrins he was frightened for their son Robbie if he and his husband both contracted the COVID-19 coronavirus, especially after he was rushed to hospital by ambulance unable to breath correctly.
When his head began to feel like it had "a vice tightening around it" and his "oxygen levels were dropping," it was at that point Daley said he decided to call 111. [The UK's emergency phone number]
'My oxygen levels were dropping'
He was rushed to hospital in an ambulance and put on oxygen. An x-ray revealed "blotches" on his lungs, and he was kept at the hospital for 10 hours to increase his oxygen levels, The Times reported.
"I understood how quickly things could potentially go downhill," said Daley.
"I had flashes of fear about whether I would be put on a ventilator, and my time being up. I was really terrified."
He also described his reasons for keeping his ordeal secret so that his rivals in his sport wouldn't know.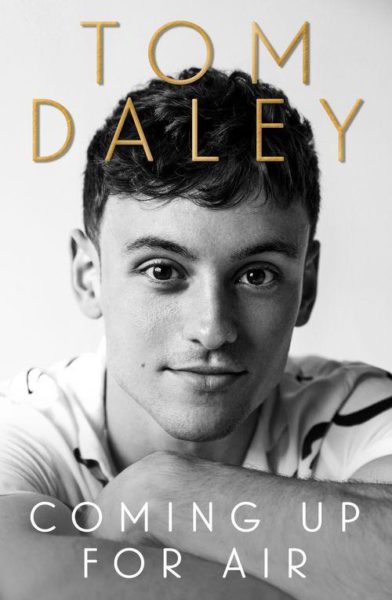 The episode kept the Olympian diver out of training for nearly seven months although Daley along with his British teammate diving partner Matty Lee won the gold with a score of 471.81 in the men's synchronized diving on at the Tokyo 2021 games.
After tough competition in the Men's 10m platform diving from China's Cao Yuan who picked up the Gold Medal and his teammate Yang Jian cinching the number two spot with a Silver Medal, the 27-year-old Daley secured a Bronze Medal win with a score of 548.25.
It was the second Olympic Bronze Medal for the Plymouth, England native, in individual diving completion since he won bronze at the London Games in 2012. Daley and his teammate Daniel Goodfellow won a Bronze Medal in the 10m synchronised at the 2016 Olympic Games in Rio De Janeiro, Brazil.
The Times interview comes as the paper's magazine is serializing Daley's new book, Coming Up for Air: What I Learned from Sport, Fame and Fatherhood, which is due to be published by Harper Collins on October 14.