October 21, 2016 at 3:32 pm EDT | by Lou Chibbaro Jr.
Mayor joins Blade celebration at Best of Gay D.C.
D.C. Mayor Muriel Bowser told more than 300 people attending the Washington Blade's annual Best of Gay D.C. celebration Thursday night that she and the city government would do all they could to support the city's bid to host the 2022 Gay Games.
With a packed crowd cheering loudly at Town nightclub, where the Best of Gay D.C. event was held, Bowser noted that representatives of the official D.C. Gay Games XI Bid Committee would be in Sydney, Australia this weekend to promote D.C.'s bid to host the quadrennial international LGBT athletic competition. Bowser led the crowd in a cheer that was recorded on video to be sent to organizers in Sydney, urging them to bring the games to D.C.
The Federation of Gay Games, which organizes the games and selects the host cities, is holding its Annual General Assembly in Sydney Oct. 21-24. Representatives of nine cities competing to host the 2022 Games from the U.S. and abroad, including D.C., will make presentations at that gathering ahead of the formal bids they must submit by Nov. 30 of this year.
"Now we have another opportunity to make D.C. proud and to show what we're all about," said Bowser, in citing the Gay Games and the Best of Gay D.C. competition as examples of the city's support for diversity.
"I want to express my clear and unequivocal support for the Gay Games in Washington, D.C.," she said.
Her expression of support came about two weeks after the D.C. City Council voted unanimously to pass a ceremonial resolution expressing support for the city's bid to host the 2022 Gay Games.
Bowser also congratulated the nominees and winners of the Blade's 15th annual Best of Gay D.C. competition. About 25,000 votes by Blade readers were cast for individuals, organizations and businesses competing in 99 categories. Among the categories were best restaurants, best bartender, and local hero, most committed activist, and best LGBT bureaucrat.
The festive event on Thursday night took on a somber note when friends and family members of the late lesbian chef and catering business owner Tyonne Johns accepted the award of Best Chef for Johns. Johns was stabbed to death on Aug. 6 during an altercation with an employee of a Chantilly, Va., park while she was catering a wedding. The employee, Kempton Bonds, 19, has been charged with second-degree murder and is scheduled to appear in court for a preliminary hearing in Fairfax County General District Court on Oct. 31.
Brandon Thompson, Johns' cousin, called Johns a cherished family member who had a wide circle of friends who recognized her talent as a chef and caterer. Thompson said the family members and friends would like members of the community to join them in attending the court hearing as a sign of support for Johns' life and legacy.
Other winners of the 2016 Best of Gay D.C. competition include gay U.S. Army Secretary Eric Fanning—Best Local Hero; D.C. Council member David Grosso (I-At-Large)—Best Council Member; Katie Ledecky—Best Local Pro Athlete; Sheila Alexander-Reid, director of the Mayor's Office of LGBTQ Affairs—Best LGBT Bureaucrat; Sarah McBride—Best Trans Advocate; and NBC 4 weatherman Chuck Bell—Best Local TV Personality.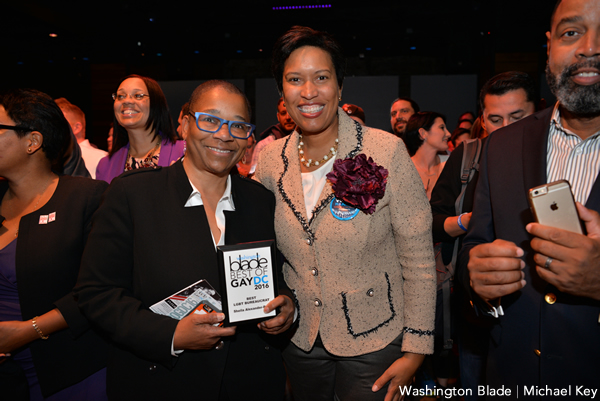 To see more photos from the event, click here.
To see the full list of winners, click here.