SMYAL to open LGBT homeless youth facility
8-bedroom building in N.E. announced at annual brunch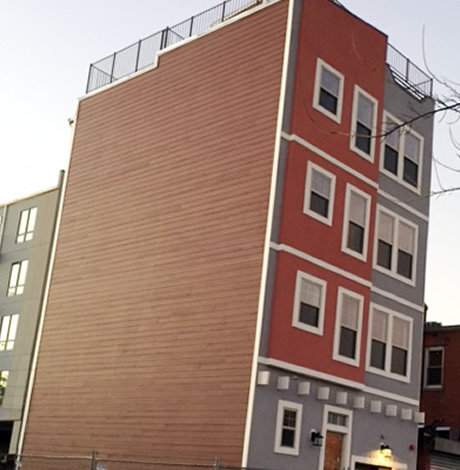 (UPDATE: As of Thursday, Dec. 1, negotiations involving SMYAL, the D.C. Department of Human Services and others involved in the transaction to lease the building at 746 19th St., N.E. for use as a transitional house for homeless LGBT youth are ongoing. 
SMYAL Executive Director Sultan Shakir said he remains hopeful that DHS officials will soon finalize the contract so that SMYAL can secure the building it has planned to lease rather than having to start over again in a search for another house.
"They assure us that everything is in the works, and have even announced the project at youth service provider meetings, but we're still waiting on the contract, which was expected to be received weeks ago," Shakir said.)
D.C.'s LGBT youth advocacy organization SMYAL announced at its annual fundraising brunch on Sunday that it expects to open an eight-bedroom transitional house for homeless LGBT youth in December.
SMYAL Executive Director Sultan Shakir told more than 600 people attending the group's 19th Annual Fall Brunch at the Mandarin Oriental Hotel that the newly built house will be rented by SMYAL and operated under a one-year $300,000 grant from the D.C. Department of Human Services.
"We expect the grant to be extended and we will continue working with DHS and the Mayor's Office of LGBTQ Affairs and the city government in general to work on expanding the program," Shakir told the Washington Blade after the event.
The soon to be opened house, located at 746 19th St., N.E., will operate as a transitional facility and offer various services to LGBT people between the ages of 18 and 24 to help them get on their feet and become self-sufficient following a stay at the facility for up to 18 months, according to SMYAL.
The house is located next to the intersection of 19th Street and Benning Road, N.E. steps away from one of the stops for the city's recently opened street car line, which runs along Benning Road.
"It's a transitional living facility where the main goal is to bring stability for a young person, wrap around supportive services for a young person in order to combat chronic homelessness," Shakir said. "So we don't want to just give them a place to sleep overnight. We really want to provide support and resources to ensure that they're not homeless again."
The Wanda Alston Foundation, which opened the city's first transitional house for homeless LGBT youth in Northeast D.C. in 2008, and the LGBT community services center Casa Ruby, located on Georgia Avenue in Northwest Washington, operate similar transitional facilities for homeless LGBT youth. Casa Ruby also operates an emergency shelter for LGBT homeless youth during the cold weather months.
Shakir said SMYAL decided to open its facility because the Alston House, which has space for eight people, and Casa Ruby don't have enough space for the large number of homeless LGBT youth in the city.
"So every day at SMYAL we face the challenge of youth homelessness," he said. "The fact of the matter is there are not enough places for young LGBT people to go" who are homeless, Shakir told the Blade.
Sunday's fundraising event was hosted by NBC News4 anchor Wendy Rieger.
Award-winning swimmer Schuyler Bailar, 20, the first transgender man to compete on a NCAA Division 1 college swim team, delivered the event's keynote speech. Bailar received SMYAL's Community Advocate Award for his role as a vocal advocate for LGBT rights.
He and other speakers at the event called on the LGBT community and its allies to redouble efforts to fight discrimination and push for fairness and equality in the wake of the outcome of last Tuesday's presidential election.
As an out transgender person who's been the subject of news media reports associated with his role as a member of the Harvard University men's swim team, Bailar said he has been contacted by other young trans people who are frightened over the possible consequences of the election.
"We've had plenty of discrimination and we've always stood up strong," he told the gathering. "This is just another one of those moments where we're going to have to find a way to stand up stronger, to bear our scars and bear our truths and we have to bring ourselves to the table, still."
He added, "It's so important that we continue to be out right now, more than ever, because we cannot be silenced now. This is not a time to hide or cower in our fears."
Biden recognizes LGBTQ survivors in World AIDS Day statement
In contrast, Trump consistently omitted sexual minorities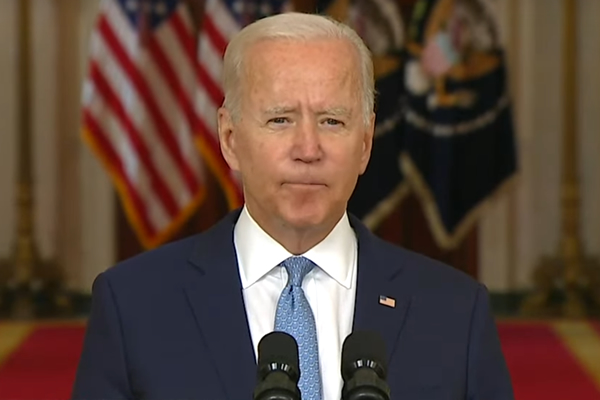 President Biden recognized LGBTQ people as among the survivors of the HIV/AIDS epidemic on Tuesday in a statement recognizing World AIDS Day, marking a departure from consistent omissions of the LGBTQ community under the Trump administration.
"Ending the HIV epidemic is within our reach, and we are committed to finishing this work," Biden said. "On World AIDS Day, we rededicate ourselves to building on the progress of the last 4 decades; upholding and advancing human rights; supporting research, science, and data-driven solutions; expanding access to housing, education, and economic empowerment; and fighting stigma and discrimination. No one living with HIV should suffer the undeserved guilt and prejudice that too many continue to experience."
Biden, as the world recognizes World AIDS Day on Dec. 1, enumerates LGBTQ people as survivors in a paragraph acknowledging the coronavirus pandemic has presented new obstacles in efforts to beat HIV/AIDS.
"The COVID-19 pandemic has added to the challenges our heroic health care and frontline workers face, yet they continue to deliver essential HIV prevention services and provide vital care and treatment to people living with HIV," Biden said. "The pandemic has also interrupted HIV research and highlighted the work that still remains to achieve equitable access to HIV prevention, care, and treatment in every community — particularly for communities of color, adolescent girls and young women, and the LGBTQI+ community."
The inclusion of LGBTQ people in a statement recognizing World AIDS Day stands in contrast to statements from President Trump, who consistently declined to mention the LGBTQ community in each of his statements. The consistent omissions took place even though top health officials under the Trump administration started the Ending the HIV Epidemic initiative, which seeks to beat HIV/AIDS by 2030.
Last year, White House Press Secretary Kayleigh McEnany, asked by the Washington Blade why the LGBTQ community was missing from the 2020 statement, responded with a false statement Trump was the first to observe World AIDS Day by adorning the White House with a large red AIDS ribbon. In fact, the practice began under President George W. Bush and had continued through Obama and Trump administrations.
The inclusion of LGBTQ people in Biden's World AIDS Day statement is consistent with former President Obama mentioning LGBTQ people as among the survivors of HIV/AIDS in his final World AIDS Day statement. In 2016, Obama acknowledged "gay and bisexual men, transgender people, youth, black and Latino Americans, people living in the Southern United States, and people who inject drugs are at a disproportionate risk" of the disease.
Biden in his World AIDS Day statement says his administration "remains steadfast in our efforts to end the HIV epidemic," ticking off policies his administration has pursued, including a budget request of $670 million to fight HIV/AIDS domestically and support for global initiatives to fight HIV/AIDS, which he said has save more than 21 million lives.
"This remarkable progress over the past 18 years has been made possible through strong, bipartisan United States leadership and American generosity," Biden said.
Read Biden's full statement below:
WORLD AIDS DAY, 2021

– – – – – – –

BY THE PRESIDENT OF THE UNITED STATES OF AMERICA

A PROCLAMATION
For decades, World AIDS Day has been recognized as an opportunity for people around the world to stand together in the fight against HIV. This year on World AIDS Day, we are focused on addressing health inequities and inequalities and ensuring that the voices of people with HIV are at the center of our work to end the HIV epidemic globally.

While we have made remarkable progress in the 40 years since the first-known reported case of AIDS, this disease remains a serious public health challenge — and we join the international community to honor and remember the more than 36 million people, including 700,000 Americans, who have tragically died from AIDS-related illness since the start of the epidemic. We also renew our commitment to stand with the nearly 38 million people living with HIV around the world as we pursue our shared goal of ending the HIV epidemic.

The COVID-19 pandemic has added to the challenges our heroic health care and frontline workers face, yet they continue to deliver essential HIV prevention services and provide vital care and treatment to people living with HIV. The pandemic has also interrupted HIV research and highlighted the work that still remains to achieve equitable access to HIV prevention, care, and treatment in every community — particularly for communities of color, adolescent girls and young women, and the LGBTQI+ community.

My Administration remains steadfast in our efforts to end the HIV epidemic, confront systems and policies that perpetuate entrenched health inequities, and build a healthier world for all people. Earlier this year, I reinstated the White House Office of National AIDS Policy to coordinate our efforts to reduce the number of HIV infections across our Nation. This week, my Administration is releasing an updated National HIV/AIDS Strategy to decrease health inequities in new diagnoses and improve access to comprehensive, evidence-based HIV-prevention tools. This updated strategy will make equity a cornerstone of our response and bring a whole-of-government approach to fighting HIV.

My budget request includes $670 million to support the Department of Health and Human Services' Ending the HIV Epidemic in the U.S. Initiative — to reduce HIV diagnoses and AIDS-related deaths. My Administration has also strengthened the Presidential Advisory Council on HIV/AIDS by adding members from diverse backgrounds who bring the knowledge and expertise needed to further our Nation's HIV response.

My Administration is committed to helping the world end the AIDS epidemic as a public health threat by 2030. Through the United States President's Emergency Plan for AIDS Relief (PEPFAR), we have saved more than 21 million lives, prevented millions of HIV infections, and supported at least 20 countries around the world to reach epidemic control of HIV or achieve their ambitious HIV treatment targets. This remarkable progress over the past 18 years has been made possible through strong, bipartisan United States leadership and American generosity. Now, together with partner governments and communities, my Administration is setting a bold vision for achieving sustained epidemic control of HIV by supporting equitable health services and solutions, contributing to improved health for all in PEPFAR-supported countries, and working with the Global Fund to Fight AIDS, Tuberculosis and Malaria; UNAIDS; and other regional and local partners toward the goal of ending the HIV epidemic everywhere.

Ending the HIV epidemic is within our reach, and we are committed to finishing this work. On World AIDS Day, we rededicate ourselves to building on the progress of the last 4 decades; upholding and advancing human rights; supporting research, science, and data-driven solutions; expanding access to housing, education, and economic empowerment; and fighting stigma and discrimination. No one living with HIV should suffer the undeserved guilt and prejudice that too many continue to experience. We must innovate and explore new ways to help address HIV/AIDS in communities here at home and around the world.

NOW, THEREFORE, I, JOSEPH R. BIDEN JR., President of the United States of America, by virtue of the authority vested in me by the Constitution and the laws of the United States, do hereby proclaim December 1, 2021, as World AIDS Day. I urge the Governors of the United States and its Territories, and the American people to join the HIV community in activities to remember those who have lost their lives to AIDS and to provide support, dignity, and compassion to those living with HIV.

IN WITNESS WHEREOF, I have hereunto set my hand this thirtieth day of November, in the year of our Lord two thousand twenty-one, and of the Independence of the United States of America the two hundred and forty-sixth.
Equality Act, contorted as a danger by anti-LGBTQ forces, is all but dead
No political willpower to force vote or reach a compromise
Despite having President Biden in the White House and Democratic majorities in both chambers of Congress, efforts to update federal civil rights laws to strengthen the prohibition on discrimination against LGBTQ people by passing the Equality Act are all but dead as opponents of the measure have contorted it beyond recognition.
Political willpower is lacking to find a compromise that would be acceptable to enough Republican senators to end a filibuster on the bill — a tall order in any event — nor is there the willpower to force a vote on the Equality Act as opponents stoke fears about transgender kids in sports and not even unanimity in the Democratic caucus in favor of the bill is present, stakeholders who spoke to the Blade on condition of anonymity said.
In fact, there are no imminent plans to hold a vote on the legislation even though Pride month is days away, which would be an opportune time for Congress to demonstrate solidarity with the LGBTQ community by holding a vote on the legislation.
If the Equality Act were to come up for a Senate vote in the next month, it would not have the support to pass. Continued assurances that bipartisan talks are continuing on the legislation have yielded no evidence of additional support, let alone the 10 Republicans needed to end a filibuster.
"I haven't really heard an update either way, which is usually not good," one Democratic insider said. "My understanding is that our side was entrenched in a no-compromise mindset and with [Sen. Joe] Manchin saying he didn't like the bill, it doomed it this Congress. And the bullying of hundreds of trans athletes derailed our message and our arguments of why it was broadly needed."
The only thing keeping the final nail from being hammered into the Equality Act's coffin is the unwillingness of its supporters to admit defeat. Other stakeholders who spoke to the Blade continued to assert bipartisan talks are ongoing, strongly pushing back on any conclusion the legislation is dead.
Alphonso David, president of the Human Rights Campaign, said the Equality Act is "alive and well," citing widespread public support he said includes "the majority of Democrats, Republicans and independents and a growing number of communities across the country engaging and mobilizing every day in support of the legislation."
"They understand the urgent need to pass this bill and stand up for LGBTQ people across our country," David added. "As we engage with elected officials, we have confidence that Congress will listen to the voices of their constituents and continue fighting for the Equality Act through the lengthy legislative process.  We will also continue our unprecedented campaign to grow the already-high public support for a popular bill that will save lives and make our country fairer and more equal for all. We will not stop until the Equality Act is passed."
Sen. Jeff Merkley (D-Ore.), chief sponsor of the Equality Act in the Senate, also signaled through a spokesperson work continues on the legislation, refusing to give up on expectations the legislation would soon become law.
"Sen. Merkley and his staff are in active discussions with colleagues on both sides of the aisle to try to get this done," McLennan said. "We definitely see it as a key priority that we expect to become law."
A spokesperson Senate Majority Leader Charles Schumer (D-N.Y.), who had promised to force a vote on the Equality Act in the Senate on the day the U.S. House approved it earlier this year, pointed to a March 25 "Dear Colleague" letter in which he identified the Equality Act as one of several bills he'd bring up for a vote.
Despite any assurances, the hold up on the bill is apparent. Although the U.S. House approved the legislation earlier this year, the Senate Judiciary Committee hasn't even reported out the bill yet to the floor in the aftermath of the first-ever Senate hearing on the bill in March. A Senate Judiciary Committee Democratic aide, however, disputed that inaction as evidence the Equality Act is dead in its tracks: "Bipartisan efforts on a path forward are ongoing."
Democrats are quick to blame Republicans for inaction on the Equality Act, but with Manchin withholding his support for the legislation they can't even count on the entirety of their caucus to vote "yes" if it came to the floor. Progressives continue to advocate an end to the filibuster to advance legislation Biden has promised as part of his agenda, but even if they were to overcome headwinds and dismantle the institution needing 60 votes to advance legislation, the Equality Act would likely not have majority support to win approval in the Senate with a 50-50 party split.
The office of Manchin, who has previously said he couldn't support the Equality Act over concerns about public schools having to implement the transgender protections applying to sports and bathrooms, hasn't responded to multiple requests this year from the Blade on the legislation and didn't respond to a request to comment for this article.
Meanwhile, Sen. Susan Collins (R-Maine), who declined to co-sponsor the Equality Act this year after having signed onto the legislation in the previous Congress, insisted through a spokesperson talks are still happening across the aisle despite the appearances the legislation is dead.
"There continues to be bipartisan support for passing a law that protects the civil rights of Americans, regardless of their sexual orientation or gender identity," said Annie Clark, a Collins spokesperson. "The Equality Act was a starting point for negotiations, and in its current form, it cannot pass. That's why there are ongoing discussions among senators and stakeholders about a path forward."
Let's face it: Anti-LGBTQ forces have railroaded the debate by making the Equality Act about an end to women's sports by allowing transgender athletes and danger to women in sex-segregated places like bathrooms and prisons. That doesn't even get into resolving the issue on drawing the line between civil rights for LGBTQ people and religious freedom, which continues to be litigated in the courts as the U.S. Supreme Court is expected any day now to issue a ruling in Fulton v. City of Philadelphia to determine if foster care agencies can reject same-sex couples over religious objections.
For transgender Americans, who continue to report discrimination and violence at high rates, the absence of the Equality Act may be most keenly felt.
Mara Keisling, outgoing executive director of the National Center for Transgender Equality, disputed any notion the Equality Act is dead and insisted the legislation is "very much alive."
"We remain optimistic despite misinformation from the opposition," Keisling said. "NCTE and our movement partners are still working fruitfully on the Equality Act with senators. In fact, we are gaining momentum with all the field organizing we're doing, like phone banking constituents to call their senators. Legislating takes time. Nothing ever gets through Congress quickly. We expect to see a vote during this Congress, and we are hopeful we can win."
But one Democratic source said calls to members of Congress against the Equality Act, apparently coordinated by groups like the Heritage Foundation, have has outnumbered calls in favor of it by a substantial margin, with a particular emphasis on Manchin.
No stories are present in the media about same-sex couples being kicked out of a restaurant for holding hands or transgender people for using the restroom consistent with their gender identity, which would be perfectly legal in 25 states thanks to the patchwork of civil rights laws throughout the United States and inadequate protections under federal law.
Tyler Deaton, senior adviser for the American Unity Fund, which has bolstered the Republican-led Fairness for All Act as an alternative to the Equality Act, said he continues to believe the votes are present for a compromise form of the bill.
"I know for a fact there is a supermajority level of support in the Senate for a version of the Equality Act that is fully protective of both LGBTQ civil rights and religious freedom," Deaton said. "There is interest on both sides of the aisle in getting something done this Congress."
Deaton, however, didn't respond to a follow-up inquiry on what evidence exists of agreeing on this compromise.
Biden has already missed the goal he campaigned on in the 2020 election to sign the Equality Act into law within his first 100 days in office. Although Biden renewed his call to pass the legislation in his speech to Congress last month, as things stand now that appears to be a goal he won't realize for the remainder of this Congress.
Nor has the Biden administration made the Equality Act an issue for top officials within the administration as it pushes for an infrastructure package as a top priority. One Democratic insider said Louisa Terrell, legislative affairs director for the White House, delegated work on the Equality Act to a deputy as opposed to handling it herself.
To be sure, Biden has demonstrated support for the LGBTQ community through executive action at an unprecedented rate, signing an executive order on day one ordering federal agencies to implement the U.S. Supreme Court's decision last year in Bostock v. Clayton County to the fullest extent possible and dismantling former President Trump's transgender military ban. Biden also made historic LGBTQ appointments with the confirmation of Transportation Secretary Pete Buttigieg and Rachel Levine as assistant secretary of health.
A White House spokesperson insisted Biden's team across the board remains committed to the Equality Act, pointing to his remarks to Congress.
"President Biden has urged Congress to get the Equality Act to his desk so he can sign it into law and provide long overdue civil rights protections to LGBTQ+ Americans, and he remains committed to seeing this legislation passed as quickly as possible," the spokesperson said. "The White House and its entire legislative team remains in ongoing and close coordination with organizations, leaders, members of Congress, including the Equality Caucus, and staff to ensure we are working across the aisle to push the Equality Act forward."
But at least in the near-term, that progress will fall short of fulfilling the promise of updating federal civil rights law with the Equality Act, which will mean LGBTQ people won't be able to rely on those protections when faced with discrimination based on sexual orientation or gender identity.
D.C. bill to ban LGBTQ panic defense delayed by Capitol security
Delivery of bill to Congress was held up due to protocols related to Jan. 6 riots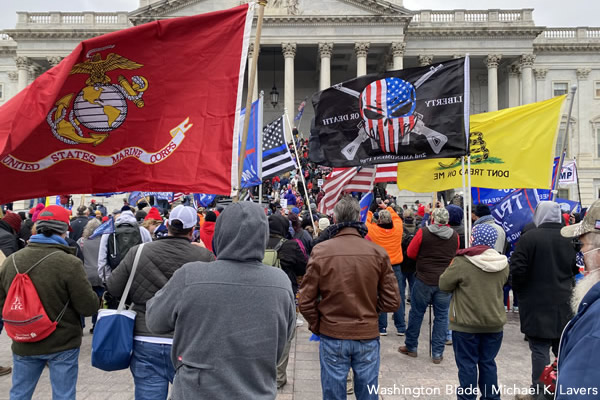 A bill approved unanimously last December by the D.C. Council to ban the so-called LGBTQ panic defense has been delayed from taking effect as a city law because the fence installed around the U.S. Capitol following the Jan. 6 insurrection prevented the law from being delivered to Congress.
According to Eric Salmi, communications director for D.C. Council member Charles Allen (D-Ward 6), who guided the bill through the Council's legislative process, all bills approved by the Council and signed by the D.C. mayor must be hand-delivered to Congress for a required congressional review.
"What happened was when the Capitol fence went up after the January insurrection, it created an issue where we physically could not deliver laws to Congress per the congressional review period," Salmi told the Washington Blade.
Among the bills that could not immediately be delivered to Congress was the Bella Evangelista and Tony Hunter Panic Defense Prohibition and Hate Crimes Response Amendment Act of 2020, which was approved by the Council on a second and final vote on Dec. 15.
Between the time the bill was signed by Mayor Muriel Bowser and published in the D.C. Register under procedural requirements for all bills, it was not ready to be transmitted to Congress until Feb. 16, the Council's legislative record for the bill shows.
Salmi said the impasse in delivering the bill to Congress due to the security fence prevented the bill from reaching Congress on that date and prevented the mandatory 60-day congressional review period for this bill from beginning at that time. He noted that most bills require a 30 legislative day review by Congress.
But the Evangelista-Hunter bill, named after a transgender woman and a gay man who died in violent attacks by perpetrators who attempted to use the trans and gay panic defense, includes a law enforcement related provision that under the city's Home Rule Charter passed by Congress in the early 1970s requires a 60-day congressional review.
"There is a chance it goes into effect any day now, just given the timeline is close to being up," Salmi said on Tuesday. "I don't know the exact date it was delivered, but I do know the countdown is on," said Salmi, who added, "I would expect any day now it should go into effect and there's nothing stopping it other than an insurrection in January."
If the delivery to Congress had not been delayed, the D.C. Council's legislative office estimated the congressional review would have been completed by May 12.
A congressional source who spoke on condition of being identified only as a senior Democratic aide, said the holdup of D.C. bills because of the Capitol fence has been corrected.
"The House found an immediate workaround, when this issue first arose after the Jan. 6 insurrection," the aide said.
"This is yet another reason why D.C. Council bills should not be subject to a congressional review period and why we need to grant D.C. statehood," the aide said.
The aide added that while no disapproval resolution had been introduced in Congress to overturn the D.C. Evangelista-Hunter bill, House Democrats would have defeated such a resolution.
"House Democrats support D.C. home rule, statehood, and LGBTQ rights," said the aide.
LGBTQ rights advocates have argued that a ban on using a gay or transgender panic defense in criminal trials is needed to prevent defense attorneys from inappropriately asking juries to find that a victim's sexual orientation or gender identity or expression is to blame for a defendant's criminal act, including murder.
Some attorneys have argued that their clients "panicked" after discovering the person against whom they committed a violent crime was gay or transgender, prompting them to act in a way they believed to be a form of self-defense.
In addition to its provision banning the LGBTQ panic defense, the Evangelista-Hunter bill includes a separate provision that strengthens the city's existing hate crimes law by clarifying that hatred need not be the sole motivating factor for an underlying crime such as assault, murder, or threats to be prosecuted as a hate crime.
LGBTQ supportive prosecutors have said the clarification was needed because it is often difficult to prove to a jury that hatred is the only motive behind a violent crime. The prosecutors noted that juries have found defendants not guilty of committing a hate crime on grounds that they believed other motives were involved in a particular crime after defense lawyers argued that the law required "hate" to be the only motive in order to find someone guilty of a hate crime.
Salmi noted that while the hate crime clarification and panic defense prohibition provisions of the Evangelista-Hunter bill will become law as soon as the congressional review is completed, yet another provision in the bill will not become law after the congressional review because there are insufficient funds in the D.C. budget to cover the costs of implementing the provision.
The provision gives the D.C. Office of Human Rights and the Office of the D.C. Attorney General authority to investigate hate related discrimination at places of public accommodation. Salmi said the provision expands protections against discrimination to include web-based retailers or online delivery services that are not physically located in D.C.
"That is subject to appropriations," Salmi said. "And until it is funded in the upcoming budget it cannot be legally enforced."
He said that at Council member Allen's request, the Council added language to the bill that ensures that all other provisions of the legislation that do not require additional funding – including the ban on use of the LGBTQ panic defense and the provision clarifying that hatred doesn't have to be the sole motive for a hate crime – will take effect as soon as the congressional approval process is completed.