March 29, 2017 at 4:42 pm EDT | by Lou Chibbaro Jr.
D.C. competing against two cities to host Gay Games
Advocates in Hong Kong and Guadalajara, Mexico say LGBT rights and the quality of life for LGBT people have advanced significantly over the past decade in their respective cities as they compete against D.C. to host the 2022 Gay Games.
With the assistance of LGBT sports groups, both cities have submitted a bid to the Federation of Gay Games highlighting their city's reputation for hosting large international events and its ability to accommodate tourists and visitors, especially LGBT visitors.
The FGG announced in February that Washington, D.C., Hong Kong and Guadalajara had been selected as the three finalists in the process of selecting the host city for the 2022 Gay Games. The FGG said it would select the winning city at its annual meeting in October following visits by its site selection committee to each of the three cities in June.
As many as 15,000 mostly LGBT athletes and as many as 10,000 spectators are expected to attend the Gay Games in 2018 in Paris, and it's possible that a similar number could turn out for the 2022 Gay Games, observers have said.
Mayor Bowser and the City Council have expressed strong support for D.C.'s bid and the region's existing sporting venues, infrastructure, and its long record of inclusive pro-LGBT laws make the city a strong contender for the Gay Games, observers have said.
A 300-plus page bid document submitted by Gay Games Hong Kong 2022 and an LGBT sports group called Out in Hong Kong says efforts to bring the Gay Games to Hong Kong have received "active support" from the Hong Kong government, the city's Equal Opportunities Commission, the Hong Kong Tourism Board, and the Constitutional and Mainland Affairs Bureau, which oversees relations between Hong Kong and China.
LGBT sports leaders in Guadalajara have joined with the Guadalajara Convention and Visitors Bureau to submit that city's bid for the 2022 Gay Games, according to FGG official David Killian. Similar to Hong Kong, Guadalajara's bid document says the city government and a large number of mainline sports organizations as well as LGBT sports groups in Guadalajara and other cities in Mexico, including Mexico City, have expressed strong support for holding the Gay Games in Guadalajara and have pledged to assist in hosting the Games.
Both Hong Kong and Guadalajara state in their bid documents that holding the Gay Games in their respective cities would mark the first time the Games have been held in either Asia or Latin America. The two documents also point out that while LGBT rights have advanced significantly in both cities discrimination and bias still exists and holding the Gay Games in their respective cities could play a role in strengthening support for LGBT equality.
Recent reports published by Out Right Action International, an LGBT advocacy organization that monitors LGBT-related developments in countries throughout the world, confirm that LGBT equality has advanced significantly in Hong Kong and Mexico. The reports also point out that similar to other countries, including the United States, LGBT people are not fully protected under the law in some areas and anti-LGBT bias and discrimination remain a problem.
Status of LGBT rights in Hong Kong
As a British colony, Hong Kong had long criminalized homosexual acts under British law and did not repeal its anti-sodomy law until 1991, long after it had been repealed in Great Britain. However, under the decriminalization in Hong Kong the age of consent for gay men was set at 21 while it remained at age 16 for heterosexuals. The law was silent about lesbians. It was not until 2006 that a court ruled the higher age of consent for gay men violated Hong Kong's Bill of Rights Ordinance, resulting in an age of consent at 16 for gays and straights.
In a separate court ruling in 2005 it was declared that the Bill of Rights Ordinance could be interpreted to cover sexual orientation in its non-discrimination protections. But the ordinance only applies to government agencies and not to private sector institutions.
Despite a growing LGBT rights movement with numerous LGBT advocacy groups and annual LGBT Pride celebrations, advocates have yet to persuade the Hong Kong government to legally ban discrimination based on sexual orientation and gender identity in the private sector. Hong Kong law also does not recognize same-sex relationships.
Although tolerance and acceptance of the LGBT community has grown significantly in Hong Kong since the 2000s, according to activists there, a setback surfaced in 2011 when Hong Kong's Social Welfare Department retained a controversial psychiatrist to train social workers on how to use conversion therapy to change people from gay to straight.
Gay Games Hong Kong 2022 nevertheless says in its bid document that the fight for LGBT equality in Hong Kong has been gathering momentum in recent years, "fueled by renowned local figures proudly proclaiming their homosexuality and encouraged by progressive legislation in other countries."
Meanwhile, the arrest this week by Hong Kong police of nine leaders of a 2014 pro-democracy campaign one day after a committee considered supportive of China chose Hong Kong's next chief executive officer is not expected to adversely impact Hong Kong's bid to host the 2022 Gay Games, according to activists familiar with Hong Kong politics.
Some observers said the arrests of the protest leaders immediately after the selection of a new Hong Kong government leader, Carrie Lam, who was favored by Beijing, is a sign that China's influence over Hong Kong is on the rise and the longstanding tension between Hong Kong and China was expected to increase.
"Lam's victory, despite her lack of representation and popular support, reflects the Chinese Communist Party's complete control over Hong Kong's electoral process and its serious intrusion of Hong Kong's autonomy," Joshua Wong, leader of a dissident political party in Hong Kong, told the New York Times.
With China's policies on LGBT issues considered significantly less supportive than Hong Kong's policies, some observers say it's hard to predict where Hong Kong's LGBT community will stand five years from now when the Gay Games would be held.
But in response to an inquiry from the Washington Blade, Gay Games Hong Kong 2022 officials Dennis Philipse and Benital Chick sent the Blade an email statement saying the association with China by Hong Kong's newly selected government leader, Carrie Lam, could be a benefit to the LGBT community.
"We know from our constant contact with those close to Ms. Lam that she appears to be supportive and we have no reason to believe otherwise," the statement says. "Ms. Lam is both aligned with Beijing and strongly vested in maintaining Hong Kong as the open Western gateway to Asia as it has for hundreds of years," the statement says.
"While tensions between China and Hong Kong exist on many levels in terms of economic and political issues, China has been tolerant toward apolitical gay issues as seen in the many gay events now held in China such as the Shanghai Pride and homosexual movies/TV series in China," the two activists said in their statement.
"There have been LGBT+ sports leagues in China and gay issues have never been a source of tension between Hong Kong and China. As such, we don't see any potential problems that will arise in holding the Gay Games," the statement concludes.
Under an agreement with Great Britain in 1997, the British returned Hong Kong to China with the understanding that for the next 50 years Hong Kong would retain an autonomous system of government and its relationship with China would consist of "one country, two systems."
Experts familiar with China note that since that time China has pushed hard to increase its influence over Hong Kong, leading to growing tension between Beijing and Hong Kong's leaders and its diverse population. Observers say that so far China has not sought to curtail LGBT rights advances in Hong Kong.
According to Out Right Action International, since China decriminalized homosexuality in 1997 and removed it from its official list of mental disorders in 2001, the Chinese government "has remained largely silent on the issue of homosexuality."
However, the policy of silence has left in place widespread discrimination against LGBT people throughout Chinese society that is not covered under China's non-discrimination laws covering employment and other areas, Out Right Action says in a 2014 report on China. LGBT couples are not recognized as families under China's laws, the report says.
As of early this week the Chinese Embassy in Washington didn't respond to a question from the Washington Blade asking if China has a position on whether the Gay Games should be held in Hong Kong.
LGBT rights in Guadalajara
Although LGBT rights in Mexico have advanced significantly in recent years, LGBT Mexicans can boast that same-sex sexual acts were decriminalized in Mexico 1871 – far ahead of the United States. The decriminalization came shortly after France's brief occupation of Mexico ended and the Napoleonic Code was adopted, which, among other things, did not define consensual sodomy as a crime.
Activists familiar with Mexico note, however, that separate laws prohibiting "public immorality" or "indecency" have long been used to prosecute gays under certain circumstances.
LGBT organizations began to form in some regions of Mexico in the 1970s, with LGBT parades taking place in Mexico City since 1979 and in Guadalajara since the 1990s.
Out Right Action International reports that although Mexico's constitution doesn't specifically prohibit discrimination based on sexual orientation or gender identity, a clause in the constitution banning discrimination based on "preferences of any kind" and for "any other reason which degrades human dignity" have been interpreted by some legal experts means LGBT people should be covered under the document.
In a separate development, Mexico's national legislature in 2003 passed a law prohibiting sexual orientation discrimination in employment, but the law doesn't cover gender identity or expression.
In 2015, Mexico's Supreme Court ruled that it was unconstitutional for states and regions to ban same-sex marriage. However, the ruling did not make the action immediately and fully binding on states, where, like in the U.S., marriage laws are written. Unless approved by newly adopted state laws, same-sex couples must file a legal petition and incur legal costs of $1,000 or more in order to obtain a marriage license.
In a separate ruling, the Mexican Supreme Court in January 2016 effectively legalized same-sex marriage in the state of Jalisco, which includes Guadalajara and the popular gay resort city of Puerto Vallarta.
Several other Mexican cities, meanwhile, including Mexico City, had legalized same-sex marriage, resulting in a patchwork of places where same-sex couples could marry in a way similar to heterosexual couples.
Last year, Mexican President Enrique Peña Nieto attempted to resolve that problem by introducing legislation to amend the constitution to fully legalize same-sex marriage throughout the country. The legislation died in committee last November following a groundswell of opposition from the Catholic Church and conservative factions in the country.
The vote to kill the legislation followed numerous protest rallies both for and against the measure, prompting LGBT people to become active in many parts of the country where LGBT activism had not been visible.
Guadalajara's bid document for the 2022 Gay Games expresses optimism that the overall LGBT rights advances in Mexico will make Guadalajara an excellent setting for the Games.
"Since 1982, at the start of the Gay Games, the people of Mexico have pushed our legislative system into the modern era and there is no going back," the document says. "With progress year by year, Mexico has seen at first hand change in its citizens and in its political system."
The document praises President Pena Nieto for his support for LGBT equality and notes that, among other things, he has taken steps to make sure transgender people can enter Mexico to participate in or watch the Gay Games even if their passports or birth certificates don't reflect the gender to which they currently present.
"It is our intension to increase the participation of members of the LGBT community in Latin America for the first time in the history of the Gay Games," the bid document says.
The bid document notes that Guadalajara has hosted large international events, including the Pan American Games in 2011, and its infrastructure for hosting the Gay Games is already in place.
"As a community, not only Guadalajara but Mexico, we have moved forward with the inclusion and integration of the LGBT community," the bid document says. "Growing year by year, Mexico is hungry and anxious for an opportunity to demonstrate our potential," it says.
D.C. Mayor Muriel Bowser has said the city government and several of its key agencies are working diligently to support the city's bid for the 2022 Gay Games.
Brent Minor, president of Team D.C., which is coordinating the city's bid for the Games, said he prefers not to comment on whether political issues in Hong Kong might impact that city's bid for the Games.
"I don't know enough about the geopolitics of Hong Kong," he said, adding that he hasn't closely followed Hong Kong's or Guadalajara's bids for the Games.
"We are focused on the D.C. bid and we really want the Games to come here because we think we can offer a quality experience that's accessible to a lot of people," said Minor. "And so we're very focused on that."
Lou Chibbaro Jr. has reported on the LGBT civil rights movement and the LGBT community for more than 30 years, beginning as a freelance writer and later as a staff reporter and currently as Senior News Reporter for the Washington Blade. He has chronicled LGBT-related developments as they have touched on a wide range of social, religious, and governmental institutions, including the White House, Congress, the U.S. Supreme Court, the military, local and national law enforcement agencies and the Catholic Church. Chibbaro has reported on LGBT issues and LGBT participation in local and national elections since 1976. He has covered the AIDS epidemic since it first surfaced in the early 1980s. Follow Lou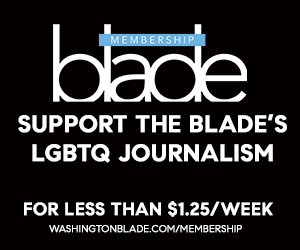 Sign Up for Blade eBlasts