June 26, 2017 at 6:37 pm EDT | by Michael K. Lavers
Former Spanish prime minister speaks at global LGBTI conference
MADRID — Former Spanish Prime Minister José Luis Rodríguez Zapatero is among those who spoke at a global LGBT and intersex rights conference that began on Monday.
"Spain is a rainbow country," said Zapatero as he spoke at the opening of the WorldPride International Human Rights Conference that is taking place at the Universidad Autónoma de Madrid in the Spanish capital.
Hundreds of LGBT rights advocates and elected officials from Spain, Europe and around the world are attending the conference that ends on Wednesday. It is taking place during WorldPride 2017, which is expected to draw up to three million people to the Spanish capital through July 2.
The Party of European Socialists and Rainbow Rose, which is its LGBT and intersex network, will host a separate conference at the Spanish Socialist Workers Party's Madrid headquarters on Friday.
"[WorldPride] is a celebration of diversity and equality," said Beatríz Becerra, vice president of the European Parliament's Subcommittee on Human Rights.
Madrid Mayor Manuela Carmena and Daniele Viotti, a member of the European Parliament who is from Italy, are among those who also spoke at the conference on Monday. Canadian MP Randy Boissonnault, who is Prime Minister Justin Trudeau's special advisor on LGBTQ2 (lesbian, gay, bisexual, transgender, queer and two-spirited) issues, was also in attendance.
Former Icelandic Prime Minister Jóhanna Sigurðardóttir, who became the world's first openly LGBT head of government in 2009, spoke before a panel that focused on gender equity. She said the issue and the global movement for LGBT and intersex rights are linked.
"There will never be gender balance or any other balance without freedom or love; brotherly love, sisterly love, romatic love," said Sigurðardóttir as her wife, Jónína Leósdóttir, sat in the front row.
Sigurðardóttir added "freedom and equality" are "the foundations of all human rights."
"No one should have to endure oppression, abuse or lack of freedom," she said.
The conference began one day after Turkish police used tear gas and plastic bullets to disperse LGBT rights advocates in Istanbul who defined the city's governor's decision to ban a Pride march. The conference and WorldPride are also taking place against the backdrop of the ongoing crackdown against gay men in Chechnya.
Zapatero is among those who noted on Monday that consensual same-sex sexual relations remain criminalized in more than 70 countries around the world. Francisco Javier Sanabria Valderrama of the Spanish Ministry of Foreign Affairs and Cooperation noted eight of them continue to impose the death penalty against those who are found guilty of homosexuality.
"It is an unacceptable reality," he said.
Zapatero: People 'have given their lives to change' laws
Gays and lesbians have been able to legally marry in Spain since 2005. Spanish lawmakers the following year approved a law that allows transgender people to legally change the gender on their birth certificates, passports and other documents without undergoing sex-reassignment surgery.
Zapatero, who was Spain's prime minister from 2004-2011, acknowledged trans people in his country "have suffered more than anyone" and "have more difficulties than anyone." He also said bullying remains a serious problem in Spanish schools.
Zapatero in his speech also acknowledged Spain's LGBT rights advocates.
"Laws change people's lives," he said. "(Some) people have given their lives to change the laws."
Michael K. Lavers is the international news editor of the Washington Blade. Follow Michael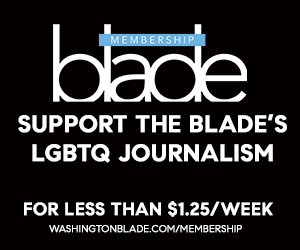 Sign Up for Blade eBlasts