September 20, 2017 at 1:29 pm EDT | by Lou Chibbaro Jr.
National Black Justice, PFLAG name new leaders
Two D.C.-based LGBT advocacy organizations, the National Black Justice Coalition and PFLAG National, announced last week that they have chosen new executive directors to lead the organizations.
David J. Johns, a former White House official in the Obama administration and former adviser to U.S. Sen. Tom Harkin (D-Iowa), assumed his new role as executive director at NBJC earlier this month, according to a statement released by the group.
In a separate statement released last week, PFLAG National announced it has named Jaime M. Grant, a feminist and LGBT movement activist for three decades, as its new executive director. Grant succeeds Jody Huckaby, who served as the group's executive director for the past 12 years.
NBJC describes itself as "a civil rights organization dedicated to the empowerment of Black lesbian, gay, bisexual, transgender and queer (LGBTQ) people, including people living with HIV/AIDS." It says its mission is to "end racism, homophobia, and LGBTQ bias and stigma."
In a statement the group says Johns succeeds Sharon J. Lettman-Hicks, who headed NBJC for the past eight years in the dual role of executive director and chief executive officer. It says Lettman-Hicks will continue in her role as CEO, where she will "focus on board development, infrastructure and long-term sustainability."
In 2013, President Obama appointed Johns as the first executive director of the White House Initiative on Educational Excellence for African Americans, where he served until the end of the Obama administration in January 2017.
Prior to his White House position Johns served as senior education and workforce development policy adviser to the U.S. Senate Committee on Health, Education, Labor and Pensions under the leadership of Harkin. He also served on the committee staff when it was headed by Sen. Edward Kennedy (D-Mass.).
According to the NBJC statement announcing Johns' appointment as executive director, Johns served as a Congressional Black Caucus Fellow in the office of U.S. Rep. Charles Rangel (D-N.Y.).
"During my tenure, I plan to focus deeply on the empowerment of the Black family, which includes the families we are born into as well as those we create – while honoring the opportunity to remain a central repository for advocating for and responding to the needs of Black LGBTQ/SGL individuals and communities," Johns said in the NBJC statement.
NBJC spokesperson Isaiah Wilson said SGL stands for "same gender loving," a term he said is often used in the African American community as an alternative to the terms gay, lesbian, or homosexual.
PFLAG National describes itself as the "nation's largest and oldest organization uniting families and Allies with people who are lesbian, gay, bisexual, transgender and queer (LGBTQ)." The statement notes that the group was founded in 1972 and currently has over 200,000 members and supporters and nearly 400 local chapters nationwide.
"Having Jaime at the helm signals PFLAG's resolve to advance the fight for LGBTQ people and their families, who continue to struggle in this increasingly stressful and violent environment; and to educate, engage, and empower a new generation of allies, who are so crucial to this moment," said Jean Hodges, PFLAG's National Board President. "She is a bold choice for PFLAG National, at the right time," Hodges said.
Grant previously served as director of the National LGBTQ Task Force's Policy Institute and as founding executive director of the Arcus Center for Social Justice Leadership at Kalamazoo College. She was founder and director of the Global Trans Research and Advocacy Project, which supports transgender researchers and activists.
The PFLAG statement says Grant has also authored or co-authored numerous books, including her role as co-author and principal investigator for Injustice at Every Turn: A Report of the National Transgender Discrimination Survey. The report was co-published by the National Center for Transgender Equality and the National LGBTQ Task Force.
"I've been 'in training' for this job my whole life," Grant said in the statement. "I believe so strongly in PFLAG and its work, which, over the past 45 years has created a tremendous cultural shift in parenting values, and fires up advocacy by families and allies," she said. "I am honored and thrilled to accept this position."
Lou Chibbaro Jr. has reported on the LGBT civil rights movement and the LGBT community for more than 30 years, beginning as a freelance writer and later as a staff reporter and currently as Senior News Reporter for the Washington Blade. He has chronicled LGBT-related developments as they have touched on a wide range of social, religious, and governmental institutions, including the White House, Congress, the U.S. Supreme Court, the military, local and national law enforcement agencies and the Catholic Church. Chibbaro has reported on LGBT issues and LGBT participation in local and national elections since 1976. He has covered the AIDS epidemic since it first surfaced in the early 1980s. Follow Lou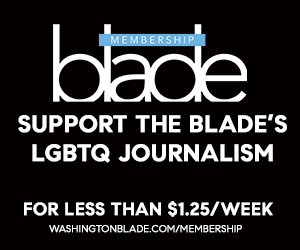 Sign Up for Blade eBlasts