Best of Gay D.C. 2017: DINING
Winners from the Washington Blade's annual poll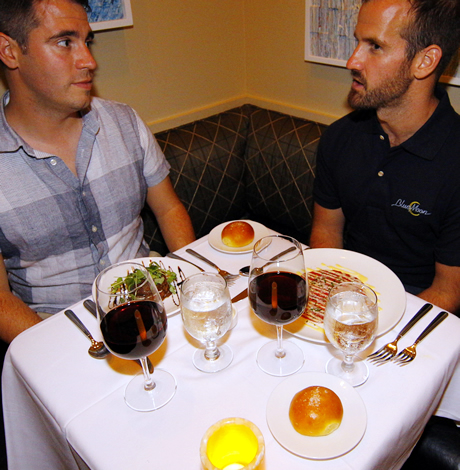 Best Ethnic Restaurant
Rasika
Popular Indian restaurant in Penn Quarter. Also won in 2015.
633 D St., N.W.
Editor's choice: Thai Tanic
Best Bottomless Mimosa/Bloody Marys
Level One
Brunch is served a la carte every Sunday from 11 a.m.-4 p.m.
1639 R St., N.W.
Editor's choice: Commissary
Best Place in Union Market
Salt & Sundry
Editor's Choice: Mason Dixie Biscuit Co.
According to the store's social media, food writer Amanda McClements is proud to bring her passion for stylish entertaining to life at Salt & Sundry in D.C.'s bustling Union Market. She opened the shop in November, 2012 to share her love of cooking, entertaining and design, and says that she and her team "are constantly on the hunt for new pieces that reflect the shop's urban bohemian aesthetic."
According to McClements, "our ever-changing collection of goods for good living features handcrafted furniture, dinnerware, linens, covetable vintage finds and a pantry stocked with small-batch foods and craft cocktail ingredients." She is also proud to offer farm tables hand-made by her father, a North Carolina craftsman who creates furniture out of salvaged and locally milled wood. She brags that, "his pieces are one-of-a-kind and showcase the rustic beauty and patina of aged wood."
The store also hosts special events and demonstrations with local chefs, mixologists and food personalities.
In addition to the Union Market location, Salt & Sundry has added stores in the Logan and Shaw neighborhoods and has been featured in such notable publications as "Better Homes and Gardens," "The Best of Southern Style," "Southern Living," "House Beautiful, "Food & Wine," "Washingtonian" and "Martha Stewart Living." (BTC)
Salt & Sundry
1309 5th St., N.E.
Best Locally Made Product
Mason Dixie Biscuit Co.
Approachable, affordable and portable Southern staples.
2301 Bladensburg Rd., N.E.
Editor's choice: Compass Coffee
Best Michelin Star Restaurant: Pineapple and Pearls
Editor's Choice: Inn at Little Washington
In a time when fast casual is king, Pineapple and Pearls chooses to reign supreme in the realm of special occasion restaurants — the kind of place where you go with the love of your life to celebrate a milestone.
The details are worthy of true fine dining, from fine china to edible parting gifts, and the acoustics are so good that you'll even be able to hear your special someone cooing at you across the table. You'll splurge, of course, but Chef Aaron Silverman and his stellar staff will make it worth every penny, with a sumptuous 11-course tasting menu that will absolutely live up to the hype.
Expect to pay $280 per person when seated in the dining room, which includes wine pairings, gratuity and tax, or $180 per person at the bar, where drinks can be ordered a la carte. Past menu highlights have included roasted potato ice cream with caviar and crispy potato threads, sweetbread tacos on handmade tortillas, and a playful PB&J made with foie gras butter and cherry preserves.
If the price tag is too rich for your blood, go ahead and reserve a spot on the patio, where you can order a few snacks and drinks at more modest prices of about $16 each. Because Pineapple and Pearls is usually not open on Saturday, it also means that weeknights just became cool again. (KH)
Pineapple and Pearls
715 8th St., S.E.
Best Food Festival or Event
Taste of D.C.
The largest culinary festival in the mid-Atlantic ran Oct. 7-8.
Editor's choice: RAMW Restaurant Week
Best Craft Cocktails
Columbia Room
Editor's Choice: Five to One
The moment you enter the hushed environs of Columbia Room, you'll immediately know that this is no ordinary bar. Recently named America's best cocktail bar at the 2017 Spirited Awards, Columbia Room offers drinks that hover somewhere between intellect and fantasy — playful twists on classics, from a Manhattan crafted with "zombie vermouth" to a Sazerac spiced with roasted star anise.
The cozy Spirits Library is a perfect spot to curl up with a cocktail and a friend or two with a jazzy soundtrack, and there's a fun punch garden out front for hanging with a crowd, but the gem is the elegant tasting room tucked away in the back. Go for either a three- or five-course tasting menu ($79 and $108, respectively, gratuity included) of cocktail and snack-sized food pairings — the themes change with the seasons, offering an interesting little flavor journey that turns an ordinary night at the bar into something a little more elevated. (KH)
Columbia Room
124 Blagden Alley, N.W.
Best Fast Casual Dining
CAVA
Editor's Choice: Ted's Bulletin
It's no secret that fast casual dining has taken over the restaurant landscape, but few have done it better than CAVA, the offshoot of Cava Mezze, which got its start right here in the region.
If there's a secret ingredient that accounts for the chain's success, it's that the flavors taste authentic, probably because they are a true reflection of the Greek roots of the company's founders. The assembly line format so popular these days works well with the fresh ingredients, from grilled meatballs spiked with lemon and oregano to garlicky braised lamb, topped off with some of the standouts that originally appeared at Cava Mezze, like the spicy Crazy Feta and the roasted eggplant and bell peppers mixed with tangy Greek yogurt.
Garnishes like pickled banana peppers from locally owned Gordy's Pickle Jar and fresh mint provide just that touch of brightness that makes lunch at your desk feel a little less sad. (KH)
CAVA
Various locations across DC, Maryland and Virginia
Best Local Brewery
D.C. Brau
"Popular craft brewery offering free tours and tastings." Third win in this category!
3178-B Bladensburg Rd., N.E.
Editor's choice: Right Proper Brewing
Best Local Distillery
District Distilling Co.
Reclaimed barn doors and brick walls are the backdrop for American fare and drinks crafted from spirits made on-site.
1414 U St., N.W.
Editor's choice: Republic Restoratives
Best Burger
Shake Shack
Locations in Dupont Circle, F Street and Union Station.
Editor's choice: Duke's Grocery
Best Caterer
Rocklands Barbecue and Grilling Company
Editor's Choice: Patrick Vanas Events
Craving something big and beefy for your next event? Look no further than Rocklands Barbecue, which dishes up stacks of wood-smoked baby-back ribs, brisket, chicken and leg of lamb, not to mention their Mason-Dixon macaroni salad, homemade apple compote and barbecued baked beans.
Their full-service catering operation offers everything from table rentals to ice cream sundae bars, and you can get as refined as you like with passed appetizers of brown sugar bacon skewers or avocado toast, or go whole hog and literally opt for a whole smoked pig to anchor your holiday table. (KH)
Locations in Washington, Arlington and Alexandria.
Beat Cheap Eats
&pizza
Third consecutive win in this category!
1215 Connecticut Ave., N.W.
1250 U St., N.W.
1400 K St., N.W.
Editor's choice: Amsterdam Falafel
Best Chef
Jose Andres
Spanish-American chef often credited for bringing small plates to the U.S. America Eats Tavern is coming soon to Georgetown. Other locations include Barmini (501 9th St., N.W.), China Chilcano (418 7th St., N.W.) and Jaleo D.C. (480 7th St., N.W.).
Editor's choice: Jamie Leeds
Best Coffee Shop
Compass Coffee
Second consecutive win in this category!
1335 7th St., N.W.
Editor's choice: Tryst
Best Date Restaurant
Floriana
"Intimate, white-tableclothed bistro offering lasagna and other Italian classics with weekly specials." Second consecutive win in this category!
1602 17th St., N.W.
Runner-up: Busboys and Poets
Best Ice Cream/Gelato
Dolcezza
1418 14th St., N.W.
Editor's choice: Ice Cream Jubilee
Best Farmer's Market
Eastern Market
Second consecutive win in this category!
225 7th St., S.E.
Editor's choice: FARMFRESH Dupont Circle Market
Best Food Truck
Peruvian Brothers
Editor's Choice: Far East Taco
Frequently landing at the top of favorite food truck lists, Peruvian Brothers offers up authentic homestyle flavors based on the dishes that brothers Mario and Giuseppe Lanzone grew up eating on the coast of Peru.
Pan con chicharrón, fried pork tenderloin and slices of grilled sweet potato on a French roll and topped off with the duo's signature criolla sauce — made with vinegary thinly sliced red onions — is a perennial favorite, along with a baked tilapia filet sandwich and hearty empanadas stuffed with beef, chicken or spinach. Be sure to try the Peruvian wild rice, studded with bacon, raisins and walnuts, and save room for alfajores, a traditional sandwich cookie filled with dulce de leche. (KH)
Peruvian Brothers food truck
Best Pizza
Comet Ping Pong
Hip crowd eats pizza and wings while playing ping pong and listening to bands in warehouse-chic digs.
5037 Connecticut Ave., N.W.
Editor's choice: Matchbox
Best Rehoboth Restaurant
Blue Moon
Bright, remodeled Craftsman cottage serving upscale American fare with regular live entertainment.
35 Baltimore Ave., Rehoboth Beach, Del.
Editor's choice: Fable
Best Local Winery
Breaux Vineyards
Second consecutive win in this category!
36888 Breaux Vineyards Lane, Purcellville, Va.
Editor's choice: The Winery at Bull Run
To see winners in other categories in the Washington Blade's Best of Gay D.C. 2017 Awards, click here.
André Leon Talley dies at 73
Iconic Black fashion journalist was born in D.C.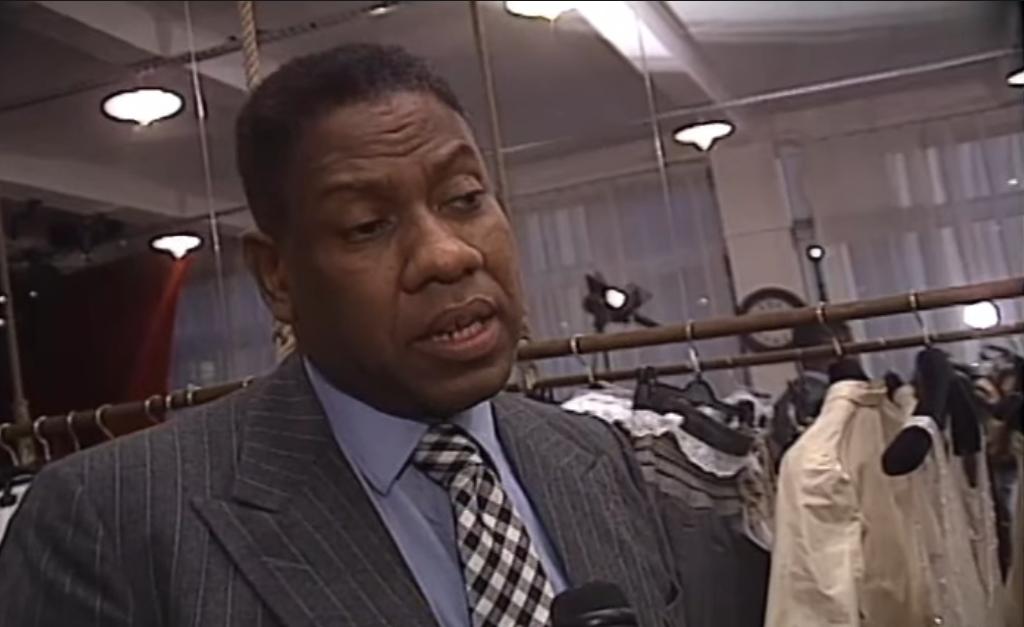 André Leon Talley, a formidable iconic fashion journalist and the former creative director and one-time editor-at-large of Vogue magazine, passed away at age 73 of unspecified causes at a hospital in White Plains, an inner suburb of New York City in Westchester County, New York.
News of the famed fashion journalist's death Tuesday was first reported by celebrity news and gossip site TMZ.
Andre Leon Talley, a giant in the fashion world, has died at 73. https://t.co/eckqP7zdwk

— TMZ (@TMZ) January 19, 2022
Talley was known for his close friendships with designers like Karl Lagerfeld, Tracy Reese, Rachel Roy, and singer/actress Jennifer Hudson, and Vogue magazine editor-in-chief Anna Wintour among others.
Talley worked at Vogue during an unprecedented time of growth in the fashion industry in the 1980's and 1990's. From 1983 until late 1987, he was the magazine's the news director and was then promoted to Vogue's creative director in 1988, a post he held until 1995. He later came back to the magazine in 1998 as the editor-at-large until his departure in 2013.
Born in D.C. on Oct. 16, 1948 and raised in North Carolina, Talley graduated with a Bachelor of Arts degree in French Literature in 1970 from North Carolina Central University. He later attended Brown University, after he was awarded a scholarship, where he earned a Master of Arts degree in French Literature in 1972.
Talley's early career as a journalist saw him working at Andy Warhol's Factory and Interview magazine. He later became the Paris bureau chief for Women's Wear Daily.
His later career saw Talley hosting his own radio show principally concerned with fashion and pop culture on Sirius XM. He also released a book "The Chiffon Trenches: A Memoir" on May 19, 2020, which detailed his early career start and some of the issues he encountered as a Black man.
Talley was also an LGBTQ icon. When asked about his sexual orientation by daytime chat show host Wendy Williams during a May 29, 2018 appearance, he stated, "No, I'm not heterosexual; I'm saying I'm fluid in my sexuality, darling."
André Leon Talley, fashion's godfather | fashion icon profile:
VideoFashion profile in 2020 marking of the release of André Leon Talley's memoir, "THE CHIFFON TRENCHES."
André Leon Talley | full address | Oxford Union:
DC Center to host estate planning seminar series
Three sessions presented by Murray Scheel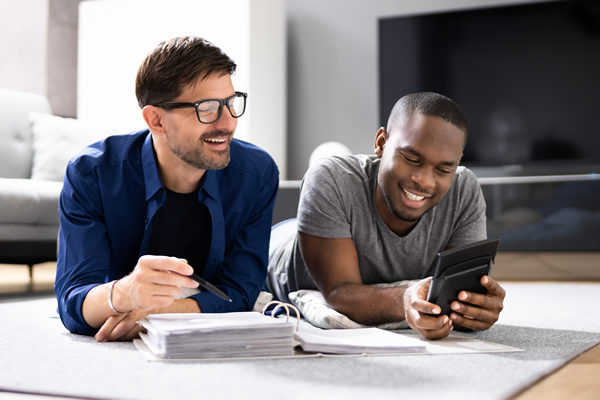 The DC Center for the LGBT Community and the DC Department on Aging and Community Living will host "Estate Planning Tools with Murray Scheel" via Zoom. 
Scheel will walk guests through the process of taking care of the end-of-life planning business that needs to be addressed during the golden years. Scheel is Senior Staff Attorney at Whitman-Walker Health's Legal Services.
This event series will consist of three 1.5-hour sessions:
Jan. 19, 3 p.m. – "Tools for while you're living" (overview, general power of attorney, healthcare power of attorney, disposition of remains, etc.)
Jan. 26, 3 p.m. – "Tools for after you're gone" (living wills, last wills, assets, etc.)
Feb. 2, 3 p.m. – "Healthcare insurance & long term care" (Medicare, Medicaid, correcting misinformation, skilled nursing, hospice care, etc.)
To register for this event, visit the DC Center website.
DC Center to host legal seminar for trans people
Attorney Richard Tappan and paralegal Miranda Shipman to give legal advice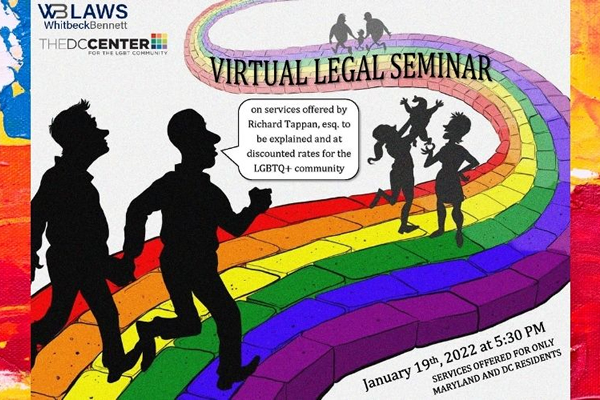 The DC Center for the LGBT Community will host a "Gender and Name Change Legal Seminar" on Wednesday, Jan. 19 at 5:30 p.m. online.
Attorney Richard Tappan and paralegal Miranda Shipman will give legal advice and speak on the importance of the legal community within the LGBTQ community, the difficulties of the LGBTQ community in the legal field and name and gender changes.
Guests can find the link at the DC Center website.