Best of Gay D.C. 2017: DINING
Winners from the Washington Blade's annual poll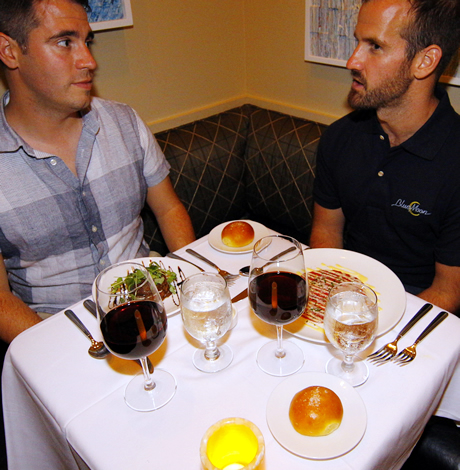 Best Ethnic Restaurant
Rasika
Popular Indian restaurant in Penn Quarter. Also won in 2015.
633 D St., N.W.
Editor's choice: Thai Tanic
Best Bottomless Mimosa/Bloody Marys
Level One
Brunch is served a la carte every Sunday from 11 a.m.-4 p.m.
1639 R St., N.W.
Editor's choice: Commissary
Best Place in Union Market
Salt & Sundry
Editor's Choice: Mason Dixie Biscuit Co.
According to the store's social media, food writer Amanda McClements is proud to bring her passion for stylish entertaining to life at Salt & Sundry in D.C.'s bustling Union Market. She opened the shop in November, 2012 to share her love of cooking, entertaining and design, and says that she and her team "are constantly on the hunt for new pieces that reflect the shop's urban bohemian aesthetic."
According to McClements, "our ever-changing collection of goods for good living features handcrafted furniture, dinnerware, linens, covetable vintage finds and a pantry stocked with small-batch foods and craft cocktail ingredients." She is also proud to offer farm tables hand-made by her father, a North Carolina craftsman who creates furniture out of salvaged and locally milled wood. She brags that, "his pieces are one-of-a-kind and showcase the rustic beauty and patina of aged wood."
The store also hosts special events and demonstrations with local chefs, mixologists and food personalities.
In addition to the Union Market location, Salt & Sundry has added stores in the Logan and Shaw neighborhoods and has been featured in such notable publications as "Better Homes and Gardens," "The Best of Southern Style," "Southern Living," "House Beautiful, "Food & Wine," "Washingtonian" and "Martha Stewart Living." (BTC)
Salt & Sundry
1309 5th St., N.E.
Best Locally Made Product
Mason Dixie Biscuit Co.
Approachable, affordable and portable Southern staples.
2301 Bladensburg Rd., N.E.
Editor's choice: Compass Coffee
Best Michelin Star Restaurant: Pineapple and Pearls
Editor's Choice: Inn at Little Washington
In a time when fast casual is king, Pineapple and Pearls chooses to reign supreme in the realm of special occasion restaurants — the kind of place where you go with the love of your life to celebrate a milestone.
The details are worthy of true fine dining, from fine china to edible parting gifts, and the acoustics are so good that you'll even be able to hear your special someone cooing at you across the table. You'll splurge, of course, but Chef Aaron Silverman and his stellar staff will make it worth every penny, with a sumptuous 11-course tasting menu that will absolutely live up to the hype.
Expect to pay $280 per person when seated in the dining room, which includes wine pairings, gratuity and tax, or $180 per person at the bar, where drinks can be ordered a la carte. Past menu highlights have included roasted potato ice cream with caviar and crispy potato threads, sweetbread tacos on handmade tortillas, and a playful PB&J made with foie gras butter and cherry preserves.
If the price tag is too rich for your blood, go ahead and reserve a spot on the patio, where you can order a few snacks and drinks at more modest prices of about $16 each. Because Pineapple and Pearls is usually not open on Saturday, it also means that weeknights just became cool again. (KH)
Pineapple and Pearls
715 8th St., S.E.
Best Food Festival or Event
Taste of D.C.
The largest culinary festival in the mid-Atlantic ran Oct. 7-8.
Editor's choice: RAMW Restaurant Week
Best Craft Cocktails
Columbia Room
Editor's Choice: Five to One
The moment you enter the hushed environs of Columbia Room, you'll immediately know that this is no ordinary bar. Recently named America's best cocktail bar at the 2017 Spirited Awards, Columbia Room offers drinks that hover somewhere between intellect and fantasy — playful twists on classics, from a Manhattan crafted with "zombie vermouth" to a Sazerac spiced with roasted star anise.
The cozy Spirits Library is a perfect spot to curl up with a cocktail and a friend or two with a jazzy soundtrack, and there's a fun punch garden out front for hanging with a crowd, but the gem is the elegant tasting room tucked away in the back. Go for either a three- or five-course tasting menu ($79 and $108, respectively, gratuity included) of cocktail and snack-sized food pairings — the themes change with the seasons, offering an interesting little flavor journey that turns an ordinary night at the bar into something a little more elevated. (KH)
Columbia Room
124 Blagden Alley, N.W.
Best Fast Casual Dining
CAVA
Editor's Choice: Ted's Bulletin
It's no secret that fast casual dining has taken over the restaurant landscape, but few have done it better than CAVA, the offshoot of Cava Mezze, which got its start right here in the region.
If there's a secret ingredient that accounts for the chain's success, it's that the flavors taste authentic, probably because they are a true reflection of the Greek roots of the company's founders. The assembly line format so popular these days works well with the fresh ingredients, from grilled meatballs spiked with lemon and oregano to garlicky braised lamb, topped off with some of the standouts that originally appeared at Cava Mezze, like the spicy Crazy Feta and the roasted eggplant and bell peppers mixed with tangy Greek yogurt.
Garnishes like pickled banana peppers from locally owned Gordy's Pickle Jar and fresh mint provide just that touch of brightness that makes lunch at your desk feel a little less sad. (KH)
CAVA
Various locations across DC, Maryland and Virginia
Best Local Brewery
D.C. Brau
"Popular craft brewery offering free tours and tastings." Third win in this category!
3178-B Bladensburg Rd., N.E.
Editor's choice: Right Proper Brewing
Best Local Distillery
District Distilling Co.
Reclaimed barn doors and brick walls are the backdrop for American fare and drinks crafted from spirits made on-site.
1414 U St., N.W.
Editor's choice: Republic Restoratives
Best Burger
Shake Shack
Locations in Dupont Circle, F Street and Union Station.
Editor's choice: Duke's Grocery
Best Caterer
Rocklands Barbecue and Grilling Company
Editor's Choice: Patrick Vanas Events
Craving something big and beefy for your next event? Look no further than Rocklands Barbecue, which dishes up stacks of wood-smoked baby-back ribs, brisket, chicken and leg of lamb, not to mention their Mason-Dixon macaroni salad, homemade apple compote and barbecued baked beans.
Their full-service catering operation offers everything from table rentals to ice cream sundae bars, and you can get as refined as you like with passed appetizers of brown sugar bacon skewers or avocado toast, or go whole hog and literally opt for a whole smoked pig to anchor your holiday table. (KH)
Locations in Washington, Arlington and Alexandria.
Beat Cheap Eats
&pizza
Third consecutive win in this category!
1215 Connecticut Ave., N.W.
1250 U St., N.W.
1400 K St., N.W.
Editor's choice: Amsterdam Falafel
Best Chef
Jose Andres
Spanish-American chef often credited for bringing small plates to the U.S. America Eats Tavern is coming soon to Georgetown. Other locations include Barmini (501 9th St., N.W.), China Chilcano (418 7th St., N.W.) and Jaleo D.C. (480 7th St., N.W.).
Editor's choice: Jamie Leeds
Best Coffee Shop
Compass Coffee
Second consecutive win in this category!
1335 7th St., N.W.
Editor's choice: Tryst
Best Date Restaurant
Floriana
"Intimate, white-tableclothed bistro offering lasagna and other Italian classics with weekly specials." Second consecutive win in this category!
1602 17th St., N.W.
Runner-up: Busboys and Poets
Best Ice Cream/Gelato
Dolcezza
1418 14th St., N.W.
Editor's choice: Ice Cream Jubilee
Best Farmer's Market
Eastern Market
Second consecutive win in this category!
225 7th St., S.E.
Editor's choice: FARMFRESH Dupont Circle Market
Best Food Truck
Peruvian Brothers
Editor's Choice: Far East Taco
Frequently landing at the top of favorite food truck lists, Peruvian Brothers offers up authentic homestyle flavors based on the dishes that brothers Mario and Giuseppe Lanzone grew up eating on the coast of Peru.
Pan con chicharrón, fried pork tenderloin and slices of grilled sweet potato on a French roll and topped off with the duo's signature criolla sauce — made with vinegary thinly sliced red onions — is a perennial favorite, along with a baked tilapia filet sandwich and hearty empanadas stuffed with beef, chicken or spinach. Be sure to try the Peruvian wild rice, studded with bacon, raisins and walnuts, and save room for alfajores, a traditional sandwich cookie filled with dulce de leche. (KH)
Peruvian Brothers food truck
Best Pizza
Comet Ping Pong
Hip crowd eats pizza and wings while playing ping pong and listening to bands in warehouse-chic digs.
5037 Connecticut Ave., N.W.
Editor's choice: Matchbox
Best Rehoboth Restaurant
Blue Moon
Bright, remodeled Craftsman cottage serving upscale American fare with regular live entertainment.
35 Baltimore Ave., Rehoboth Beach, Del.
Editor's choice: Fable
Best Local Winery
Breaux Vineyards
Second consecutive win in this category!
36888 Breaux Vineyards Lane, Purcellville, Va.
Editor's choice: The Winery at Bull Run
To see winners in other categories in the Washington Blade's Best of Gay D.C. 2017 Awards, click here.
Drag legend Ella Fitzgerald returns to the stage for Capital Pride festival
Donnell Robinson on 40 years as a performer and the current political backlash against drag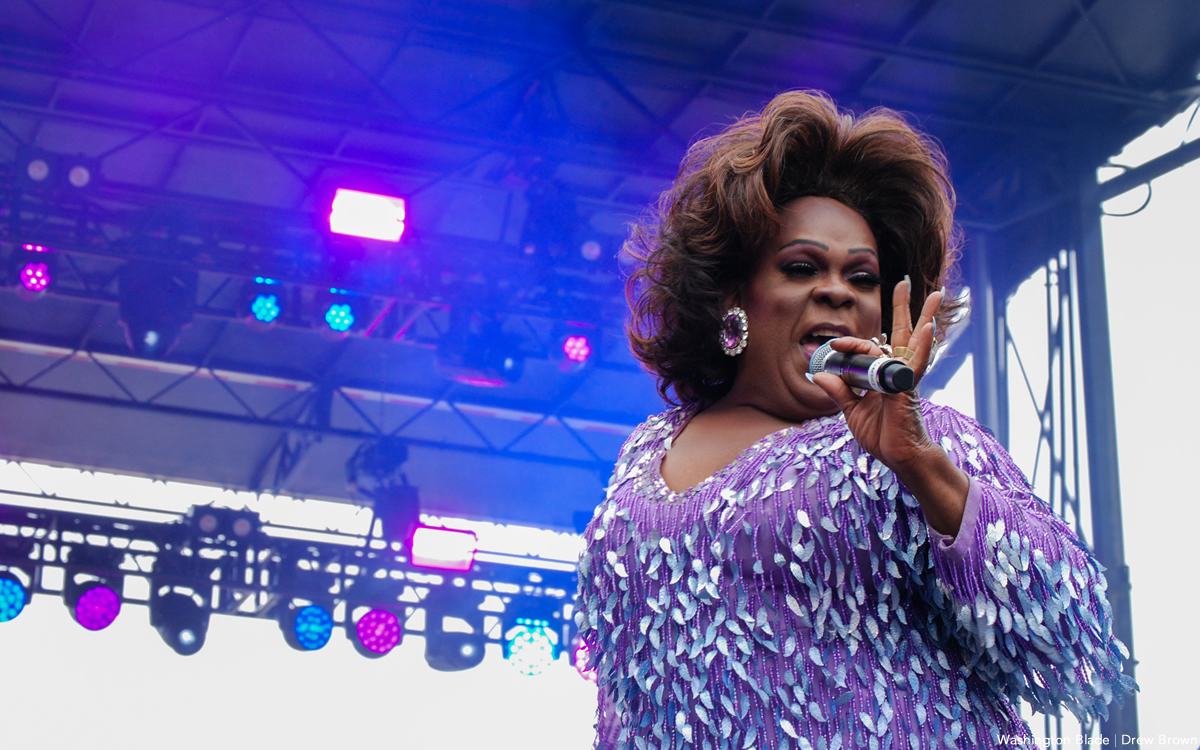 Donnell Robinson, who has dazzled audiences in the nation's capital as the drag personality of Ella Fitzgerald for at least 40 years, has the date of Saturday, March 21, 2020, embedded in his mind.
That was the last time he performed in drag. It was at the popular Southeast D.C. nightclub Ziegfeld's-Secrets, where Robinson performed as Ella Fitzgerald for nearly 40 years, before it, along with all city nightclubs, bars, and other "nonessential" businesses were ordered temporarily closed by Mayor Muriel Bowser in response to the COVID pandemic.
"That was the last show I did," Robinson told the Blade in an interview at his apartment in Arlington, Va.
A short time later, around May of 2020, Robinson and all the Ziegfeld's-Secrets employees and performers learned that the owner of the club's building at 1824 Half Street, S.W., announced plans to demolish it to build an upscale condo building several years sooner than expected. That meant the club would not reopen when the COVID restrictions were lifted.
"So, what I recall is in May, it was the first week in May, Steven [Delurba, the Ziegfeld's-Secrets general manager and part owner] called me and said, 'Honey, do you have anything in the dressing room? Come and get it. The landlord called and said we must be out by the 15th.'"
Robinson said he has fond memories of meeting up with other drag performers, one of the longtime bartenders and other employees who came to retrieve their belongings in the dressing room and other storage spaces in the converted warehouse building that had served as home to Ziegfeld's-Secrets since 2009.
And it meant at least the temporary end to a 40-year run in which Robinson (aka Ella Fitzgerald) served as emcee and lead drag performer at the Ziegfeld's-Secrets nightclub, which began in the club's previous location a few blocks away.
Robinson began performing as Ella Fitzgerald at The Other Side nightclub in 1980, which later changed its name to Ziegfeld's-Secrets, at its previous location on the unit block of O Street, S.E., before it was displaced in 2006 by construction of the Washington Nationals baseball stadium.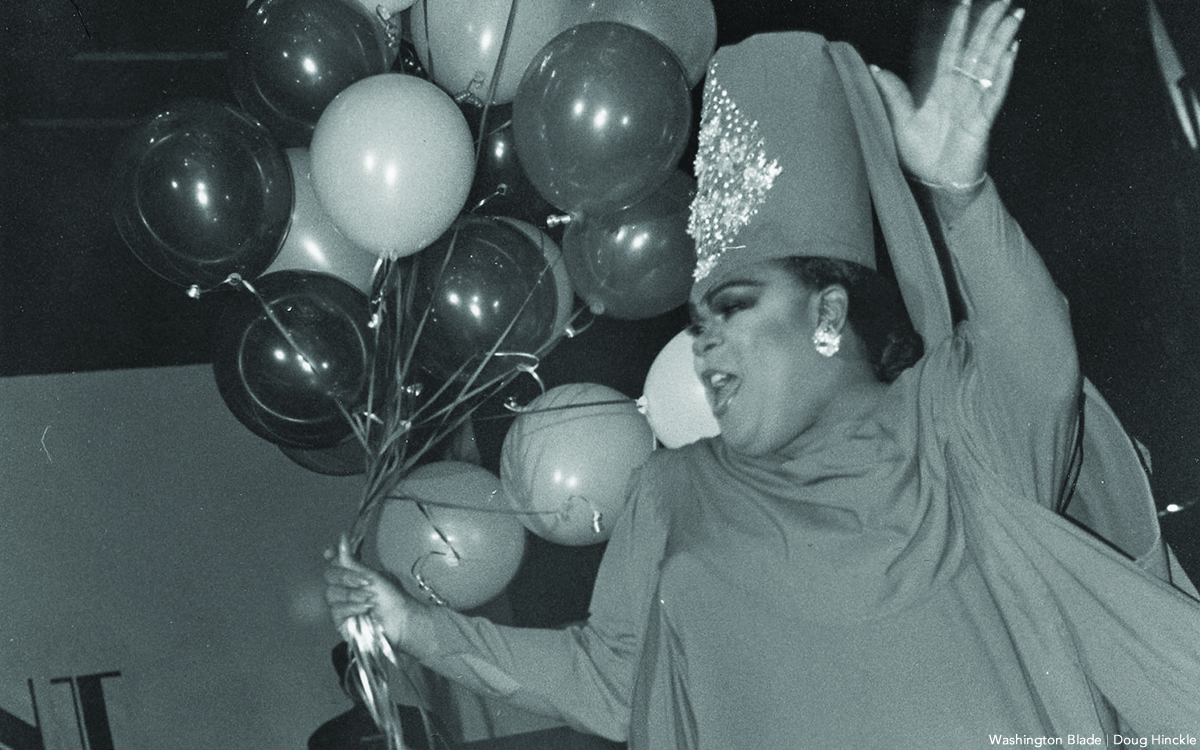 The club did not reopen until 2009, when its owners Allen Carroll and Chris Jensen, were able to obtain a lease for the 1824 Half Street building, which Carroll and Jensen renovated before reopening the club there.
All of that has become the backdrop to Robinson's excitement over returning to the stage as Ella Fitzgerald at D.C.'s Capital Pride festival on June 11, which will take place on Pennsylvania Avenue with the U.S. Capitol as a dramatic backdrop two blocks behind the stage.
While he's hopeful that all will go well with his upcoming performance at the Pride festival, Robinson says he is aware of the recent far-right political backlash against drag shows in states across the country.
In addition to proposed laws placing restrictions on drag shows, protests targeting drag shows, including some attempting to disrupt the shows, have also occurred in cities and states, including earlier this year in nearby Silver Spring, Md., and at a drag brunch hosted by a restaurant near the U.S. Marine Barracks on Capitol Hill in D.C.
"I have read about some of that," Robinson told the Blade. "I haven't been in the drag scene in three years. But I see and know what's going on," he said. "And my fellow drag performers who are older in my generation, I know they may be at risk. And I know I am to a degree," he continued.
"And it's a shame that we have to fear that we can't present our art, our art form of drag and hope that nothing is going to happen to me today," he said. "Why should we have to even have that thought going through our mind while we're going through our makeup and getting ready?"
Speaking with the Blade at his apartment, Robinson added, "I'm planning to walk out of here in full drag to go to Pride. And there's going to be part of me in the back of my mind that I've got to watch my back because there may be some idiot out there that doesn't want to see an old man dress up in sequins and beads."
"I just don't understand why people think that drag is going to go away," Robinson said. "It's not. It's more popular now than it ever was because of RuPaul and the drag brunches and the shows that are continuing to go on."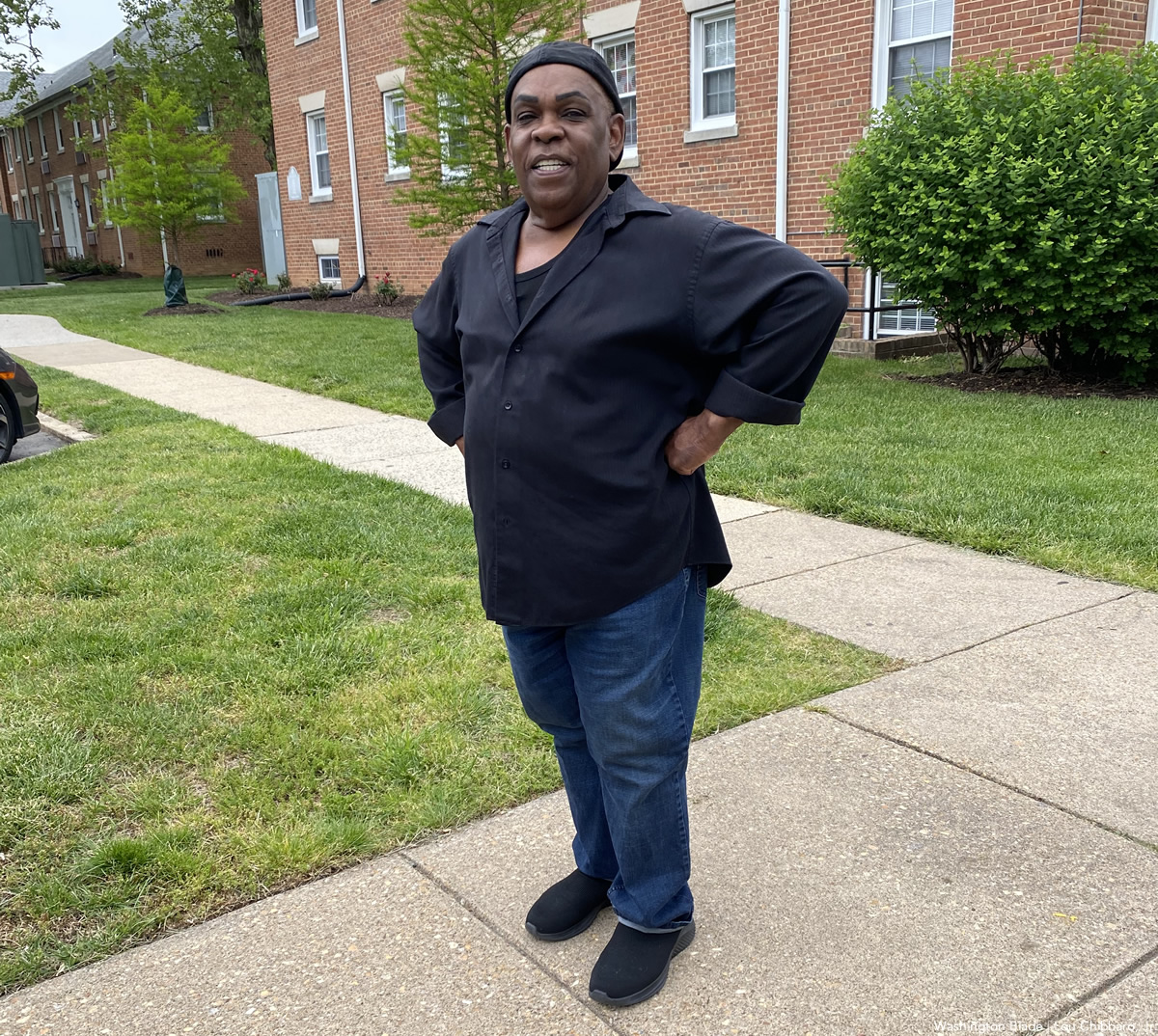 Robinson, 68, says he was born in Warrenton, Va., and grew up on a farm just outside Warrenton and raised by his grandparents. His first attempt at drag took place while in the 8th grade when he entered a school talent show portraying TV personality Flip Wilson's drag character Geraldine Jones.
"All of my girlfriends, they helped get it together," Robinson recalls. "I borrowed the wig from the school librarian," he said, adding he bought a red dress and borrowed a pocketbook from someone. "And I won the contest."
He didn't do drag again until his senior year in high school, Robinson said, when he "pulled out Geraldine again" in a dramatic arts class. "I got an 'A' in dramatic arts," he told the Blade, before graduating from Fauquier High School in June of 1974.
"Then I waited a year or so, and then I came out to do drag in 1975 in the fall," he said. That began when a friend introduced him to the then gay nightclub Pier 9, located in the building that later became Ziegfeld's-Secrets, where drag shows were held.
Robinson said he was impressed by the beauty of the drag performers while attending Pier 9 drag shows. "I'm like, oh, so I can do that too," he said. And that's exactly what he did. In October of that year, he entered a Halloween costume contest at the Pier, once again as the Geraldine Jones drag character, and won the contest in the comedy category.
From there, Robinson says, through people he met at the Pier he learned of the then D.C. gay bar Plus One on Capitol Hill, which also hosted drag shows. After auditioning and being approved as a drag performer at Plus One, the owner of the club, Bill Oats, assigned him the drag name Fanny Brice.
It was at the Plus One about a year later when Robinson met Mother Mame Dennis, the drag performer and lead organizer of the Academy of Washington, a local drag social club that organized drag events, including the Gay Miss Universe drag competition. The next day, an Academy of Washington member who performed at Plus One brought Robinson to an academy event.
It was there that Mame Dennis approached him and raised the issue of Robinson's drag name. "She said, 'Oh my dear, if you want to be in this group you need to change your name immediately,'" Robinson quoted Dennis as saying. "And I was like, yes ma'am. She said you need to be either Nell Carter or Ella Fitzgerald," Robinson recounted.
"I was being a smart ass. I said, 'I'll take Ella Fitzgerald for $2.' She said, 'Oh, you're funny.' And she named me Ella Fitzgerald," Robinson remembers. "And I was her first African-American daughter in the group."
Through the Academy of Washington and others he met through the drag scene at Plus One and other D.C. gay bars, Robinson quickly learned what he calls the art form of drag and developed a following among those patronizing drag shows in D.C. It was through the academy that Robinson also met the owners of the then Other Side nightclub, Chris Jensen and Allen Carroll, who invited Robinson to begin performing at their club.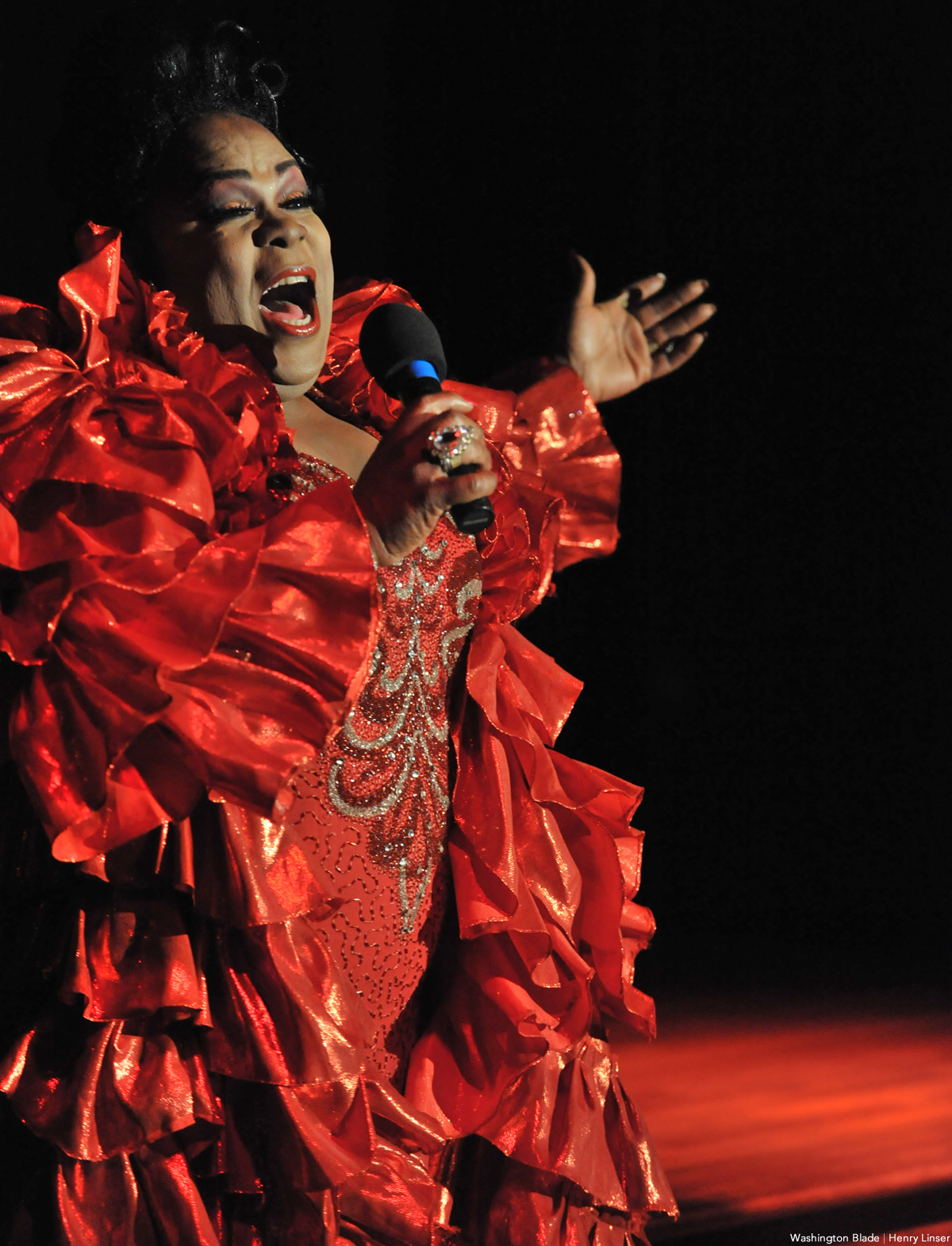 "There were five of us and we did the show on a Sunday night for 500 women," Robinson says. "Because, remember, between Washington Square, the earlier name, and the Other Side, it was all women. There were no men allowed until around 1986," he told the Blade. "So, every Sunday night we were doing drag shows for 500 women, from '80 until '85 or '86."
Around the time he began performing as Ella Fitzgerald, Robinson also began his other career as a hairstylist, which he says he continues at this time and will celebrate his 40th anniversary as a hairstylist in November of this year.
For much of that time, Robinson has been one of the sought-after stylists at the VSL Hair Salon at 1607 Connecticut Ave., N.W., in the Dupont Circle neighborhood. The salon recently came under new ownership and now operates under the name of Color Lab Salon at the same address.
As Robinson's reputation as a drag performer became widely known, many of his salon clients referred to him as Ella and were regular patrons of the Ziegfeld's-Secrets drag show.
By the time Jensen and Carroll renamed the Other Side as Ziegfeld's-Secrets and through the time it relocated in the building on Half Street, S.W. and until its closing in 2020, Robinson took on the role as the emcee of the club's Ladies of Illusion drag shows as well as that of one of the city's most sought after drag performers, according to people who attended his shows.
In an Aug. 2, 2001, lengthy feature article, the Washington Post referred to Robinson and his Ella Fitzgerald character as the "doyenne of Washington drag queens." The Post article recounted what those who have attended Robinson's shows already knew – that he also took on the role of a stand-up comedian engaging audience members in on-the-spot banter, often inviting audience members to come on stage to chat with Ella.
"Is that your husband?" the Post article quoted Robinson asking a female audience member at one of the Ziegfeld's-Secrets drag shows. When the woman replied that the person was her boyfriend, Ella said with an incredulous facial expression, "That little queen?" according to the Post article. The audience roared in laughter.
Robinson says among the highlights of his career as a drag performer have been the recognition he has received from his peers in the drag community, including from the Academy of Washington and its leader Mame Dennis.
"Once I changed my name to Ella Fitzgerald, Mame said, 'My dear, one day you will be Miss Universe.' And 10 years later, Mame crowned me Miss Gay Universe. I was the first African-American Miss Universe in 1986," Robinson recounted.
He said the prospect of resuming his drag performances to the degree he did before Ziegfeld's-Secrets closed was uncertain, in part, because he is dealing with a bout of sciatica that makes it difficult for him to walk and move about quickly.
"You might see me come out with a cane at the Pride show," he said with a laugh.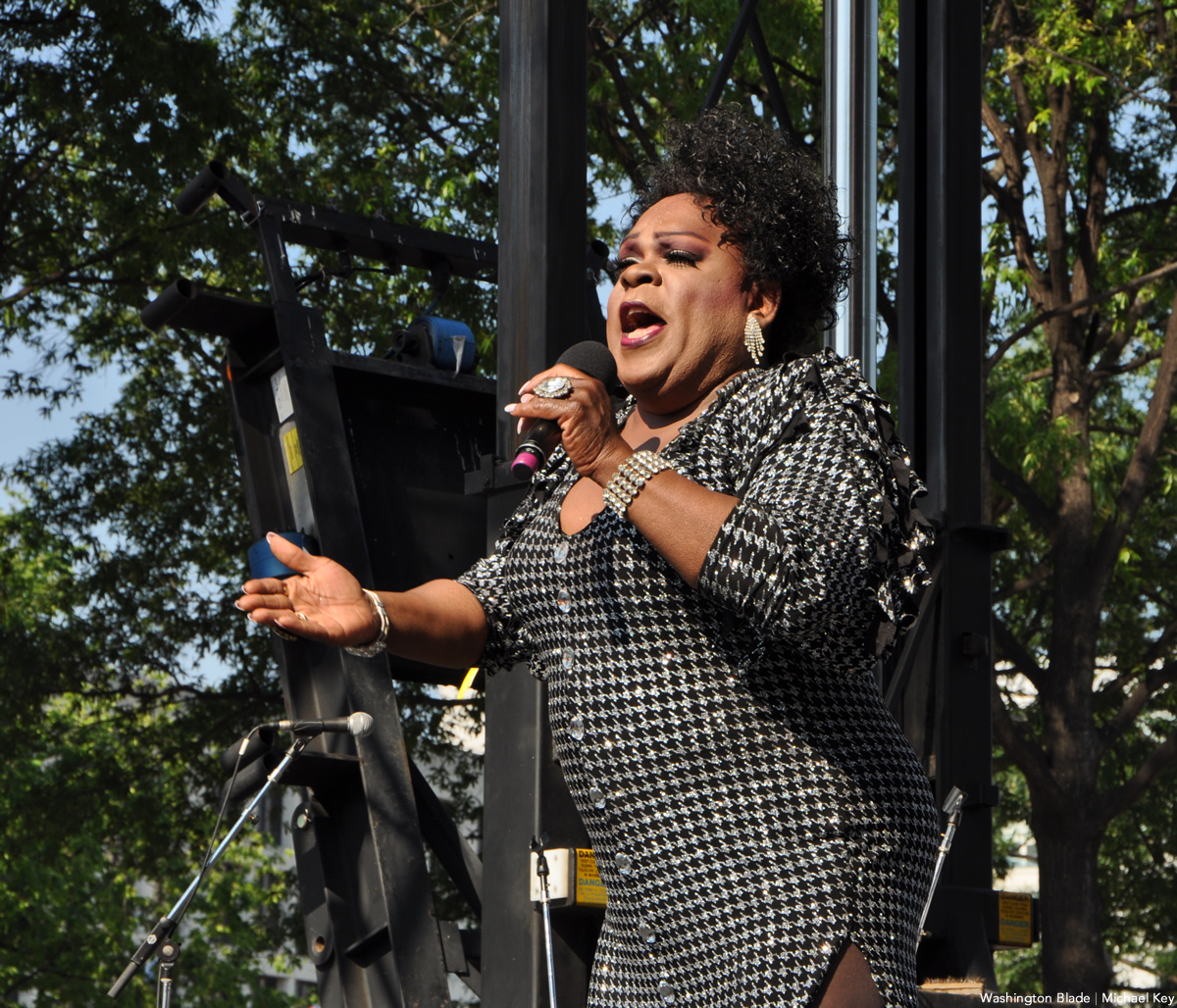 15 LGBTQ events today
Capital Pride Rooftop Pool Party tonight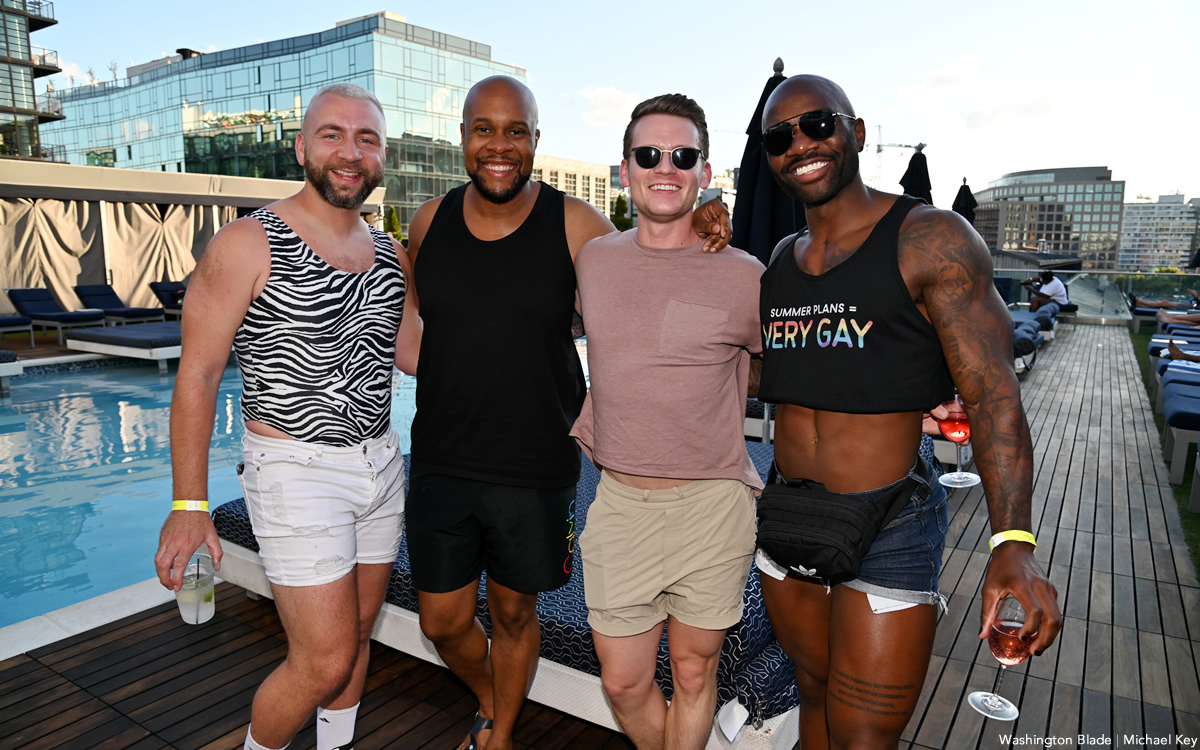 Below are our picks for some of the most fun and creative things to do today (Thursday, June 8) in the DMV that are of special interest to the LGBTQ community.
---
LGBTQ+ Military Pride Mixer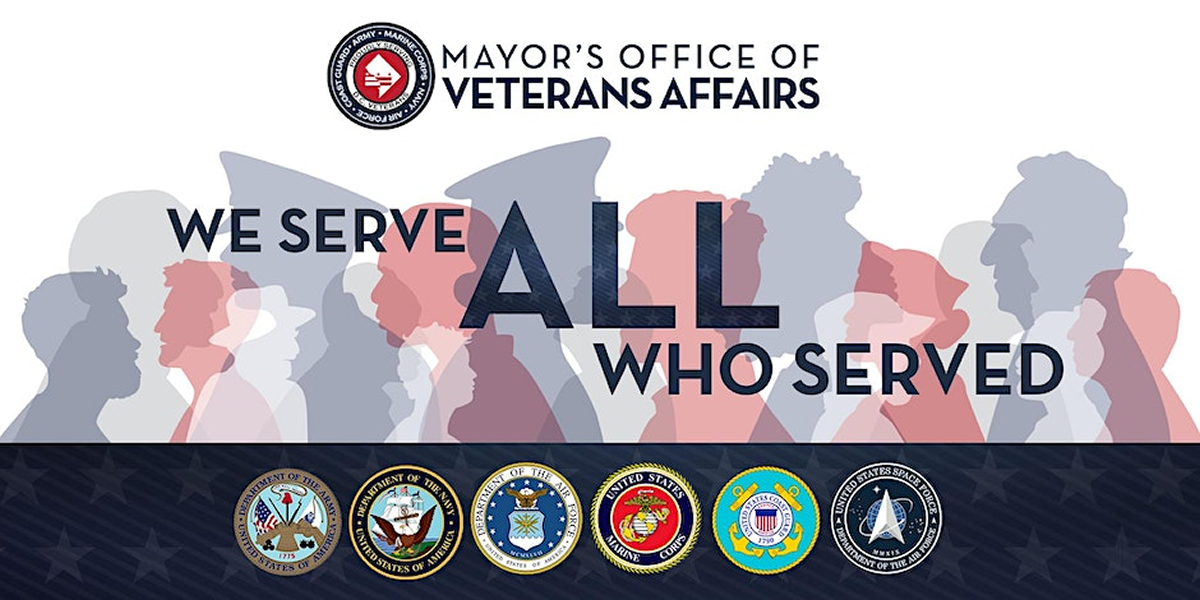 Thursday, June 8
4-6 p.m.
As You Are
500 8th Street, S.E.
Free
Eventbrite
The D.C. Mayor's Office of Veterans Affairs host the "LGBTQ+ Military Pride Mixer" at As You Are this afternoon at 4 p.m.
---
Lavender Evolutions: Femz & Themz bipoc Happy Hour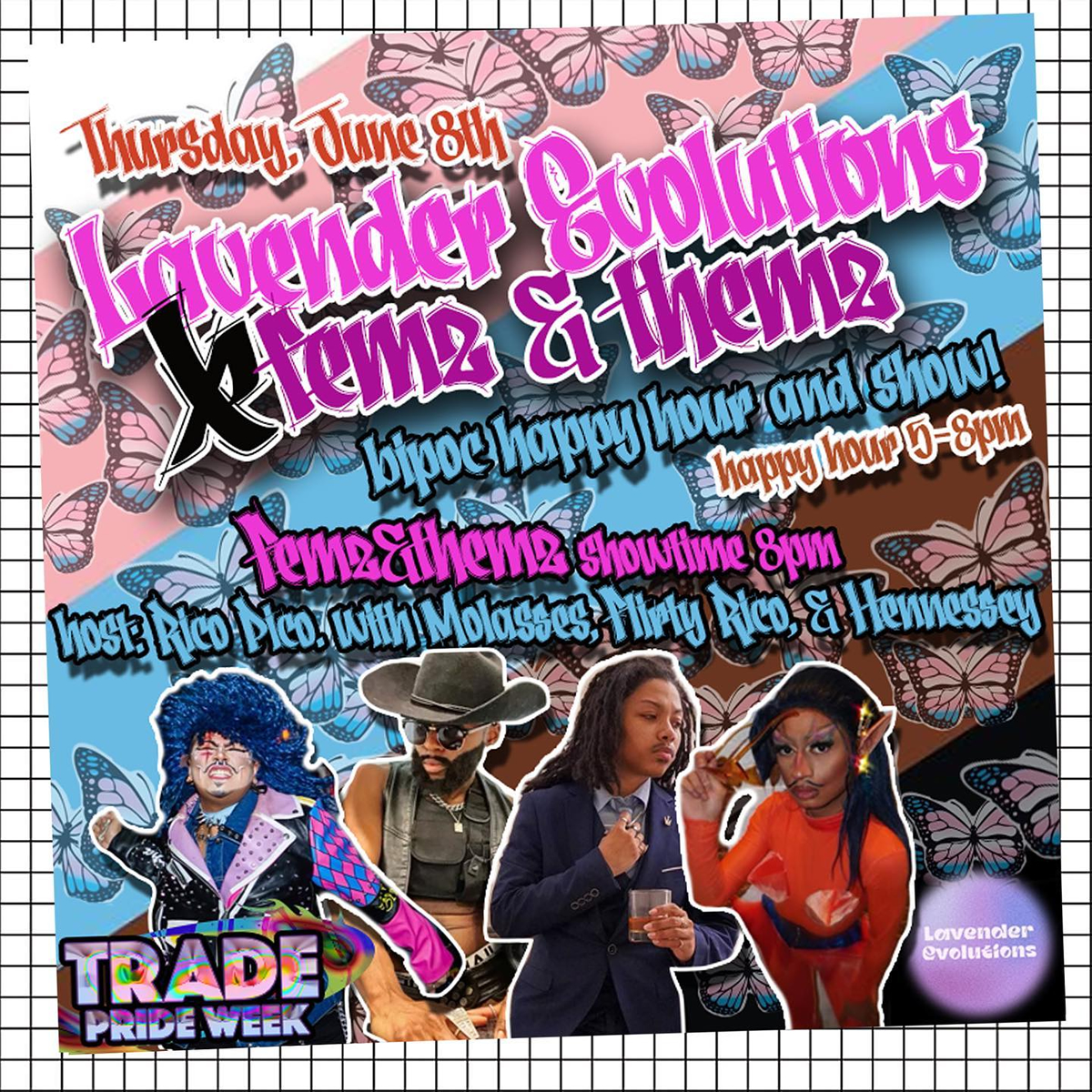 Thursday, June 8
5-8 p.m.
Trade
1410 14th Street, N.W.
Instagram
Rico Pico hosts "Lavender Evolutions" tonight at Trade. The "Femz & Themz bipoc Happy hour" begins at 5 p.m. with a show at 8. Performers include Molasses, Flirty Rico and Hennessey.
---
Equality Chamber of Commerce Pride Weekend Kick-off
Thursday, June 8
6-9 p.m.
The Moxy
1011 K Street, N.W.
$25 non-member
Tickets
The Equality Chamber of Commerce holds its Pride Weekend Kick-off Party at The Moxy tonight from 6-9 p.m. The event is free to members and $25 for non-members of ECC.
---
PRIDE in the Park: Free Outdoor Comedy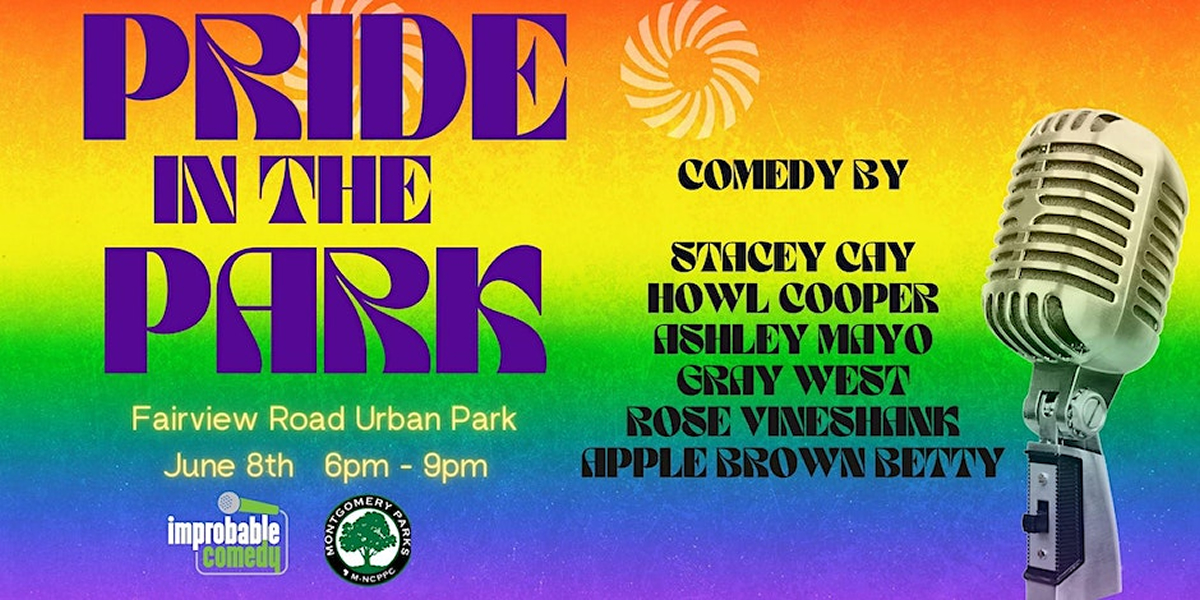 Thursday, June 8
6-9 p.m.
Fairview Road Urban Park
8900 Fairview Road
Silver Spring, Md.
Eventbrite
Laugh out loud to comics Stacey Cay, Howl Cooper, Ashley Mayo, Gray West, Rose Vineshank and Apple Brown Betty at Fairview Road Urban Park tonight from 6-9 p.m.
---
Women's/Sapphic Night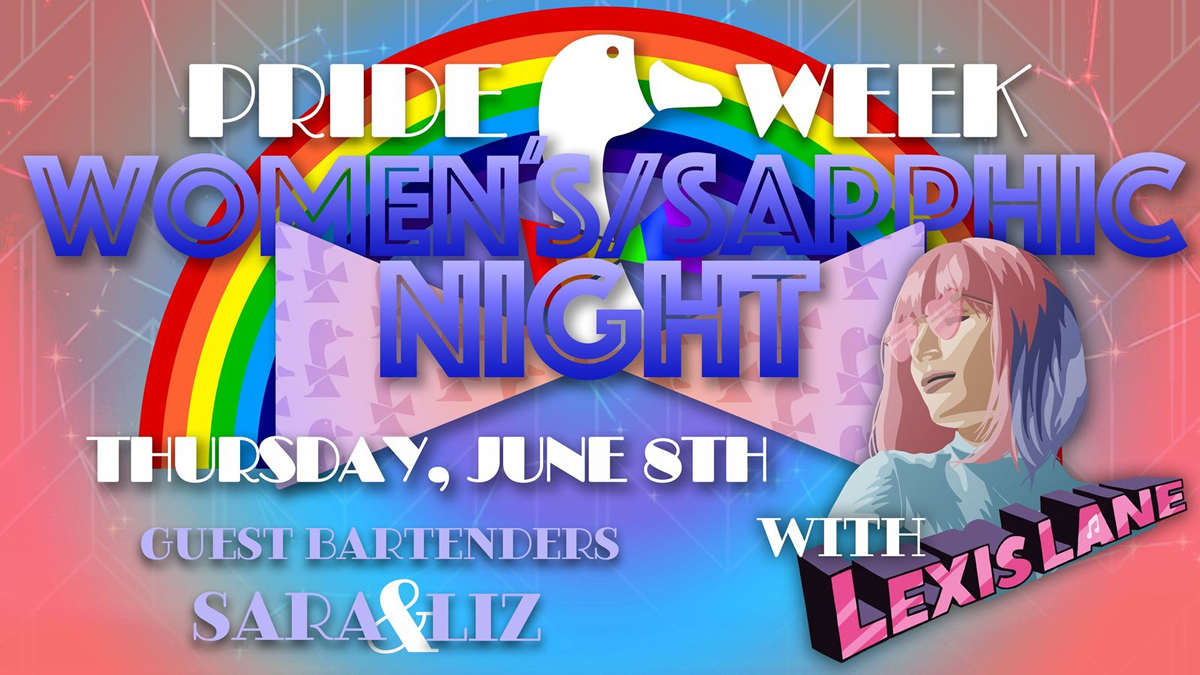 Thursday, June 8
7 p.m.
The Dirty Goose
913 U Street, N.W.
Instagram | Website
It's Women's/Sapphic Night at The Dirty Goose tonight.
---
GAY! Trivia and Drag Show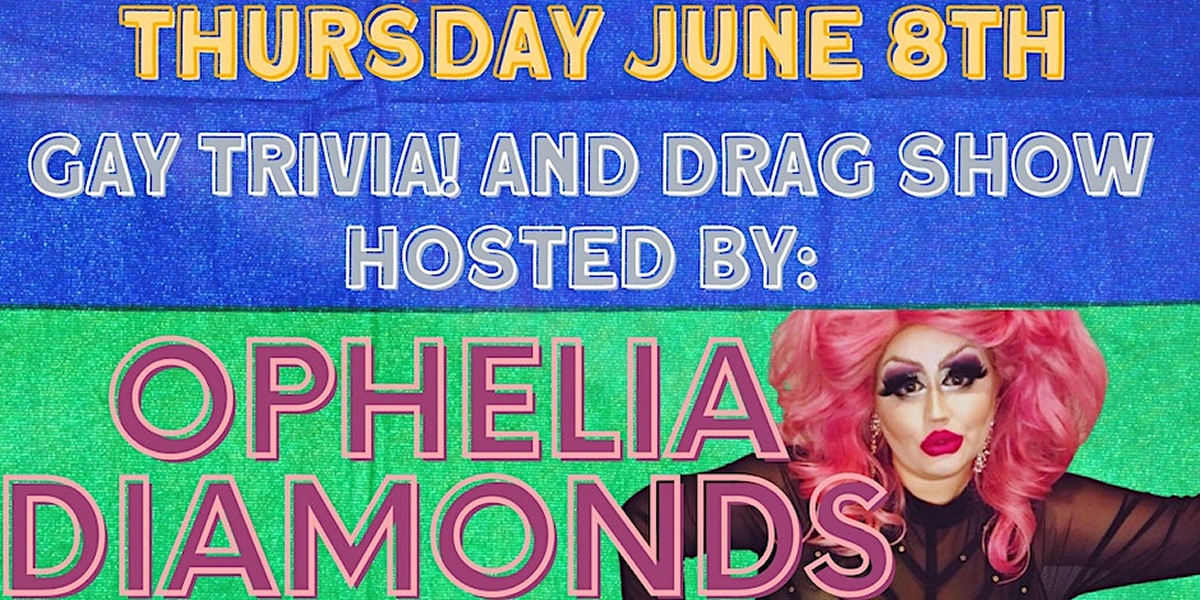 Thursday, June 8
7-10 p.m.
Baja Tap
2436 18th Street, N.W.
Free
Eventbrite
Ophelia Diamonds hosts a game of gay trivia and a drag show at Baja Tap tonight.
---
BAD (Broadway and Disney) Singalong: Loud & Proud Edition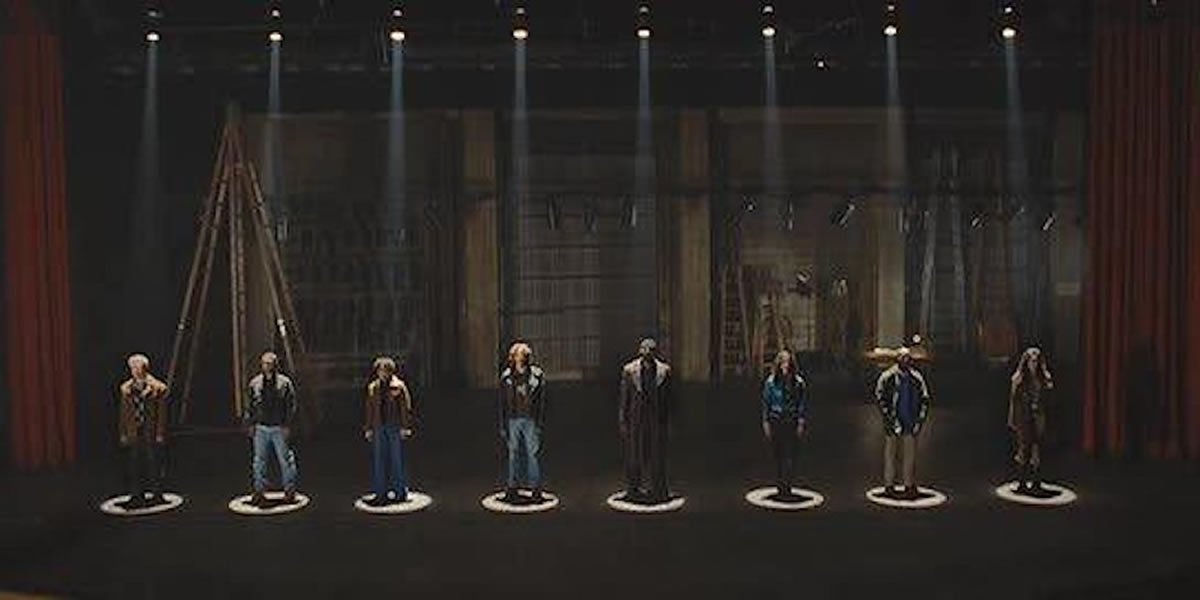 Thursday, June 8
7-10 p.m.
H Street Country Club
1335 H Street, N.E.
Free
Eventbrite
Belt your favorite Broadway and Disney tunes at the BAD Singalong: Loud & Proud Edition at H Street Country Club tonight.
---
DMV Comedy Wars: A PRIDE Benefit for the Trevor Project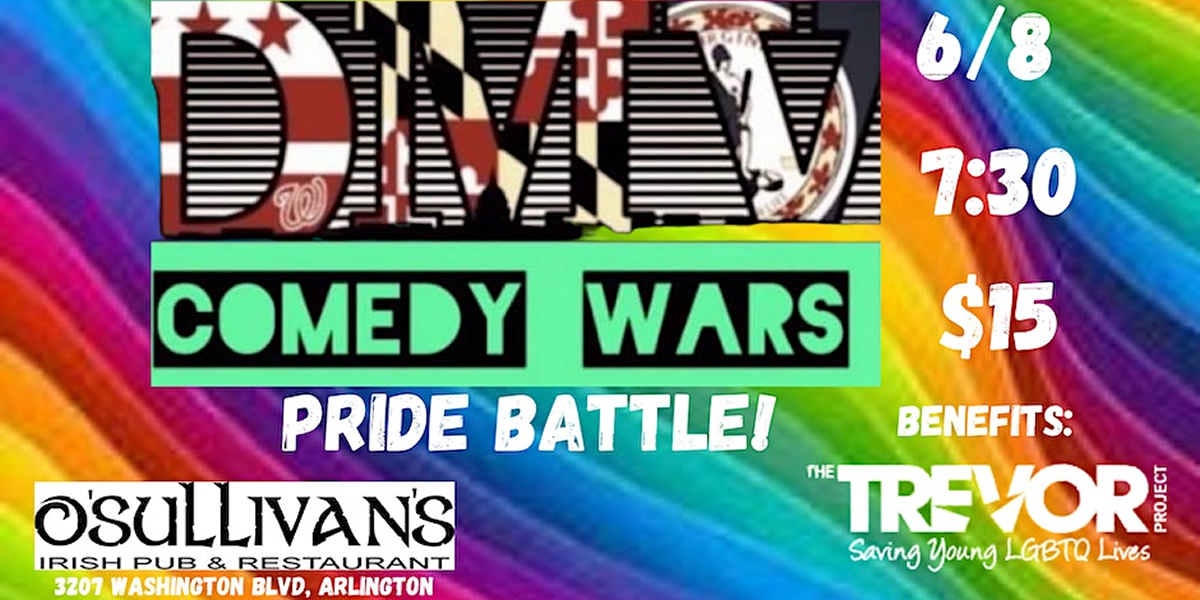 Thursday, June 8
7:30-9 p.m.
O'Sullivan's Irish Pub
3207 Washington Boulevard
Arlington, Va.
$15
Eventbrite
The DMV Comedy Wars continue with a "Pride Battle" of comics at O'Sullivan's Irish Pub & Restaurant in Arlington, Va. tonight. Benefits from the show are slated for the Trevor Project, so go out and laugh for a good cause.
---
Capital Pride Rooftop Pool Party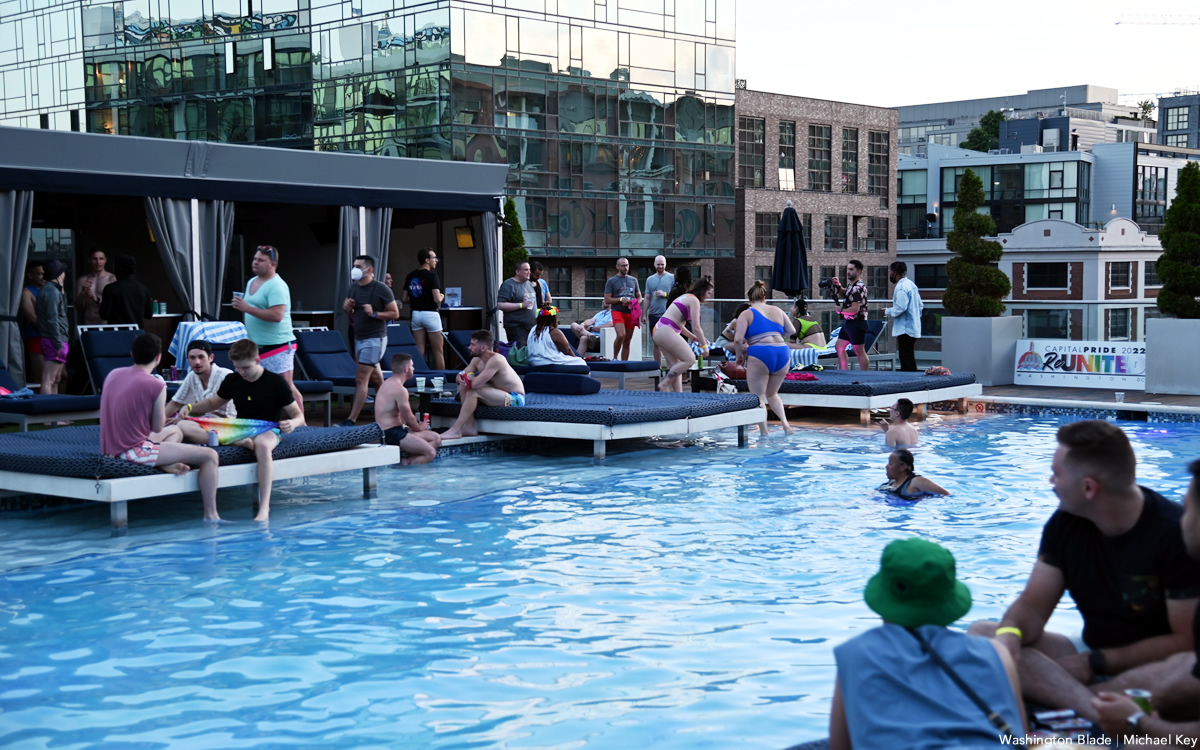 Thursday, June 8 [UPDATE: This event has been postponed to June 22]
8 p.m.
Penthouse Pool and Lounge
1212 4th Street, S.E.
$25-$35 / 21+
Website
The Capital Pride Alliance hosts its annual Rooftop Pool Party at 1212 4th Street, S.E. [UPDATE: Rescheduled due to poor air quality]
---
ElectroPOP Thursdays: Pride Edition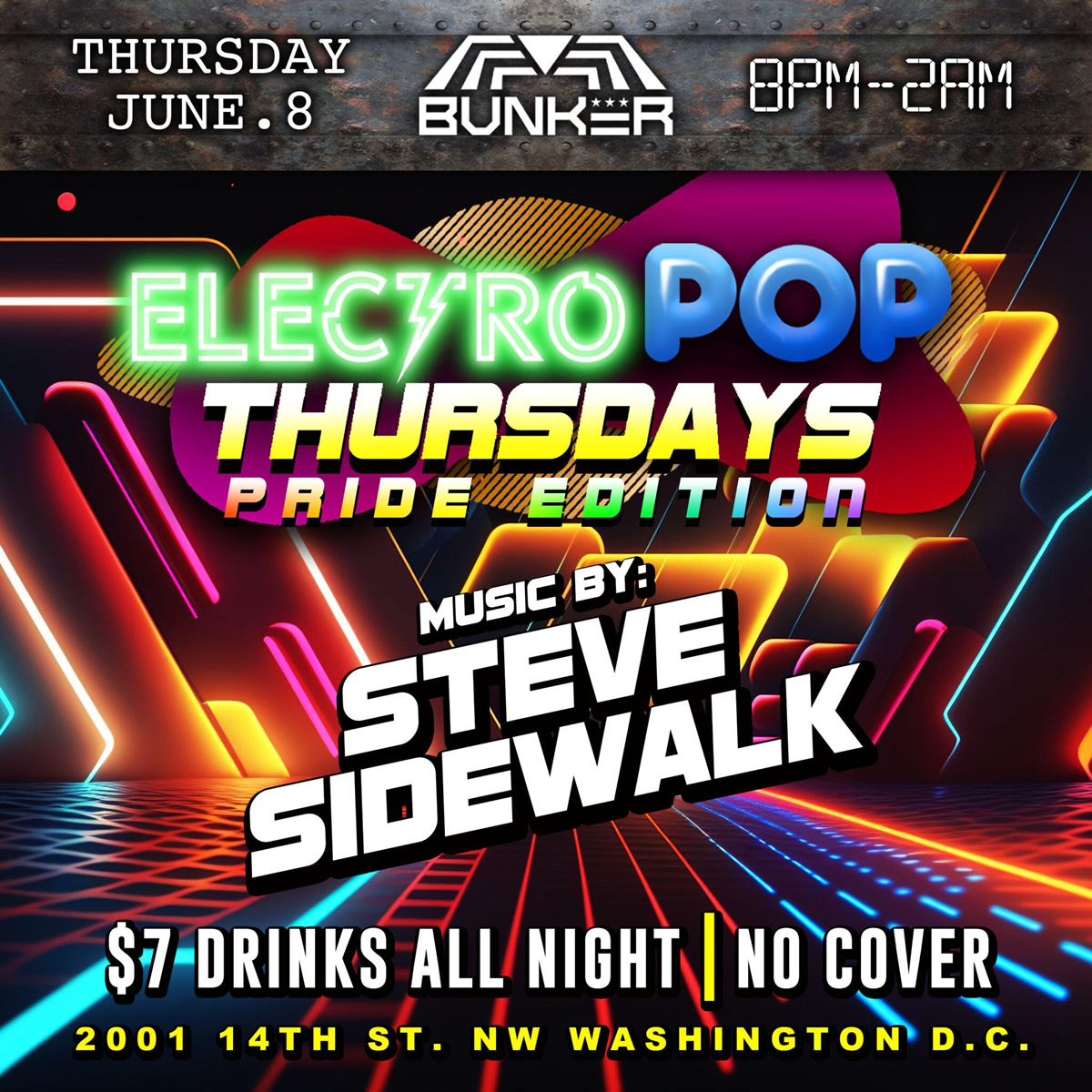 Thursday, June 8
8 p.m.-2 a.m.
Bunker
2001 14th Street, N.W.
No Cover
Website
Steve Sidewalk brings the music to this Pride Edition of ElectroPOP Thursdays at Bunker.
---
Films on the Green DC: "Three Nights a Week" Screening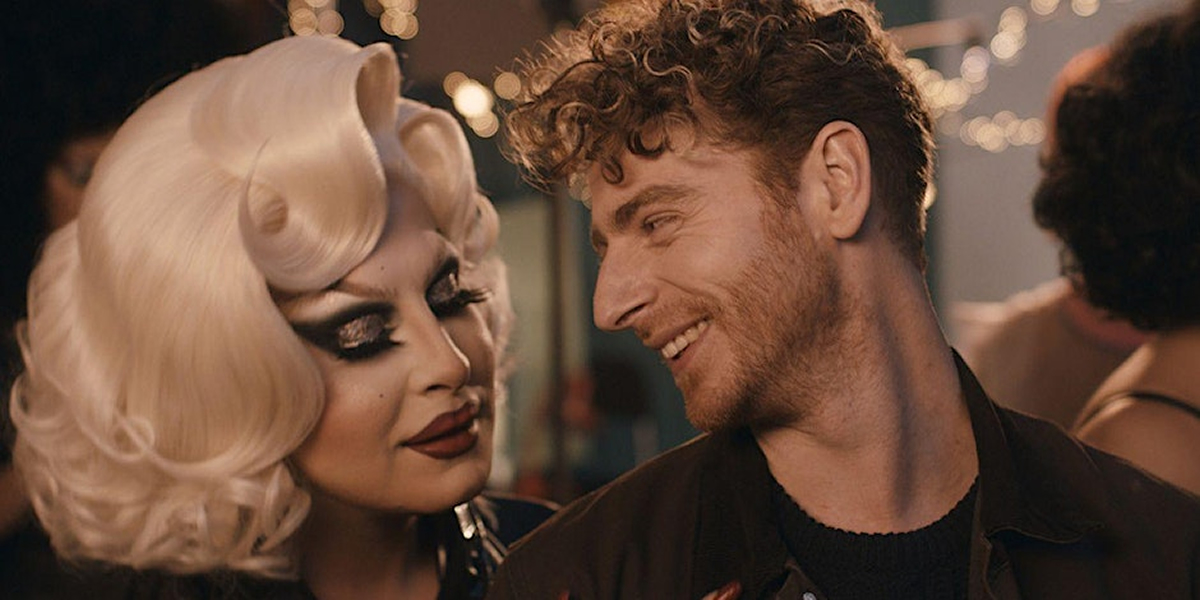 Thursday, June 8
9-11 p.m.
Washington Monument
2 15th Street, N.W.
Free
Eventbrite
The base of the Washington Monument is a beautiful spot to watch a film. For this Pride Thursday, Films on the Green is playing the 2022 French LGBTQ film, "Three Nights a Week."
---
Wasted & Gay Thursdays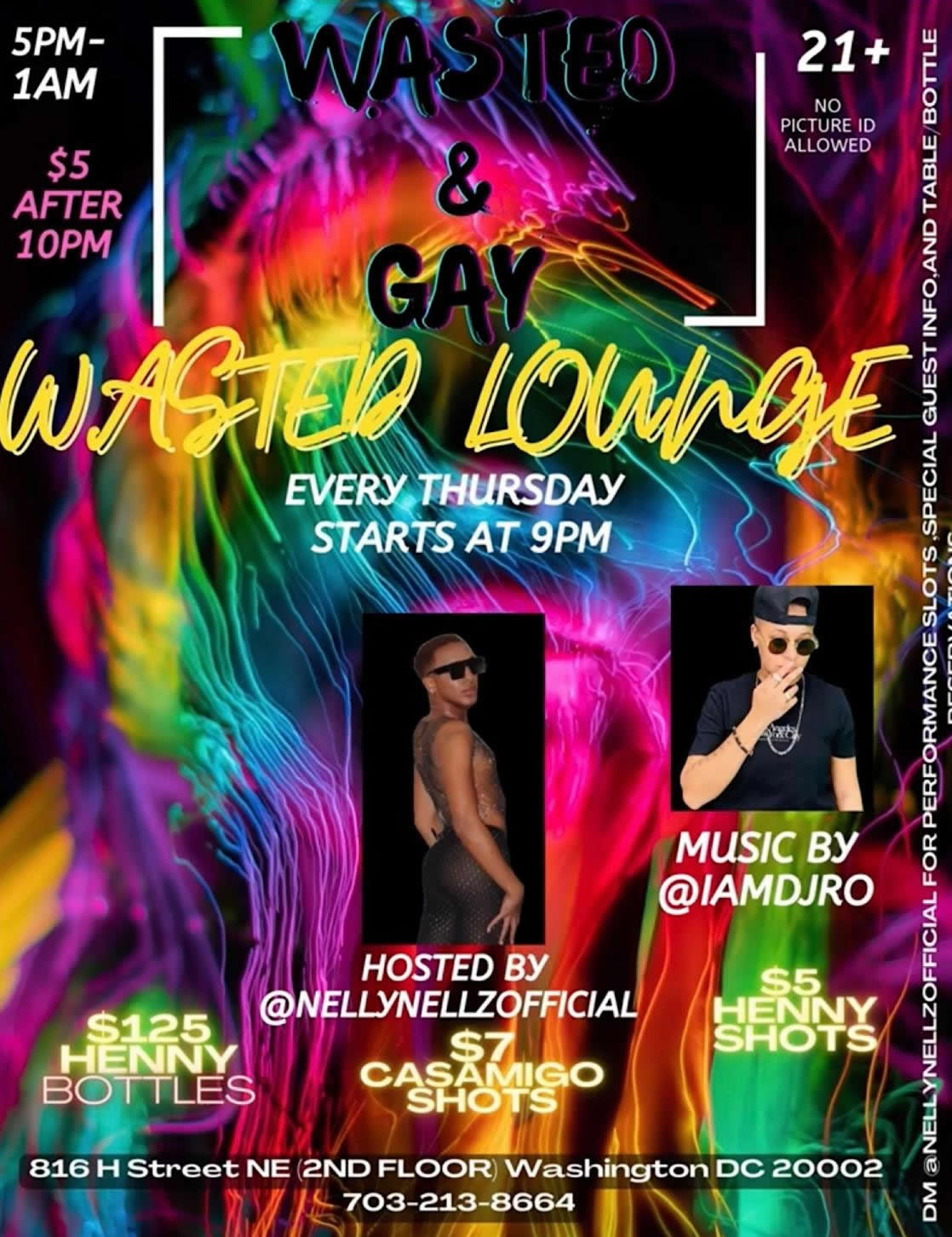 Thursday, June 8
9 p.m.-1 a.m.
Wasted Lounge
816 H Street, N.E.
$5
Eventbrite
Have a pleasant evening with a beverage and hookah at Wasted Lounge with "Wasted & Gay Thursdays" at 9 p.m. tonight.
---
Sleaze Pride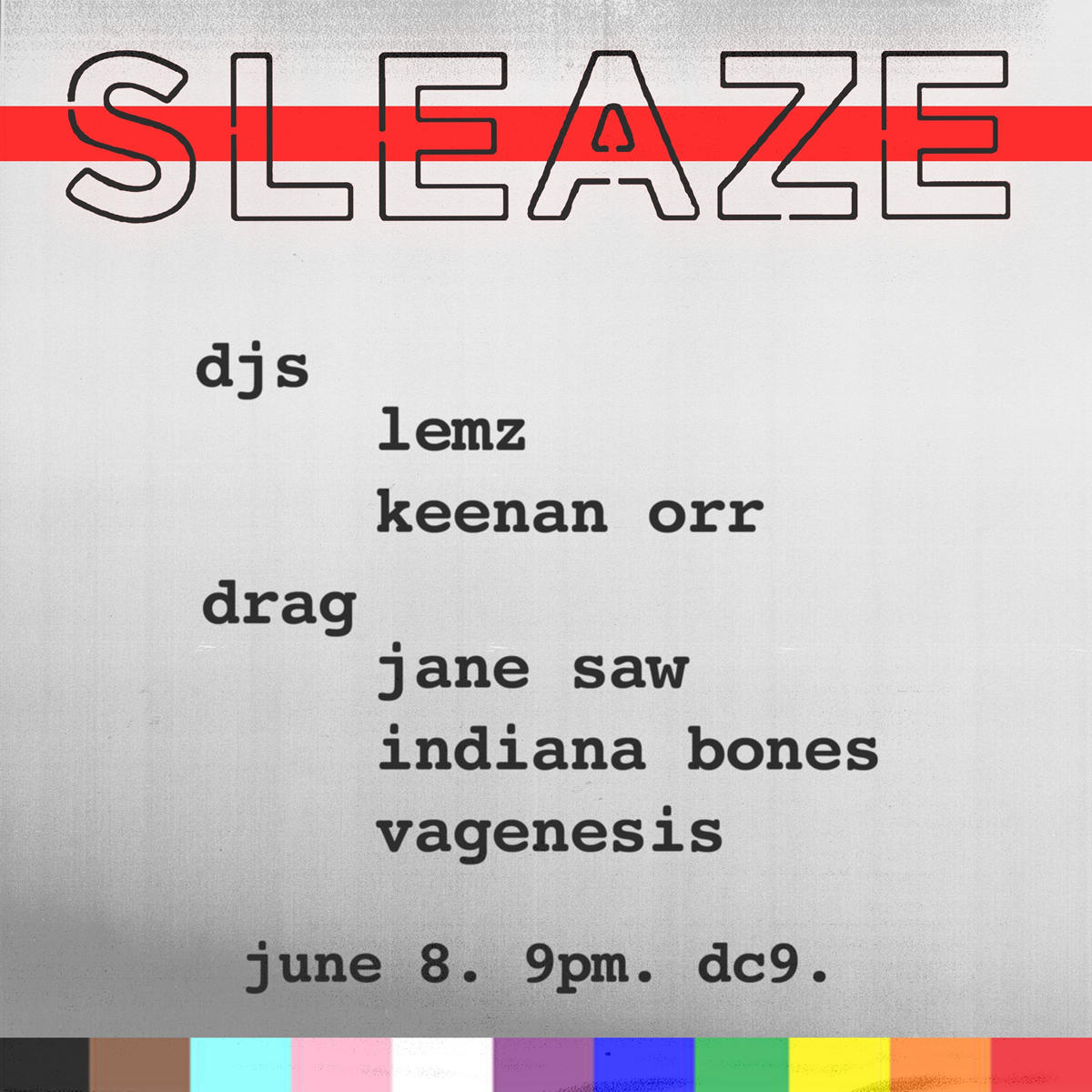 Thursday, June 8
9 p.m.-2 a.m.
DC9 Nightclub
1940 9th Street, N.W.
$10
Facebook | Eventbrite
The monthly DC9 "Sleaze" LGBTQ parties culminate with the Sleaze Pride party tonight featuring drag artists Jane Saw, Indiana Bones and Vagenesis. DJ Lemz and DJ Keenan Orr bring the music.
---
Shirts and Skins!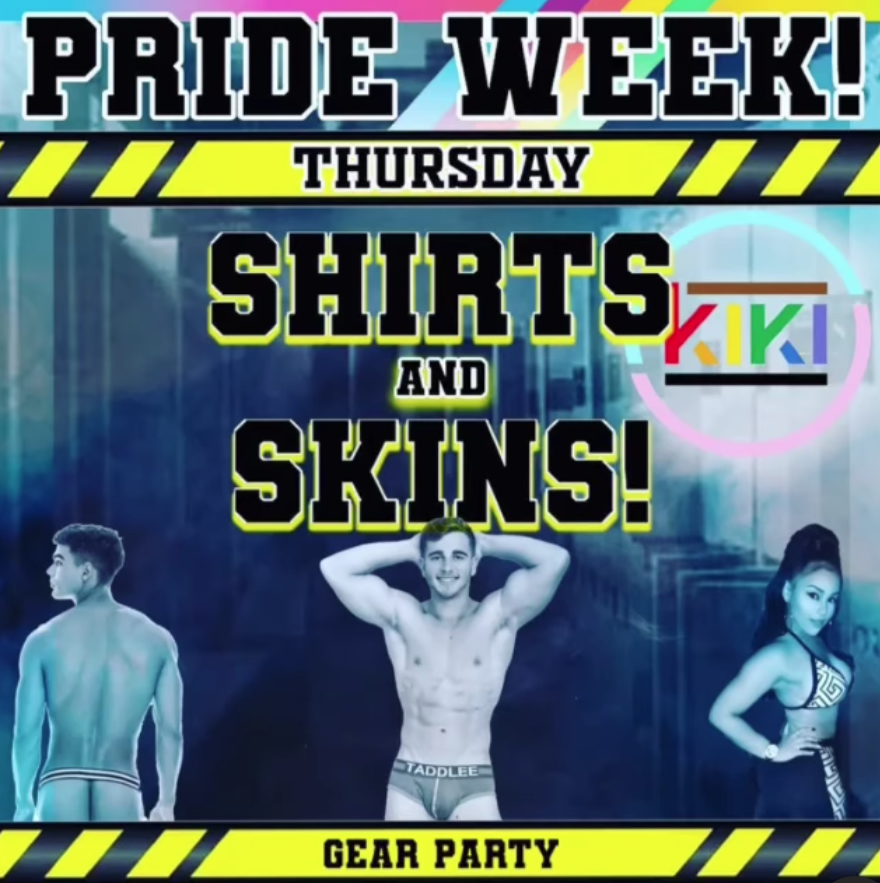 Thursday, June 8
10 p.m.
Kiki
915 U Street, N.W.
Instagram
Kiki dips its toes into the gear party scene for Pride with a Shirts and Skins party. So, show off your jock straps, singlets, compression shorts, harnesses, pup attire, body suits or whatever gear you grab at this kinky party.
---
KINTETIC Pride: Sugar Pop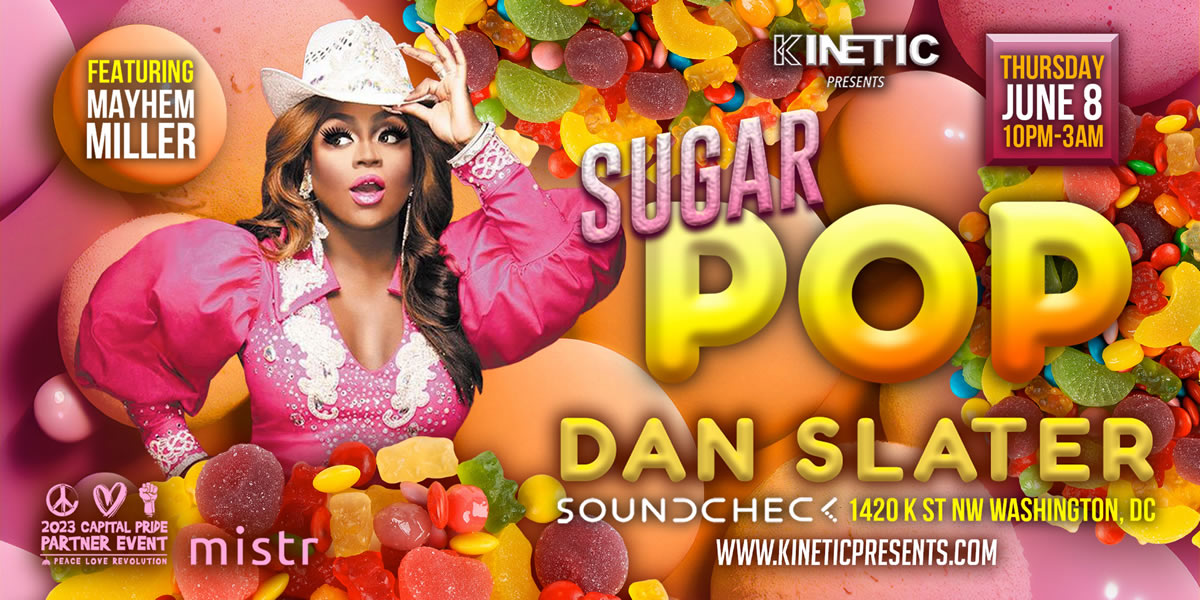 Thursday, June 8
10 p.m.-3 a.m.
Soundcheckdc
1420 K Street, N.W.
$20-$30 (or purchase weekend pass)
Facebook | Tickets
KINETIC Pride events begin with Sugar Pop featuring Mayhem Miller with Dan Slater at Soundcheck at 10 p.m. You can either pay piecemeal for each party, or you can secure weekend passes for all four KINETIC Pride events for $149-$219 on Eventbrite.
---
PHOTOS: LHP Pride Kickoff Drag Show
Latinx Pride Court crowned at Trade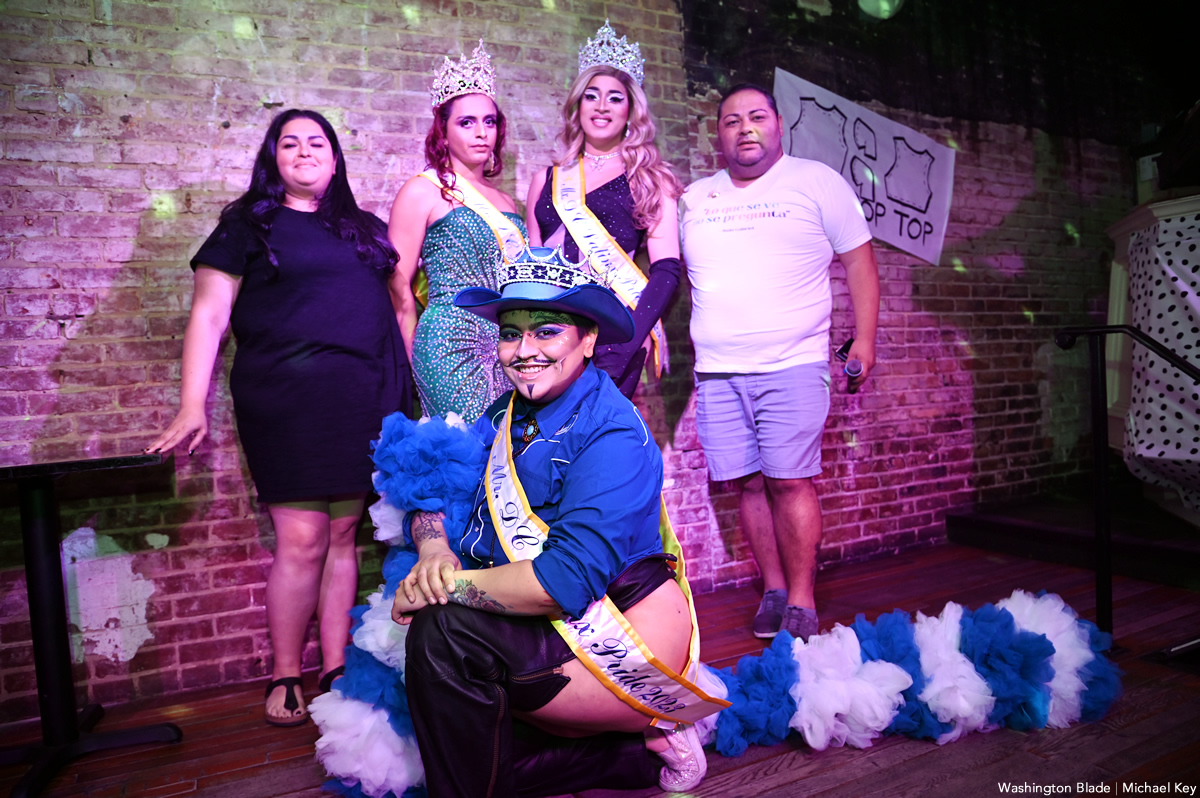 The Latinx History Project (LHP) held a Pride Kickoff Drag Show at Trade on Wednesday, June 7. Performers included Rico Pico, Desiree Dik and Darcy de la Cuadra. Rico Pico was crowned Mr. DC Latinx Pride 2023, Randy Salmeron (a.k.a. Darcy de la Cuadra) was crowned Mx. Latinx Pride 2023 and Kaila Kaleaa was crowned Ms. Latinx Pride 2023.
(Washington Blade photos by Michael Key)