2017 YEAR IN REVIEW: theater — Super-gay (as usual) D.C. theatrical year
'Wig Out,' 'Los Otros' among 2017 highlights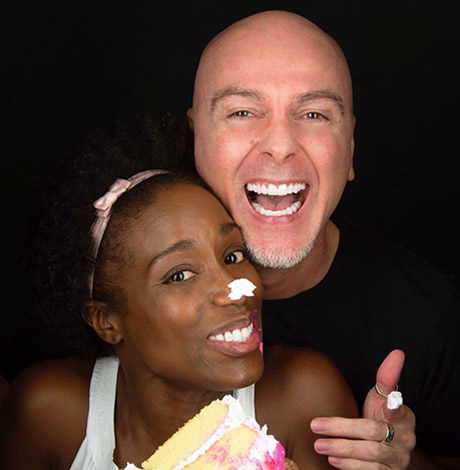 The year in theater was eclectic and engaging, peppered with premiers and reprises. There were new faces, names, and titles as well as the familiar. It was year of change and more of the same, both challenging and comforting.
In February, Studio Theatre trod intriguing ground with Morgan Gould's new dramedy "I Wanna Fucking Tear You Apart," a darkly funny play about friendship and the politics of niceness and beauty, and more specifically friendships between gay men and overweight straight women. For the play's D.C. premier, New York-based Gould (who also directed) cast out actor Tommy Heleringer as the young gay man and Nicole Spiezio as his big bestie.
Studio explored complicated relationships further with its summer production "Wig Out!" penned by out playwright Tarrell Alvin Mcraney's whose "In Moonlight Black Boys Look Blue" inspired the Academy Award-winning film "Moonlight."  "Wig Out!" is a love story set in the African-American drag ball scene (think Jennie Livingston's seminal 1990 documentary "Paris Is Burning."). Michael Kevin Darnall as the House of Light's sexual predator father and Jamyl Dobson as its aging, insecure drag mother were standouts in a strong cast.
Baltimore's Everyman Theatre presented the excellent "Los Otros," a subtly made, grownup two-hander with music by out composer Michael John LaChisua. It starred Broadway actors Judy McLane and Philip Hernández as two very different middle-aged Californians — she's white and straight and he's Mexican American and gay — who live oddly parallel lives.
The Kennedy Center hosted a summer of fun that included the national tour of Rodgers & Hammerstein's "The King and I." Out actor Jose Llana added a playful dimension to the stubborn Siamese sovereign and Laura Michelle Kelly was luminous as Anna, the plucky English governess.
The increasingly dynamic Mosaic Theater Company added transgender to its topical mix. In January, they presented out playwright Philip Dawkins "Charm" starring transgender actor B'Ellana Duquesne as Mama, an etiquette instructor in an urban LGBT center. Dawkins drew inspiration from Chicago's real-life Mama Gloria Allen, a transgender, African-American woman who taught deportment to low-income, transgender and often homeless teens in Chicago.
And more recently Mosaic presented "Draw the Circle," Mashuq Mushtaq Deen's one-man show recounting his tricky, real life transition from female to male in a traditional Muslim-American family.
For some out artists, 2017 was a time for taking chances and exploring new directions. Celebrated local actor Holly Twyford sang in her first musical. As the middle-aged stage star Desiree Armfeldt in Signature Theatre's sublime production of Stephen Sondheim's "A Little Night Musical," she dazzled audiences with her heartfelt and revelatory rendition of the show's standard "Send In The Clowns."
Rick Hammerly dedicated the year to directing. Best known for his Helen Hayes Award-winning turn as the titular transgender heroine in Signature's production of the rock musical "Hedwig and the Angry Inch," Hammerly says, "This year I decided that if I wanted people to think of me as doing something other than Hedwig, I needed to step it up and show people what I'm interested in, and that's directing."
From summer through early winter, he directed three well-reviewed plays back to back: a delightful youth production titled "Junie B. Jones Is Not A Crook" at Adventure Theatre MTC; British playwright Cordelia Lynn's  "Lela & Co." at Factory 449 (where Hammerly is producing artistic director) showcasing the dramatic prowess of his colleague and friend Felicia Curry in an intense but optimistic look at cross-border human trafficking and how male relatives are usually complicit in such situations; and lastly WSC Bard's "Emilie: La Marquise Du Châtelet Defends Her Life Tonight," a smart comedy penned by prolific playwright Lauren Gunderson.
"Each production was my vision of the play and directorially that's what you want. Directing has been incredibly gratifying and currently it's where I find the most satisfaction. That's not to say that I'm leaving the stage."
Hammerly closed out the year by once again donning his fat suit and playing goodhearted Mr. Fezziwig in Ford's Theatre's annual production of "A Christmas Carol."  And looking forward he's slated to assistant direct Ford's "Jefferson's Gardens," an exploration of contradictions between our founding fathers' ideals and the realities of freedom in America. For spring, he's cast to play mature drag queen Miss Tracy Mills in Round House Theatre's production of playwright Matthew Lopez's comedy "The Legend of Georgia McBride" to be staged by Tom Story, another out actor who also directs.
'John Proctor is the Villain' draws cannily from American lit
An enthralling work replete with pitch-perfect performances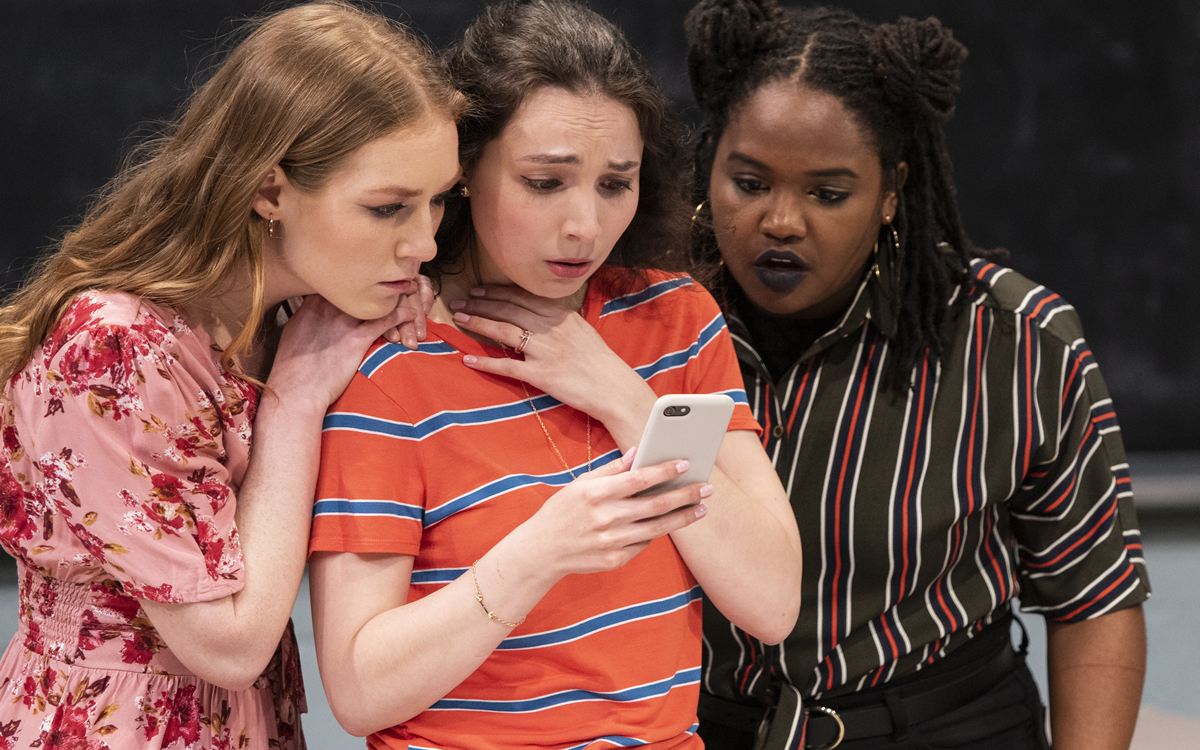 'John Proctor is the Villain'
Through June 5
Studio Theatre
1501 14th St., N.W.
$50 – $95
Studiotheatre.org
There's a lot going on in Carter Smith's junior English class at Helen County High in rural Georgia.
Not only are they tackling Arthur Miller's colonial Salem-set play "The Crucible," but budget cuts require that he open each class with 10 minutes of sex-ed over six weeks. To complicate matters further, there are unsavory rumors surrounding two of Smith's female students – one whose father has been accused of sexual misconduct and another who's absconded to Atlanta under a cloud of scandal.
Playwright Kimberly Belflower's terrific new work, "John Proctor is the Villain," a world premiere now running at Studio Theatre, draws cannily from American literature, examining the meaning of witch hunt in Miller's red scare allegory compared to what's happening in her play's one stop light (soon-to-be two) town in 2018. 
Filled with pop-culture references – lots of Taylor Swift, Beyoncé, Lizzo, Lorde, and even fashion guru Tim Gunn's catch phrase "make it work," the play's two hours with a fifteen-minute intermission moves quickly as action unfolds in many scenes scattered throughout a semester.
At a time when #MeToo was changing from allegations about individuals to something bigger, the smart girls in Smith's class want to form a feminism club. A well-meaning young counselor, Ms. Gallagher (Lida Maria Benson) thinks maybe it's not the right time, but with the help of Smith as moderator, it happens.
Dave Register's Carter Smith is a handsome, young teacher with a charming slight Georgia accent. The girls in his honors class admire him for different reasons including – in no particular order – his picture-perfect marriage and Christian faith, his sensitivity, and the bulge in his sweat pants.
Led by overachieving yet self-effacing Beth (Miranda Rizzolo), the feminist club shifts focus from timely topics to interpersonal relationships and spicy gossip. Other members include the local Baptist preacher's daughter Raelynn (Jordan Slattery), adamant Ivy (Resa Mishina) with the handsy father, and outgoing Nell (Deidre Staples), a big city transplant new to a school where friendships date back to first grade.
Eventually two boys join the group – Mason (Ignacio Diaz-Silverio) a regular dude in need of extra credit who proves surprisingly progressive, and Lee (Zachary Keller) a strapping guy who wants to be near to his ex-girlfriend.
Midsemester, volatile Shelby (Juliana Sass), a troubled girl with a secret, returns to Smith's class with her own significant take on Miller's honorable adulterer John Proctor and what makes a witch hunt.
While it's definitely an ensemble piece, Raelynn's coming of age arc is the most interesting. With a blank countenance similar to Jenelle from "Teen Mom" (my pop culture reference), Slattery plumbs her church girl part for laughs and meaning. By play's end, she's engaging in a defiant dance not unlike the Crucible girls who danced naked in the forest.
Despite taking inspiration from Miller's intense drama, the playwright slips in a sweet scene of bashful young love straight from the pages of Thornton Wilder. It's an endearing moment, seamlessly worked into the story.
Luciana Stecconi's brightly lit, pale blue-walled set is pure verité: standard issue desks and chairs, clutter, a white board adhered to an old blackboard, and a bulletin board dedicated to Georgia's women writers with Flannery O'Connell featured dead center. Sound designer Kathy Ruvuna further revs up the teen energy with blasts of familiar-sounding pop music.
But mostly, it's veteran director Marti Lyon who brings to life an enthralling work replete with hope, rage, and pitch-perfect performances. In 2018, Lyons had great success at Studio with "The Wolves," a candid glimpse into the lives of adolescent girls who play soccer. And now with Studio's current offering, she again makes audiences privy to an otherwise mostly closed world.
Out actor embraces role in audacious, healing production
'There's Always the Hudson' confronts painful wounds head on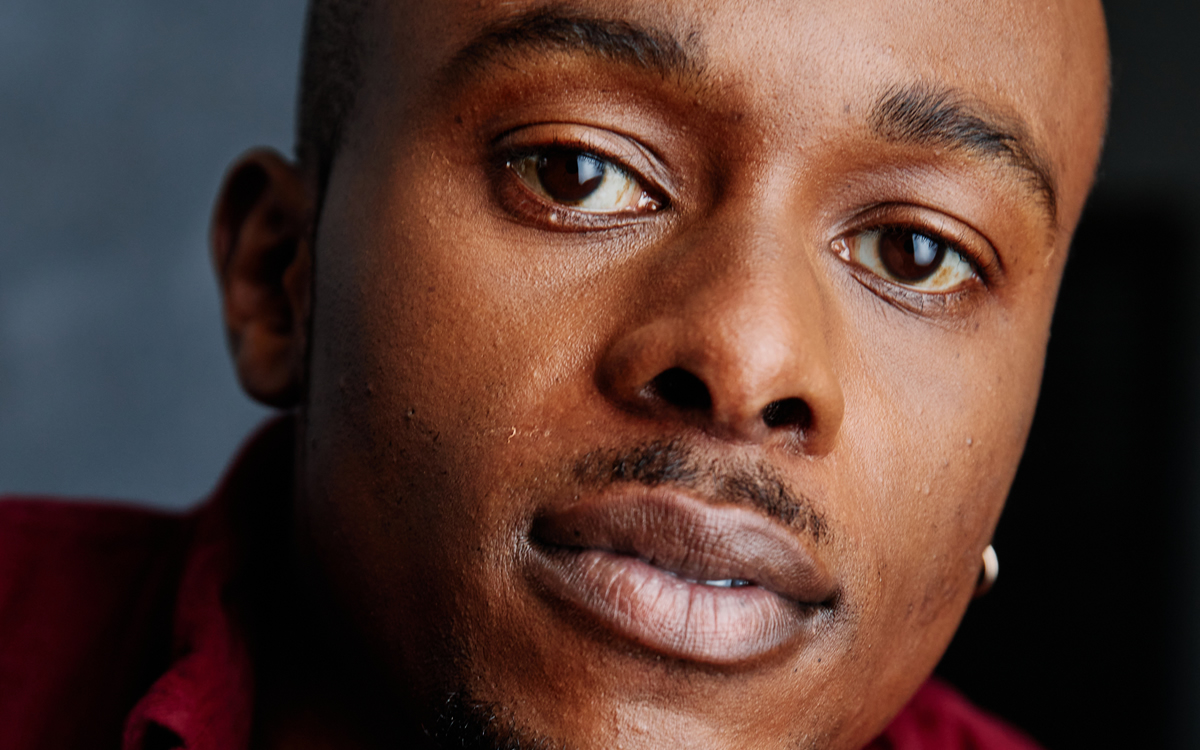 'There's Always the Hudson'
May 9-June 5
641 D St., N.W.
$29-$64
Woollymammoth.net
Healing can be messy, says out actor Justin Weaks. And in "There's Always the Hudson," playwright/actor Paola Lázaro's audacious and unapologetically healing new work, actors can't cower and audiences are compelled to experience a little discomfort along with the entertainment.
Lázaro and Weaks play best friends Lola and T (short for Toussaint) who met in a sexual abuse survivors support group three years previously. At some point, the pair made a pact that if things failed to improve, they'd kill themselves. When Lola says today's the day to die, they agree to first settle scores with some of those who've hurt them. The night is about them taking New York City by storm and confronting their wounds head-on.
T is Black, gay, a Haitian immigrant, and a survivor of sexual abuse and trauma – identities that can heavily stigmatize in our culture. Throughout the course of the play, the audience watches as T increasingly find his voice.
Weaks, 31, says, "Lola and T have a lot to say and world has told them they're not interested in hearing from people like them. But this is the night they say the shit that needs to be said."
And without hesitation, he adds, "Playing T is one of greatest honors of my career, a dream come true."
The piece is different from anything else he's done, and for the playwright and star to agree to take this ride with him, he feels, is extraordinary: "You've never seen people talk like this on stage, I promise. It's radical."
A lean and mean intermission-less 80 minutes, the play covers some heavy terrain but it's also "funny as hell – and might leave you with a little bit of whiplash," he says. Its director, Jess McLeod, whom Weaks charmingly describes as "a fiery general with an enormous heart, the perfect person for the job," keeps the five-person cast on task.
While Weaks has been a part of new works in the past, this time feels unique. It wasn't until a little over a month ago that T, a character conceived by the playwright four years ago, was rewritten as gay.
"The play worked with T straight, but now that he's gay it's hitting on so many cylinders," he says. "I'm not sure that change could have happened if someone else was in the role. I like to think my presence in the process maybe informed that in some way and deepened the work."
In November 2021, Weaks left D.C. for New York. "It was time, and 'There's Always the Hudson' is the perfect punctuation mark for the end of my time in Washington."
Just three weeks after coming to D.C. from North Carolina in 2016, the gifted actor was diagnosed with HIV: "I didn't know anybody yet. Didn't have community yet. I had come to work, for a year, maybe two. Never foresaw being embraced by the community in the way that I've been.
"I understand what it feels like to have an identity that is stigmatized. Part of why I feel connected to T., through playing him, I get to feel. By stepping into his journey, I get to heal a lot of stuff."
During Weaks' time in the DMV, he earned multiple Helen Hayes Award nods winning in 2017 for his supporting turn in Theater Alliance's "Word Becomes Flesh." Other performances of note, among many, include "BLKS" and "Gloria" (Woolly Mammoth) "G of the Ocean" (Round House) "Dontrell, Who Kissed the Sea" (Theater Alliance) and "Curve of Departure" and "Pipeline." (Studio).
"There's Always the Hudson" was two weeks into rehearsal in March 2020 when production was shut down due to COVID. Everyone involved felt then it was an important and affecting work, and they still feel that way, he says. Now the original cast and creative team have reconvened to deliver on the play's promise.
"It's a thrill to create a role that will forever be a part of the American theater canon. When I graduated from college 10 years ago there were no parts like T. I'm excited that he'll be inhabited by many actors after me, but I'll always feel protective of Toussaint."
Playwright pays tribute to gay grandfather in new Round House show
'Jennifer, Who Is Leaving' marks Gould's first return to D.C. since 2017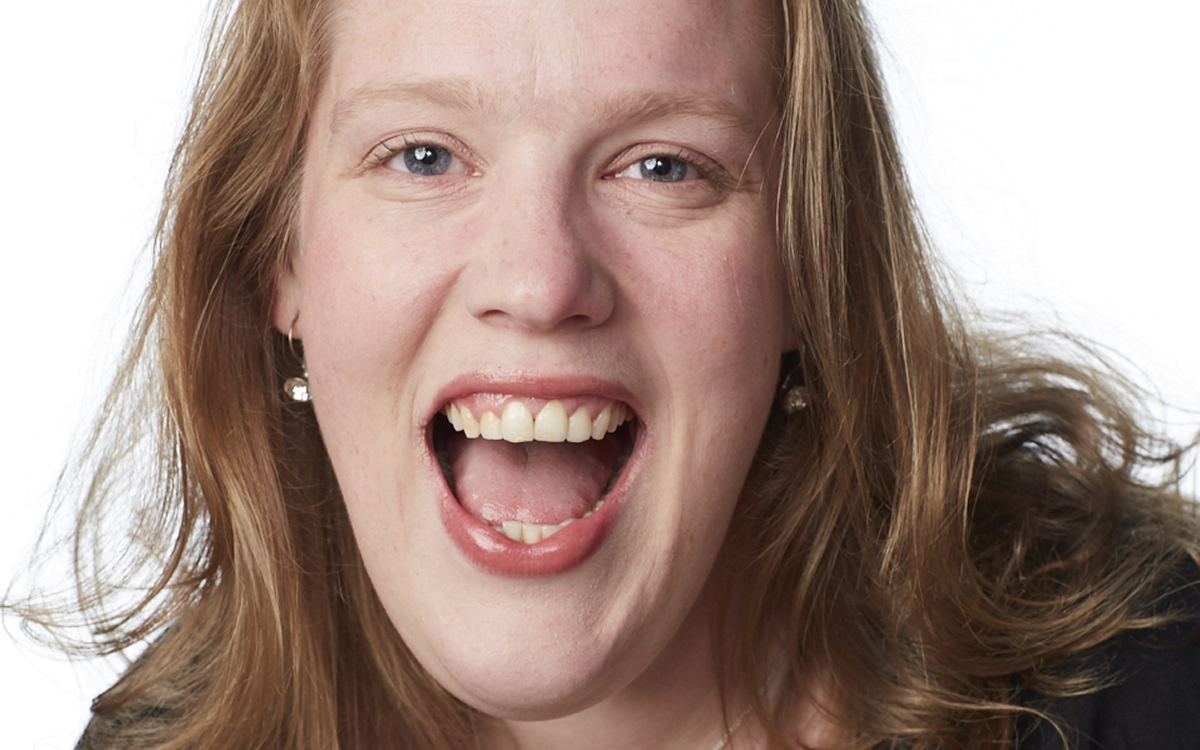 'Jennifer, Who Is Leaving'
April 28 & 30
Round House Theatre
4545 East-West Highway
Bethesda, Md. 20814
Roundhousetheatre.org
Morgan Gould is an enthusiastic LGBTQ ally and it's reflected in her work.
With "Jennifer, Who Is Leaving," the New York-based playwright pays tribute to her gay grandfather. Billed as a developmental reading in Round House Theatre's National Capital New Play Festival, the piece marks Gould's first professional return D.C. since 2017 when Studio Theatre presented "I Wanna Fucking Tear You Apart," her daring dive into the often-complex relationships of plus-sized women and their gay male best friends.
Gould says, "A woman who is fat and has five gay men in her favorites on her iPhone is an ally and that's me." She adds that a continuation of gay themes in her plays makes perfect sense — "That's my thing. It's what I know about."
Prior to the reading, Gould, who is also directing, will have a week to rehearse with an "embarrassingly good cast" comprised of local talent Floyd King, Nancy Robinette, Kimberly Gilbert, and Annie Fang. The two readings (April 28 and 30) will be separated by an extra day of rehearsal when Gould will most likely make some changes to the script.
In addition to five readings, the new play festival features two fully staged world premieres through May 8: Tim J. Lord's "We declare you a terrorist…" and Charly Evon Simpson's "it's not a trip it's a journey."
WASHINGTON BLADE: Hey, Morgan. What's new?
MORGAN GOULD: I still have many gay friends. Two guys call me about 14 times a day. That's not new, but COVID has turned me into a Facetime gal versus a hang out with friends in the living room kind of gal.
And since theater hasn't been a thing, really, I've spent most of the pandemic working on TV stuff. I wrote on the adaptation of "A League of Their Own" starring Abby Jacobson who's also head writer. It's coming out in July on Amazon. I haven't seen it yet, so hopefully it's good. Like the film but with different characters, and retains the same feminist vibe.
BLADE: So, when did you write "Jennifer, Who Is Leaving"?
GOULD: I wrote the first draft before the pandemic. This was the last thing I brought into class as a playwrighting fellow at Juilliard before graduating in 2019. I'd written intense personal stuff, and a lot about being fat. Why not give myself a fun breath of fresh air? My gay grandfather was probably the funniest person I've ever known. Still, this play becomes intense. I can't help it.
BLADE: Tell us about your gay grandfather.
GOULD: His name was Joey. He died at 90-something in 2008. He and his partner Bob were very over-the-top gay men who never said they were gay. He always introduced Bob as his nephew. Bob designed shoes and my grandfather designed wedding dresses. They had a little dog. They weren't straight.
My grandfather was performatively snobby. When dementia put him in a nursing home his catty sense of humor took a crazy turn. He could be off the wall inappropriate. As teenagers, my sister and I thought it was hilarious. My mother, of course, was mortified.
BLADE: Is your new play about that?
GOULD: It's based on my grandfather's relationship to a woman who was his nurse's aide in the nursing home, as well as the ways women take care of men. There are three generations of women in the play who all in some fashion have a relation to caretaking for men.
It takes place late night at a Dunkin' Donuts. A crazy snowstorm forces the old man and the nurse's aide to pull over and ride out the blizzard surrounded by donuts. The night manager is an older woman. I'm from Massachusetts and worked at Dunkin' Donuts when I was young. It seems there was one on almost every corner.
BLADE: Have you been to D.C. since your play at Studio?
GOULD: It's my first time back to work on one of my projects. I've been to see my boyfriend Mike Daisey's shows. He's a monologist who has performed at Woolly Mammoth and more recently Arena. D.C. is great. I like the restaurants, especially Le Diplomate and weirdly the little dim sum place near Studio.
BLADE: What do you expect from Round House's new play festival?
GOULD: Ultimately, I hope to walk out with a script that says this is ready for production and hopefully some theater will do it. That's the dream.
There's a lot out of my control. But yeah, I think people will like it. It's a hopeful play with a dark night of the soul.
BLADE: Anything else?
GOULD: What is the runtime you ask? 75 minutes, babe. No intermission.