A whirlwind year for the Blade
2017 brings renewed urgency to our work — and 2 new publications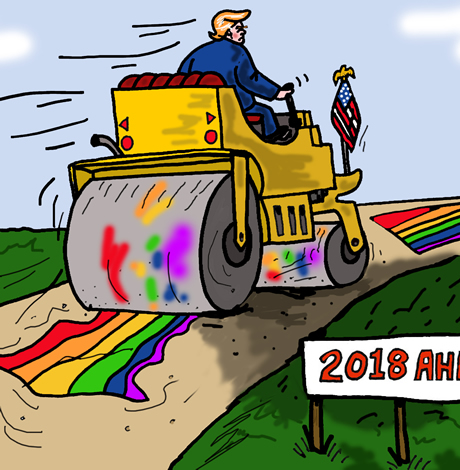 Last year at this time, I predicted that 2017 would bring new attacks on the LGBTQ community from an adversarial Trump administration. Sadly, I was right.
Among those attacks we've endured this year: an attempted ban on transgender military service; a rollback of LGBT civil rights protections at the Justice Department; sending an attorney to a federal court to argue firing people for being gay is legal; and new "religious freedom" guidance that green lights the denial of services to LGBT people. Earlier this month, the administration said it supports the right of business owners to post signs in their windows announcing they won't serve gay customers.
These attacks and other factors led to quite a year for us at the Blade as our work took on new urgency. Thank you to our readers and advertisers for your support this year. As has been my custom in this final issue of the year, a look back.
First and foremost, we published 52 issues of the Washington Blade while feeding our digital and social media platforms 24/7.
Early in the year, we began eyeing a new opportunity in Los Angeles, the second largest market in the country, and one that was underserved by alternative media. In partnership with gay media veteran Troy Masters, we launched a sister publication, the Los Angeles Blade in March. A diverse cross section of LA residents — from longtime activists to young digital media entrepreneurs to the West Hollywood mayor — turned out for our launch party in West Hollywood. In sharp contrast to Trump's attacks on "fake news," LA residents and businesses welcomed the Blade enthusiastically. Shortly after, we were thrilled to welcome veteran journalist Karen Ocamb to the LA team as news editor. Together, Karen and Troy are proving a dynamic duo, breaking important stories in LA and helping us build this exciting new enterprise.
Meanwhile, back in D.C., we kept busy covering the Trump administration, with our political reporter Chris Johnson toughing it out in the White House briefing room each day, sometimes going weeks without being called on as officials try to ignore and suppress alternative voices like ours in favor of outlets peddling alternative facts instead.
With our international news editor Michael Lavers at the helm, we undertook a deep dive into the plight of LGBTQ people in Latin America and the Caribbean, visiting Guatemala, El Salvador, Honduras, Cuba, Chile, Puerto Rico, Costa Rica, Colombia, and the Dominican Republic. We enlisted new contributing writers on the ground in those countries to continue our work. We published more than 100 news stories and op-eds from thought leaders in the region, often in both English and Spanish and I'm excited to announce that we will expand that project in 2018, starting with a January visit to Puerto Rico to cover the ongoing hurricane recovery effort and the Trump administration's shameful neglect of the island.
In D.C., longtime senior news reporter Lou Chibbaro Jr. continued his unparalleled coverage of our local community, with plans to kick off 2018 with a comprehensive and disturbing report on the unsolved murders of local gay and transgender residents.
When word got out that the Baltimore Sun planned to shutter the 40-year-old City Paper, we started meeting with key players in Baltimore and decided the city needed an independent voice. To that end, we launched the Baltimore Beat in November, a new general interest alt weekly giving voice to the city's underrepresented communities.
In other highlights: we won multiple awards for our journalism and our design thanks to the creative team of Jim Neal and Tiara Slater; we gave back to our local community by sponsoring a range of events and organizations, including Capital Pride, SMYAL and the D.C. Gay Flag Football League, among many others; we contributed to organizing the National Equality March, which brought thousands to D.C. on Pride weekend to protest the Trump administration; we hosted a singles party in February, brought comedian Kate Clinton to town for a Pride show; attended the White House Correspondents Association Dinner, interviewed scores of artists and celebrities thanks to the hard work of Joey DiGuglielmo and Mariah Cooper. We documented D.C.'s LGBTQ community in thousands of photos and videos thanks to photo editor Michael Key; kicked off the summer beach season with our annual party in Rehoboth; honored the Best of Gay DC in our annual special issue and ever-growing party; and broke innumerable stories about the LGBTQ community here and abroad. And it was all made possible by the tenacious work of our sales and marketing team, led by Lynne Brown, Brian Pitts, Stephen Rutgers, Phil Rockstroh, Joe Hickling and our friends at Rivendell Media.
As always, thank you for reading and supporting the Blade(s) — and now the Beat. The world needs more independent, alternative voices and we look forward to another busy year in 2018. Best wishes for a safe and happy holiday season.
Kevin Naff is editor of the Washington Blade. Reach him at [email protected].
Opinion | Pride is more than a rainbow
Companies should create year-round approach to the LGBTQ consumer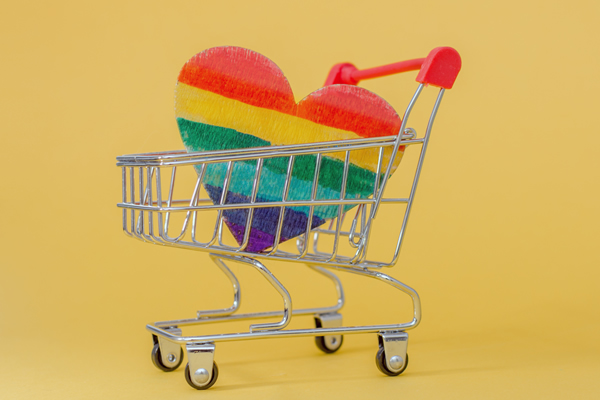 Pride season is here. Tens of thousands of ATMs across the country will sport rainbow adornments, Target and H&M will devote sections of their stores to a panoply of rainbow trinkets and garments, companies from nearly every business segment in America will wish the LGBTQ community a "Happy Pride." Rainbow flags will be festooned across storefronts nationwide and then disappear.
What many companies fail to realize is this annual ritual known as 'rainbow washing,' can have unintended negative consequences. Pride is 24/7/365 and companies that relegate their LGBTQ outreach to one month a year are often perceived as pandering and "tokenistic."
What forward thinking marketers understand is the need for brands to talk to the LGBTQ consumer on a year-round basis. So time to move off of the Pride-month-only strategy.
A $1 trillion spending engine, LGBTQ consumers are recognized as having the highest discretionary household income, estimated to be 23% above the national average. Recent surveys say that a whopping 20% of trendsetting millennials ages 25-34 identify as LGBTQ. The math speaks for itself.
The LGBTQ segment is not homogenous or monolithic. There is no one-size-fits-all approach, creating the need for nuanced outreach efforts. Fully, 61% of respondents in a recent poll found that diversity in marketing and advertising was highly important, positively impacting a brand's bottom line. All aspects of marketing messaging can be customized and delivered to segments and subsegments of the LGBTQ consumer sector through multiple mediums.
LGBTQ consumers are highly enthusiastic, recognized as the earliest adopters and greatest influencers representing disproportionate control of a brand's profitability. Brands should develop emotional connections. Qualitative research shows that 'positive image enforcement' leads to positive purchasing decisions. Oreo's "Proud Parent" outreach and commercial is an of-the-moment illustration, making this connection. This community responds favorably to the perception of being treated equally, as friends or family, rather than as outsiders.
Savvy marketers must carefully navigate a fine line, necessitating tactile communication, devoid of stereotypes, while staying laser focused on brand messaging. LGBTQ relatable lexicon and imagery should be employed, wherever possible, to create a stronger bond between a brand and this consumer. This consumer understands sincerity and authenticity.
Not to be underestimated is the power and outsize impact of social media 'influencers' on brand building and purchasing decisions. LGBTQ influencers have surged on all main platforms, including Instagram, YouTube, Twitter, and Facebook. More than 92% of those aged 18-34 respond that they seek recommendations from a trusted source. Choosing relatable influencers that connect with consumers on emotional levels is key. Impactful LGBTQ 'champion' Tyler Oakley, reaching more than 7.5 million followers, connects daily with core consumers' values and aspirations.
The pandemic has forced companies to be creative in their marketing outreach. For example, many alcohol companies are hosting online happy hours and dance events with prominent DJs. A prime example is Jack Daniels' drag queen hosted virtual entertainment parties.
Recently, companies such as Budweiser, Walgreens, IBM and Microsoft, to name a few, have launched consumer specific campaigns representing the 'world around us.' Geico's affectionate portrayal of a male couple is another example of how these slice-of-life moments are all encompassing, reflecting a melting pot of the USA.
Sponsorships are also highly effective ways to bond with the LGBTQ consumer. Molson Coors' Vizzy Hard Seltzer's $1 million sponsorship of the Human Rights Campaign is extremely visible, as is Kellogg's collaboration with GLAAD (Gay and Lesbian Alliance Against Defamation) on its "Together with Pride" cereal launch.
When Pride season comes to an end, farsighted companies will cease the 11-month hibernation, and will use 2021 to create a holistic approach to the LGBTQ consumer, talking to them throughout the year. One thing will become crystal clear: These visionary companies will jump over the rainbow into a pot of gold.
Andrew Isen has more than 30 years of experience in brand engagement with LGBTQ consumers and has helped more than 1,000 companies target these consumers and create valuable relationships. He is the founder and president of the award-winning marketing firm WinMarkconcepts.com.
Opinion | Biden administration working for equity in the workplace
Celebrating our victories during Pride while continuing fight for change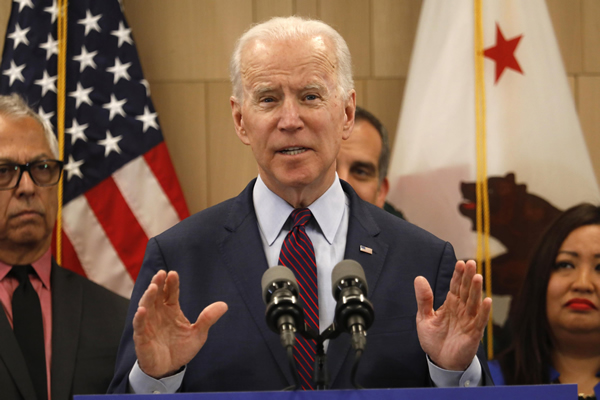 Pride month is a chance for LGBTQ+ people to be proud and visible in a world that tells us not to be. Pride month is a chance to celebrate and honor the work of LGBTQ+ people as we fight every day for equity and inclusion in society, in the law and in our workplaces.
Thanks to the tireless work of advocates, we've had many recent encouraging wins at the national level:
Last June, in Bostock vs. Clayton County, the Supreme Court affirmed that Title VII of the Civil Rights Act protects employees from discrimination based on their sexual orientation and gender identity.
In January, President Biden issued Executive Order 13988, Preventing and Combating Discrimination on the Basis of Gender Identity or Sexual Orientation, and another executive order on Advancing Racial Equity and Support for Underserved Communities through the federal government, which includes LGBTQ+ persons. He also rescinded a 2020 executive order on Combating Race and Sex Stereotyping that had a chilling effect on diversity and inclusion training programs among federal agencies and contractors.
The Biden-Harris administration has stated strong support for the Equality Act, which would amend existing federal civil rights laws to expressly include non-discrimination protections on the basis of sex (including gender identity and sexual orientation), providing security and equality to LGBTQ+ people in accessing housing, employment, education, public accommodations, health care and other federally funded services, credit and more.
In March, President Biden became the first U.S. president to recognize the Transgender Day of Visibility.
In the past year, anti-racism protests have sparked important conversations around diversity, equity, and inclusion. The Department of Labor has recommitted to being an inclusive workplace, and continues to offer trainings related to sexual orientation and gender identity, including those related to the use of gender-inclusive language and pronouns. I've been proud to provide these trainings and support those efforts as a vice president of Pride at DOL, an affinity group for the department's LGBTQ+ employees and contractors and our allies.
As part of the department's efforts to implement the sexual orientation and gender identity executive order, our Civil Rights Center – a member of the Title VI/Title IX Interagency Working Group led by the Department of Justice – will serve on the Title IX and Executive Order 13988 Committee. This committee will serve to provide opportunities for interagency collaboration to advance EO 13988's goal of protecting individuals from discrimination on the basis of sexual orientation and gender identity, ensuring the Bostock decision is applied to Title IX and other relevant statutes, and making federal agencies welcoming to LGBTQ+ people.
The department is also working to reverse the impact of the prior administration's executive order on diversity training. Our Office of Federal Contract and Compliance Programs is examining promising practices for diversity training as one component of broader efforts to eliminate bias from employment practices. In addition, the department is conducting an equity review to better understand how well our policies and programs are reaching historically underserved populations, and launched a related data challenge.
But there is still more work to do, and our pride can come at a price. Being visible sometimes means being exposed to harassment, discrimination, and violence. This is especially true for transgender people, particularly those who are women and people of color. Equity and inclusion require creating an environment — through language, policies and practices — that not only tolerates but recognizes and affirms people's identities and relationships. Only with this can employers create a sense of belonging and value in their organization.
So as we celebrate Pride month this year and every year, let's recognize all the work that has been done and that is necessary to keep pushing forward.
B.A. Schaaff (they/he) is an attorney in the U.S. Department of Labor's Office of the Solicitor and is vice president of Pride at DOL.
Opinion | When did 'moderate' become a dirty word?
Like it or not, most Americans don't identify as 'liberal'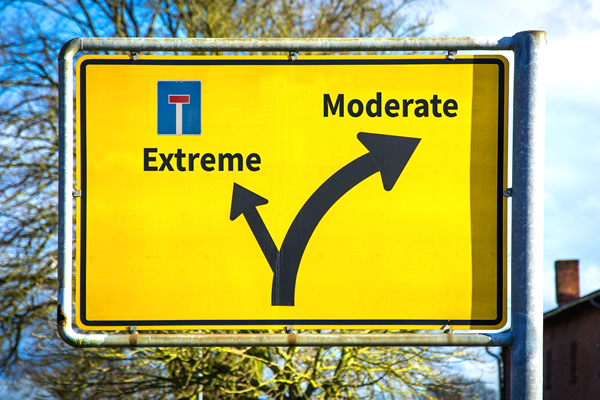 When did the word "moderate" become a dirty word in Democratic politics? One definition of moderate in the Oxford dictionary is "(Of a person, party, or policy) not radical or excessively right- or left-wing." To me that sounds like what was once called a liberal or someone who worked to get things done.
Our nation's founders set up a government requiring compromise to get anything done — three branches of government with a system of checks and balances. Congress has its own system of checks and balances in that to pass laws and a budget there needs to be agreement between the House and Senate. We have found over the preceding two centuries the American people actually believe in that system often electing different parties to control the Senate and House and rarely have we seen situations where both the executive and legislative branches are controlled by the same party, even then the judicial branch acts as a balance to what they can do. In the long run this system has worked. It works best when people are willing to compromise moving forward at a steady pace without veering dramatically to the left or right.
Polling shows most Americans identify as either moderate or conservative, with a smaller share identifying as liberal. Those identifying more liberal identify as Democrats. Why is this important to know? It's important because the future of what both moderates and progressives want will be determined by how those Democrats running for election in 2022 deal with this information.
To see the future we must look at how Democrats are voting in 2021. A column in the Washington Post titled, "Moderate Democrats are winning elections," gave us an idea. It speaks to the winning ideas of progressives yet explains even Democrats who like progressive ideas end up voting for the more moderate candidate. "Virginia has been the single greatest state-level success story for the progressive agenda in America in recent years. And it happened while Ralph Northam, another establishment figure who beat out a more progressive candidate in his primary, has been governor." It goes on to suggest moderates will still win. "Is McAuliffe going to be as aggressive as some of his opponents might have been in going even further in a progressive direction? Probably not. But neither is he going to reverse any of that progress; his actions will be constrained by the context progressives created. That's true at the national level as well, if perhaps not quite to the same extent. But it's not surprising that progressives are disappointed that the politicians they most support, those in the mold of Sens. Bernie Sanders (I-Vt.) and Elizabeth Warren (D-Mass.) are often falling short, especially when they're running in competitive races. When it comes time to cast their ballots, Democratic voters keep deciding that, although they like progressive ideas, it's safer to go with candidates with reputations as moderates."
The Democratic Party must face facts the majority of Americans don't identify with the left-wing of the Democratic Party even if they do support some of their initiatives. They must realize Republicans have been able to use the words of the left to tag the entire Democratic Party as "socialist." Is this nonsense? Of course it is, but is it fact? Yes! It was borne out by the 2020 elections. Many congressional candidates in swing districts and swing states lost having faced a backlash from the word "socialist" and from slogans like "defund the police." They couldn't overcome them. Joe Biden ran as a moderate. He reiterated often he was neither a socialist nor did he believe in defunding the police but he had the benefit of running against Trump and managed to win.
I grew up identifying as liberal. I was for universal healthcare when Hillary Clinton proposed it in 1992. I supported the Equality Act well before I came out when Bella S. Abzug (D-N.Y.) introduced it in 1974. I worked for human and civil rights and for the rights of persons with a disability. Today I am labeled a moderate by the Democratic left but I see myself as a pragmatic liberal supporting many progressive ideas but wanting to make constant progress and realizing it can't be all or nothing.
We live in a difficult time with a Trump party, the old GOP, refusing any compromise. So we need to keep the House and add to the Senate in 2022. We need at least a few more moderate Democratic senators who will give us the chance to abandon the filibuster and open the door to real progress.
Peter Rosenstein is a longtime LGBTQ rights and Democratic Party activist. He writes regularly for the Blade.