January 17, 2018 at 1:37 pm EST | by Peter Rosenstein
Madaleno for governor of Maryland
According to Wikipedia Richard S. Madaleno Jr. is an "American politician from Maryland. A Democrat, he is a member of the Maryland State Senate, representing the state's 18th district in Montgomery County, which includes Wheaton and Kensington, as well as parts of Silver Spring, Bethesda and Chevy Chase. Madaleno served as chair of the Montgomery County Senate Delegation from 2008-2011. He previously served four years in the House of Delegates.  Growing up in Silver Spring, Madaleno was educated in Montgomery County public schools and Georgetown Preparatory School. He then went to Syracuse University where he earned a BA in 1987 and an MPA in 1989. He and his husband Mark and their two children live in Kensington."     
So now you know the basics. Impressive but maybe not enough to get your vote. But this only scratches the surface of Madaleno's achievements. He is much more than a local boy who made good. He is one of the hardest working legislators, a decent and honest man, who has made a career of fighting for all Marylanders.   
Rich worked hard to become one of the most knowledgeable people on how Maryland government works. He began working for the Maryland General Assembly's Department of Fiscal Services as a Senior Analyst for the House Appropriations Committee. There is no better way to learn about government than understanding the budget. The Washington Post said about Rich, "He is an expert in tax and budget matters."
Before running for the legislature he worked in Montgomery County's Office of Intergovernmental Relations. So in addition to his budget expertise, Rich learned early how what happens in Annapolis and Washington, D.C. impacts every county and every individual in Maryland.
Rich's record of success makes all Marylanders proud. He led in the fight for freedom to marry and to combat discrimination in housing and employment. He has a progressive record of achievement in human rights, voting rights and social justice. Rich is proud of having sponsored the law prohibiting discrimination in public accommodations, housing and employment based on gender identity, and co-sponsoring the law requiring equal pay for equal work. When Republicans in Congress threatened to terminate federal funding for Planned Parenthood in 2017, Rich led the fight and sponsored the law ensuring that the broad range of health care services provided by Planned Parenthood clinics to women in communities across Maryland would continue to be funded. He co-sponsored the bill allowing counties to enact public financing for county elections and co-sponsored the law to increase the number of early voting centers. He fought back against Hogan appointees to ensure those centers were not eliminated by the Hogan administration in populous parts of Montgomery County.
On education, Rich has taken critical action to build high-quality, affordable public education. He spearheaded initiatives that improved education in Maryland at every level, from Pre-K through 12 and beyond to college, graduate studies, and career and technical education. Rich was a leader in crafting Maryland's current landmark school funding plan that equitably delivers essential funding to elementary and secondary schools throughout the state. He successfully fought to keep that funding in place when Gov. Larry Hogan attempted to drastically cut it.  He fought to keep state funding for the new Biomedical Building at the University of Shady Grove. Rich co-sponsored laws that expand eligibility for tax credits for college savings plans, provide a refundable tax credit of up to $5,000 for those who have undergraduate student loans of at least $20,000, and require that Maryland contribute to eligible Maryland College Investment Plan accounts. As chair of the Senate Education and Business Subcommittee, Rich sponsored laws that resulted in a tuition freeze for Maryland college students from 2007-2010. He created and championed the Hunger Free Schools Act, which resulted in free breakfast and lunch for qualified students across Maryland. He co-sponsored the 2014 law that expands pre-Kindergarten programs to serve more of the students who need them most.
When it comes to Marylanders' health care, Rich successfully championed initiatives to promote better public health for all Maryland residents. He co-sponsored the law implementing the Affordable Care Act in Maryland to ensure the broadest possible coverage and the best possible care for Maryland patients. Rich co-sponsored the 2017 law that prevents price gouging by generic drug manufacturers in Maryland.
On preventing gun violence, he co-sponsored Maryland's Firearms Safety Act of 2013, which banned assault weapons and high-capacity magazines for firearms. On the environment, Rich has taken stands to protect Marylanders and make Maryland a leader in environmental progress. When the Trump administration proposed eliminating funding for programs to protect the health of the Chesapeake Bay, Rich worked with the state's congressional delegation to lead efforts to restore federal funding for these programs.
To combat the increasing health, environmental and economic repercussions of climate change, he co-sponsored the new state law which requires a 40% reduction by 2030 in greenhouse gas emissions in Maryland from 2006 levels, building on his previous co-sponsorship of the 2009 law requiring the 25% reduction in greenhouse gas emissions from 2006 levels by 2020. Rich co-sponsored the law establishing the Commission on Climate Change.  Rich co-sponsored the law, approved over Hogan's veto, which increases the renewable energy portfolio standard to 25% by 2020, increases solar sources in that portfolio and requires that the Maryland Department of Labor study workforce training needed to support jobs in the clean energy industry. He also co-sponsored the law requiring offshore wind be included in the renewable energy portfolio. Rich sponsored and successfully advocated for the law that prohibits hydraulic fracturing exploration and production, including fracking, in Maryland. He co-sponsored the law requiring the establishment of a Community Solar Energy Generating System program. He co-sponsored laws enacted to increase tax credits for electric vehicles and to provide for tax credits for electric vehicle charging equipment. He co-sponsored the law creating a tax credit for the donation of fresh farm food, especially organic food, by farms to eligible local organizations for low-income Maryland residents.
An on an issue crucial to all Marylanders, transportation, Rich has been an aggressive supporter of affordable public transit in Maryland. He introduced and passed the law eliminating the antiquated "farebox recovery rule," replacing it with real performance metrics so that the Maryland Transit Administration will fund additional transit projects that should result in transit improvements. He co-sponsored the Maryland Open Transportation Investment Decision Act that now requires transparent decision-making, including project-based scoring, for major transportation projects. He co-sponsored the law that makes sure at least one member of the Washington Metrorail Safety Commission appointed by the governor resides in Prince George's or Montgomery County, the Maryland counties where Metro stations are located. He co-sponsored the law that established the lockbox for the Transportation Trust Fund, which requires use of its revenues solely for transportation projects.
So now you know the rest of Rich's story. It is why Marylanders who know him are already lining up to support Rich Madaleno for governor. There is no other candidate in the race — including the incumbent — who has such a strong track record of leadership and of producing real results for the people of Maryland. Madaleno has served as an effective and unrelenting champion for the entire state. From education to transportation, from economic development to economic justice, from sustainable health care to environmental sustainability no other candidate has taken on so many of the toughest fights from the inside – and won them.
On the critical issues facing the state, the people of Maryland need a proven strong and tireless leader as their governor who will set an agenda of progress for all Marylanders. Larry Hogan has proven he is not that governor – Rich Madaleno will be that governor.
Peter Rosenstein is a longtime LGBT rights and Democratic Party activist. He writes regularly for the Blade.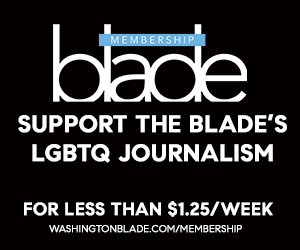 Sign Up for Blade eBlasts