February 5, 2018 at 11:26 am EST | by Mikey Rox
Sassy gift ideas for your 2018 Valentine
From $10 trinkets with zip to big-ticket items that inspire LGBT togetherness (and nakedness), these are the gifts to give for love's big hurrah.
Beyoncé Pencil Set
Tell him "Boy, Hi!" with this Beyoncé-inspired five-pack pencil set (made exclusively by women — because who runs the world? Girls!), each embossed in gold with a famous Bey-ism, like "I Ain't Sorry," "What Would Beyoncé Do?" and "I Twirl On Them Haters." $10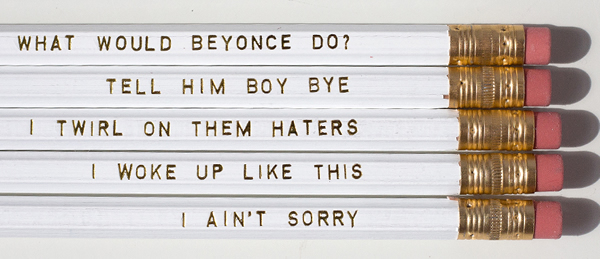 This all-in-one portable coffee maker — it grinds, filters and drips into a travel mug for a hot-and-ready pick-me-up — will save enough time in the morning that you two can sneak in a rise-and-shine lay-me-down. $95
Cluventure Surprise Vacay
Take your better half on a getaway to remember (complete with "treasure" hunt) that begins when you receive clues in the mail that lead you to a surprise destination. Cluventure develops vacation programs based on your travel and activity preferences, but where you'll end up is a secret until departure day. LGBT-friendliness considered when booking. Price based on itinerary.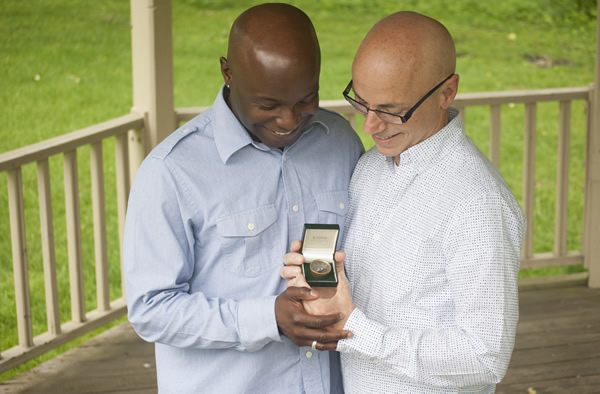 Tom of Finland Wine and Cork Shadow Box
Juices will flow when you open Tom of Finland's Outstanding Red wine, a blend of Zinfandel, Merlot, Cabernet Sauvignon, and Petite Syrah featuring labels of the brand's iconic artwork. Afterward, start a collection of keepsake corks with a custom-made shadow box that promises everlasting companionship for couples that like to get hammered together. $24, tomoffindlandwines.com; $60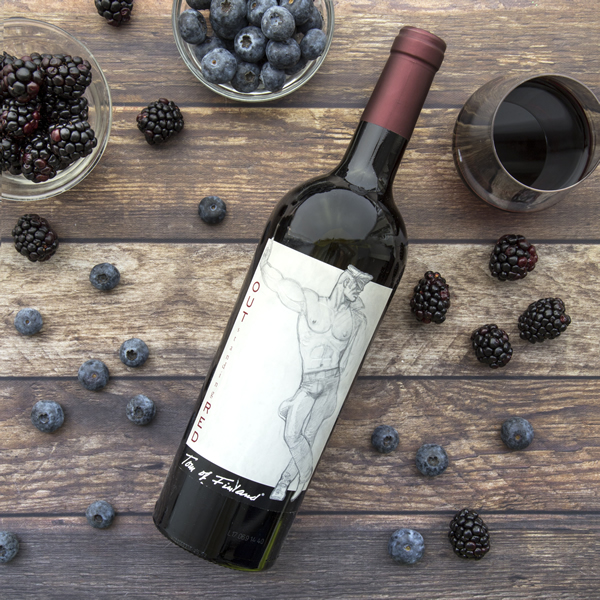 TRNTBL + Vinylgram
Dust off your sex-spiked vinyls (or spring for a new one, like Justin Timberlake's just-released "Man of the Woods" LP) for a spin on the Bluetooth-enabled, social-connected TRNTBL for a filthy date night in, or, if you prefer a little more romance, play your personally recorded Vinylgram message to make him melt like hot chocolate in your pocket. $499, trntbl.co; $20
Kodak Printomatic
Yesteryear's point-and-shoot camera meets today's in-an-instant technology in Kodak's Printomatic, which produces 2-inch by 3-inch full color and black-and-white photos with adhesive backing directly from the camera's body. Start a scrapbook of your adventures using the line's decorating tools, like vibrant gel pen sets, mini photo punchers, border stickers and more. $70
TerraTrike Tandem Bike
Quality time spent on the Rover Tandem trike, outfitted with a chro-moly steel frame, hand-built Velocity wheels, and Schwalbe Marathon tires, will help keep those calves of steel in shape even when you two skip leg day. $2,398.
Sky-High Proposal in Los Angeles
If you're planning to pop the question this Valentine's Day (or anytime thereafter), consider the newly launched "sky-high proposal" experience at OUE Skyspace L.A., the tallest open-air observation deck west of the Mississippi. The Terrace for Two package – which takes place 1,000 feet above the City of Angels – includes a private chef-prepared dinner, three-string quartet playing 'your' song, lighting display on the crown of the U.S. Bank tower to announce your engagement, a slide down Skyspace's famous 45-foot Skyslide, and a private helicopter tour for your flyaway finale. Who could say no to that? Email for pricing details.
Soothe Massage Service
Strip down and let somebody else take you to heaven with their hands with an on-demand massage via Soothe, offering spa-quality massages wherever you are. Make it an in-home couple's retreat with deep tissue, Swedish or sports massages plus all the accoutrements, including massage tables, fresh linens, lotions, oils and relaxing music delivered right to your door. $119-225.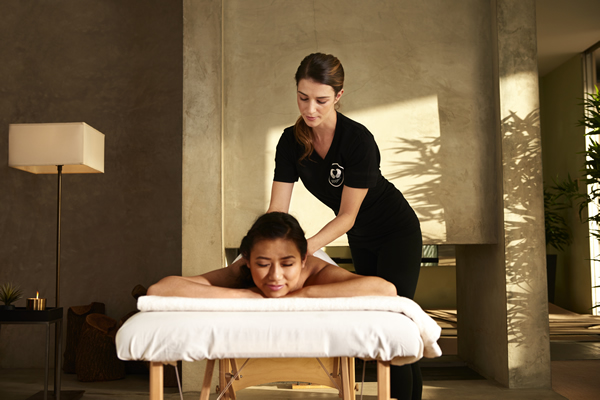 California Dates + Champagne-Infused Ice Pops (photo for this is low rez; can run it without photo if needed)
Ditch the heart-shaped boxes of Russell Stover and budget-busting perennials in favor of an offbeat approach to sweets and treats:  Rancho Meladuco's plump, juicy California dates paired with a bouquet of FrutaPOP's boozy passion fruit champagne ice pops. A new nontraditional tradition is born (for less than the cost of those dead-in-a-day roses). $16-18 and $60 respectively.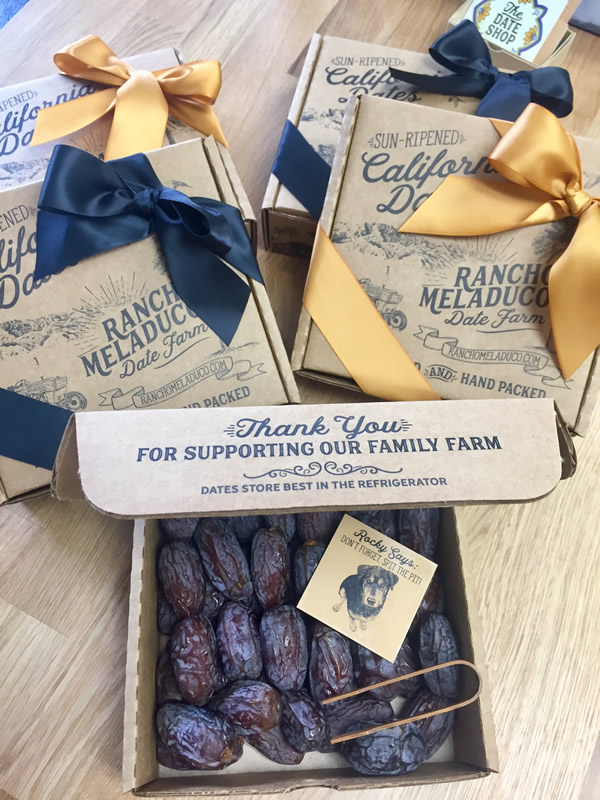 Hair-On Cowhide Shoes
Natural hair-on cowhide with unique mottled patterns will make a statement when y'all step out for dinner and a movie, but it's also something you can feel good about. Each pair of Uwezos purchased provides a percentage of profits to Empower African Children to help students across the continent achieve higher education. $125-165, uwezobrands.com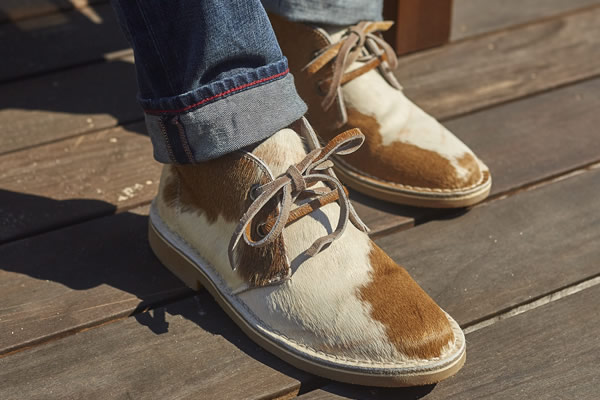 Mikey Rox is an award-winning journalist and LGBT lifestyle expert whose work has been published in more than 100 outlets across the world. He splits his time between homes in New York City and the Jersey Shore with his dog Jaxon. Connect with Mikey on Twitter @mikeyrox.