Kehlani explains her sexuality: 'I'm queer not bi, not straight'
the singer says she is least attracted to straight men
Kehlani broke down her sexuality, all the way down to who she is least attracted to, in a series of tweets on Sunday.
"cuz i keep geddin asked.. i'm queer," Kehlani wrote in a now-deleted tweet. "Not bi, not straight. I'm attracted to women, men, REALLY attracted to queer men, non binary people, intersex people, trans people. lil poly pansexual papi hello good morning. does that answer your questions?"
"And since we on that… i'm the LEAST attracted to straight men, y'all really adorable sometimes tho. bisexual men really are little gifts from god tho," she added.
The 22-year-old singer deleted the last tweet about her being the least sexually attracted to straight men after it appeared some straight male fans weren't pleased.
"Let's play the 'guess who's the only people tweakin and offended about my tweets HINT: it rhymes with 'braight ben,'" Kehlani tweeted.
Kehlani also explained that she chooses to identify as queer instead of gay because she didn't like the label saying who she is attracted to.
"I felt gay always insisted there was still a line drawn as to which 'label' of human i was attracted when i really jus be walking around thinking ERRYBODY FINE," she tweeted.
i felt gay always insisted there was still a line drawn as to which "label" of human i was attracted when i really jus be walking around thinking ERRYBODY FINE https://t.co/2zXOUY7fDf

— Kehlani (@Kehlani) April 22, 2018
After a fan pointed out that queer is still considered a slur by some members of the LGBT community, Kehlani said she chooses to reclaim the word but apologized for offending anyone.
"Damn i didn't know that!! if there's anyone out there i've ever offended with the word, i'm sorry! i'm with the reclaiming of the word but if there's any1 day loves me dat isn't, i sorry i lurvvv u," she tweeted.
damn i didn't know that!! if there's anyone out there i've ever offended with the word, i'm sorry! i'm with the reclaiming of the word but if there's any1 day loves me dat isn't, i sorry i lurvvv u ??? https://t.co/LHg33UPtb6

— Kehlani (@Kehlani) April 22, 2018
Kehlani has incorporated her sexuality into her music including her recent single "Honey," which is a love song to another woman.
Kehlani and Demi Lovato caused fan speculation that they were dating after the pair locked lips on stage during the last tour stop of Lovato's Tell Me You Love Me Tour.
'Playing the Palace' a campy, fun rom-com read
What happens when a prince meets an event planner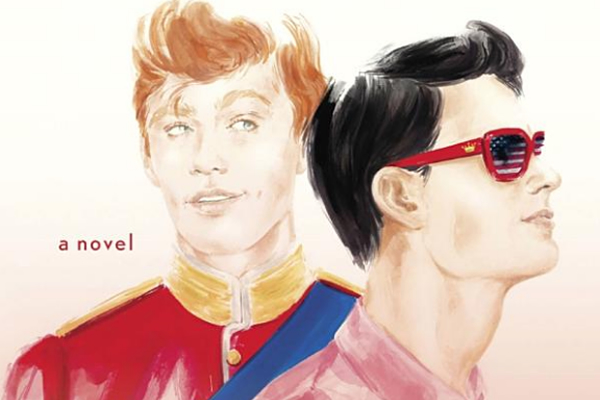 'Playing the Palace'
By Paul Rudnick
c.2021, Berkley
$16/272 pages
If you loathe romance or hate to laugh, then skip this book.  
If you're looking for a rom-com that's as fab and campy as Provincetown or Rehoboth Beach on a summer night, "Playing the Palace" by Paul Rudnick is the book for you.
Reading "Playing the Palace" is like sipping a delicious frozen Daiquiri.
Carter Ogden, the neurotic, good-hearted, Jewish, funny, out, gay narrator of this frothy romance, becomes your BFF and drinking buddy at the opening sentence, "It's still weird, waking up alone."
The plot of the book is simple: Carter, 29, is an associate "event architect" (in plain English – event planner) in New York City. He makes ends meet by living with wacky, supportive roommates.
Carter, a native of Piscataway, N.J., and IHOP aficionado, is feeling dejected as he approaches his 30th birthday. His ex, an actor, has left him. He can't help but wonder if he'll ever find love again.
Until, at work, he meets Edgar, the Prince of Wales. Edgar has come over from the United Kingdom to speak at a charity event for a group that works to provide clean water to countries that need it. And, this being a fictional prince in a rom-com, Edgar is openly gay.
As you've been forewarned, we're not dealing with realism here.
Edgar sees Carter and asks him to give him tips on how he can get his speech across more effectively.
From that moment on, the two – the IHOP-loving event planner and the future King of England — are in a fine romance. (Edgar is an orphan. His parents were killed in a plane crash.)
Their quest for the happily-ever-after involves pancakes, projectile vomiting, social media and a Thanksgiving meet-up of Carter's Jewish aunts and Edgar's grandmother, the Queen of England.
By itself, the story of "Playing the Palace" might seem predictable. What makes it sizzle – why you laugh out loud even as you root for the romance to work out – is its narrative voice.
"Playing the Palace" is a funny, sometimes touching monologue in the voice of Carter.
You'd have to have a heart of stone not to love Carter when he says he "addressed my problems to the framed photo of the late beloved Ruth Bader Ginsburg on the wall of my tiny, partitioned bedroom."
Writing a whole novel as a monologue could fizzle out if other writers tried it.
But, Rudnick a gay novelist, playwright, essayist, screenwriter and humorist, is a master of this form.
His plays, produced on and off-Broadway include "Jeffrey," "I Hate Hamlet," "The Most Fabulous Story Ever Told" and "The New Century." He's won an Obie Award, two Outer Critics Circle Awards and the John Gassner Playwriting Award.
Rudnick's novels include "Social Disease" and "I'll Take It." "Gorgeous" and "It's All Your Fault" are among his YA (young adult) novels.
His screenplays include "Addams Family Values," "In & Out," the screen adaptation of "Jeffrey" and "Sister Act." He wrote the screenplay for "Coastal Elites," the comedic satire that debuted on HBO last year.
Something of a polymath, Rudnick is, according to his bio, "rumored to be quite close" to film critic Libby Gelman-Waxner, whose reviews have appeared in Premiere magazine and Entertainment Weekly.
A frequent contributor to The New Yorker, his essays have appeared in Vanity Fair, The New York Times and Vogue.
As you might expect, the volume is chock full of pop culture references and wit. "I took a shower using my new manly body wash," Carter says, "which is exactly the same as the female version, only with simplified graphics and a steel-gray, squared-off bottle, as if it contains motor oil and testosterone."
It's not surprising that Rudnick told Entertainment Weekly that he's working on a musical of the movie "The Devil Wears Prada."
Reading "Playing the Palace" is like seeing a Broadway musical.
"I was looking into eyes that were so radiantly blue I either wanted to faint or yell 'just stop it,'" Carter says when he first sees Edgar.
"Playing the Palace" is a show-stopper.
Dance icon gets luminous treatment in 'Ailey' doc
A real-life story that feels authentic, despite the secrecy of its subject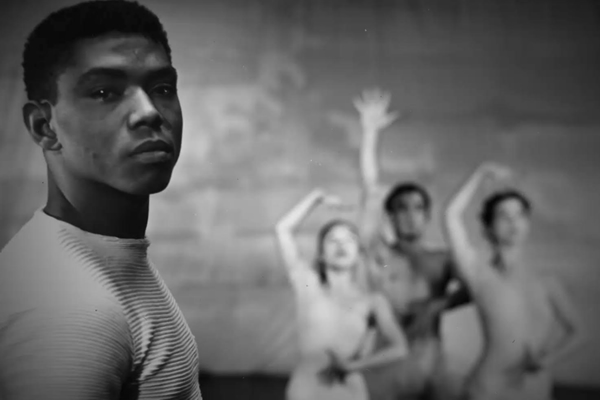 When it comes to the history of dance in America, few names loom larger than that of Alvin Ailey.
A trailblazing pioneer of the art form who blended styles of modern dance, ballet, and jazz into breathtakingly theatrical presentations that explored and uplifted Black experience in American culture, his works earned him accolades and honors throughout a long career that gave him name recognition even among people with little or no interest in dance. His choreographed masterpieces became touchstones within the medium, with many of them still among the most frequently remounted dance productions more than 30 years after his death, and the company he founded in 1969 – the Alvin Ailey American Dance Theater – remains one of the most lauded and prestigious dance organizations in the world today. Yet despite his status as one of the most famous American choreographers of the 20th century, there are many today, even among the aficionados of dance, who would be hard-pressed to tell you much about his life.
That's not entirely due to neglect or lack of interest, as a new documentary by filmmaker Jamila Wignot – simply titled "Ailey" – helps us to understand. Ailey was a genius who kept his private life as far out of the spotlight as possible. As a Black gay man, he was keenly aware of his doubly marginalized status, and rather than inviting controversies that might overshadow the creations he worked tirelessly to bring into the world, he preferred to let the work itself become his public identity. He even took measures to obscure himself after death, ensuring that his passing from AIDS (in 1989, at the age of 58) would be reported as the result of a terminal blood disease.
In Wignot's dreamily eloquent film, she presents us with a portrait of a man who seemingly sublimated his entire being into the creation of his art, documenting Ailey's magnificent career with a wealth of archival footage and interviews. Along the way, she also offers exploratory deep dives into the creation and legacy of some of his most iconic ballets, illuminating some of the themes that wove themselves into his body of work throughout his life. Finally, she follows the creative process as dancers at today's Ailey American Dance Theater work on a new production of "Lazarus," one of the late master's most renowned pieces. In the process, she delivers the biographical facts of his life side by side with the artistic passions that drove him, and places it all in the context of the larger cultural history of late 20th century America – as well as how Ailey's legacy continues to resonate within the changing social dynamics of our own time.
Yet throughout this feast of information, illuminating the facts and counterpointing the remembrances of those who worked at his side, Wignot also gives us Ailey's own commentary. Culled from recordings and interviews made during his lifetime, this posthumous self-narration of his own story lets us glean for ourselves what insight we may. In retrospect and alongside the memories of his surviving companions, Ailey's own words tell us more about the man himself than he perhaps meant to do when he said them, inserting a layer of intimacy within the vast scope of the biography as it unfolds, and the film is all the richer for it.
It should come as no surprise that Wignot has painted such a reverent, yet deeply personal portrait of her subject. She's been inspired by Ailey's work – and his vision – since attending a performance of the Ailey Dance Theater during her sophomore year at Wellesley College more than two decades ago. Her admiration is evident from the way she gushes about Ailey in her director's statement about the film.
"Nothing prepares you for the experience of Ailey," she says. "The emotional, spiritual, aural, and visual overwhelm the senses … Ailey's dances — celebrations of African-American beauty and history — did more than move bodies; they opened minds. His dances were revolutionary social statements that staked a claim as powerful in his own time as in ours: Black life is central to the American story and deserves a central place in American art and on the world stage. A working-class, gay, Black man, he rose to prominence in a society that made every effort to exclude him. He transformed the world of dance and made space for those of us on the margins — space for Black artists like Rennie Harris and me."
The Rennie Harris to whom Wignot refers is the founder of Rennie Harris Puremovement, a hip-hop dance theater company based in Philadelphia, who as guest choreographer of the AADT production of "Lazarus" is featured prominently in the film. He is just one of many professional dance veterans whose voices, featured throughout, seem united in singing the praises of Ailey's passion, creative power, and timeless aesthetic – and Wignot makes sure we don't have to merely take their word for it.
Like most dance documentaries — or good ones, anyway — the greatest gift of "Ailey" is the chance to see the dancers in motion. It's a film filled with electrifying footage of some of Ailey's masterworks, giving us a rare opportunity to revel in the sheer visual poetry of his style. In pursuit of his ideal to capture "truth in movement," he built choreographed expressions of the Black American experience, executed with grace, strength, and unparalleled beauty. His work celebrated that history while bearing witness to its injustice, with an emphasis on the dignity, humanity, and hope that makes it possible to look toward a transcendent future for all. It was, of course, social activism through art, though Ailey and his original dancers might not have exclusively intended it that way, and it is not an overstatement to say that it changed the world. Wignot cannily gives us the privilege of seeing just enough of it to stand as testament to its impact, and more than enough to make us want to grab the next opportunity to see the Ailey American Dance Theater perform in person.
In the meantime, you are encouraged to seek out "Ailey," which premiered in NYC on July 23 and expands to theaters nationwide on Aug. 6, to whet your appetite. It's a documentary that succeeds far more than many others in telling a real-life story that feels authentic, and despite the carefully guarded secrecy of its elusive subject, it presents as true and complete an impression of him as we are likely to get.
Outside of watching his work, that is.
Canadian soccer player first out Trans and non binary Olympian
I feel proud seeing `Quinn' on the lineup- I feel sad knowing there were Olympians before me unable to live their truth because of this world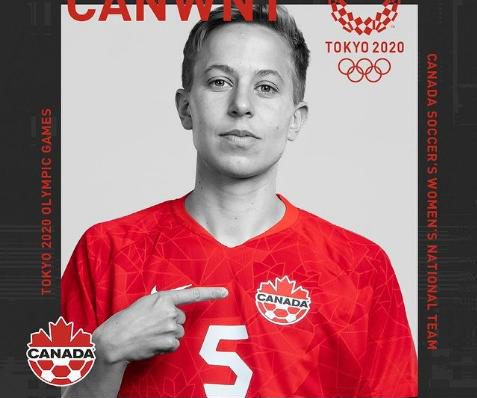 TOKYO – The Canadian professional soccer player, a midfielder for OL Reign and the Canada women's national soccer team, made history this week as the first openly transgender and non-binary athlete to participate in the Olympic games when they started Wednesday night in a 1-1 draw match in Sapporo between Canada and opposing the team Japan.
"I feel proud seeing `Quinn' up on the lineup and on my accreditation. I feel sad knowing there were Olympians before me unable to live their truth because of this world," they wrote on Instagram. "I feel optimistic for change. Change in legislature, Changes in rules, structures, and mindsets."
Quinn, who came out as trans in 2020, was also a member of the Canadian team that won the bronze medal at the 2016 Olympics held in Rio de Janeiro, Brazil.
"Mostly, I feel aware of the realities," Quinn continued. "Trans girls being banned from sports. Trans women facing discrimination and bias while trying to pursue their Olympic dreams. The fight isn't close to over […] and I'll celebrate when we're all here."
ABC News Sports reported that the International Olympic Committee has allowed transgender athletes to participate at the Olympics since 2004, but until this year, none had done so openly. In addition to Quinn, Hubbard and Wolfe, some transgender athletes are competing without discussing their transition. Some have been outed and harassed online by people who oppose transgender athletes competing.
The current rules specify certain conditions for transgender women to compete in women's sports. Among them, athletes must demonstrate lower testosterone levels for 12 months before competing, and athletes can only qualify four years after transitioning, at the earliest.
Quinn is not the only transgender athlete participating in this year's summer Olympic Games in Japan. Laurel Hubbard, a trans woman from New Zealand competing in weightlifting for the Kiwi team and Team USA women's BMX freestyle team has a trans BMX racer, Chelsea Wolfe, holding down a reserve spot on the team.