February 14, 2020 at 2:02 pm EST | by Joey DiGuglielmo
QUEERY: Mr. Bake/aka Kareem Queeman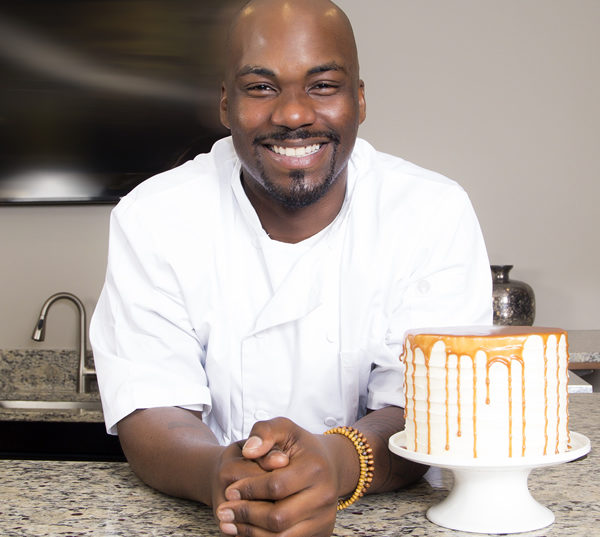 Retail employees on Black Friday, clergy and musicians at Easter, florists and chocolatiers leading up to Valentine's Day — any big holiday has an army of industry professionals behind it working to make it special for consumers.
For Mr. Bake (aka Kareem Queeman), Valentine's Day is one of the big ones along with the wedding season (May and June, which also brings graduations), Halloween and a few others. Queeman started Mr. Bake (mrbakesweets.com) in 2007, which provides "high quality, made-from-scratch desserts in a comfortable atmosphere for clients who seek a fun, gourmet pastry experience," Queeman says. "We are dedicated to maintaining a consistent flavorful product that's enjoyable with each bite."
He's baked for singers Vashawn Mitchell and Kehlani; corporate clients such as BET, Disney, NBC and Target; and other wide-ranging clients as diverse as The U.S. Air Force to regional government groups, local charter schools and even Us Helping Us, a local LGBT non-profit.
Queeman also has two major TV appearances to his credit — he was on Discovery Family's "Bake it Like Buddy" competition show in 2018 and the Food Network's "Girl Scout Cookie Championship," in an episode that aired last week.
"They were both great experiences where I got to not only showcase my talents and passion, but got to show that I can stand tall side-by-side with my peers," he says. "To see leaders in the industry fall in love with the cake/dessert they just ate is a feeling that can't be matched."
Queeman is single and busy with work, so no major Valentine's Day plans.
"I'll be working and spending time with my friends who are single as well," the 33-year-old Harlem native says. "We're having a dinner-and-movie night."
Queeman came to Washington 10 years ago for career opportunities after growing up in New York. He lives in Largo, Md., and enjoys reading, dancing, traveling and outdoor activities in his free time.
How long have you been out and who was the hardest person to tell?
I've been out since I was 16 and the hardest person to tell was myself.
Who's your LGBTQ hero?
I wouldn't say that I had a hero but people I admired such as my older gay neighbor Garry who became and is a mentor to me.
What LGBTQ stereotype most annoys you?
That all gay man are effeminate and flamboyant and that LGBTQ people are trying to convert others.
What's your proudest professional achievement?
Making it to Food Network! Was a dream of mine and to have my mother to sit in the audience.
What terrifies you?
Not living a fulfilled life of love and happiness.
What's something trashy or vapid you love?
I'm a Netflix junkie.
What's your greatest domestic skill?
Cooking and cleaning
What's your favorite LGBTQ movie or show?
Movie: "Brother to Brother." Show: "Queer as Folk."
What's your social media pet peeve?
Funeral pictures of caskets and the deceased person get under my skin!
What would the end of the LGBTQ movement look like to you?
I would go hand in hand with other movements that affect me such as the Black Lives Matter movement. Identifying as both black American and gay. I would love to be in a world where we are all treated as human.
What's the most overrated social custom?
That men should be strong and not show emotion. We can actually get rid of this.
What was your religion, if any, as a child and what is it today?
I was and still go off Christian belief and some practices. I've always been more spiritual with a belief in a higher power. Just don't fully believe in the institution of the church.
What's D.C.'s best hidden gem?
I need more people to know about Ari's Diner off New York Ave., N.E. LOVE IT!
What's been the most memorable pop culture moment of your lifetime?
"POSE." This shows speaks to an era many young LGTBQ+ and heterosexuals where unaware of what really was going on. Too many people live in their own bubble.
What celebrity death hit you hardest?
Death of anyone hits hard. I find myself thinking more about the loved ones they leave behind.
If you could redo one moment from your past, what would it be?
I'm a believer that everything happens for a reason and that within each moment lies a lesson of growth.
What are your obsessions?
To stay happy.
Finish this sentence — It's about damn time:
… there's more diversity and inclusion all over!
What do you wish you'd known at 18?
That I am talented, brilliant, gifted and gorgeous.
Why Washington?
Close to home/family (NYC) and offered me a jumpstart in the next phase of my career.
Joey DiGuglielmo is the Features Editor for the Washington Blade.
Sign Up for Blade eBlasts