D.C. restaurants get creative for Pride
Colorful rainbow cocktails, DJs, endless brunches and more this weekend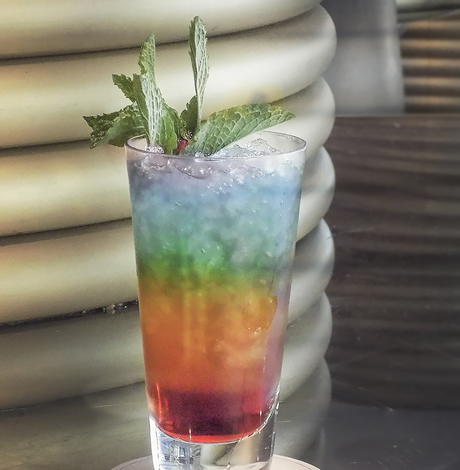 In an annual tradition, D.C. Brau is giving its cans a queer makeover. The brewery is producing 28,000 cans of "Pride Pils," which boast limited-edition can designs of its Brau Pils, "an ideal example of a traditional German pilsner."
D.C.-based artist Alden Leonard won the 2018 Pride Pils Can Design Contest, presented by D.C. Brau and Washington Blade. His entry was to "show the juxtaposition of Pride, which is both a celebration and an act of protest." The design, featuring three figures in "defiant poses with their eyes fixed on symbols of tradition and order," will appear on the cans; all proceeds from the sale of Pride Pils cans benefit SMYAL and the Blade Foundation. At least 30 bars, restaurants, and shops will sell the cans, from gay bars (Trade) to 14th Street restaurants (Cafe St Ex, Pearl Dive), to Himitsu in Petworth, and many others.
Republic Restoratives (1369 New York Ave., N.E.), the lesbian-owned distillery in Northeast, is celebrating Capital Pride all June by offering an exclusive discount to restaurants and bars that use the distillery's Civic Vodka to craft a specialty Pride cocktail and is asking that proceeds from each drink go to the Transgender Law Center. Participating restaurants include the Gibson, Lost & Found, Dio Wine, Songbyrd, Free State. On Sunday, June 10, Republic Restoratives will host a benefit in honor of the center in partnership with Obama White House alumni.
Again this year, City Tap Dupont (1250 Connecticut Ave., N.W.) just off Dupont Circle, is hosting weekly Sunday drag brunches throughout June. Drag queen Ba'Naka is playing MC. You'll find $15 bottomless mimosas and Bloody Marys during the brunchtime shows that start at 11a.m.; reservations are encouraged. Both City Tap Dupont and sister restaurant City Tap Penn Quarter will have other specials in celebration of Pride Month, with proceeds benefiting the Trevor Project, including selling Pride Pils. City Tap Dupont will also offer drink specials during brunch on Saturday, June 9 for guests dining out before heading to the Capital Pride Parade.
Another annual Pride parade supporter, Urbana (2121 P St., N.W.) is set to host its annual and anticipated "Pride+Shine" party on Saturday, June 9 from 10:30 a.m.-6 p.m. — the entire day. It kicks off with brunch and themed drinks until 3 p.m., and then truly gets going with a fierce dance party by DJ Trayze. It'll be offering hearth-oven pizza and the entire bar menu all day, but the real winner is the front-row seating right at the start of the parade. A huge fan favorite from last year, special guest Mike Hot-Pence is back again this year sporting his signature quite short shorts, taking photos with adoring fans and collecting donations to benefit the Trevor Project. Tickets are $50 for the open bar package; otherwise, entry is free.
On Sunday, June 10 from noon-5 p.m., DNV Rooftop (1155 14th St., N.W.) will open the pool for everyone to take advantage of its "Pride Hangover Pool Party." Whether you marched, watched or took your celebration to the next level all night long, this is a spot for recovery. Atop the Donovan hotel, the party includes cocktails, brunch, and yes, a pool, overlooking Thomas Circle. DJ Hamsey will provide the tunes. And because frozen drinks are just too much fun, there will be "DNVLGBTQ Pride Pops" (rainbow boozy popsicles); proceeds will go to the Trevor Project. Entry is $10, waived for attendees of the Urbana "Pride+Shine" brunch party.
Besides flying one of the most enormous Pride flags in the city, Tico (1926 14th St., N.W.)  is hosting an all-day, all-night party. It starts with low tea, moves to high tea, and then shrugs off caffeine for straight alcohol. Tea time is 3-8 p.m.; the bar is open until 2 a.m. Cocktails run the rainbow gamut: there are lime, banana and watermelon daiquiris; a purple pina colada; a mezcal punch called Smokey Eye; rainbow Jello shots; and the chilled-out Frozen Rainbow cocktail. Mexican snacks like salsa, guac and elote will help soak it up. Entry is free.
Rainbows and stars make a perfect match at Le Diplomate (1601 14th St., N.W.), where Michelin-star pastry chef Fabrice Bendano will cool down Parade watchers on Saturday, June 9 at the restaurant's Glaces de Diplomate ice cream cart, selling a Rainbow Cone in honor of the D.C. Pride Festival, with all proceeds from the $5 cone being donated to the Capital Pride Alliance. And of course, it's a prime place to take in the parade action. The restaurant's will have a fete, with Pride-related cocktail specials and "celebratory revelry."
At Osteria Morini (301 Water St., S.E.), Pastry Chef Tova Hillman is celebrating Pride with a five-layer colorful rainbow almond cake coated in a silky dark chocolate glaze. All proceeds will be donated to the Capital Pride Alliance.
During the entire month of June, French brasserie BRABO (1600 King St., Alexandria, Va.) will feature "The Rainbow Collection," a presentation of colorful cocktails that change daily. All sales from these drinks will benefit the Trevor Project.
Spread those wings for the Pride Flamingo Party (in conjunction with Washington Blade) at the Bird (1337 11th St., N.W.), a tropical-themed party that kicks off Capital Pride festivities tonight (Friday, June 8) from 9 p.m.-midnight. Happy hour drinks, themed bites, prizes and specialty cocktails like the Valentina and the Prida Colada Shooter round out the festivities. Guests are suggested to wear beach attire. Entry is free. Throughout the month of June, all EatWell D.C. restaurants are offering a signature cocktail that will support Transgender Law Center, called "This Is Me" (vodka, prickly pear puree, lime, champagne).
Ever-popular beer garden Dacha (1600 7th St., N.W.) offers two events this weekend. The first is Friday, June 8 from 4-8 p.m.: the Bells Sparkleberry Silent Disco, in partnership with. with D.C. Fray. Headphones are provided to all revelers; there will be gift bags for early arrivers. On June 9, before the parade, from 11 a.m.-3 p.m., is Wigs and Waffles with Whitman Walker. Both a party and a fundraiser, it's all about wearing wigs without getting hair in your waffles. Dacha will make sure you're in the spirit of the weekend with a flash tattoo station, a face painter, endless beads, and yes, housemade liege waffles. Entry is free; you can purchase a bracelet for $10 to receive happy hour prices on Bell's Brewery beers.
Starting June 15, the popular pizza joint &Pizza (multiple locations) will introduce a limited-edition color "One of One" box to carry out their pies, as well as other related swag. The restaurant is also fueling up marchers on Saturday (June 9) with a free soda to anyone in the parade (the restaurant will be walking the route, too), and taking donations to the Trevor Project via text.
Like last year, Espita Mezcaleria (1250 9th St., N.W.) will serve a brilliantly hued cocktail in celebration of Pride, all weekend long. This year, it'll be a bright green Mexican Daiquiri, with rum, mezcal, pineapple and Blue Curaçao, topped with a Pride Flag garnish. Proceeds will go to the Trevor Project.
Rainbows are aplenty at Kingbird, the new upscale restaurant at the Watergate Hotel (2650 Virginia Ave., N.W.). All weekend long, the bar will be serving the aptly named Pride Punch for $16. Made from rum, pineapple, Blue Curacao, grenadine, simple syrup, and garnished with mint, the drink represents a ROYGBIV in a cocktail.
Blade's summer closing party set for Sept. 17 in Rehoboth
Benefits journalism scholarship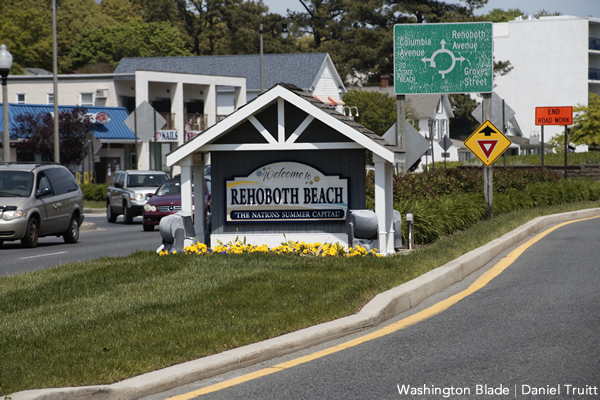 The Washington Blade's 15-year tradition of hosting a summer kickoff party in Rehoboth Beach was disrupted due to COVID restrictions. In lieu of that May event, the Blade is hosting a summer closing party on Friday, Sept. 17 at 6 p.m. at The Pines (56 Baltimore Ave., Rehoboth Beach, Del.).
Tickets are $20, which includes two drinks and appetizers. The event benefits the Blade Foundation's Steve Elkins Memorial Journalism Fellowship, a 12-week program in which an LGBTQ student journalist covers stories of interest to Delaware's queer community each summer.
All COVID safety protocols will be followed, including a requirement that attendees furnish proof of vaccination to gain entry.
If you are unable to attend you can make a donation to the Blade Foundation at BladeFoundation.org. Sponsors of the event include Delmarva Power and The Pines.
Rehoboth to close out summer with SunFest
Series of events to replace long-running Sundance due to pandemic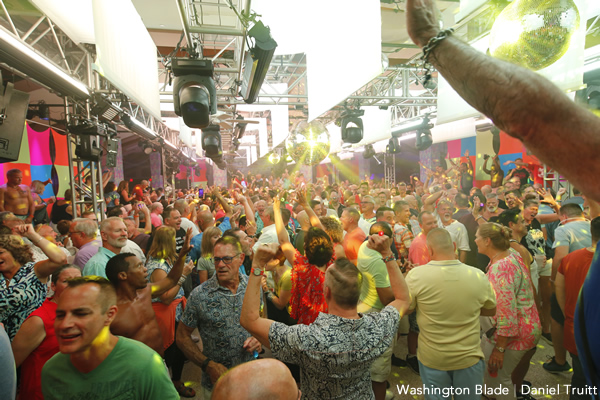 SunFest will feature a week of live performances, dances, and a live auction, sponsored by non-profit LGBTQ+ center CAMP Rehoboth.
The weeklong festival runs from Aug. 29 to Sept. 5 and is a change from the annual SunDance that CAMP Rehoboth has sponsored since 1988. This transformation began last year when the event was forced to go digital due to the coronavirus and the in-person events scheduled this year are important, according to development director and co-coordinator of SunFest Anita Broccolino.
"We love that community feel and the in-person makes all the difference in the world for us. Not being able to do it last year just reminded everyone how important we all are to one another," Broccolino said. "I think that bringing back these events this year is just huge for us and it will be extra celebratory as a result."
The festival begins with a 5k race and online auction opening on Sunday. Monday night features a give-back event at Iron Hill Brewery while Tuesday's agenda is still to be determined, said Broccolino. Diego's will host a Studio 54 give-back dance party on Wednesday and Thursday is the Port 251 women's give-back.
Live performances featuring the Skivvies, Randy Harrison and Diane Huey are scheduled for Friday night and Jennifer Holiday will follow with a performance on Saturday night, both at the Rehoboth Beach Convention Center. The festival closes out Sunday with auction pick-ups and Fun in the Sand and Sun, according to the CAMP Rehoboth website.
This event is also important to the organization's contributions to the community, said Broccolino.
"The essential services we provide for free to the community, which is a huge amount of health and wellness activities, as well as arts programming, a lot of youth programming and the community counts on us for those things. We never stopped during COVID, we made as much as we could virtual, but we took quite a hit not being able to raise those funds and awareness of the programs," Broccolino said. "We invite the entire community to come celebrate with us and make it to Rehoboth Beach, and let's make it joyful, and wonderful and make sure we're living up to the standards of all the people who helped found CAMP Rehoboth and live up to their legacy and beyond."
Rehoboth Beach welcomes Christopher Peterson back
Drag legend to perform weekly beginning July 4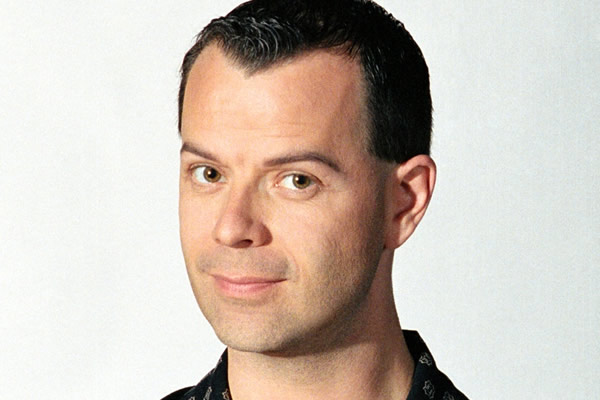 Christopher Peterson will celebrate 25 years of performing his brilliant show EYECONS when he brings it back to Rehoboth Beach this summer. He will be at Clear Space Theatre every Saturday at 10 p.m. and Sunday at 9 p.m. from July 4 to Sept. 5.
I have seen the show a number of times over the years from when he performed at the Renegade showroom (youngsters may not remember the Renegade out on the highway) to now at the Clear Space Theatre, so I am biased in saying it is always worth the price of a ticket. In fact it is worth a lot more because Christopher is an amazing talent. In addition to his own show he can be seen in "Priscilla, Queen of the Desert" at Clear Space.
I recently had the opportunity to chat with Christopher. He has lived in Key West, Fla., for years and performs there during the winter and when he isn't booked around the country. Christopher told me he was born Moncton, New Brunswick but grew up in Halifax (actually Dartmouth across the harbor) Nova Scotia, Canada 58 years ago.
We talked about gay life today and I asked him when he came out and he responded: "in the womb." He told me he always knew who he was even before he knew you could call it gay. He told me he was lucky and grew up in a family that always accepted him for who he was. I asked him if he was excited about coming back to Rehoboth and he told me he sometimes thought of this as his final 'widow tour' as it is his first time back at the beach since he lost the love of his life, James Mill, in September of 2019. They were together for 35 years and James was not only his partner in life but in business. Many in Rehoboth knew James and will miss seeing him at Christopher's side. He was a beautiful man.
Christopher has been called North America's greatest female impersonator and though I haven't seen all of them, I have seen enough to thoroughly concur with that. He not only impersonate the characters, he seems to become them. He never lip-syncs but sings their songs and talks in their voice. Christopher once said his only vocal training was in high school and in church choirs but you would never know that when listening to him sing. Christopher also designs all of his own costumes and they are incredible. It's amazing how quickly he can change from Marilyn Monroe and become Cher with just a new gown and new wig that he has stashed in the closet at the side of the stage. The transformation is mesmerizing.
Over the years he has impersonated so many iconic women, including Marilyn Monroe, Carol Channing, Madonna, Joan Rivers, Reba McEntire, Bette Midler, Tina Turner, Julie Andrews, Barbra Streisand, Liza Minnelli, Judy Garland, Eartha Kitt, Cher, Bette Davis, and Lucille Ball. He will add a new character once in a while if he feels comfortable having tried them out — one being Lady Gaga.
I asked him if he has a favorite character and he said, "That's like asking me if I have a favorite child. These are all my children and they each represent something special to me." He said, "as an example Streisand is the voice and Garland is the heart." I remember he was once quoted as saying Judy Garland is his favorite to do and since he told me she represents the heart it didn't surprise me as Christopher has a big heart. He often saves her for the end of the show and when you see her you leave wanting more.
I asked Christopher about the weirdest thing that ever happened during his show. He told me the story about an evening during the show, when he talks with an audience member, he leaned over the stage and began to chat with a table on the right of the stage and asked an older gentleman, Christopher called him Mary, how he liked the show. After saying he loved it the next thing Christopher saw was Mary keeling over. Turns out he had a heart attack. Christopher said he told the audience there would be a pause in the show and asked if there was a doctor in the house. One came forward and attended to the man and called 911. The gentleman seemed to recover and after they took him out on a stretcher the show went on. Christopher said this has happened more than once at his shows. Maybe it's the excitement.
I asked him if any of the women he impersonates have been to see the show and was surprised when he said no. I would think any of those still alive would be honored to see how Christopher does them and shows them off so well.
This will be an exciting summer in Rehoboth and Christopher is prepared for visitors to come to the show and still follow any restrictions in effect for the pandemic. The theater has said it will continue to abide by all COVID restrictions in order to ensure the safety of both the actors and the audience. Clear Space Theatre has been doing this all winter and doing it safely.
I urge anyone who has never seen Christopher Peterson to get your tickets early as anyone who has seen him will be buying tickets to his shows and you don't want to miss this chance to have a great fun evening in the theater.