D.C. restaurants get creative for Pride
Colorful rainbow cocktails, DJs, endless brunches and more this weekend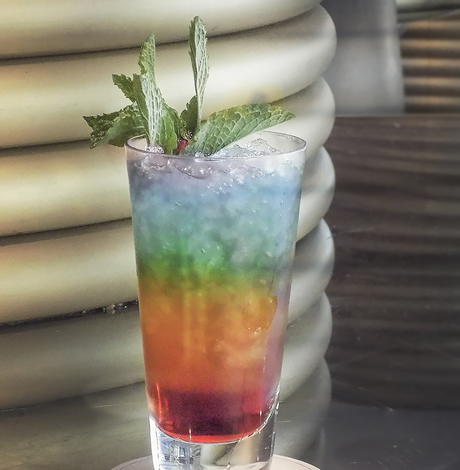 In an annual tradition, D.C. Brau is giving its cans a queer makeover. The brewery is producing 28,000 cans of "Pride Pils," which boast limited-edition can designs of its Brau Pils, "an ideal example of a traditional German pilsner."
D.C.-based artist Alden Leonard won the 2018 Pride Pils Can Design Contest, presented by D.C. Brau and Washington Blade. His entry was to "show the juxtaposition of Pride, which is both a celebration and an act of protest." The design, featuring three figures in "defiant poses with their eyes fixed on symbols of tradition and order," will appear on the cans; all proceeds from the sale of Pride Pils cans benefit SMYAL and the Blade Foundation. At least 30 bars, restaurants, and shops will sell the cans, from gay bars (Trade) to 14th Street restaurants (Cafe St Ex, Pearl Dive), to Himitsu in Petworth, and many others.
Republic Restoratives (1369 New York Ave., N.E.), the lesbian-owned distillery in Northeast, is celebrating Capital Pride all June by offering an exclusive discount to restaurants and bars that use the distillery's Civic Vodka to craft a specialty Pride cocktail and is asking that proceeds from each drink go to the Transgender Law Center. Participating restaurants include the Gibson, Lost & Found, Dio Wine, Songbyrd, Free State. On Sunday, June 10, Republic Restoratives will host a benefit in honor of the center in partnership with Obama White House alumni.
Again this year, City Tap Dupont (1250 Connecticut Ave., N.W.) just off Dupont Circle, is hosting weekly Sunday drag brunches throughout June. Drag queen Ba'Naka is playing MC. You'll find $15 bottomless mimosas and Bloody Marys during the brunchtime shows that start at 11a.m.; reservations are encouraged. Both City Tap Dupont and sister restaurant City Tap Penn Quarter will have other specials in celebration of Pride Month, with proceeds benefiting the Trevor Project, including selling Pride Pils. City Tap Dupont will also offer drink specials during brunch on Saturday, June 9 for guests dining out before heading to the Capital Pride Parade.
Another annual Pride parade supporter, Urbana (2121 P St., N.W.) is set to host its annual and anticipated "Pride+Shine" party on Saturday, June 9 from 10:30 a.m.-6 p.m. — the entire day. It kicks off with brunch and themed drinks until 3 p.m., and then truly gets going with a fierce dance party by DJ Trayze. It'll be offering hearth-oven pizza and the entire bar menu all day, but the real winner is the front-row seating right at the start of the parade. A huge fan favorite from last year, special guest Mike Hot-Pence is back again this year sporting his signature quite short shorts, taking photos with adoring fans and collecting donations to benefit the Trevor Project. Tickets are $50 for the open bar package; otherwise, entry is free.
On Sunday, June 10 from noon-5 p.m., DNV Rooftop (1155 14th St., N.W.) will open the pool for everyone to take advantage of its "Pride Hangover Pool Party." Whether you marched, watched or took your celebration to the next level all night long, this is a spot for recovery. Atop the Donovan hotel, the party includes cocktails, brunch, and yes, a pool, overlooking Thomas Circle. DJ Hamsey will provide the tunes. And because frozen drinks are just too much fun, there will be "DNVLGBTQ Pride Pops" (rainbow boozy popsicles); proceeds will go to the Trevor Project. Entry is $10, waived for attendees of the Urbana "Pride+Shine" brunch party.
Besides flying one of the most enormous Pride flags in the city, Tico (1926 14th St., N.W.)  is hosting an all-day, all-night party. It starts with low tea, moves to high tea, and then shrugs off caffeine for straight alcohol. Tea time is 3-8 p.m.; the bar is open until 2 a.m. Cocktails run the rainbow gamut: there are lime, banana and watermelon daiquiris; a purple pina colada; a mezcal punch called Smokey Eye; rainbow Jello shots; and the chilled-out Frozen Rainbow cocktail. Mexican snacks like salsa, guac and elote will help soak it up. Entry is free.
Rainbows and stars make a perfect match at Le Diplomate (1601 14th St., N.W.), where Michelin-star pastry chef Fabrice Bendano will cool down Parade watchers on Saturday, June 9 at the restaurant's Glaces de Diplomate ice cream cart, selling a Rainbow Cone in honor of the D.C. Pride Festival, with all proceeds from the $5 cone being donated to the Capital Pride Alliance. And of course, it's a prime place to take in the parade action. The restaurant's will have a fete, with Pride-related cocktail specials and "celebratory revelry."
At Osteria Morini (301 Water St., S.E.), Pastry Chef Tova Hillman is celebrating Pride with a five-layer colorful rainbow almond cake coated in a silky dark chocolate glaze. All proceeds will be donated to the Capital Pride Alliance.
During the entire month of June, French brasserie BRABO (1600 King St., Alexandria, Va.) will feature "The Rainbow Collection," a presentation of colorful cocktails that change daily. All sales from these drinks will benefit the Trevor Project.
Spread those wings for the Pride Flamingo Party (in conjunction with Washington Blade) at the Bird (1337 11th St., N.W.), a tropical-themed party that kicks off Capital Pride festivities tonight (Friday, June 8) from 9 p.m.-midnight. Happy hour drinks, themed bites, prizes and specialty cocktails like the Valentina and the Prida Colada Shooter round out the festivities. Guests are suggested to wear beach attire. Entry is free. Throughout the month of June, all EatWell D.C. restaurants are offering a signature cocktail that will support Transgender Law Center, called "This Is Me" (vodka, prickly pear puree, lime, champagne).
Ever-popular beer garden Dacha (1600 7th St., N.W.) offers two events this weekend. The first is Friday, June 8 from 4-8 p.m.: the Bells Sparkleberry Silent Disco, in partnership with. with D.C. Fray. Headphones are provided to all revelers; there will be gift bags for early arrivers. On June 9, before the parade, from 11 a.m.-3 p.m., is Wigs and Waffles with Whitman Walker. Both a party and a fundraiser, it's all about wearing wigs without getting hair in your waffles. Dacha will make sure you're in the spirit of the weekend with a flash tattoo station, a face painter, endless beads, and yes, housemade liege waffles. Entry is free; you can purchase a bracelet for $10 to receive happy hour prices on Bell's Brewery beers.
Starting June 15, the popular pizza joint &Pizza (multiple locations) will introduce a limited-edition color "One of One" box to carry out their pies, as well as other related swag. The restaurant is also fueling up marchers on Saturday (June 9) with a free soda to anyone in the parade (the restaurant will be walking the route, too), and taking donations to the Trevor Project via text.
Like last year, Espita Mezcaleria (1250 9th St., N.W.) will serve a brilliantly hued cocktail in celebration of Pride, all weekend long. This year, it'll be a bright green Mexican Daiquiri, with rum, mezcal, pineapple and Blue Curaçao, topped with a Pride Flag garnish. Proceeds will go to the Trevor Project.
Rainbows are aplenty at Kingbird, the new upscale restaurant at the Watergate Hotel (2650 Virginia Ave., N.W.). All weekend long, the bar will be serving the aptly named Pride Punch for $16. Made from rum, pineapple, Blue Curacao, grenadine, simple syrup, and garnished with mint, the drink represents a ROYGBIV in a cocktail.
Beyonce vs. Rihanna dance party
Music provided by DJ Just Different at Union Stage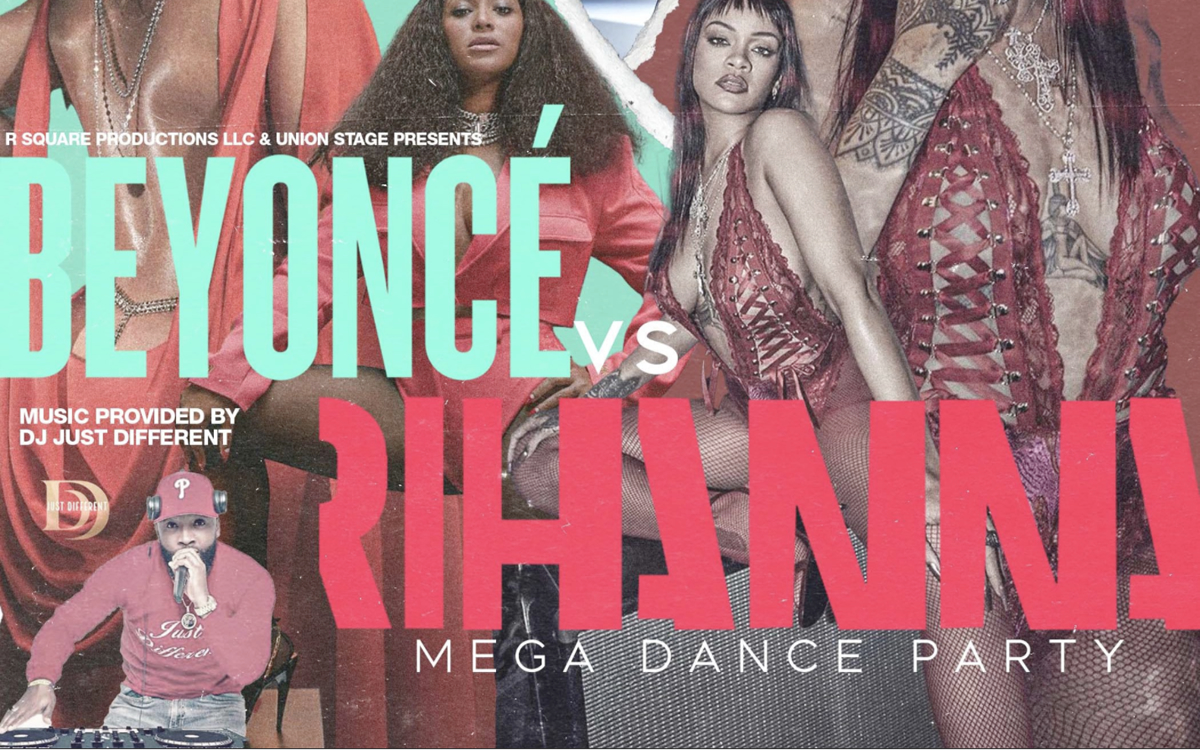 R² Productions LLC and Union Stage are teaming up to host R² Productions' inaugural "MEGA Dance Party" on Thursday, Feb. 24 at 7 p.m. at Union Stage at The Wharf.
The event will be a night full of dancing to music by pop stars Beyonce and Rihanna. DJ Just Different will be performing at the event.
General Admission tickets cost $25 and Premier Plus tickets cost $35. For more information about ticket purchases, visit Union Stage's website.
Kiki quickly becomes popular LGBTQ destination
New bar on U Street plans summer expansion, patio space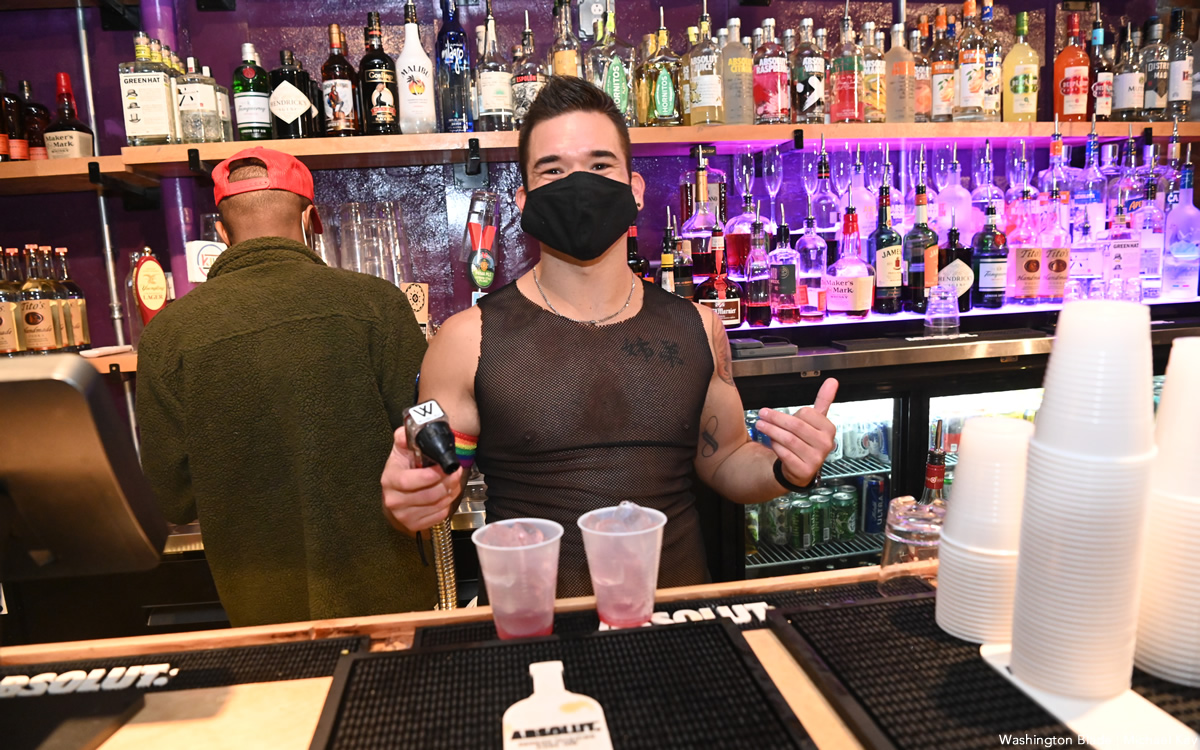 After a New Year's Eve soft opening, Kiki has become one of the most popular LGBTQ destinations in Washington, D.C.
The two-floor bar takes over the space vacated by Velvet Lounge and Dodge City on the 900 block of U Street. Both closed during the pandemic. The locale is directly adjacent to another gay bar, Dirty Goose.
Owner and gay man Keaton Fedak, a general manager at Dirty Goose, noticed that these two next-door bars had gone dark during the pandemic, and met with the owners of the two buildings, who are cousins. Plans quickly developed to use both buildings to craft an expansive, interconnected, inclusive space to transform the city's gay bar landscape.
Fedak called the bar "Kiki" both after himself (it's a nickname) and for its connection with the LGBTQ community. "The word wasn't invented by the Scissor Sisters song," he explains. "It's been an important concept in the community for decades."
The first half of Fedak's vision has already opened. The ground floor of the 915 U St. building is open-plan space with bar stools and a color-block wall of rainbow panels. A bar sits in the back up a short flight of stairs. This level will feature music, but quieter than the second-floor space. There, a DJ booth presides over a large dance floor. Disco lights flood this space; there is a bar on this level as well. The elevated dance floor is set to hold drag shows.
In the spring, a small patio will open, strung with fairy lights. It will have a "backyard aesthetic," he says, to be green, bright, and relaxing. "It's a good place to chill on a nice day outside." It may even be reminiscent of Town Danceboutique's popular patio.
The second half, at 917 U St., is still waiting for permits, and Fedak hopes to open this section in the summer.
It will connect to the current space via the outdoor patio. This section will have more of a sports bar feel, given Fedak's connection to D.C.'s Gay Flag Football League (he is a former board member). The bar will welcome Stonewall Sports and other LGBTQ sports teams, and will be replete with plenty of mounted TVs to show various games.
After the closing of Cobalt and Town, Fedak wanted to ensure that Kiki was "an inclusive space, so that there's vibes for everyone," he says. "It should be a place where regulars would just show up and hang out." He made sure that he recruited staff from different professional and personal backgrounds.
Fedak began working in food and hospitality at age 17 in his hometown in Pennsylvania. After moving to the D.C. area for work, he continued to moonlight as a bartender. Fedak joined Dirty Goose as general manager in 2019 before starting his Kiki journey.
To stock the bar, Fedak has plenty of spirits to go around. There is a focus on the vodka offerings, but he ensures that local distilleries take center stage: He carries District Made Vodka and Rye Whiskey, as well as Green Hat Gin. The beer game is also a winning strategy: there are more than 25 bottles and cans available, with three beers on tap. Local options are first-string, including selections from DC Brau, Right Proper, and Anxo Cider. Finally, the bar comes complete with a house margarita on tap (" it's a homemade recipe," notes Fedak, using agave nectar syrup instead of sugar). The 16-ounce marg is always on special for $10.
While Kiki doesn't serve food, Fedak is exploring options for a small truck or stand in the backyard.
Moving forward, Kiki will host weekly events. The bar already hosts drag shows during "RuPaul's Drag Race" viewing parties. Fedak plans to begin a "Cobalt-style underwear contest" as well. Once COVID cases decline, he also wants to resurrect the Sunday funday parties that Cobalt would host with sports teams.
Fedak's mantra for Kiki is evident in the mural that will take up the backyard patio – a quote from "Schitt's Creek": "I like the wine and not the label."
Disco Funk Brunch at Crazy Aunt Helen's
Tara Hoot and DJ Phil Reese perform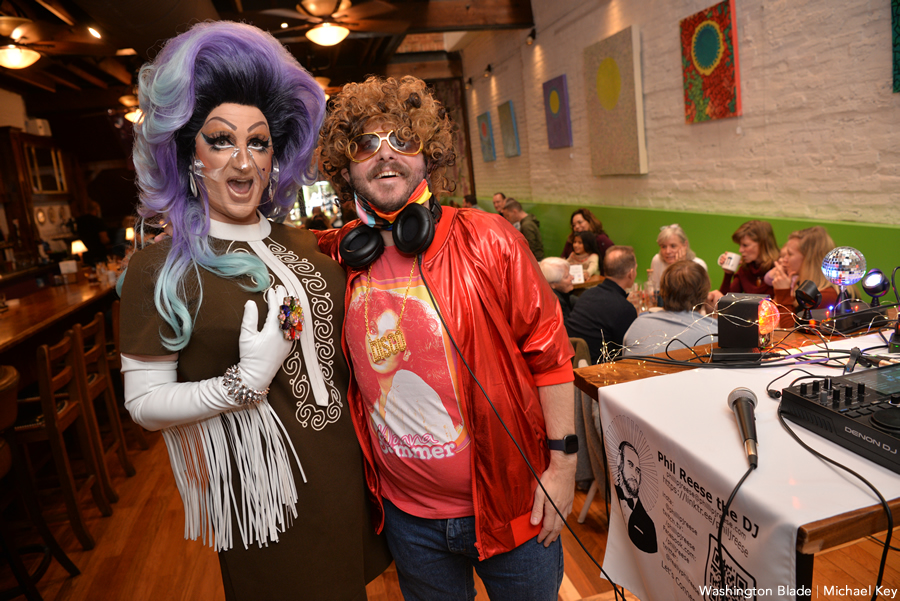 Drag queen Tara Hoot and DJ Phil Reese perform at the biweekly Disco Funk Brunch at the LGBT-owned Crazy Aunt Helen's on Sunday. For future showtimes, go to crazyaunthelens.com. (Blade photo by Michael Key)