Watch: Cher eats cow tongue instead of saying something nice about Trump
The pop diva also refused to name her favorite lovers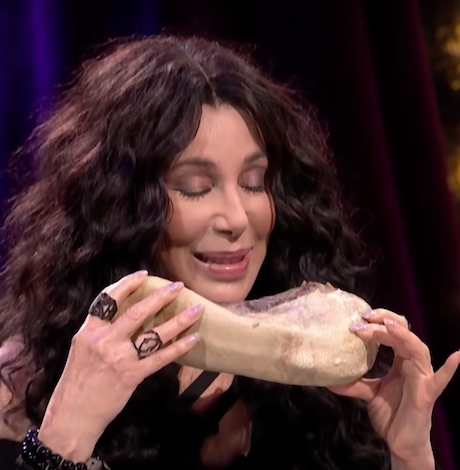 Cher, who is known for her frequent criticisms of President Donald Trump on Twitter, took her opinion one step further on "The Late Late Show with James Corden" on Tuesday night.
The pop diva took part in Corden's game Spill Your Guts or Fill Your Guts where Corden and his celebrity guest must either answer difficult questions or eat something disgusting.
When the gross delicacies are first described Cher makes her disgust known for the unappetizing looking cow tongue. Corden asks her to name one nice thing about the POTUS and after thinking for a moment Cher concludes she doesn't have one and takes a bite.
Cher's other hard to answer question was who her other four best lovers were (after naming Tom Cruise in her top five). The 72-year-old singer also asked Corden who the drunkest person at the royal wedding was but Corden decided to eat a thousand-year-old egg instead of dish the answer.
Corden was also asked who he would least like to sing Carpool Karaoke again with out of Mariah Carey, Miley Cyrus and Britney Spears but gulped down a fish and chips and mushy pea smoothie instead.
Watch below.
New bio illuminates Liz Taylor's decades of support for queer community
'Without homosexuals there would be no culture'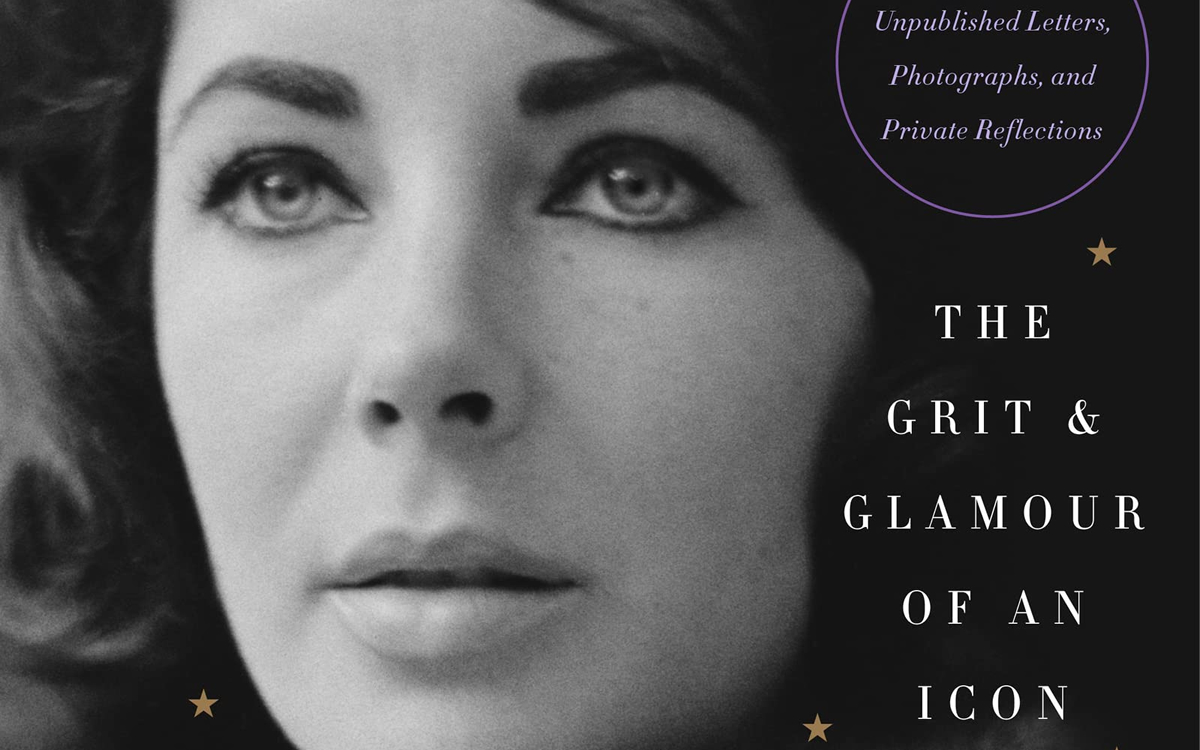 'Elizabeth Taylor: The Grit & Glamour of an Icon'
By Kate Andersen Brower
c.2022, Harper
$33/513 pages
In the mid-1980s, actor Roddy McDowell threw a dinner in honor of Bette Davis's birthday. Davis, a queer icon, thought it was "vulgar" when Elizabeth Taylor and actress Pia Zadora, tried on each other's diamond rings. "Oh, get over it, Bette,"  Taylor, an actress, philanthropist and queer icon, told Davis.
One Friday in 1998, Taylor learned that a friend of her assistant had died, alone, with no money for his burial, from AIDS. Taylor wanted her business manager to arrange for the man who had died to be buried. She was outraged when she learned that this couldn't be done ASAP. "We will not fucking wait until Monday," Taylor said, "We will do it right now."
These are two of the entertaining, moving, and revealing stories told about Taylor in "Elizabeth Taylor: The Grit & Glamour of an Icon" by Kate Andersen Brower.

Many bios written about celebs have the shelf life of a quart of milk. Thankfully, this isn't the case with Brower's bio of Taylor.
Taylor, who lived from 1932 to 2011, was, for most of her life, not only a celebrity – but a household name, a worldwide subject of admiration, titillation and gossip.
But Taylor was so much more than catnip for the paparazzi. She was a feminist, an often underrated actress, businesswoman, senator's wife, addict, mother, lover of animals, a proponent of gun control, an opponent of anti-Semitism, philanthropist and queer history hero.
Yet, despite the hype, glam and all that's been written about Taylor, many aren't aware of the multi-facets of her life.
In "Elizabeth Taylor," Brower, a CNN contributor, who's written "The Residence," "First Women" and "Team of Five, "First in Line," gives us an informative, lively bio of Taylor.
It is the first authorized biography of Taylor. Usually, this is the kiss of death for a biography. Few want their family members to be revealed as three-dimensional people with not only talent, but flaws.
Thankfully, Brower's Taylor bio escapes the trap of hagiography. Brower began writing the biography after talking with former Sen. John Warner, who was married to Taylor from 1976 to 1982. (Warner died in 2021.)
Warner was one of Taylor's seven husbands. He and Taylor remained friends after they divorced. Warner connected Brower with Taylor's family who wanted the story of Taylor to be told. Brower was given access to a trove of new source material: to Taylor's archives – 7,358 letters, diary entries, articles, and personal notes and 10,271 photographs. Brower drew on unpublished interviews with Taylor, and extensively interviewed Taylor's family and friends.
In her 79 years, Taylor did and lived so much, that telling the story of her life is like trying to put the Atlantic Ocean into one bottle of water. Yet, Brower makes Taylor come alive as an earthy, glam hero with flaws and struggles.
Taylor, who performed with Burton in Shakespeare's "Taming of the Shrew," was as proficient at cursing as the Bard was at writing sonnets. "I love four-letter words," Taylor said, "they're so terribly descriptive."
She was renowned for caring for friends and strangers. During Sept. 11, Taylor was in New York. She paid for a toothless woman, who was looking for a job, to get teeth, and comforted firefighters. A firefighter wondered if Taylor was really at his firehouse. "You bet your ass, I am," Taylor said.
Taylor loved her children. Yet, her kids were often (due to her work) left with nannies or enrolled in boarding schools.
Due partly to life-long back pain sustained from an injury she sustained while filming "National Velvet" when she was a child, Taylor struggled with a life-long addiction to pills.
In "Elizabeth Taylor," Brower illuminates Taylor's decades of support and friendship with the queer community. Early in her career, she formed close friendships with queer actors Rock Hudson, Montgomery Clift and James Dean. "Without homosexuals there would be no culture," Taylor said.
Decades later, it's easy to forget how horrible things were during the AIDS crisis in the 1980s and 1990s. Brower vividly brings back the horror and the tireless work Taylor did for AIDS research. At a time when people wouldn't use a telephone touched by someone with AIDS, Brower reports, Taylor would hug patients with AIDS in hospices. She jumped into bed to hold her friend Rock Hudson when he was dying from AIDS when no one would go near him, Brower writes.
"I'm resilient as all hell," Taylor said.
There couldn't be a better time for "Elizabeth Taylor" than today. In our era, when many would like to erase LGBTQ people, Taylor's legacy is more important than ever. 
The Blade may receive commissions from qualifying purchases made via this post.
Drag now a leading draw at Olney as 'Kinky Boots' debuts
'A beautiful piece about acceptance and tolerance'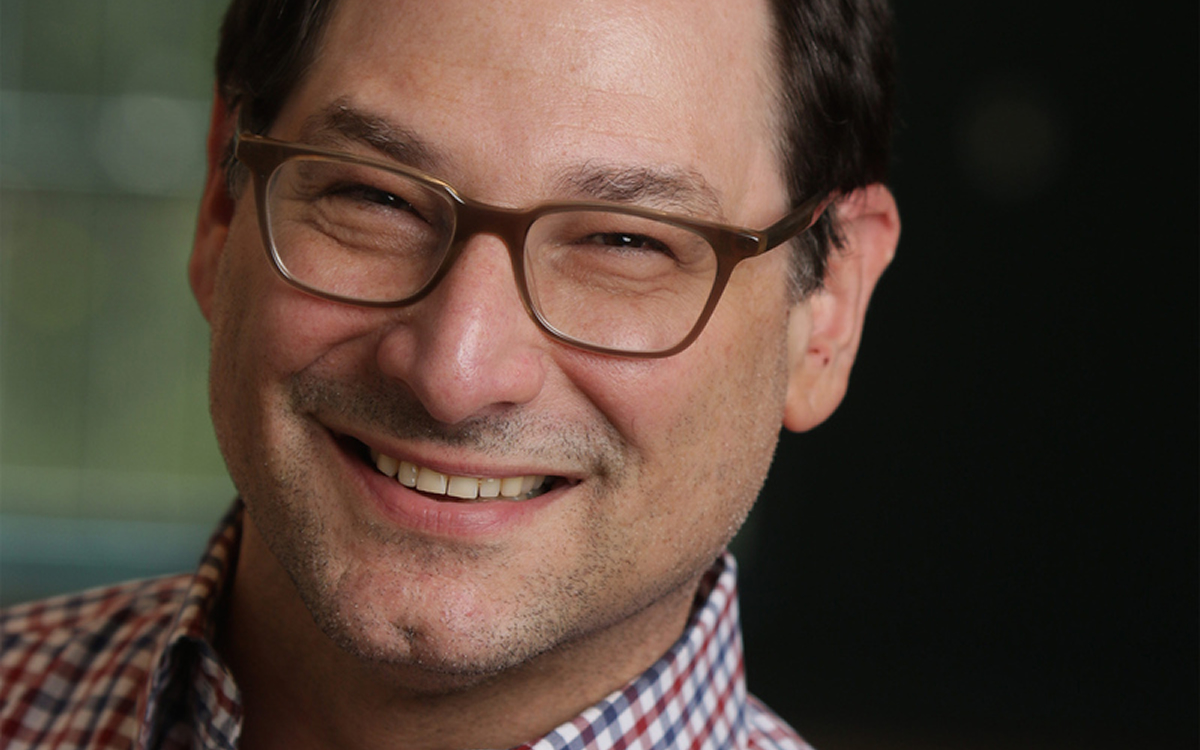 'Kinky Boots'
Feb. 10-March 19
Olney Theatre Center
2001 Olney-Sandy Spring, Rd., Olney, Md.
$42-$95
Olneytheatre.org
In the last few years, Olney Theatre Center's leafy, suburban campus has become a hotbed of drag activity and audiences are eating it up.
"We're getting old straight couples who don't come for theater, but they'll come for this," says Jason Loewith, Olney's artistic director for a decade.
What began as part of Olney Outdoors, a COVID-inspired open air summer series, drag shows quickly exploded into a leading draw. In fact, Olney's drag nights — initially suggested by director of curator programming Kevin McAllister — have sold better than all other outdoor offerings including cabaret and jazz, Loewith explains.
"Drag has brought us the most diverse audience for anything we've ever done: regular theatergoers and nontraditional theatergoers, queer and straight, old and young, and the very young for whom it would be illegal to watch a drag show in several states."
With that in mind, Loewith is now directing Olney's production of "Kinky Boots" (opening Feb. 10), the uplifting Tony Award-winning collaboration featuring Cyndi Lauper's quirky, hard driving rock score and Harvey Fierstein's familiarly sentimental book. Adapted from a small British film, it's the story of Charlie Price, a young man trying to save his family's failing shoe factory in depressed Northampton. A chance meeting with Lala, a London drag queen, unites the unlikely pair in an improbable business venture.
Though "Kinky Boots" has been on his radar for a few years, it wasn't always. In the early years of his Olney tenure, Loewith, 54, wasn't that into a drag centric show. It just wouldn't have answered the "why this" and "why now" that theaters ask when building a season, he says. But things have changed, and he's learned a few things about what his audience likes.
Now it's the company's first main stage show planned after the height of the pandemic. Still, Loewith was oddly nervous about directing. Despite having once dated a drag queen, he came to the project with little knowledge of the drag community so there was some anxiety involved, but that soon went away.
It seems Loewith, who married his husband in the backyard of their Bethesda home in the summer of 2021, has rather fallen in love with the show: "It's elegantly put together yet very strong; there's a delightful simplicity to it, resulting in a beautiful piece about acceptance and tolerance.
"It's a great show about self-acceptance that touches on some universal themes like daddy issues. And with its message of opening your mind to free yourself, makes every day of the work a soul-affirming experience, especially in this moment of gender fluidity being under attack and perceived as something incredibly threatening."
He's also elated with the cast. Although they considered looking to New York to fill some of the parts, it wasn't necessary. They've found a phenomenal group of DMV talent (19 members of the show's 20-person cast are locals). "And as Lola and Charlie, Solomon Parker III and Vincent Kempsi, respectively, have claimed the triple threat roles," he says. "They're really born to play the parts."
A hit on the Broadway boards, "Kinky Boots" promises a great experience on Olney's comparatively intimate main stage too, he adds. Audiences get the big production numbers, the conveyer belt, and rock ballads, but here you get a much better sense of Charlie and Lola's intertwining journeys.
Replete with its own drag consultant Devon Vaow (who's known to perform as Evon Michelle), the production is sponsoring related events including an opening night panel discussion on drag history; a Sip 'n' Face Paint (BYOM); a singles mixer that's open to everyone; and Drag Queen Story Hour at nearby Olney Library (go to olneytheatre.org for details).
All in all, Olney's "Kinky Boots" is poised to offer a lot. At a moment when there are legislators attempting to ban drag performances on college campuses, it's a good opportunity to support the visibility of drag. And Loewith says to expect a good time. He likens the experience to seeing four drag shows wrapped into one fabulous Broadway musical.
Celebrate Mardi Gras in the DMV
'Arty-Gras' held at Whino in Arlington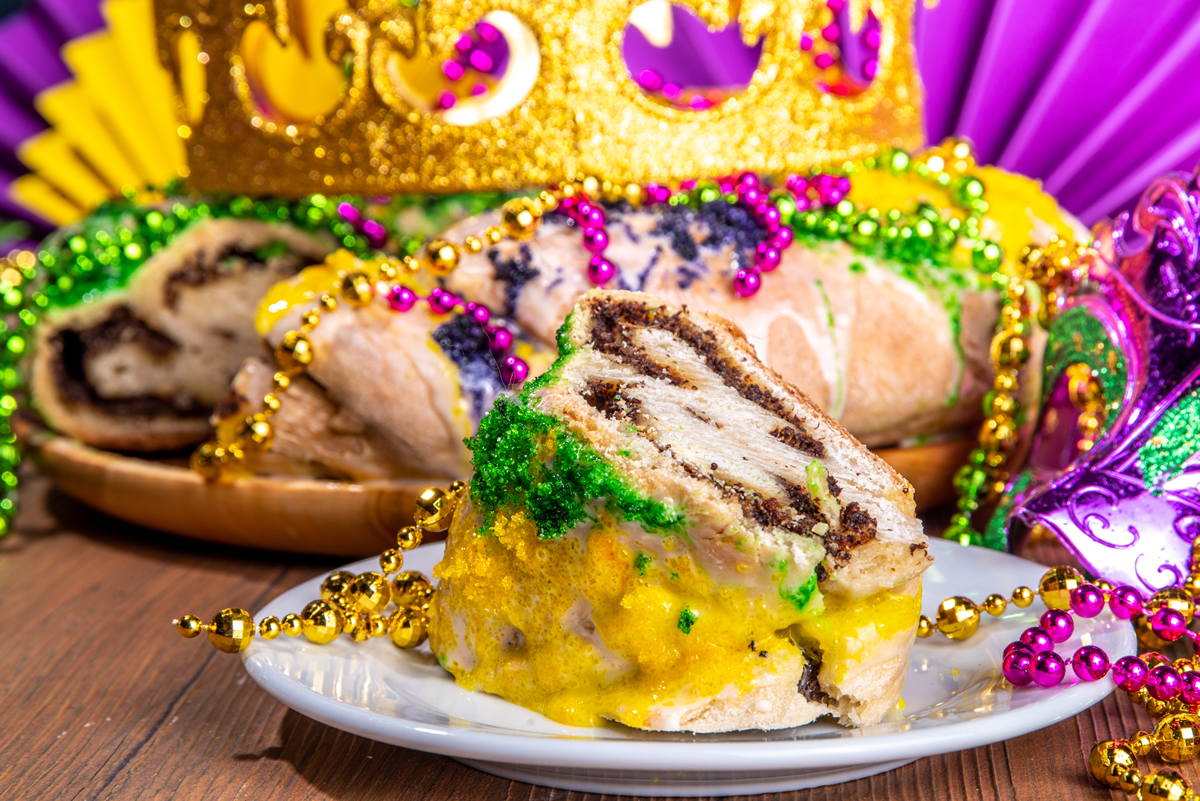 Artomatic will host "Arty-Gras" on Friday, Feb. 27 at 8 p.m. at Whino in Arlington, Va.
This event is an art-centric mardi gras party in the DMV. There will be a masquerade parade and a costume contest party. Winners of the contest will be awarded cash prizes. The event will end with a dance party hosted by a DJ.
Admission is free, for any inquiries email [email protected].