Fringe Festival, cabaret series among summer theater offerings
'The Color Purple' returns to Kennedy Center; Synetic tackles 'Oz'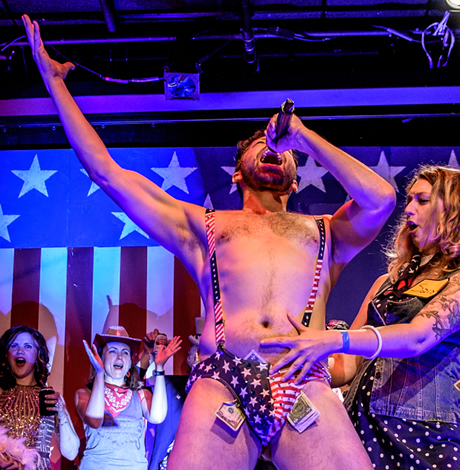 Not going anywhere anytime soon? Why not make theater a part of your summer in the city?
Following its tradition of big summer musicals, The Kennedy Center presents "The Color Purple" July 30-Aug. 26.  Adapted from Alice Walker's Pulitzer Prize-winning novel, the national tour of the Tony Award-winning Broadway revival production recounts the sometimes heartbreaking but ultimately triumphant rise of an African-American woman in the American South. Details at kennedy-center.org. 
Also, at the Kennedy Center, out actor Alan Cumming brings his inimitable blend of style, storytelling and activism with "Legal Immigrant," July 28. Cumming promises a cabaret of songs and stories about his life and loves in his adopted homeland. The Gay Men's Chorus of Washington joins him for the performance. Details at kennedy-center.org. 
Summer Cabaret Series at Creative Cauldron (410 South Maple Avenue, Falls Church, Va.) features a lineup of terrific performers including the fabulous Jade Jones with "Killin' Em Softly: A '70s Soiree," July 20-21; and out actor Stephen Gregory Smith traces his relationship with composer Matt Conner in "Inspired By" Sept. 7-8. Full details at creativecauldron.org.
At Signature Theatre (4200 Campbell Ave., Arlington, Va.), Sizzlin' Summer Nights Cabaret Series rolls on with an impressive roster of singers including Erin Driscoll. With Ladies' Night, July 26, the Helen Hayes Award-winning Driscoll celebrates the female songwriters of Broadway from Golden Age to contemporary songs, including women such as Dorothy Fields, Betty Comden, Jeanine Tesori. Full details at sigtheatre.org.
For a wild time, catch Astro Pop Events' third annual "America The Game Show. F*ck Yeah!" July 21 at GALA Hispanic Theatre (3333 14th St., N.W.) and July 27-28 at Baltimore's Creative Alliance (3134 Eastern Ave, Baltimore).
Inspired by TV's "The Price Is Right" but with a subversive and sexy twist, the show is 90 minutes of outrageous games dealing with fracking, immigration and reproductive rights. A favorite game from last year's show was called "Grab That Pussy!" which consisted of using tiny fake hands to toss stuffed kittens into holes cut from the folds of a drag queen's voluminous skirt. 
"'Game Show' has morphed over the years," says director Kate Taylor Davis. "When we started it was the summer before the election. We assumed Hilary Clinton would be our next president. We were optimistic. The show was lot of goofy Americana with a political undercurrent. The second year that changed.  It's become more political, an expression of our frustrations. Our way of dealing with the madness is to poke fun and still try to find a way to love the country despite what's happening now."
Included in the shows cast are local performer Carlos Bustamante as cocksure emcee Carl who "embodies the quintessential American spirit by being supremely confident in his own self-worth and value." The cast also includes out actors Chris Griffin (best known for his alt drag, oddly comical persona Lucrezia Blozia) as Liberty who stands seven feet tall in her glitter boots, and local actor Patrick M. Doneghy as Justice, a superhero who might have walked out of the D.C. Eagle. Both Justice and Liberty facilitate audience participation in the show's games. 
"We look forward to doing this every summer. I don't know what we'd do for fun otherwise," says Davis who helms the production with set designer Jared Davis. "It's important for us to do a quirky, lowbrow, subversive thing. We think D.C. needs it." Full details at astropopevents.com 
Through July 29, Capital Fringe Festival 2018 offers a selection of Fringe theater, music, art, dance and unclassifiable forms of live performance. Many are of special interest to LGBT audiences — just a few of those are listed below. For a complete list of shows, times, and venues, go to capitalfringe.org.  
There's still time to catch Jamie Brickhouse's comedy solo performance "Dangerous When Wet: Booze, Sex & My Mother," July 21 and 24 at Saint Augustine's Episcopal Church: Gold (555 Water St., S.W.) Capital Fringe's website describes it best: "Sodomite Jamie Brickhouse's alcoholic odyssey from small-town sissy to louche Manhattanite is wickedly intoxicating as he hits bottom and discovers he can't escape the all-consuming love of his Texas tornado of a mother, Mama Jean. Darkly comic, you'll cry laughing."
Also, Three Muses (Arena Stage, 1101 Sixth St., S.W.) presents "God is Dead and April's Getting Married," July 21, 22, 28, 29. Penned by A.A. Brenner, the dramedy explores queerness, religion and friendship while asking if people ever truly change. 
And Caitlin M. Capliner's "Riot Brrrain," July 21, 22, 24, 27, 28, at Blind Whino: Turquoise (700 Delaware Ave., S.W.) is an adults only musical comedy about neurosyphilis. 
"Ghosts" from Muse Theatre Productions by Elford Alley is about a mysterious device that allows communication with the dead. It runs July 21-29 at Blind Whino: Yellow (700 Delaware Ave., S.W.). It's the only horror/sci-fi show in this year's festival and features LGBT personnel. 
Fringe is fun but not always for kids. If children figure into your summer plans, there are options. 
Synetic Theatre (now at Devine Theater located in the Davis Performing Arts Center on the Georgetown University campus) presents "The Wonderful Wizard of Oz" through Aug. 12. Of course, the innovative movement-based company puts a spin on the 20th century, L. Frank Baum favorite. Producing director Paata Tsikurishvili, director Ryan Sellers and choreographer Tori Bertocci create an environmental and spectacular adventure where verbal and nonverbal communication come together. Helen Hayes Award-winning out actor Philip Fletcher plays the Tin Man in search of a heart. Details at synetictheatre.org.
At Imagination Stage (4908 Auburn Ave, Bethesda) it's "You're a Good Man, Charlie Brown" through Aug. 12. Based on the comic strip "Peanuts" by Charles M. Schulz, the delightful Off-Broadway musical hit about childhood angst is staged by local acclaimed director Aaron Posner who's usually found directing quality stuff for grownups. Details at imaginationstage.org.
And in Glen Echo Park, Md., Adventure Theatre MTC presents "Tinker Bell" through Aug. 19. Adapted by Patrick Flynn, it's the Peter Pan story from the twinkly fairy's point of view. Staged by out director Nick Olcott, the company's summer fun show features a diverse cast led by Michelle Polera in the title role and Carlos Castillo as Peter Pan. Details at adventuretheatre-mtc.org.
Forget streaming, the holiday classics return to area stages
Bring your proof of vaccination and check out a local production this season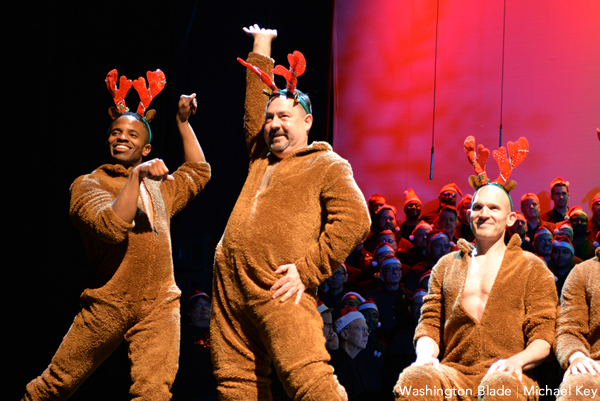 A year ago, the holiday season was streamed. But now, thanks to various protocols including masks and proof of vaccination, DMV theatergoers can come together and experience – live and in-person — both beloved classics and some promising new works. Here's a smattering of what's out there.
At Olney Theatre, Paul Morello is thrilled to bring back "A Christmas Carol 2021" (through Dec. 26), his solo adaptation of Dickens' ghost story. Concerning returning to a live audience, Morello says, "While this is technically a one-person show, it's really about the connection and collaboration with an audience, being in the same room, breathing in unison. I can't do this without an audience and for a story that thrives on redemption, mortality, isolation, the need for community and connection, and the things that matter most, the timing couldn't be better."
Olney also presents "Disney's Beauty and the Beast" through Jan. 2. This musical "tale as old as time" stars out actor Jade Jones as Belle and Evan Ruggiero plays the Beast. olneytheatre.org
For the holidays, Synetic Theater at Crystal City is reworking "Cinderella" (Nov. 27-Dec. 26). Led by an all-female team of creators, this festive take on the classic fairytale is inspired by Afro-Latino music and dance. Directed and adapted by Maria Simpkins who also plays the title role. synetictheater.org
Last year, because of COVID-19, Ford's Theatre presented "A Christmas Carol" as a radio broadcast, but now the fully produced play returns to the venue's historic stage through Dec. 27. A popular Washington tradition for more than 30 years, the thoroughly enjoyable and topnotch take on the Dickens' classic features Craig Wallace reprising the part of Scrooge, the miser who after a night of ghostly visits, rediscovers Christmas joy. fords.org
Another D.C. tradition guaranteed to put audiences in a holiday mood is the Washington Ballet's "Nutcracker," playing at the Warner Theatre through Dec. 26. Set to Tchaikovsky's enchanted score, this charming and superbly executed offering takes place in Georgetown circa 1882 and features a retinue of historic figures along with children, rats, fairies and a mysterious godfather. Choreography is by Septime Webre. washingtonballet.org
The Folger Consort, the superb early music ensemble in residence at the Folger, will be performing seven concerts of "A Medieval Christmas" (Dec. 10-18) at St. Mark's Church on Capitol Hill. A streaming version of the concert will also be available to view on-demand. folger.edu
At Lincoln Theatre, the Gay Men's Chorus of Washington, D.C. presents "The Holiday Show" (Dec. 4, 11, and 12) replete with tap-dancing elves, a dancing Christmas tree, snow, and a lot more. The fun and festive program's song list includes "Let It Snow! Let It Snow! Let It Snow!", "The 12 Rockin' Days of Christmas," and "Boogie Woogie Frosty." Featured performances range from the full Chorus, soloists, all GMCW ensembles, and the GenOUT Youth Chorus. gmcw.org
Arena Stage is marking the season with August Wilson's "Seven Guitars" (through Dec. 26), a drama about a small group of friends who gather following the untimely death of their friend, a blues guitarist on the edge of stardom. Directed by Tazewell Thompson, the production features an exciting cast that includes local actors Dane Figueroa Edidi and Roz White. arenastage.org
Creative Cauldron is serving up some holiday magic with "The Christmas Angel" (Dec. 9-19). Based on a little-known 1910 novel by Abbey Farwell Brown, it's the story of a lonely and bitter spinster who returns to happiness through a box of old toys. The commissioned new holiday musical is a collaboration of longtime musical collaborators and married couple Matt Conner and Stephen Gregory Smith (lyrics and book). creativecauldron.org
In keeping with the Yuletide spirit, the National Theatre presents two feel-good national tour musicals. First, it's "How the Grinch Stole Christmas!" (through Dec. 5), a musical take on Dr. Seuss' classic holiday tale featuring the hit songs "You're A Mean One, Mr. Grinch" and "Welcome Christmas."
Next up is "Tootsie" (Dec. 7-12), the hit musical based on the 1982 gender-bending film starring Dustin Hoffman as an out-of-work actor who disguises himself as a woman to land a role on a popular soap opera. The show boasts a Tony-winning book by Robert Horn and a score by Tony winner David Yazbek (The Band's Visit). thenationaldc.com
Keegan Theatre presents its annual holiday offering, "An Irish Carol" (Dec. 10-31). Set in a modern Dublin pub, the funny yet poignant original work (a nod to Dickens) tracks the changes in the life of a rich but miserable publican over the course of one Christmas Eve. keegantheatre.org
At Theater J, it's the Kinsey Sicks' "Oy Vey in a Manger" (Dec. 17-25). Blending drag, four-part harmony, and political humor, the "dragapella beautyshop quartet" brings its own hilariously irreverent view on the holidays. theaterj.org
And through Jan. 2, Signature Theatre continues to brighten the season with its production of Jonathan Larson's "Rent" directed by the company's out artistic director Matthew Gardiner and featuring out actor David Merino as Angel, a preternaturally energetic drag queen and percussionist. sigtheare.org
The Music Center at Strathmore, also in Bethesda, is presenting a wide range of musical holiday offerings including "Manheim Steamroller Christmas" (Dec. 3 and 4), a multimedia holiday tradition; Sarah Brightman in "A Christmas Symphony" (Dec. 6 and 7); "A Celtic Christmas with Séan Heely Celtic Band" (Dec. 11); Washington Bach Consort's "Bach's Epic Christmas Oratorio" (Dec. 11); the beloved "The Washington Chorus: A Candlelight Christmas" (Dec. 16 and 17); and last but not least "The Hip Hop Nutcracker" (Dec. 20), Tchaikovsky's classic reimagined with MC Kurtis Blow ("White Lines"). strathmore.org
And finally, something strictly for the kids: Imagination Stage presents "Corduroy" (Dec. 11-Jan. 24). Based on the beloved children's books by Don Freeman, it's the heartwarming story of a girl and her perfectly imperfect Teddy Bear. Best for ages 3-9. imaginationstage.org
'The Great Leap' explores change in 1989 China
'As an Asian American, you rarely play the lead in a play'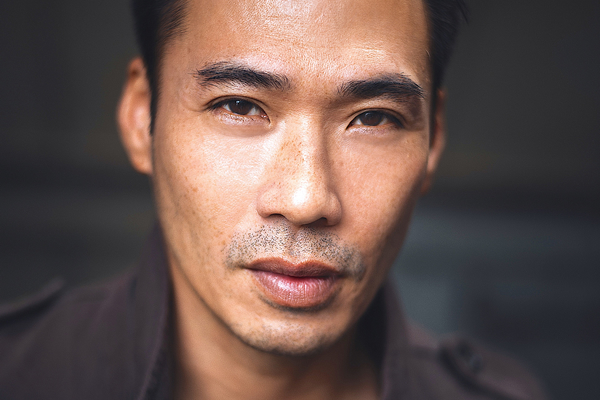 'The Great Leap'
Through Dec. 5
In-person with Streaming on demand beginning Nov. 26
Round House Theatre
4545 East-West Highway
Bethesda, Md., 20814
$34-$71
roundhousetheatre.org
Sometimes, working on a single play can change an actor's feelings about his craft and career. For Grant Chang, it was Lauren Yee's "The Great Leap," an international sports story set in 1989 at the time of the Tiananmen Square uprising.
Chang, who is gay, garnered terrific reviews for playing Wen Chang, a reserved Beijing university basketball coach of the 1970s and '80s, in the Los Angeles production of Yee's comic drama, and is now reprising the role in an original production at Round House Theatre.
He says, "As an Asian American, you rarely play the lead in a play, so having that opportunity and to be in something good and meaningful is so rewarding. It makes you work harder to be the best you can be on stage."
Like the actor's parents, his character Wen Chang grew up in China and lived through the Cultural Revolution. "In order to survive, he has to essentially take orders from the government, no questions," explains Chang. "That's where we meet him when the play begins. In the second act, 18 years have passed and he has experienced a transformation. Without spoiling things, let's just say as heartbreaking as the change is, it's also inspiring."
Chang's casting story is cute. While playing Whiterose's handsome assistant on television's "Mr. Robot," he became close friends with castmate B.D. Wong, who first shot to fame playing the title role in David Henry Hwang's "M. Butterfly." When Wong was tapped to direct the East West Players and Pasadena Playhouse co-production of Yee's play in 2019, he asked Chang to audition for Wen Chang, a part Wong had previously played in New York.
"B.D. thought I'd be right for the role, but I wasn't so sure. To step into his shoes was really a lot," says Chang, 42. "They were looking for local L.A. hires, and I'm a New York- based actor. He asked if they couldn't find someone would I send in a self-tape. I hesitantly agreed."
"That same night B.D. texted me and said 'put yourself on tape by tomorrow.' I thought dammit, I have to do this, so I did," he recalls.
After viewing Chang's audition tape, the production team made a unanimous decision to cast him: "B.D. believed in me more than I believed in myself. It's changed my way of acting, and I'm still very grateful for that."
And that was the beginning of "a great and beautiful journey" that continued at Round House under the sensitive direction of Jennifer Chang who was open to letting the actors explore, he says.
Chang adds, "I'm Chinese American, my parents are from China, and I majored in East Asian Studies. There's something instilled in me that I bring to this character. I humanize him in many ways that others might not and I think the audience picks up on that."
Despite an abundance of basketball focused marketing, the play is less about the sport and more about the game of life, says Chang. Incidentally, as a kid in New York City, he struggled with learning to dribble and even longer with how to dribble and run. But he wasn't unfamiliar with the rules and jargon. His dad and brothers watched a lot of basketball, and periodically he'd join them.
In addition to acting, Chang teaches dance and also directs. For his short film, "Finding You" (2015), he was awarded Best Actor and Best Director at the 38th Annual Asian American International Film Festival and the 11th Annual 72 Hour Shootout 2015, presented by the Asian American Film Lab.
He intends to do more directing when he can: "I have the patience to bring out things in other actors and inspire them to do really good work. Not everyone can do that."
Following his stint at Round House, besides teaching dance, there's nothing on the horizon, says Chang: "I'm constantly auditioning. Like everybody, we're all trying to get back to some normalcy by working, but we're also trying to live day to day, be happy, and accept what life brings us."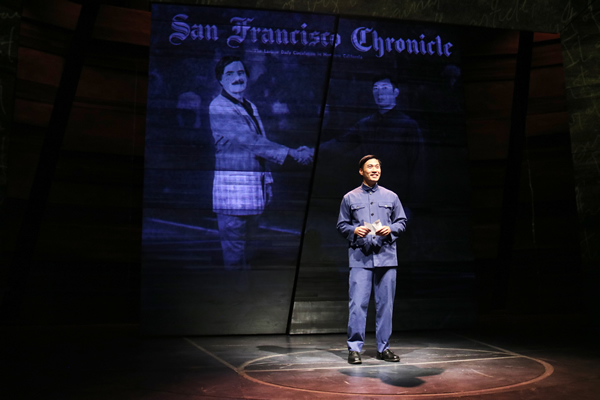 Exploring a complicated father-daughter relationship
Mosaic's 'Birds of North America' unfolds over 10 years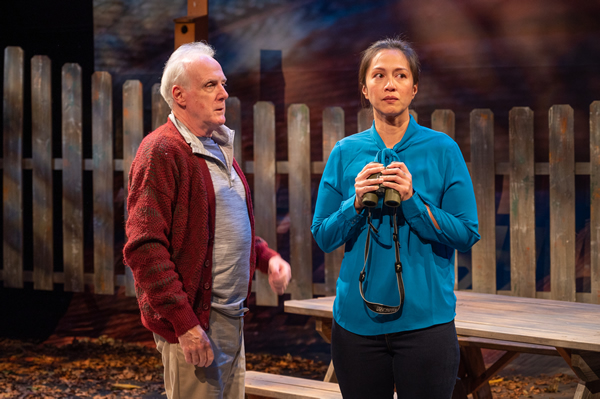 'Birds of North America'
Through Nov. 21
Mosaic Theater Company
Atlas Performing Arts Center
$20-$68
Mosaictheater.org
In the leafy backyard of a suburban Maryland home, a father and daughter watch birds and talk about life. Sounds amiable, but in Anna Ouyang Moench's "Birds of North America" it isn't, well not entirely.
The affective and humorous two-hander, now at Mosaic Theater Company, covers nearly 10 tense years of annual October visits home during which John and adult daughter Caitlyn, both avid birders, indulge in their gentle hobby when they're not fighting.
"A tufted titmouse," says John (David Bryan Jackson) motioning toward a heard but unseen songbird. Caitlyn (Regina Aquino) who's down from New York to see her parents, quickly picks up the binoculars and the feathery friend takes center stage. It's the same when they spy a nuthatch, cardinal, or morning dove, but after the birds fly off with an audible swoosh, the conversation inevitably turns from the latest hawk or barn owl sighting back to Caitlyn's lack of ambition or John's intractability and seeming inability to empathize.
He hates her job choices (working at a conservative news website and later doing marketing for the oil industry), and wishes she'd complete her novel or help to save the planet. She mocks him for putting solar panels on a large house, much too big for two people.
Time passes. Father and daughter continue to masterfully press each other's buttons. Initially, he seems cringingly unaware of the impact of his wounding words, particularly when it comes to Caitlyn's pain surrounding infertility issues. But sometimes he goes for the jugular. She fights back similarly. Despite the ongoing brutal contretemps, there's still love, and some laughs, between them.
Without a lot of reference to specific time and place, the playwright cleverly moves the years forward, revealing the details of new relationships, job changes, illness using sometimes quotidian dialogue that rings particularly true. Yet, the work is simultaneously lyrical.
Mosaic's out managing director and producer, Serge Seiden, smartly directs the piece with a light, elegant touch, resulting in a thought-provoking and pleasurable 90 minutes. He ably helms a topnotch design team: Alexa Ross creates a simple backyard (worn picket fence, picnic table, and unassuming lawn chairs) backed by a feathery wing of blazing autumnal colors. Brittany Shemuga bathes the intimate stage with the dappled sunlight of a fall day, and David Lamont Wilson's appealing sound design includes coos, caws, chirps, and pecking sounds. In between scenes, an increasing number of crunchy leaves are scattered over the stage/yard.
Aquino and Jackson share a combative chemistry, and throughout the years covered, both effectively age, mostly through voice and demeanor. Though stubborn until the end, John seems increasingly resigned and vulnerable; Caitlyn becomes less youthfully exuberant, and more practical and self-contained.
While Caitlin's eco-friendly father can be preachy, the play isn't. The urgency of climate change is couched in unstilted conversations that all of us have overheard or been a part of more than once.
And by spacing the piece over a decade, Moench demonstrates the vicissitudes of life and relationships, and what a warming climate entails (i.e., decreased bird migration, a longer tick season that results in more dreaded Lyme disease, etc.) Unfortunately, John continues to criticize Caitlyn's professional choices. She fires back that unlike her father, she needs to earn a paycheck. It seems the mother, a practicing doctor and family bread winner, has long made it possible for John to pursue an unpaid career in vaccination research, an endeavor that he is certain, unfoundedly so, will one day result in a big money payoff.
As the audience becomes invested in the actors' finely assayed characters, there also comes a sense of frustration, regret about what might have been. And some hope.
"Birds of North America" marks Mosaic's first in-person production after 18-months of closure. COVID-19 infection prevention measures include proof of vaccination, masks, and socially distanced seating. A streaming version will also be available.