Kyrsten Sinema wins Arizona primary, major first as bisexual candidate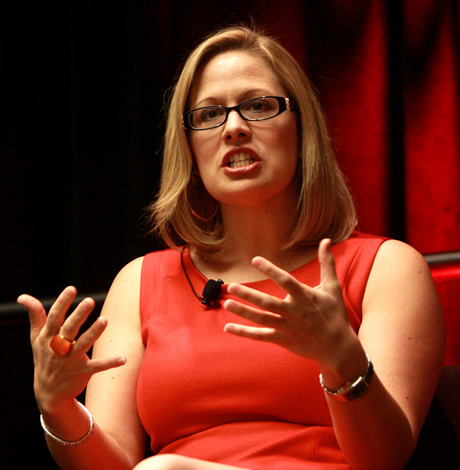 Arizona Rep. Kyrsten Sinema (D-Ariz.) achieved a significant victory on Tuesday in the Arizona primary when she became the first openly bisexual person to win a major party nomination to run for a U.S. Senate seat.
The Associated Press declared Sinema, a three-term member of Congress, the winner at 9:21 local time after polls closed in Arizona at 7 pm. Sinema was in a contest against Muslim progressive activist Deedra Abboud for the Democratic nomination to run for the open U.S. Senate seat in Arizona.
With 94 percent of precincts reporting, Sinema won 80.5 percent of the vote compared to the 19.5 percent won by Abboud, according to results from the New York Times.
The primary contest is to run for the seat being vacated by Sen. Jeff Flake (R-Ariz.), who announced he wouldn't seek another term in the U.S. Senate and remains outspoken with his own party against President Trump. (The other seat representing Arizona in the U.S. Senate after the death of John McCain will be filled by a interim replacement chosen by the Arizona governor and come up for a vote in the general election in 2020.)
As the only openly bisexual member of Congress and co-chair of the LGBT Equality Caucus, Sinema has taken the lead on LGBT issues during her time in Congress. Among other things, Sinema was a co-sponsor of the Equality Act, comprehensive legislation that would prohibit anti-LGBT discrimination in all areas of federal civil rights law and legislation against Trump's attempted ban on transgender service members.
Representing a moderate district in Congress, Sinema has taken votes in line with the Republican caucus that have angered progressive and LGBT activists. Sinema has never voted for House Minority Leader Nancy Pelosi (D-Calif.) as speaker, voted to delay implementation of the individual mandate in Obamacare and voted for a measure that would have inhibited Syrian refugees from coming to the United States.
Also revealed in the Arizona primary was the Republican opponent whom Sinema would face in the general election. The winner on the Republican side was Martha McSally, a former Air Force pilot who represents Arizona's 2nd congressional district in Congress.
Other candidates were Kelli Ward, a former member of the Arizona State Senate, and former Maricopa County Sheriff Joe Arpaio, who declared his candidacy after President Trump granting him a pardon for violating the law in his enforcement of immigration law.
McSally won 52.9 percent of the vote in the Republican primary, compared to the 28.2 percent won by Ward and the 18.9 percent won by Arpaio.
Although McSally has served in the U.S. House for only two terms, she has already cast at least one anti-LGBT vote. The Arizona Republican vote in favor of an amendment on the House floor introduced by anti-LGBT Rep. Vicky Hartzler (R-Mo.), which would have the barred from the U.S. military from paying for transition-related care for transgender people, including gender reassignment surgery.
McSally has also opposed interpreting Title IX of the Education Amendment of 1972 to require school to allow transgender kids to use the restrooms consistent with their gender identity, saying during a town hall early last year the matter is best handled at the local level.
In 2016, McSally was also one of the 33 Republicans in committee to vote in favor of an amendment to major defense authorization legislation that would have weakened President Obama's executive order against anti-LGBT workplace discrimination. Although the committee approved the amendment, it was later taken out in conference deliberations.
Annise Parker, CEO of the LGBTQ Victory Fund, said Sinema "shattered a lavender ceiling" in the primary, but the race against McSally will also be significant.
"This race is consequential not just for the Democratic party and for the LGBTQ community, but for all Americans who demand an end to the political divisiveness that Martha McSally embodies," Parker said. "An LGBTQ Senate candidate taking down an anti-LGBTQ opponent in a red state will be a defining moment in this year's rainbow political wave – and will further the evolution in how Americans view LGBTQ people and candidates."
Sinema wasn't the only LGBT candidate in a primary race on Tuesday night. Other LGBT candidates were in the fray in Arizona and Florida and had different results:
* In Florida's 18th congressional district, lesbian candidate and former State Department official Lauren Baer won the Democratic nomination over attorney Pam Keith by a 60-40 margin. Baer will face off against incumbent Rep. Brian Mast (R-Fla.) in the general election.
* Also in Florida, Donna Shalala, a former official with the Department of Health & Human Services during the Clinton, narrowly defeated openly gay State Rep. David Richardson for the Democratic nomination to run in Florida's 27th congressional district. Shalala will run against Maria Elvira Salazar in race to succeed retiring Rep. Ileana Ros-Lehtinen (R-Fla.) in Congress.
* In Arizona, gay candidate and former Arizona State Rep. Matt Heinz came up short in a bid to claim the Democratic nomination to run in Arizona's second congressional district against former U.S. Rep. Ann Kirkpatrick.
No new mpox cases reported in Md., Va., and D.C.
Federal, local authorities continue to encourage vaccination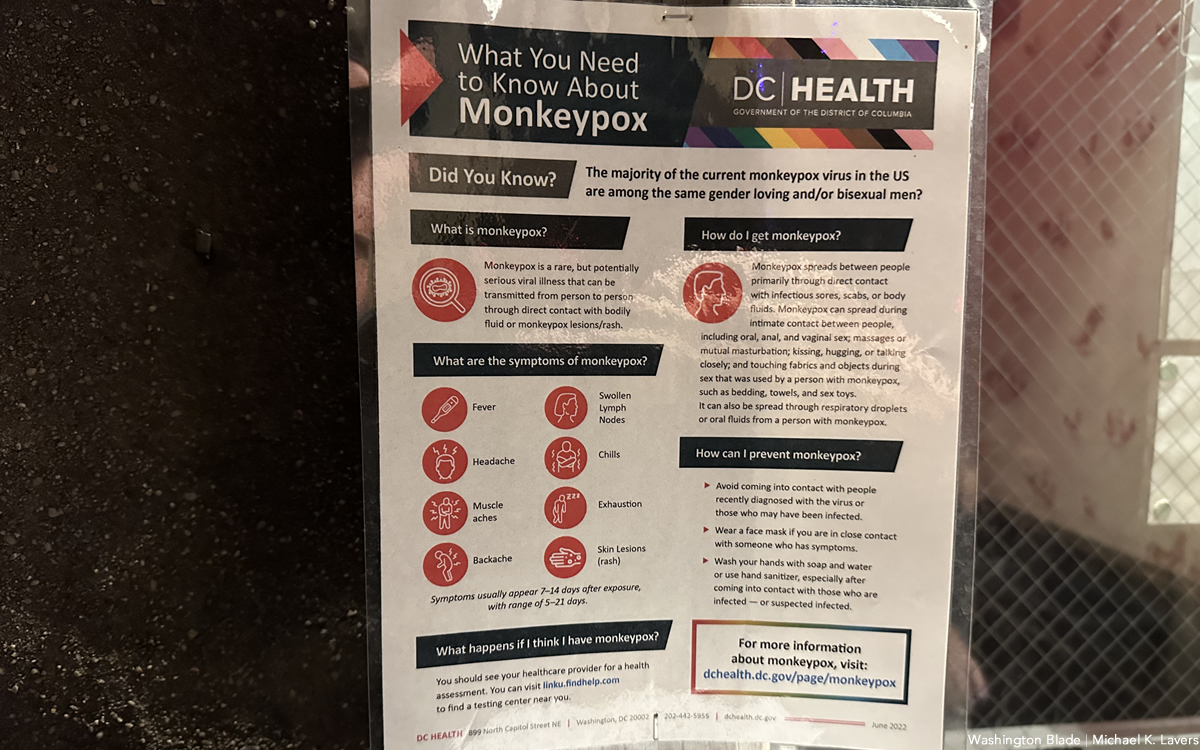 Public health officials in Maryland, Virginia and D.C. have not issued mpox advisories ahead of Pride month.
The Maryland Department of Health notes there were no reported new positive mpox cases reported in the state during the week of May 21. 
There were no reported new reported mpox cases in Virginia between May 21-27. The D.C. Department of Health on its website notes the last new mpox case in the nation's capital was reported during the week of May 11.
"MDH (the Maryland Department of Health) has not issued any advisories for mpox," Maryland Department of Health spokesperson Chase Cook told the Washington Blade on May 25. "We are still monitoring case counts and urging Marylanders at risk to protect themselves."
"The Health Department is launching a statewide Pride-related sexual health campaign and working closely with festival organizers and local health departments to ensure health resources, including but not limited to mpox, are part of Pride events across the state," added Cook.
Brandy Darby, the director of the Virginia Department of Health's Office of Epidemiology's Division of Surveillance and Investigation, largely echoed Cook.
"The Virginia Department of Health continues to promote mpox awareness and share prevention messages with groups at greater risk of exposure," Darby told the Blade. "We are sharing these messages through print materials, social media, media interviews, healthcare provider offices and community-based organizations. Additionally, our local health departments are encouraged to have a presence at Pride events within their communities this summer to offer mpox education and vaccination."
The D.C. Department of Health has yet to respond to the Blade's request for comment. Its website, however, contains information about mpox, transmission, prevention and vaccinations.
CDC issued mpox advisory on May 15
The World Health Organization on May 11 announced it no longer considers mpox a global emergency.
The Centers for Disease Control and Prevention on May 15 issued a mpox advisory after the Chicago Department of Public Health reported 12 new confirmed cases between April 17-May 5. 
"Spring and summer season in 2023 could lead to a resurgence of mpox as people gather for festivals and other events," reads the advisory. "The purpose of this Health Alert Network (HAN) Health Update is to inform clinicians and public health agencies about the potential for new clusters or outbreaks of mpox cases and to provide resources on clinical evaluation, treatment, vaccination and testing."
"To help prevent a renewed outbreak during the spring and summer months, CDC is urging clinicians to be on alert for new cases of mpox and to encourage vaccination for people at risk," it adds. "If mpox is suspected, test even if the patient was previously vaccinated or had mpox. Clinicians should also refamiliarize themselves with mpox symptoms, specimen collection, laboratory testing procedures and treatment options."
The Los Angeles County Department of Public Health earlier this month urged groups at increased risk for mpox to get fully vaccinated ahead of Pride month.
Dr. Demetre Daskalakis, the deputy coordinator for the White House's national mpox response, on told reporters during a May 18 telebriefing that federal health agencies are working with state and local officials to offer vaccinations and implement prevention measures during Pride events.
Washington Blade, Dupont Underground spotlight D.C. LGBTQ Changemakers with new exhibit
'The Ground We Stand On' highlights 25 queer pioneers during Pride month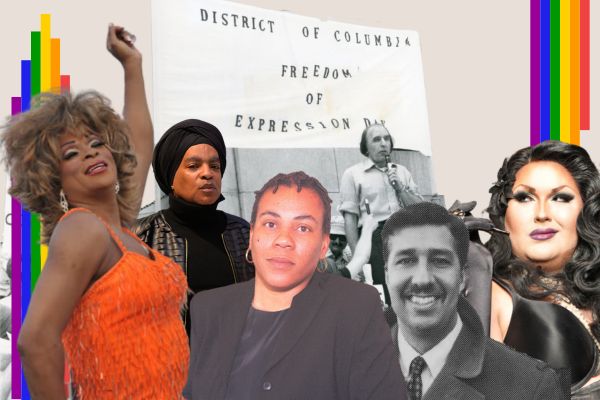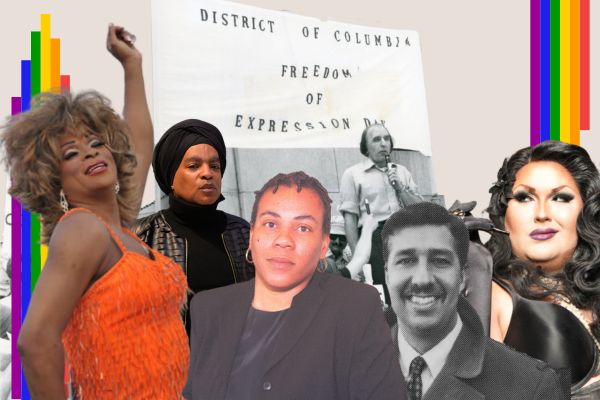 The Washington Blade and Dupont Underground present "The Ground We Stand On: Past and Present DC LGBTQ Changemakers," a new exhibit that highlights D.C. LGBTQ pioneers.
The exhibit, featuring 25 changemakers will be on view beginning Friday, June 2, through Sunday, June 25.
The inspiring exhibition will showcase the remarkable journeys of both past and present changemakers who have left an indelible mark on the tapestry of Washington, D.C. The exhibit underscores the enduring legacy of these remarkable individuals, serving as an inspiration for present and future generations.
The exhibition opens on June 2 at 5 p.m., where all the living honorees will be present for the opening  reception, followed by Drag Underground starting at 8:30 p.m., featuring some of the best Drag Queens in DC such as Shi-Queeta Lee, Cake Pop, Jane Saw, and Destiny B Childs.
"By shining a light on their remarkable contributions, this exhibition aims to empower and encourage the continuous evolution of the D.C. LGBTQ+ community and its influence that transcends boundaries," said Stephen Rutgers, director of Sales and Marketing for the Washington Blade.
"We are thrilled to highlight so many living changemakers who will visit us for opening night, and to honor the memories and work of those changemakers who are no longer with us," said Ana Harvey, Dupont Underground CEO.
For more information about Dupont Underground, visit www.dupontunderground.org.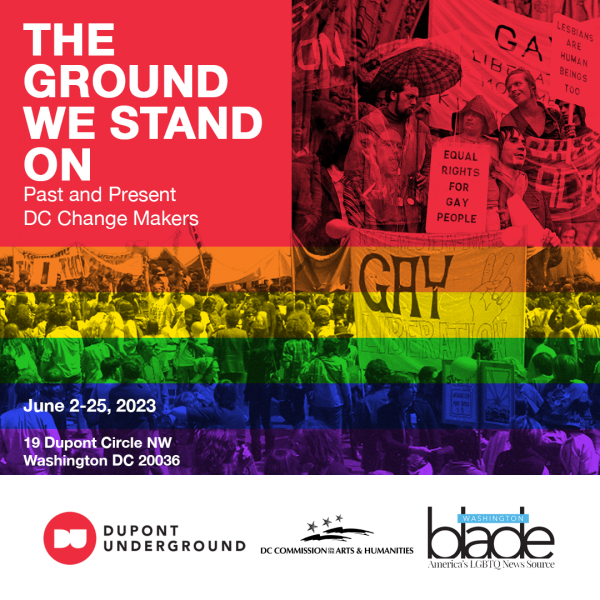 Carper's retirement opens historic possibilities in Delaware
Blunt Rochester likely to run for Senate; McBride could become first out trans member of Congress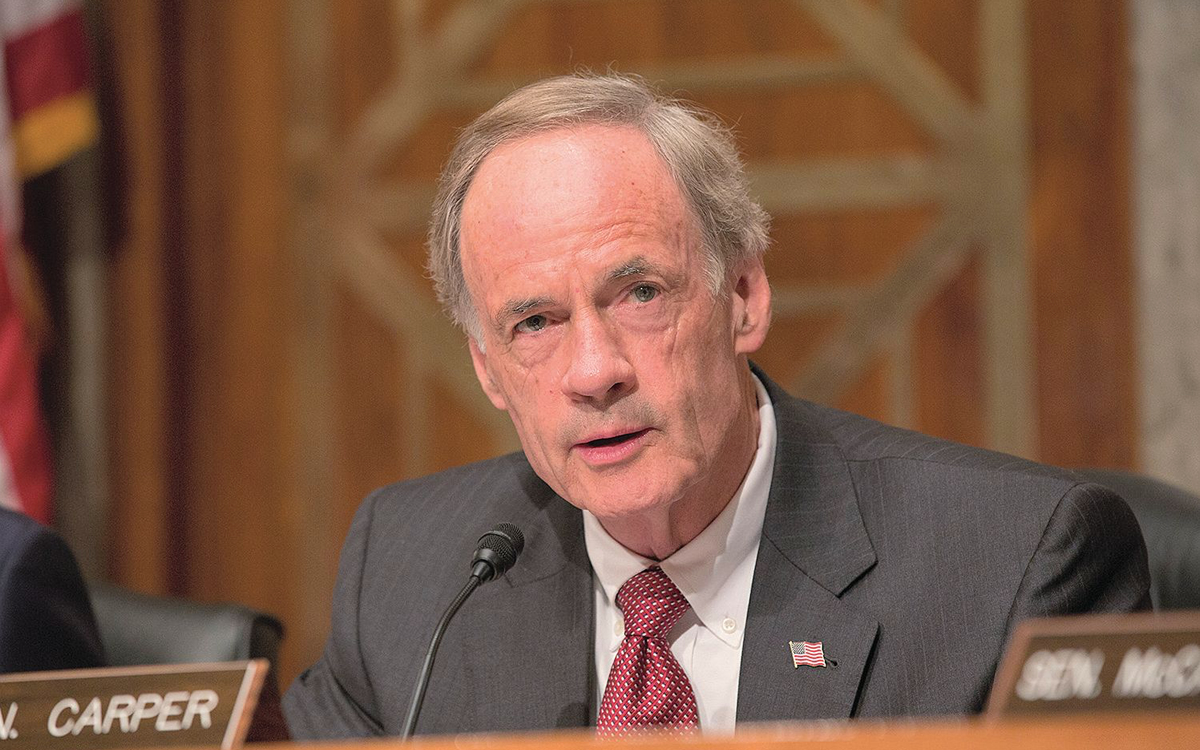 As Delaware governor, he signed a bill that defined marriage as being between a man and a woman in 1996. Now, 27 years later, the Human Rights Campaign gives Sen. Tom Carper a perfect score on LGBTQ issues in Congress.
That man, who turned from opponent of marriage equality to LGBTQ rights supporter, announced his retirement last week. Unlike other Senate races across the country, though, there is little doubt who will succeed him.
He endorsed Delaware's lone representative in the House, Lisa Blunt Rochester, as his successor in a news conference last week.
"I spoke with her this morning, I said, 'You've been patient, waiting for me to get out of the way, and I'm going to get out of the way, and I hope you run, and I hope you'll let me support you in that mission,'" he said with a laugh. "And she said, 'Yes I will let you support me.' And so I'm going to.'"
Carper plans to serve out the remainder of his term, which ends in 2024. He serves as chair of the Senate's Environment and Public Works Committee. Previously, he was chair of the Homeland Security Committee. He served as Delaware's governor from 1993-2001 and represented Delaware in the House. 
The Human Rights Campaign has given Blunt Rochester a perfect score in the last two congresses, and an almost perfect one in the 2017-2018 congress based on her voting record on LGBTQ issues. It did not respond to a phone call and two emails to spokespeople but praised her and Carper in 2018.
"Every time they take the train down to Washington, Senator Carper and Congresswoman Blunt Rochester carry with them the hopes of all Delawareans," the organization wrote in a press release. "With the LGBTQ community under attack by the Trump-Pence administration, Senator Carper and Congresswoman Blunt Rochester have tirelessly fought to defend our progress and advance equality for LGBTQ people both in Delaware and around the nation."
Blunt Rochester would be the first Black person and first woman to represent Delaware in the Senate. She has close ties to Delaware's LGBTQ community and a record as a strong ally. She has served as keynote speaker at the Washington Blade's annual Summer Kickoff Party in Rehoboth Beach three times, thrilling the LGBTQ crowd with her passionate support for equality.
She said she is "interested" in running, but neither she nor her spokesperson reached last week would say any more.
"I don't have a bad thing to say about her," said longtime LGBTQ activist and Delaware lawyer Mark Purpura. It was responsible of Carper to retire, he added.
Assuming she runs as expected, that would leave Blunt Rochester's seat in the House open. Sarah McBride, the first openly transgender state senator in the U.S., could fill that seat. A source familiar with her thinking said she will "100%" run for Rochester's seat.
That would make her the first openly transgender member of Congress. Her run would be a "great opportunity" to showcase the Delaware Democratic Party's diversity," Purpura said.
Peter Schott, secretary of the Delaware Stonewall PAC, agreed, noting that McBride is very popular and can raise a lot of money.
McBride, who did not respond to an email and two calls to her office, is one of five openly LGBTQ lawmakers in the Delaware Legislature, a record number for the state.
"I think Sarah is absolutely wonderful," said colleague Eric Morrison, a gay man who represents parts of Newark and other communities in his 27th district in the Delaware House. "I wish her well."