Actor Garrett Clayton says Hollywood forced him to stay closeted
The 'King Cobra' star also opened up about coming out to his family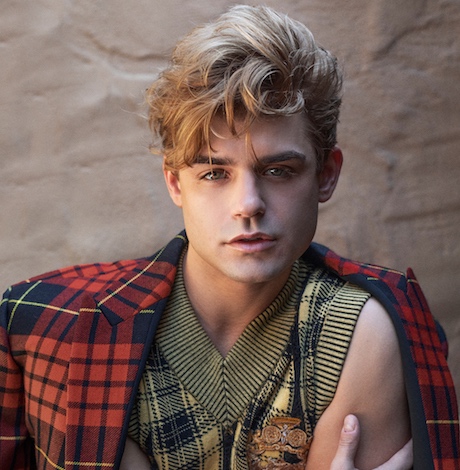 Actor Garrett Clayton got candid about his experience being gay in Hollywood in a new interview with Gay Times Magazine.
Clayton, 27, started his career appearing in Disney programs such as "Teen Beach Movie" and 'Shake it Up." He also portrayed Link Larkin in NBC's "Hairspray Live!" In 2016, he starred as Brent Corrigan in the gay porn drama "King Cobra" but Clayton didn't publicly come out as gay until August.
Speaking with Gay Times Magazine, Clayton says he was encouraged to keep his sexuality a secret for the sake of his career.
"One of the first things somebody who was instrumental in starting my career did, they sat me down and they said, 'Are you gay?' And I could feel the pressure of the question, so I was like, 'Yeah, I'm gay, or bi, or whatever', because suddenly I could feel that there was something wrong with that in this person's eyes. They looked at me and said, 'No one wants to fuck the gay guy, they want to go shopping with him, so we're going to have to figure this out.' It turned into this situation where I'd get calls and they'd say, 'You still need to butch it up,'" Clayton says.
Clayton was told to change the way he acted, dressed, talked and even answered questions to appear straight.
"It got as petty as them saying, 'People need to see that you're into sports because they'll think that's more masculine, so why don't you go buy a sports hat, take some pictures in it, and make sure people see you in it,'" he recalls.
"I convinced myself that I was the problem, and I got into a really dark place for a couple of years. Then I went to therapy for about a year and a half to really sort through all the things I went through growing up and the situations I found myself in while in Hollywood. I got to work through all those conflicting things," Clayton continued.
Clayton also had a tough time coming out to his family.
"Before my dad moved to Florida I kind of had a meltdown and told him, and he just hated it. A month or two after that, when I was leaving my last day on the set of my first movie – which was a huge step for me, I was so excited – he freaked out because I was late. I came out to the car and he just started screaming at me, and it boiled up to him screaming at me about how he hated that I was gay, and he didn't know what to do with me. It was this horrible gut-wrenching fight right after one of my first big accomplishments," he says about coming out to his dad.
His brother had a similar negative reaction. Clayton says that after a fight over same-sex marriage on social media the two haven't reconnected.
"My brother reacted badly when I told him, too. I don't want to put him on blast, because he's still my family, but I do feel that honesty in this situation is important. A few years ago, when same-sex marriage was legalised, my brother was furious, and he went online posting about how the American flag was gonna be a rainbow soon, like, 'What's happening to America?' And I remember seeing that and thinking, 'You have a gay brother, you idiot!' So I went on his Facebook like, 'So wait a minute, you're telling me that there can be someone you care about in your life, who wants to impede nothing on yours, and just wants the same rights as you, and you would take that away from them?' And then he blocked me. If my brother wants to reconnect with me, I welcome it wholeheartedly. I'm a big believer in people learning from their mistakes. But not every story gets a happy ending," Clayton says.
Read Clayton's full interview here.
Studio House, Visual AIDS partner for educational program
Day With(out) Art 2021 to be held at Lamont Plaza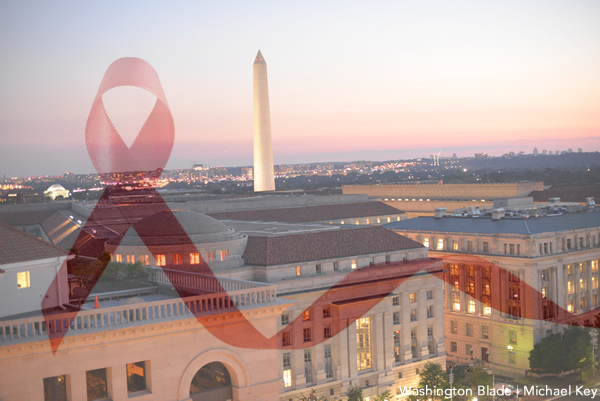 Studio House and Visual AIDS will join forces for "Day With(out) Art 2021" on Tuesday, Nov. 30 at 6 p.m. at Lamont Plaza.
This event is a community outdoor screening of "Enduring Care," a video program that highlights strategies of community care within the ongoing HIV epidemic followed by a discussion about the video.
There will be an open house in the neighborhood at the David Bethuel Jamieson (1963-1992) Studio House and Archives featuring newly commissioned work by Katherine Cheairs, Cristóbal Guerra, Danny Kilbride, Abdul-Aliy A. Muhammad and Uriah Bussey, Beto Pérez, Steed Taylor, and J Triangular and the Women's Video Support Project.
For more information, visit Eventbrite. 
'Tick, tick… BOOM!' explodes with the love of Broadway
A perfect film for fans of musical theater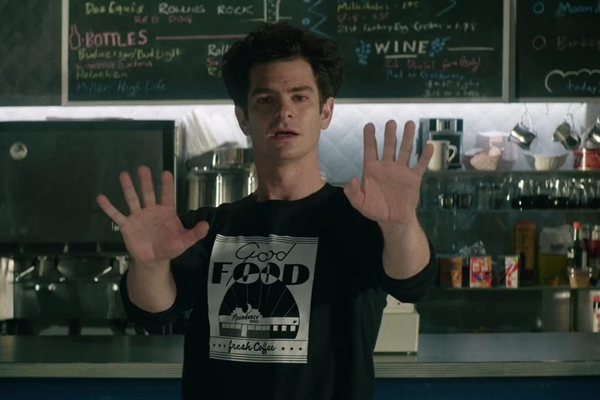 If you are a person who love musical theater – or if you know someone who does – then you know there is something about this particular art form that inspires a strong and driving passion in those who enjoy it, often to the point of obsession. For this reason, perhaps it's no surprise that those who work in musical theater – the creators, performers, and all the other people who make it happen – are often the biggest musical theater lovers of all.
Because of this, "tick, tick… BOOM!" (the new film directed by Lin-Manuel "Hamilton" Miranda and written by Steven "Dear Evan Hansen" Levenson) might be the most perfect movie ever made for such fans. Adapted from an autobiographical "rock monologue" by Jonathan Larson, it follows the future "Rent" composer (Andrew Garfield) for a week in the early 1990s, when he was still an unknown young Broadway hopeful waiting tables in a New York diner. He's on the cusp of turning 30, a milestone that weighs on his mind as he prepares for a showcase of a musical that he hasn't quite finished – even though he's been writing it for eight years. With limited time left to compose the show's most crucial number, his race against the clock is complicated by major changes in his personal life; his lifelong best friend Michael (Robin de Jesús) has quit acting in favor of a five-figure career in advertising, and his girlfriend Susan (Alexandra Shipp) is moving away from the city to accept a teaching job and wants him to come with her. With reminders everywhere of the ongoing AIDS epidemic still raging in the community around him, and with his own youth ticking away, he is inevitably forced to wonder if it's time to trade in his own Broadway dreams for a more secure future – before it's too late.
As every musical theater fan knows, the young composer's obsession with time (hence the title) is laced with bittersweet irony in the context of what eventually happened in his real life: the day before "Rent" opened on Broadway and became a smash hit that reshaped and expanded the boundaries of what musical theater could be, Larson died of an aortic aneurysm at the age of 35. He never lived to see the full fruition of all those years of hard work, and that tragic turn of events is precisely what makes "tick, tick… BOOM!" relevant and provides its considerable emotional power. In that light, it's essentially a musical "memento mori," a reminder that the clock eventually runs out for all of us.
That doesn't mean, however, that it's not also a celebration of life in the theater, and Miranda is probably better suited than anyone to make us see that side of the coin. Now unquestionably in the highest echelon of status as a Broadway icon, he came of age in the era of "Rent," and he takes pains to make his depiction of Manhattan in the '90s as authentic as possible.
Capturing the era with touches like Keith Haring-inspired murals and the use of "Love Shack" as a party anthem, his movie keeps Larson's story within the context of his time while drawing clear connections to our own. His reverence for Larson – whom he cites as a seminal inspiration for his own future work – manifests itself palpably throughout. Yet despite that (or perhaps because of it), so does an infectiously cheery tone. Yes, things get heavy; there are hardships and heartbreaks at every turn, because that's what a life in the theater means. But at the same time, there's just so much fun to be had. The camaraderie, the energy, and the joy of simply living in that world comes leaping off the screen (often thanks to the enthusiastic choreography of Ryan Heffington) with the kind of giddy, effortless ease that might almost make us jealous if it didn't lift our spirits so much. No matter that the lead character spends most of the movie second-guessing his path; we never doubt for a moment that, for him, the rewards of following his passion outweigh the sacrifices a thousand times over.
That's something Miranda also understands. His movie drives home the point that the joy of doing theater is its own reward, and he's willing to prove it by turning up in a bit part just for the sake of being a part of the show. And he's not the only one. The screen is littered with living legends; in one memorable sequence alone, a who's-who of Broadway's brightest stars – Chita Rivera, Bernadette Peters, Brian Stokes Mitchell, Andre DeShield, Bebe Neuwirth, Joel Grey, and at least a dozen more – serve as a high-profile backup chorus of extras for a song at the diner, but there are blink-and-you'll-miss-them cameos in almost every scene. It almost feels like a gimmick, or an effort to turn the movie into a "spot the star" trivia game for hardcore fans – until you realize that these are the best and brightest people in their field, who have willingly chosen to show up and participate even though they did not have to. They are there purely for love, and you can see it in their faces.
Miranda scores big across the board as a director – this is his feature film directorial debut, which confirms the standing assumption the man can do anything. But "tick, tick… BOOM!" is a star turn for its leading player, and full credit must also go – and emphatically so – to Garfield, who surpasses expectations as Larson. The one-time "Spiderman" actor trained extensively to be able to master the demands of singing the role, and it shows; he comes off as a true musical theater trouper, worthy beyond doubt of sharing the screen with so many giants. Even better, he integrates that challenge into the whole of a flamboyantly joyful performance that makes Larson endearingly, compellingly three-dimensional. It's a career-topping piece of work.
The rest of the principal cast – a refreshingly inclusive ensemble that reminds us that Larson was instrumental in making Broadway a much more diverse place – are equally fine. De Jesús gets a long-deserved chance to shine as Michael, and Shipp brings a quiet calm to the easily-could-have-been-overshadowed Susan that makes her the perfect balance to Garfield's high-octane energy.
Joshua Henry and Vanessa Hudgens contribute much more than their stellar vocal talents to their pair of roles as Larson friends and collaborators, and there are delicious supporting turns by Judith Light and Bradley Whitford – who gives an affectionately amusing and dead-on accurate screen impersonation of Broadway legend-of-legends Stephen Sondheim, one of Larson's (and Miranda's) biggest influences and inspirations, who accordingly looms large in the story despite his relatively short amount of screen time.
It should be obvious by now that "tick, tick… BOOM!" is a delight for people who love musical theater. But what if you're not one of those people? The good news is that there is so much to enjoy here, so much real enjoyment, so much talent, so much hard work on display that nobody will have any reason to be bored.
Even people who DON'T love musical theater.
James Ivory on movies, beauty — and a love of penises
If you enjoy film and wit you'll love 'Solid Ivory'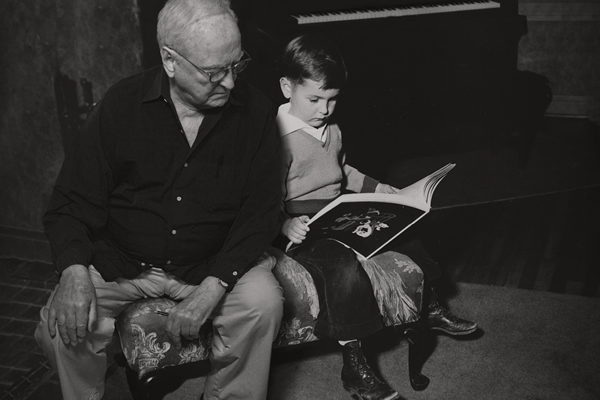 'Solid Ivory: Memoirs'
By James Ivory
C.2021, Farrar, Straus & Giroux
$30/399 pages
Few things have been more pleasurable to me during the pandemic than Merchant/Ivory films. COVID becomes a dim memory as I ogle the costumes, beautiful vistas from Italy to India, music and spot-on dialogue of "A Room with a View," "Maurice," "Remains of the Day" and other Merchant/Ivory movies.
For decades, fans from gay men to grandmas have enjoyed these films, directed by James Ivory and produced by Ismail Merchant in partnership with the writer Ruth Prawer Jhabvala.
In "Solid Ivory," Ivory, 93, gives us his memories of movie making, growing up gay, his decades-long romantic and professional partnership with Merchant and (you're reading this correctly) the penises he has known.
If you believe that elders don't enjoy sex, Ivory's memoir will blow your ageism to smithereens.
From watching the movies he's directed and knowing his age, you might think (as I did) that Ivory would be shy about talking of his sexuality. Wow, was I wrong!
Ivory appreciates penises as a sommelier savors fine wine.
Ivory knew that he liked boys early on. Ivory recalls playing at age seven with a boy named Eddy. He and Eddy were "putting our penises into each other's mouths," Ivory writes, "…I made it clear that Eddy's dick must not touch my lips or tongue, nor the inside of my mouth. I had learned all about germs at school by then."
Though Ivory and Merchant were devoted partners, they each had other lovers. Bruce Chatwin, the travel writer who died from AIDS, was Ivory's friend, and sometimes, lover.
Chatwin's penis was "Uncut, rosy, schoolboy-looking," Ivory writes.
Ivory's memoir isn't prurient. His sexuality doesn't overpower the narrative. It runs through "Solid Ivory" like a flavorful spice.
The book is more an impressionistic mosaic than a chronological memoir. Ivory, often, tells the stories of his life through letters he's written and received (from lovers, friends and professional contacts) as well as from diary entries.
Many of the chapters in the memoir were previously published in other publications such as The New Yorker.
"Solid Ivory" was originally published in a limited edition by Shrinking Violet Press. The Press is a small press run by Peter Cameron, a novelist, and editor of "Solid Ivory." Ivory grew up in Klamath Falls, Ore. He was originally named Richard Jerome Hazen. His parents changed his name when they adopted him.
Some of the most engaging moments of the memoir are when Ivory writes about what life was like for a child during the Depression.
Ivory's father lost his savings when the stock market crashed, and his mother frequently gave food to "tramps" who came to the door.
His "eating tastes were definitely formed during the Depression," Ivory writes.
Since that time, Ivory has lived everywhere from England to Italy. "But although I consider myself an advanced expert in the more sophisticated forms of cuisine," Ivory writes, "My gastronomical roots remain dug deep in the impoverished soil of the American Depression."Ivory became smitten with movies when he saw his first picture when he was five.
He and Merchant, a Muslim from India who died in 2005, fell in love when they met on the steps of the Indian consulate in New York in 1961. I wish Ivory had written more about the 30+ movies that he made (mostly with Merchant and Jhabvala, who died in 2013).
Yet, he provides tantalizing recollections of filmmaking, actors and celebs.
The chapters on "Difficult Women like Raquel Welch and Vanessa Redgrave" are fun to read.
Welch, a bombshell brat, doesn't want to play a love scene in "The Wild Party." During the filming of "The Bostonians," Boston is captivated by the drama of Redgrave's off-screen politics.
Ivory isn't that impressed when in 2018, at age 89, he becomes the oldest Academy Award winner when he receives the Best Adapted Screenplay Oscar for "Call Me By Your Name." "Its fame eclipses even Michelangelo's David and the Statue of Liberty," Ivory says, with irony, of the Oscar statue.
If you enjoy the movies, beauty and wit, you'll love "Solid Ivory."