Calendar: Nov. 9-15, 2018
Concerts, parties a pageant and more are highlights this week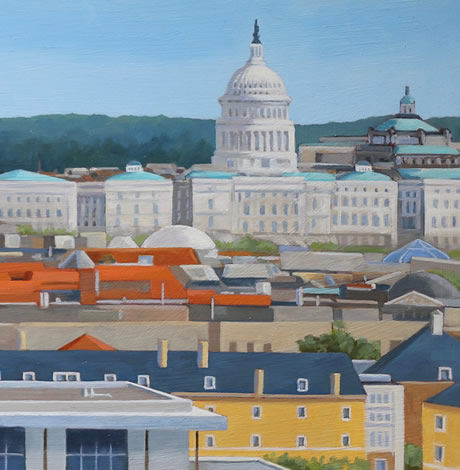 Friday, Nov. 9
Chorus D.C. presents Fancy, a dance party featuring music by DJ Shane Marcus, at Cobalt (1639 R St., N.W.) tonight from 10 p.m.-3 a.m. DJ Shane Marcus hails from New York City and is known for mixing house music. Tickets are $10. Price increases to $15 at 10 p.m. on the day of the event. For more information, visit cobaltdc.com. 
The D.C. Eagle (3701 Benning Rd., N.E.) hosts Pup Night tonight from 8 p.m.-3 a.m. Pups and handlers are invited to enjoy drink specials, kibble and a mosh area. Drag show begins upstairs at 10:30 p.m. For more details, visit dceagle.com.
Gamma DC, a support group for men in mixed-orientation relationships, meets at Luther Place Memorial Church (1226 Vermont Ave., N.W.) tonight from 7:30-9:30 p.m. The group is for men who are attracted to men but are currently, or were at one point, in relationships with women. For more information, visit gammaindc.org.
Touchstone Gallery (901 New York Ave., N.W.) presents new exhibits through Dec. 2. "The Healing Power of Art" is on display in Gallery A featuring Touchstone artists who transform negative perceptions into positive artwork. "N • S • E • W" by Gale Wallar is on display in Gallery B which showcases contemporary realism through a variety of genres. Gallery C displays "Fresh Take" by Amy Sabrin which shows landscapes featuring watercolors. Admission is free. For more details, visit touchstonegallery.com.
Saturday, Nov. 10
Singer Bright Light Bright Light performs at Union Stage (740 Water St., S.W.) tonight at 6:30 p.m. Loi Loi and Sub-Radio open the show. Doors open at 6 p.m. Tickets are $15. For more information, visit unionstage.com. 
Distrkt C presents Jockstrap & Harness Night at the D.C. Eagle (3701 Benning Rd., N.E.) tonight from 10 p.m.-6 a.m. DJ Morabito will play music. For details, visit distrktc.com. 
Green Lantern (1335 Green Ct., N.W.) hosts Freeballers, an underwear-free dance party, tonight from 10 p.m.-3 a.m. DJ Back2back will spin tracks. Clothes check available. For more details, visit greenlanterndc.com. 
The New Orchestra of Washington, Washington Master Chiorale, Musica Viva NY and featured artist Joseph Turrin perform "End of the War to End All Wars" at the Church of the Epiphany (1317 G St., N.W.) today at 5 p.m. The performance commemorates the end of World War I with music based on texts by war poets and features works by composers Holst and Ravel who were affected by World War I. Tickets are $40. For more information, visit neworchestraofwashington.org.
Sunday, Nov. 11
The annual wreath laying for LGBT veterans will be held at the grave of Sergeant Leonard Matlovich at Congressional Cemetery (1801 E St., S.E.) today at noon. Matlovich came out in 1975 making him the first out service member. The ceremony will honor all LGBT individuals who have served the U.S. as soldiers, sailors, marines, airmen and coast guardsmen. For more details, search "Annual Wreath Laying for LGBT Veterans" on Facebook. 
Flash (645 Florida Ave., N.W.) hosts Flashy Veterans Day Weekend, a dance party, tonight from 10 p.m.-5 a.m. Bar is open until 4 a.m. DJ Twin and DJ Sean Morris will spin tracks on the main floor until 5 a.m. Cover is $20 for the main floor and roof deck. Access to the first floor is free. For more information, visit facebook.com/flashydc.
The D.C. Chamber Musicians perform their season opening concert at St. Mark's Episcopal Church (301 A St., S.E.) today at 3 p.m. The group will perform Beethoven String Quartet Op. 18 and No. 4; Schubert Piano's Trio D. 898 and Paul Juon "Miniatures."Admission is free but there is an optional ticket registration to ensure a seat. For more details, visit dccos.org.
Comedian Elizabeth McCain performs her one-woman show "A Lesbian Belle Tells" as part of Charm City Fringe Festival  at 322 N. Howard St., Baltimore. A ticket and a button is $15. Tickets without a button are $10. Buttons give attendees discounted ticket prices to all festival events. For more information, visit charmcityfringe.com.
Monday, Nov. 12
D.C. Cocktail Week kicks off today through Nov. 18. Guests can enjoy cocktails and bites for one price at participating restaurants including Allegory, Circa, City Winery, District Commons, Founding Farmers, Iron Gate and more. For a complete list of participating restaurants and for more information, visit dccocktailweek.com.
Tuesday, Nov. 13
JR.'s Bar (1519 17th St., N.W.) hosts Straight Up Paula Abdul Tribute Night tonight from 9:30 p.m.-midnight. VJ Jason Royce will play Abdul's biggest hits as well as other music videos from the '80s and '90s. There will also be drink specials and a contest to win two tickets to see Abdul at the MGM National Harbor on Dec. 2. For more details, visit facebook.com/jrsbardc.
DC Stonewall Kickball League team Knock a Pitch Out hosts drag bingo at Nellie's Sports Bar (900 U St., N.W.) today at 3 p.m. Proceeds will be donated to a non-profit organization. Admission is free. Seating is first come, first served. For more information, search "Drag Your A** 2 Drag Bingo" on Facebook. 
Wednesday, Nov. 14
The Health Working Group meets at the D.C. Center (2000 14th St., N.W.) today at 6:30 p.m. to discuss transgender health and wellness. The group will discuss existing data on transgender health and wellness and the work of partner organizations to promote transgender health. For more details, visit thedccenter.org. 
Nellie's Sports Bar (900 U St., N.W.) hosts its first ever Miss Nellie's Pageant tonight from 9 p.m.-1 a.m. Brooklyn Heights and Chanel Devereaux host the event. Sasha Adams Sanchez, LaBellela Ziah, Iyana Deschanel, Bambi Nicole Ferrah, Gigi Cougture, Whitney GucciGoo and more will perform. Prizes include $1,000 cash, a $600 Absolut prize package, a $600 Red Bull prize package and more. Email [email protected]com to apply or for more information. 
The D.C. Eagle (3701 Benning Rd., N.E.) hosts karaoke hosted by D&K Sounds tonight at 9 p.m. There will be $3 rail cocktails and domestic drafts and $4 wines. For more details, visit dceagle.com.
The Lambda Bridge Club meets tonight at 7:30 p.m. at the Dignity Center (721 8th St., S.E.) for duplicate bridge. No reservations required and new comers welcome. If you need a partner, call 703-407-6540.
Big Gay Book Group meets at Trio Bistro Restaurant (1537 17th St., N.W.) tonight at 7 p.m. to discuss "Tinderbox: The Untold Story of the Up Stairs Lounge Fire and the Rise of Gay Liberation" by Robert W. Fieseler. Newcomers welcome. For more details, visit biggaybookgroup.com or email [email protected].
Thursday, Nov. 15
The D.C. Center (2000 14th St., N.W.) hosts its monthly poly discussion group tonight at 7 p.m. People of all different stages are invited to discuss polyamory and other consensual non-monogamous relationships. This event is for new comers, established polyamorous relationships and open to all sexual orientations. For details, visit thedccenter.org. 
A bisexual coming-of-age tale with heart
'Things We Couldn't Say' offers pleasant surprises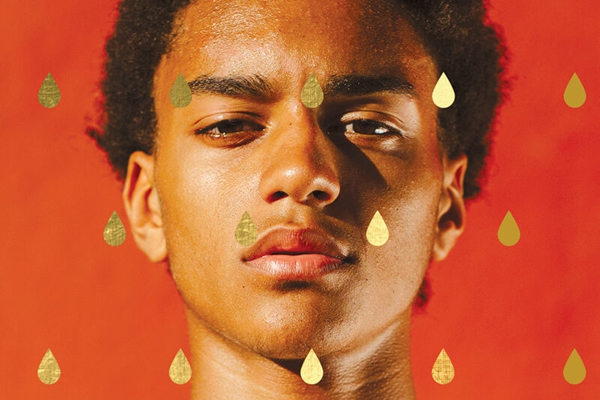 'Things We Couldn't Say'
By Jay Coles
c.2021, Scholastic $18.99/320 pages
You'd like an explanation, please.
Why something is done or not, why permission is denied, you'd like to hear a simple reason. You've been asking "Why?" since you were two years old but now the older you get, the more urgent is the need to know – although, in the new book "Things We Couldn't Say" by Jay Coles, there could be a dozen becauses.
Sometimes, mostly when he didn't need it to happen, Giovanni Zucker's birth mother took over his thoughts.
It wasn't as though she was the only thing he had to think about. Gio was an important part of the basketball team at Ben Davis High School; in fact, when he thought about college, he hoped for a basketball scholarship. He had classes to study for, two best friends he wanted to hang out with, a little brother who was his reason to get up in the morning, and a father who was always pushing for help at the church he ran. As for his romantic life, there wasn't much to report: Gio dated girls and he'd dated guys and he was kinda feeling like he liked guys more.
So no, he didn't want to think about his birth mother. The woman who walked out on the family when Gio was a little kid didn't deserve his consideration at all. There was just no time for the first woman who broke his heart.
It was nice to have distractions from his thoughts. Gio's best friends had his back. He knew pretty much everybody in his Indianapolis neighborhood. And the guy who moved across the street, a fellow b-baller named David, was becoming a good friend.
A very good friend. David was bisexual, too.
But just as their relationship was beginning, the unthinkable happened: Gio's birth mother reached out, emailed him, wanted to meet with him, and he was torn. She said she had "reasons" for abandoning him all those years ago, and her truth was not what he'd imagined.
There are a lot of pleasant surprises inside "Things We Couldn't Say."
From the start, author Jay Coles gives his main character a great support system, and that's a uniquely good thing. Gio enjoys the company of people who want the best for him, and it's refreshing that even the ones who are villains do heroic things.
Everyone in this book, in fact, has heart, and that softens the drama that Coles adds – which leads to another nice surprise: there's no overload of screeching drama here. Overwrought teen conflict is all but absent; even potential angsts that Gio might notice in his urban neighborhood are mentioned but not belabored. This helps keep readers focused on a fine, relatable, and very realistic coming-of-age story line.
This book is aimed at readers ages 12-and-up, but beware that there are a few gently explicit, but responsibly written, pages that might not be appropriate for kids in the lower target range. For older kids and adults, though, "Things We Couldn't Say" offers plenty of reasons to love it.
5 little questions for bounce queen Big Freedia
New tour comes to D.C. on Sept. 29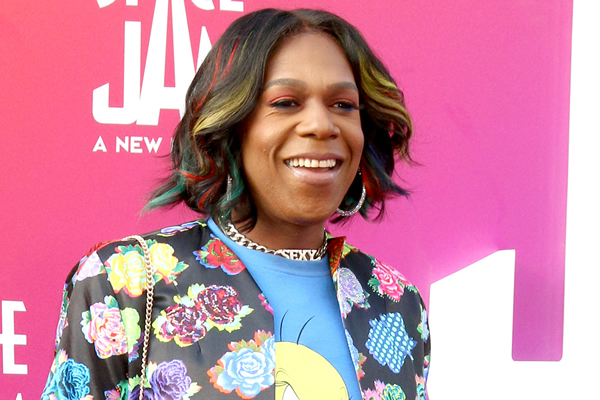 There wasn't much good news coming out of Katrina-ravaged New Orleans in 2005, but bounce music queen Big Freedia changed that narrative when she returned to the Big Easy to uplift community spirits with her high-energy stage performances.
She was already well known in the area, having made a name for herself on the Crescent City club scene, and she was just starting to break out nationally. Fast forward a decade to 2016 and she was a full-fledged star featured on Beyoncé's "Formation," and Drake's "Nice For What" in 2018. In 2021, after a lengthy hiatus due to the COVID-19 pandemic, Freedia is bigger than ever, with a current tour and a new album, "Big Diva Energy." The D.C. stop on the tour is Sept. 29 at Lincoln Theatre; tickets available at ticketnetwork.com.
WASHINGTON BLADE: You have a penchant for purses. What's a favorite in your own collection, and what's one you can't wait to get your hands on?
BIG FREEDIA: Michael Kors is one of my all time favorites, but I can't wait to get my hands on the new Tory Burch tote that I ordered. It's burgundy and I cannot wait for it to arrive!
BLADE: You always have the wildest looks. Where does your style inspiration come from? What's one place you love to source your pieces?
BIG FREEDIA: My looks are inspired by anything and everything I see. I can be at the grocery store, watching a movie, or touring in a new city and get ideas and style inspiration. My secret sourcing spot is on Melrose Avenue in L.A. I won't tell you the name though; it's my secret.
BLADE: You're also a gun-violence activist. Your brother was killed a few years ago by gunfire, and you've been shot yourself. A documentary on the subject called "Freedia Got a Gun" – starring you – is available to stream on Peacock. Was this a cathartic project for you?
BIG FREEDIA: I haven't the slightest idea how to solve the awful gun violence problem we have in America. I do believe in prevention though, and I know that mental health is a very important part of it for our Black and LGBTQ+ youth – all youth. If kids have hope and opportunities, a life of violence will be much less likely. I am very much an advocate of mental health services and support in our communities.
BLADE: What do you have planned for your fans that have waited so long to see you on tour?
BIG FREEDIA: A Big Freedia show is a big party, so they can expect an even bigger party since we've been in our homes. Extra energy, extra Bounce! All I can say is please BE VACCINATED if you come to a show and let us all celebrate safely.
BLADE: Tell me all about your next album. Are there any fire collabs in the works?
BIG FREEDIA: I'm very excited about my new project. It's called "Big Diva Energy." I wanted this to be my album and reflect my voice, so I didn't get collabs. My homegirl, Boyfriend, is on one track. We've worked a ton together this year, but she's the only one.
Mikey Rox is an award-winning journalist and LGBTQ lifestyle expert whose work has been published in more than 100 outlets across the world. Connect with Mikey on Instagram @mikeyroxtravels.
'Cured' beautifully chronicles fight for dignity
New doc revisits APA designation of homosexuality as a sickness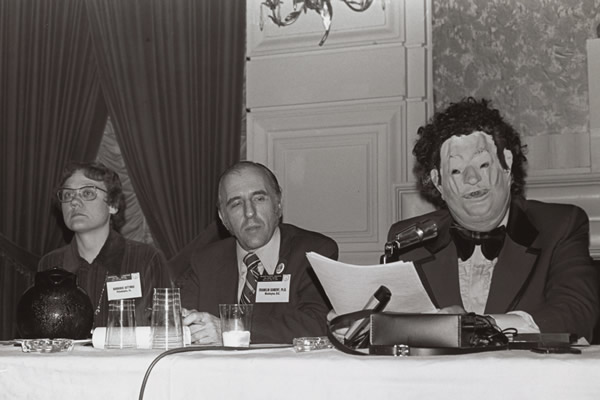 At the 1970 American Psychiatric Association convention, in front of 10,000 professional members, LGBTQ activists had a single rejoinder to decades of APA designation of homosexuality as a sickness in need of treatment: "There is no 'cure' for that which is not a disease." It marked the first direct clash with a psychiatric profession that had classified homosexuality as a mental disorder and advised everything from talk therapy to psychologically destructive shock therapy to "cure" homosexuality.
After Stonewall, gay activists concluded that the classification of homosexuality as a mental illness by the APA would hold back the advancement of the gay rights movement. To secure equality, activists knew they had to debunk the idea that they are sick.
The struggle to remove homosexuality from the APA's definition of mental illness is beautifully chronicled in the forthcoming documentary "Cured" — beautifully because the filmmakers contrast erroneous characterizations of homosexuality by mid-century psychiatrists with mid-century photographs that bore witness to gay people's actual nature.
Getting the APA to change required more than storming conferences. Gay activists, for instance, pinpointed sympathetic young psychiatrists who could act to reform the APA from within and helped them win seats on the Board of Trustees. Meanwhile, the culture was changing. In the 1970s, gay visibility was growing, which boosted the campaign to end the sickness label.
At its 1972 convention, the APA offered a platform to gay rights activists Frank Kameny and Barbara Gittings. The duo invited Dr. John Fryer to testify about what it was like to be a gay psychiatrist. Fearing damage to his reputation (he had previously lost a position for being gay), Fryer donned a mask and adopted the title H. Anonymous. Despite his cloaked persona, his testimony was, in the words of one attendee, a "game-changer."
Fryer spoke as a gay man with "real flesh and blood stand[ing] up before this organization and ask[ing] to be listened to" and evoked the great emotional toll of being forced to live in the closet — "this is the greatest loss: our honest humanity." The tide was turning but the intransigent faction needed a few more kicks. Representing a new generation of psychiatrists, Dr. Charles Silverstein would lay down the gauntlet: The APA could either continue to promote "undocumented theories that have unjustly harmed a great number of people" or accept the genuine science that being gay was no illness. At the next year's convention, in a final clash between opposing sides, Gay Activist Alliance member Ronald Gold pointed out the absurdity that a medical practice predicated on making sick people well was making "gay people sick." The APA ended its mental illness classification in 1974.
"Cured" represents a growing awareness of the history of "curing" homosexuality. Netflix recently premiered "Pray Away" about the so-called "ex-gays" who promoted conversion therapy, the destructive practice by fundamentalist Christian quacks. The film "Boy Erased" (2018) took a similar sledgehammer to conversion therapy.
Precisely because of the long-term ill-effects of stigmatizing gay consciousness, the LGBTQ community has in recent years targeted conversion therapy. Twenty states have banned conversion therapy for minors, and an additional five states have enacted partial bans.
Although thoroughly discredited by medical professionals, including the APA, conversion therapy continues to harm thousands of youths each year. While "Cured" is instructive for LGBTQ activists combatting conversion therapy nationwide, it has an even more important lesson.
"There isn't anything wrong with them, so there can't be anything wrong with me," is how one gay man remembers feeling upon entering a gay bar, witnessing convivial gay men and realizing it was time to ditch his homophobic shrink and embrace himself.
It struck a deep chord with me because I had a similar epiphany as a young man. Feeling my way around my sexuality as a grad student in New York, it all finally came together one night at a Greenwich bar as I sat across from two gay men and chatted about traveling and career ambitions. I am doing nothing wrong, I thought. It made no sense to be afraid of living my life as a gay man.
Our determination to live openly remains a potent inspiration for those still struggling with acceptance, and the strongest rebuke of those who would seek to erase us.
"Cured" premieres on PBS on Oct. 11.