Rarely performed 'King John' shines; 'Beetlejuice' is laborious bore
Strong cast, restrained staging bring obscure Bard piece to life at Folger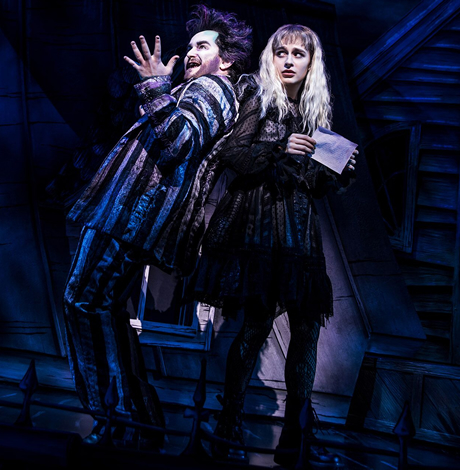 'King John'

Through Dec. 2

Folger Theatre

201 E Capitol St., S.E.

$30-85

202-544-7077

folger.edu
'Beetlejuice'
Through Nov.18

The National Theatre

1321 Pennsylvania Ave., N.W.

$54-114

800-514-3849
There's some new theater in town. At the National Theatre, it's the world premiere of the Broadway-bound musical "Beetlejuice"; and another fresh offering, "King John," a rarely produced Shakespeare work, is playing at Folger Theatre on Capitol Hill.
"King John" (set at the start of the 13th century, it's the earliest of the Bard's historical plays) is the story of politics. It explores greed, "Commodity," power and familial relationships. Folger's energetic, vibrant production staged by Aaron Posner — his 20th at the Folger — moves fast and tells a complex, busy story remarkably lucidly.
The plot involves the fight for the English thrown following the death of Richard the Lion Heart. While the ostensible inheritor of the crown, Richard's brother King John (Brian Dykstra) grasps firmly to power, bolstered by his famously ambitious mother Eleanor of Aquitaine (Kate Goehring), others angle to replace the monarch including Constance (out actor Holly Twyford), the widow of John's older brother. Backed by France, Constance struggles to snatch the crown for her young son Arthur (Megan Graves). War and murder ensue.
At the top of the show, before King John speaks his first lines, the cast presents a foreword especially crafted for this production. The zippy prologue charmingly serves two purposes: It both acquaints the audience with the plot of this seldom-performed play, and equally important, it gives an idea of the many players and factions involved in this politically complicated and dangerously fraught time.
King John is typically considered the classic villain, but Dykstra gives a nuanced take. Sometimes he's clumsy (the king repeatedly stumbles over his thrown usually just after making a significant statement, and sports a badly tailored suit), but his sometimes-clownish ways belie a merciless killer's instinct. He'll do anything for power.
The design team is quietly successful. Andrew Cohen's deceptively simple set consists of an unadorned wooden crown hanging over a similarly constructed throne, entirely in tune with the production's feel of raw politics. And Sarah Cubbage's dark costumes crowd the stage with a take on Edwardian clothes: Bowlers, sack coats, vests and dusters, for the men and longish skirts for the women.
Twyford is marvelously emotionally driven as Constance. And Kate Eastwood Norris delivers a terrific performance as Philip the Bastard, a character who actually acts and thinks and acts like an authentic person. Wearing trousers and black boots, Norris cuts a fine figure as the ambitious wag on the royal scene. This pleasing part is so sharply drawn and lovingly penned, it makes o'ne wonder why the play isn't performed more often?
"Beetlejuice" adapted as a stage musical is everything Tim Burton's 1988 quirky screen horror comedy wasn't: It's loud, grating, excessively lewd, hard to follow, overworked and at three hours (twice the length of the film) too long.
Naturally, in adapting screen to stage changes are made, but unfortunately the book by Scott Brown and Anthony King is a disappointment.
The gist here is that six months after the death of his wife, real estate developer Charles Deetz (Adam Dannheisser) and his depressed goth daughter Lydia (Sophia Anne Caruso) leave Manhattan for a rambling country house. In tow is Lydia's dim life coach and Charles' love interest, Delia (the funny Leslie Kritzer).
The house's previous owners, a saccharine couple played by Kerry Butler and Rob McClure, are dead but have taken up residence in the attic. They'd like to reclaim their home but they aren't scary enough to scare off he new owners.
Lydia is thrilled to find ghosts upstairs. In an effort to send her father and Delia packing, Lydia seeks the aid of Beetlejuice (Alex Brightman), a raunchy, wise-cracking demon con artist who styles himself as a freelance bio exorcist who claims he can get rid of the living.
The longwinded second act goes further astray, most pointedly when young Lydia temporarily shares digs with Beetlejuice. During this time, they rather mean-spiritedly terrorize country neighbors and various delivery men. It doesn't add much to the tale.
The part of Otho, played so memorably by out actor Glenn Shadix in the movie, is no longer an affected interior designer/medium. Otho has been downgraded to Delia's silly guru who appears on the scene accompanied by a squad of bewigged Warholesque acolytes with whom we're repeatedly reminded he enjoys group sex.
Eddie Perfect's original score, loaded with power ballads, sung soliloquies and some big numbers, is performed by a golden-throated cast. The show boasts Broadway talent with big voices including a good showing of Tony winners.
Film fans will welcome familiar bits including the "Day O (The Banana Boat Song)" dinner party scene and afterworld appearances by the charred dead football team, a green- skinned "Miss Argentina" working reception and the big game hunter with the shrunken head. Also, there are some rather marvelous puppets of ghost-killing sand snakes and some dangerous, anthropomorphic abstract sculpture. But it's not enough.
"Beetlejuice" is better enjoyed as a quirky onscreen ghost story than a musical comedy. And again, the show's humor — potty-mouthed, adolescent and mostly unfunny — is a letdown.
Local theaters come to life to celebrate Pride
Kennedy Center, GALA, Olney and more offer live and virtual events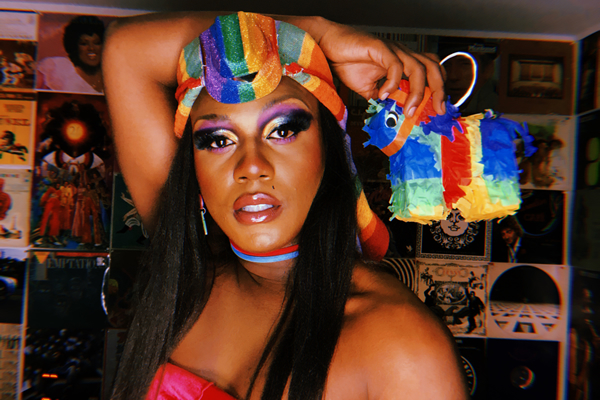 With reopening comes opportunities to celebrate Pride with live performances.
For the first time in more than a year, the Gay Men's Chorus of Washington's Potomac Fever Ensemble will be performing together live. The small, close-knit harmony a cappella group is presenting a fun mix of contemporary pop, crowd favorites, and Broadway songs at National Christian City Church at 5 Thomas Circle, N.W., on Saturday, June 12 at 3 p.m. Admission is free. Gmcw.org
And if you move fast, there's still time to catch an outdoor performance of Solas Nua's production of "In the Middle of the Fields." Penned by Deirdre Kinahan ("Wild Sky," "The Frederick Douglass Project"), the new work "centers on Eithne, who is undergoing chemo-therapy for breast cancer. Stepping out of her house and into the nearby fields, she wonders what her life will be like on the other side of recovery from a deadly disease."
Directed by Laley Lippard and featuring talented local actors Jessica Lefkow, Caroline Dubberly, and Ryan Sellers, the aptly titled play is staged outdoors at P Street Beach in Dupont Circle. Audiences are seated at a distance; blankets and chairs are available for seating options. Solasnua.org
GALA Hispanic Theatre continues its return to live performances with "Ella es tango" ("She is tango") through the end of June. An original musical revue conceived by GALA artistic director Hugo Medrano with texts by Patricia Suárez and featuring artists from Argentina and the U.S., it highlights the contribution of women composers and singers to sexy but traditionally male dominated genre.
"Ella es tango" is performed indoors at GALA's bijou space in Columbia Heights, and starting June 11, 2021, the theatre capacity increases and seats will be assigned three feet apart (every third seat) instead of six feet apart (every fifth seat). Galatheatre.org
The Olney Theatre Center (OTC) boasts an impressive lineup of summer offerings for its outdoor, open air amphitheater, the Root Family Stage.
Beginning late July through the end of August, OTC presents the weekly Friday night Andrew A. Isen Cabaret Series featuring some of the DMV's top musical talents featured in some exciting combinations.
The pairs include Awa Sal Secka and out actor Bobby Smith (July 23); Ines Nassara and Tracy Lynn Olivera (July 30); Donna Migliaccio, and Nova Payton (August 6); Rayanne Gonzales and local gay performer Rayshun Lamarr who appeared as a contestant on TV's "The Voice" (August 13); Greg Maheu and Vishal Vaidya (August 20); and finally, Malinda Kathleen Reese and Alan Wiggins (August 27).
And for two free performances on consecutive Wednesday nights in August, OTC presents "Olney in Drag" where audiences are asked to "enjoy a drink as these fabulous drag queens shine brighter than the stars in the evening sky." The first show (August 18) features Brooklyn Heights, Betty O'Hellno, Ariel Von Quinn, and Evon Michelle.
Queens taking the stage for the second show (August 25) include Kristina Kelly, Vagenesis, Tiara Missou (David Singleton who appeared in "Elf the Musical" at OTC), and Echinacea Monroe (terrific out actor Solomon Parker). Olneytheatre.org
Also this summer, the Kennedy Center has big outdoor plans for its wide-open, riverside REACH campus.
The Millennium Stage is scheduled to present free outdoor experiences ranging from live music and film screenings to dance lessons, yoga sessions, arts markets, and more.
Slated programming promises to celebrate varied cultures and styles, and work in partnership with the UNHCR, the UN Refugee Agency, National Theater for the Deaf, Smithsonian Asian American Center, Creative Nomads, SAMASAMA, D.C. Legendary Musicians, Step Afrika, and members of the Drag community, as well as internal collaborations with the Kennedy Center's Culture Caucus. Kennedy-center.org
And while the Shakespeare Theatre Company (STC) isn't venturing outdoors yet, they are continuing to present "Blindness," a brilliant piece about pandemic and societal breakdown featuring the voice of Juliet Stevenson, at Sidney Harman Hall through July 3. The unforgettable experience remains an in-person theatrical installation with socially distanced seating; 40 audience members per event; and masks required indoors).
And "All the Devils Are Here: How Shakespeare Invented the Villain starring Patrick Page" continues to stream until July 28.
Looking forward to September, STC's first full production will be a two-week limited engagement of gay writer James Baldwin's "The Amen Corner" from Sept. 14-26 in Sidney Harman Hall, completing its glorious run that was cut short by COVID in March 2020. Shakespearetheatre.org
'Will Power's Flow' a hip-hop tour de force
Justin Weaks on playing multiple parts, theater scene after COVID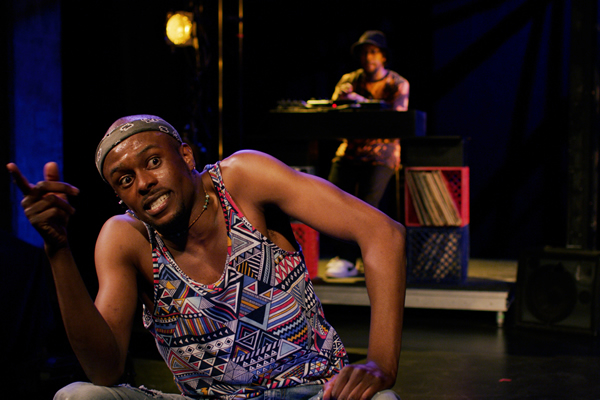 'Will Power's Flow'
Studio Theatre
Streaming through June 27
$37
Studiotheatre.org
Out actor Justin Weaks really digs hip-hop. So, when Studio Theatre asked him to take on the title role in a filmed remount of "Will Power's Flow," an early 2000s hip-hop theatrical piece about music and the storytelling of contemporary urban denizens in the West African griot tradition, it wasn't an impossible stretch.
Growing up in Concord, N.C., a suburb outside of Charlotte, Weaks' household was strictly into soul and R&B. But since living in D.C., he says, it feels like hip-hop music has deeply dug its claws into him.
In "Flow," Weaks, 30, is backed by the hip-hop beats of DJ/composer/sound designer Nick "Tha 1da" Hernandez. "But you'll hear me on some beats too. I have a good time with it."
But the most challenging aspect of tackling "Flow" is playing multiple parts, he adds. In addition to his lead role as performer Will Power (the 7th storyteller), he plays six other storytellers, and about another dozen characters. But this sort of tour de force isn't entirely new to the actor who triumphantly played multiple roles in "Long Way Down" at the Kennedy Center as well as in "Gloria" at Woolly Mammoth, the work that garnered him a Helen Hayes Award nomination.
The D.C.-based actor who describes himself as "happily single," ranks as one of Washington's most gifted talents.
WASHINGTON BLADE: Was it challenging to assay Will Power, a part so associated with a real-life artist?
JUSTIN WEAKS: Actually, this production was my introduction to Will Power. My friend and director Psalmayene 24 reached out to me – he said Studio wanted to remount "Flow" with a new actor, and asked if I was interested. I was blown away by the script. It's a behemoth of a piece. Any yes, any time you're dealing with a piece that was originally performed by its writer, there is an extra responsibility to the work and the words.
BLADE: And how was returning to the stage after a long absence?
WEAKS: The return to Studio felt right. I love the programming at Studio. Like how intimate their spaces are. As a performer you're held by the audience.
BLADE: But because of COVID restrictions, this production was filmed over two days. How was that?
WEAKS: I've had very little film experience. This was my first major rodeo in front of the camera. Everything about it was new. I learned so much while doing it. It's something that's foreign. You have to think of it as a great opportunity to learn, to grow, and see what you need to work on.
I'll admit that I feel incredibly vulnerable with this filmed play being out there. That's new for me. I've experienced vulnerability in real time when I'm on stage but to have the work be done a month ago, edited, and out there, it makes me feel exposed in a way I've never felt.
BLADE: I'm sure you'll get used to that.
WEAKS: After I've done a few feature films, I'll probably feel differently.
BLADE: Was it difficult returning to work after such an odd year?
WEAKS: Returning to work as an artist isn't easy. I consider our return process to be like boot camp. We're different people now. My body sits differently. My voice and breath are different. After isolation and not working much, I had to relearn my instrument again.
BLADE: Is it different?
WEAKS: There is so much that is changing in terms of the industry — theater and film industry. How they hire and pay artists. So many of us made more on unemployment than when we were busy working full-time pre-COVID.
Theaters will be in for a surprise when they reopen doors and find that artists don't want to go back to the way things were before the pandemic. We're in a different time now and we'll rise to the new time rather than shrinking back into what was. Clearly it wasn't serving many of us.
BLADE: And is there anything about Flow that's especially appealing to LGBTQ audiences?
WEAKS: Oh, yes. If you're someone who has struggled at all this past year, then this piece will interest you. If you're figuring out what the future looks like, how to move on, how to cope, how to have faith, or hang on to something real, then this play is for you.
A mix of laughs and sadness in '2.5 Minute Ride'
Studio virtual production penned by Tony-winning Lisa Kron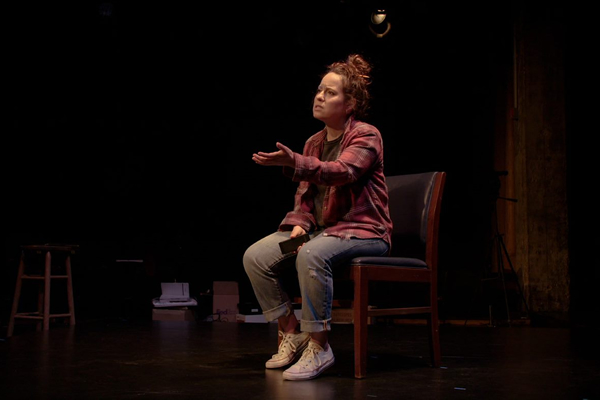 '2.5 Minute Ride'
Streaming through June 6
Studio Theatre
$37
Studiotheatre.org
Tony Award-winning lesbian playwright Lisa Kron writes about families. Sometimes her own, and sometimes other people's.
With her autobiographical solo show "2.5 Minute Ride," now streaming at Studio Theatre, the focus is on her relationship with her father, a nearly blind Holocaust survivor with a mad passion for roller coasters.
The 75-minute piece opens with Lisa (engagingly played by Dina Thomas) alone in an empty theater. Casually dressed in jeans and a flannel shirt, she arranges a couple of chairs and a slide projector. She's about to open the family album – usually a dreaded experience for strangers, but not so here.
Rather than an endless cavalcade of unknown faces and places, these projected slides are blank pictures, allowing the audience to imagine people and locations of their own conjuring.
From the start, it's clear that this anecdote-jammed monologue will be a mix of laughs and sadness. As Lisa, Thomas pokes fun at her oddball relatives. There's the brother who finds a bride on the Internet, a grandmother who left behind countless unopened packages of cosmetics bought because she felt bad for the Avon Lady, and Lisa's closeted uncle whose hoard of gay porn was uncovered after his death.
Though not in the least bit sugarcoated, Kron's descriptions are never cruel.
But the foremost eccentric here, is Lisa's thrill-addicted father Walter. A German Jewish immigrant, he escaped Nazi Germany as a teenager by Kindertransport. His parents weren't so fortunate — unable to get out, they met tragic fates in the camps.
Over the years Walter establishes an upper-middle class life in Lansing, Mich. Almost annually, the family makes trips to Cedar Point amusement park, the roller coaster capital of the world, in Sandusky, Ohio, where Walter, a bona fide coaster junkie, indulges in his favorite pastime, a habit that he's loath to give up even as he ages. So, at 74, despite failing vision, diabetes, and a bad heart, Walter continues to ride the coasters (the play's title is a salute to this passion)
Lisa marvels at her family's bad health. Most of the extended family is dead or crippled, she says.
They're so different from her girlfriend Peg's physically vital, outdoorsy clan.
There's another journey whose details Lisa generously shares. It's the one-time trip she and her dad take to Auschwitz, the death camp where Walter believes his parents to have perished. As traveling companions, the pair do pretty well. She supplies sight while he brings the languages. During their time alone together, Lisa learns a lot about Walter, the ways in which he processes joy and grief, for instance, along with some larger lessons about how great tragedy exists alongside the mundanity of life.
Streamed solo shows have become staple theatrical fare throughout the pandemic. If they're not your thing, then "2.5 Minute Ride" may not be for you. That said, Thomas gives a compelling, layered performance as Lisa. Ably directed by Joanie Shultz, Thomas convincingly talks about family with compassion but not sentiment. Through Kron's prose, she vividly recreates relations and locales ranging from her maternal grandmother's home, the brother's rented wedding venue, a rental car, the Auschwitz parking lot.
Kron, who is married to fellow celebrated playwright Madeleine George, is probably best known for writing the book and lyrics for "Fun Home," the award-winning Broadway musical, a queer coming-of-age story adapted from Alison Bechdel's 2006 graphic memoir of the same name. Kron also wrote the biographical "Well," a family memoir centered on the relationship of mothers and daughters, and wellness.
"2.5 Minute Ride" offers a funny, poignant entry into Kron's family. It's an invitation worth accepting.